Designer for A Day-My Process
For Designers!
Design Services and Rates Guide A FREE Resource for Your Interior Design Business
We value your
privacy
. We will never share or sell your information.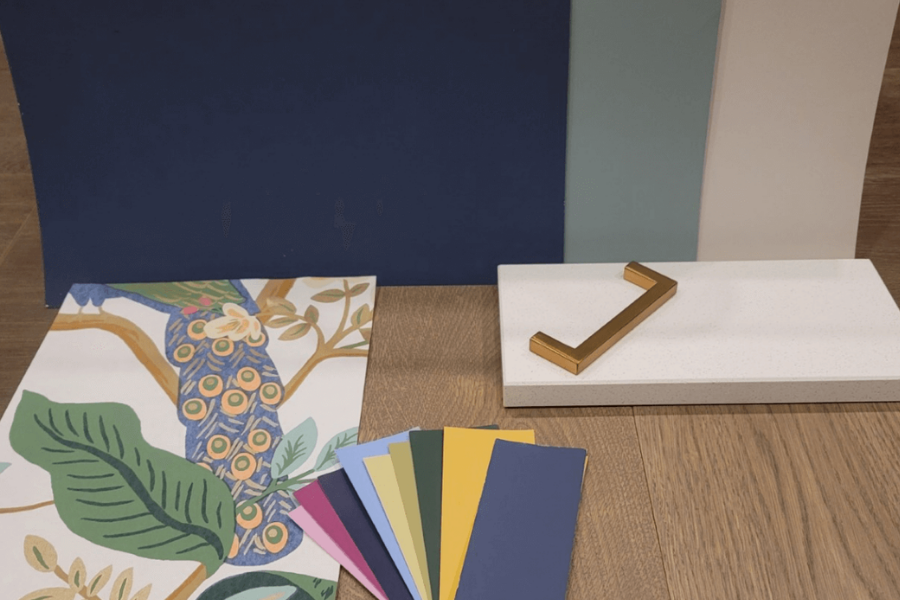 Do you offer Designer for a Day Services?
Or are you thinking about it, but not sure how exactly to go about it?
In this post, I will take you through my step-by-step process to help you decide if Designer For a Day is a service you'd like to offer in your Interior Design Business.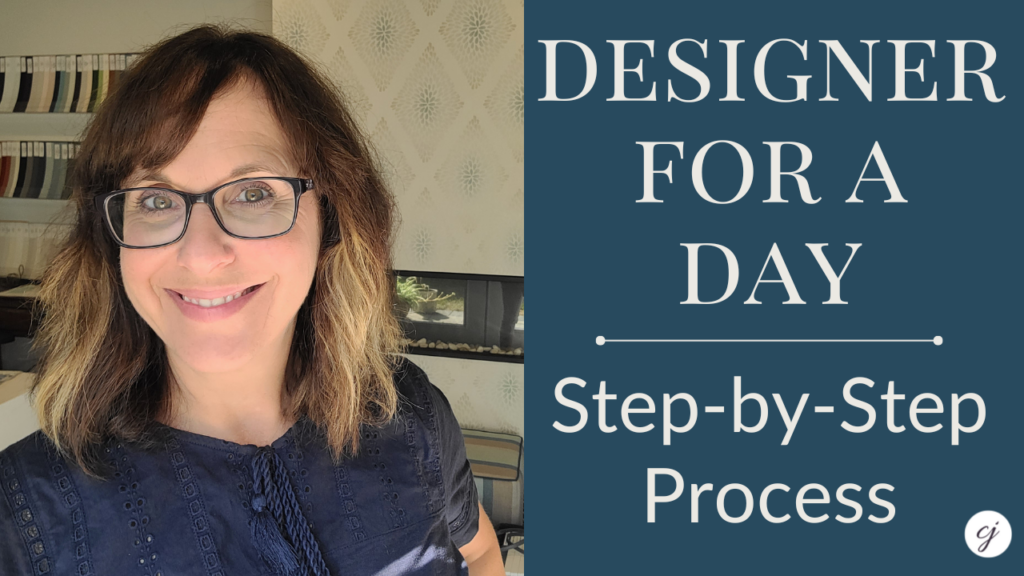 This is NOT Luxury Design
Please note that if you only want to attract luxury, full-service clients, offering Designer For a Day is not going to suit your firm's goals or brand messaging.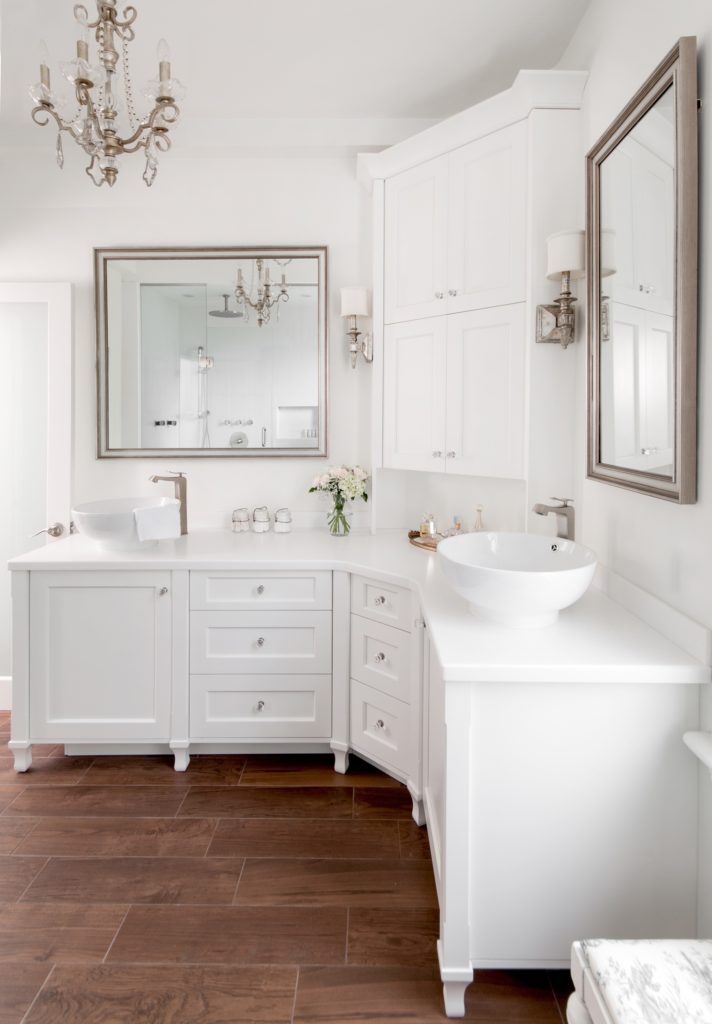 BUT at the same time, don't limit your thinking to believing this is a 'cheap' service. This is still a very valuable service that you can market to high-end clients if that is your target market.
With the uncertainty regarding the future of our economy, offering various levels of service may be what gets you through this tough time ahead.
This really is rule #1 when it comes to ways you can still have a thriving business if the economy collapses.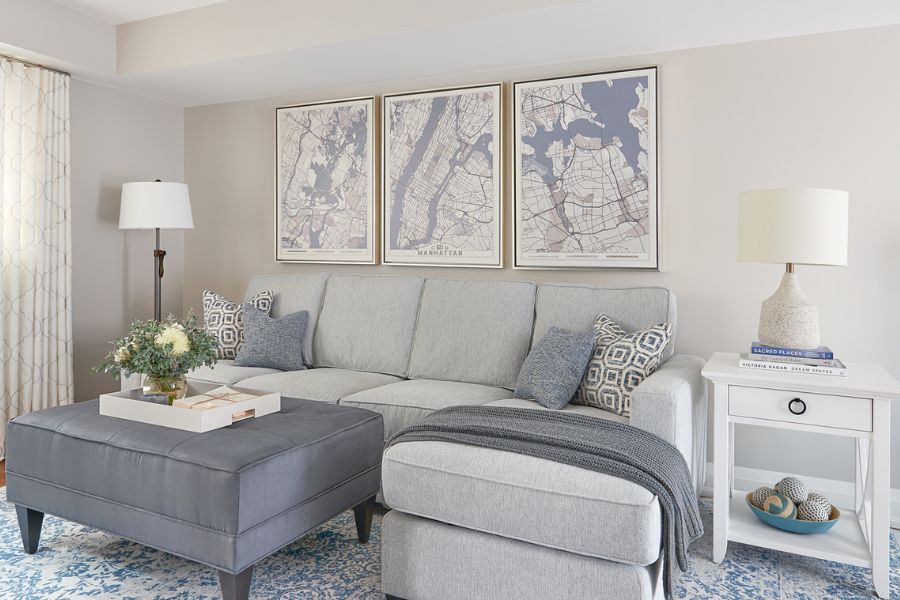 What is Designer for A Day?
In our Service Outline template that comes with our Designer For a Day Contract, below is exactly how we describe this service.
Designer For a Day services provides you with expert guidance from us, your Interior Design Partner. Allow us to assist you with parts of the project that you may find especially overwhelming and to help you avoid making costly mistakes.
Services in our 6-hour time blocks may include, but are not limited to:
Space planning ideas
Guidance for kitchen and bath design
Sourcing of various finishes & furnishings
Specifications for paint colours
In-person meetings & communication with clients or trades
---
How you offer this service may look different and that's the beauty of running your own business! Here's a graphic I created to show you the potential earnings for this service.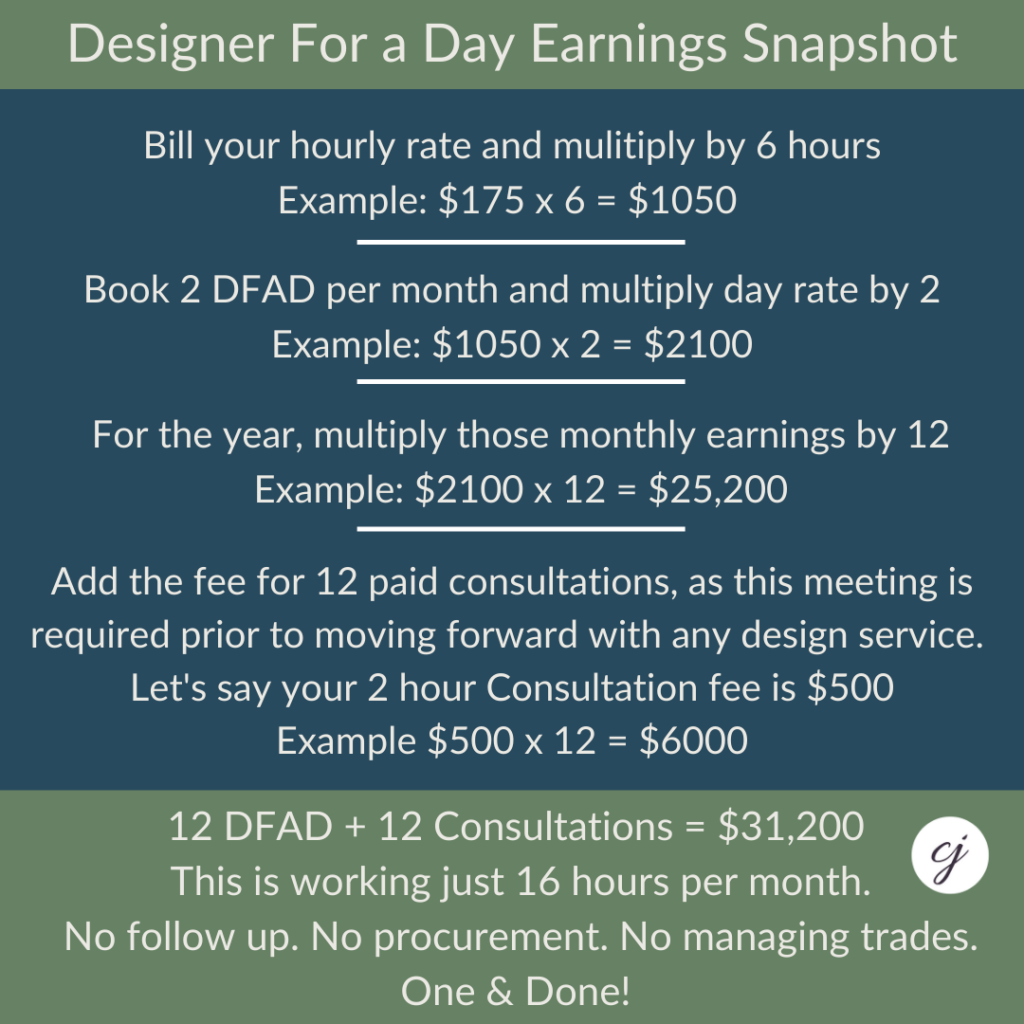 More details on money matters closer to the end of the post.
What type of Design services can you provide?

Also included with all of our contracts in the Service Outlines are details of what type of specific design services we can provide.
For example, if we are assisting homeowners with fixed element selections for new builds we would include hardwood flooring, floor/wall tiles, countertops, bathroom or kitchen plumbing fixtures, and sometimes lighting.
In addition, we can choose complementary paint colours for cabinets and walls, as well as hardware, grout, and sometimes even lighting.
The Designer For a Day service could also be used for styling, an often very difficult part of the interior design process for homeowners to do successfully on their own.
Although we don't do it, shopping retail for furniture could also be included as part of this service. The downside is that you need to take the time to create a floor plan with measurements of furnishings.
This can start to get quite time-consuming and is really more of an in-depth design service.
Also, when shopping retail and in person, there are no guarantees you will find exactly what you are looking for in that one-time shopping trip. It can be hit or miss depending on the availability of products on a showroom floor if you are looking to get everything done in one day. It's a pretty tall order that is almost impossible to fulfill.
Another idea is to offer this virtually and use online resources that you can refer people to for purchasing products.
For us, we only shop retail for accessories on an install or photoshoot day. Otherwise, we reserve furniture specifying for our Full-Service clients and shop through our trade-only vendors.
Step by Step Process
1. After a lead reaches out to us, we log the inquiry details and look to schedule a 15-minute Discovery Call to assess their needs, timelines, investment amount, etc.,
2. If it turns out that the lead is a good fit, we book and collect payment for an initial consultation appointment.
3. As you meet with them at this all-important first in-person meeting, if you ROCK your consultation then you should be able to carefully assess the details of their project to accurately determine which interior design service you offer that will be best for them.
Use my Service Outlines to review in more detail why you are recommending a specific service – in this case, Designer for a Day – and so they fully understand your process for moving forward. This is an excellent way to manage a client's expectations from the offset.
*HIGHLY RECOMMENDED: When we help clients with selections for a renovation or new build, we always advise them that we prefer to use our own local suppliers. This will make you more efficient with your time because knowing the 'lay of the land' in a showroom and being familiar with their products, as well as having good relationships with the staff, makes this process go much more smoothly.
If they insist you use a supplier unknown to you, consider charging an additional fee as it will take you longer to navigate a store that you are unfamiliar with.
4. Once you've clearly established the scope of work, it's time to review and sign your contract.
Collect full payment with the signed agreement and book a date in your calendar for the Designer For a Day. Here's a post about what you should include in your contract.
5. Take photos of the necessary areas of the home. Grab any samples they may already have on-site that they want you to work with or to consider as options for the project. If they have any floor plans or documentation that may be helpful, add that to your folder. If need be, take any quick measurements you may need to reference.
*NOTE – This step may need to happen as part of their Designer For a Day time allowance and be done first thing at a follow-up visit. It depends on how the consultation goes and if they are quick to decide early on at the meeting that they want this service.
6. When assisting clients with choosing finishes for a kitchen or a bathroom renovation, head to the showroom on your own first, and be prepared with any samples or documentation you may have already collected from them.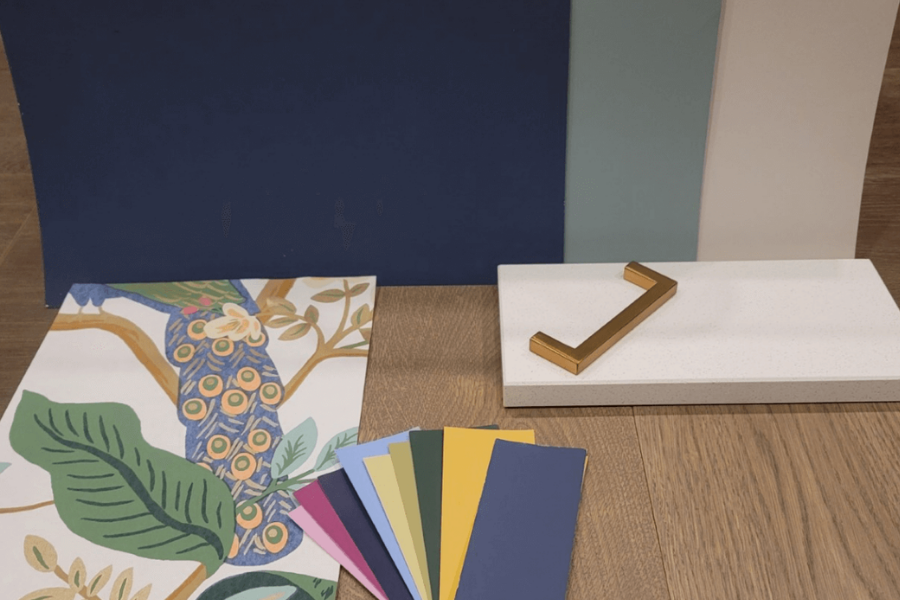 We always take our large painted boards, samples of painted cabinet doors, and our grout palette. Then we do our thing, selecting finishes (usually 1 or 2 options) based on what we said we would do in the detailed contract.
We are lucky to have a designated area of the showroom – a quiet corner or the board room – to set up and leave our 'presentation' there for a day or so.
*NOTE: The selection process typically takes 2-3 hours depending on the scope of work and including travel time and setup. This means that around 3 hours are remaining from the initial 6 hours.
7. The way we work with Designer For a Day service is that we generally split the 6 hours into two parts.
For the second part, we arrange for the client to meet us at the showroom where we present the design finishes. Anything that needs to be swapped out or slightly modified can easily be done right there on-site.
A member of the staff makes a note of the final selections and tags the paperwork with the client's name, my name, and their GC (if applicable).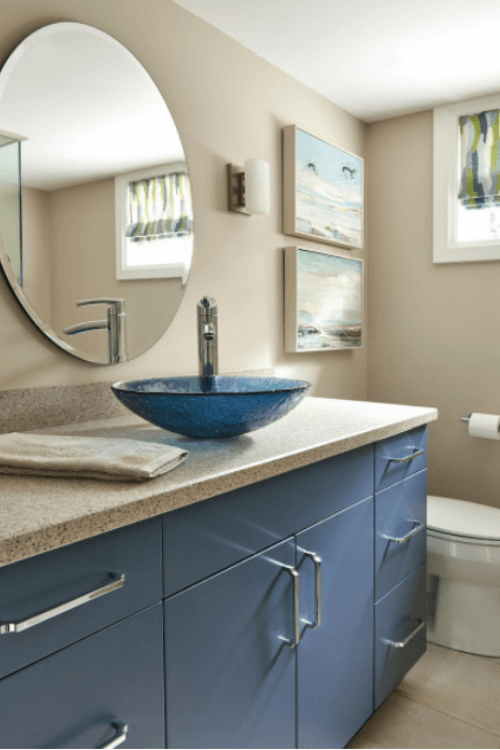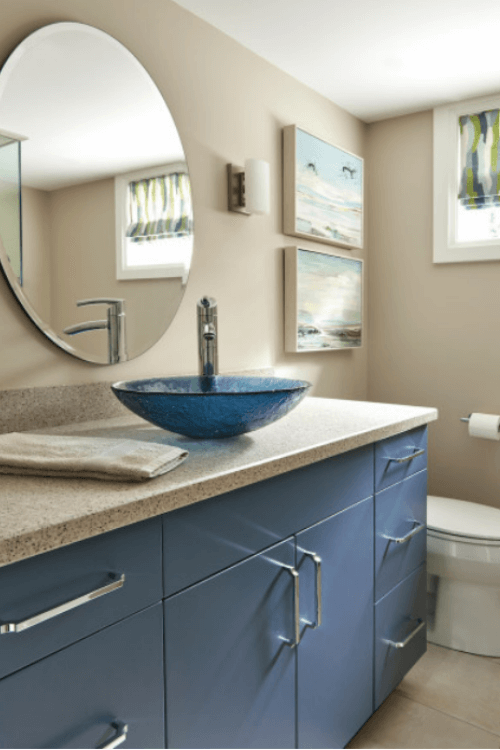 8. If there is still time remaining in their allotted 6 hours, it's not uncommon for us to either leave with the samples and take them to the client's home to view on site.
Alternatively, we sometimes will go to a bathroom boutique or lighting showroom, depending on the client's top priorities of what they want help with.
9. When we are done, we part ways and that's it! Unless they need further services, you are done. No follow up meeting, no write-up required and no ordering of products.

Be sure to take photos to share on social media and/or for future blog posts. Then follow up afterward to ask for a review.
10. Go home, put your feet up and have a glass of wine, you've earned it 🙂
Of course, there are different ways you can offer this service. Tailor it in a way that works for how you want to run a successful interior design business.
If you are still unclear and want more detailed information to better understand how Designer For a Day could work for your model, reach out to book a one-on-one coaching session with me and we can tighten up this fabulous service offering to work for you in your business!