Bungalow Renovation- From Outdated to Upscale
Picking a Paint Colour?
Choose the right paint colour
the first time Let me show you how in just 5 easy steps!
BONUS: The Top 15 Shades of Gray by Benjamin Moore
We value your
privacy
. We will never share or sell your information.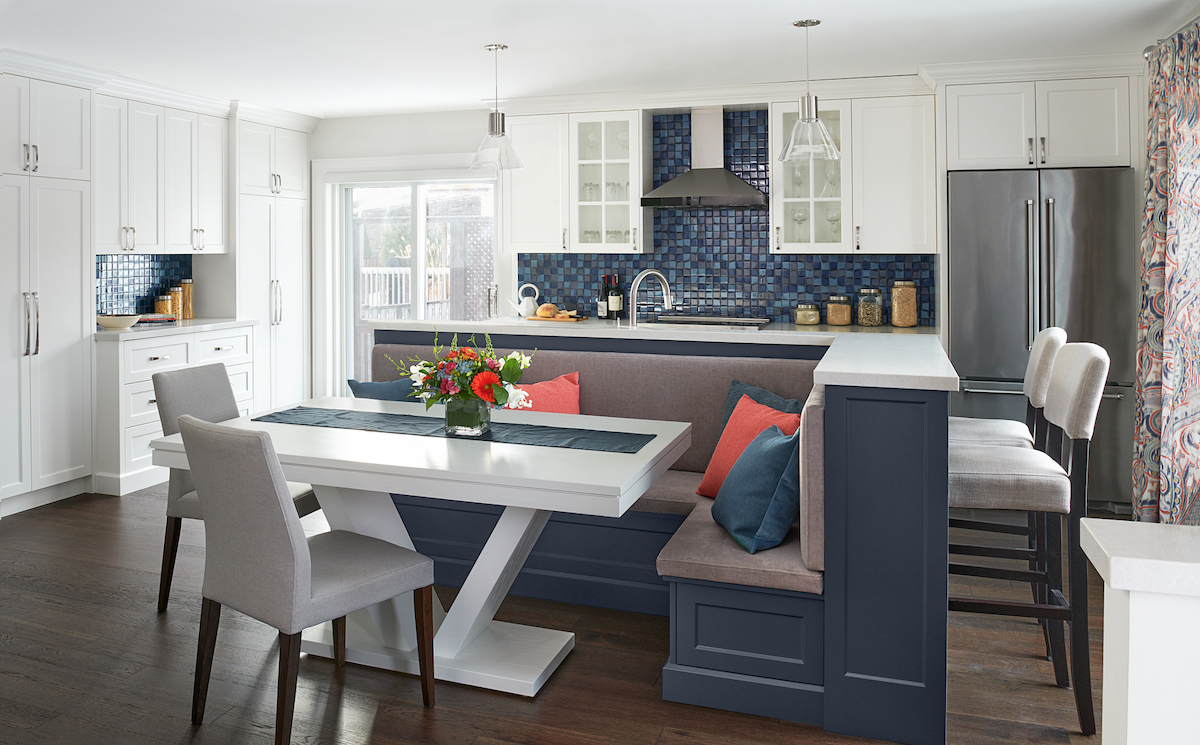 Who doesn't want to make their current home their forever home and never have to think about moving again?
Years ago my sister and brother-in-law were thinking about moving. With the design layout as it was, the functionality of their 1950's Burlington bungalow did not meet their needs.
As an Interior Design Professional with over 11 years of experience helping homeowners live beautifully, I could definitely see the potential.
They loved the Burlington area where we all live and I knew that they could have what they desired if only they were aware of the fabulous possibilities.
Karen and Jason hired us for our interior design services and together with our team here at Claire Jefford Inc., we created an inspiring design with a completely new layout.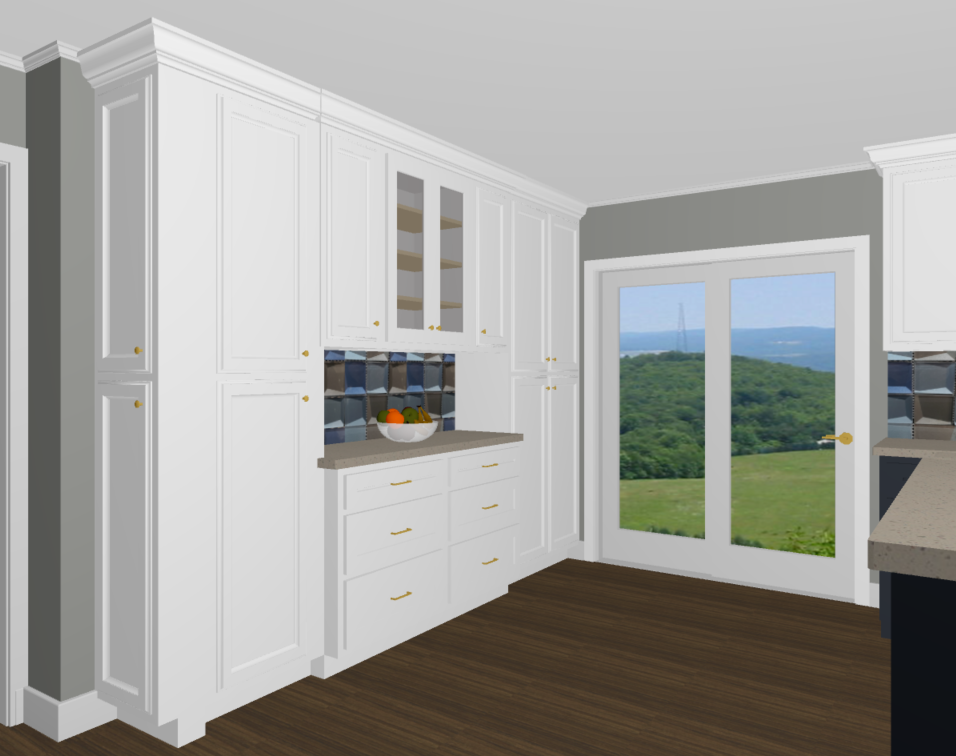 Follow along with this post to see the BIG reveal for this 1950s bungalow that we took from outdated to upscale!
Let's look at the details of this incredible main floor transformation. This includes the before images, 3D drawings and our professionally photographed 'after' shots.
Project Location:
This was an older home in a beautiful mature neighbourhood known as Mountainside in my home town of Burlington, Ontario.
Client Wishlist
My sister Karen and her husband Jason were looking to update their bungalow so that the design would work for them to indeed become their forever home.
As they both love to cook, on their wishlist was a more functional and open kitchen layout, as well as a more spacious bathroom.
Below was their kitchen before and this space actually turned into their new bathroom. Keep up with me now!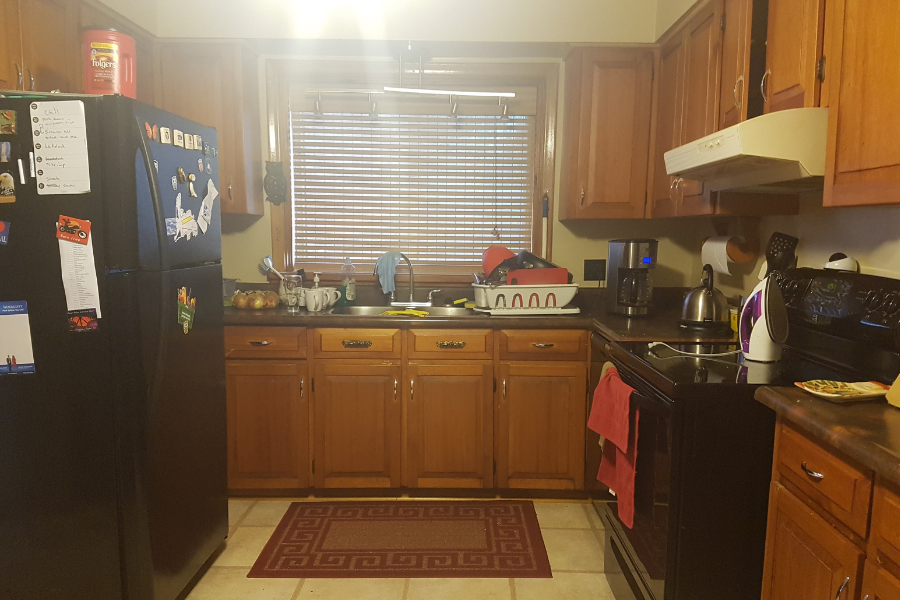 My sister is obsessed with fashion and on her wishlist was a stunning dressing room with ample storage for all of her clothes and smart organization solutions for shoes, jewellery and make up.
We gutted the entire main floor, turning this 3 bedroom bungalow into a 2 bedroom home. By eliminating one of the bedrooms and the living room, we were able to design the home in a way that made it way more spacious and with plenty of storage.
The living room below was mainly an unused space and the first room you see as you entered the home in the previous layout. We decided to remove the wall from the entry that you see below which enabled us to create a much larger and more functional kitchen.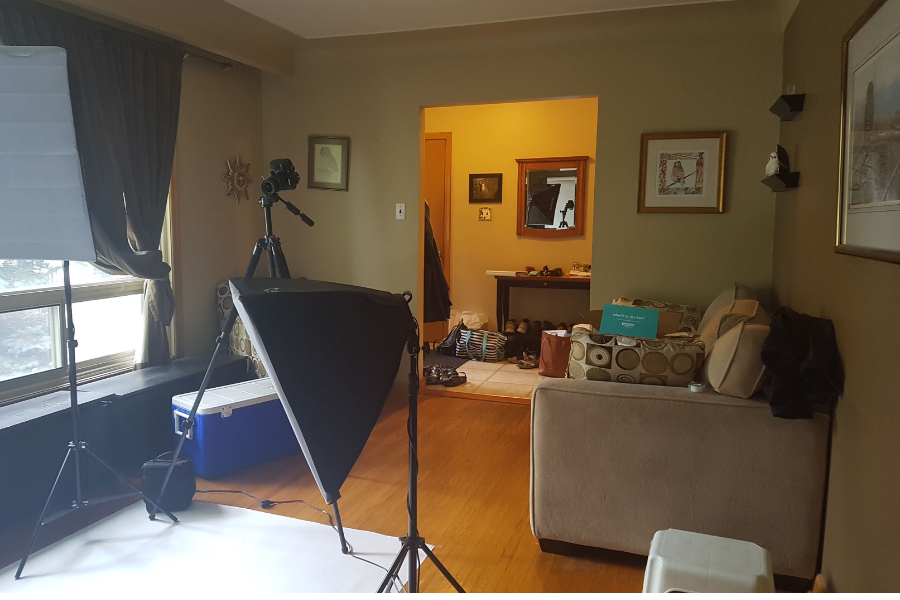 Taking out a living room from the main floor bungalow may sound crazy, but because I knew my clients so well and completely understood their lifestyle, this design made perfect sense.
They have no children and don't really have guests stay over, so having a third bedroom was not needed.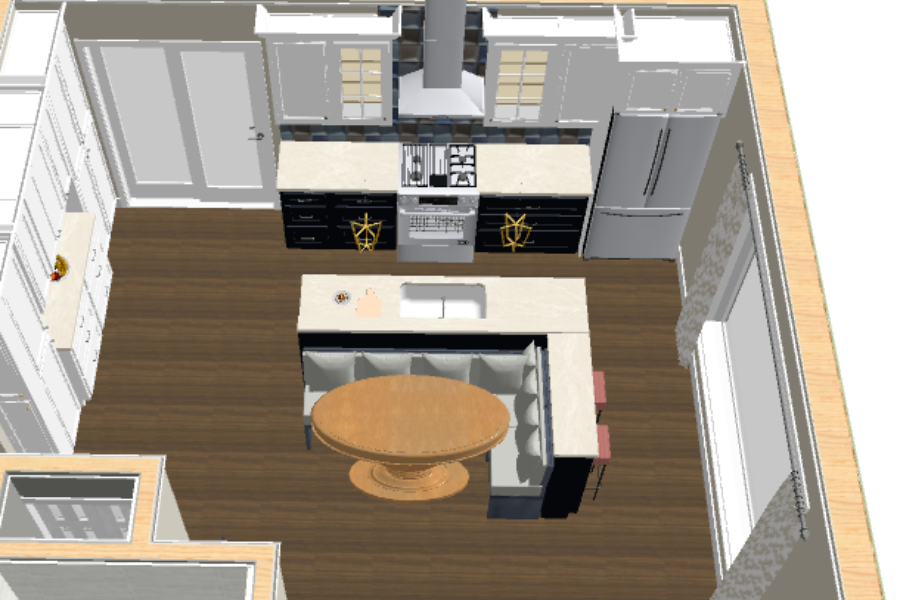 The main focus was to design a large, open kitchen that incorporated all of our client's needs, especially taking into consideration that they are both avid cooks.
Now in their new kitchen, the natural light really lights up this beautiful open space. And the custom drapery is lovely too, eh?!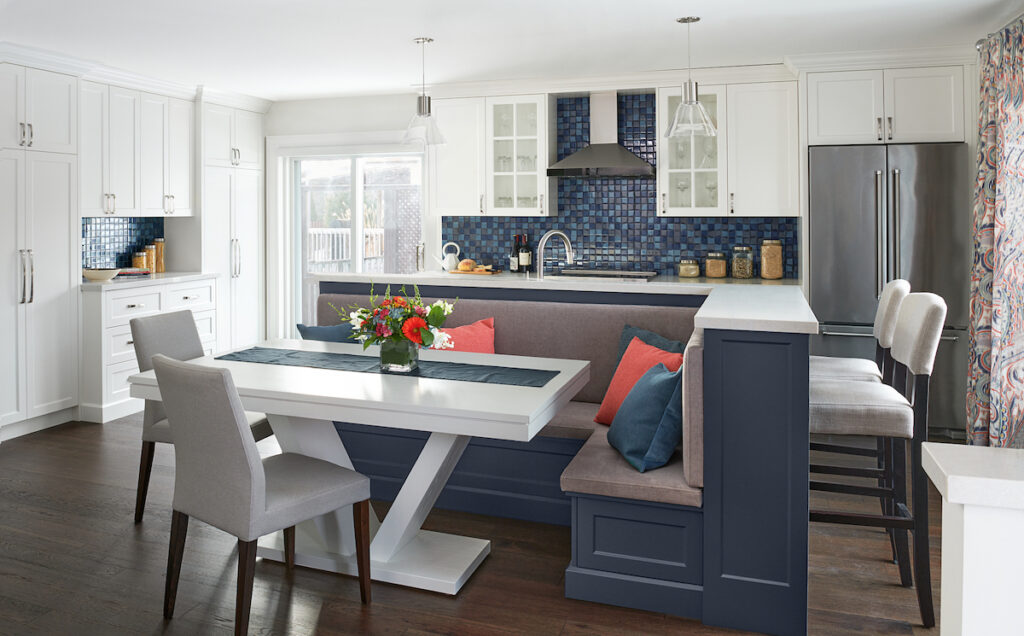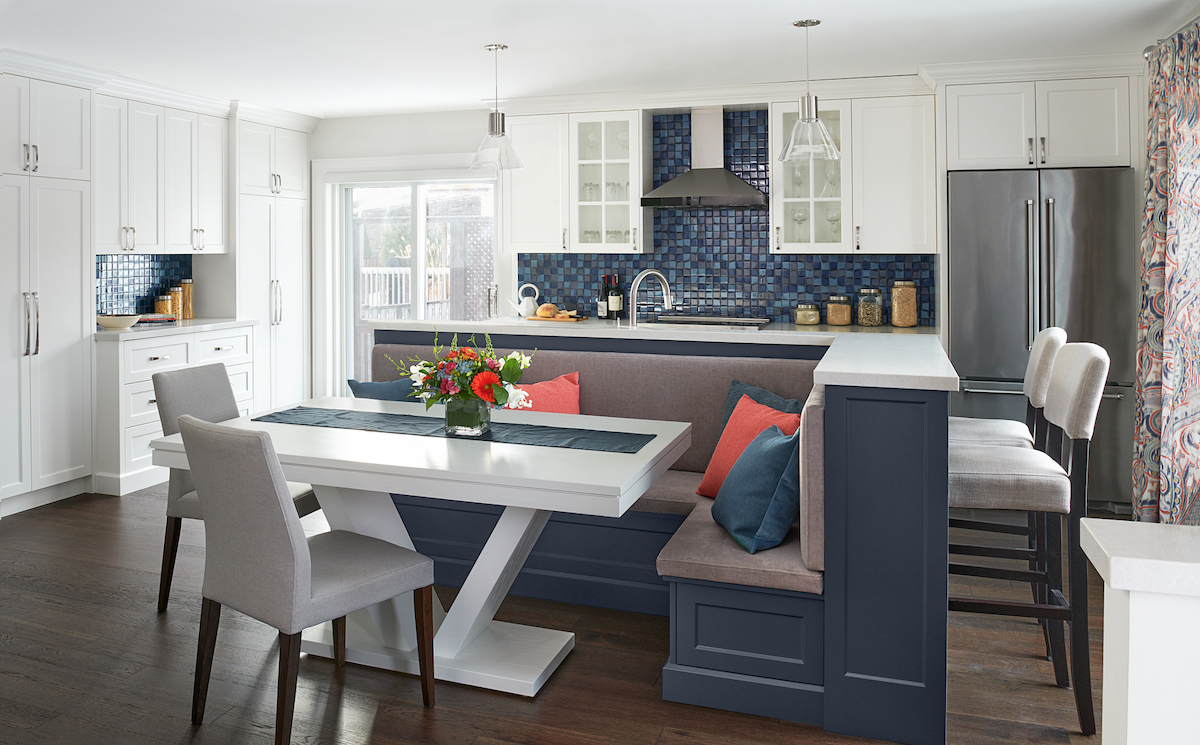 The new kitchen includes a large island with a corner banquette at their eat-in kitchen table, as well as two additional counter-height stools at the far end near the window.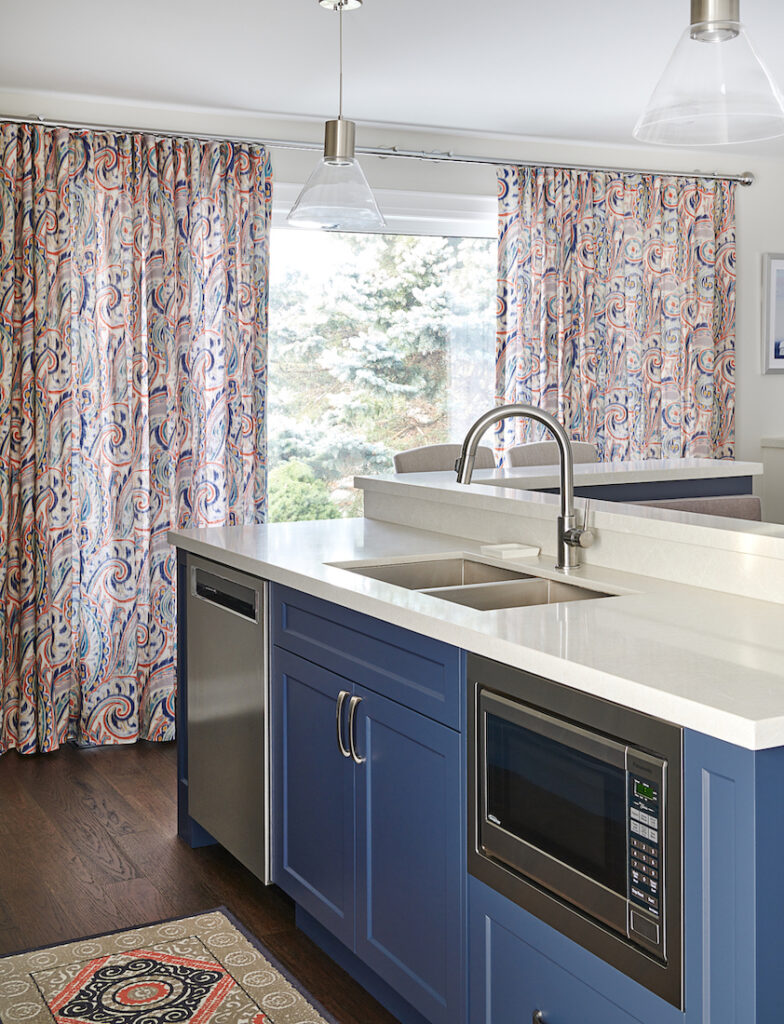 We had many discussions with both the clients and our custom cabinet maker regarding the various custom cabinetry designs throughout the home.

From the kitchen to the bathroom, including the large walk-in closet known as the 'Girly Room', no detail was overlooked.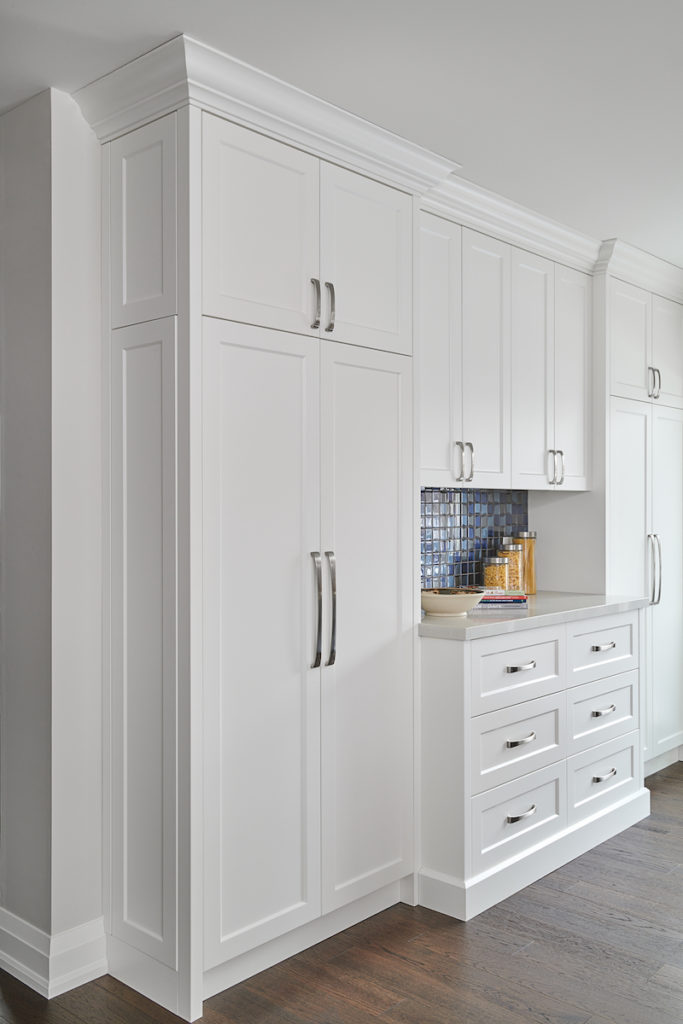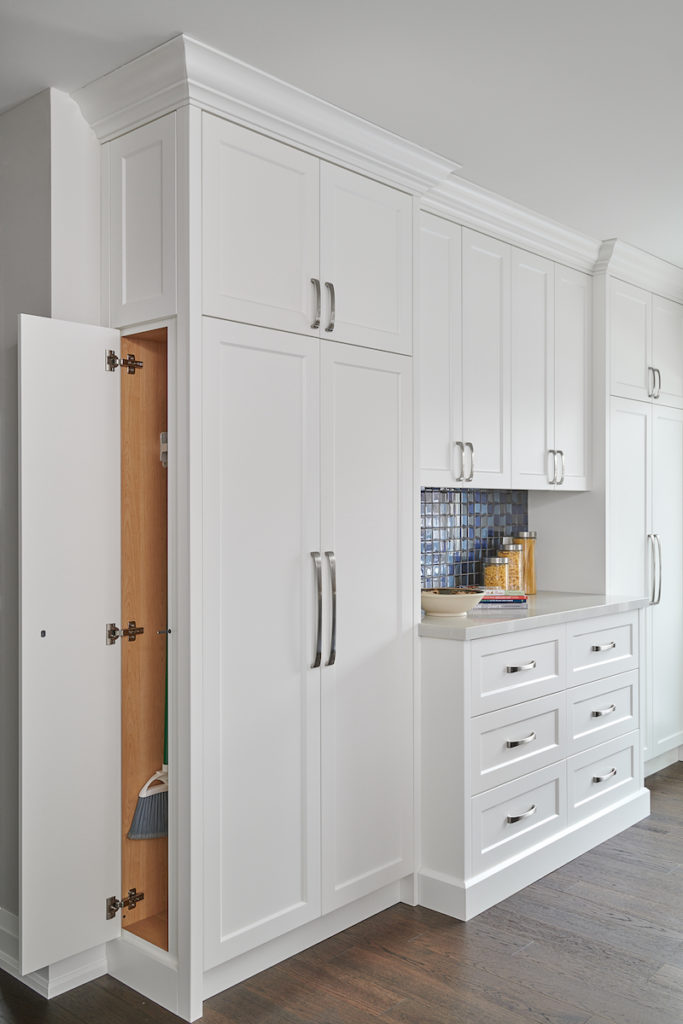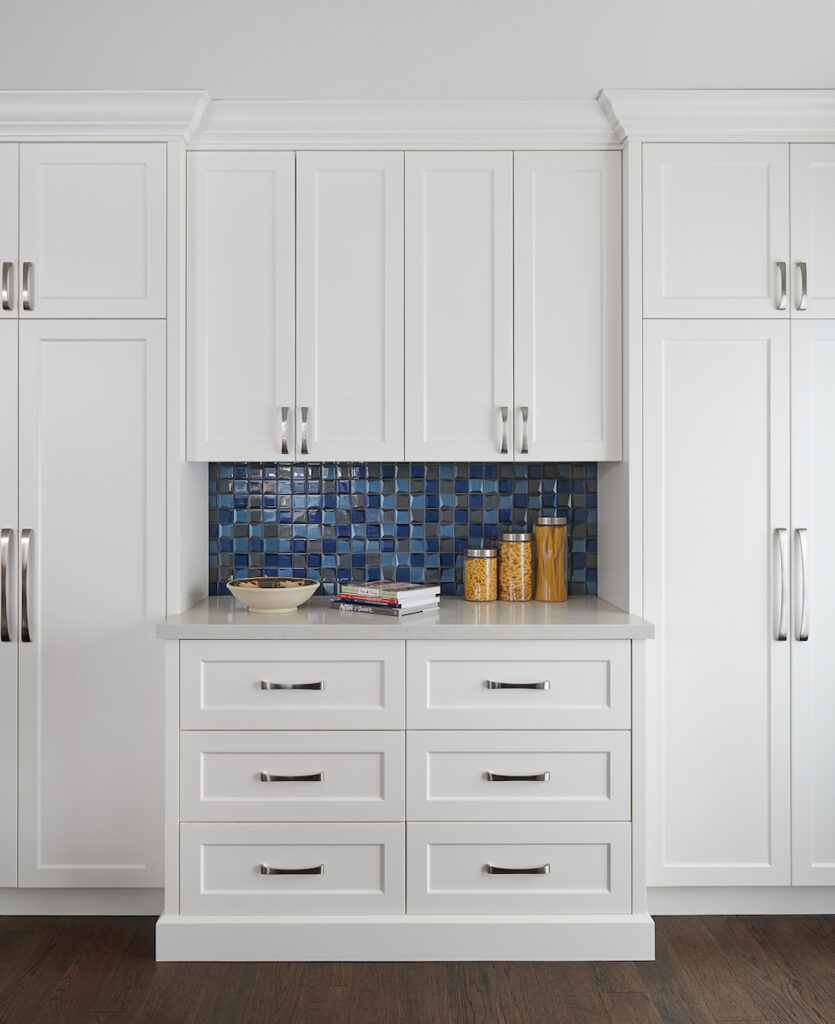 The nice thing about investing in custom millwork is that you can get exactly what you want.
'The Girly Room'
The fully customized dressing room for my sister was a lot of fun to design, although not without it's challenges, to make sure we got everything perfectly perfect.

We wanted the look to be soft and feminine which is why we selected pink wallpaper, white and blush drapery fabric, and a bright white for the custom cabinetry.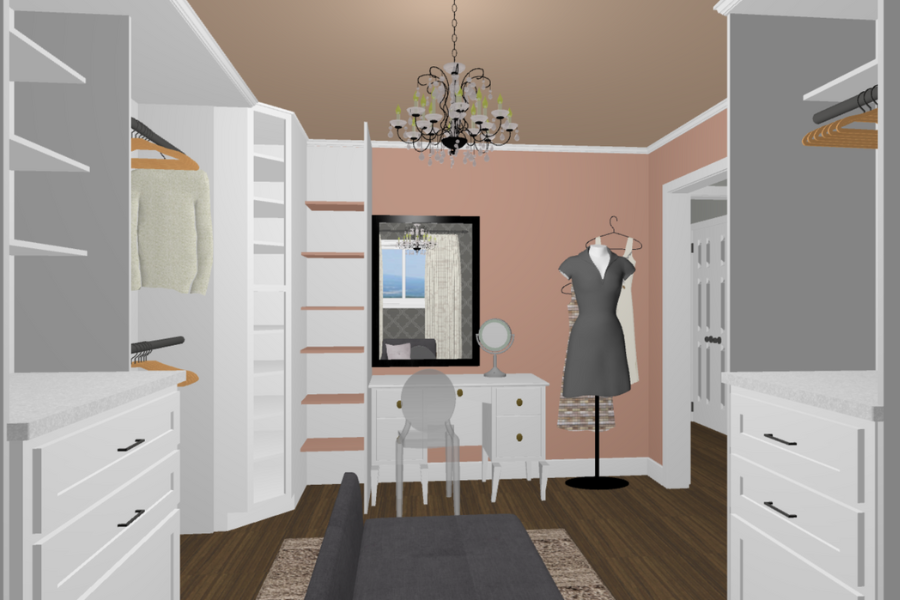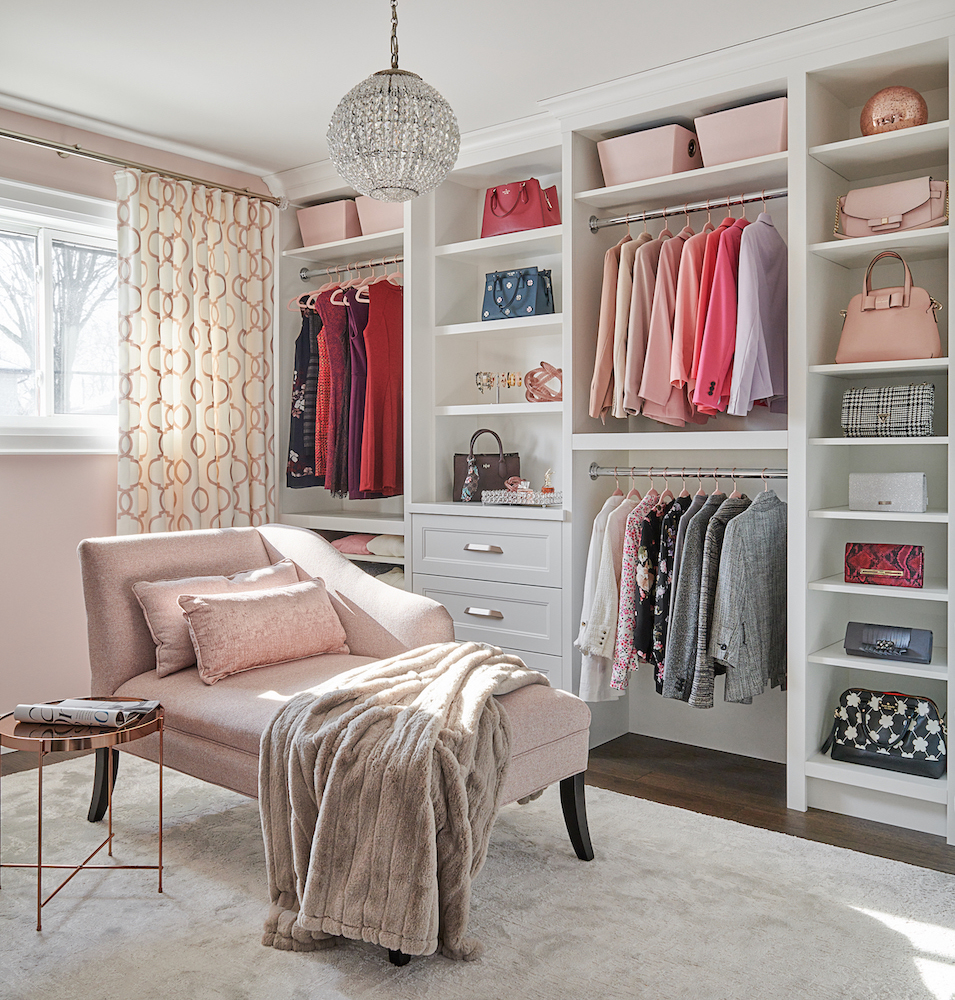 We designed this 'Girly Room' to include plenty of open hanging storage for dresses, dress shirts and formal suit jackets. Good size drawers house undergarments and open shelving allowed us to display stylish accessories such as handbags, some jewellery and perfumes.
The custom-designed spinning shoe rack in the corner is definitely a show-stopper and conversation piece. This beauty houses over 70 pairs of my sisters' shoes!
The crystal chandelier and soft, pink glass swirly hardware on the drawers add additional hits of 'bling' to the room.
This custom full-length wall mirror doubles as a home for all my sisters' jewellery and was designed in a way where she can easily see every necklace and each set of earrings to allow her to easily and carefully select the best pieces to coordinate with her outfits.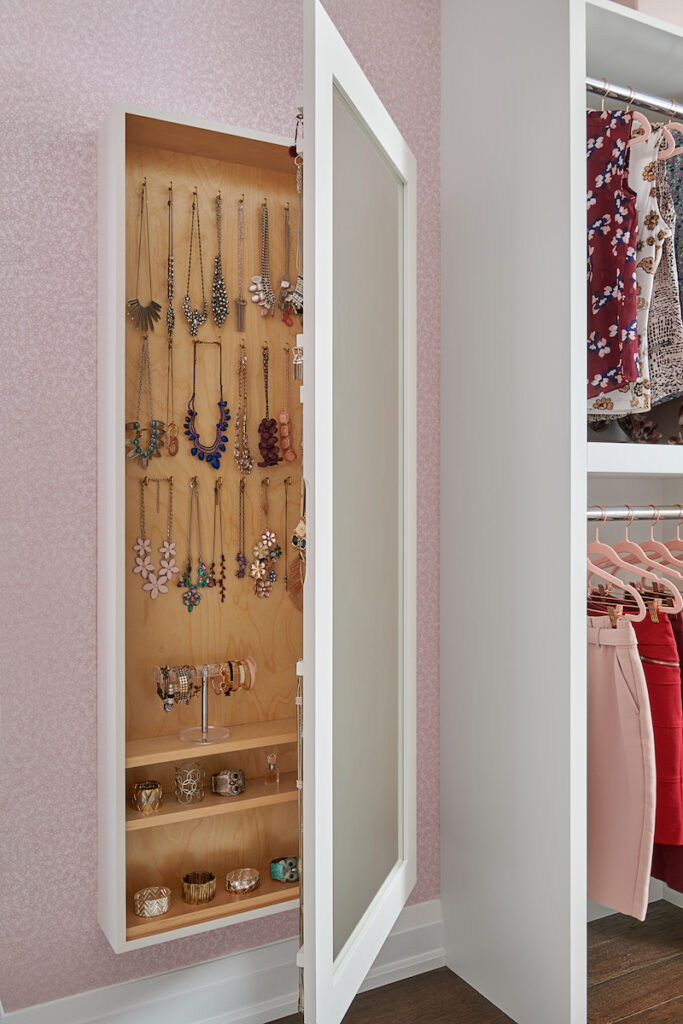 This new and improved 'Girly Room' was more than just a step up from what the room my sister was using previously for all her fashion needs. Check out the before image below.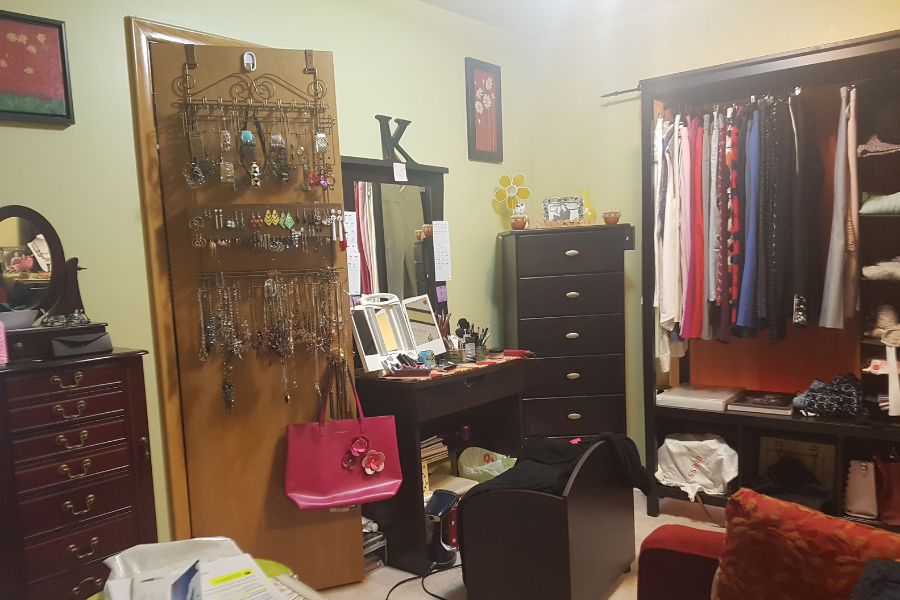 Wowzas! It's incredible when you consider the possibilities of thoughtful, interior design.
In my opinion, the creative process is one of the best parts of being an interior design professional, and making dreams come true too, of course. 🙂
A Bigger Bathroom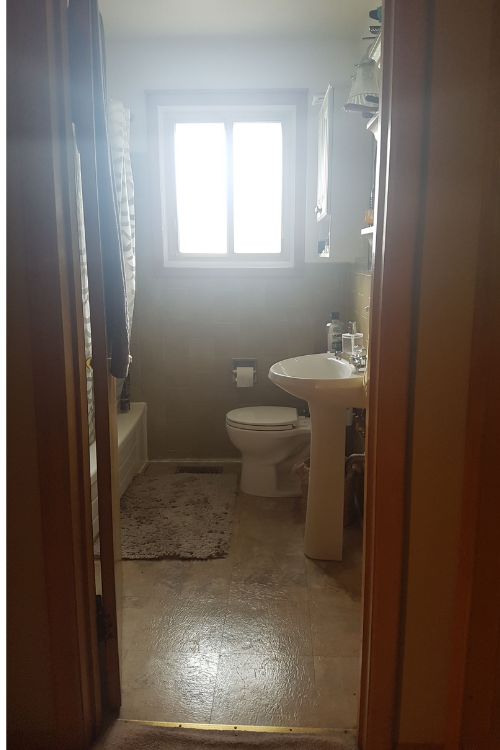 In the new design, we moved the new bathroom to where the old kitchen was. If you scroll back up to the first 'before' photo in this blog, the one of their kitchen, you will see the same window that is now shown here on the right and in the reflection of the mirror.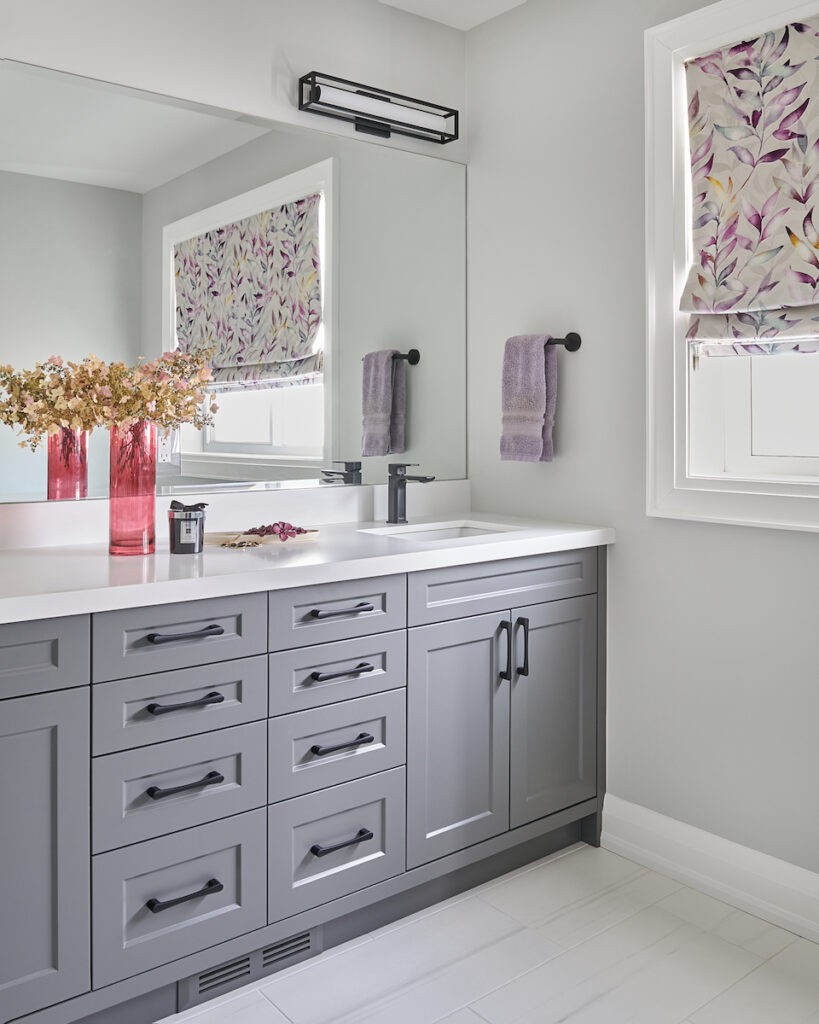 The bathroom walls are painted Gray Owl by Benjamin Moore and the vanity is Kendall Charcoal. This moody dark grey is one of the 8 paints in my best bold paint colours for cabinetry.
This renovated bathroom is quite a change from what my sister and brother-in-law were used to. Double sinks, a larger window, loads of counter space and great storage with all those drawers!
My sister and her husband love the clean look of this new bathroom design. A tub wasn't required, so a nice big shower with a built-in bench worked very well.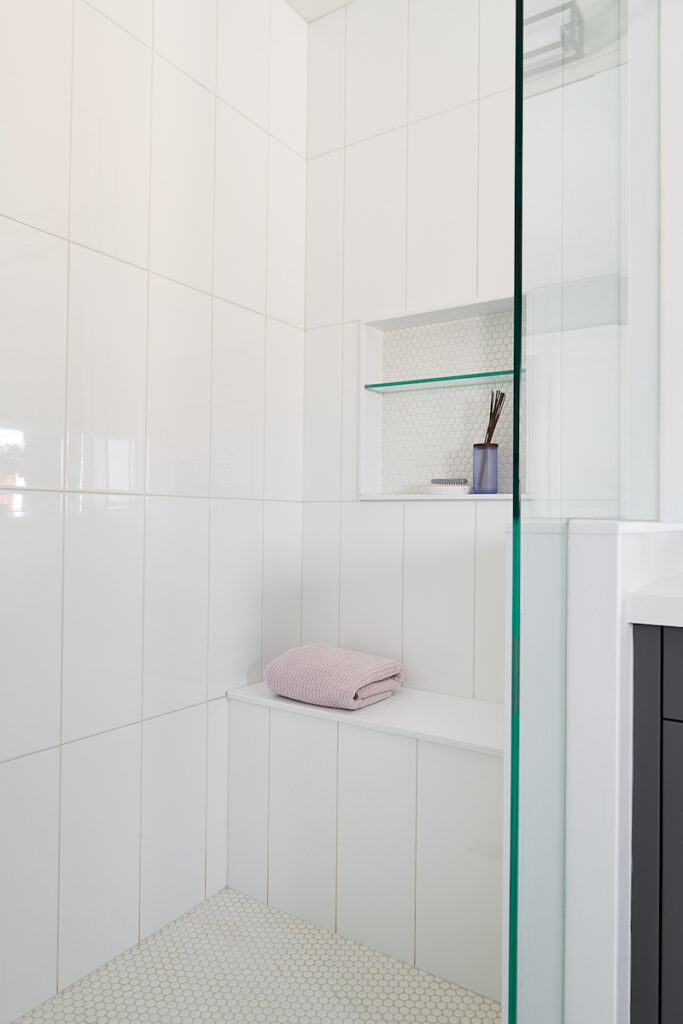 The large wall tiles make for easy cleaning and the small penny tile is so charming on the shower floor which we repeated in the niche on the wall.
Adding a glass shelf to the shower niche allows for extra storage to house shampoo, conditioner, shower gel and razors…except for in the professional photo where we styled it with scented sticks. 🙂
Designer Secret
Want to know one way that you can make a room more stunning? Paint the ceiling a dramatic colour!

My sister and brother-in-law were very open to this idea, and they loved the result. Painted ceilings are a nice, unexpected touch to an area that is often overlooked for its possibilities and usually done in white.
We wanted to create a bedroom space with a feeling that was moody yet serene, with some playful accents. The hits of teal and raspberry tones work beautifully to achieve the desired look.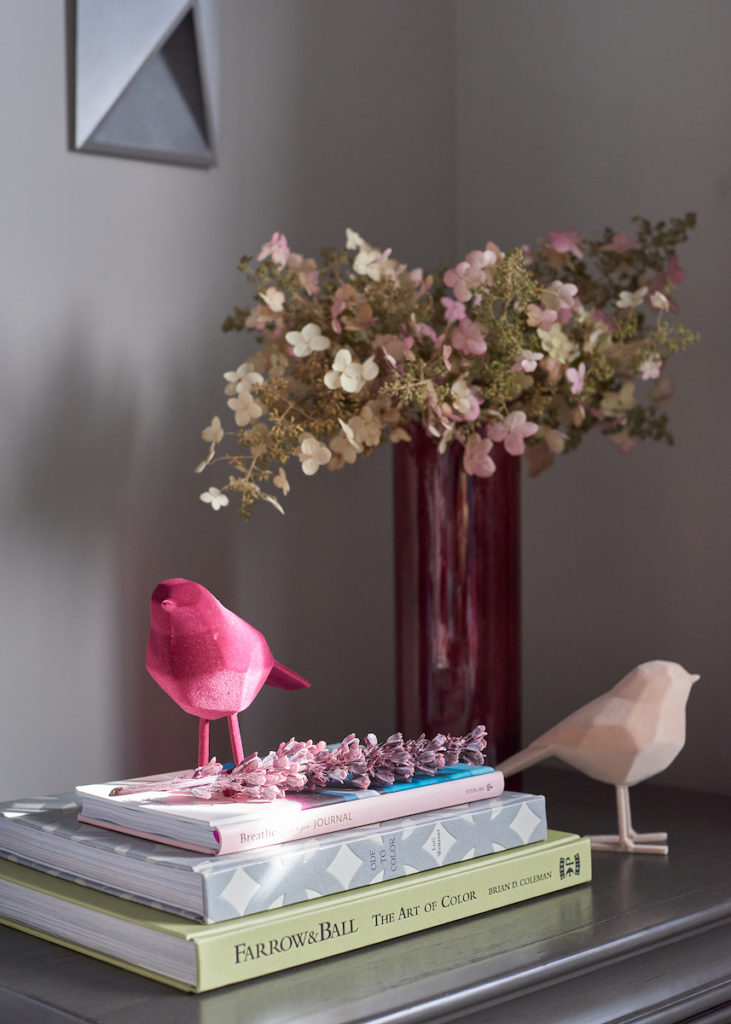 I really enjoyed working with my sister and brother-in-law, they were very open to all of my ideas and were great to work with.
Now we all look forward to their next renovation coming this fall which will see a complete gut and new design in their basement! Stay tuned for that project.
Our job is most meaningful when clients trust us to create stunning and functioning spaces for gathering and making memories.
Moving is a daunting task, not to mention expensive. Plus, it's rare that you will find a house that you don't need to decorate or renovate in any way. Don't limit the possibilities of what you might be able to do in your current home versus moving houses.
We actually started documenting the renovation when it started 2 years ago, you can see part 1 here, part 2 here, part 3 here, and part 4 here.

If you are local to the Burlington area, we can help. Contact us here, I'd love to speak with you to discuss the dreams you have for your home.
See their full project in our professional portfolio here.
Client Testimonial:
My sister exceeded our expectations. We never thought our home could be this spacious or beautiful. It finally fits all of our needs and is now our forever home!
What design element did you like best?
Have a favourite part of this Bungalow Makeover? Comment below to tell me what it is!
Perfect for Pinning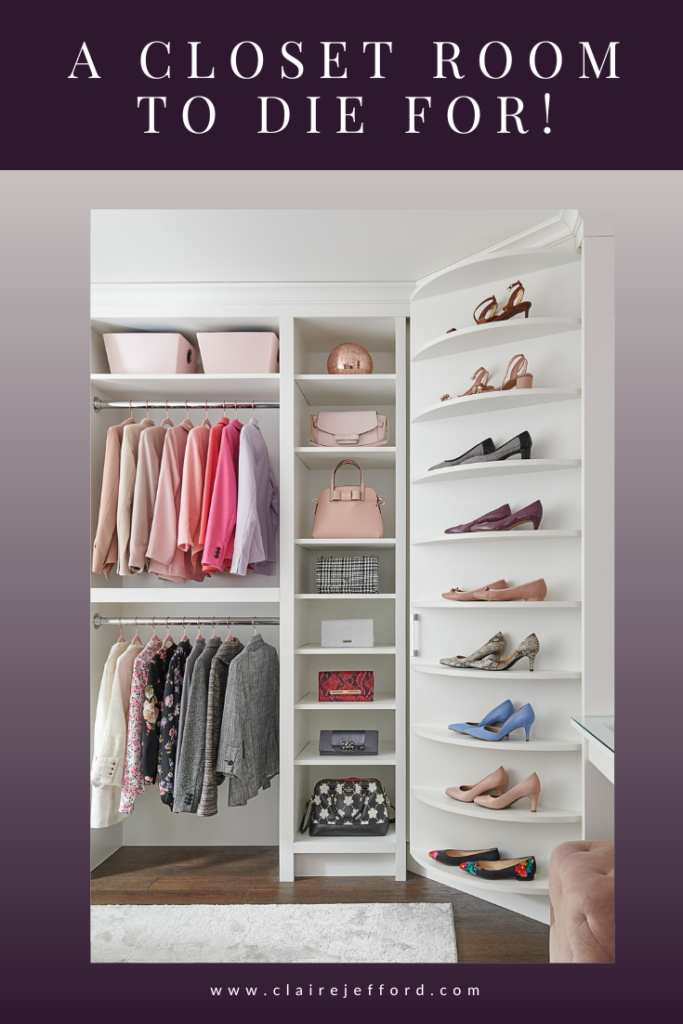 Colour Claire-ity
Do you know my 5 Steps on how to choose the right paint colour the first time?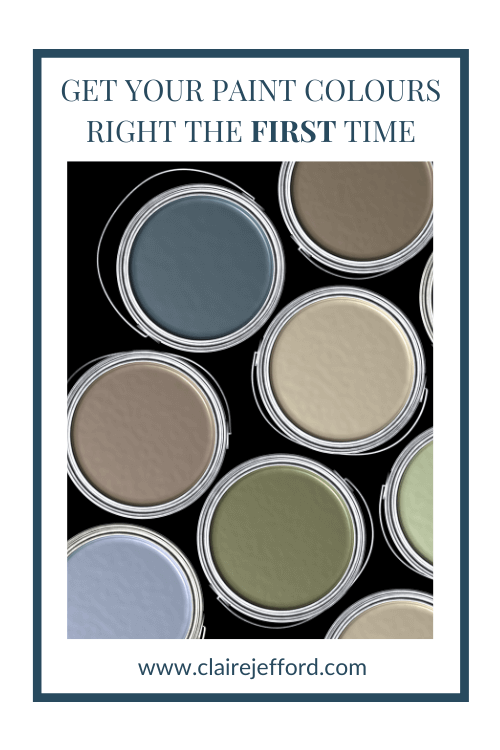 Convenience At Your Finger tips
Check out my super helpful Perfect Colour Palettes. Find great colour combinations to inspire you for your next room design palette.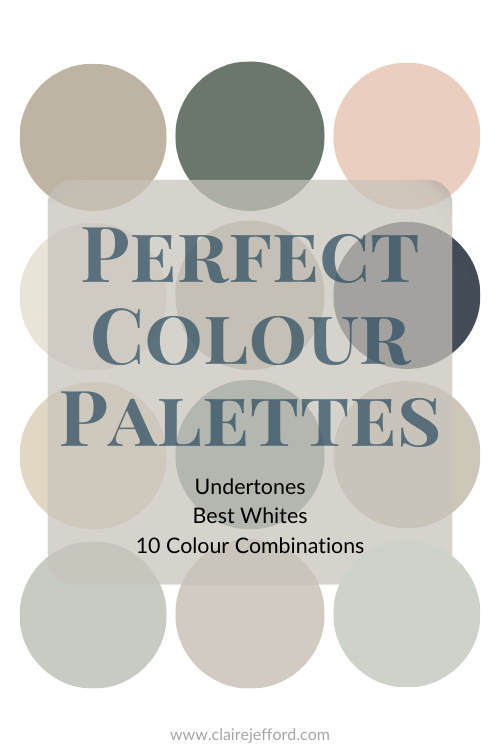 Remember, it only takes one mistake to take your home decorating project from divine to disaster. Don't let the paint be what stresses you out!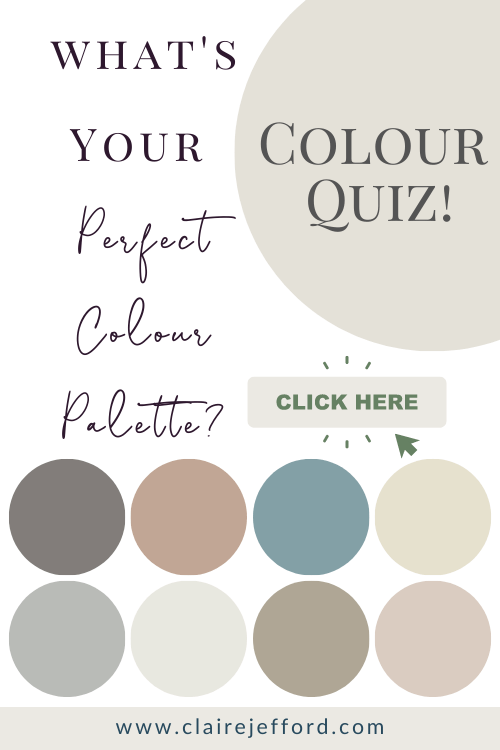 Perfect for Pinning