Bungalow Home Renovation Part 2
Picking a Paint Colour?
Choose the right paint colour
the first time Let me show you how in just 5 easy steps!
BONUS: The Top 15 Shades of Gray by Benjamin Moore
We value your
privacy
. We will never share or sell your information.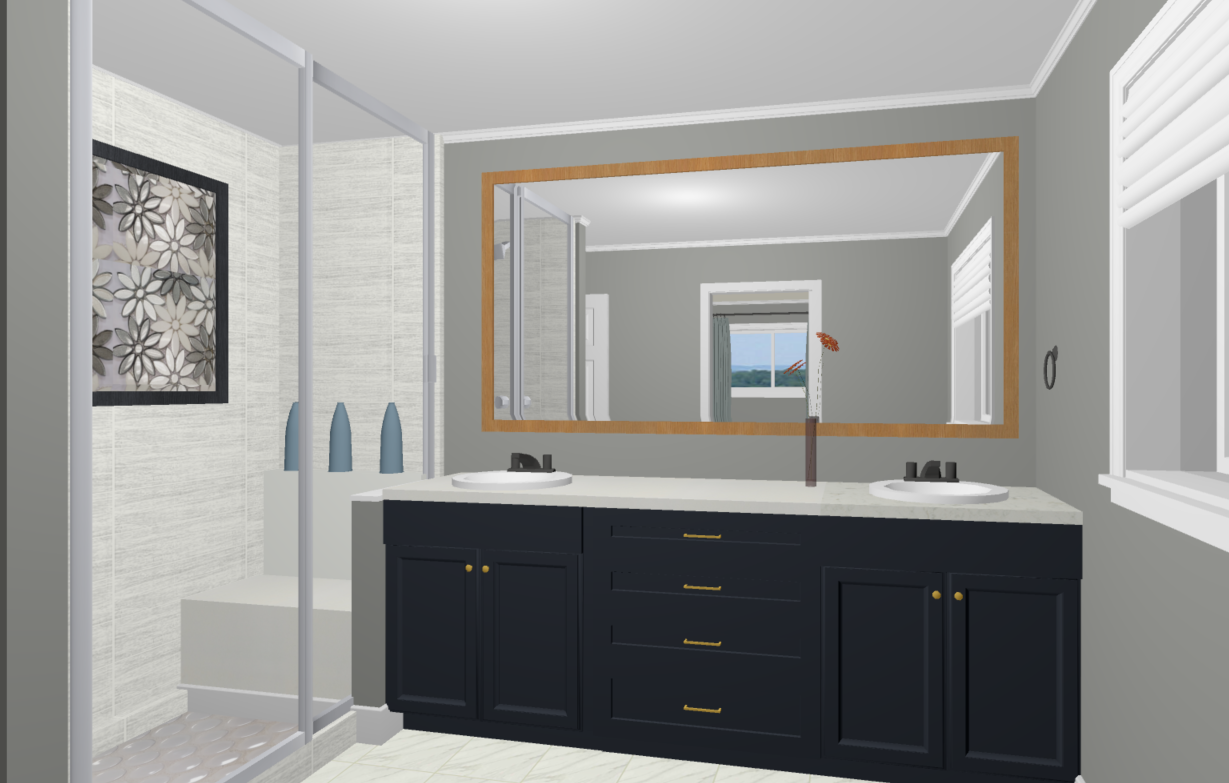 Framing is Underway!
Welcome to the second part in my Bungalow Home Renovation series where I'm taking you on a 'Behind the Scenes' tour of my sister's main floor renovation.
This week, we are on-site with my contractors to review specific details about spatial planning and all the custom cabinetry.
If you follow along with my Podcast for Designers, TNT: The Naked Truth, you may have heard my interview with two of my fabulous trades, Walter and Shane.
They both spoke openly about their experiences in working with Interior Designers and it was so eye-opening to see things from their perspective.
You can check out the podcast episode titled 'Improving Relationships with Your Trades' here.
Walter is my main GC -General Contractor -whom I have worked with for over 5 years. Shane works with Walter and does amazing custom cabinetry work. Together, we are taking care of my sister's bungalow renovation project.
It's all in the Details
Karen and Jason have allowed me to design their home with all custom cabinetry. This is the best way to get everything you need out of a design.
Lack of storage has always been an issue in their little 3 bedroom (now 2 bedroom!) bungalow, but that will no longer be the case with the new design.

If you missed Part 1 of my series, you may want to hop on over the first vlog here and then come back so you are up to speed on where we left off.
Okay, are you ready for Part 2?
Come take a look at 'Behind the Design' with me as we talk with my contractors on-site, just after the demo got underway.
Finishes -Sneak Peek!
Okay, these aren't shown in the video, but I wanted to give you a sneak peek at some of the finishes we are using in Karen and Jason's home.
Oopsy Daisy
Initially, this was an accent tile that I showed Karen and that we wanted to add as a feature on the main shower wall.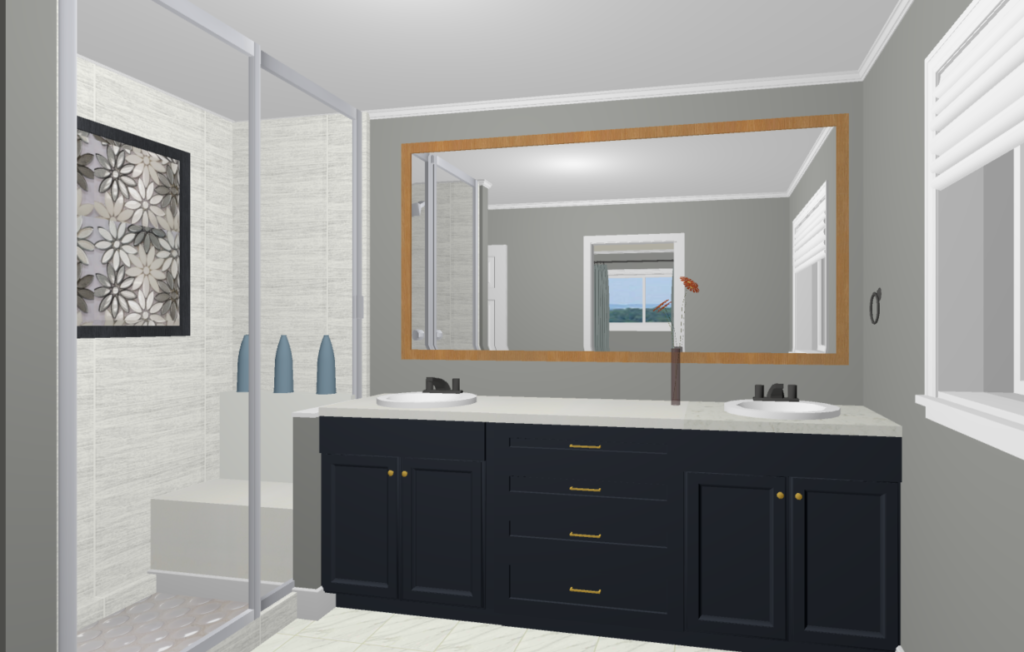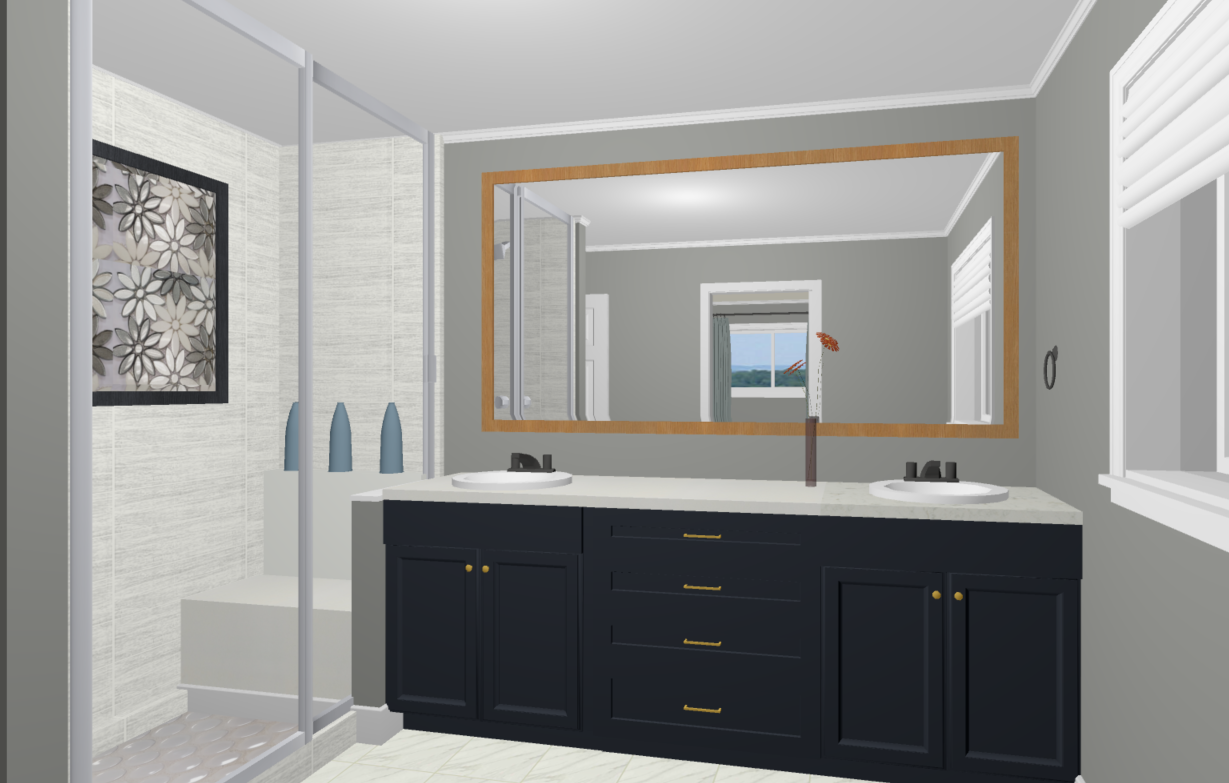 Unfortunately, we did not end up going with the soft gray, silver and white glass daisy tiles. Budget always plays a role, folks! Instead, we are keeping the back wall simple with the large, white vertical subway tiles.
In the 3D drawing above you can see where I put in the pretty accent tile to the left in the shower.

NOTE: Don't get too caught up in my drawings looking exactly like the final product though. When I originally create 3D main floor designs for clients, I am focusing on the overall concept for space planning purposes and am not necessarily making recommendations for the finishes, furniture or colour.
Plus, as you can already tell, it is not uncommon for details to change once a renovation gets underway.
The sinks will be undermount in style, the hardware is not gold and instead of a ledge above the bench in the shower, there is going to be a niche.
Bold Backsplash
My sister and her husband Jason (Jayman, as we fondly refer to him) like to have fun. They are not shy when it comes to colour which is why we landed on this funky glass tile for the kitchen backsplash.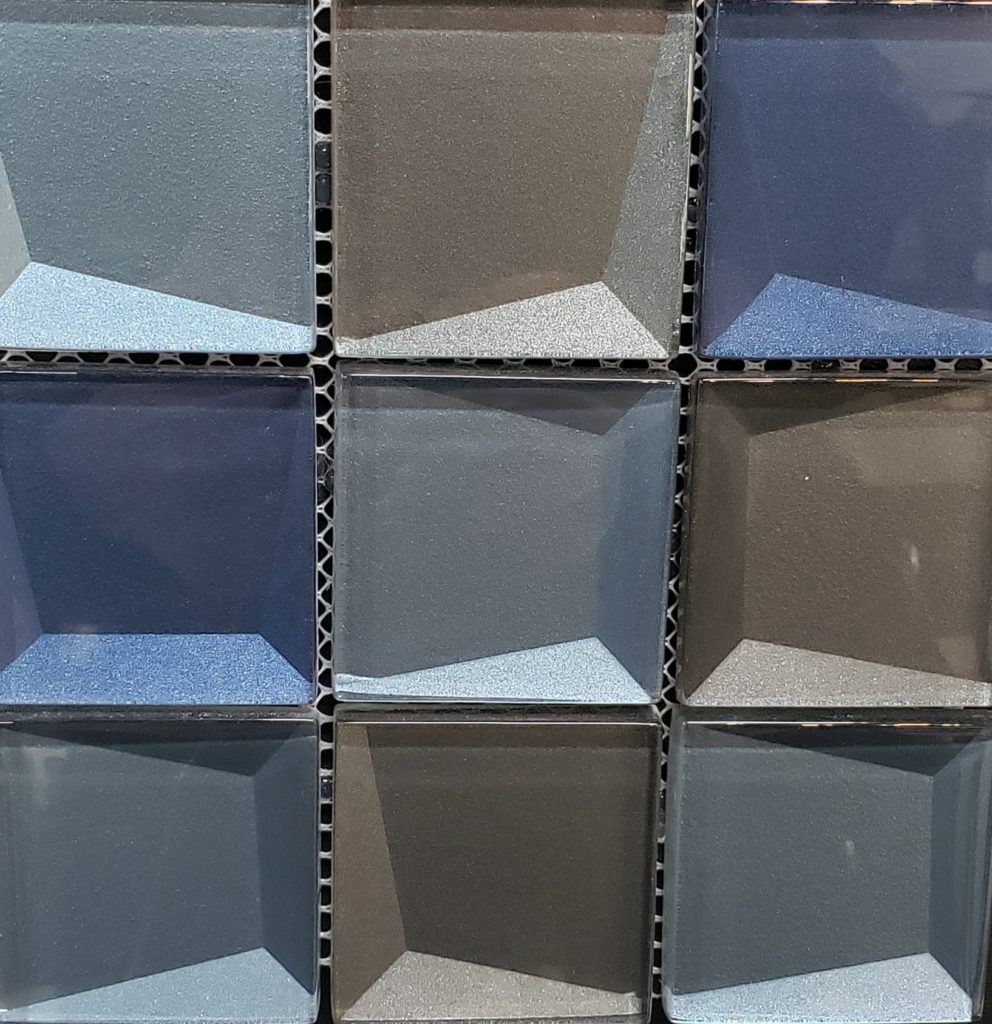 It has 2 shades of blue, as well as a gray tone. Remember, you don't have to go classic if you find something YOU LOVE. If a house is not being renovated to flip and you fall in love with something that speaks to you, then GO FOR IT!
Below you can see all the main kitchen finishes together. (Except the blue will be Hale Navy as opposed to Van Deusen Blue.)
I hope you will follow along with my sister and her husband's Bungalow renovation series, there is more to come as we continue to make progress with the renovations.
Psst! Love Colour? Take my new colour quiz to determine which colour palette suits you best!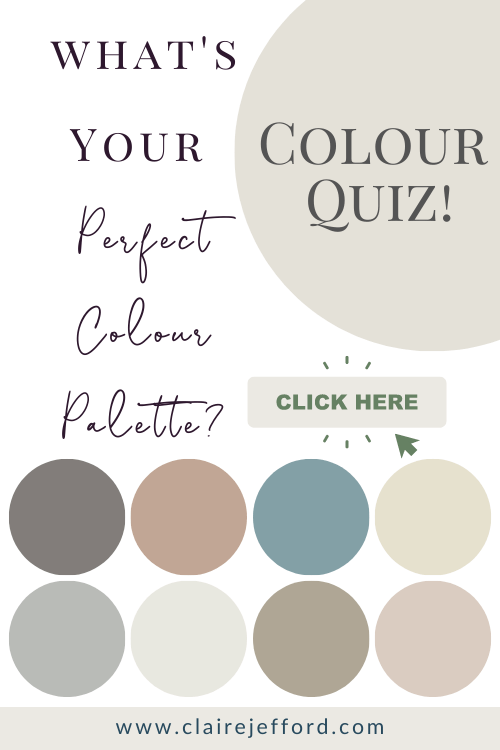 Convenience at your fingertips
Choosing Paint Colours
If you struggle with choosing paint colours, be sure to check out my Perfect Colour Palettes.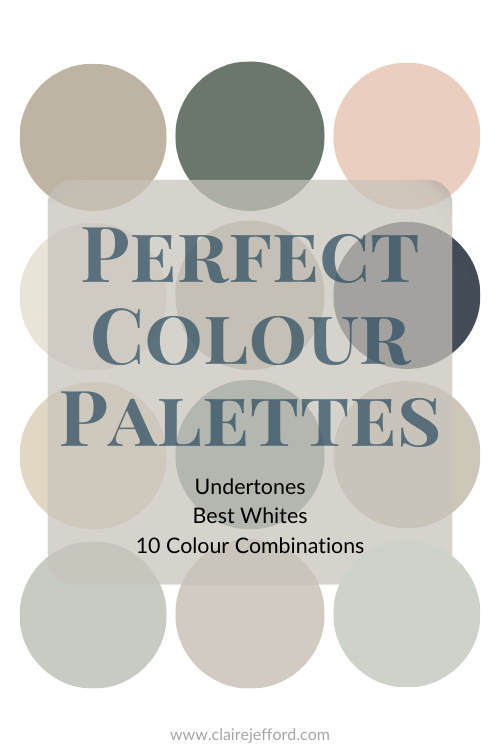 I now have 40 individual guides to help inspire you.
Collections
I also offer collections that showcase a group of 10 similar colours from Benjamin Moore,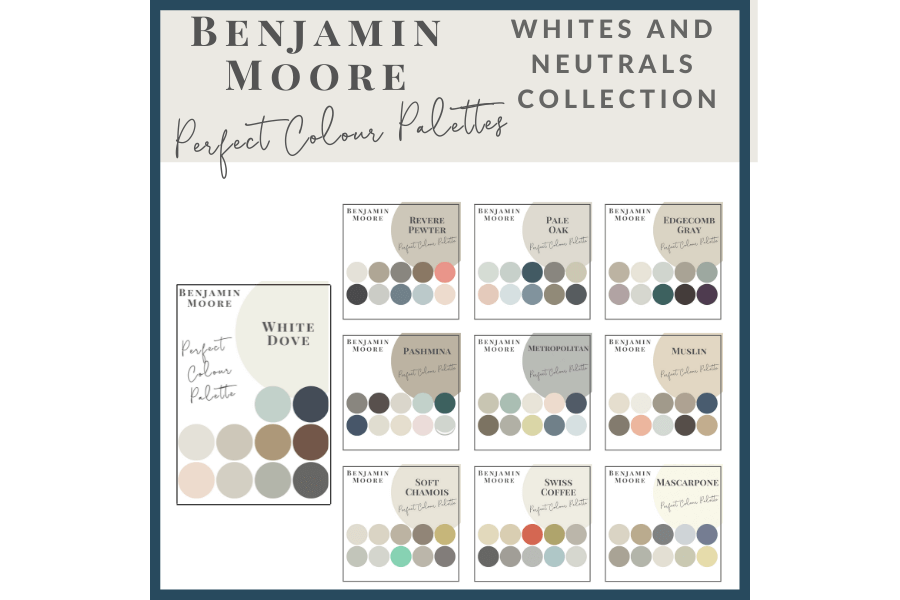 Farrow & Ball
and my newest addition, Sherwin Williams.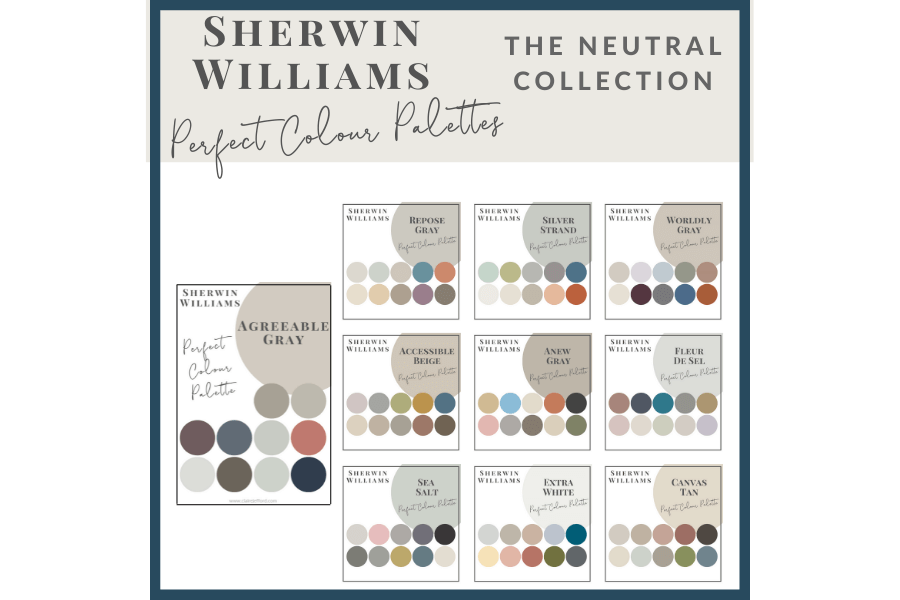 Remember, it only takes one mistake to take your home decorating project from divine to disaster. Don't let the paint be what stresses you out!