Benjamin Moore Whites & Neutrals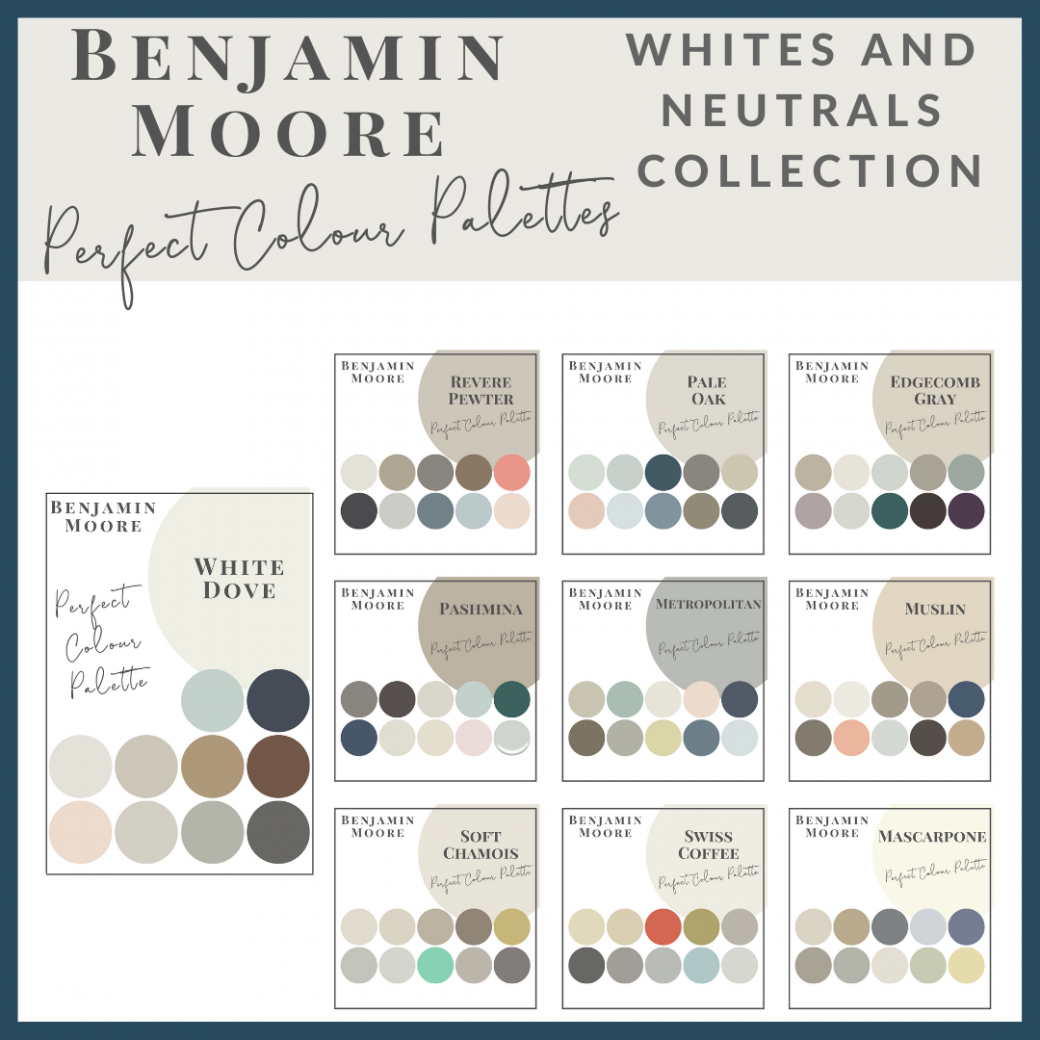 Many, or most, online paint colour recommendations are made in a bubble, with little or no context.
We don't think that's very helpful. Our Colour Palettes help you confidently select the best colour for your home, and then see which trim, ceiling, and accent colours pair well with your selected colour.
Get our Benjamin Moore Whites & Neutrals collection with 10 PERFECT COLOUR PALETTES and choose the perfect interior paint colours the first time, every time.
Each PDF download includes:
Undertone (if applicable)
Two paint comparisons to better understand how to see colour
Three best white paint recommendations for trim and ceilings
Ten curated paint colour options to use with the featured colour—no fail colour combinations!
My five tips for choosing the right paint colour
Recommendations for selecting the perfect paint sheen
Tips on selecting the best lighting for your home
Corresponding photos of our work (if applicable)
A link to the corresponding paint colour blog
Valuable resource to get your own painted samples
Want all 20 Benjamin Moore colours palettes? Get the Ultimate Collection!
Never second-guess your Benjamin Moore paint colour choices again!
With our extensive collection of some of the most popular paint colours from Benjamin Moore, you can feel good about decisions and select the best paints for your project. Don't get overwhelmed—get Claire-ity!
Perfect for the avid DIY'er or interior design professional! With such a complete collection of whites and neutrals at your fingertips you'll be confident in knowing the undertone for each feature colour (where applicable), the top three choices for which whites to use on your trim and ceilings, plus 10 coordinating colours to consider other rooms in your home—as well as inspiration for creating palettes in accessorizing and decorating a space.
The Benjamin Moore Whites & Neutrals Collection Includes:
White Dove
Revere Pewter
Pale Oak
Edgecomb Gray
Pashmina
Metropolitan
Muslin
Soft Chamois
Swiss Coffee
Mascarpone