it begins with a plan.
Our unique approach is inspiring, functional, and full of value.

The time is now.
Stop wasting your invaluable time second-guessing decisions for your interior design project. Trust our years of experience to guide you confidently forward so you can get it done right—and start enjoying it.

Clarity without commitment.
Holding back is not in our nature—and you don't need to hire us for a full-service project to get unbeatable value. Professional consulting for interior design and decorating is our specialty.

100+ happy clients.
Our interior design business has been thriving for over a decade. We're the highest-reviewed design professionals in the GTA, and have been on the Top 3 Best-Rated Decorators list in Burlington since 2018.
Paint can help pull everything together…
…but choose the wrong colour and all of your efforts will be wasted. With Claire's certification as a True Colour Expert, we bring a wealth of colour knowledge so you know you're getting the right paint palette—the first time. 
We bring our large colour boards for your 2-hour, in-home colour consultation. Starting at $795 plus HST for 2 hours. Travel may be extra.

"…(Claire) saved me so much time and energy going to the local paint store for those tiny little paint samples…"

-Lorraine, Burlington ON

"Claire is a real professional as well as being very personable. Her knowledge of design and colour is amazing! Not only has she helped me with two of my own homes, but my clients have been thoroughly pleased with the results of her work."

-Sandy, Burlington ON
Get the answers you need to live beautifully in your home.
Are you looking to begin a home renovation or decorating project but unsure of where to start before embarking on this costly investment?
Or maybe you're mid-renovation—feeling rushed to make important decisions and overwhelmed by all the choices for finishes & paint colours.
Let us provide the guidance you need with a 2-hour, in-home consultation!
Feel confident in your selections, knowing they all work flawlessly together in a way that ensures you'll love your home for years to come.
Consultations starting at $795 plus HST for 2 hours. Travel may be extra.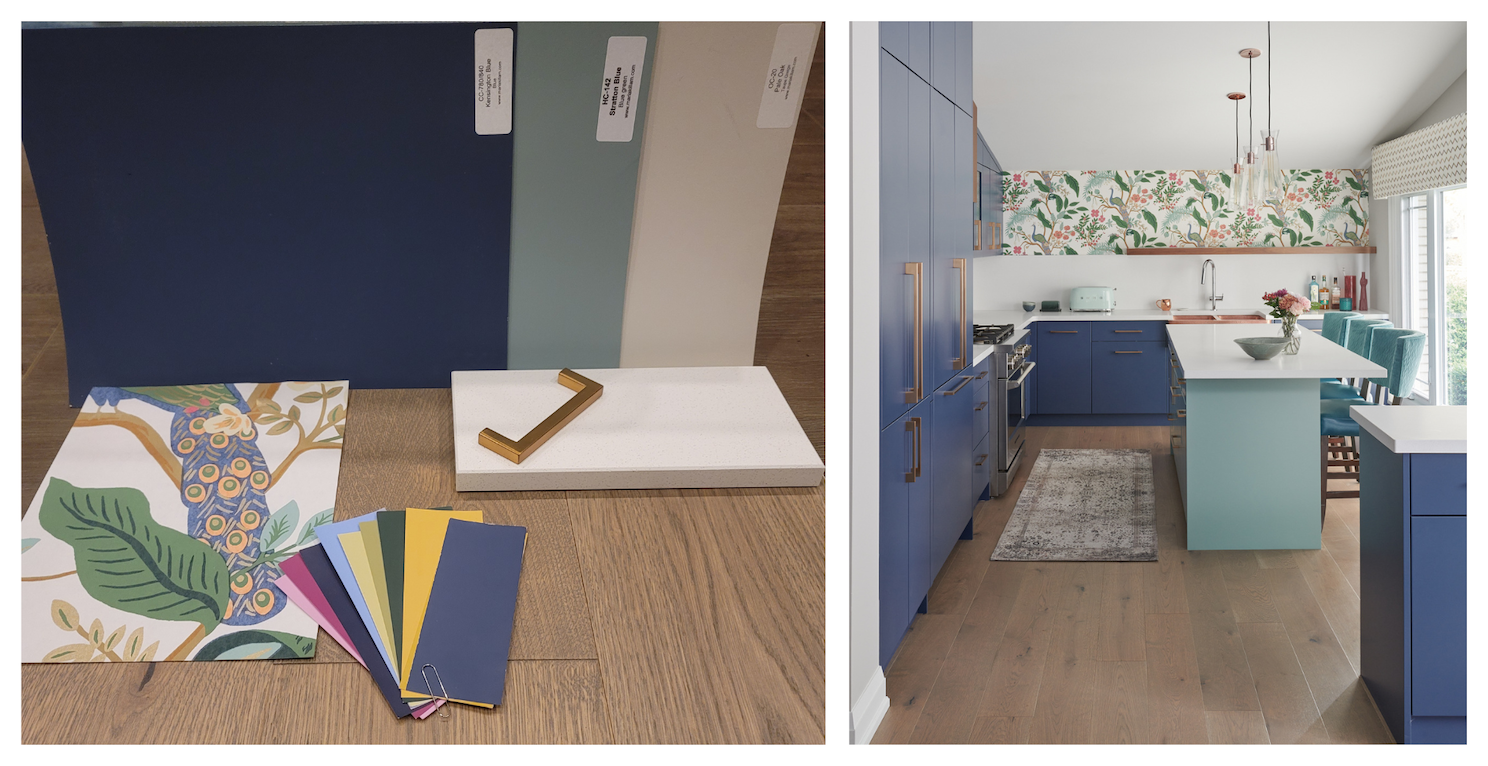 Often referred to as a 'Working Design Session', our hands-on, in-home consultation will ease the overwhelm and solve design problems—on the spot.
For living areas, we'll provide you with professional decorating advice and ideas for furniture layout, window treatment styles, and paint colours. You'll walk away deeply inspired—and knowing exactly how to move forward with your decorating project.
If you're renovating your home, we will show you what to consider when pulling together all of your finishes—from countertops and backsplashes to tile and flooring.
And we come armed with samples from our studio library.
One mistake can compromise an entire design. Don't take that risk! Your home and your happiness are worth the investment.
For a Renovation…
A consultation can help with:
Flooring options such as hardwood, tile and carpeting
Tiles and stone for bathrooms, kitchens, fireplaces and feature walls
Backsplash and grout colour recommendations
Countertop and profile selections
Style & colours for doors, windows, trim, crown and baseboards
Millwork detail ideas for cabinetry finish, colour, style and hardware
Lighting suggestions for pendants, sconces, chandeliers and lamps
Paint colours for walls, cabinets, ceiling and trim
Plumbing fixture recommendations for faucets, sinks, toilets, and shower controls
For a Decorating Project…
A consultation can help with:
Decorating advice for window treatments, area rugs, furniture & pillows
Pulling together a colour scheme with fabrics & wallpaper
Suggestions for artwork and accessories to pull a room together flawlessly


"Claire came highly prepared, and she provided a questionnaire prior to our meeting to better understand my tastes and interests. Using that information, she brought relevant samples and helped me to select some of the materials that would suit the look I was after."

-Diane Bili, Hamilton Client

"I hired Claire for consultation on an extensive house renovation. She assisted with floor plans, paint/floor finishes, and kitchen cabinet/counter selections. Claire is professional, knowledgeable, very hard-working, and easy to work with. She is focused on providing a finished product that suits the individual need and style of the client."

-Kathryn, Consultation Client
We make choosing finishes simple and easy.
Designer For a Day services provides you with expert guidance from us, your Interior Design Partner. Allow us to assist you with parts of the project that most home owners find especially overwhelming and to help you avoid making costly mistakes.
Details of what we can assist you with in your project may include, but are not limited to:
Flooring options / selecting hardwood

Floor or wall tiles

Backsplash and grout recommendations

Countertops and profile selections

Cabinetry finish/colour/style and hardware choices

Lighting

Paint colours for walls, ceiling & trim

Plumbing fixtures such as faucets, sinks, tubs and shower controls
Designer For a Day services start from $1,495.
With our expertise and knowledge, you can feel confident knowing that you have us by your side to offer solid advice and answer questions relating to any design aspects of your project.

"I had the pleasure of consulting with Claire on selecting the finishes for my kitchen renovation. Claire was able to assist us in making appropriate selections that fit our style and our space. Without her, I am not sure I would have managed to find my way out of a mountain of white paint chips! It really came together beautifully and I could not be more pleased."

-Keri, Burlington Client

"Thanks for meeting with us Claire. It was super helpful to have you come out and help us with the selections. The process was overwhelming and you made it easy to tackle. We will be in touch when we get to doing interiors!"

-Preetika, Brampton ON
Recent & Featured Projects