Sherwin Williams – Worldly Gray
Picking a Paint Colour?
Choose the right paint colour
the first time Let me show you how in just 5 easy steps!
BONUS: The Top 15 Shades of Gray by Benjamin Moore
We value your
privacy
. We will never share or sell your information.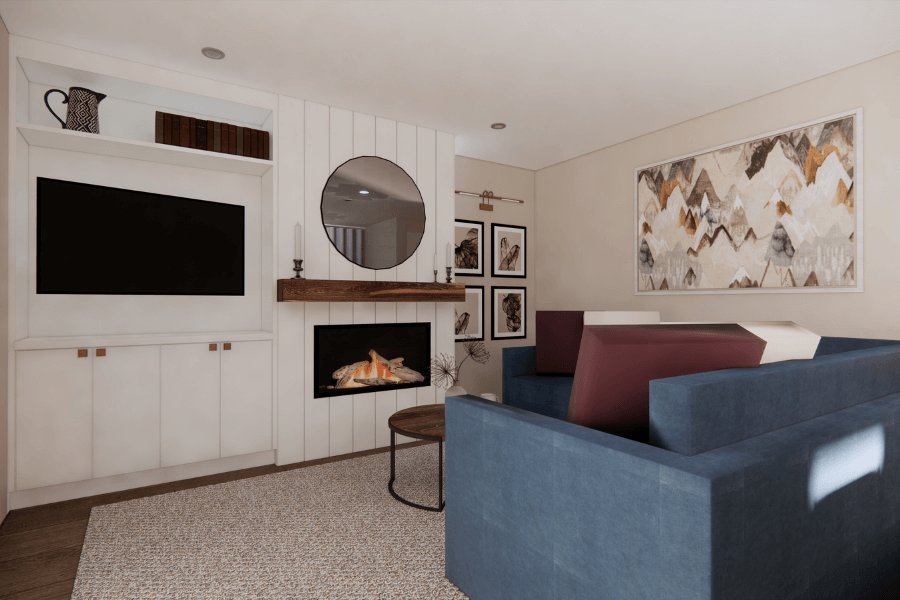 Worldly Gray SW 7043 by Sherwin Williams
Can there be too many beautiful neutrals?
Talking with designer and decorator friends it seems everyone has their favourites.
Worldly Gray by Sherwin Williams is certainly an incredibly popular one.
This subtle gray that some people may refer to as a greige, is a beautiful colour. As with many neutrals, it tends to take on slightly varying appearances in rooms depending on the light and other decor elements.
Let's explore this colour a bit more closely here in this week's colour review.
If you're new here, welcome! Below you will see what I cover in every colour review post.
In this colour review of Worldly Gray by Sherwin Williams, I share:
The undertone of my featured colour
Colour comparisons in order to easily see the different colour tones
Best white paint colours for the trim and ceilings
Beautiful colour combinations to inspire you for your decorating project
Sherwin Williams – Worldly Gray
After you read my review if you would like all the information I discuss in one convenient place look no further than my new Perfect Colour Palette for Worldly Gray.
My Perfect Colour Palette also includes 10 colours that go beautifully with Worldly Gray, plus a 2-page step by step How-To for choosing a cohesive colour palette in your own home.
A must-have for any colour enthusiast or interior design professional!
Worldly Gray Colour Review
Undertone: violet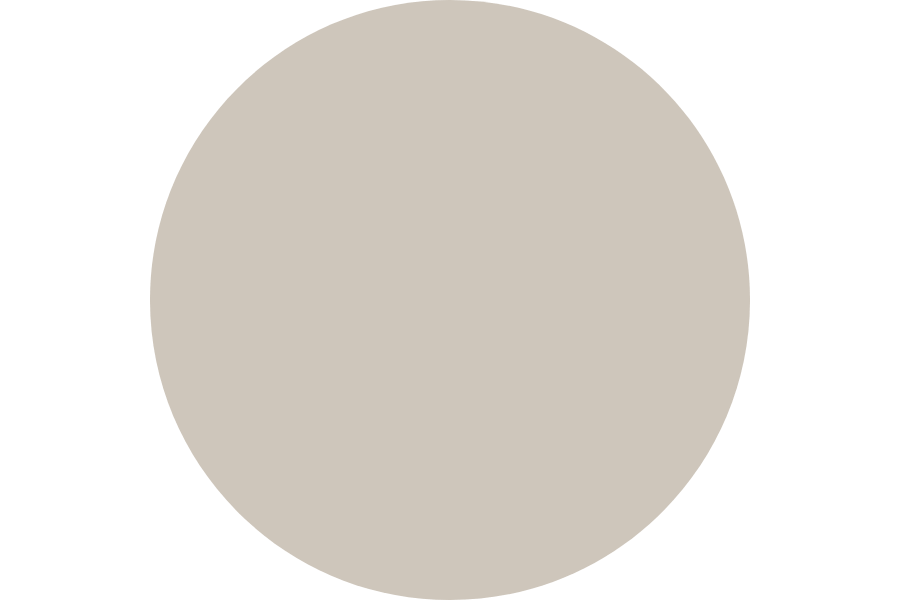 Colour Comparisons
As you can see below, it's when we start comparing colours that you get a much better sense of a paint's true colour.
Anew Gray SW 7030 and Zircon 7667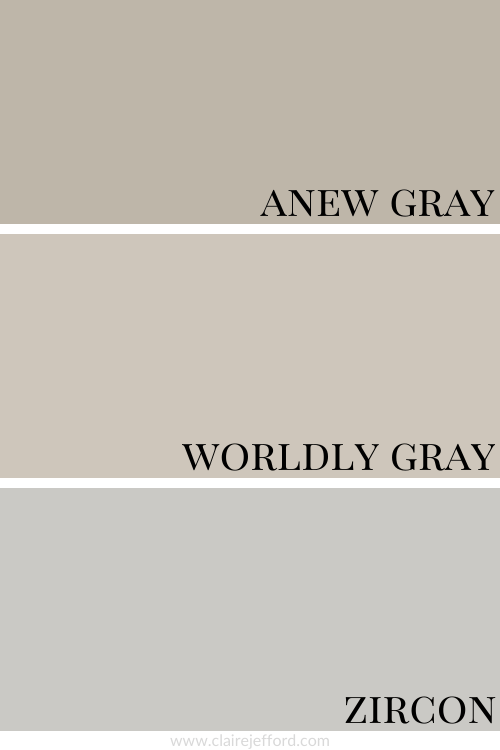 When comparing these three colours so closely as I have in the graphic above, you can easily see the differences in the undertones.
Anew Gray is a green-gray, Worldly Gray is a violet-gray and Zircon is a Blue Gray.
So many Shades of Gray! Who knew?!
Well, I did actually. 😉 But because I appreciate how confusing this can be if you are not a True Colour Expert obsessed with colour and design, I have a Free download for you.
Best Whites To Pair With Worldly Gray
Extra White SW 7006 by Sherwin Williams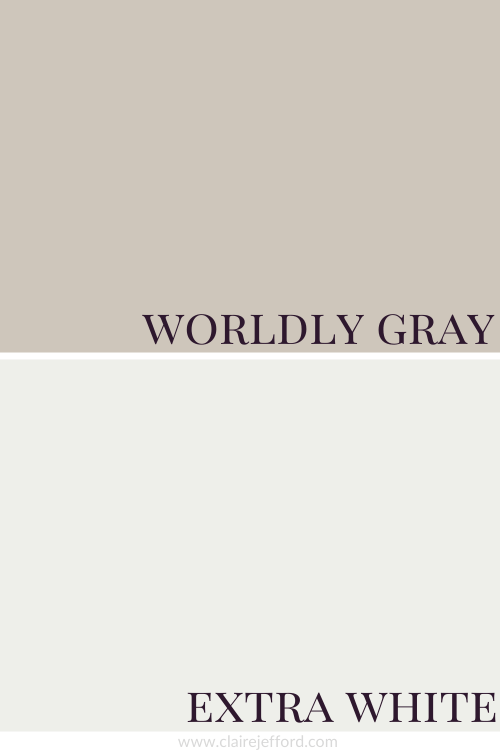 Snowbound SW 7004 by Sherwin Williams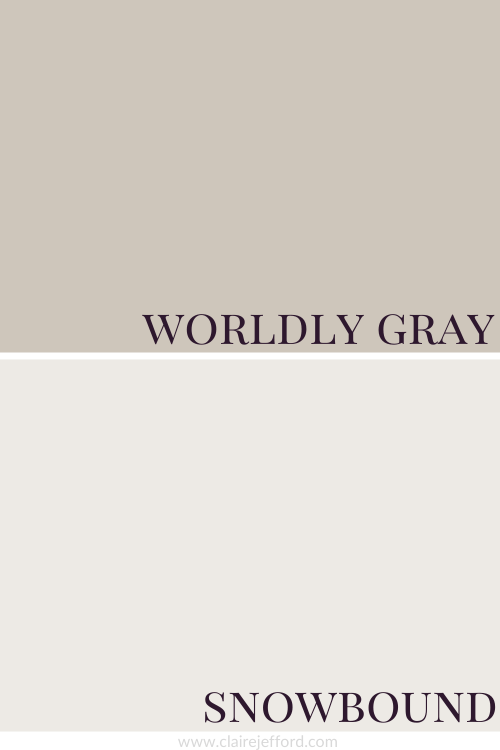 Pearly White SW 7009 by Sherwin Williams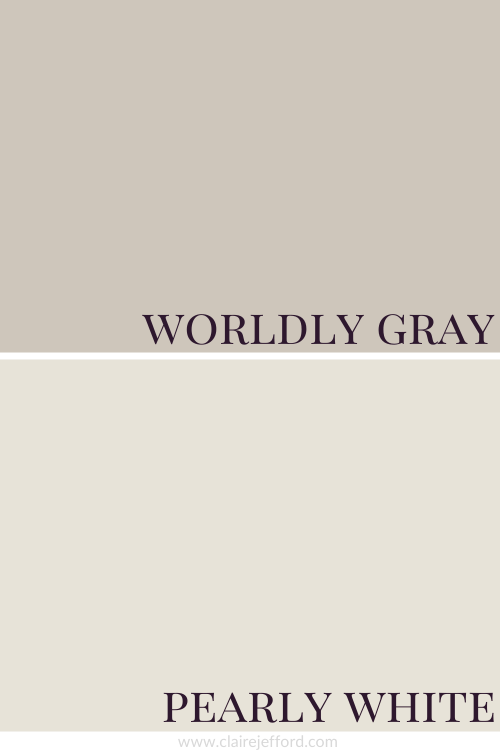 Extra White, Snowbound and Pearly White
Extra White being a true white will highlight Worldly Gray as a slightly cooler colour compared to both Snowbound and Pearly White. These two whites are definitely warmer in tone.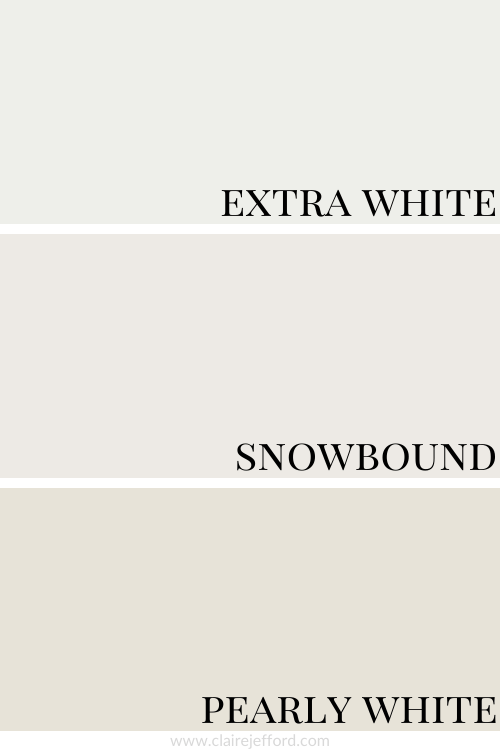 Fabulous Colour Combinations
Worldly Gray with Blackberry, Silver Peony and Revel Blue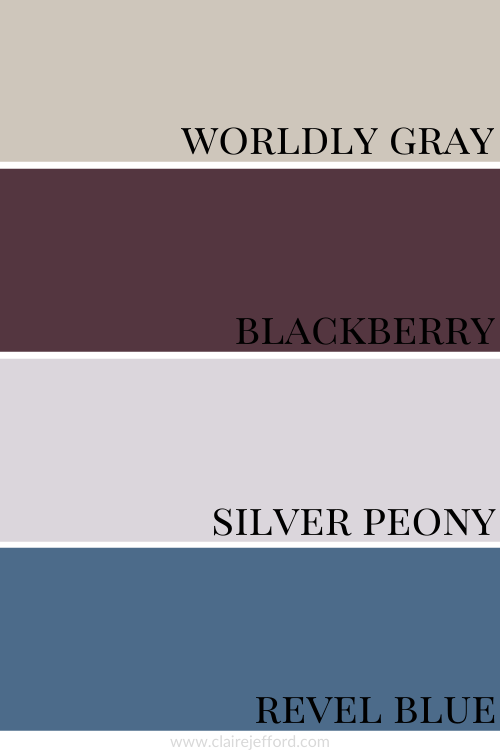 Blackberry SW 7577 by Sherwin Williams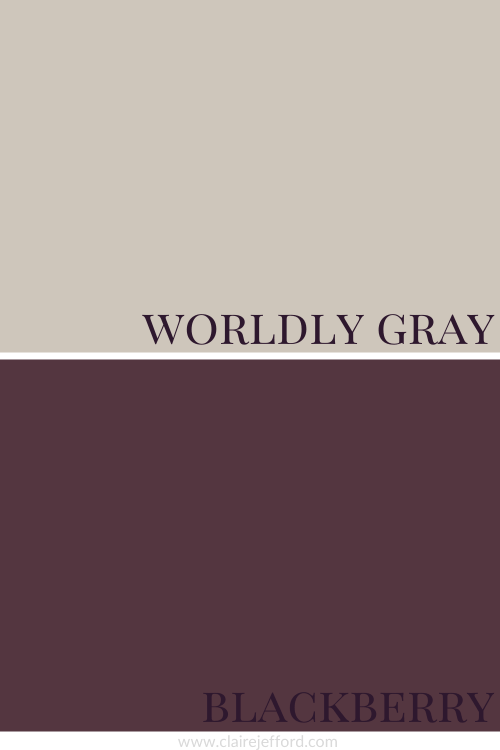 Silver Peony SW 6547 by Sherwin Williams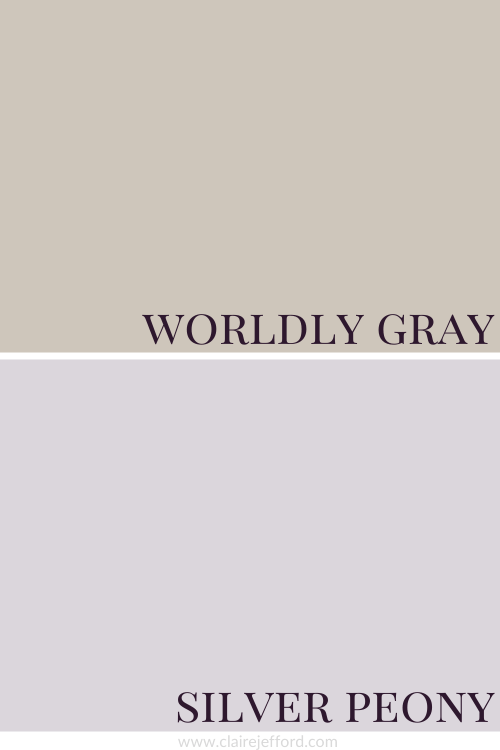 Revel Blue SW 6530 Sherwin Williams
Revel Blue is a pretty colour that is similar, to but not quite as dark as Van Deusen Blue by Benjamin Moore.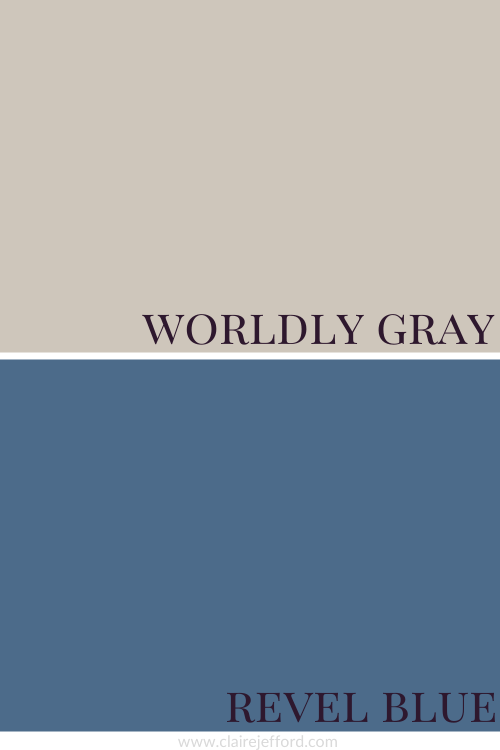 Using the artwork below and my Perfect Colour Palette for Worldly Gray we came up with this beautiful colour combination.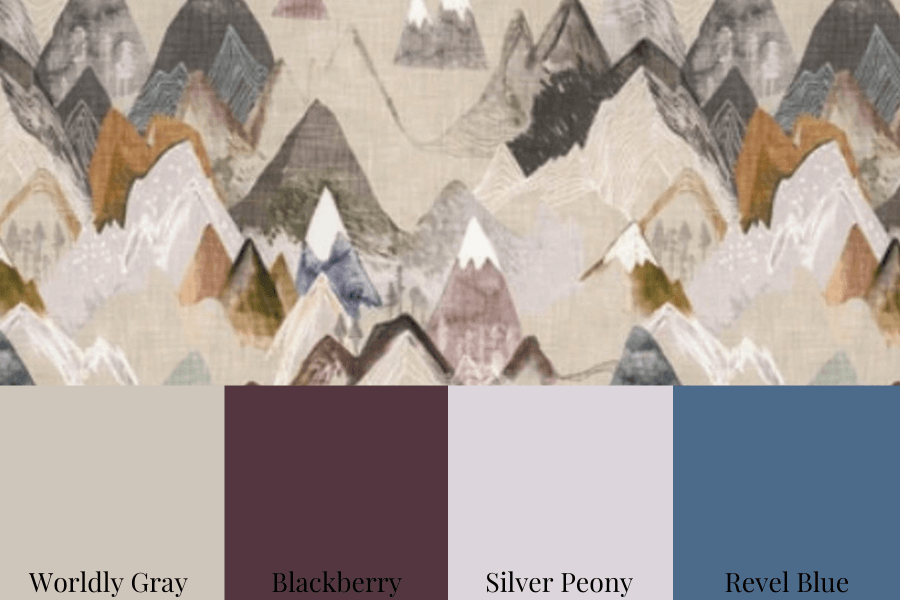 The room rendering shown here is an example of how you can find inspiration for an interior design project and incorporate the colours from my Perfect Colour Palette into a space.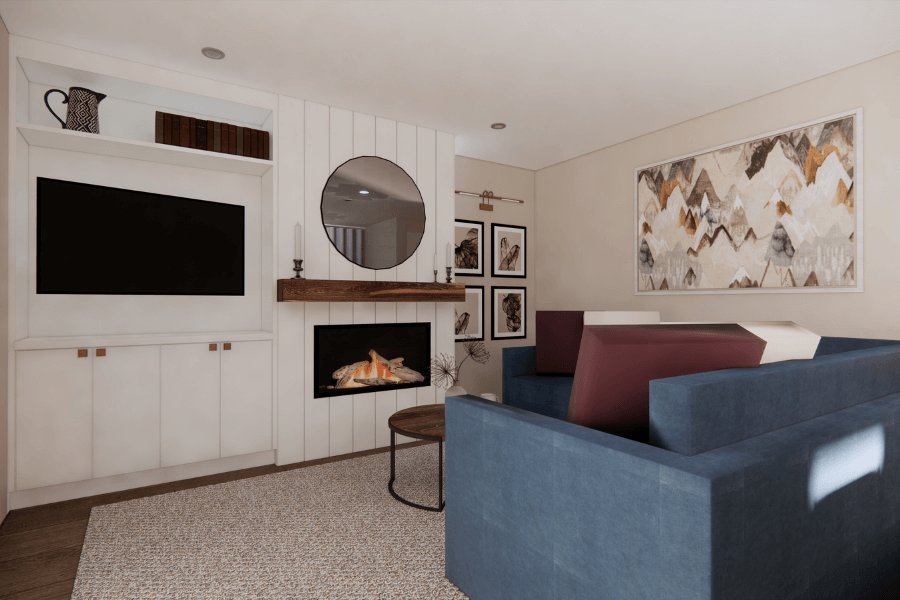 Remember, you don't need to use all of the colours for paint.
Yes, the walls are Worldly Gray and the built-ins and fireplace shiplap are Snowbound, but those are the only two paint colours.
The remaining colours we integrated into the room's decor in other ways. The blue sofa mimics Revel Blue and the accent cushions are similar to Blackberry and Silver Peony.
Convenience At Your Fingertips
Love the idea of being inspired by beautiful colour combinations already done for you by a professional who eats, sleeps and breathes interior design every day?
Take a look here in my Colour Shop!
We have single feature colour download available immediately after purchase and full collections from the most popular paint companies – Sherwin Williams, Benjamin Moore as well as Farrow & Ball.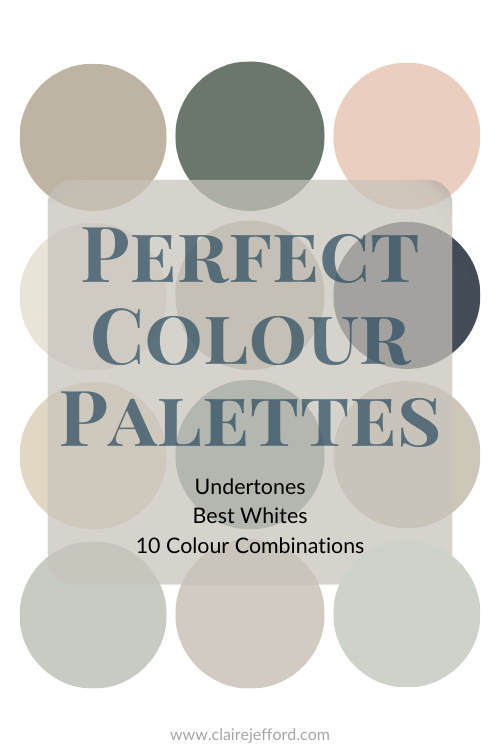 Remember, it only takes one mistake to take your home decorating project from divine to disaster. Don't let the paint be what stresses you out!
Take my Colour Quiz to find out what your Perfect Colour Palette is.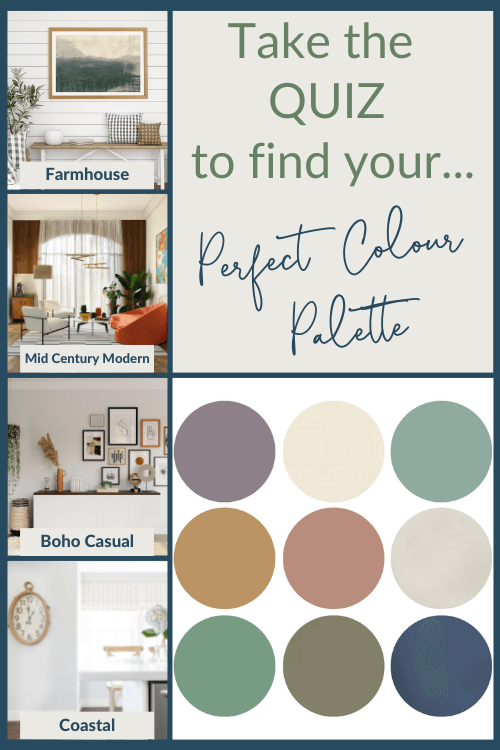 Perfect For Pinning