BIG Reveal: Colourful Living Room
Picking a Paint Colour?
Choose the right paint colour
the first time Let me show you how in just 5 easy steps!
BONUS: The Top 15 Shades of Gray by Benjamin Moore
We value your
privacy
. We will never share or sell your information.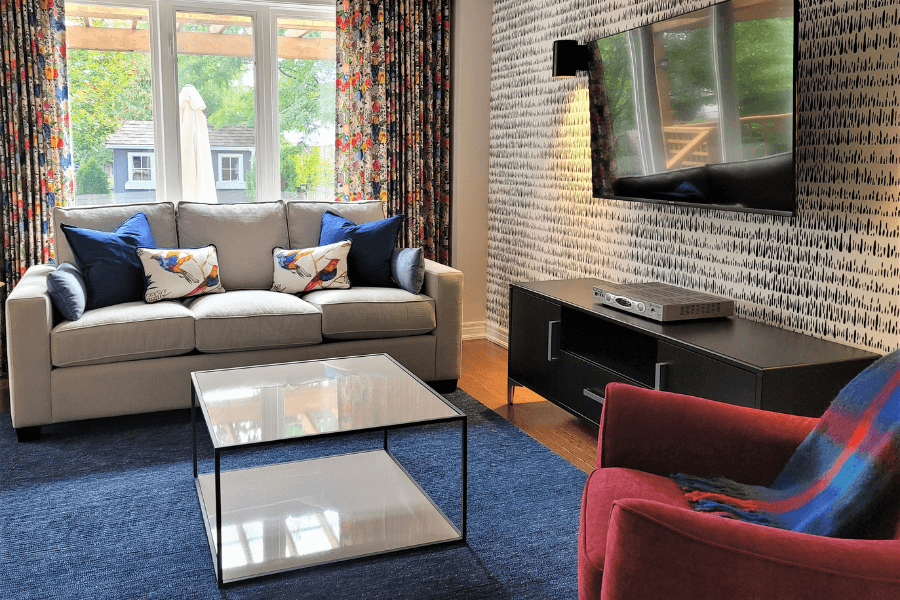 WWWOW !
What We're Working on Wednesday
Come with me and let me show you what we've been working on this week!
We're at a client's home for the install of their incredibly colourful living room and sophisticated dining room with sitting area.
With gorgeous drapery to be installed as well, it's going to be a busy afternoon.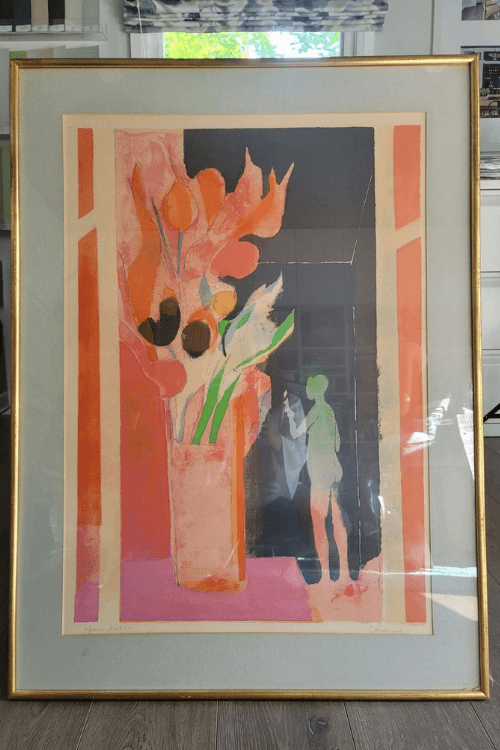 If you saw my previous WWWOW post, the piece of artwork above will look familiar to you.
We used this single piece of art that belonged to my client's mother to pull together a colour palette and be our inspiration for all these room designs.
Having a fabulous jumping-off point like this piece of artwork is one of the best ways to create a colour palette.
Watch our video to see just what an install day involves and how we brought our vision for these spaces to life for our wonderful Burlington clients.
First, we take a look at the sitting area that is adjacent to the dining room.
We are still waiting for some pieces but you can start to see how amazing it's going to look when completed.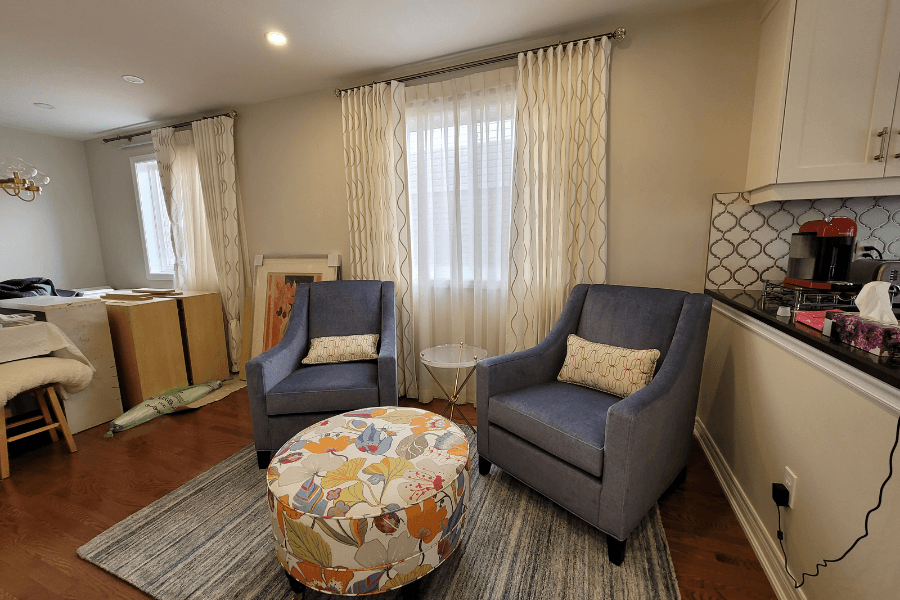 The ripplefold draperies are up! The two beautiful custom chairs with fabric that is as soft as butter are also in place.
And how about that ottoman?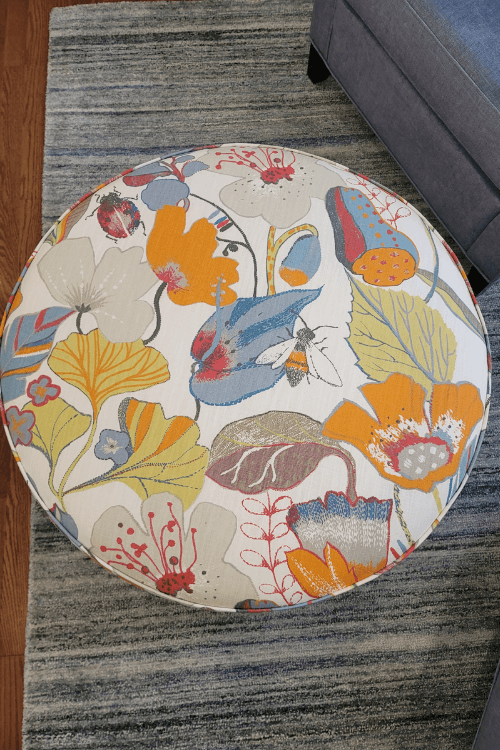 It's important to remember when covering furniture in a fabric such as this fun, colourful pattern that we used on the ottoman, to discuss with your workroom about what part of the pattern you want to be featured or centered.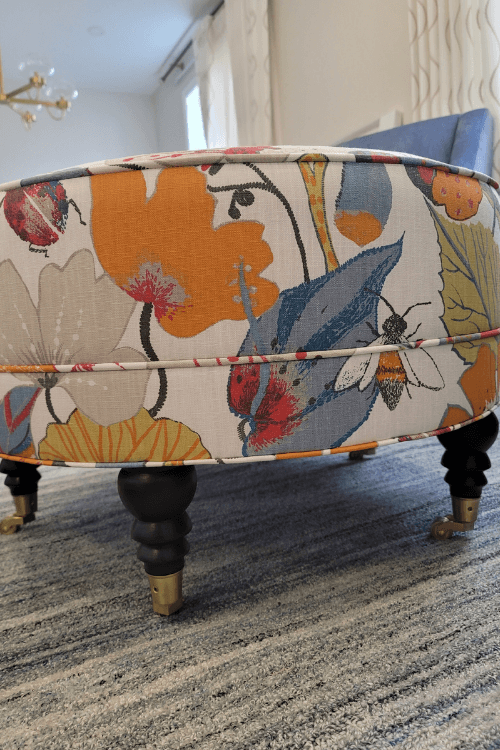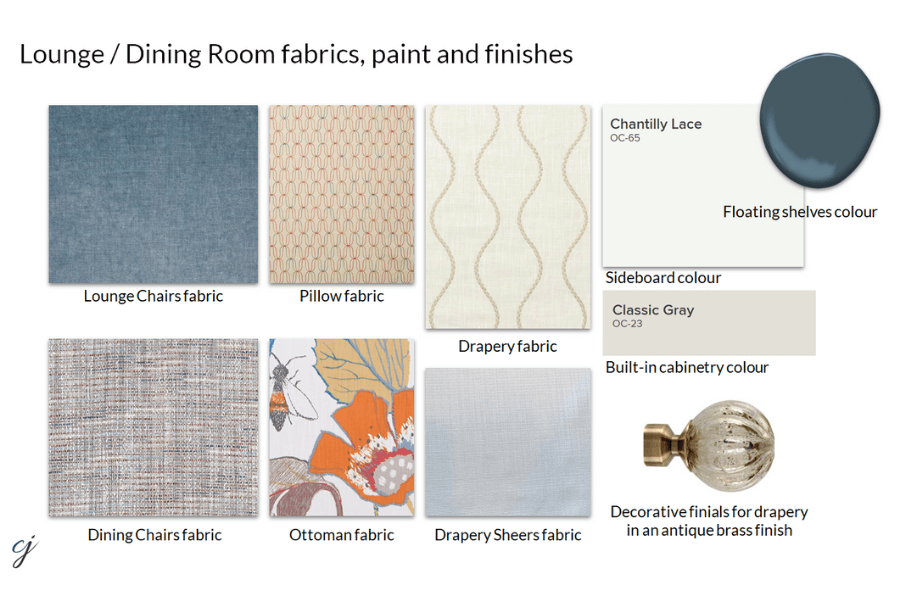 Moving into the living room we see what it looked like when we first met with our client.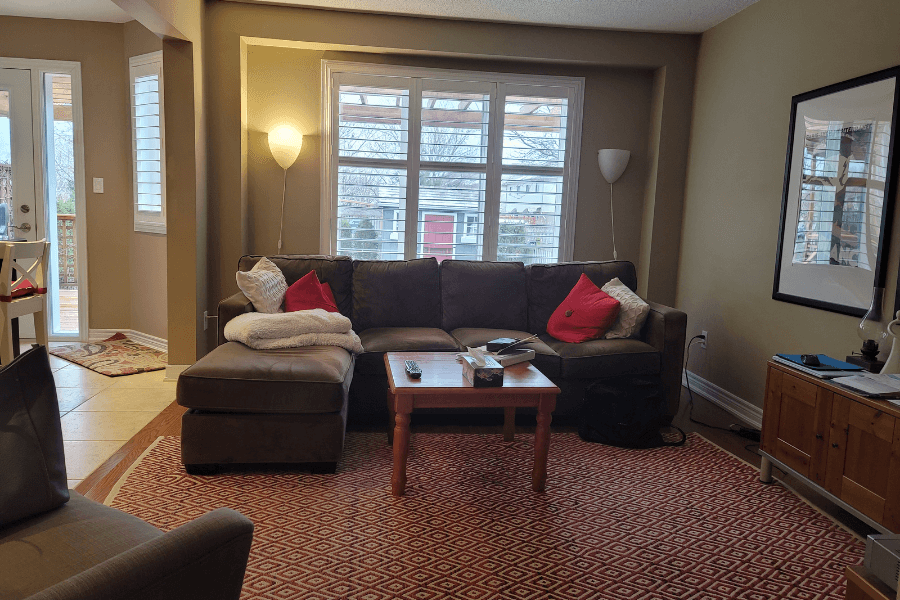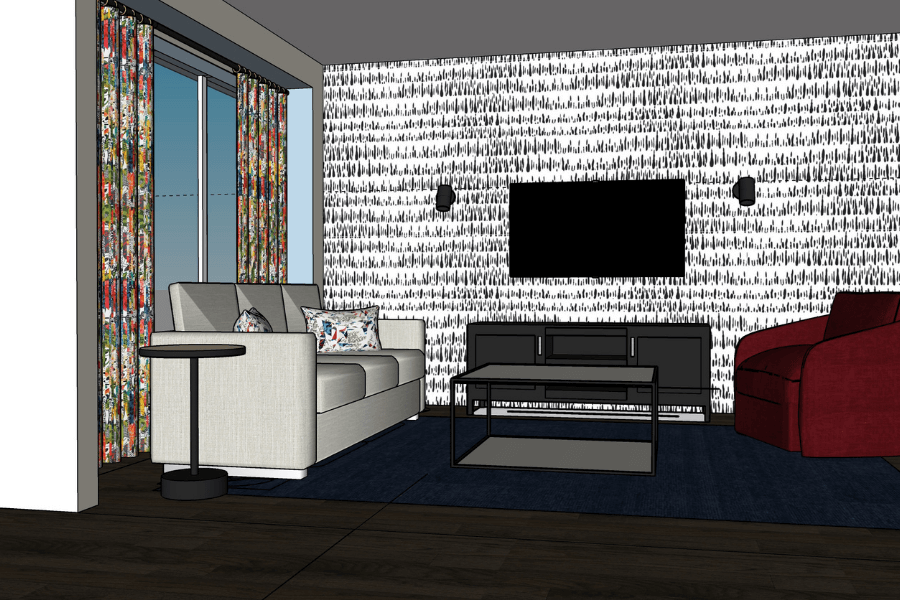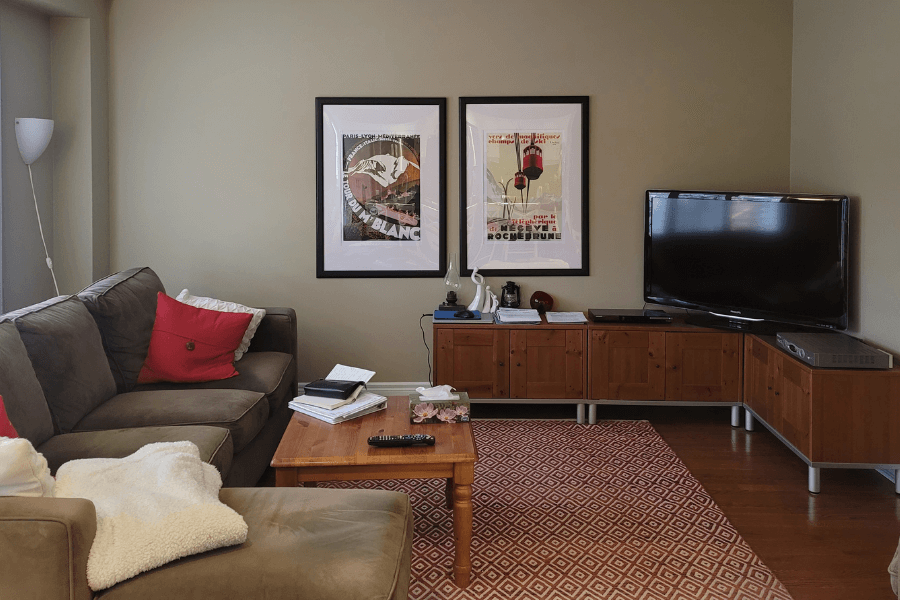 The BIG Reveal!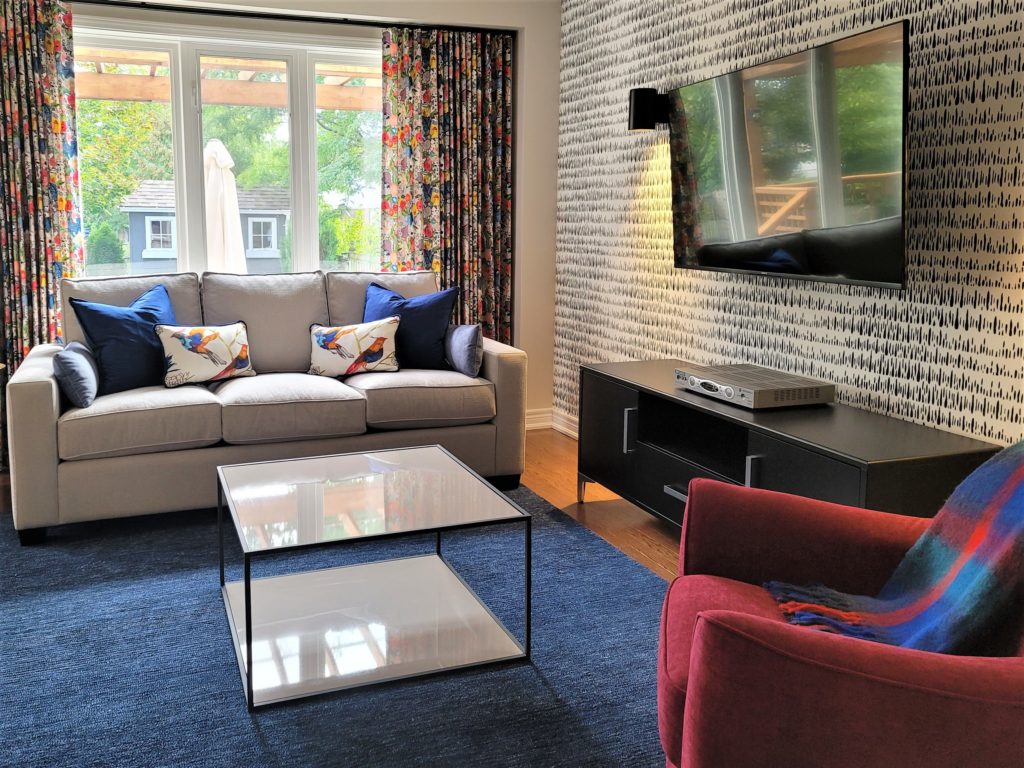 This is my favourite part of this living room reno. I absolutely love this colourful, fun fabric!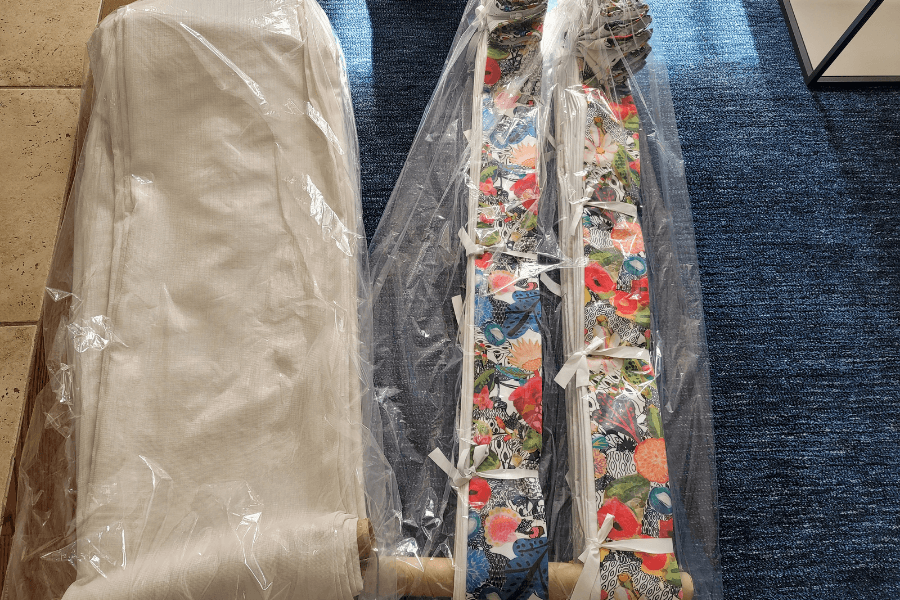 We chose to use a ceiling-mounted rod in a black finish with end caps. We want the fabric to be front and centre and this style of hanging allows that perfectly.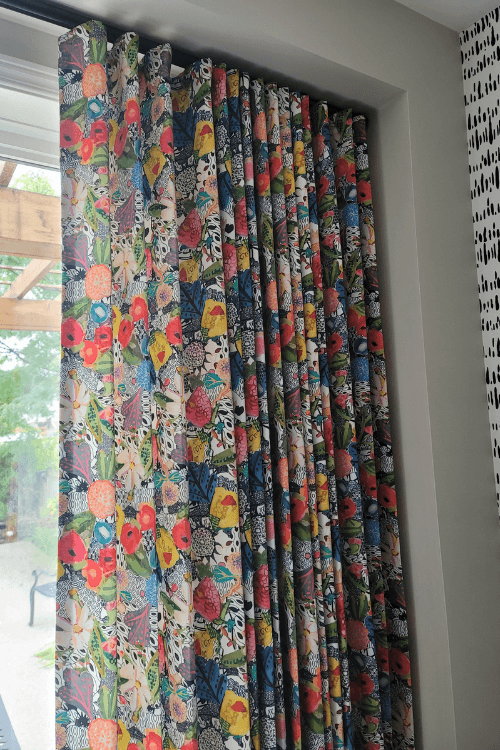 Repeating the black and white speckled pattern from the wallpaper in the drapes was ideal. And the custom-made pillows with the brilliant coloured birds tie in so beautifully!
Such a bright and cheerful space.
Although there is a tonne of colour used as accents in the room, the walls are painted a neutral, Pale Oak by Benjamin Moore.
It's possible to add brilliant colour to a neutral space and this project is a great example of that.
What a day it was! Glad you could join us and experience a little of what it's like on install day.
Find Colour Claire-ity Here
Do you know my 5 Steps on how to choose the right paint colour the first time?
Convenience At Your Finger tips
Check out my super helpful Perfect Colour Palettes. Find great colour combinations to inspire you for your next room design palette.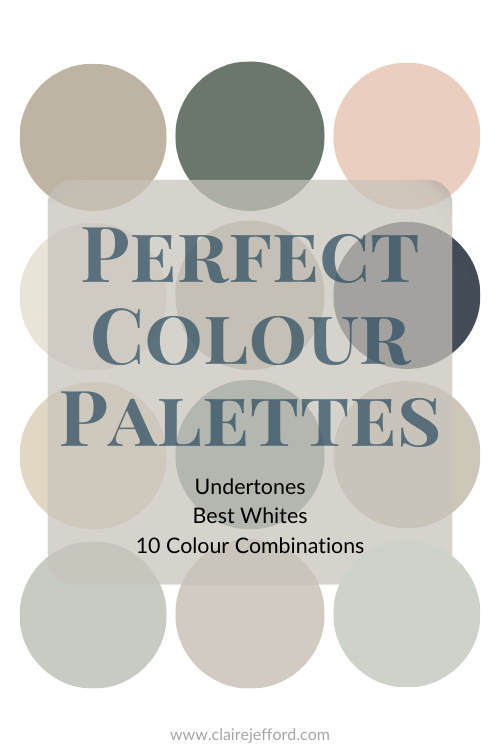 Remember, it only takes one mistake to take your home decorating project from divine to disaster. Don't let the paint be what stresses you out!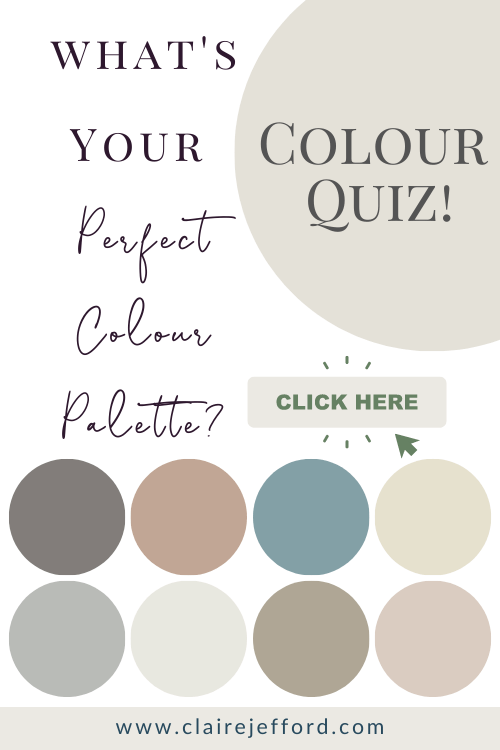 Perfect for Pinning