Sherwin Williams Sea Salt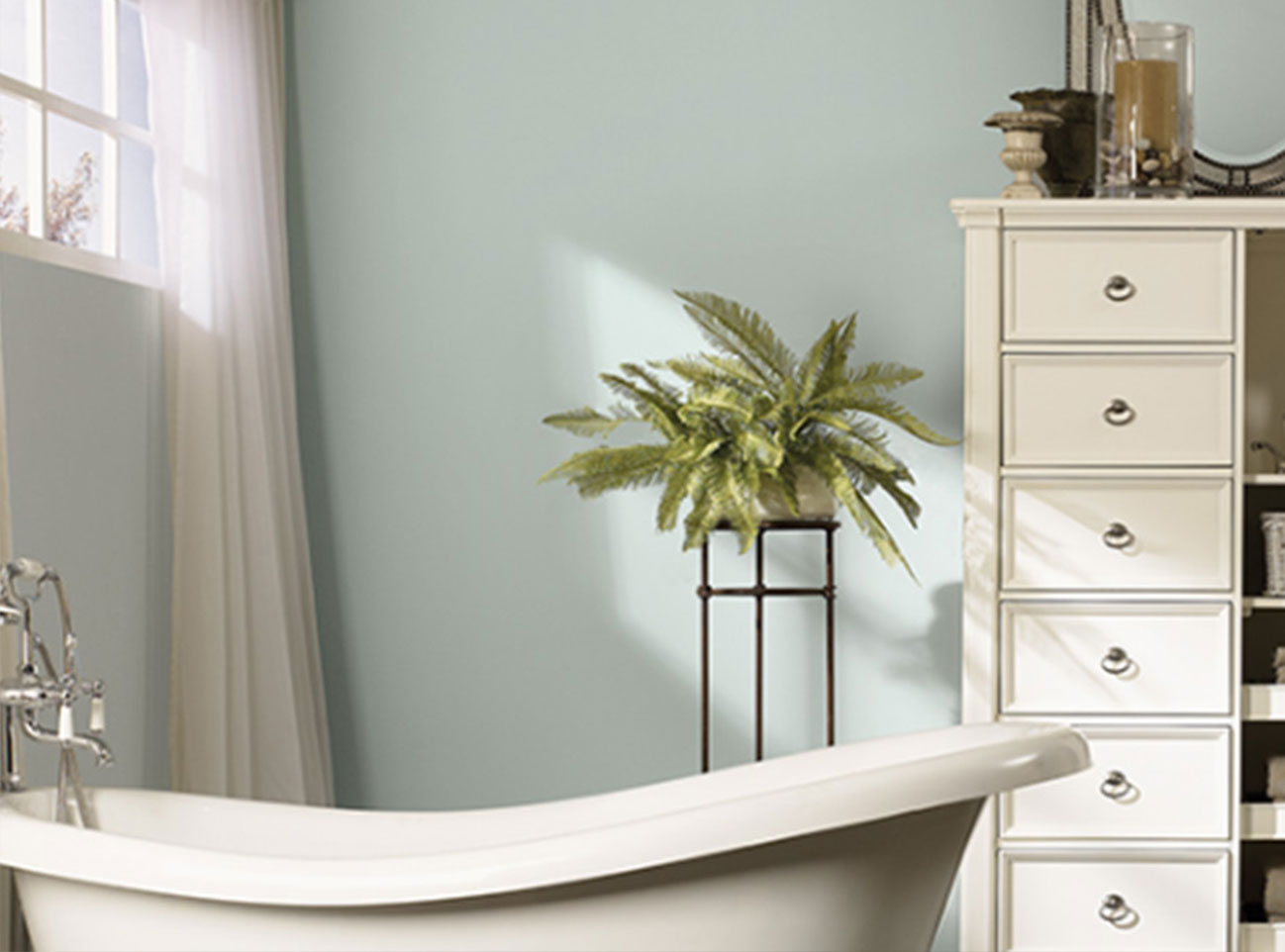 Today in my colour review vlog, I'm diving into the calming hue that is, Sea Salt by Sherwin Williams, SW 6204.
Be sure not to confuse this Sea Salt by Sherwin Williams, with the Sea Salt by Benjamin Moore. Yes, both colours have the exact same name!
However, they are entirely different. I'll show you that in my comparisons of both colours a little later on in the post.
Here's what we'll be looking at in Episode #1.
Undertone/s
Colour Comparisons
Best White Paint Colours For Ceilings, Doors and Trim
Fabulous Colour Combinations
Favourite Applications In Interior Design
By the way, if you are new to me and my blog, here's something you should know.
I appreciate that you lead a busy life. You don't have time to waste.
You want factual and useful advice about interior design and paint colours. Well, at least that's why I am guessing you're here.
There is a reason why I use the phrase 'THE NAKED TRUTH' in some of my publications.
I want to strip down (yes, that pun was TOTALLY intentional) to the root of your Interior Design dilemmas and give you the information you NEED to know. I appreciate that decorating your home and selecting paint colours can be confusing and stressful. My goal is to make it as simple as possible and to have FUN in the process!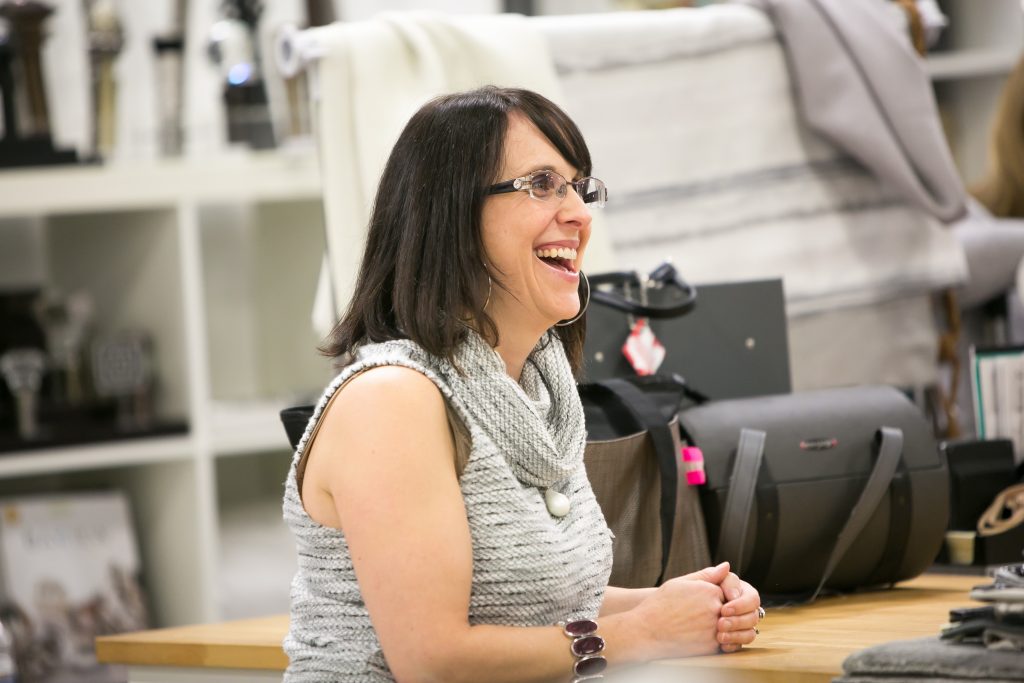 But know this: I am not scientific about colour.
I do not concern myself with the LRV of a paint colour. Since starting my Interior Decorating business in 2011 and doing many colour consultations, it's never come back to bite me in the you know what.
I never make suggestions on lightening or darkening a paint colour by a certain percentage to make it more suitable for an application. I can always find the best paint colours for my clients.
All of my large boards have been painted in a matt finish and if you are interested in knowing where to get these boards, I'll share a link to them at the end of the post.
I LOVE HEARING FROM YOU!
If you've used a paint colour that I review or want to ask a question and even if you have a different point of view to mine, please do share with us here. Please know though, that I can't always give colour advice based on simply reading about a 'scenario'. If it were that easy for me to recommend the perfect paint hue, without knowing more about the specific space; the lighting situation; what other fixed elements to consider etc, then I really would be even more magical than I already am. HAHA!
Nine times out of ten, I will always recommend that you either seek advice from a local Colour Professional or I might be able to hook you up with an online colour consultation.
Okay, onwards and upwards.
Are you ready? Let's do this! Watch the video here or by clicking the play button on the thumbnail below.
Colour Review of Sea Salt by Sherwin Williams, SW 6204
Undertones:
Blue/Green. In my office it appeared to be more green, but there is also a blue undertone. This is where your lighting and other elements paired within your own space, can alter the look of a hue like this.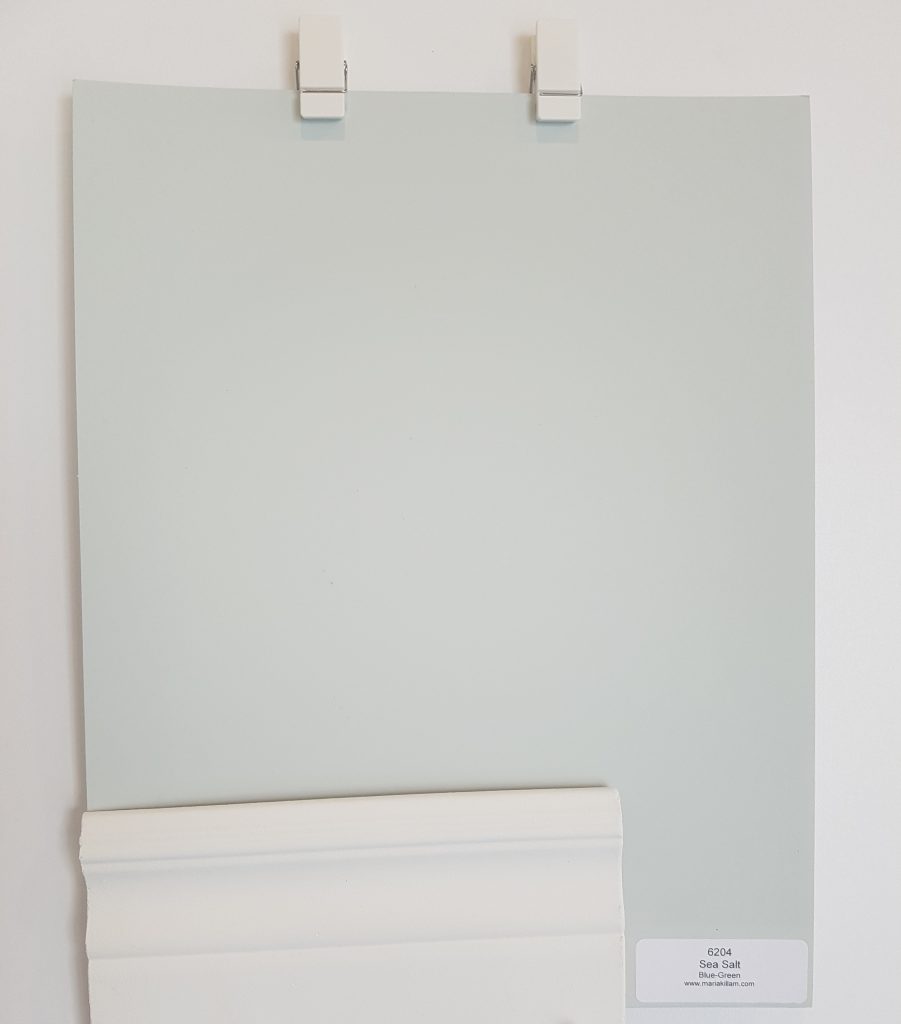 Colour Comparisons:
Comparing colour is so important. When you do colour comparisons, it helps you to get a better read of your focus colour. I also like to put my large colour boards up against a white background. This way, I can see the colour more clearly.
See below where I show you Kittery Point Green by Benjamin Moore (BM) on the left and Palladian Blue by BM on the right. It's interesting how much of a light 'gray' the Sea Salt takes on now, when you compare it with colours that are more saturated in tone.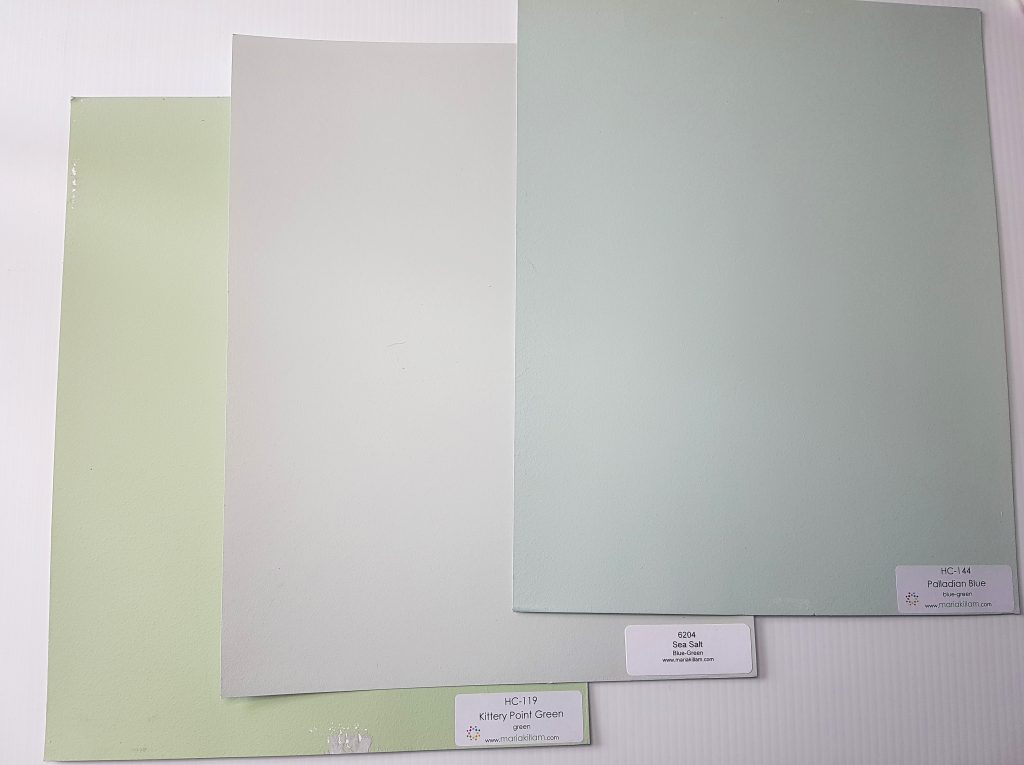 Best White Paint Colours
There are always going to be more than one option for a best white to use for ceilings, doors and trims. Pictured below is one of my favourite which is White Dove by Benjamin Moore.
However, other great white paints that would work are Cloud White, Simply White and Chantilly Lace by Benjamin Moore as well.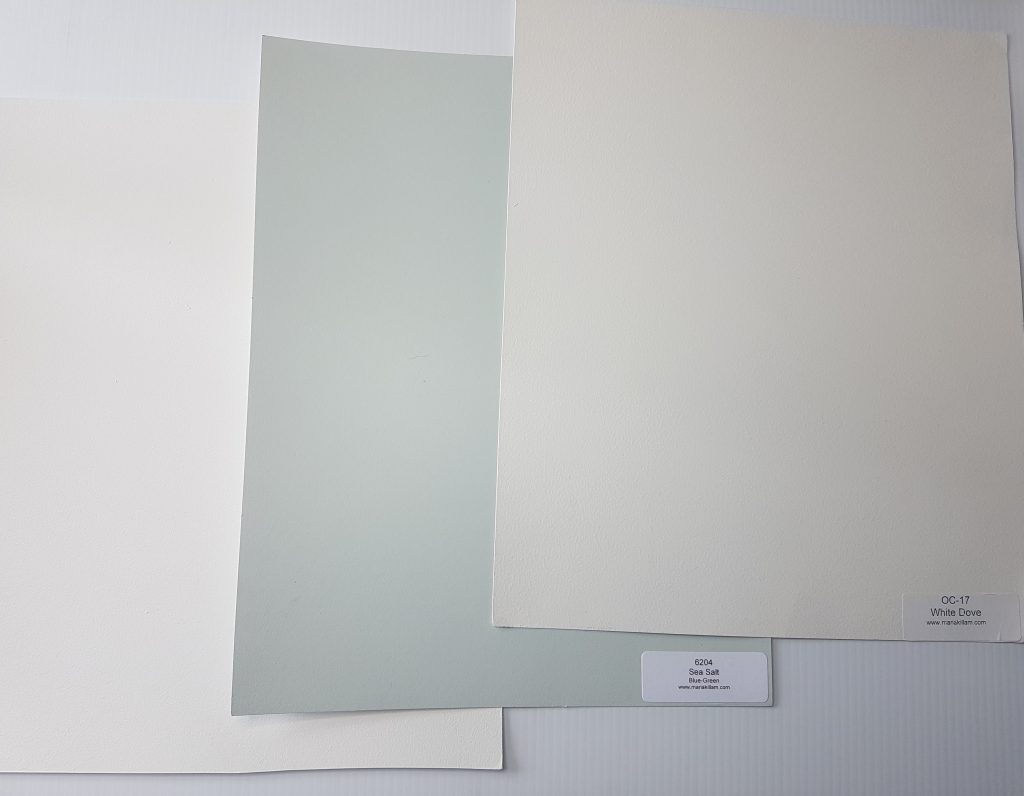 If you want to pair it with another Sherwin Williams colour, you could use Greek Villa SW 7551 or Westhighland White 7566. The latter is more on the creamy side, so be careful if other white elements in your home like counters are more crisp.
IF YOU'VE USED SEA SALT, COMMENT TO SHARE YOUR FAVOURITE WHITE TO PAIR WITH IT.
Fabulous Colour Combinations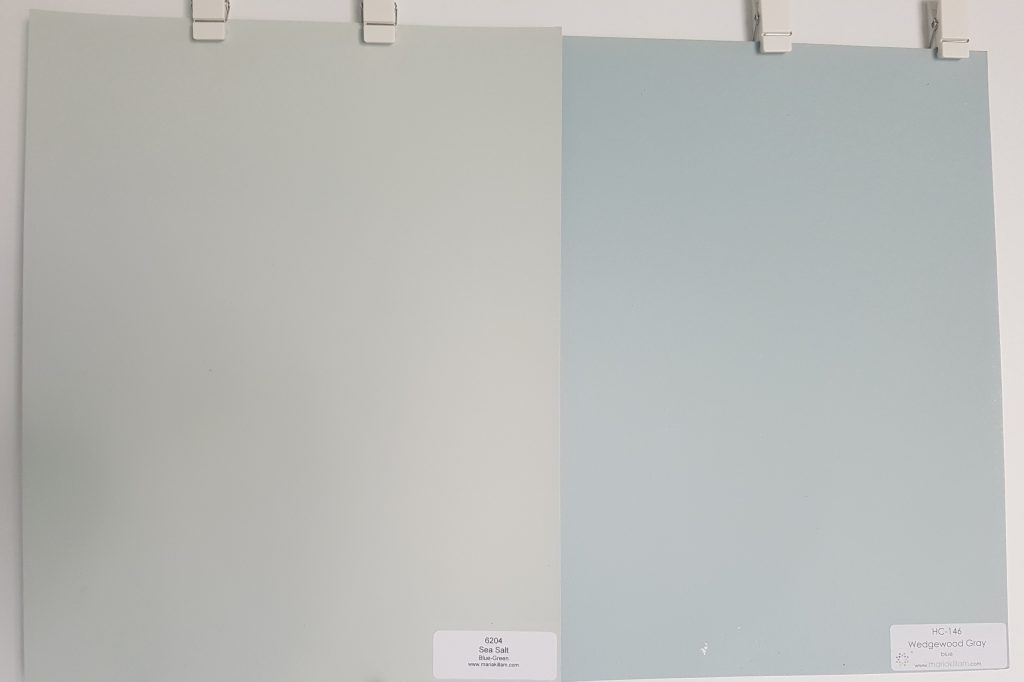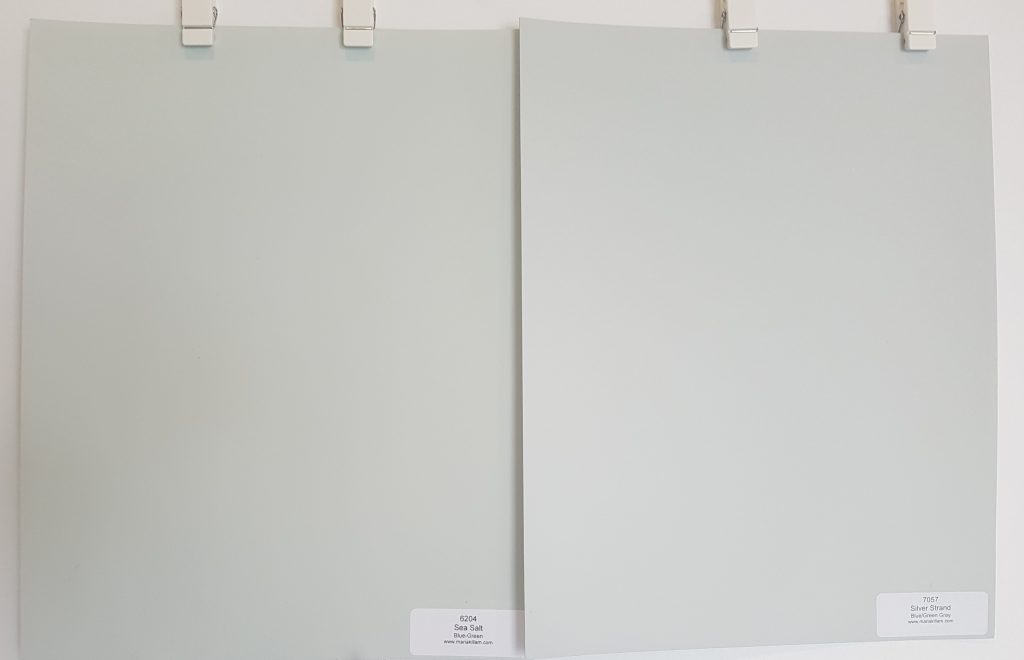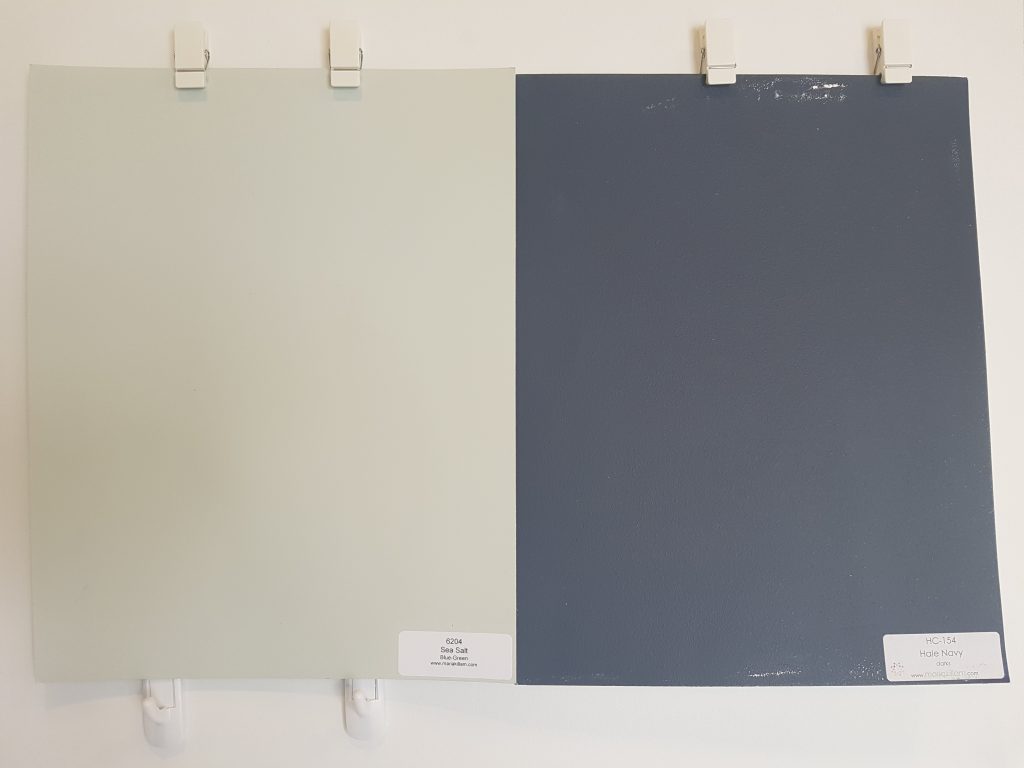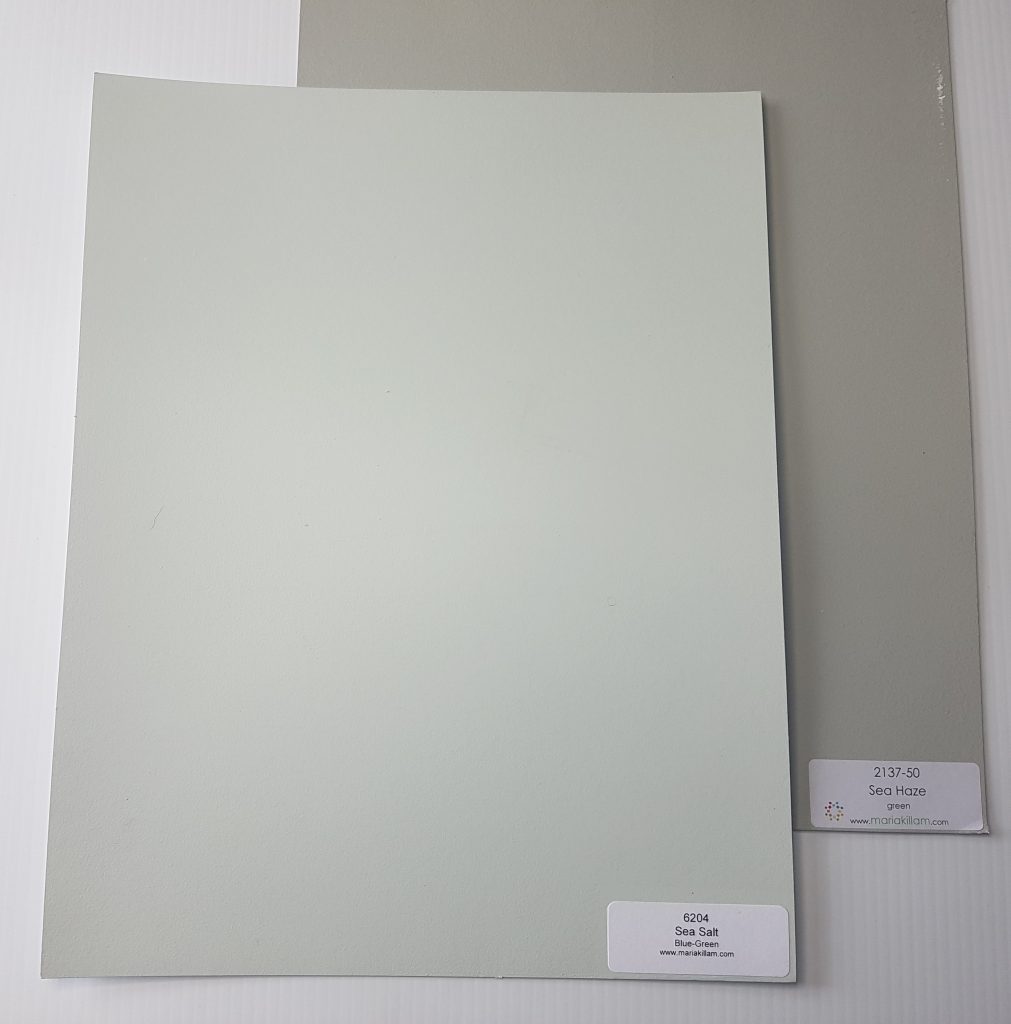 Fabulous Colour Palettes – Perfect for Pinning!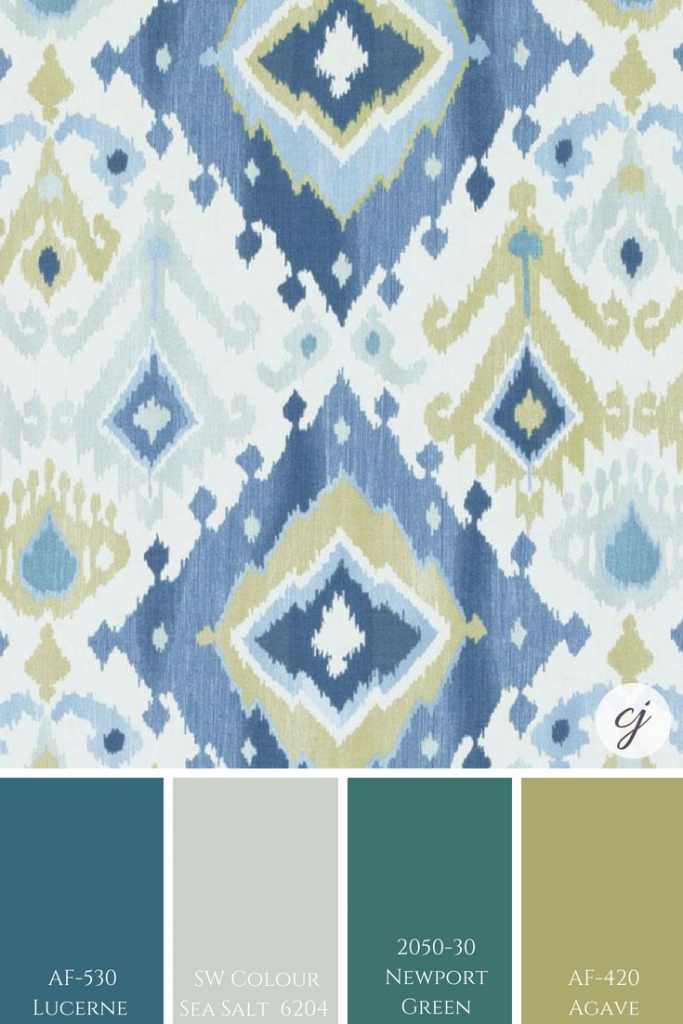 These colour palettes can also be seen on my Instagram page, but formatted slightly different to fit in a square. Follow me on IG here to see more of those for inspiration.
Interesting Colour Fact
As already mentioned in the beginning of the post, there are two colours of Sea Salt. One is from Sherwin Williams and the other is from Benjamin Moore.
To ensure you avoid any mistakes of either picking up the wrong colour for yourself or for your client, (if you are an interior design professional or colour consultant) is to always write down the name AND the code once you select a paint colour.
As you can see in the photo below, these two colours are very different. The Sea Salt by Benjamin Moore is a 'Greige' colour and the other Sea Salt…well, you know all about it now because we've just reviewed it!
By the way, want your own large painted colour boards?
You can get your own set! See below.
➜ Click here to shop the large colour boards now!
// DISCLOSURE: Thank you for trusting me with my truthful and reliable opinion on any future purchase you may make. I always disclose affiliate or sponsored information when it is the case. If you purchase Maria's boards, I will earn a small commission from the sale. This doesn't affect you in any way, the price remains the same regardless. Thank you for supporting me and entrusting me to be your go-to for all things Colour and Interior Design!
BEST PLACES TO USE SEA SALT FOR YOUR INTERIOR DECOR
My recommendation for one of the best rooms to use Sea Salt by Sherwin Williams, is for a tranquil and calming bathroom.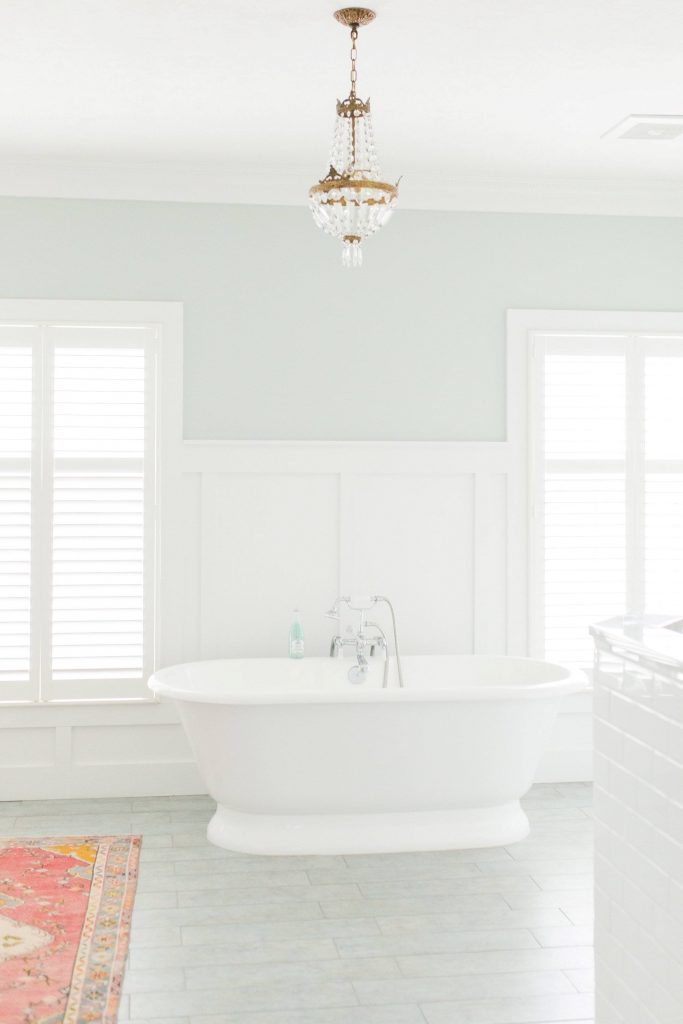 This paint colour provides a 'spa like' feel and I especially love the detailed mill work of the high wainscoting shown above in this bathroom by Carolyn and Co.
Do you notice the rug to the left side, where you can see hints of a similar colour to Sea Salt? This type of soft treatment provides an opportunity to bring in other decorative accessories such as towels, candles and flowers to tie it all together beautifully with your preferred colour palette.
Another room in the house where I love to specify this colour is in a bedroom. Lori Bailey Design kindly shared this bedroom design (above) with me which is one of their designs. How peaceful would it be to cozy up and read a book here before settling in for a good nights' sleep?
On a side note, the colours in the bedding appear to be similar to tones of the rug in the bathroom above, but they are not in the same home.
This is a great example however, to show how you could connect and flow rooms such as a master bedroom to an ensuite bathroom through thoughtful accessorizing.
While the master bedroom should be our sanctuary, our escape from the business of day to day life, for many it is often the one room left to last when it comes to decorating our homes.
Similar Paint Colours to Sherwin Williams Sea Salt
Wickham Gray by Benjamin Moore is also a blue-green. Here we used it in a clients custom living room design.
Professional photos by Stephani Buchman Photography.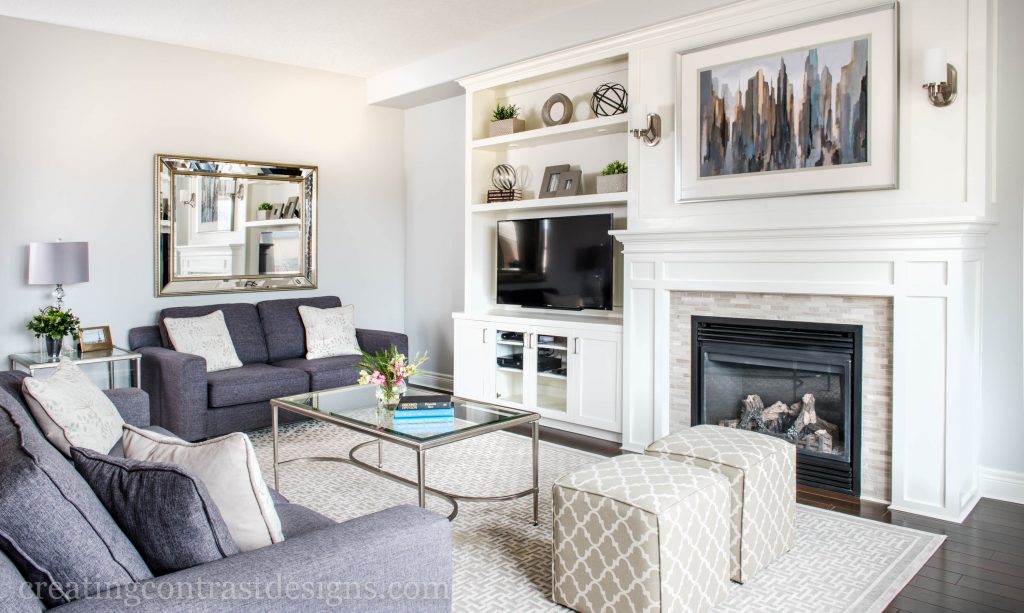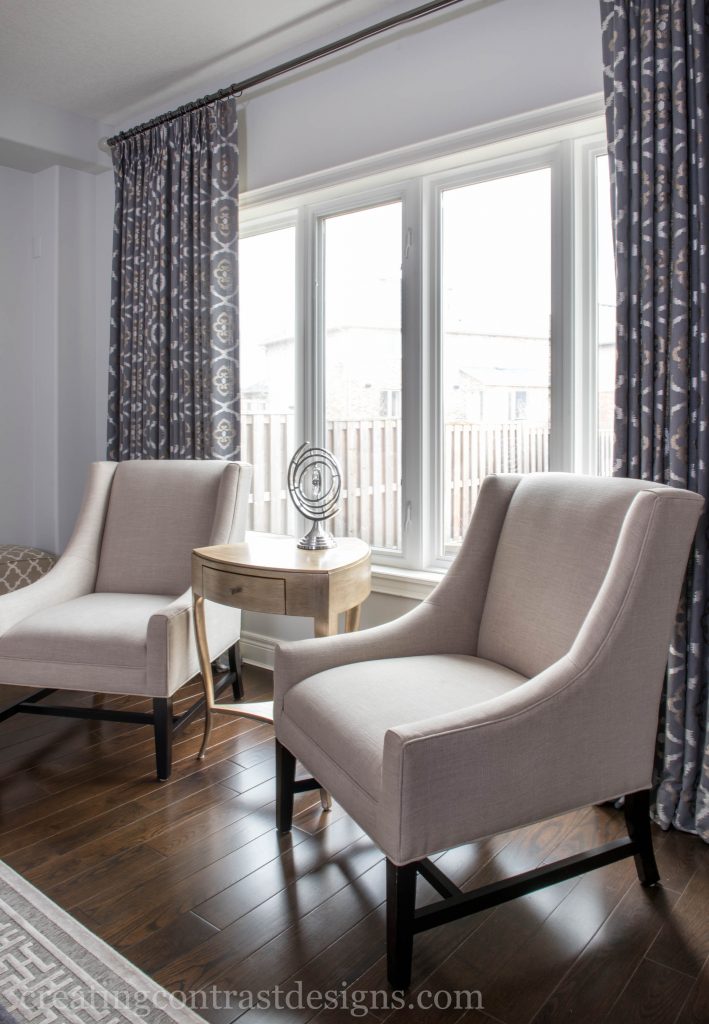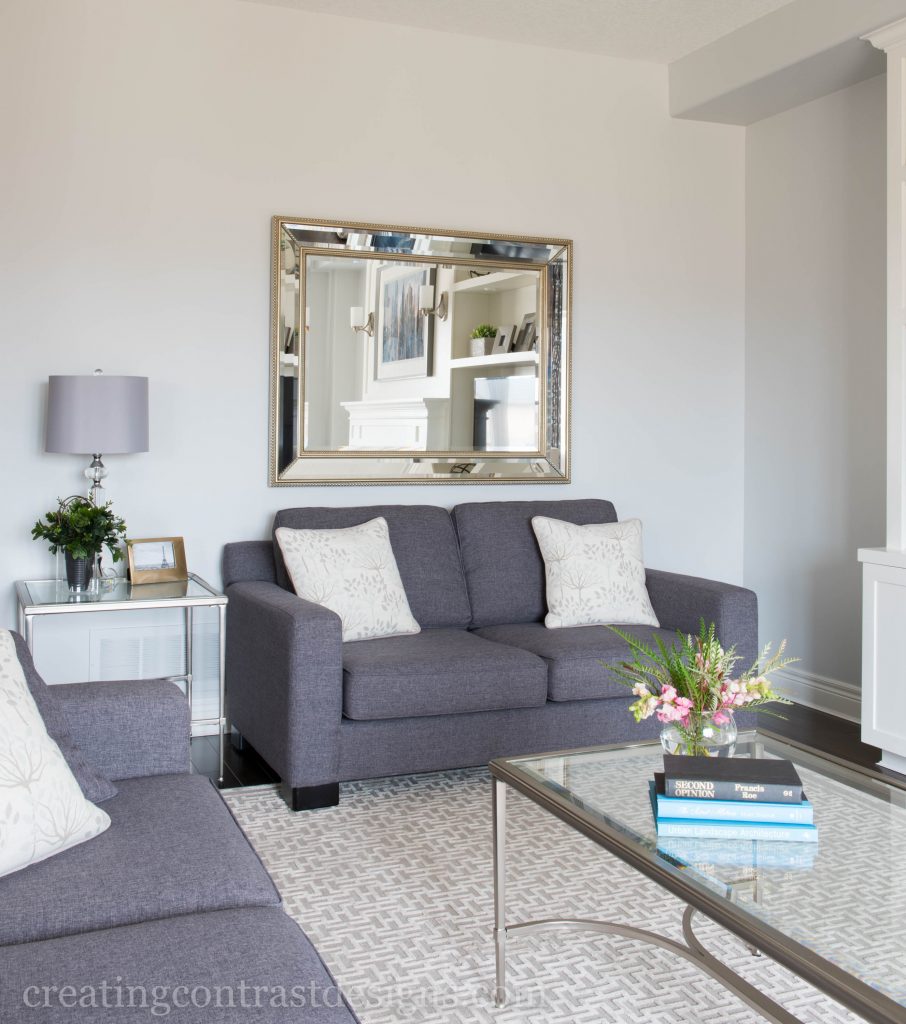 Gray Owl by Benjamin Moore is also a colour with a blue-green undertone. We used it here in a dental office.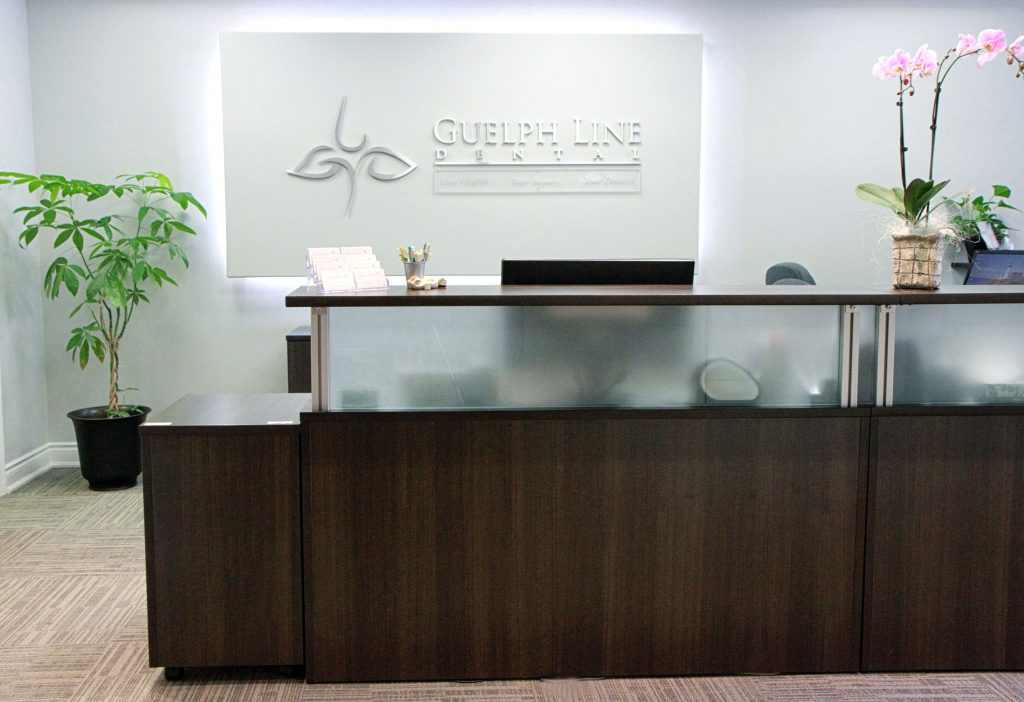 Now it's your turn! Would you use Sea Salt by SW for a room in your home or have you already used this colour for a project? Do tell!
Until then, see my Pinterest board here for more ideas of how and where you can use blue-green paint colours in your home or next client project.
Are you in need of more personalized help for choosing colour in your home? Contact me here and let's create something beautiful today!