Sherwin Williams – Extra White
Picking a Paint Colour?
Choose the right paint colour
the first time Let me show you how in just 5 easy steps!
BONUS: The Top 15 Shades of Gray by Benjamin Moore
We value your
privacy
. We will never share or sell your information.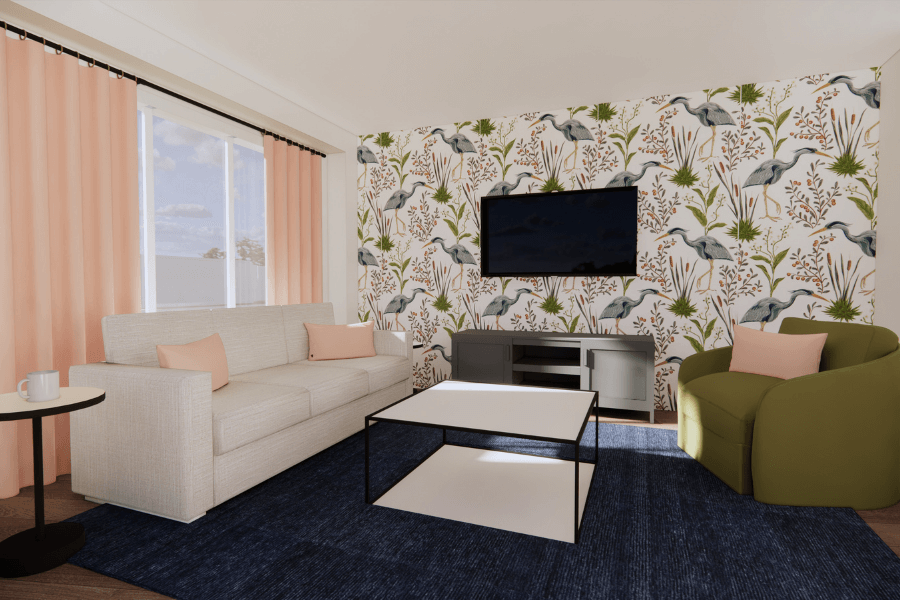 Extra White SW 7006 by Sherwin Williams
Extra White is one of Sherwin Williams's brightest whites.
It gives a very clean look to a room but can certainly be enhanced by adding in other beautiful complementary colours, as you will see later in this post in the design rendering we created.
In this paint colour review of Extra White by Sherwin Williams, I share:
The undertone of my featured colour
Colour comparisons in order to easily see the different colour tones
Best white paint colours for the trim and ceilings
Beautiful colour combinations to inspire you for your decorating project
Sherwin Williams – Extra White
After you read this post, if you would like all the information I share in one convenient place, then you'll want to check out my new Perfect Colour Palette for Extra White.
My Perfect Colour Palette also includes 10 colours that go beautifully with Extra White and step-by-step guidance for choosing a cohesive colour palette in your own home.
This helpful download is a must-have for any colour enthusiast or interior design professional!
Extra White Colour Review
Undertone: true white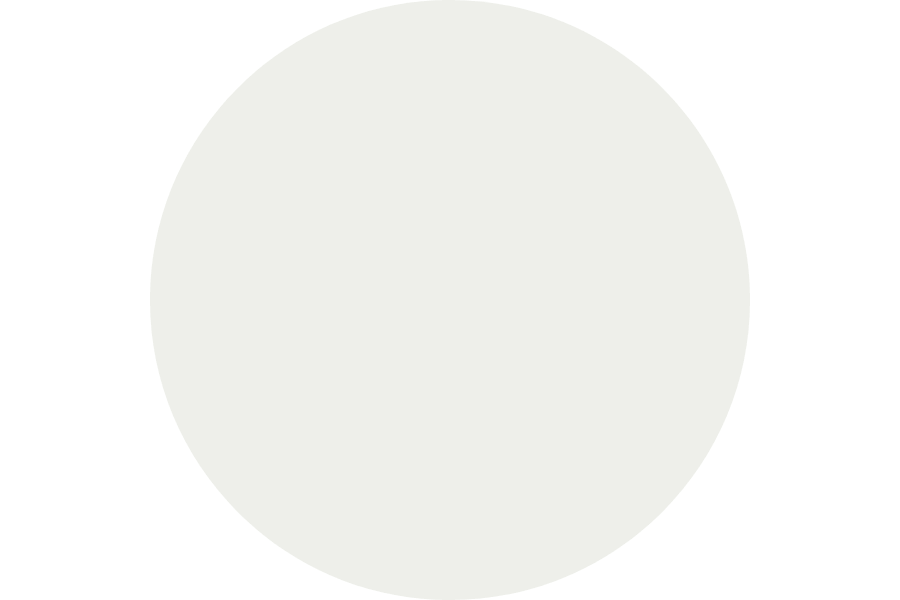 Colour Comparisons
Whites can all look the same to many people until you look at various white paint colours side by side with others. Then you are blown away by just how different they all can be!
And that is why it's not uncommon for homeowners to overthink choosing a white paint colour for any part of their design project.
High Reflective White SW 7036 and Greek Villa SW 7551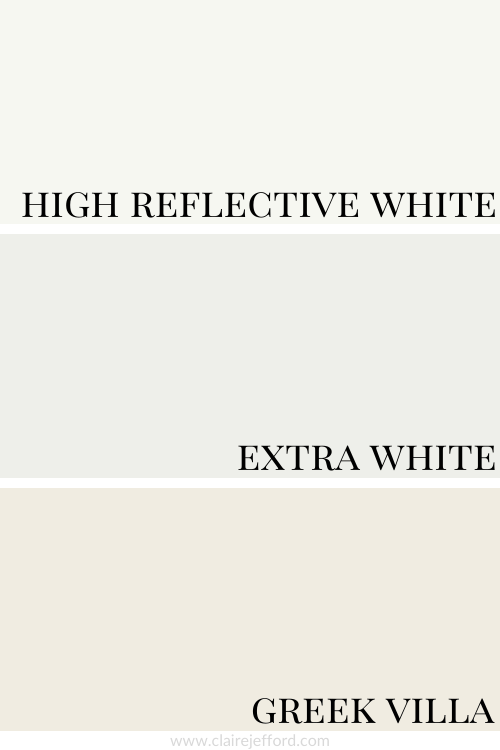 When I do Colour Consultations in a client's home, I am always comparing colours so they too can easily see the differences between the paint colours.
Best Whites To Pair With Extra White
High Reflective White SW 7036 by Sherwin Williams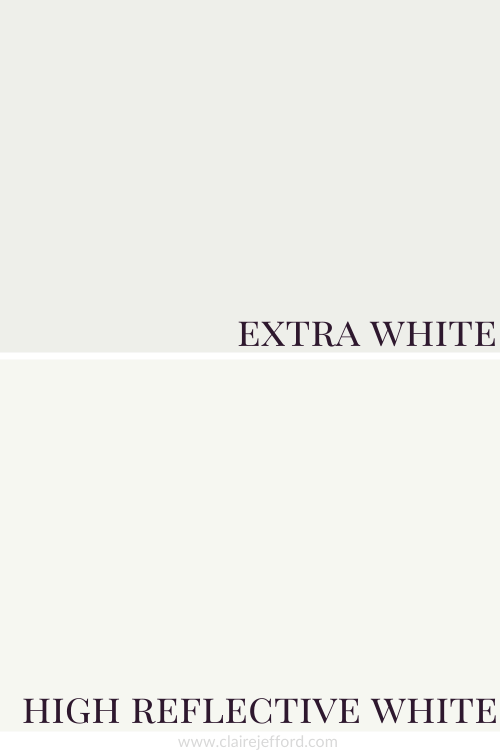 Snowbound SW 7004 by Sherwin Williams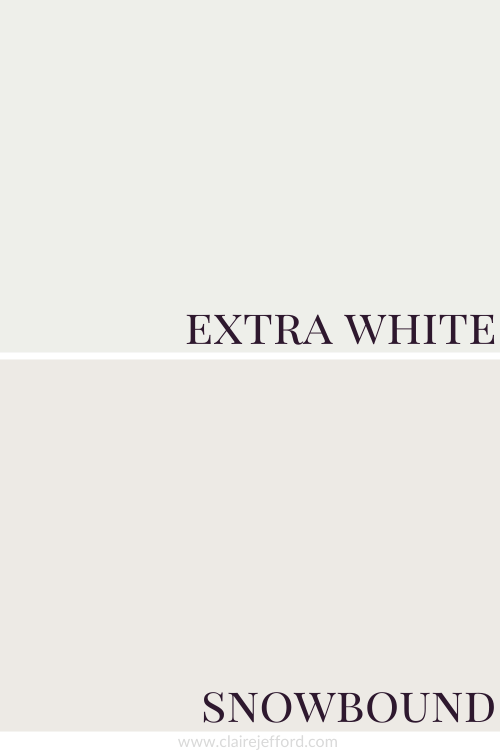 A third white that would work brilliantly as a trim or ceiling colour with Extra White is… Extra White itself.
Yes, if you are painting your walls white, you don't have to add in another white paint option for trim, ceilings, or cabinetry.
For a beautiful seamless look, they can all be painted in the same white. No need to overthink it!
High Reflective White, Extra White, and Snowbound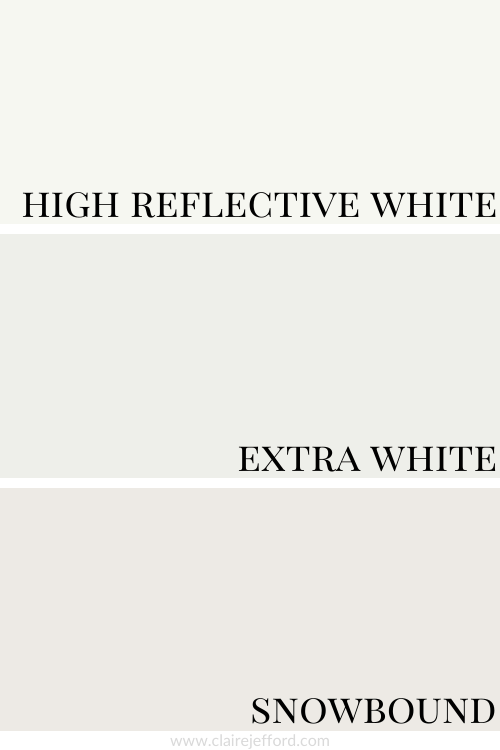 For reference, you can see all the whites together in the graphic above.
NEW!!
If whites confuse you, you are not alone. But I can help. 🙂
Sign up to this new series to learn the 5 Trending Whites Right Now.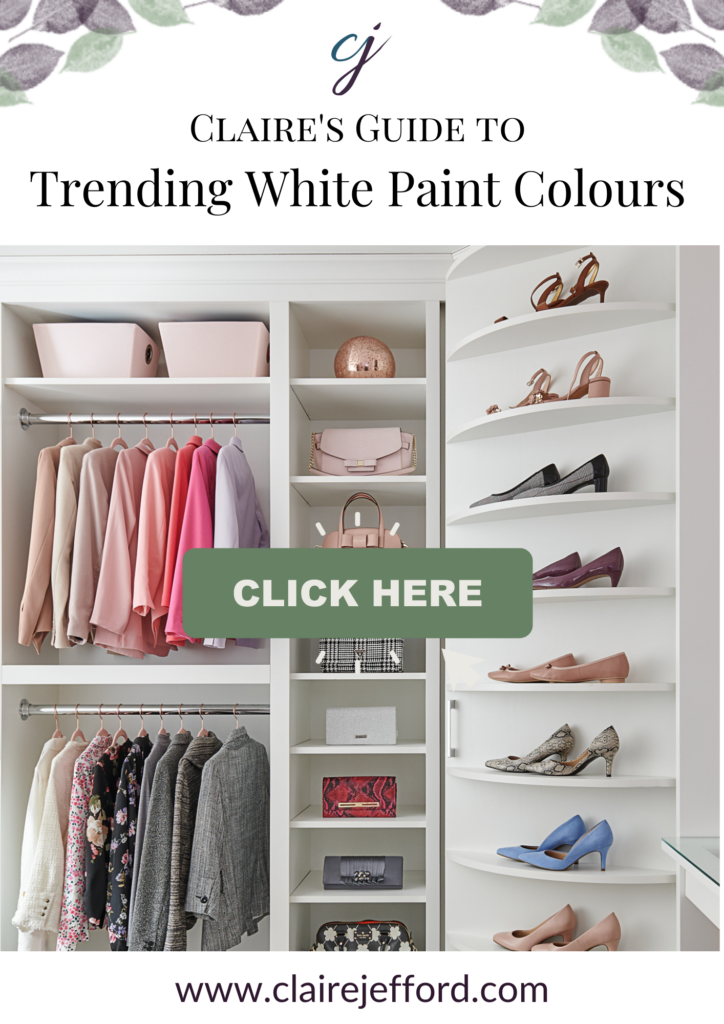 Fabulous Colour Combinations
Extra White with Smoky Salmon, Web Gray and Relentless Olive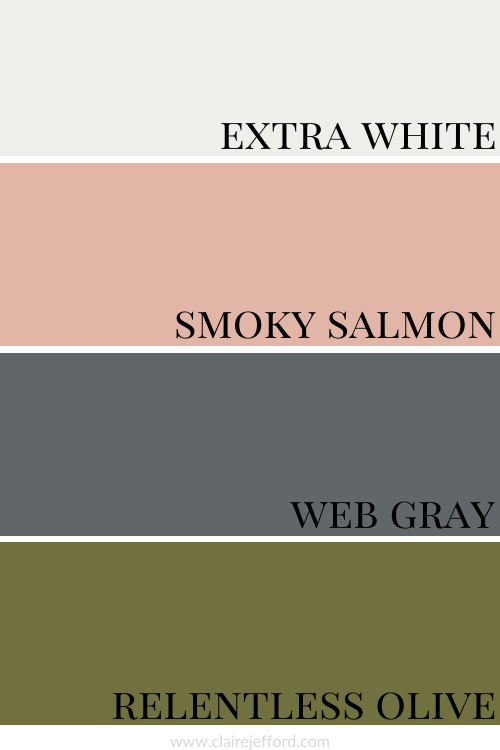 Smoky Salmon SW 6331 by Sherwin Williams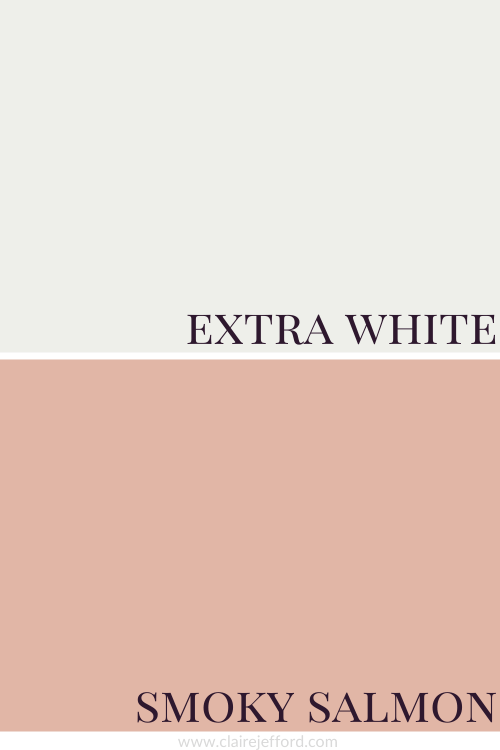 Web Gray SW 7075 by Sherwin Williams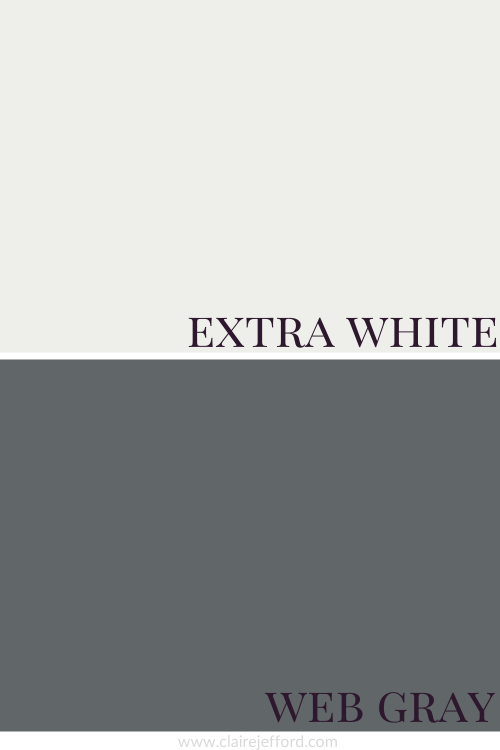 Relentless Olive SW 6425 by Sherwin Williams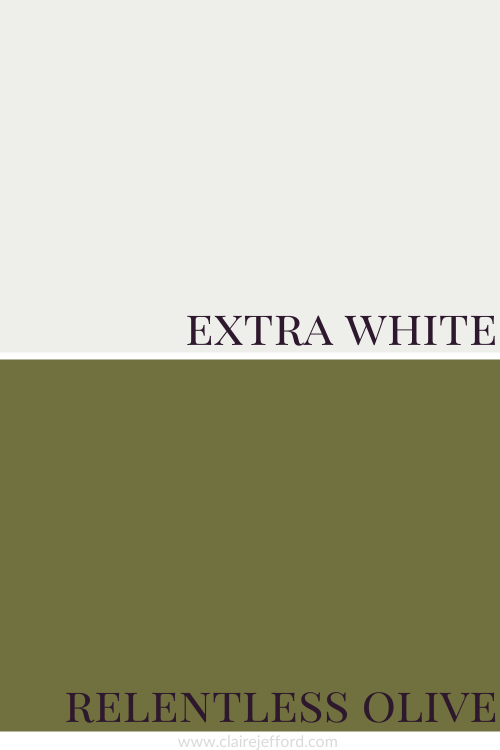 The above palette was created using my Perfect Colour Palette for Extra White.
We used the wallpaper below to pull together this fabulous colour combination. I often find inspiration from either a fabric, area rug or wall art.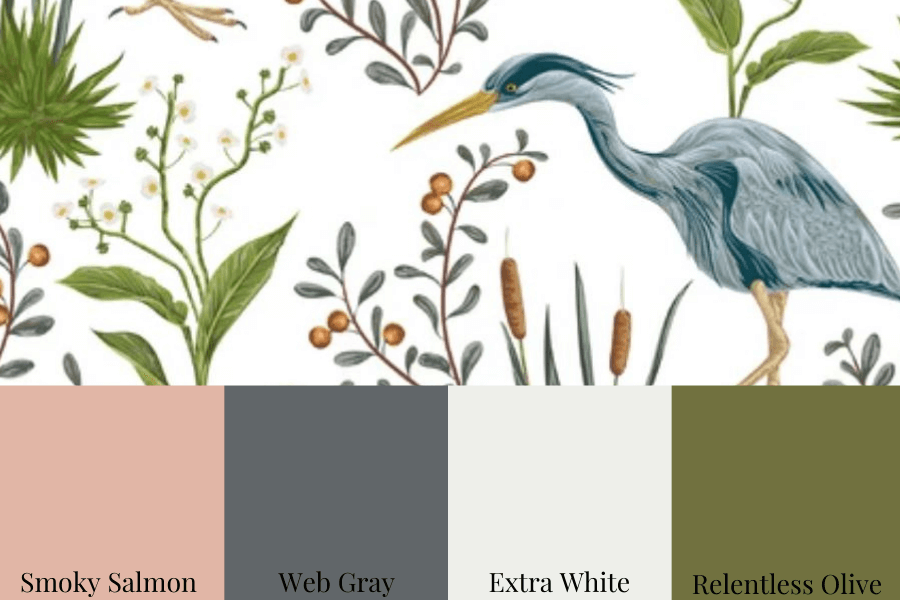 The below image is a room rendering demonstrating the different ways to combine this colour combination.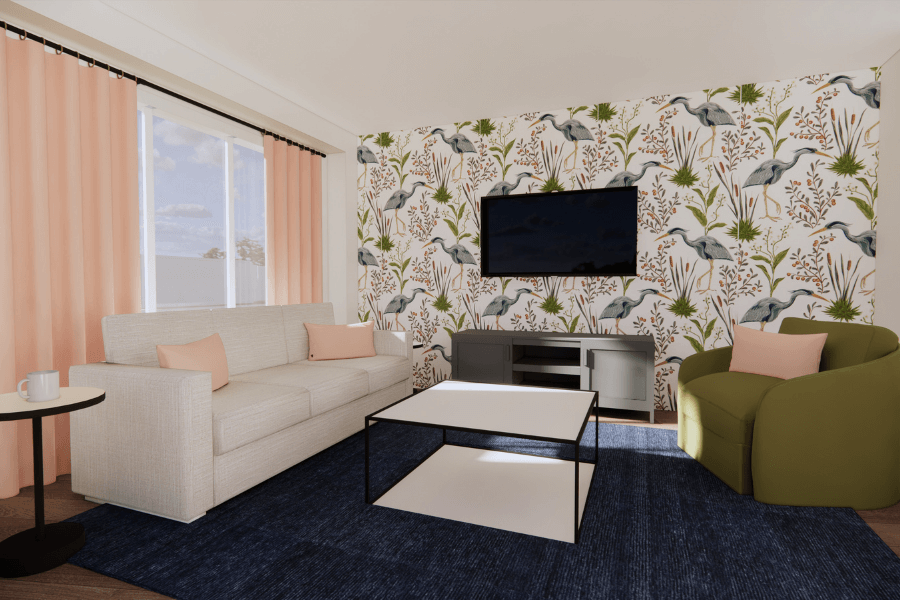 The walls and ceiling are shown in Extra White.
The drapery and pillows are Smoky Salmon.
The console is painted Web Gray, while the accent chair is seen with Relentless Olive. I love that name!
On a side note and to show you a completely different colour palette, the living room layout in a 3D rendering shown above was initially created for this Burlington client project.
See if you can spot the same living room, but now done in real life, as you scroll through that blog post.
Convenience At Your Fingertips
All of the colour combinations I shared, plus more options for you to be inspired by, are included in my Perfect Colour Palette of Extra White.
Extra White is also included in my newest Collection that showcases 10 beautiful neutrals from Sherwin Wiliams.
My Perfect Colour Palette library is expanding, click here to see all of them.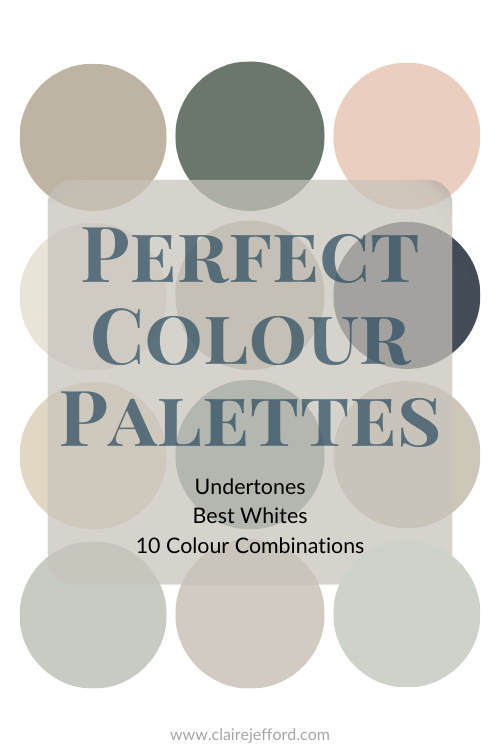 Remember, it only takes one mistake to take your home decorating project from divine to disaster. Don't let the paint be what stresses you out!
Take my Colour Quiz to find out what your Perfect Colour Palette is.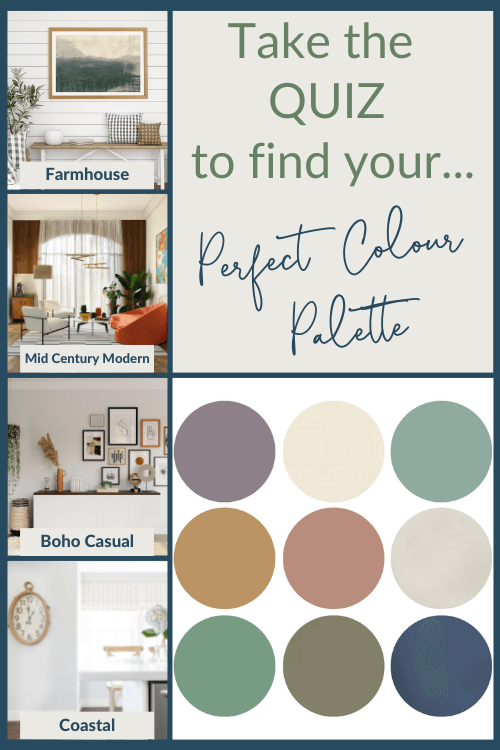 Perfect For Pinning