9 Kitchen Design Mistakes
Picking a Paint Colour?
Choose the right paint colour
the first time Let me show you how in just 5 easy steps!
BONUS: The Top 15 Shades of Gray by Benjamin Moore
We value your
privacy
. We will never share or sell your information.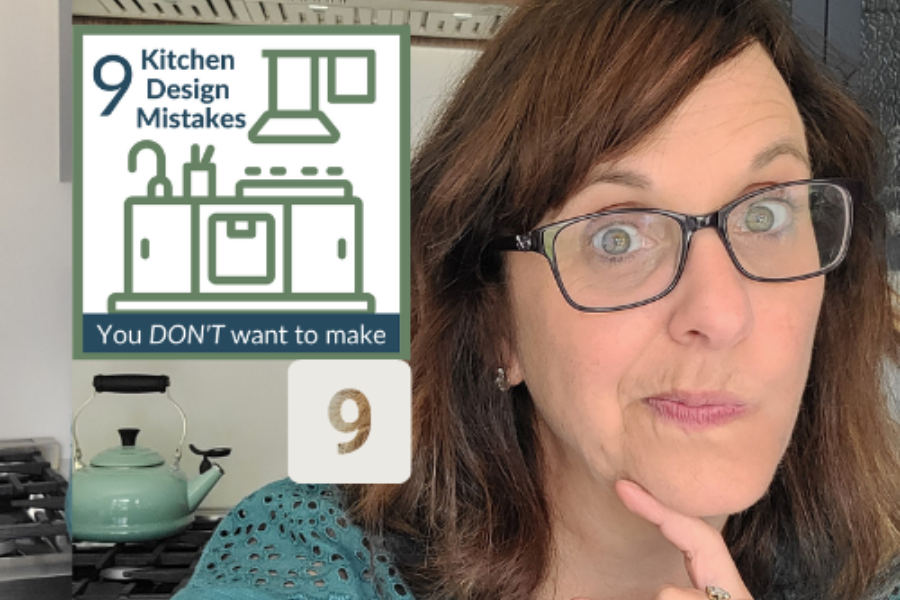 Kitchens are the place where everyone often gathers in your home and where you make the most memories.
While kitchens may be the most expensive area in your home to renovate, they are also where you will generally see the biggest return on your investment.
You CANNOT afford to mess up these costly renovations.
For this reason, I want to share with you my '9 Kitchen Design Mistakes You Don't Want to Make'.
This was a series of short videos that I shared on Instagram as Reels with lots of engagement. This series was also hugely popular on my TikTok account.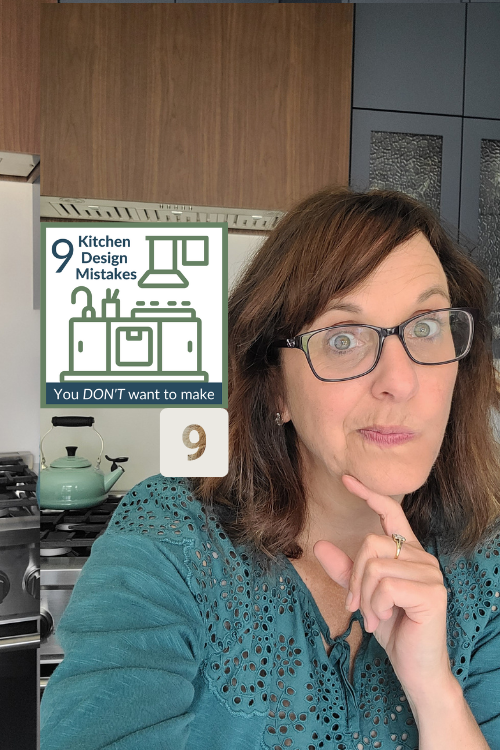 1. Looking to Big Box Stores for Inspo
Yup, I'm talking about those hideous kitchen displays at the Big Box Stores and what a huge mistake it is to make them your 'go-to' for design inspiration.
I don't know who designs them or how these design train-wrecks get approved, as the majority I have seen over the years are beyond terrible.
They are usually a mix of various patterns and cabinetry styles, perhaps with the intention of showing you what is available for finishes. But when you know good design, it really leaves one scratching their head.
Look at this first one below, for example.
The busy quartz counter with the tiny square mosaic backsplash in various green tones is way too busy. Not to mention, those mosaics are so dated. We actually ripped out a similar backsplash from when we first renovated our kitchen in 2006.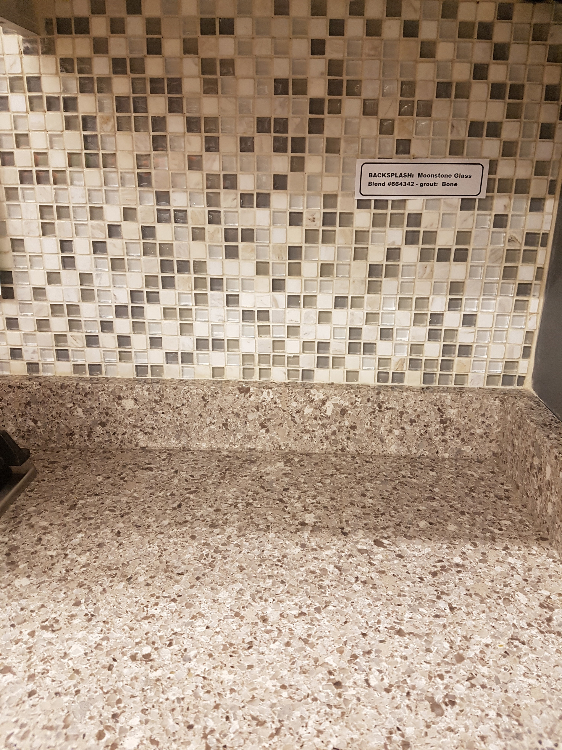 In the big box kitchen display below there is a similar busy backsplash pattern paired with a quartz countertop that has quite a bit of movement to it as well.
But my biggest question was – what the heck is the point of the half cabinet on this peninsula with massive legs? It looks incredibly awkward, is in no way functional, and is just an eyesore in general.
So, please do not look at these big box store kitchen displays for design inspiration.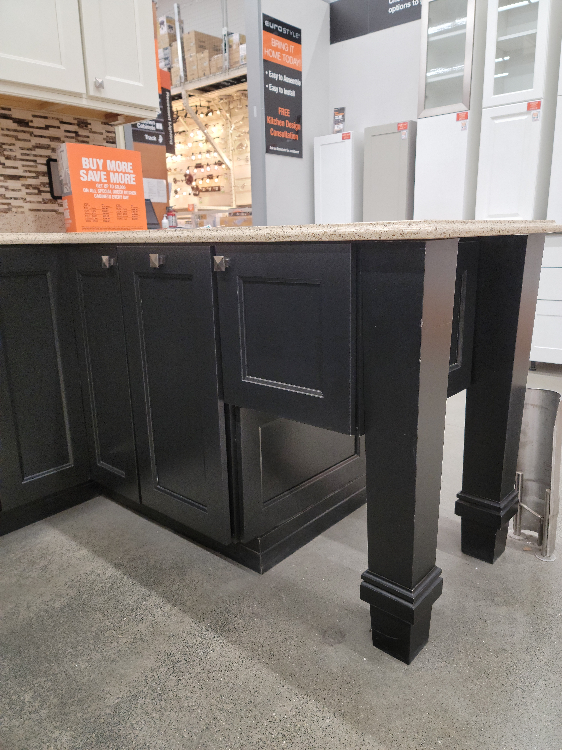 2. Doors vs Drawers
When redesigning your kitchen, skip doing mainly doors on the base cabinets and design your new kitchen with plenty of drawers instead.
It's way easier to access everything as opposed to crouching down in a cupboard with fixed shelving and it's much better for your back too. Hey, I don't know about you, but I ain't getting any younger over here!
We house our main dishes, cooking utensils, and pots & pans in 36″ wide x 12″ deep drawers.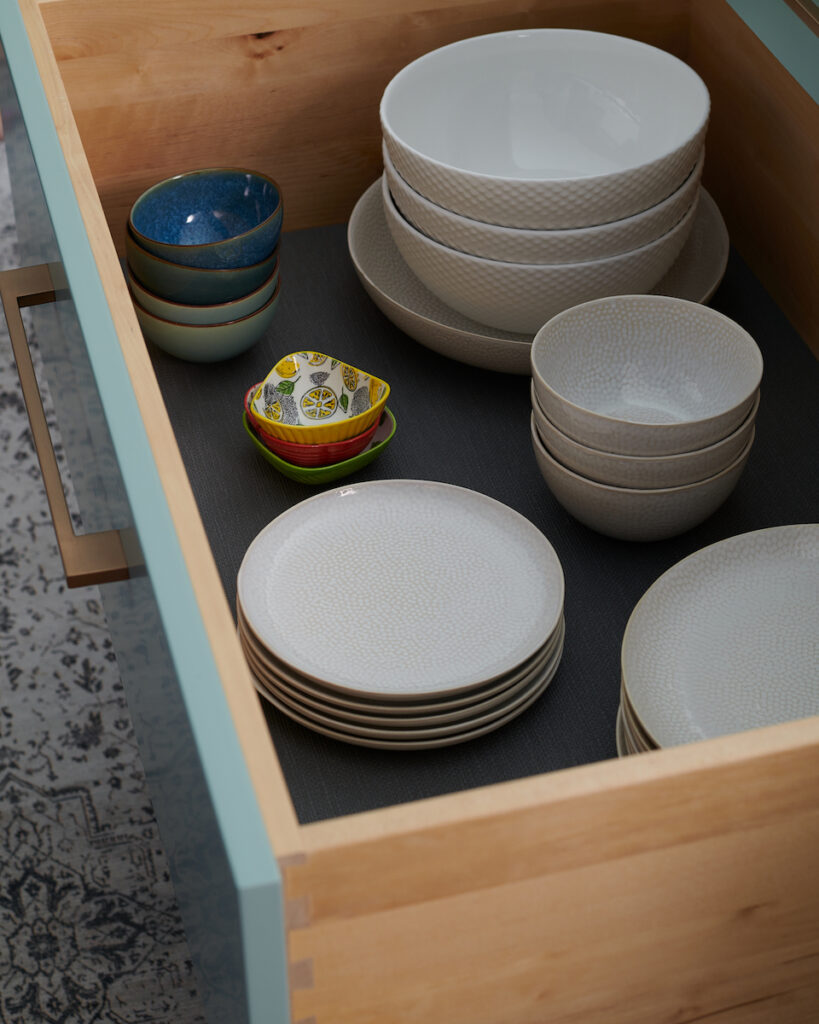 And for a deep pantry, opt for pullout drawers like these if you are designing a custom kitchen. It's so much easier to see and access everything.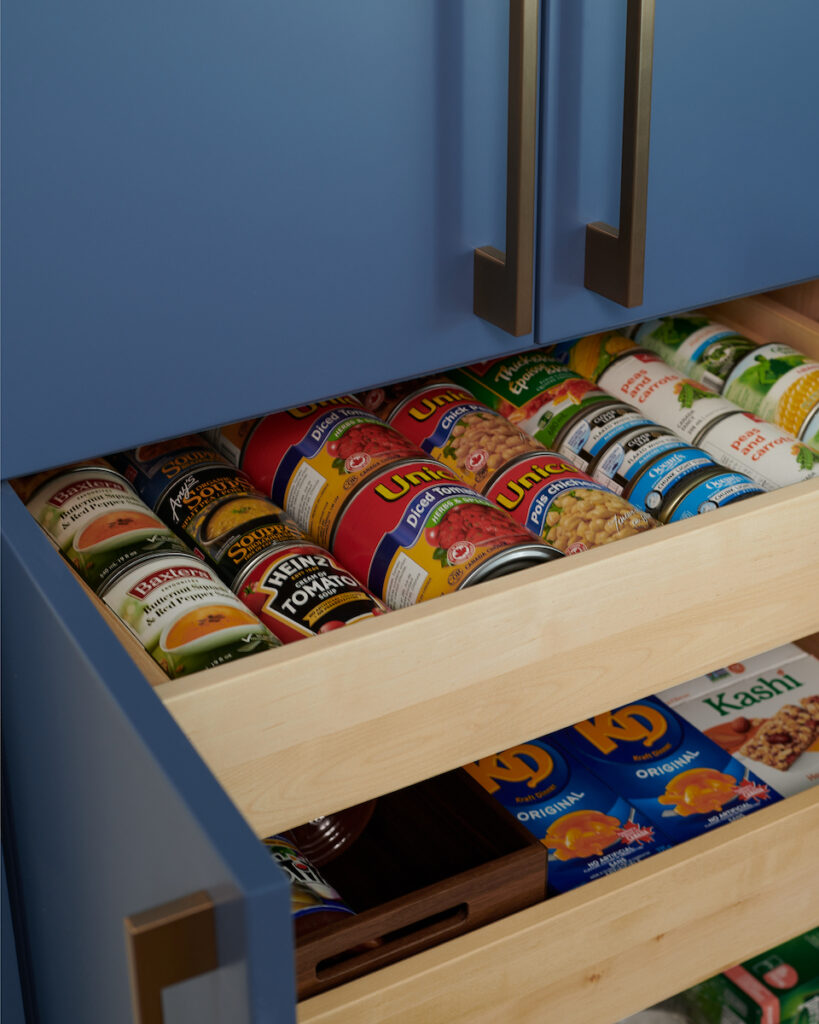 These are key design principles that start with optimizing function, plus, they look super sleek too.
3. Overlooking Smart Storage Solutions
I had the pleasure of working with Häfele Canada which has the most AMAZING kitchen storage solutions to make the most of every inch of precious space.
In the awkward corner area on the base cabinets, we installed the Flex Corner Unit. It has 2 pull-outs each with 2 levels of shelving.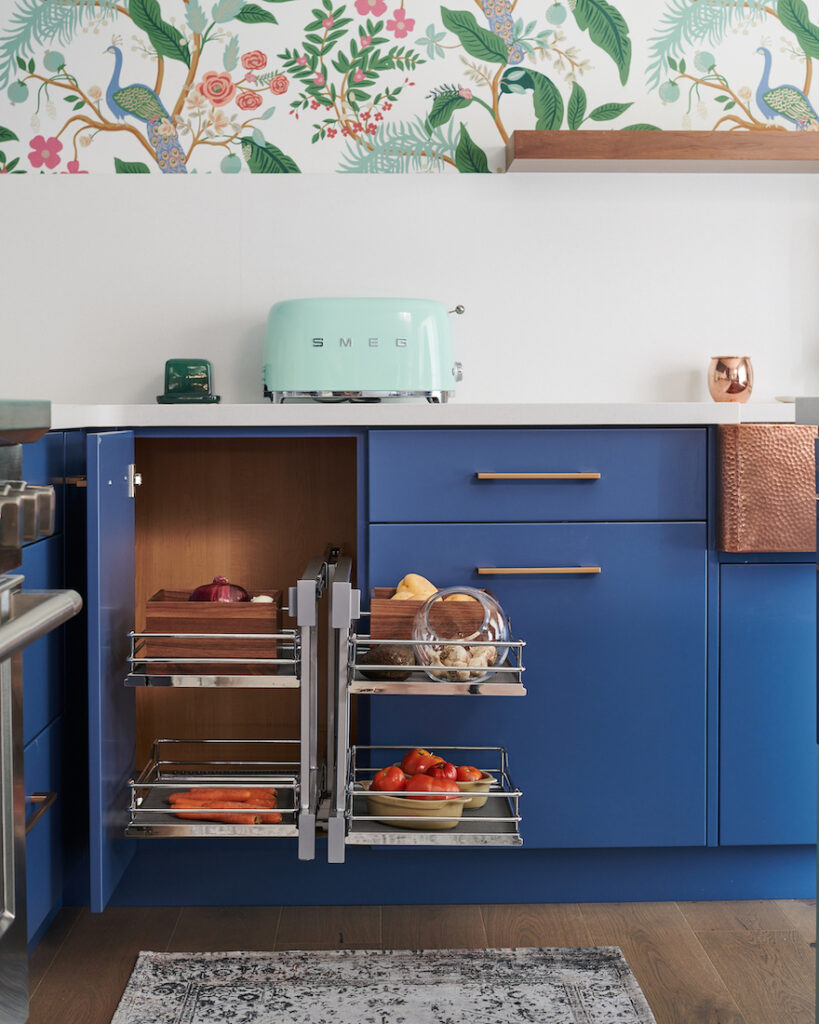 In our kitchen we have two sets of 36″ drawers. In the top drawer of our island we store our main cutlery. And the other bank of drawers, the top one next to the oven, holds our larger cooking utensils.
For both of these, we used Häfeles Fineline Cutlery Trays in Walnut. How they keep everything organized is exquisite!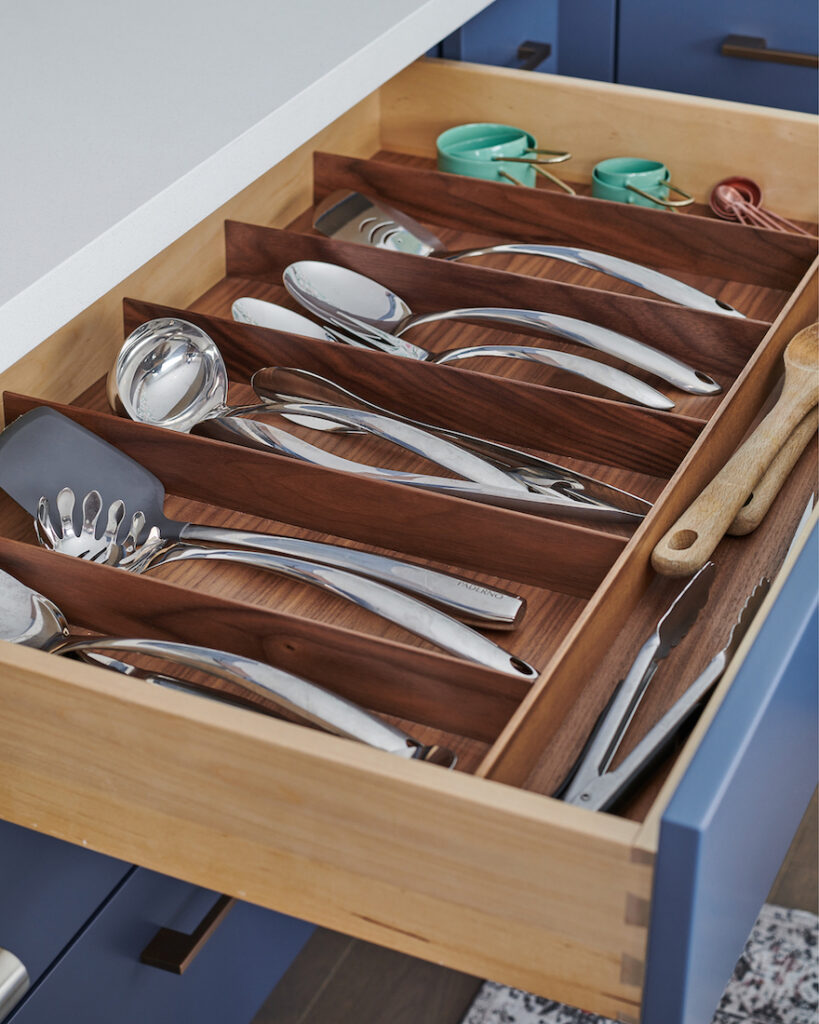 In our 27″ wide spice drawer next to the oven, we installed 3 Häfele Stepped Spice Inserts that make it easy to see and organize all our spices. (Sorry, no professional photo to share with you of the inside of that drawer).
Don't forget about storing your oils. We had 7″ remaining on our main kitchen wall which we utilized for a pull-out cupboard with double oil baskets from Häfele.
Out of all of these mentioned, which of these solutions would be a 'must' for you? Comment below and tell us why.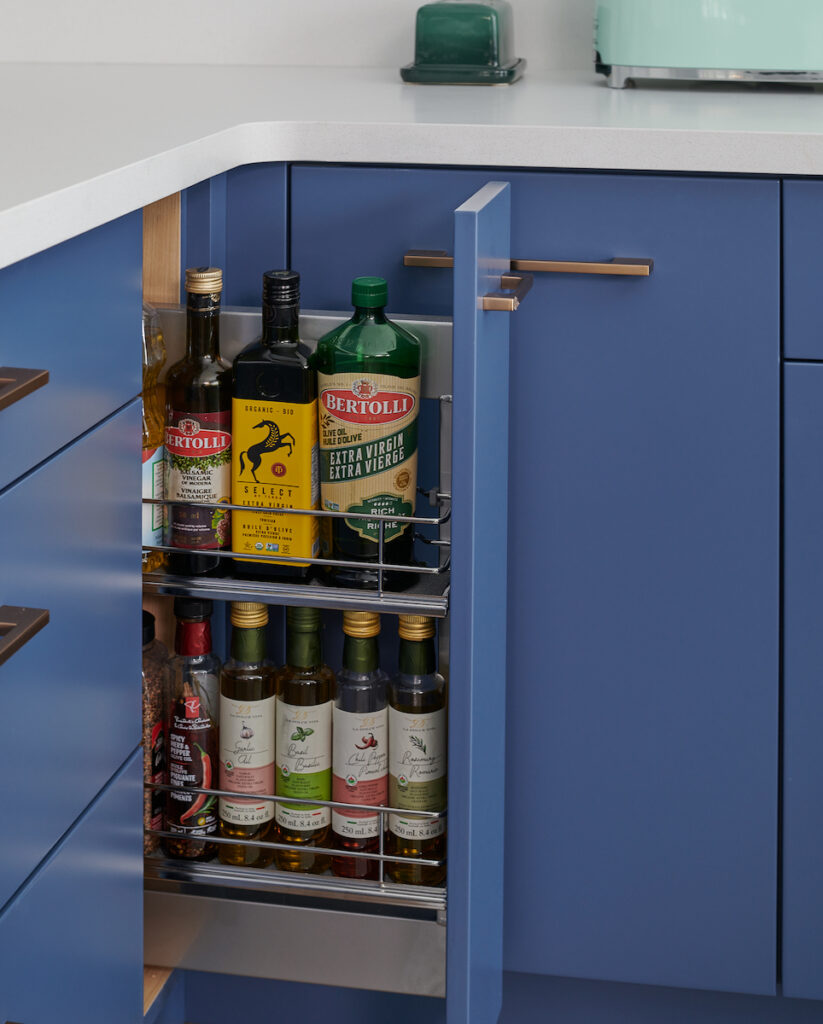 If you have a spare minute or two, read my blog with all the incredible smart storage solutions. I promise you'll find plenty of kitchen storage inspiration ideas there.
4. Make smart lighting choices
There are so many fabulous options for lighting. In kitchens especially, it's imperative to have various light sources, depending on what tasks you are doing.
You'll need to watch my video to see the 4 different types of lighting we used in my kitchen, as we didn't get photos of each of them. The last one is really unexpected and I think you'll love it!
Potlights
Pendants over the island
Under cabinetry lighting
Strip lighting on top of my floating walnut shelf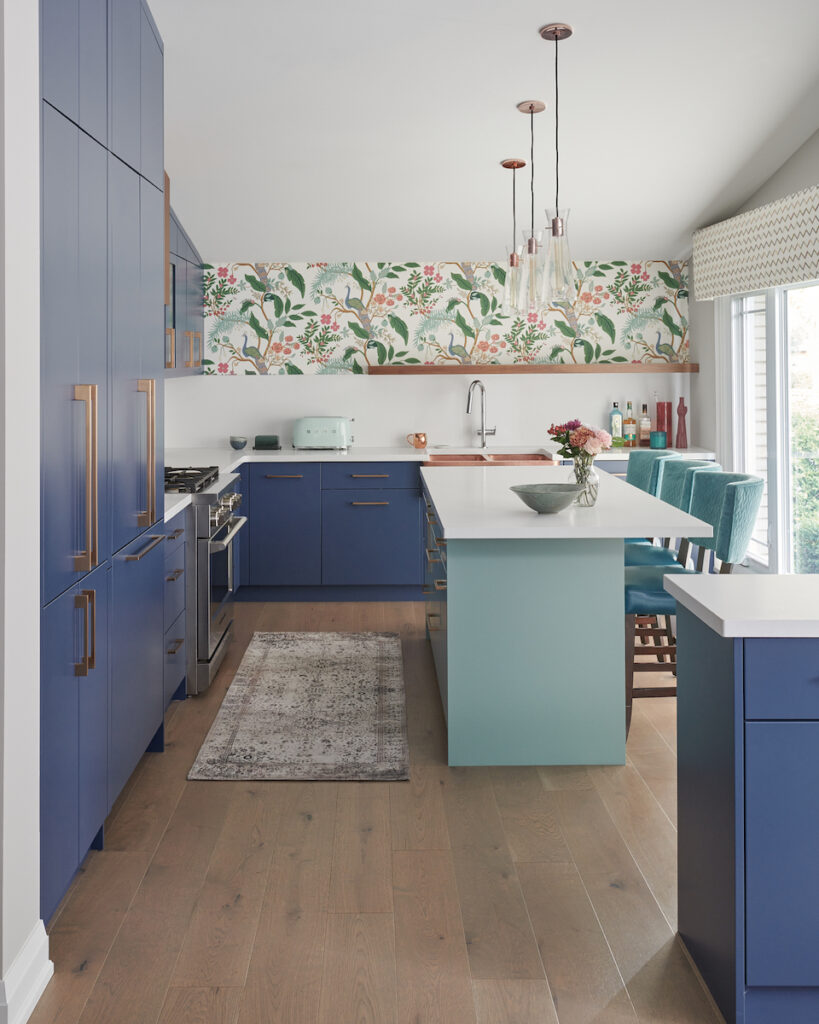 And for more colourful fun, I added in these pretty pendants that hang in our stairwell leading down to the basement which is open to our main floor hallway as well.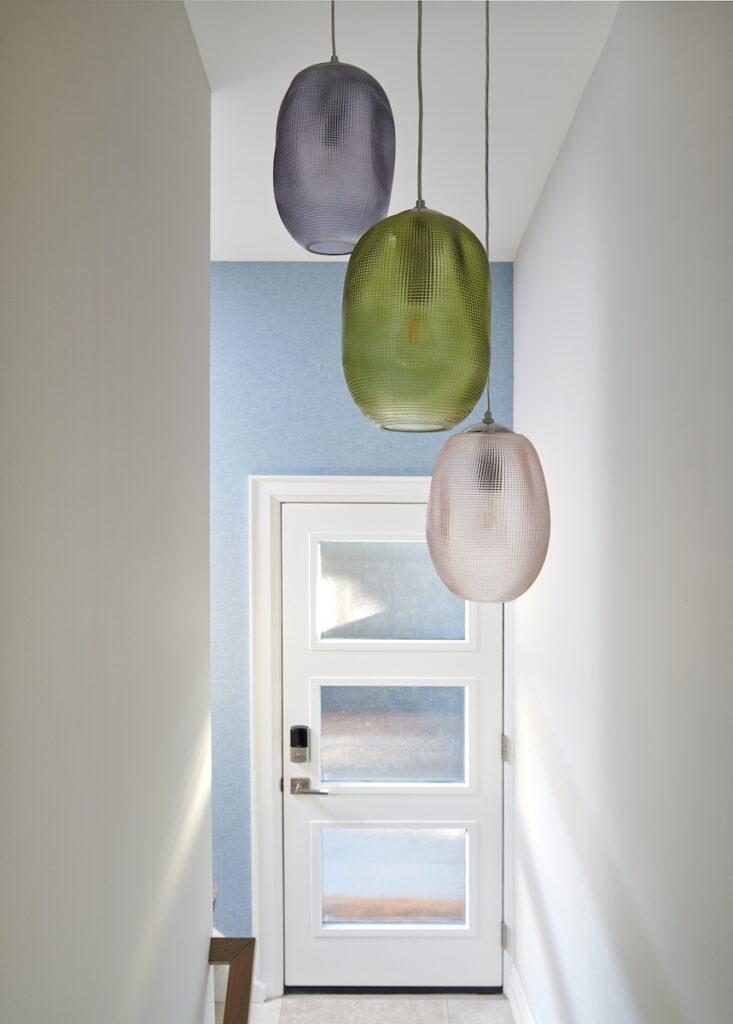 When doing a kitchen design, electrical needs to be discussed at the very early stages. Think about where you will need light sources and where best to place electrical switches and outlets.
5. Ignoring Architectural Features
I was only really excited about my kitchen design when I decided to swap the location of my kitchen for my living room. The possibilities were so much more thrilling and less limiting due to the bigger space.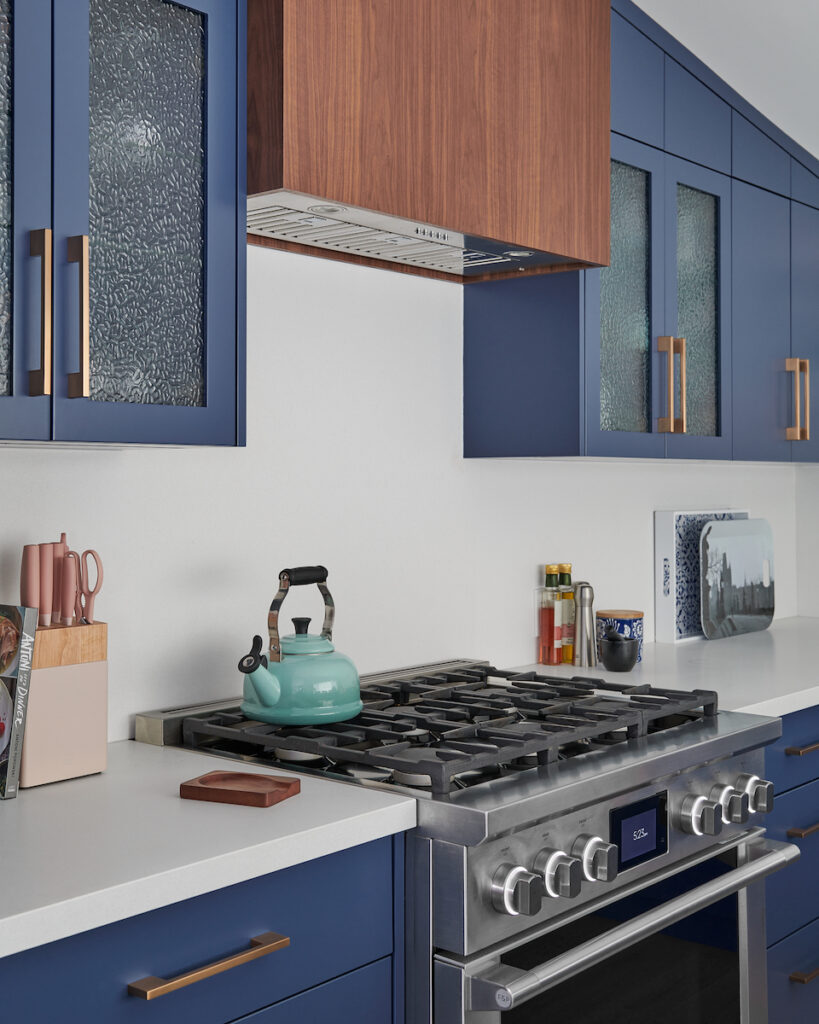 Plus, the angled ceiling where the main cabinetry was to reside on the back wall of my new kitchen design, meant that we would be highlighting this very cool architectural detail which was going to be quite the focal point. It did not disappoint! My cabinet maker is very talented and his attention to detail is impeccable.
6. Don't Follow the Trends!
What I love about my kitchen is that you can't pinpoint a date as to when it was renovated. It could have been designed last month or anytime in the past few decades.
Am I right?! Kitchens are an investment that is meant to last 15 years or more. When you follow the trends, you run the risk of not loving your renovation for years to come.
I selected a purple hue for my custom cabinets. Kensington Blue by Benjamin Moore is a Purpley-blue that we used for the perimeter cabinetry in my kitchen.
Below you can see Kensington Blue in my large painted board on the far left and again on the far right in the paint chips next to my fun wallpaper.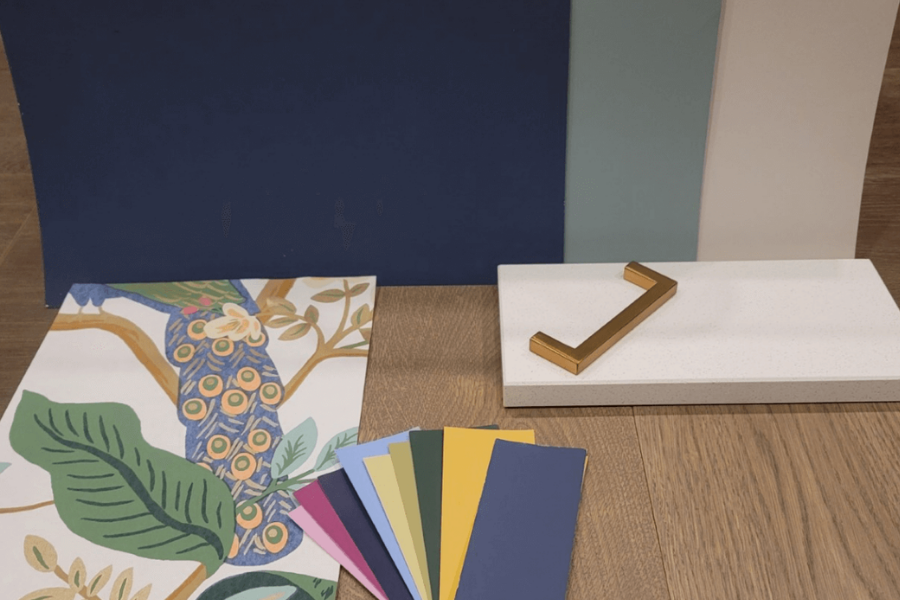 But for my initial design ideas I was considering the now very popular black for the cabinetry colour, just like my bathroom cabinet design. I'm so glad I decided not to do black as Kensington Blue makes me smile every time I enter the room, plus it's timeless!
Feel free to argue with me on this, but I just saw this same colour tone in Mad Men which is a TV show set in the 60's. They had the exact same kitchen cabinet colour, but accented with red tones, which was cool, but not my vibe.
7. Going With Basic Appliances
Kitchen appliances have come a very long way over the years, so if it's been a while since you last renovated, make sure you do your research to find the best ones for the way you live – or for how you want to live in your new kitchen.
We worked with Best Brand Appliance in Oakville and chose Fisher & Paykel for our range and double drawer dishwasher. The 84″ tall x 36″ wide paneled fridge is from Dacor, it's next to the pantry which is on the end in the far left of this photo.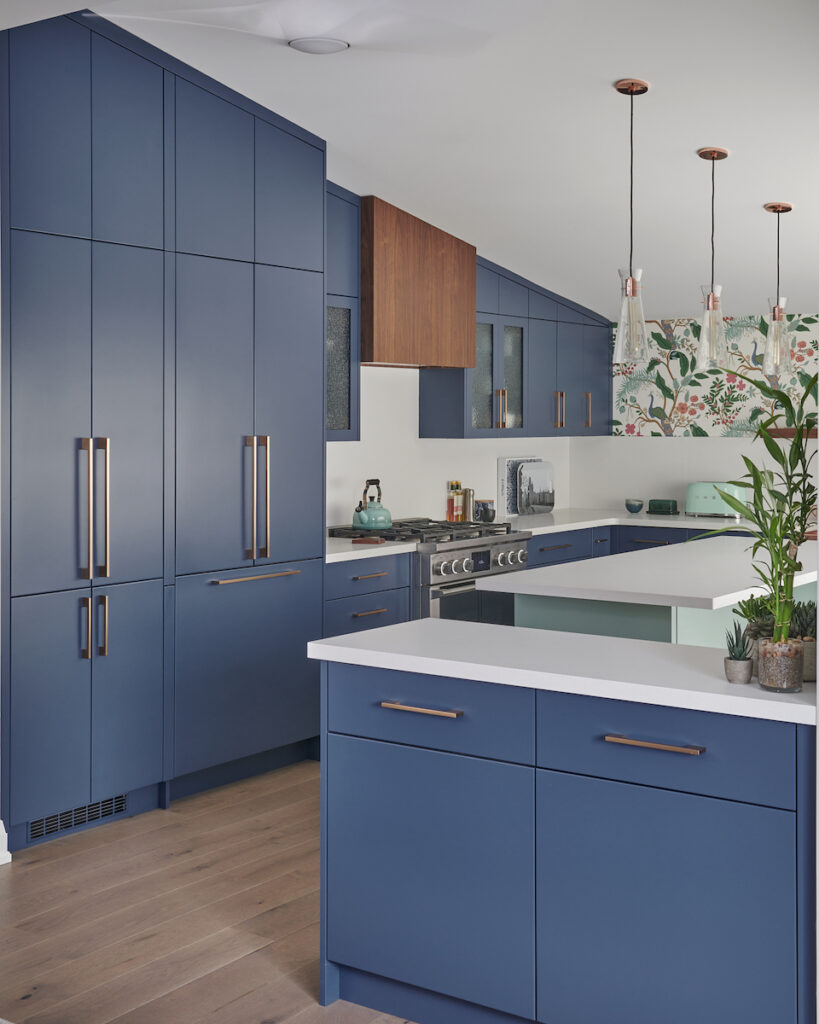 Our microwave is a Sharp microwave drawer that I designed to be housed within our kitchen island. This is a great option if you are either short like me and have a hard time reaching a microwave above an oven. Or if you have a bad back or problems bending, this is also a great solution.
Although it is about 4-5 times the cost of a normal microwave, for me the convenience and ease on my body of using it makes it worthwhile, especially since we use the microwave daily.
Yes, these appliances were a splurge and I don't regret one penny of the investment. We love them all! And remember, you don't need to splurge on every appliance if it's not in the budget. Pick one or two that are most important to you.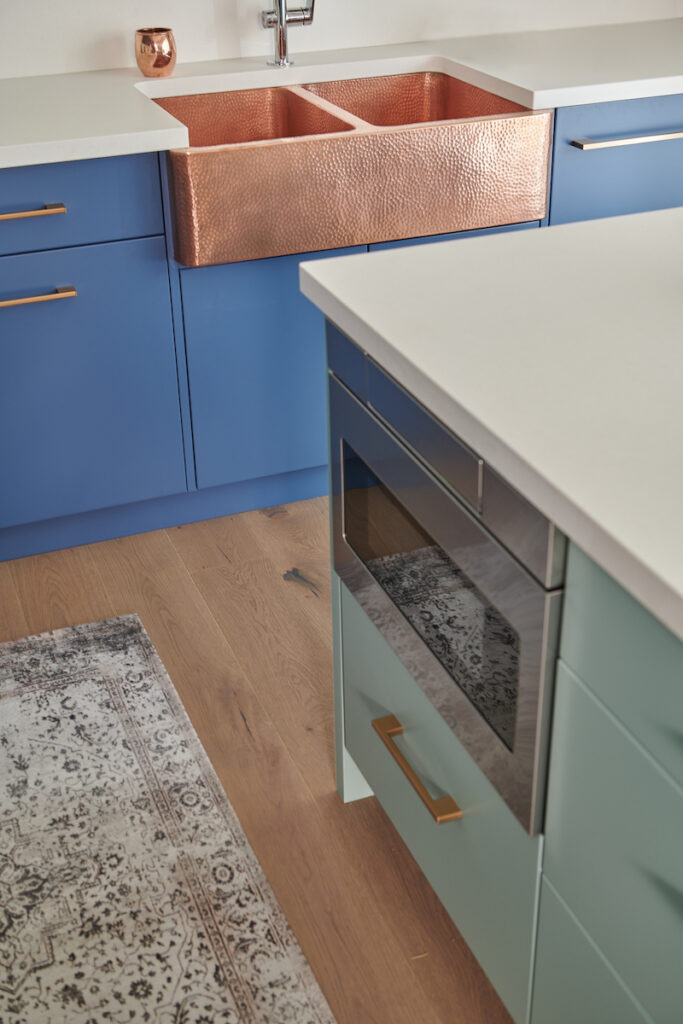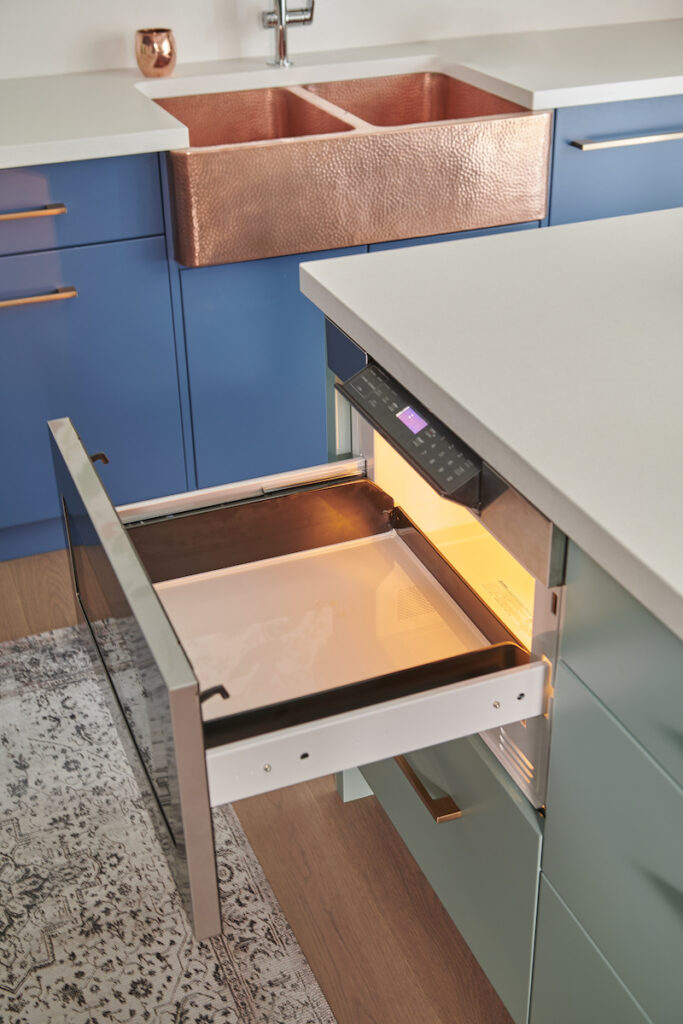 8. Not Creating Flow
Creating flow is all part of good design. You achieve this through color, finishes, texture, and patterns, for example.
In the short video, I explain how we did this in my new kitchen design with my Thompson Traders sink and walnut accents, as well as with colorful decor and accessories such as my wallpaper and decorative wall plates.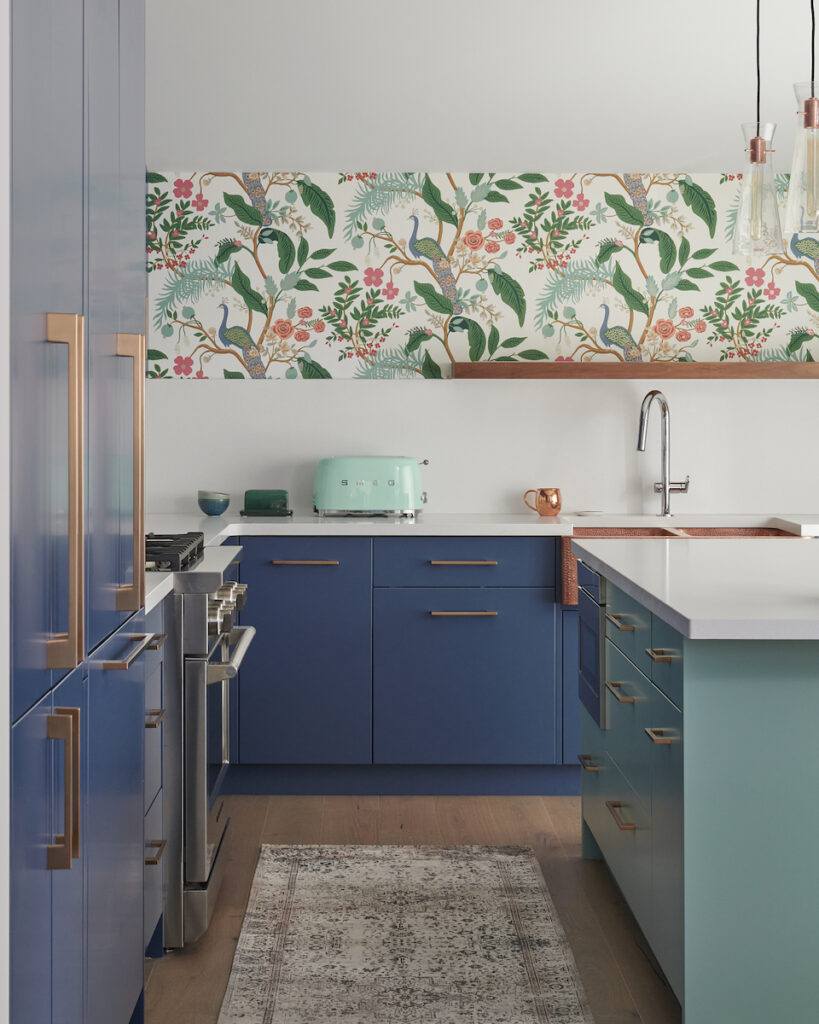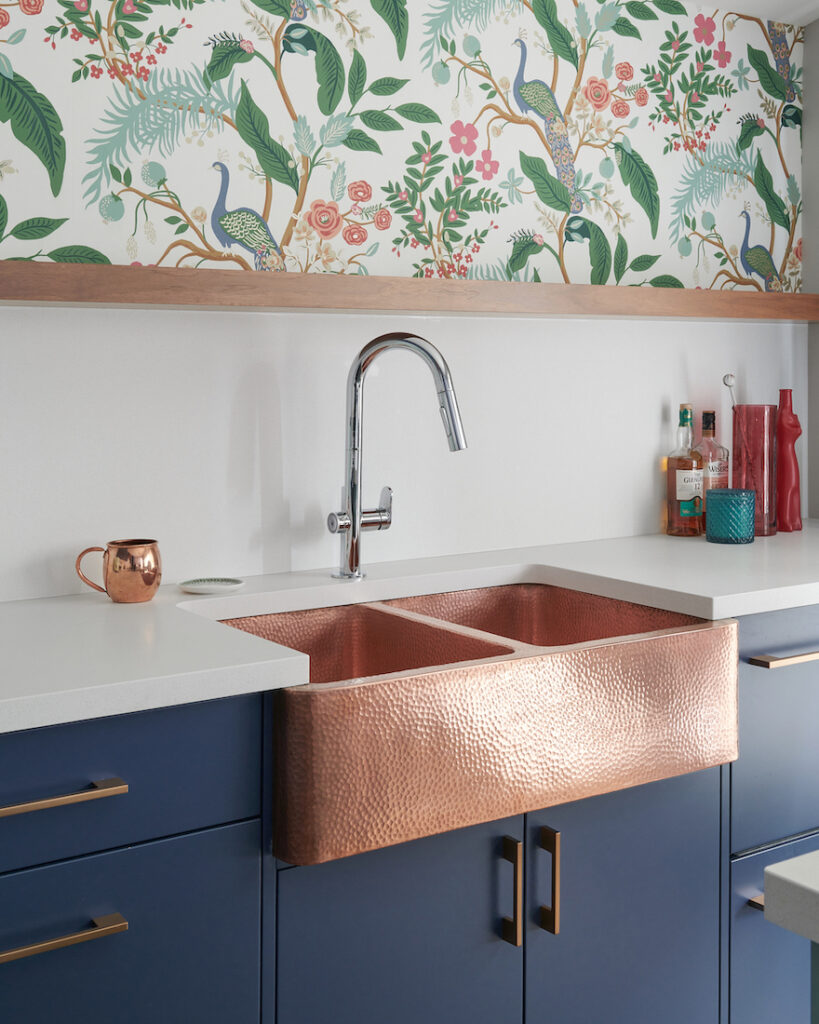 To achieve this in your own home, if you used a colour for your island or on your stools for example, repeat that color in a window treatment, placemats, or a small rug. These are just some ideas for you to incorporate similar colours into the design of your kitchen to create flow.
9. Not Protecting Your Investment
Last, but certainly not least, please protect your investment.
For instance, to protect the bottom of our custom drawers we used non-slip mats from Häfele Canada. We cut them to size to fit perfectly in each drawer.
These mats stop items from moving around when you open and close your drawers too – plus they look super sharp!
In our previous kitchen, we had some leaks under the sink which made the inside of our cabinet finish peel away and in some areas even turned green. Ew!
In our new kitchen, we protect the sink cabinet by using the Under-Sink Mat from Häfele. This mat has unique dimples that can collect up to 1 gallon of water per 6 square feet, should you have a minor leak.
Be sure to consider smart products like these from Häfele to protect your investment, your kitchen is worth it!!
Remodeling your kitchen can be a very daunting task, and there are so many moving parts to think about.
If you are planning a kitchen renovation and happen to be near our local area of Burlington, Ontario, reach out to us here, and let's discuss your project.
You deserve to Live Beautifully. Until next time, Cheers!
Perfect for Pinning