6 Bedroom Design Mistakes You Don't Want To Make
Picking a Paint Colour?
Choose the right paint colour
the first time Let me show you how in just 5 easy steps!
BONUS: The Top 15 Shades of Gray by Benjamin Moore
We value your
privacy
. We will never share or sell your information.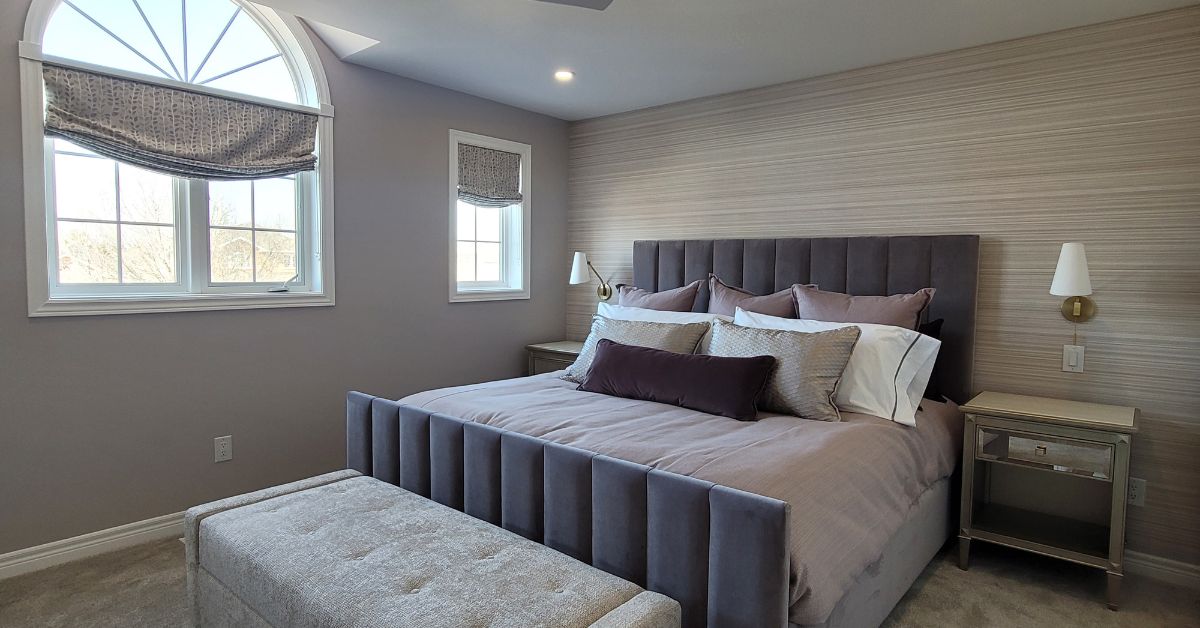 Although it's often the final room to be decorated, the bedroom is an essential space in a home as it provides a private and comfortable area for rest and relaxation.
It is where we spend a significant amount of our time sleeping, which is crucial for our physical and mental well-being.
Additionally, a well-designed bedroom can enhance the overall ambiance and aesthetic appeal of a home.
You CANNOT afford to mess up this type of decorating project!
For this reason, I want to share with you my '6 Bedroom Design Mistakes You Don't Want to Make'.
1. Placement of your bed.
Your bed should be the focal point, a real feature since it's the largest piece of furniture in the room. Design the space so that the bed fits nicely on a main wall with side tables.
The placement of your bed can have an impact on your overall well-being.
It's generally recommended to place your bed in a position where you can see the door, but not be directly in line with it, which was the case in our Burlington client's bedroom when we first met with them to discuss this specific project.
Additionally, it's important to avoid placing your bed under a window or in a location with a lot of clutter or chaos. Overall, the goal is to create a peaceful and comfortable sleeping environment.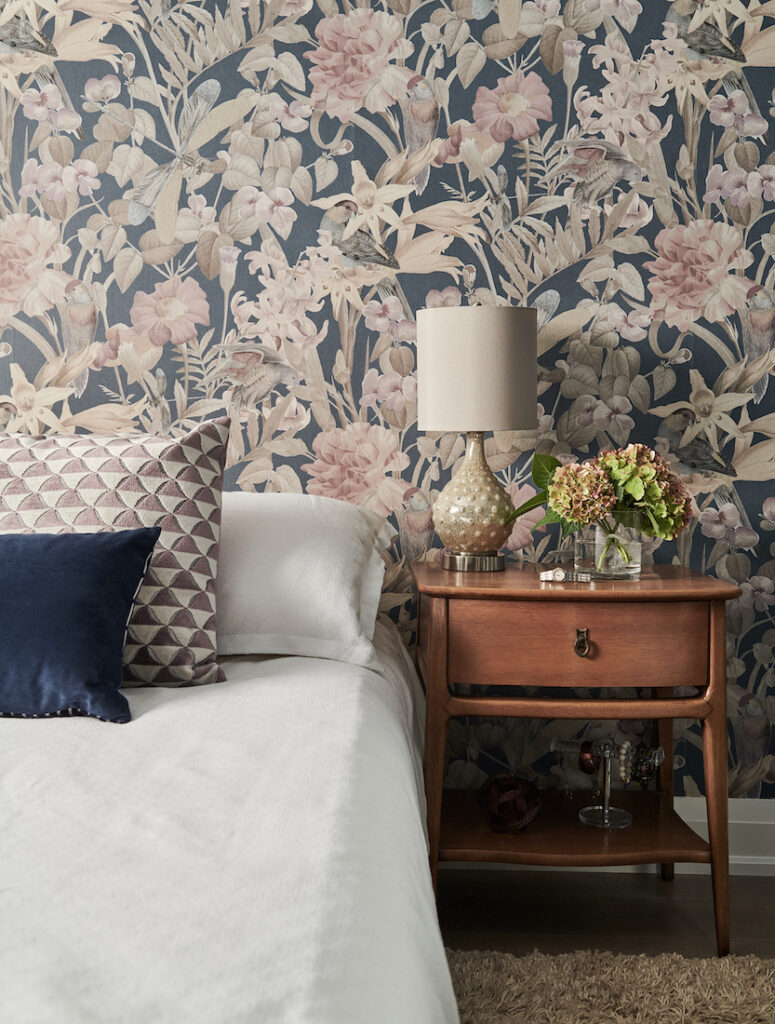 If you place your bed on a wall with windows, be sure the window treatments aren't covered up by the bed or covering a heat vent.
Sometimes you'll want to consider roman blinds as opposed to drapery, which is exactly what we did here in our Burlington client's principal bedroom.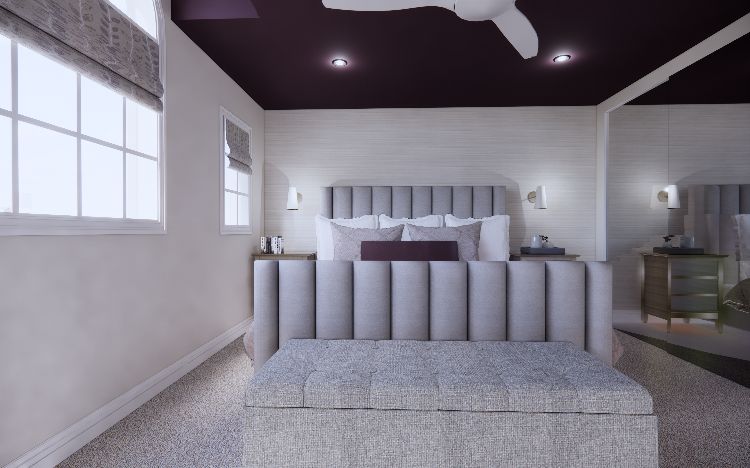 2. Inappropriate scale
Scale and proportion are crucial elements in furnishing a space.
Scale refers to the size of individual pieces of furniture, while proportion refers to how those pieces relate to each other and the overall space.
Properly scaled furnishings create a balanced and harmonious environment, while mismatched proportions can make a room feel awkward and uncomfortable.
It's important to consider the scale and proportion of each piece when selecting and arranging furniture to ensure a cohesive and pleasing aesthetic. This is a common oversight that many people make when decorating.
The image below is a perfect example. The upholstered bed frame is quite grand, but the lamp on the side table next to it is too small in proportion.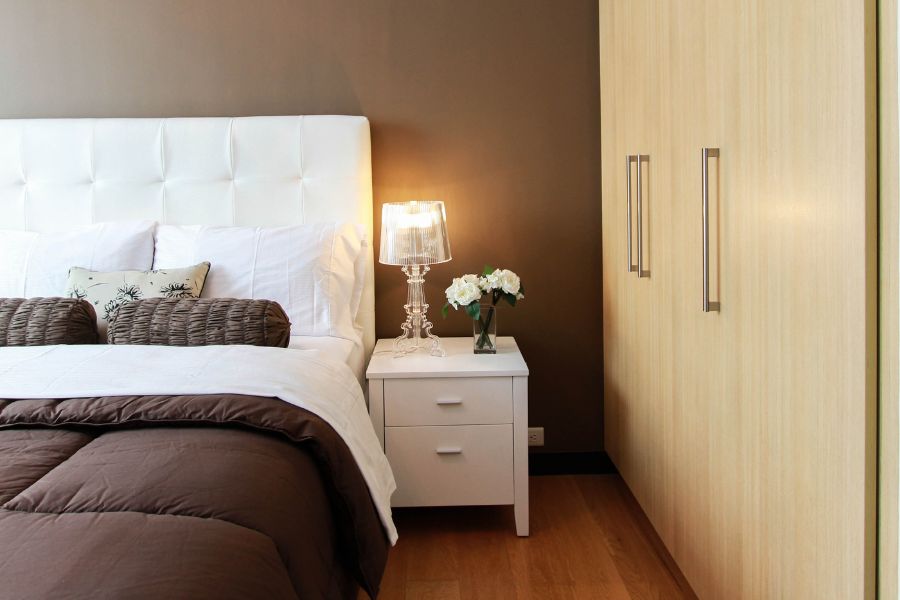 When planning the decor of our clients' principal bedroom, we specified a beautiful, king-sized upholstered headboard. We took careful consideration in selecting other furnishings that were similar not only in style but also in scale.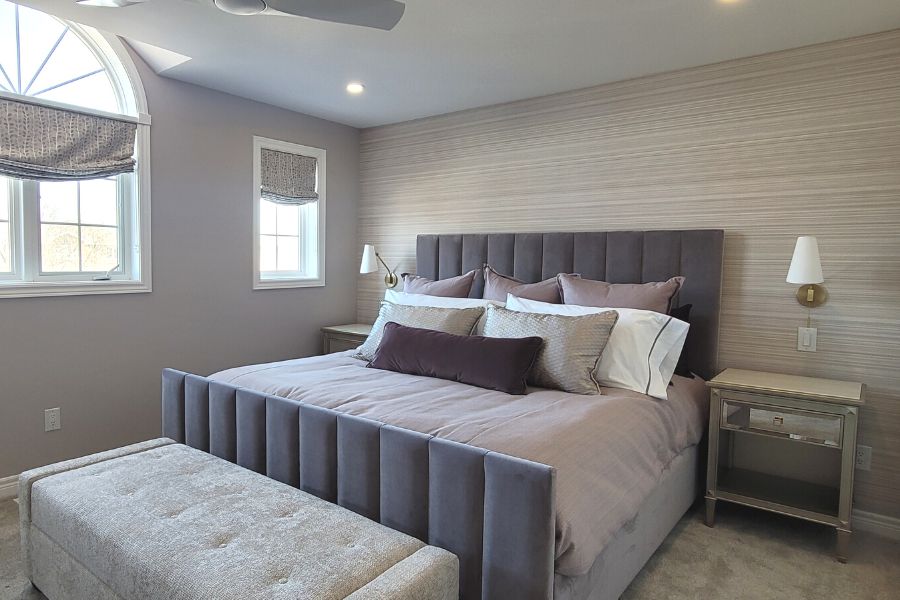 The antique mirrored nightstands are a good size at 24″ x 24″.
The sconces are hung at nearly the same height as the top of the headboard and fit nicely between the wall and the bed. Look at all those BIG pillows, plus the large custom storage ottoman!
To achieve good design, always consider how furnishings will relate to one another in both style, as well as scale.
3. Overlooking Storage
Smart storage solutions are important because they can help maximize space utilization and increase efficiency.
By utilizing innovative storage options, we can better organize our resources, reduce clutter, and increase access to important items.
Yes, we love 'pretty' but practicality is important too. In this client's bedroom, we designed the niche area to include a new, beautiful custom dresser built-in.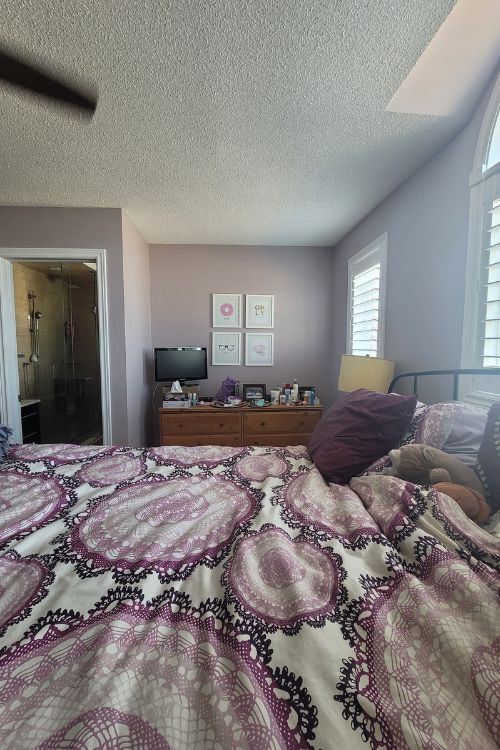 Not only does it look AMAZING, but it also provides a ton of practical storage, including organized jewelry drawers with felt inserts. And functionally, the location of the TV is now opposite the new placement of the king bed.
The design of the unit also has open shelving, which allows for items like perfume to be on display and easy to hand as needed.

Now that the room is complete, it's like it was always meant to be there!
We designed this stunning custom piece to be finished in Collingwood by Benjamin Moore and the walls are painted Portland Gray. These gray paint colours both have a Violet undertone.
If undertones confuse you, you are not alone, but I can help. Go grab my 'Fifteen Shades of Gray' download for free here, to see where I've identified various undertones of other Gray paints by Benjamin Moore.
4. The importance of lighting
Lighting is important for a variety of reasons. It can affect our mood, productivity, and overall well-being.
Proper lighting can make a space feel more inviting and comfortable, while poor lighting can cause eye strain and headaches.
In this client's bedroom, we added four pot lights, two sconces, and a ceiling fan light.
Another key to good lighting design is not to overlook how fabulous dimmers can be. We ALWAYS specify dimmer switches!
Consider layering your lighting to create the perfect, versatile ambiance in your space.
This same lighting strategy can also be implemented using table lamps or pendants over your bedside tables as we did in these other bedroom decorating projects for clients.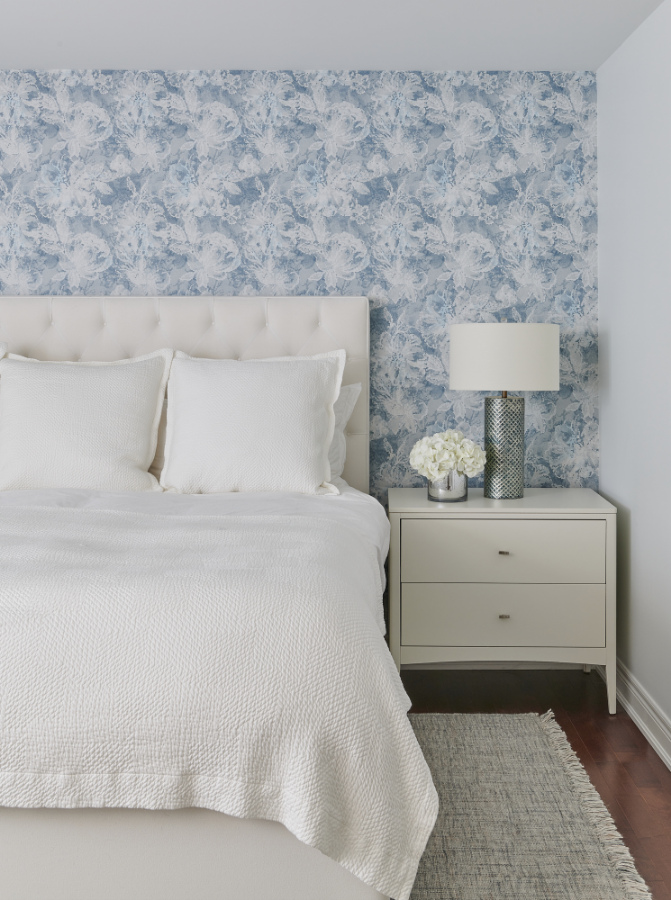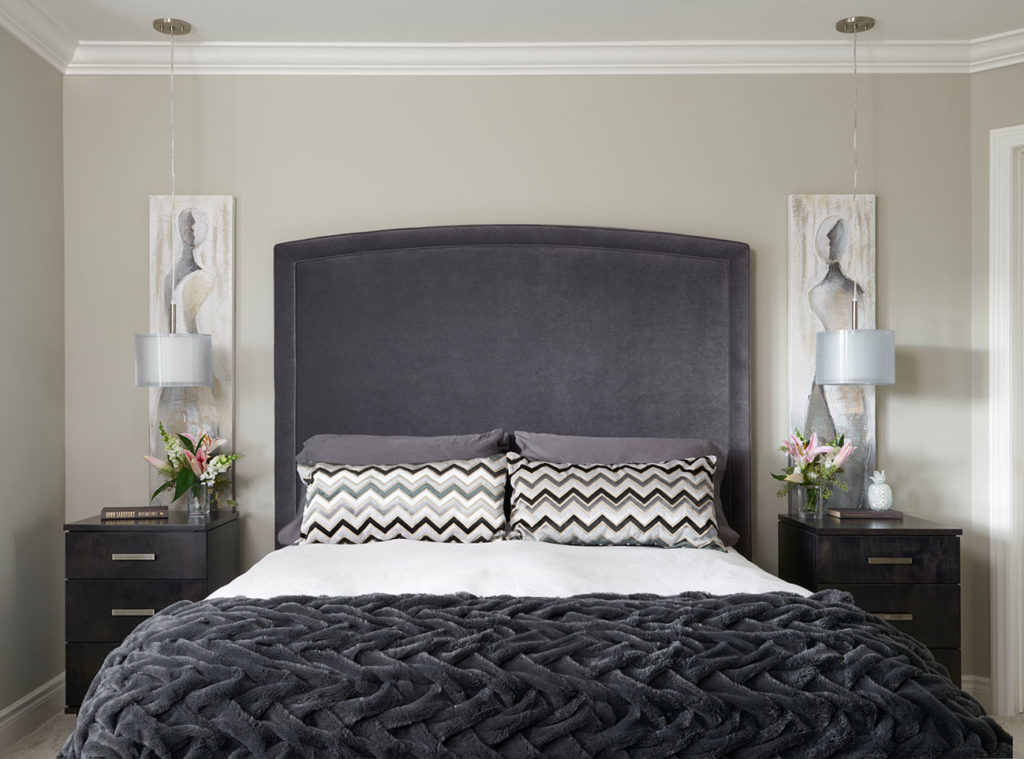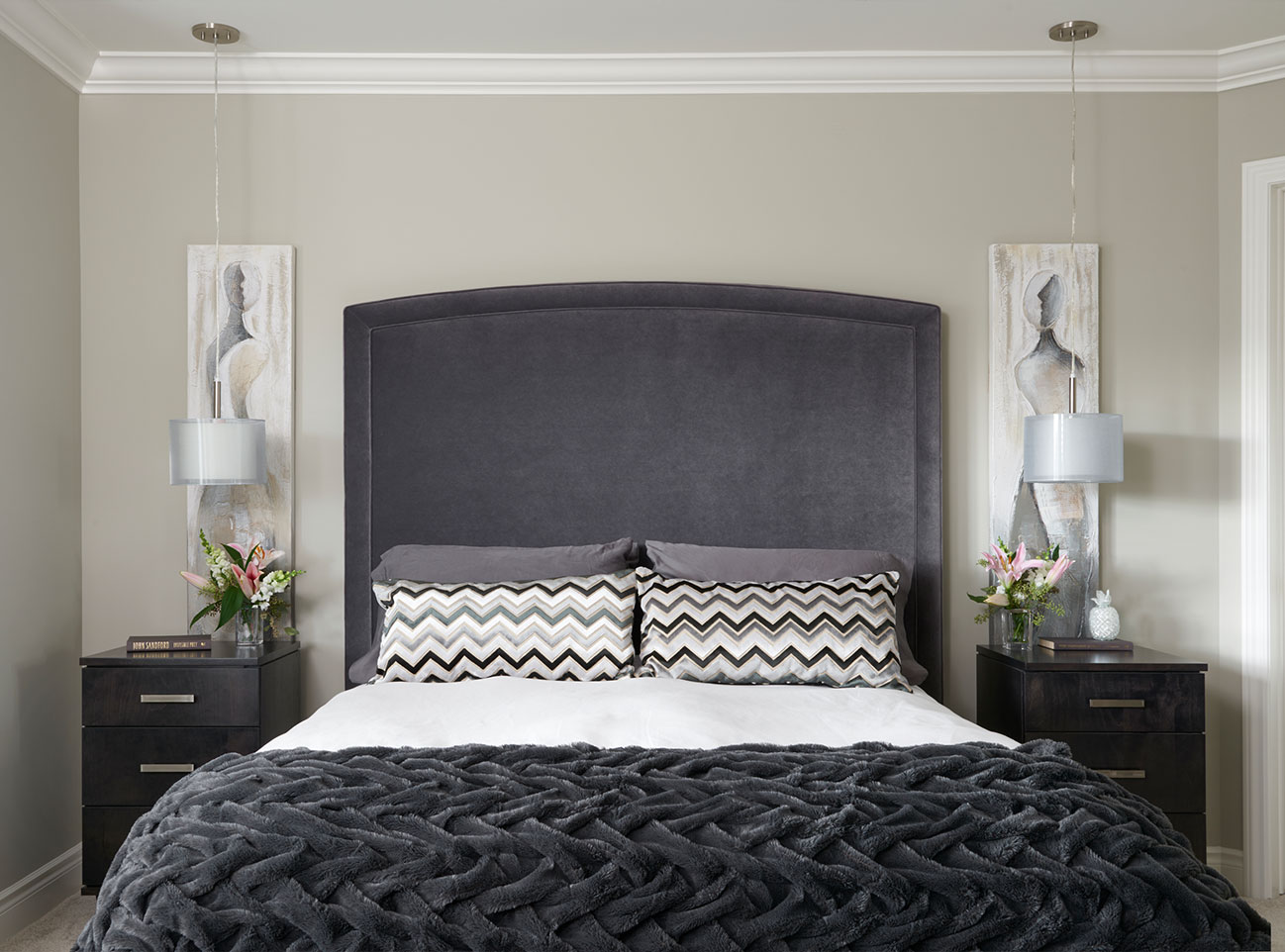 As an FYI, the wall colour in the bedroom with the dark gray headboard is Revere Pewter by Benjamin Moore.
5. Looking at items in isolation
This is a huge mistake homeowners often make, and it's such a costly one too! Buying one item at a time and not looking at the big picture.
How many times have you seen something in a store, purchased it thinking 'it will go perfectly in my home' and then it actually doesn't look so hot?
To achieve great design, we pull all samples of potential fabrics, finishes, wallpaper, and paint colours so that we can view them all together.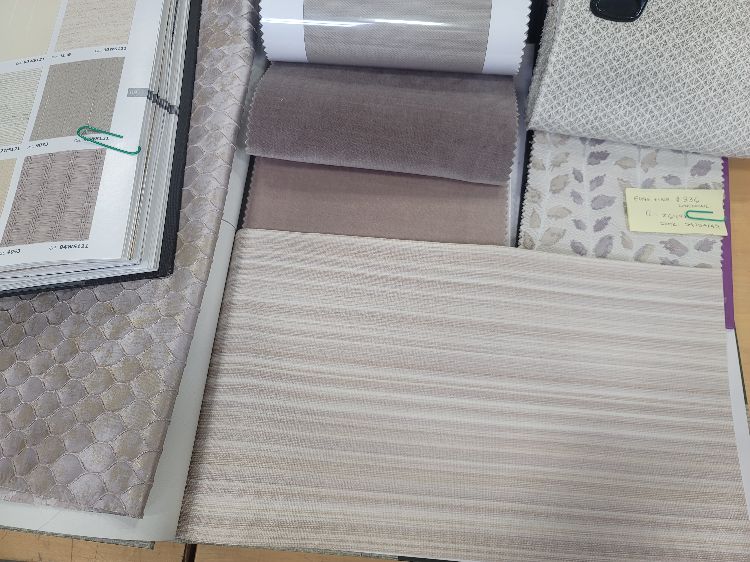 We do the same with furnishings, placing images of items on a mood board, and laying them out to ensure everything looks fabulous and works perfectly.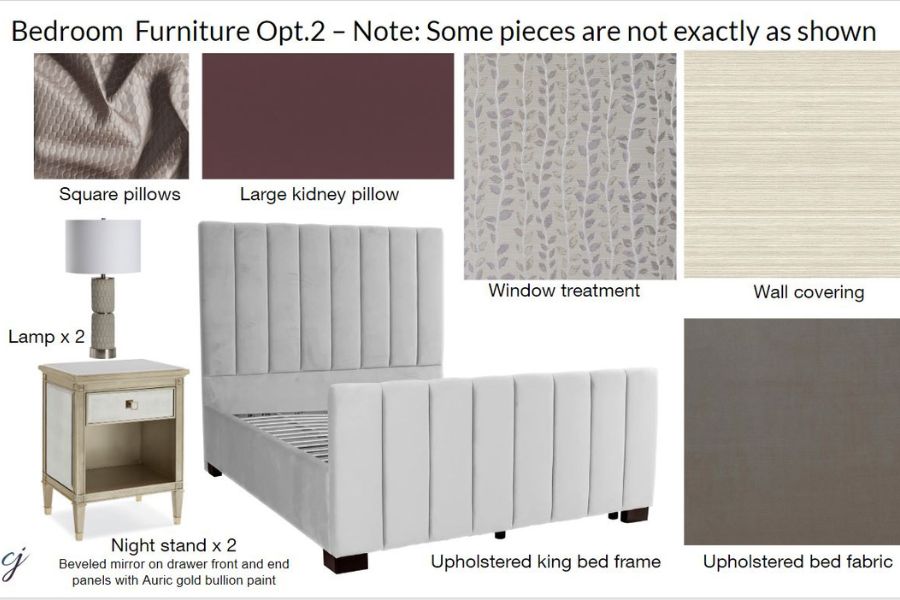 Mixing different textures and patterns is a goal of ours when designing for clients and ensuring undertones don't fight with one another but rather complement each other.
6. Overthinking
Do not overthink simple solutions. Instead of fussing around too much with our clients' bedroom closet, we simply updated the doors.
They had an IKEA Pax closet insert with doors that opened outwards.
With the new room design, we needed sliders and the white shaker-style IKEA Pax doors were perfect!
We also used the IKEA Pax wardrobe system when we redesigned our own bedroom for the first time about 10 years ago. They still work wonderfully to this day.
When looking at your overall budget, consider where you may be able to mix high and low, without compromising look or function.
Tell me, are you making of these design mistakes in your bedroom? Comment below to share with us. It's okay, we won't judge. 🙂
Follow me for more helpful design and colour tips, I'm just getting warmed up.
If you are planning a bedroom renovation and happen to be near our local area of Burlington, Ontario, reach out to us here, and let's discuss your project.
You deserve to Live Beautifully in your home. Until next time, Cheers!
Perfect for Pinning!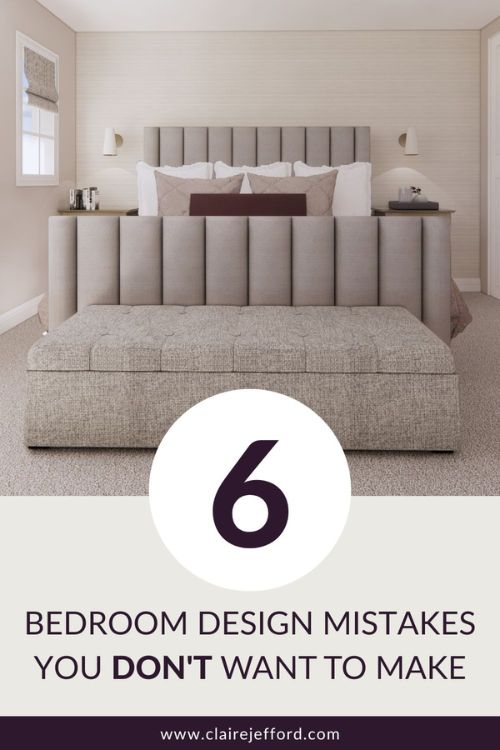 Don't miss this series!