Benjamin Moore – Gray Owl
Picking a Paint Colour?
Choose the right paint colour
the first time Let me show you how in just 5 easy steps!
BONUS: The Top 15 Shades of Gray by Benjamin Moore
We value your
privacy
. We will never share or sell your information.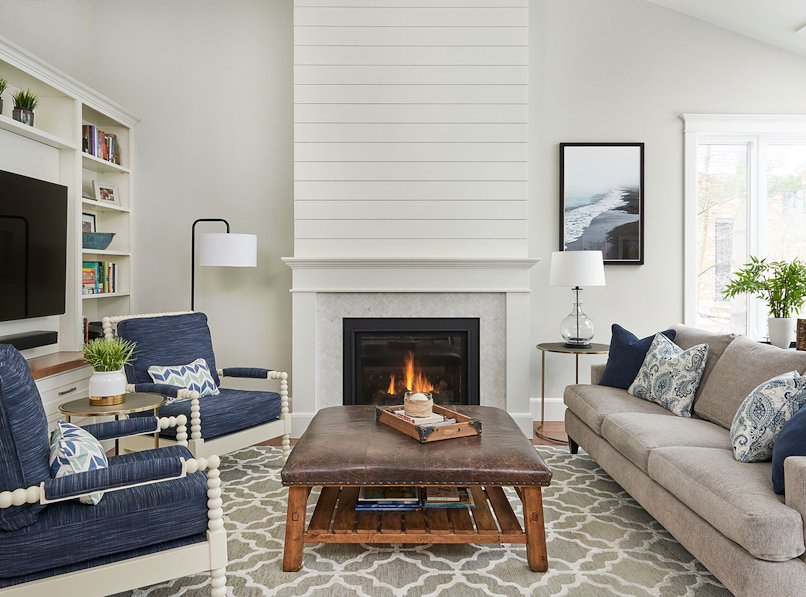 With so many gray paint colours out there, it can be difficult to determine which is the best gray paint colour for your home renovation or interior decorating project.
Gray Owl, OC-52, by Benjamin Moore is a go-to for many interior designers. But is it the best colour with the right undertone for your space?
This week, in Episode #4 of my paint colour reviews, I walk you through Gray Owl and show you a commercial project where we used it. You'll see why it was a perfect choice for this space.
In this colour review video of Gray Owl by Benjamin Moore, I share:
Undertones of Gray Owl
Colour Comparisons to this popular Benjamin Moore paint colour
Best Whites for Ceilings, Doors and Trim to pair with it
Fabulous Colour Combinations
After you watch the video, if you would like all this information conveniently laid out for you in one place and have even more paint colour combinations to use with Gray Owl, take a look at my Perfect Colour Palette.
A must-have for any colour enthusiast or design professional.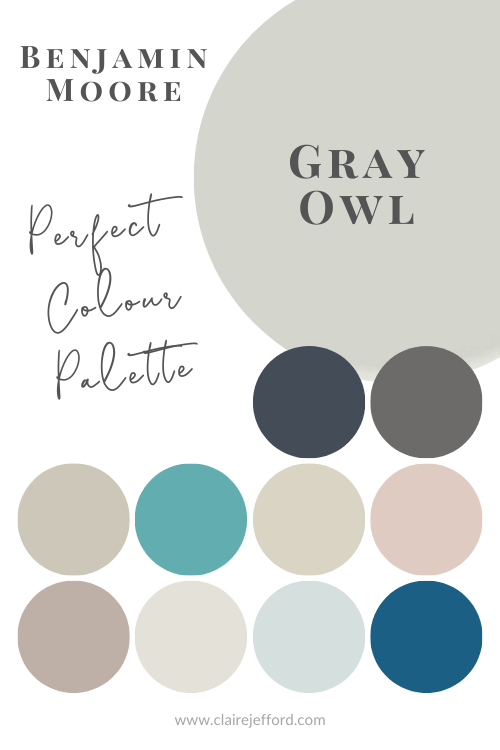 Are you ready? Let's do this!
Colour Review of Gray Owl
Undertones:
This calming gray has undertones that are blue-green. Whether it looks bluer or more green, will depend on what you pair it with and what your source of lighting is.
Colour Comparisons:
Take a look at the image below. Gray Owl is the painted colour board in the middle.
Stonington Gray HC-170 is on the left and Wickham Gray HC-171 is on the far right.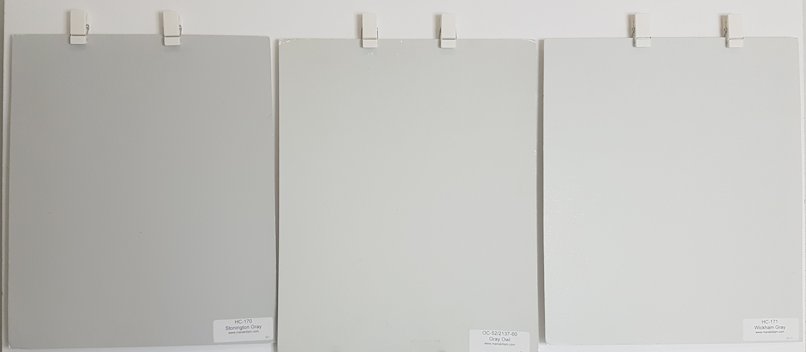 Stonington Gray HC-170 & Wickham Gray HC-171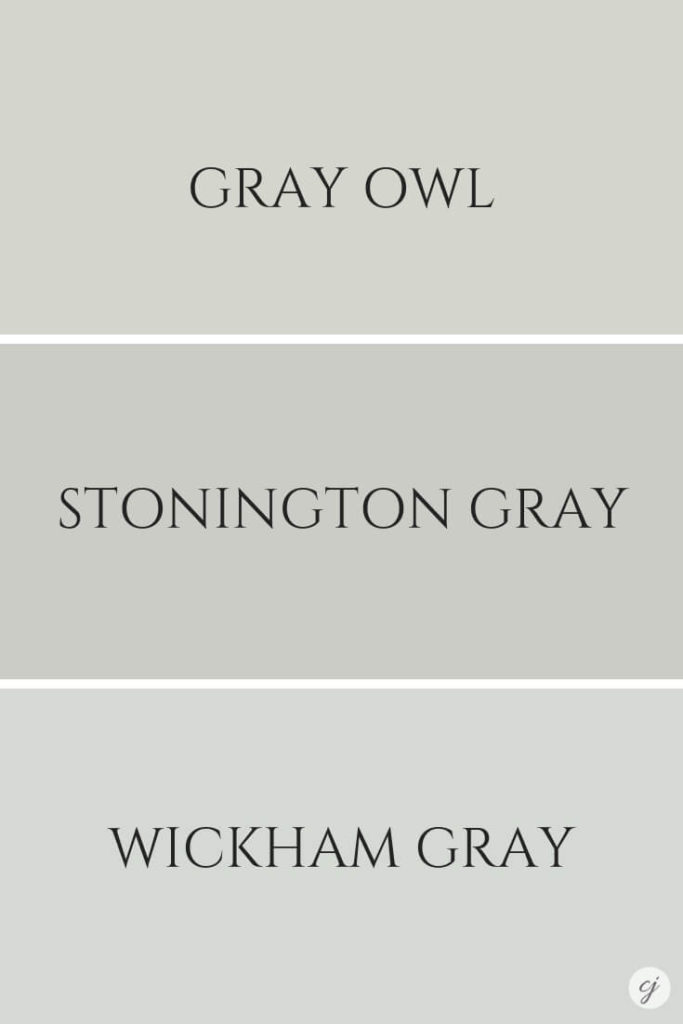 If there was a 'true gray', for me it would be Stonington Gray. In fact, that's often how I refer to it when I'm showing colour comparisons with my interior design clients. You can check out my review of Stonington Gray here, and click here for my review of Wickham Gray to see more comparisons.
While it has a slight blue undertone, it's not nearly as obvious as the other two grays.
Check out these popular gray paint colours that we used in three different home design projects below.
Stonington Gray
Gray Owl
I used Gray Owl here in a Dental office in my home town of Burlington, Ontario.
There is a hint of blue within the stripe of the carpet floor tiles we selected for this space, and Gray Owl complimented it beautifully.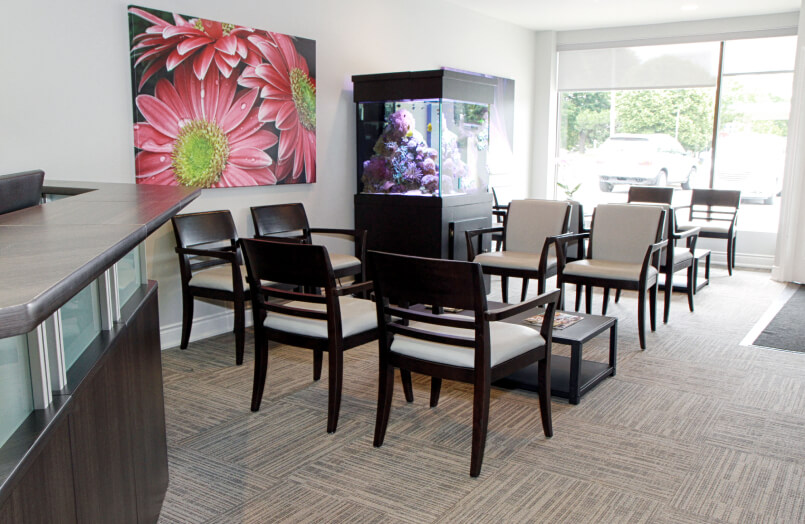 Wickham Gray
On the walls in my Grimsby clients living room, Wickham Gray took on a more of a blue-green tone.
It's very subtle, but you can see that right? As an FYI – the custom cabinetry I designed is painted Cloud White by Benjamin Moore.
See more of this project, including our clients' elegant dining room painted Pashmina by BM, here in our portfolio.
Best White Paint For Ceiling and Trim
Cloud White by Benjamin Moore looks wonderful with Gray Owl too. You can see them side by side here on my large painted boards.
Cloud White CC-40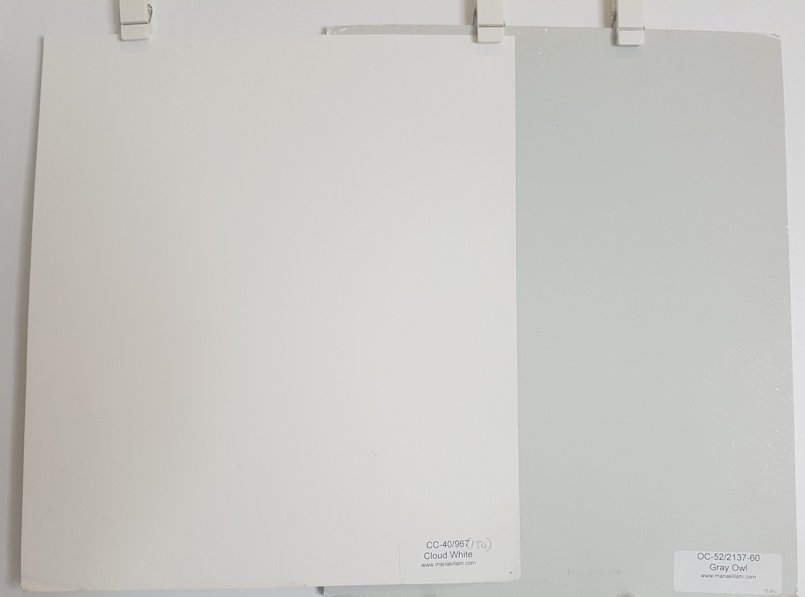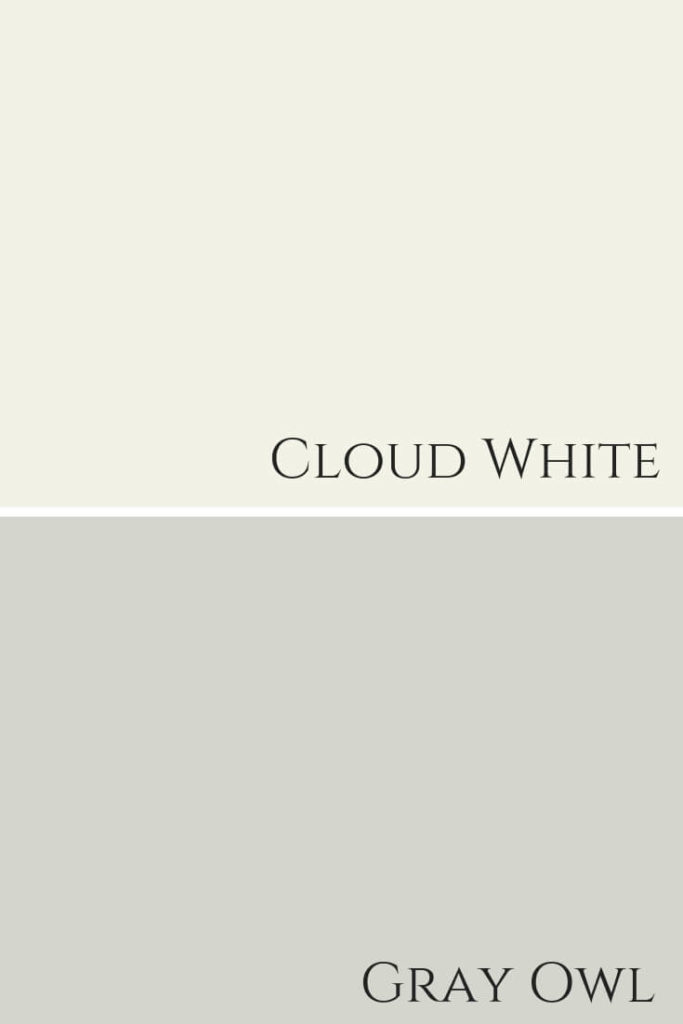 Simply White OC-117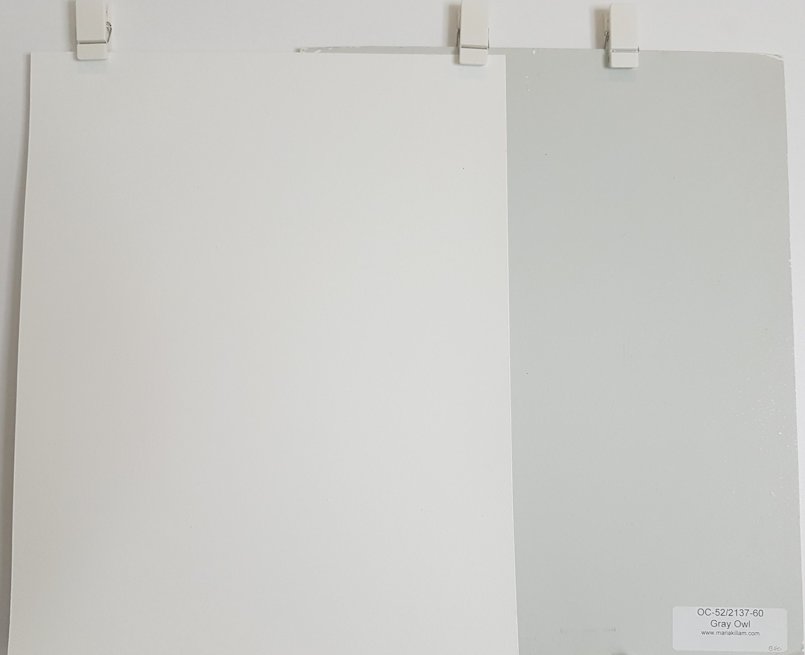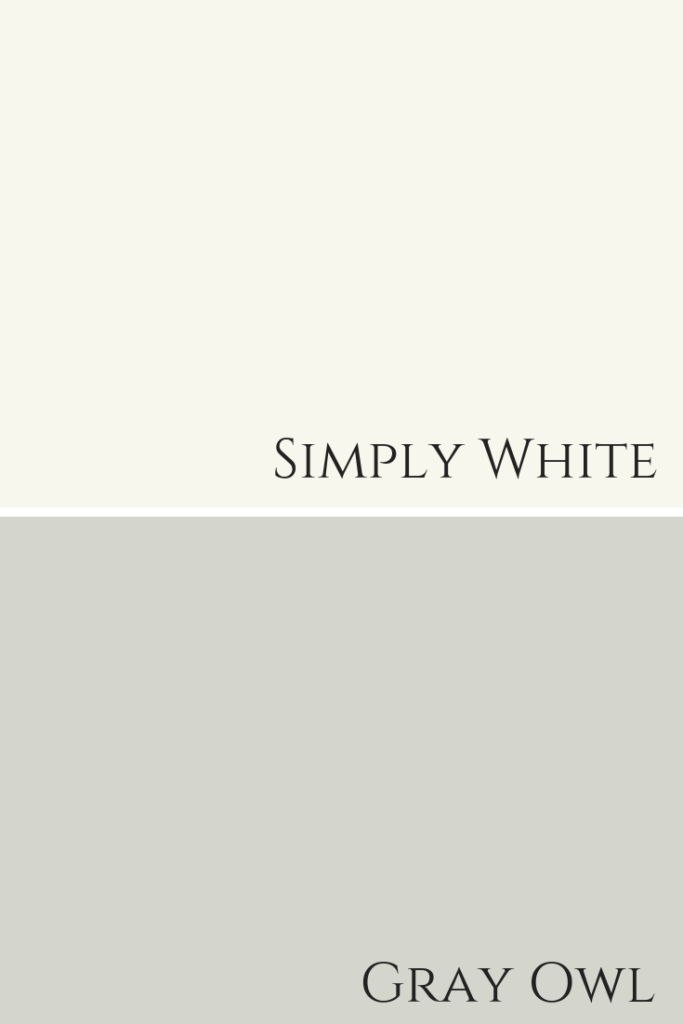 Chantilly Lace OC-65
Chantilly Lace is a bit brighter but still looks lovely with this blue-green gray. It looks quite blue in the graphic we created below my paint board comparisons.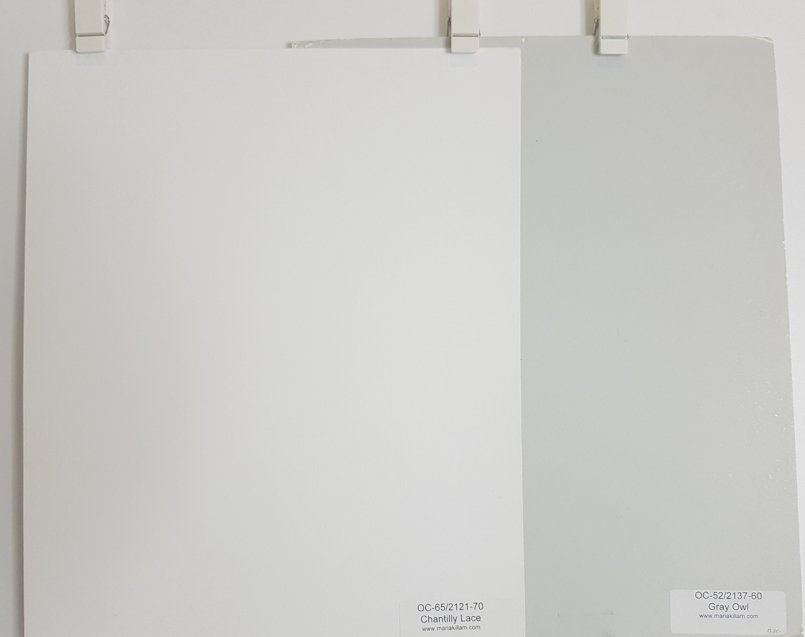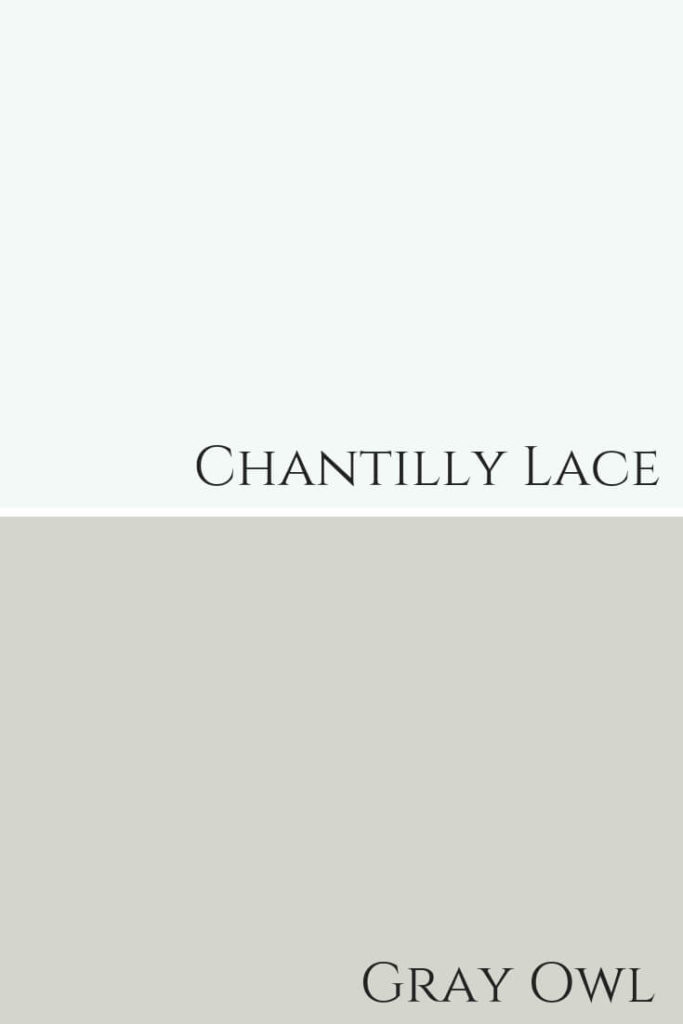 Fabulous Colour Combinations
Creating timeless colour palettes with Gray Owl is easy.
Below I've paired it with a fabric that we used in the clients living room shown earlier in this post where we painted the room Wickham Gray.
But as you can see here, the Gray Owl pairs nicely with it too and I pulled out the darker neutral in the fabric to show you what it looks like with Anew Gray by Sherwin Williams.
If you are looking for a Benjamin Moore colour that is similar to Anew Gray, you can try Revere Pewter or Pashmina.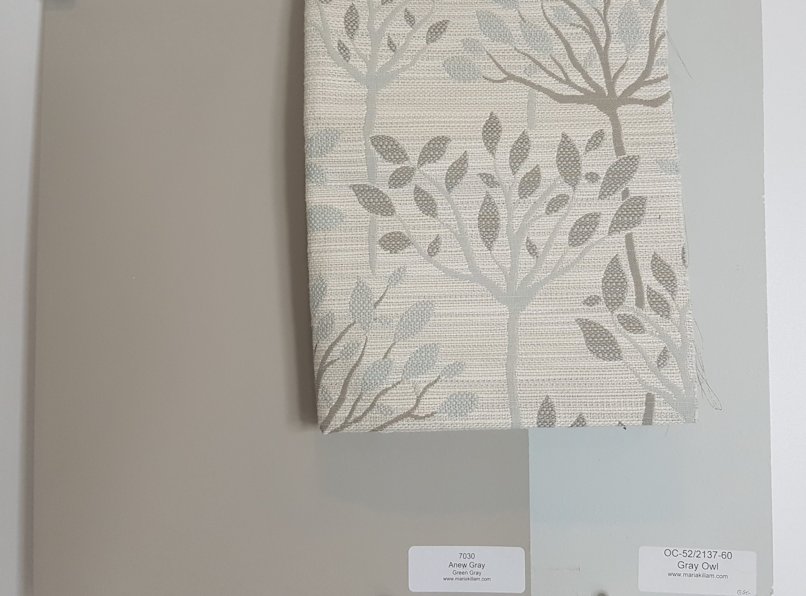 Dill Pickle 2147-40, Peacock Blue 2049-40 & Burnt Ember

CSP-120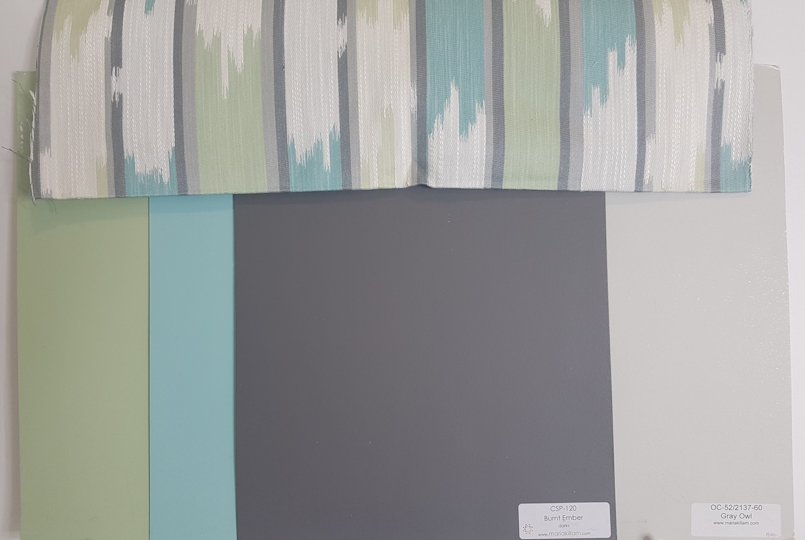 As a side note, we actually used that fabric for a teen girls bedroom on her cascading roman blind window treatment -see below.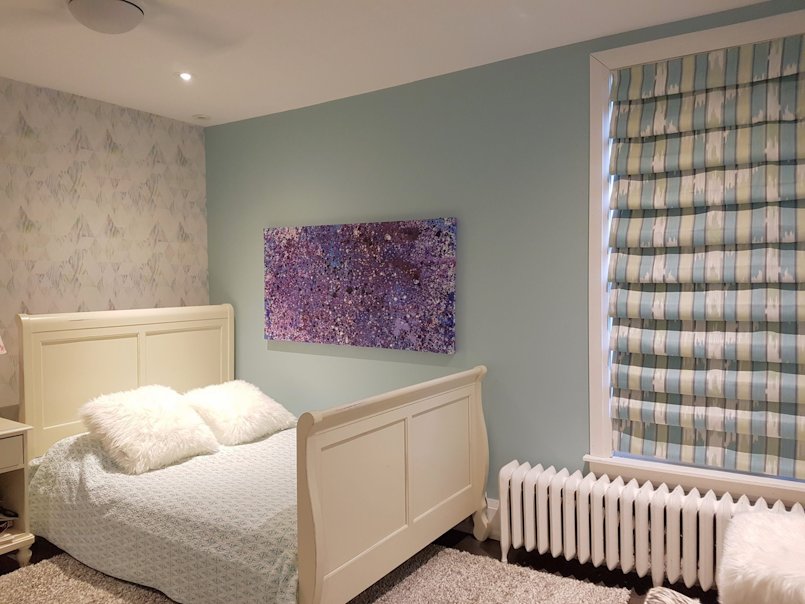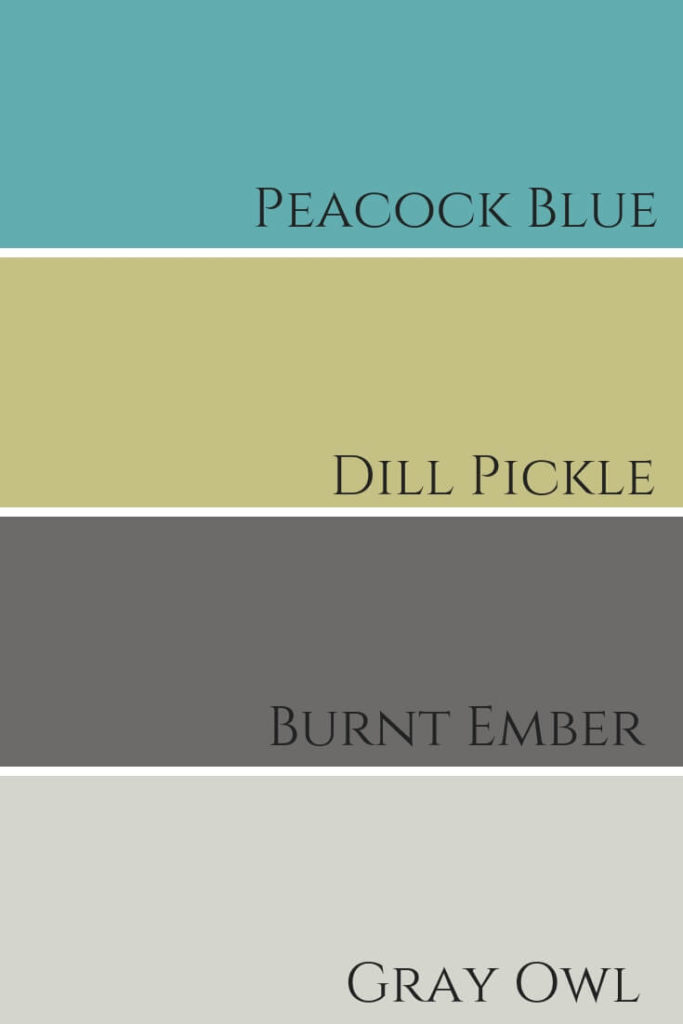 Okay, back to Gray Owl!
You can see below how you can warm it up and cool it down at the same time.
Hale Navy HC-154 & Edgecomb Gray HC-173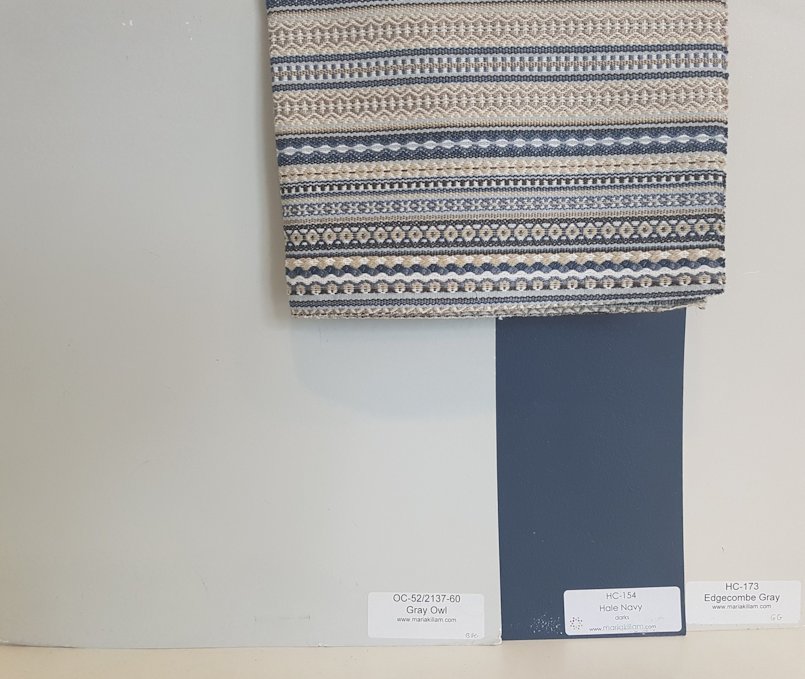 Inspiration Photo
My clients already had their bathroom done and painted in Gray Owl when I arrived on the scene to create the master bedroom of their dreams.
I also helped with the final decorating touches in their ensuite, by adding artwork and this custom window treatment which is a flat roman blind.
In this space, the Gray Owl walls look more green than blue.
Convenience At Your Fingertips
All of the colour combinations shown above plus more options for you to choose from are included in my Perfect Colour Palette for Gray Owl.
Gray Owl is now part of my Benjamin Moore Grays and Blue-Green Collection showcasing all 10 of my Benjamin Moore grays and blue-green Perfect Colour Palettes.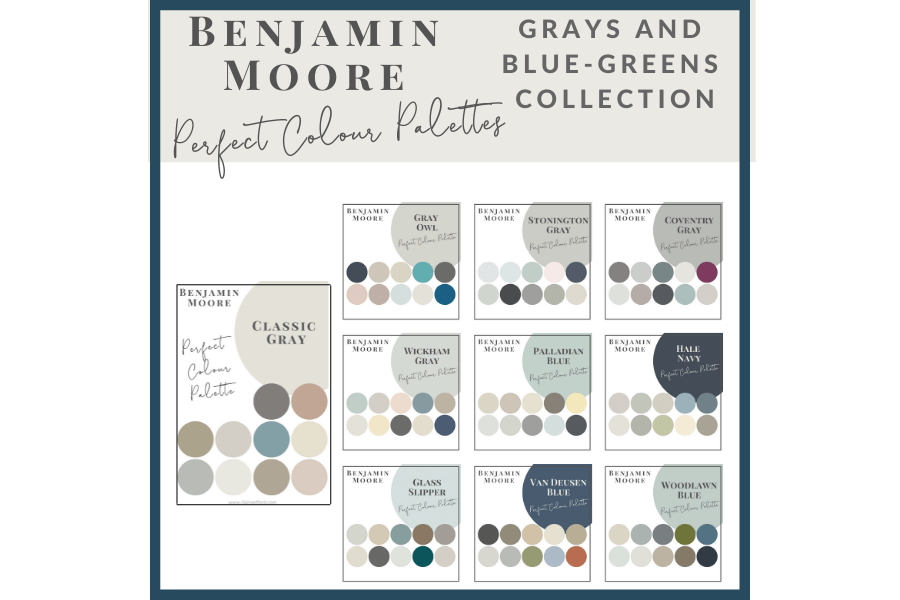 My Perfect Colour Palette library is expanding and there are more popular paint colours to choose from!
Click here to see them all.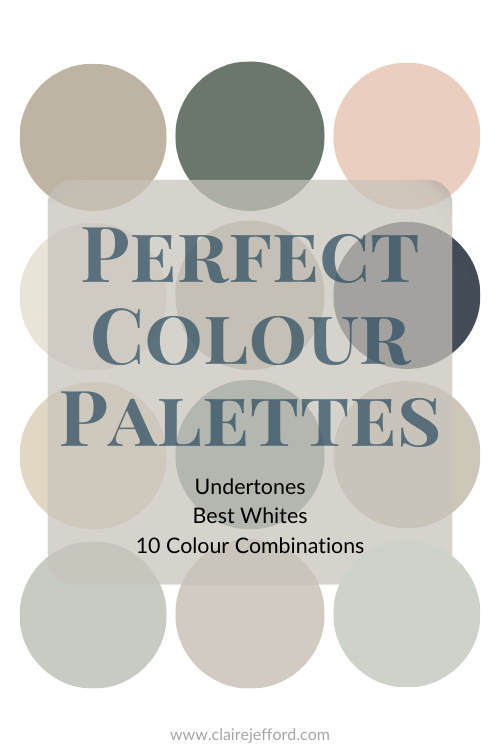 If you want to get all my Benjamin Moore colour guides in one place, look no further than my Benjamin Moore Ultimate Collection. All 20 of my Benjamin Moore guides in one handy collection.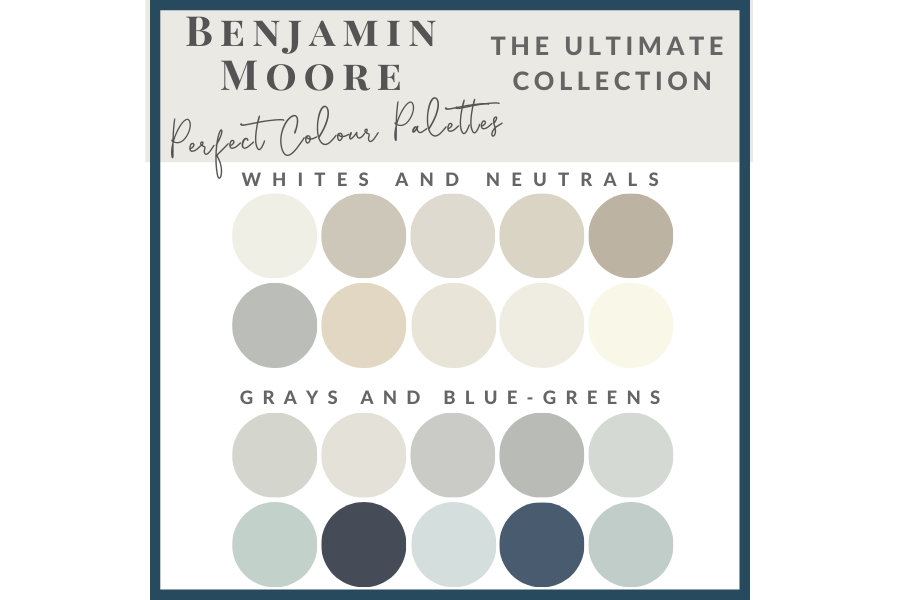 Remember, it only takes one mistake to take your home decorating project from divine to disaster. Don't let the paint be what stresses you out!
Take my Colour Quiz to see which Colour Palette best suits your style.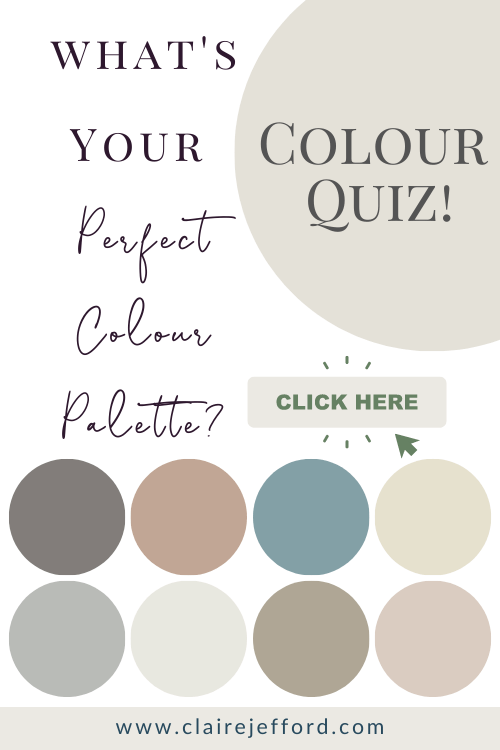 Want my Large Painted Boards?
Love my large painted colour boards and want your own set?
➜ Click here to shop the large colour boards now!
// DISCLOSURE: Thank you for trusting me with my truthful and reliable opinion on any future purchase you may make. I always disclose affiliate or sponsored information when it is the case. If you purchase Maria's boards, I will earn a small commission from the sale. This doesn't affect you in any way, the price remains the same regardless. Thank you for supporting me and entrusting me to be your go-to for all things Colour and Interior Design!
I LOVE HEARING FROM YOU!
If you've used a paint colour that I've reviewed or you; want to ask a question: or even if you have a different point of view to mine, please comment below to let me know.
For colour advice, please note that I can't always give advice based on simply reading about a scenario. If it were that easy for me to recommend the perfect paint hue, without knowing more about the specific space; the lighting situation; what other fixed elements to consider etc, then I really would be even more magical than I already am. HAHA!
Nine times out of ten, I will always recommend that you either seek advice from a local Colour Professional or I might be able to hook you up with an online colour consultation.