Sherwin Williams – Accessible Beige
Picking a Paint Colour?
Choose the right paint colour
the first time Let me show you how in just 5 easy steps!
BONUS: The Top 15 Shades of Gray by Benjamin Moore
We value your
privacy
. We will never share or sell your information.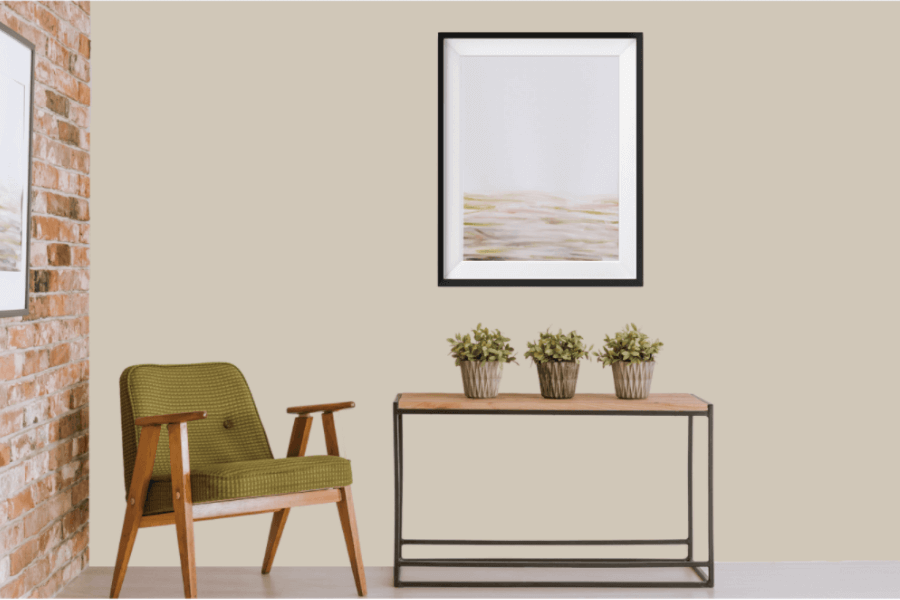 Accessible Beige SW 7036 by Sherwin Williams
Super popular and super versatile, Accessible Beige by Sherwin Williams may surprise you with just how good it looks in so many spaces.
If you're new here, welcome! Below you will see what I cover in every colour review post.
In this colour review of Accessible Beige by Sherwin Williams, I share:
The undertone of my featured colour
Colour comparisons in order to easily see the different colour tones
Best white paint colours for the trim and ceilings
Beautiful colour combinations to inspire you for your decorating project
Sherwin Williams' Accessible Beige SW 7036
After you read this blog if you would like all the information I discuss in one convenient place look no further than my new Perfect Colour Palette for Accessible Beige.
My Perfect Colour Palette also includes 10 colours that go beautifully with Accessible Beige, plus a 2-page step by step How-To for choosing a cohesive colour palette in your own home.
A must-have for any colour enthusiast or interior design professional!
Undertone: green/gray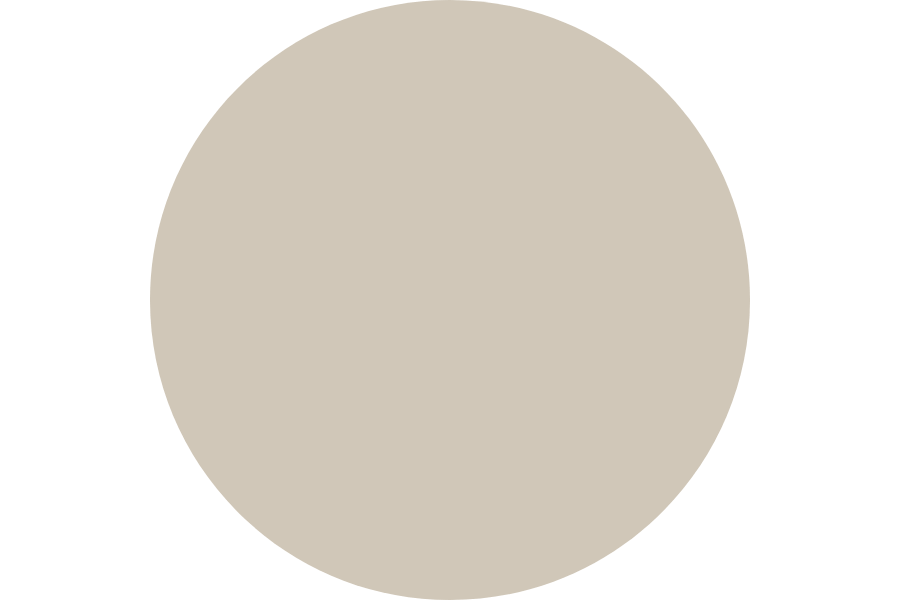 No way is Accessible Beige a boring beige. With its slightly green/gray undertone, we'd call it more of a greige. It's a fantastic neutral to combine with so many different colours.
Colour Comparisons
As you can see below, it's when we start to look at comparisons to other colours, that things become very interesting.
Silverpointe SW 7653 and Worldly Gray SW 7043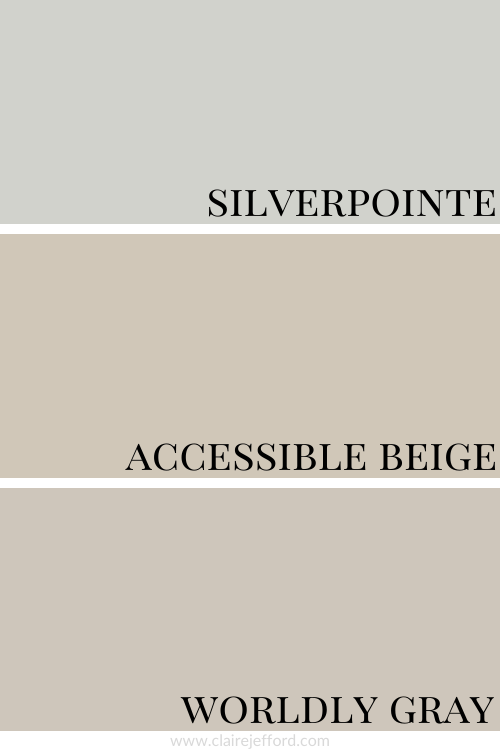 Looking at the colour comparison above, it's easier to see the true colour of Accessible Beige. Silverpointe, another great neutral is more of a gray with blue and green undertones and Worldly Gray although similar has a violet undertone.
When I do Colour Consultations in a client's home, I am always comparing colours so they too can easily see the differences between the paint colours.
When I hold my large paint boards up to a decorative element such as fabrics, wallpaper or subway tile and then swap out one board with another board, it becomes clear as to which colour will work best.
Best Whites To Pair With Accessible Beige
Pure White SW 7005 by Sherwin Williams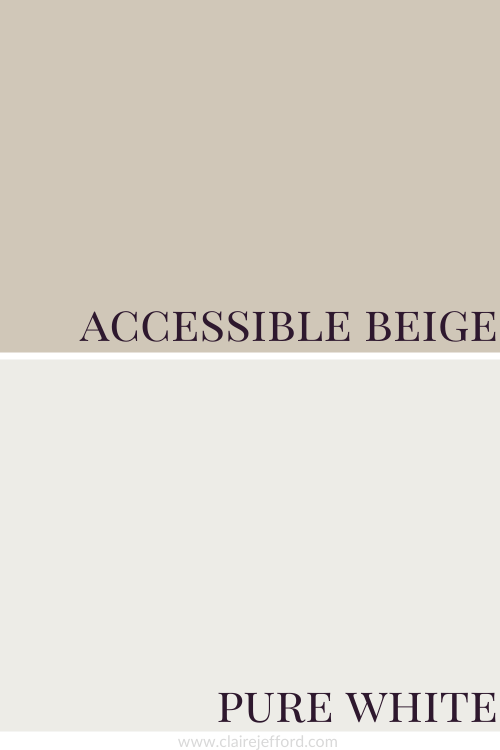 Creamy SW 7012 by Sherwin Williams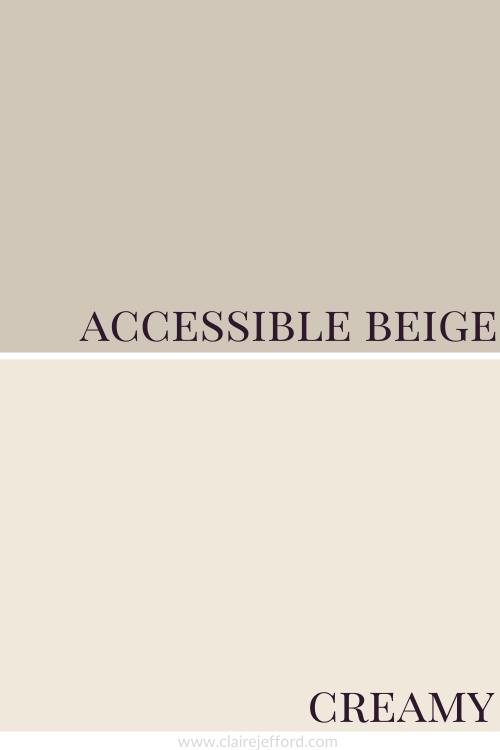 Pearly White SW 7009 by Sherwin Williams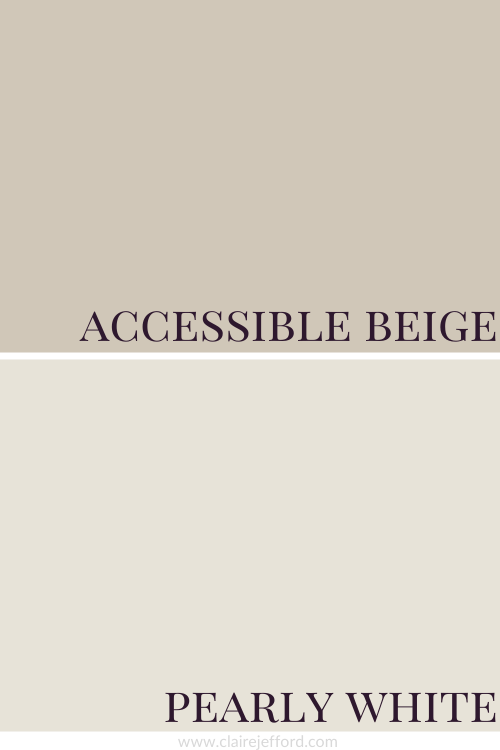 Now look at all three whites together and you get a better idea of the different looks each would give when used for trim or ceilings with Accessible Beige.
I can assure you that the best colour for your project already exists, you just need to know the 5 Steps on how to choose the right paint colour the first time.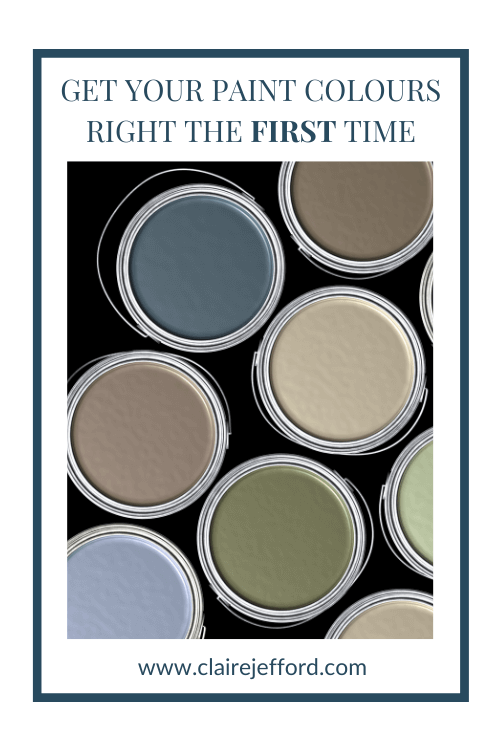 Fabulous Colour Combinations
Accessible Beige with Different Gold, Moroccan Spice & Georgian Bay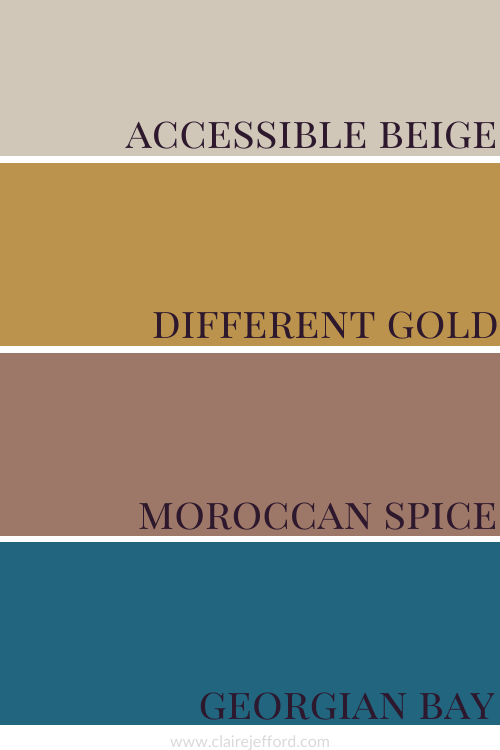 I pulled this gorgeous palette together from my Perfect Colour Palette for Accessible Beige.
Different Gold SW 6396 by Sherwin Williams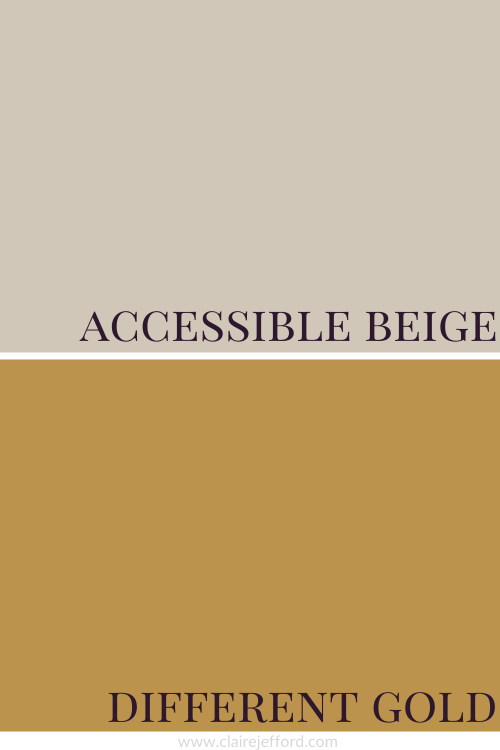 Moroccan Spice SW 6060 by Sherwin Williams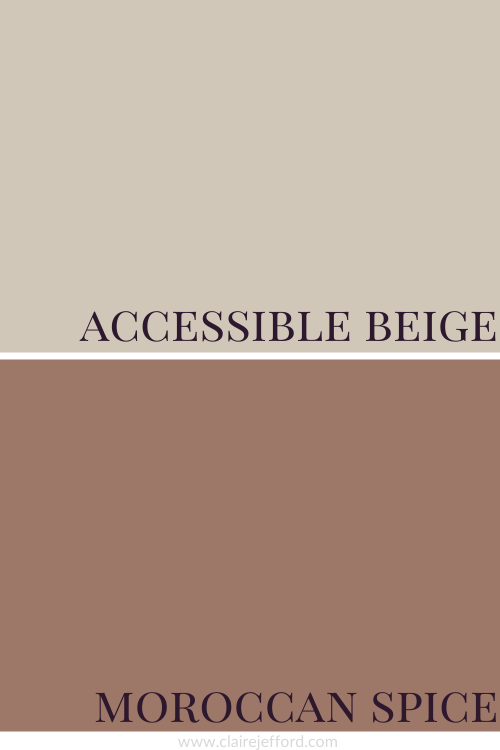 Georgian Bay SW 6509 by Sherwin Williams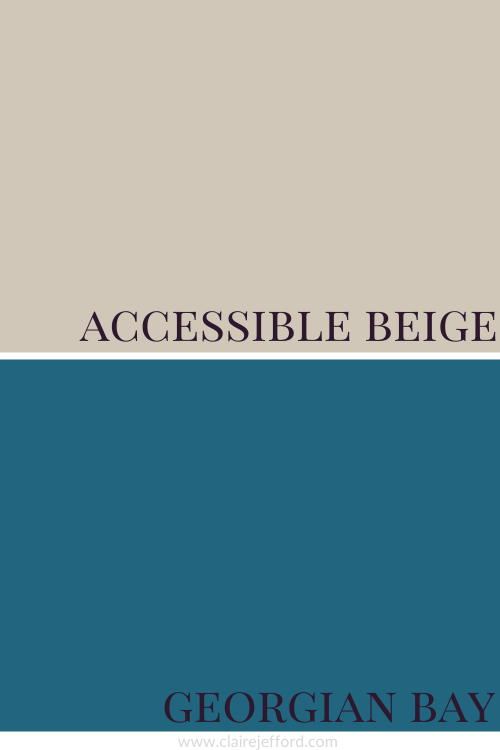 Creating a Beautiful Colour Palette for Accessible Beige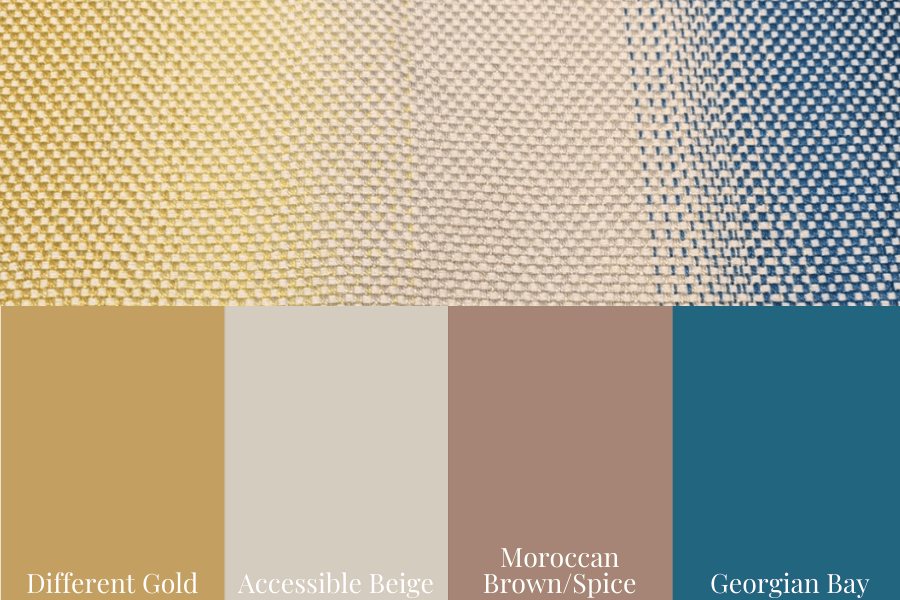 Remember when using my Perfect Colour Palette that we have put together 10 colours that look amazing with Accessible Beige although it's not suggesting you use all 10 as paints when designing your interior space.
The palette is a guide on how to create a space using a combination of the 10 colours in paint, flooring, fabrics, artwork, and other decorative elements.
Convenience At Your Fingertips
All of the colour combinations shown above plus more options for you to choose from are included in my Perfect Colour Palette for Accessible Beige.
Accessible Beige is also included in my newest Collection that showcases 10 beautiful neutrals from Sherwin Wiliams.
If you are a fan of the beautiful rich paints by Farrow & Ball I've also created a collection of 10 classic colours from this popular British paint company. Check them out here.
My Perfect Colour Palette library is expanding and I now have over 50 paint colours to select from! Click here to see all of them.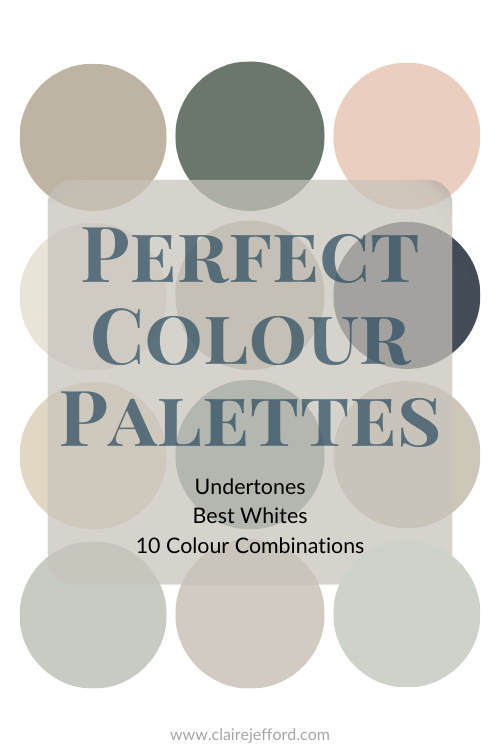 Remember, it only takes one mistake to take your home decorating project from divine to disaster. Don't let the paint be what stresses you out!
Take my Colour Quiz to find out what your Perfect Colour Palette is.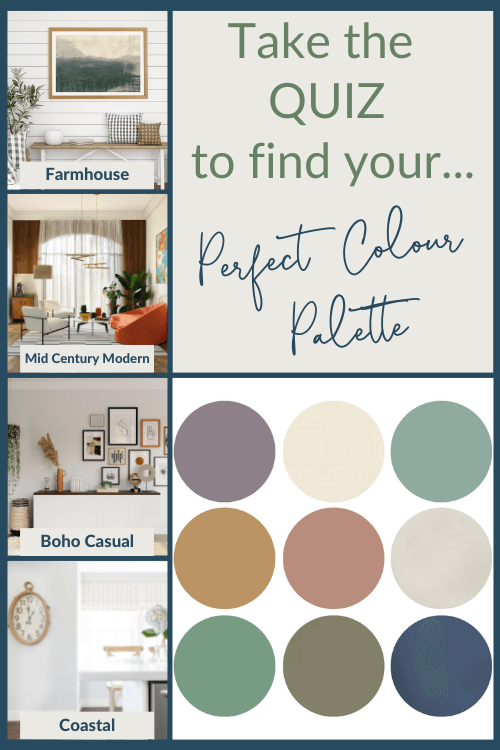 Perfect For Pinning