Sherwin Williams – Anew Gray
Picking a Paint Colour?
Choose the right paint colour
the first time Let me show you how in just 5 easy steps!
BONUS: The Top 15 Shades of Gray by Benjamin Moore
We value your
privacy
. We will never share or sell your information.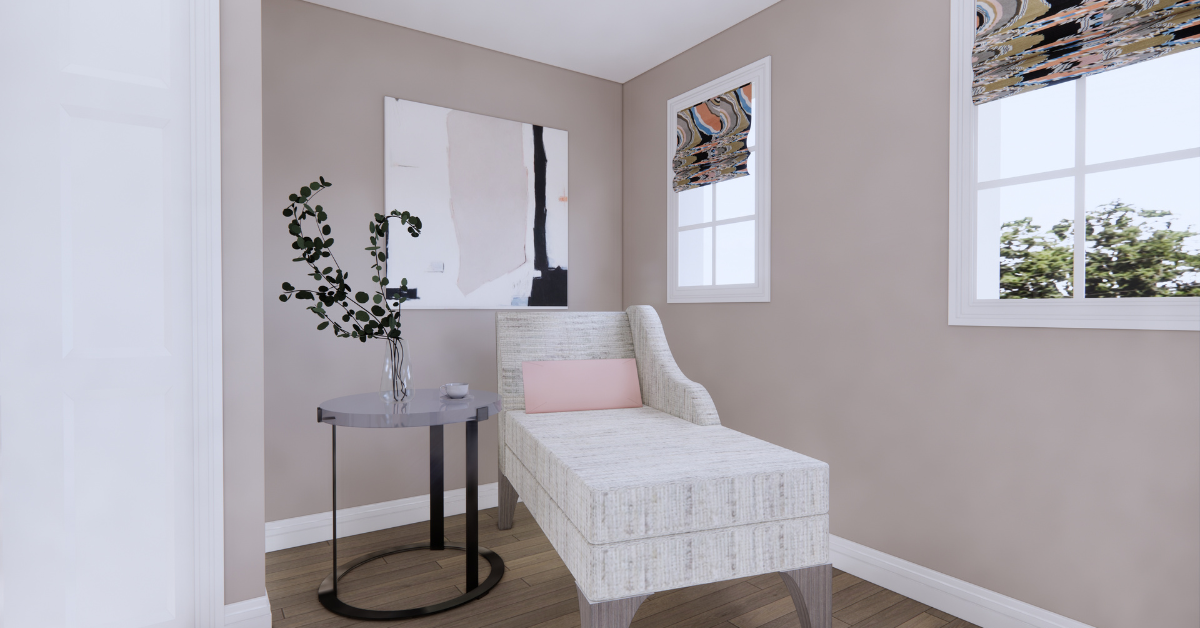 Anew Gray SW 7030 by Sherwin Williams
Undoubtedly, one of THE MOST popular Sherwin Williams' neutrals for the past 5 years or more.
Anew Gray is warmer and a bit richer than many of the other trending grays out there.
If you're new here, welcome! Below you will see what I cover in every colour review post.
In this colour review of Anew Gray by Sherwin Williams, I share:
The undertone of my featured colour
Colour comparisons in order to easily see the different colour tones
Best white paint colours for the trim and ceilings
Beautiful colour combinations to inspire you for your decorating project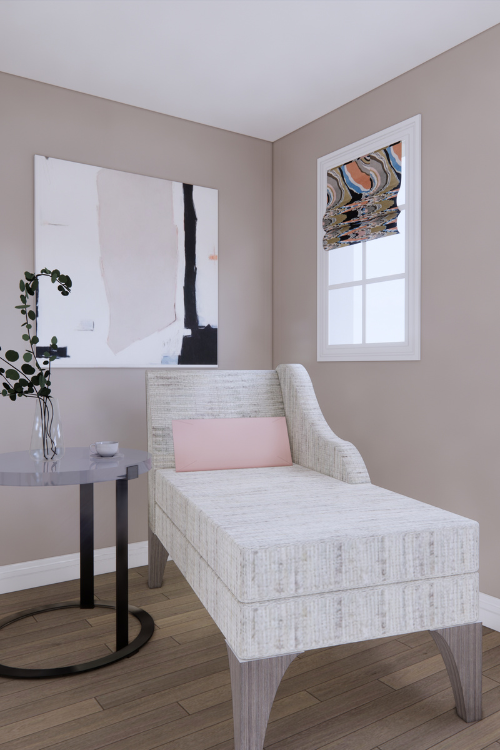 Sherwin Williams – Anew Gray
After you read my paint colour review, be sure to take a look at my Colour Shop for all the carefully curated Perfect Colour Palettes I've designed to inspire your next home decorating project.
Must-have resources for any colour enthusiast or interior design professional!
Anew Gray Colour Review
Undertone: green
Colour Comparisons
As you can see below, it's when we start comparing colours that you get a much better sense of a paint's true colour.
Taupe Tone SW 7633 and Zircon SW 7667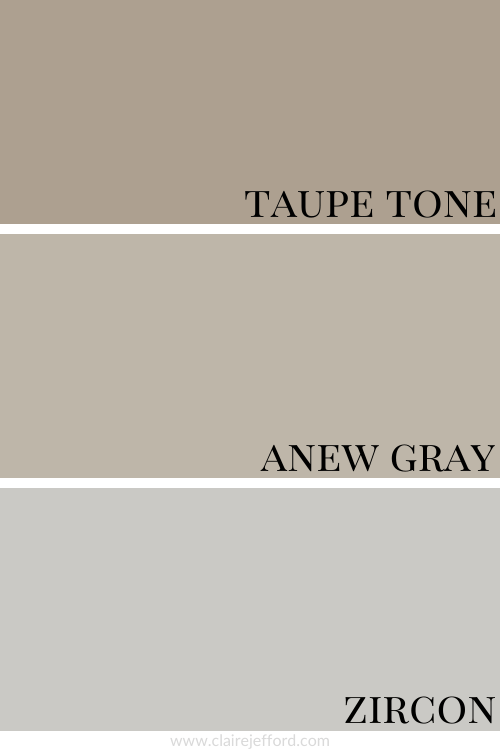 Taupe Tone is quite a bit darker than Anew Gray and it's a Taupe, just as the name suggests.
Although don't be fooled, because this isn't always the case with paint colour names!
You see when Anew is Gray beside Zircon, a blue gray, now it does not appear to be as gray as you may have initially thought.
When I do Colour Consultations in a client's home, I am always comparing colours so they too can easily see the differences between the paint colours.
When I hold my large paint boards up to a decorative element such as fabrics, wallpaper or subway tile and then swap out one board with another board, it becomes clear as to which colour will work best.
Best Whites To Pair With Anew Gray
Extra White SW 7006 by Sherwin Williams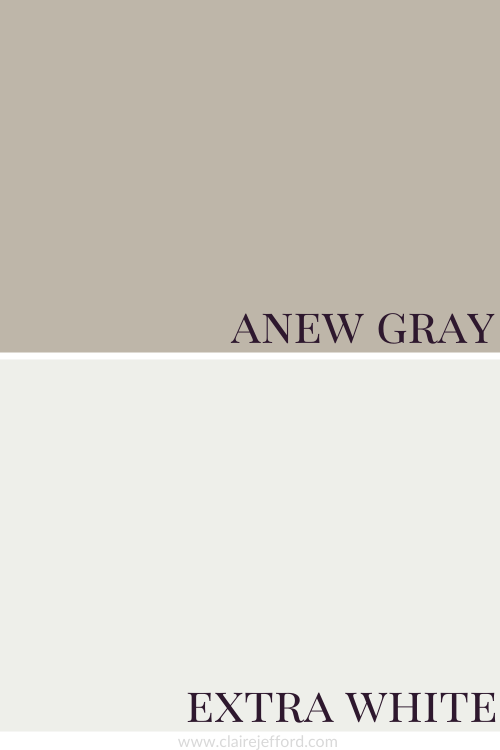 The truest white out of the three, Extra White is a great white to use on ceilings and trim when considering painting a room with Anew Gray.
Greek Villa SW 7551 by Sherwin Williams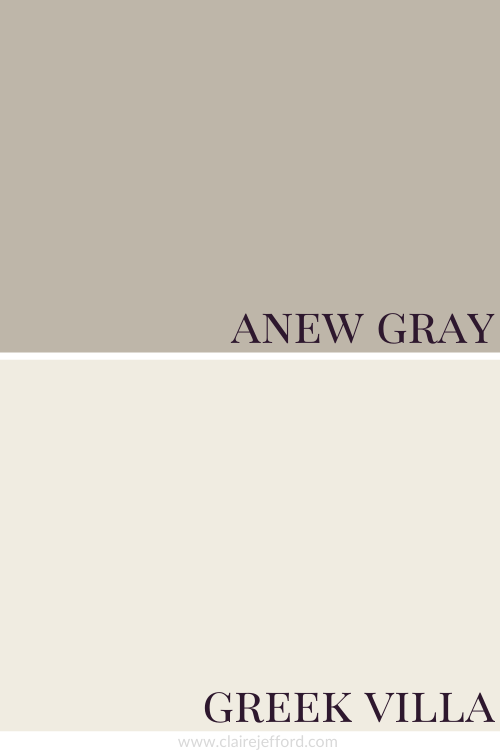 A slightly creamier white, Greek Villa is a wonderful trim colour to go with Anew Gray.
Shoji White SW 7042 by Sherwin Williams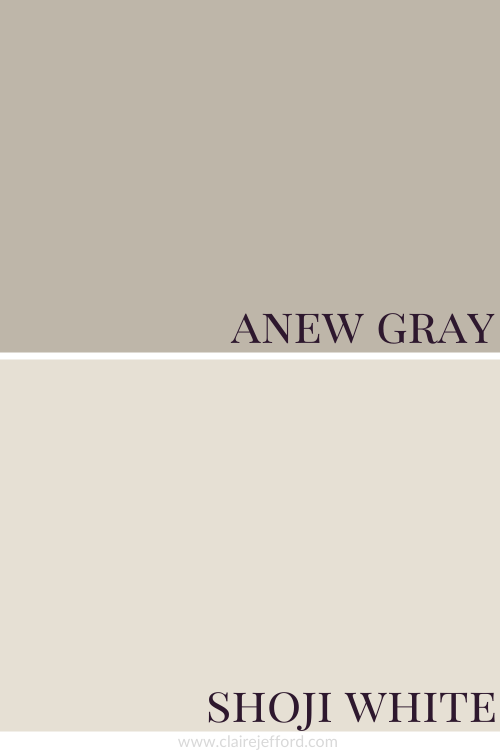 A much richer white (and some might say not really a white at all) is Shoji White by Sherwin Williams and it makes a gorgeous paint combination with Anew Gray.
Extra White, Greek Villa and Shoji White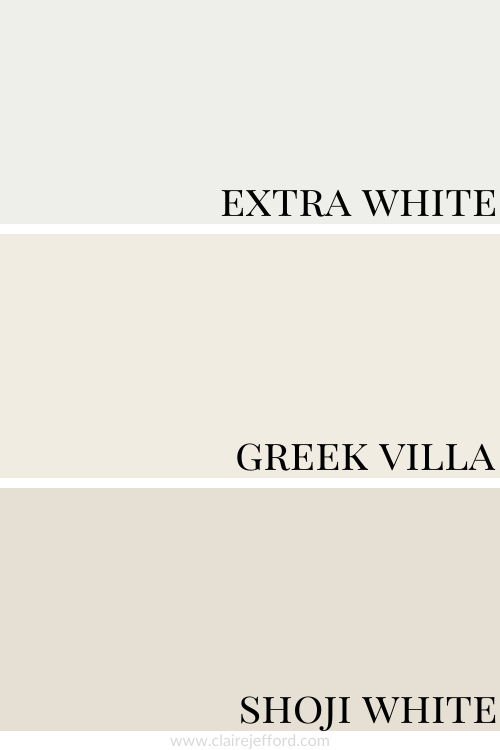 Looking at all three whites together you can more easily see how a different look and feel would be created for each one in a design when paired with Anew Gray.
Conflicted about choosing paint colours?
I can assure you that the best colour for your project already exists, you just need to know the 5 Steps on how to choose the right paint colour the first time.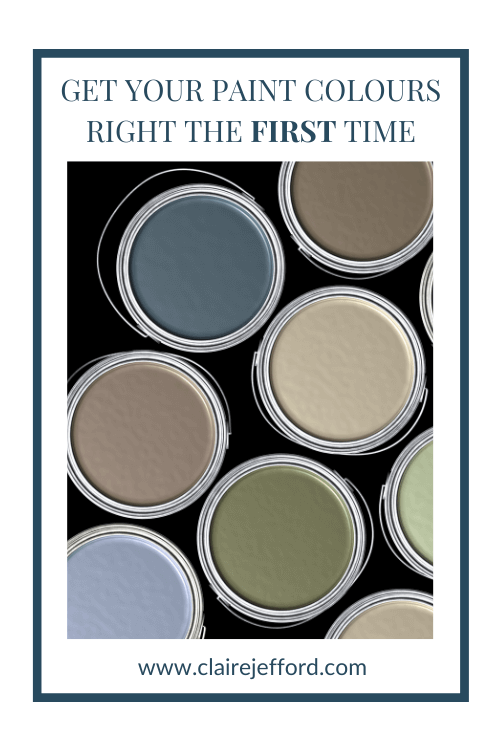 Fabulous Colour Combinations
Anew Gray with Iron Ore, Gracious Rose and Chrysanthemum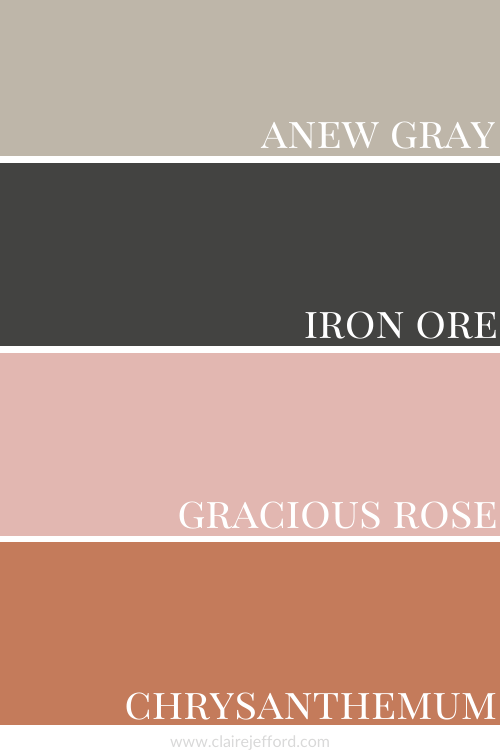 Iron Ore SW 7069 by Sherwin Williams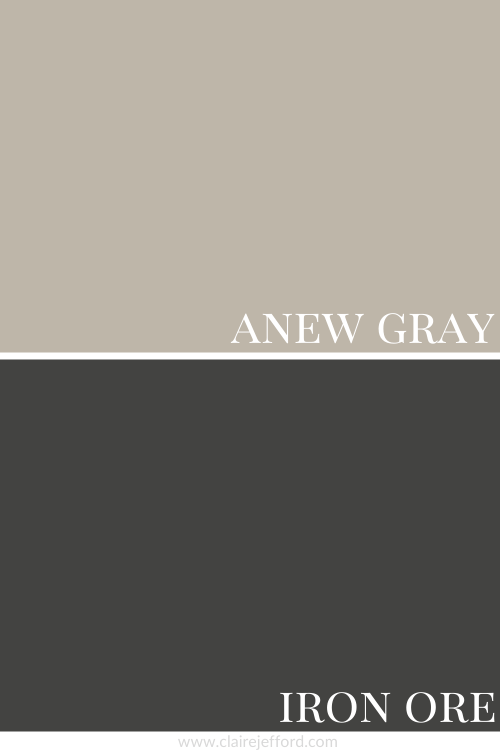 Gracious Rose SW 6317 by Sherwin Williams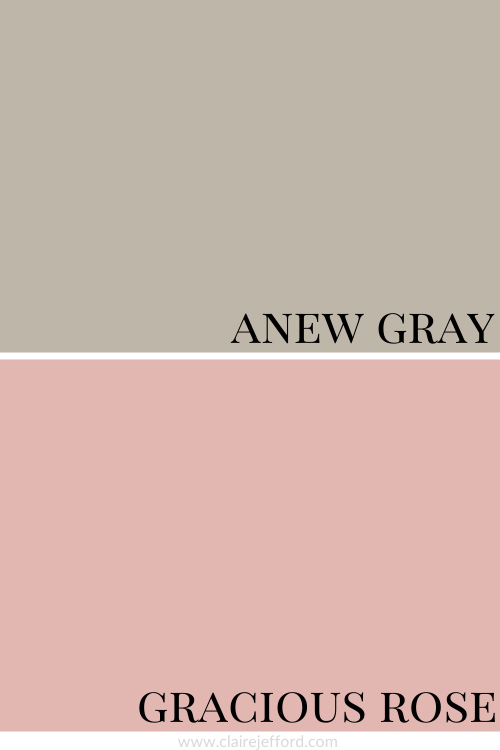 Chrysanthemum SW 6347 by Sherwin Williams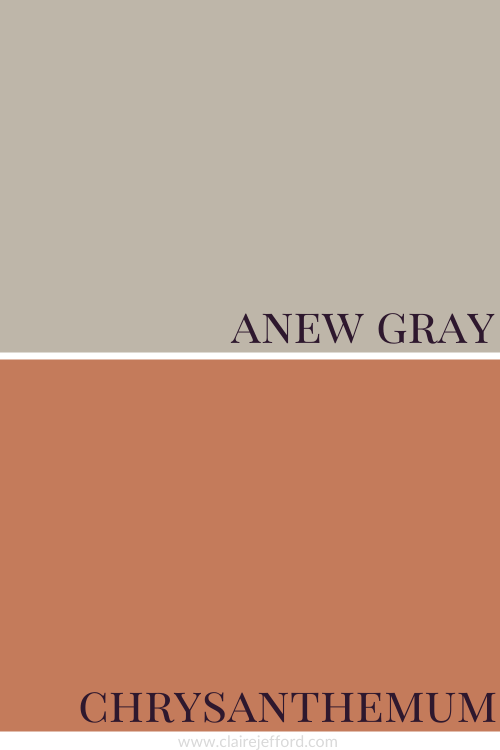 We used the fabric below as a jumping-off point to create these beautiful colour combinations.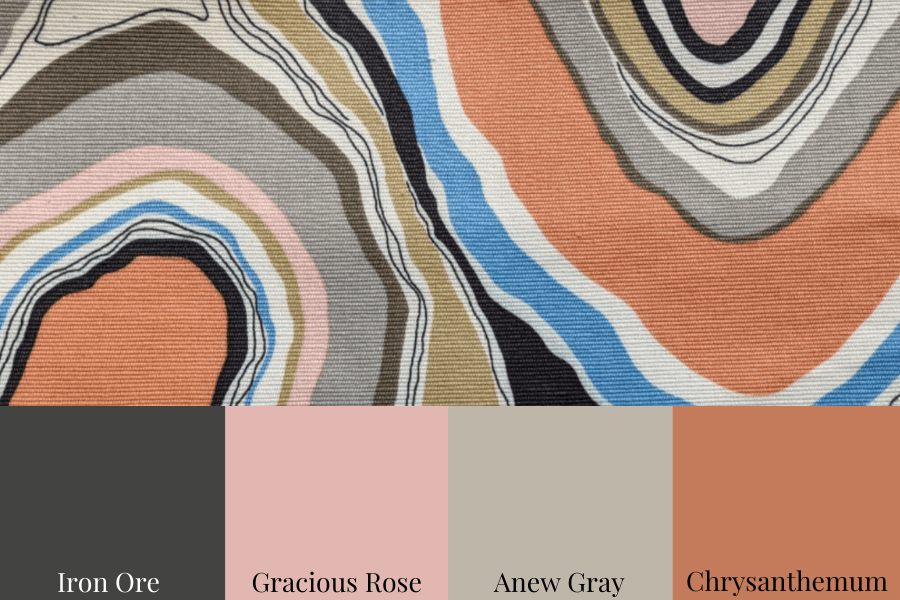 When creating a cohesive look for a room or entire home think of all the ways to incorporate the colours in your chosen colour scheme.
Just looking at this fabric and keeping Anew Gray as your main colour you can see the amazing selection of colours you could use for other areas of the project.
Artwork, drapery, cushions, decorative elements – these all can incorporate the colours of the palette.
The colours do not all have to be used solely for paint.
This stunning colour palette is just one of many you could create using my Perfect Colour Palette for Anew Gray.
Convenience At Your Fingertips
All of the colour combinations shown above plus more options for you to choose from are included in my Perfect Colour Palette of Anew Gray.
Anew Gray is also included in my newest Collection that showcases 10 beautiful neutrals from Sherwin Wiliams.
If you are a fan of the beautiful rich paints by Farrow & Ball I've also created a collection of 10 classic colours from this popular British paint company. Check them out here.
My Perfect Colour Palette library is expanding, click here to see all colours now available.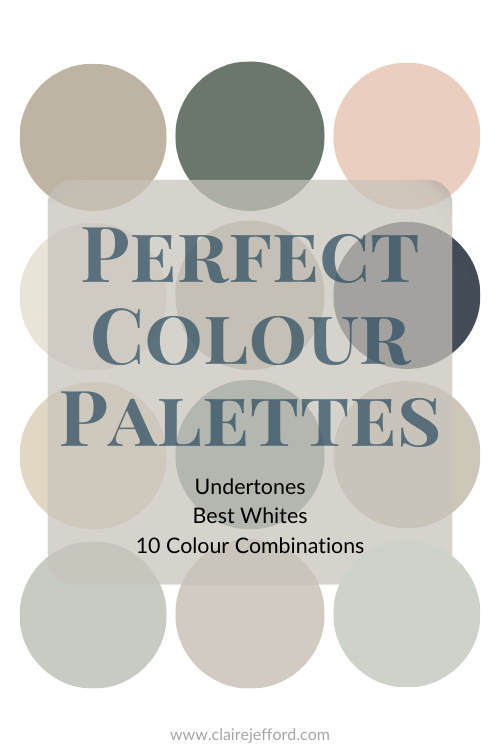 Remember, it only takes one mistake to take your home decorating project from divine to disaster. Don't let the paint be what stresses you out!
Take my Colour Quiz to find out what your Perfect Colour Palette is.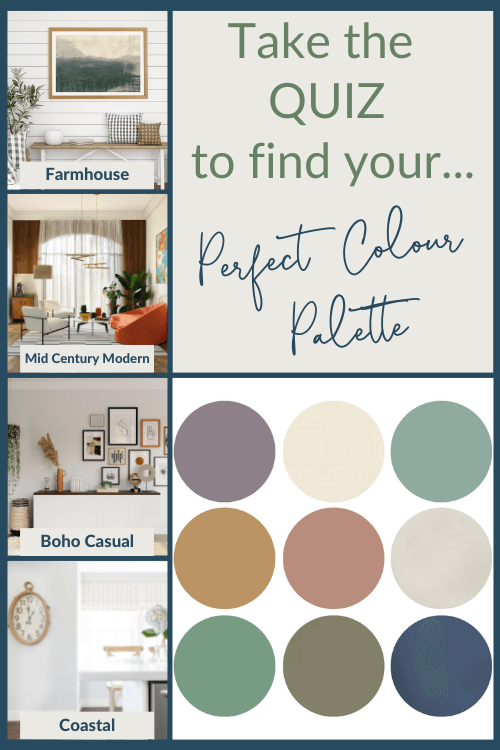 Perfect For Pinning