White Dove by Benjamin Moore Colour Review
Picking a Paint Colour?
Choose the right paint colour
the first time Let me show you how in just 5 easy steps!
BONUS: The Top 15 Shades of Gray by Benjamin Moore
We value your
privacy
. We will never share or sell your information.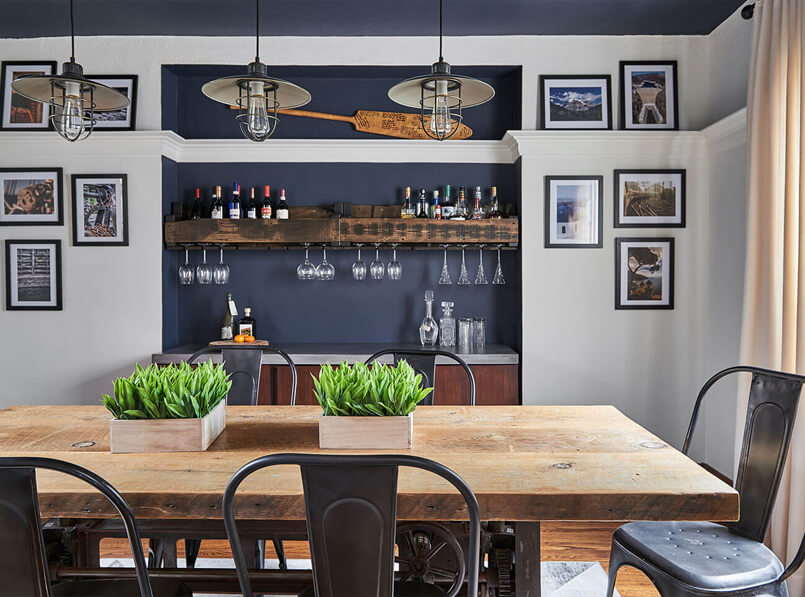 This week in my colour review, I share with you one of my favourite white paint colours: White Dove by Benjamin Moore.
TOP TIP:
Don't be fooled into thinking that when you hear the name of a paint colour, then that paint will indeed be that colour. Confused? LOL
What I mean is, just because White Dove is called 'WHITE' Dove, doesn't mean to say that it's a true white.
As an example, I've noticed that some clients can get put off when I show them a colour that has the word 'Gray' in it if they are not a fan of Gray.
However, because all grays have undertones, what one perceives as 'Gray' in their own mind, can be completely different than the actual 'Gray' colour I'm specifying.
As for the whites, stick with me and you'll understand what I'm talking about when you look at my white paint colour comparisons.
Here's what I'll be sharing with you about White Dove:
The Undertone of White Dove
Colour Comparisons to other whites
Best Whites for Ceilings, Doors and Trim
Fabulous Colour Combinations
Favourite Applications In Interior Design
Another view of my Toronto client's dining room. Notice how the White Dove paint colour on the walls matches perfectly with the custom ripple fold drapery? That's not a coincidence. 😉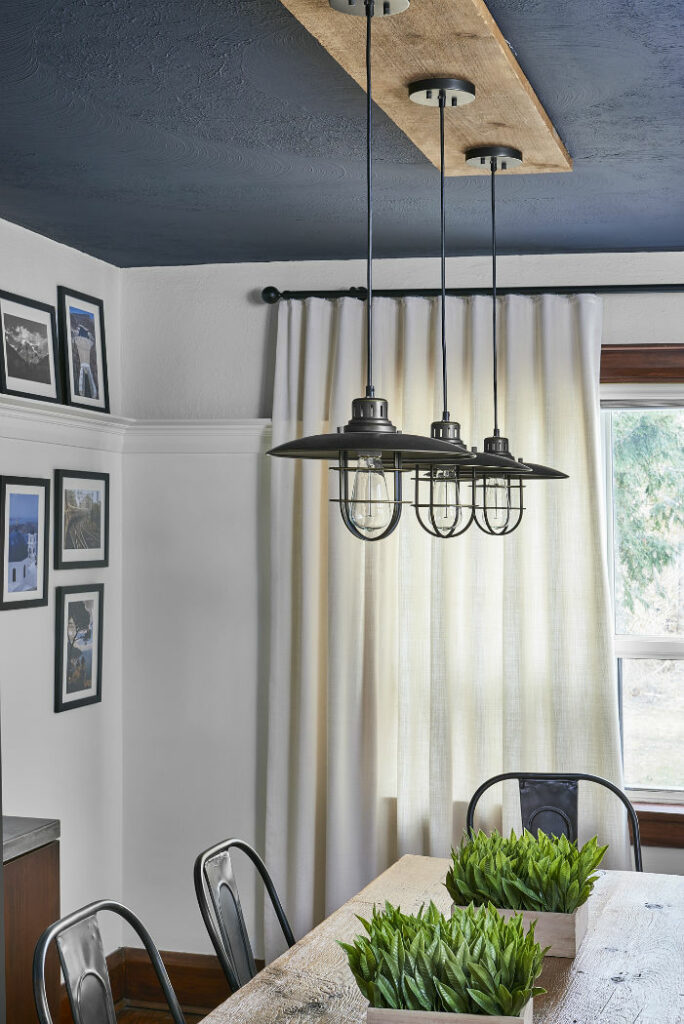 Okay, are you ready? Let's do this!
White Dove OC- 17 by Benjamin Moore
Undertones:
White Dove is not a true white. They rarely are! It has a creamy undertone that makes it a soft, rich white paint colour to work with for your interior decorating projects.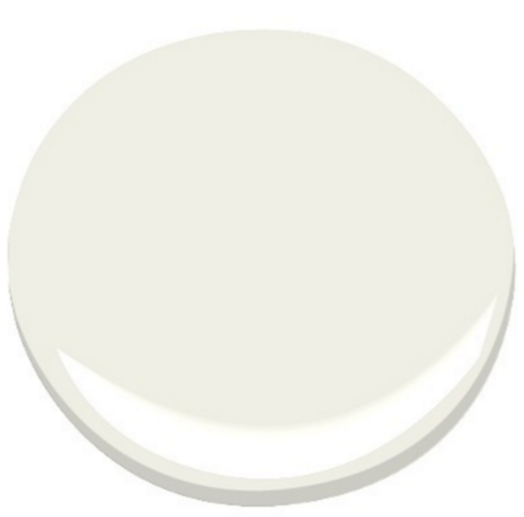 Colour Comparisons:
Despite what my husband thinks (that all whites are created equal and look the same) this is so not the case! When you begin to compare whites, you will start to notice how very different they all are from one another.
This is why it really bothers me when contractors or kitchen companies recommend a cabinetry colour, without even factoring in the countertops, the backsplash or any other fixed elements in a space. That's a totally backward way of thinking!!
Below are comparisons between White Dove and Chantilly Lace by BM. As you can see, the White Dove is creamier than the Chantilly Lace. Chantilly Lace is what I like to refer to as one of the rare 'true whites'. See this project where we used Chantilly Lace in one of the most incredible walk-in closets you've ever seen!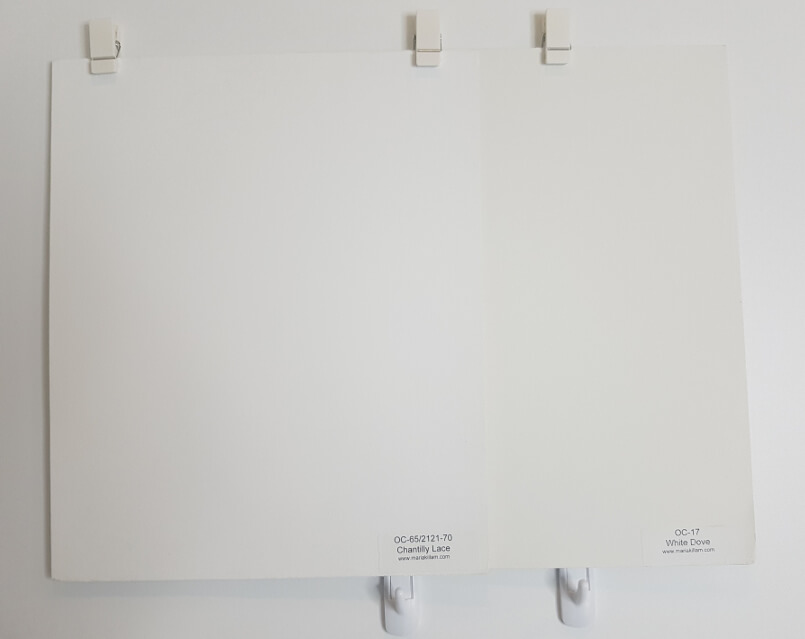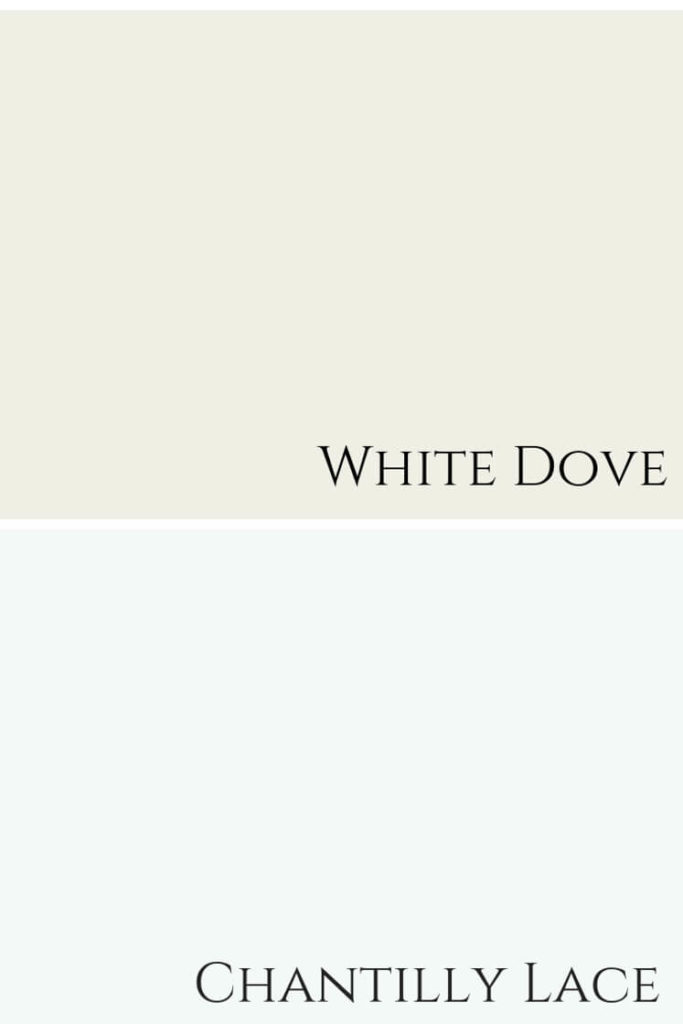 If you prefer a white that is less stark than Chantilly Lace, but more creamy than White Dove, Benjamin Moore's Ivory White is a good alternative to consider.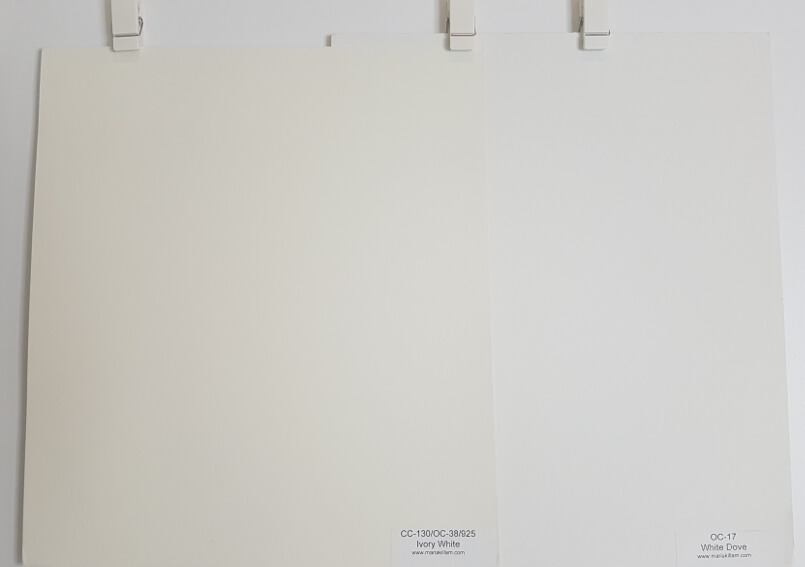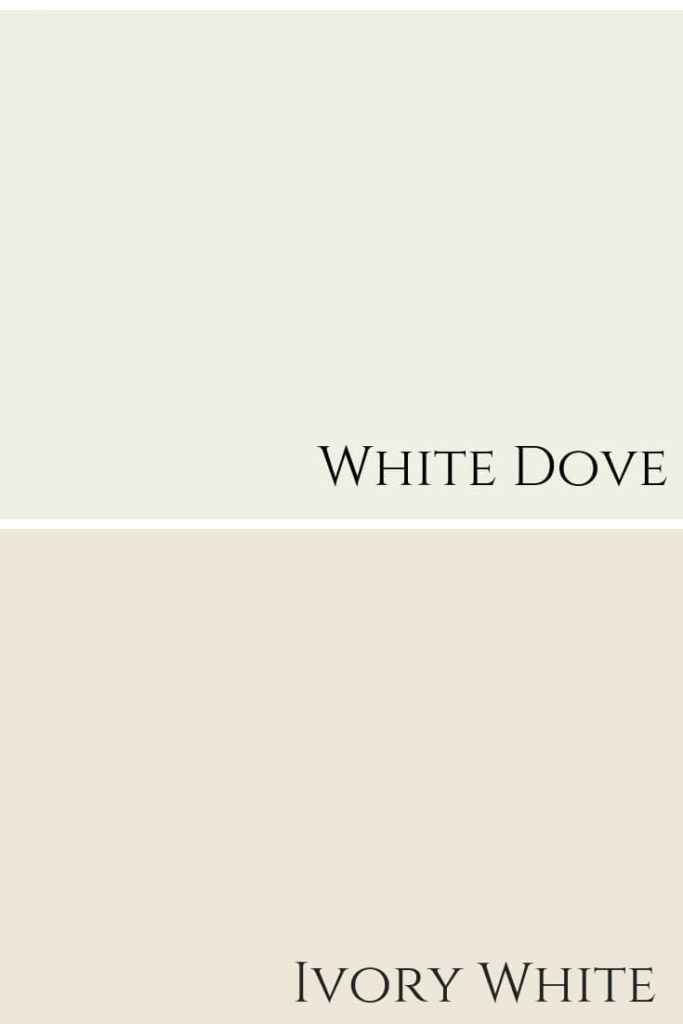 Best White Paint Colours
You could use either of the whites mentioned above as trim colours to pair with White Dove on the walls, or you could just continue using White Dove!
In my Toronto client's dining room, we chose to keep the natural stain of the wood trim, as it was also the finish on their gorgeous, warm-toned interior doors, as well as part of the charm and character of their home.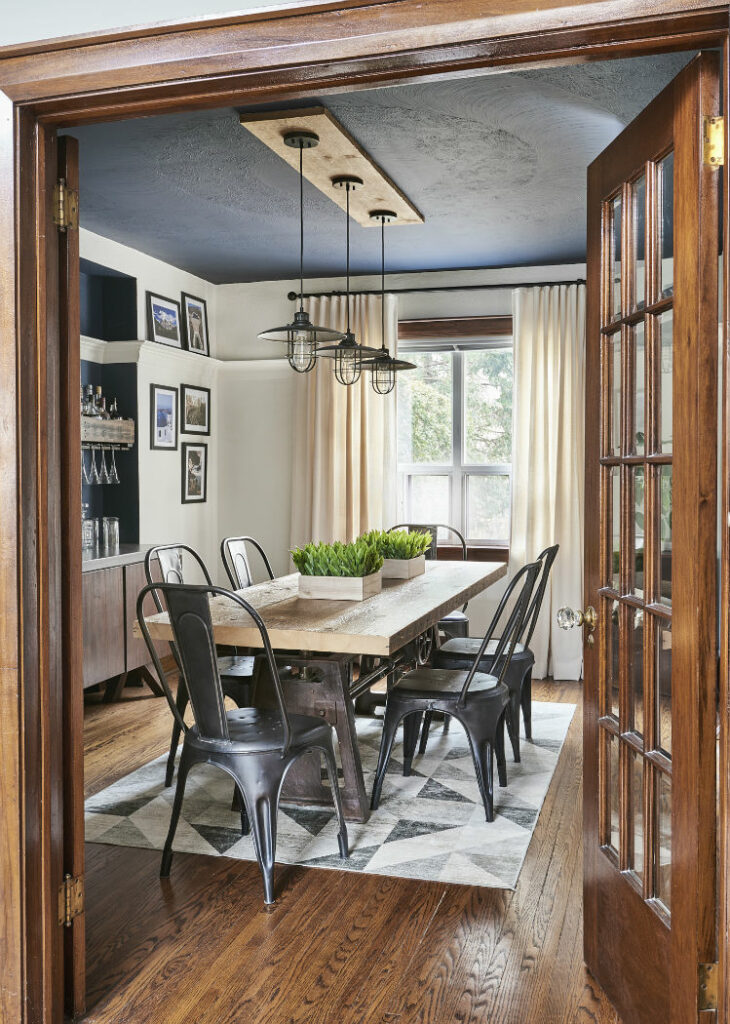 Fabulous Colour Combinations
Here you can see my large painted board Hale Navy, tucked behind a baseboard painted in White Dove.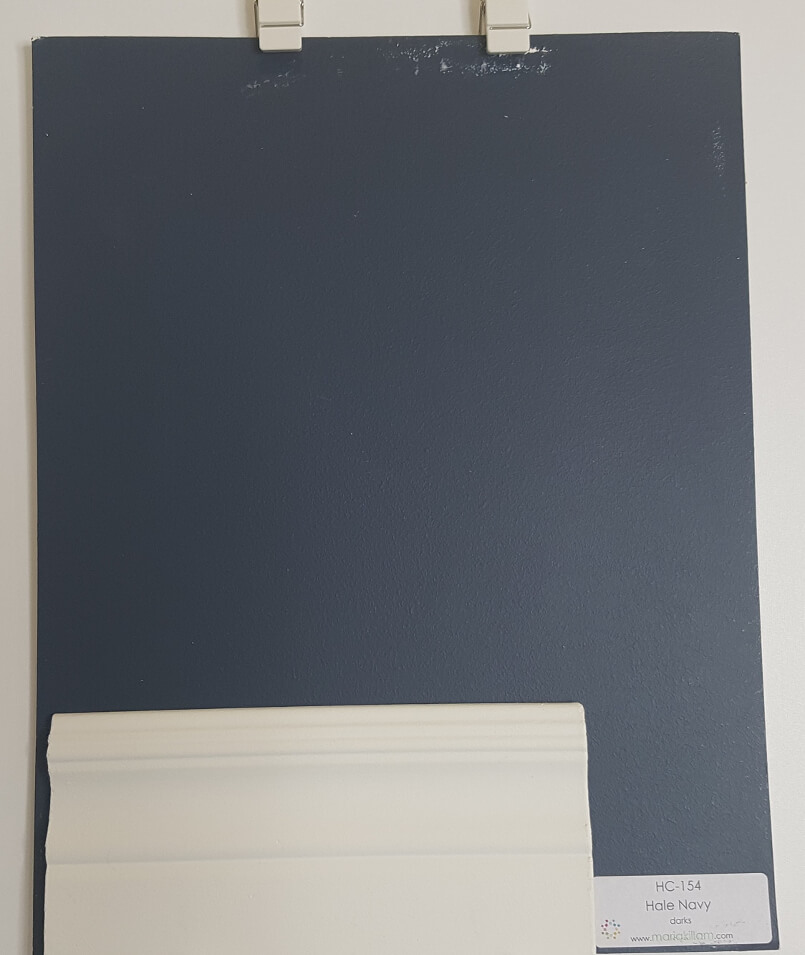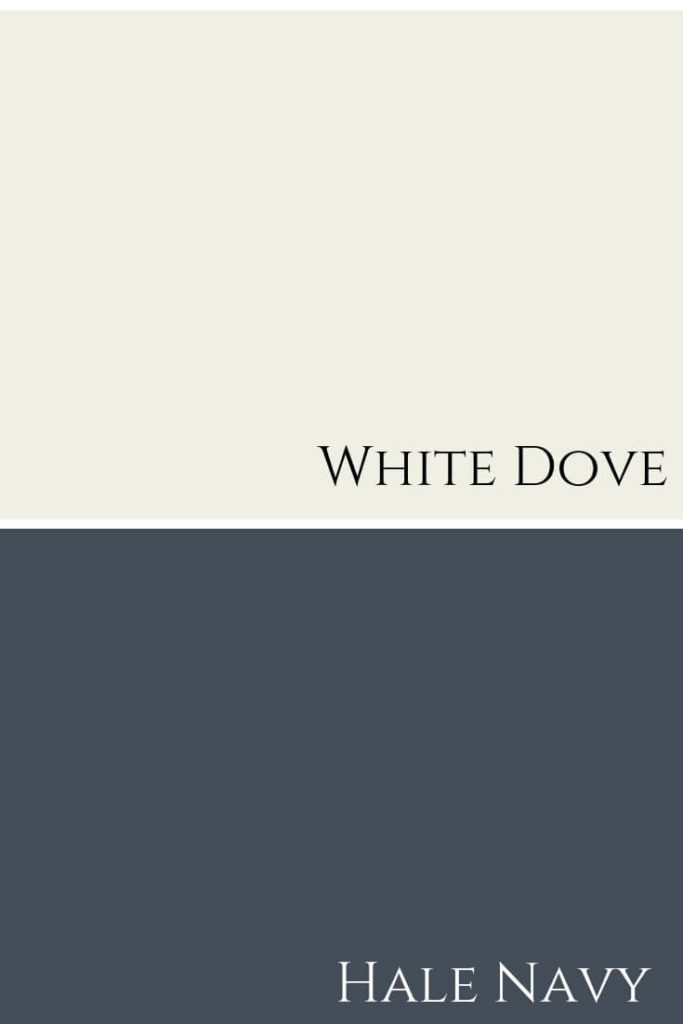 Below you can see the paint colour combination together that I used in my client's main floor decorating project.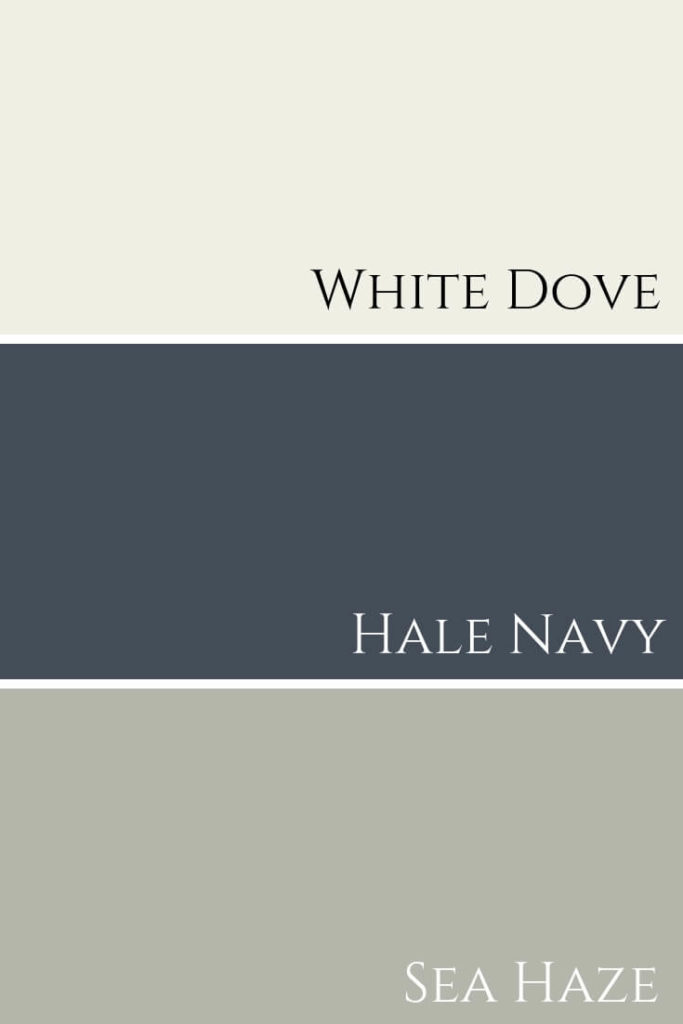 In my previous blog post where I reviewed Sea Salt by Sherwin Williams, I recommended White Dove as one of the best whites to pair with it.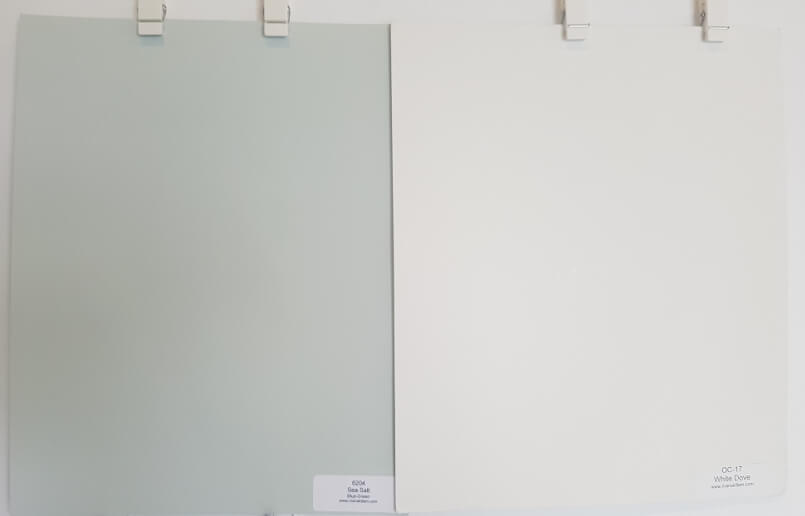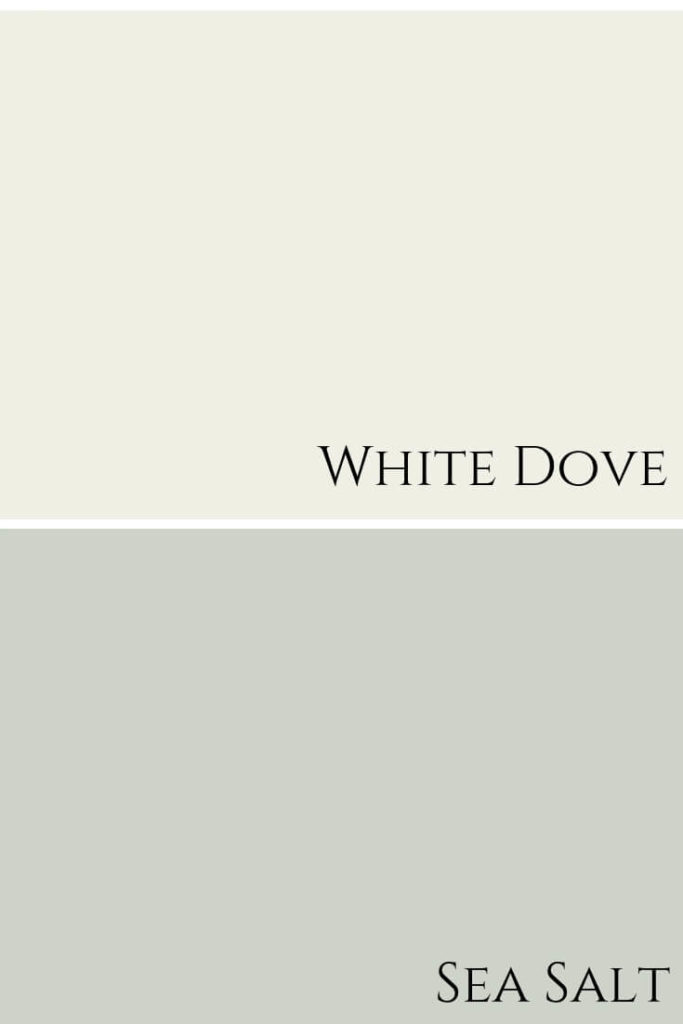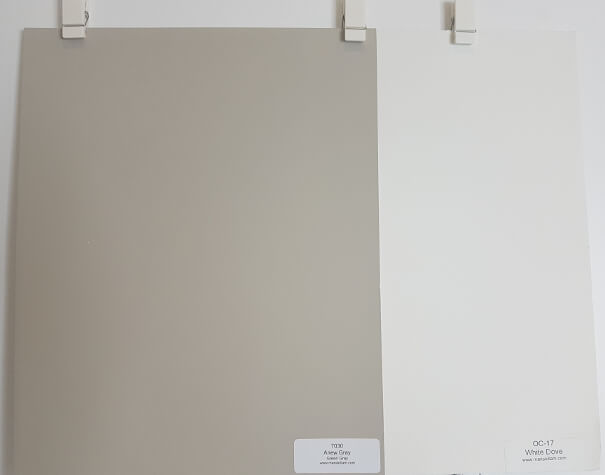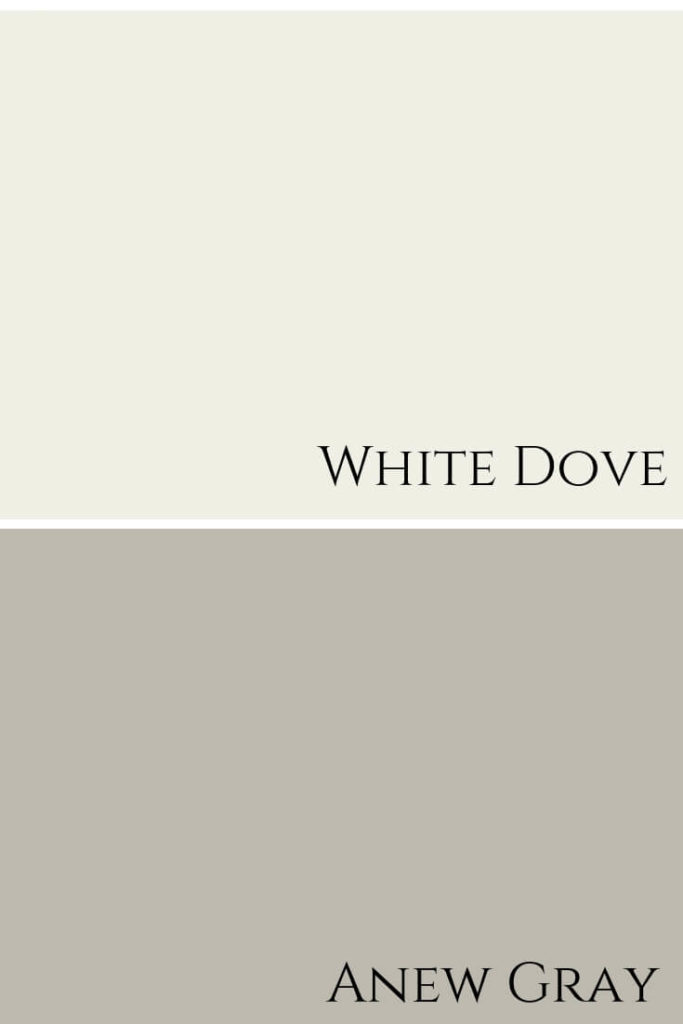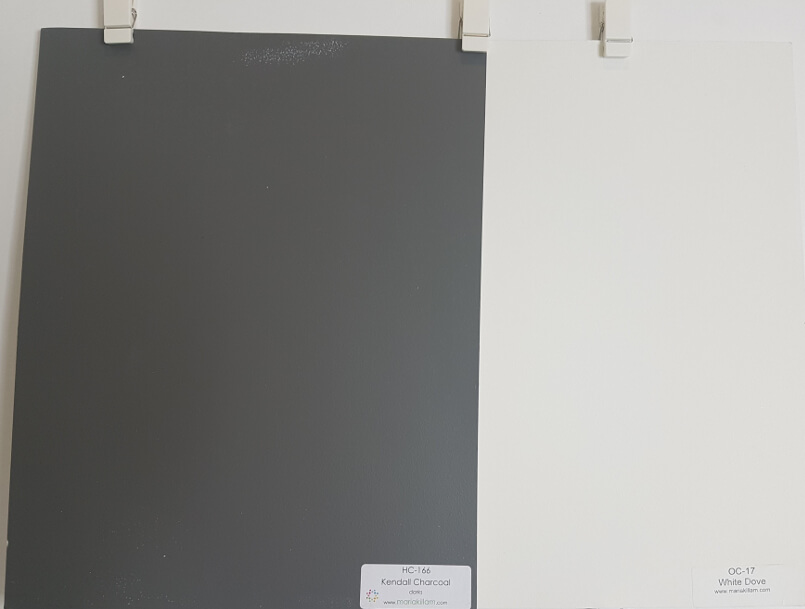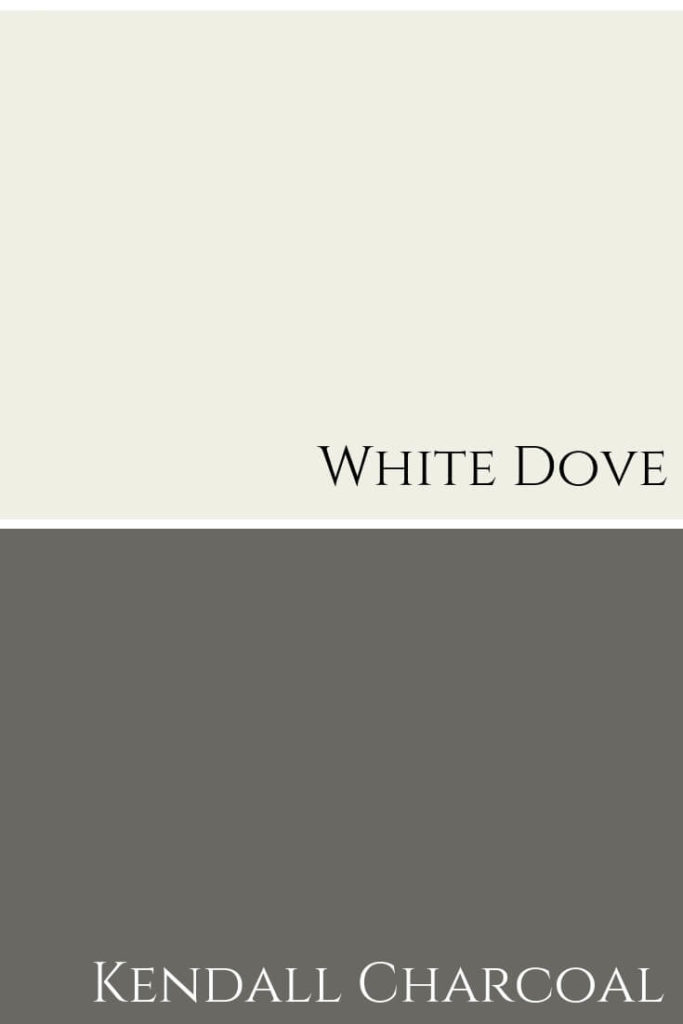 Kendall Charcoal would look stunning on the ceiling with White Dove walls!
I always find the painted 'fifth wall' to be so dramatic, unexpected, and exciting in a space.
If you are looking for a lighter contrast, White Dove also looks great when paired with the classic greige tone of Revere Pewter HC-172 by Benjamin Moore.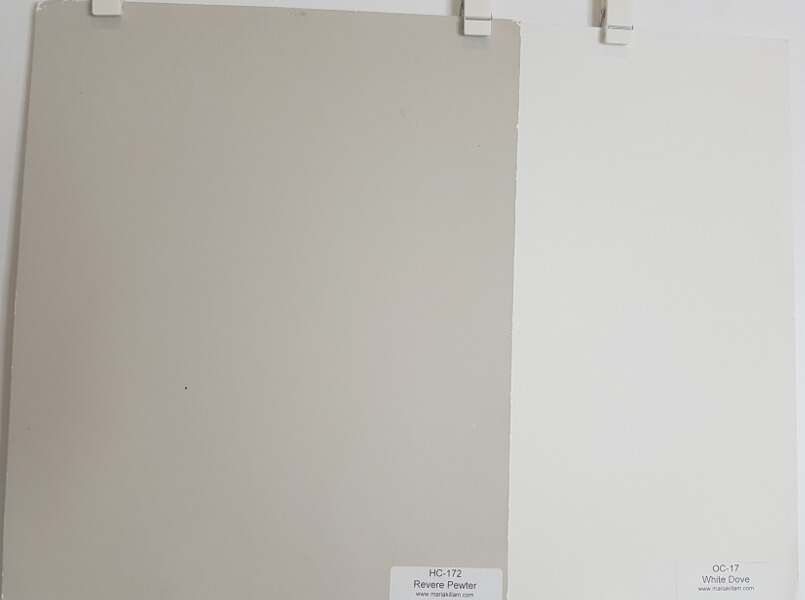 As shown above, in the colour palette of the three colours used in my clients home, Sea Haze 2137-50 by BM also works wonderfully with White Dove.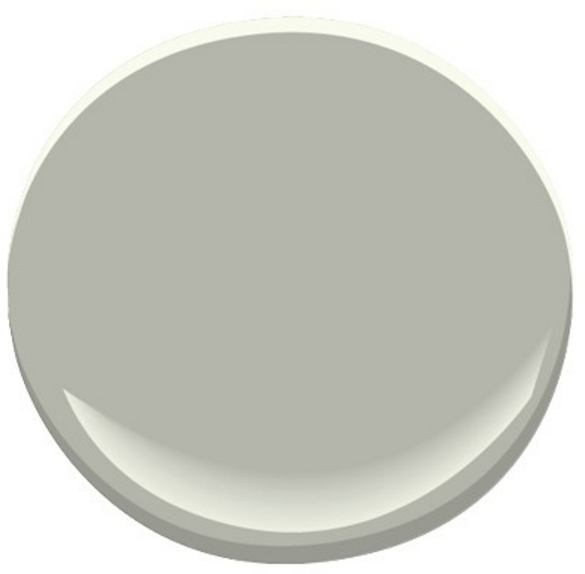 Here, I've added Classic Gray into the colour combination, if you wanted to bring in a fourth colour.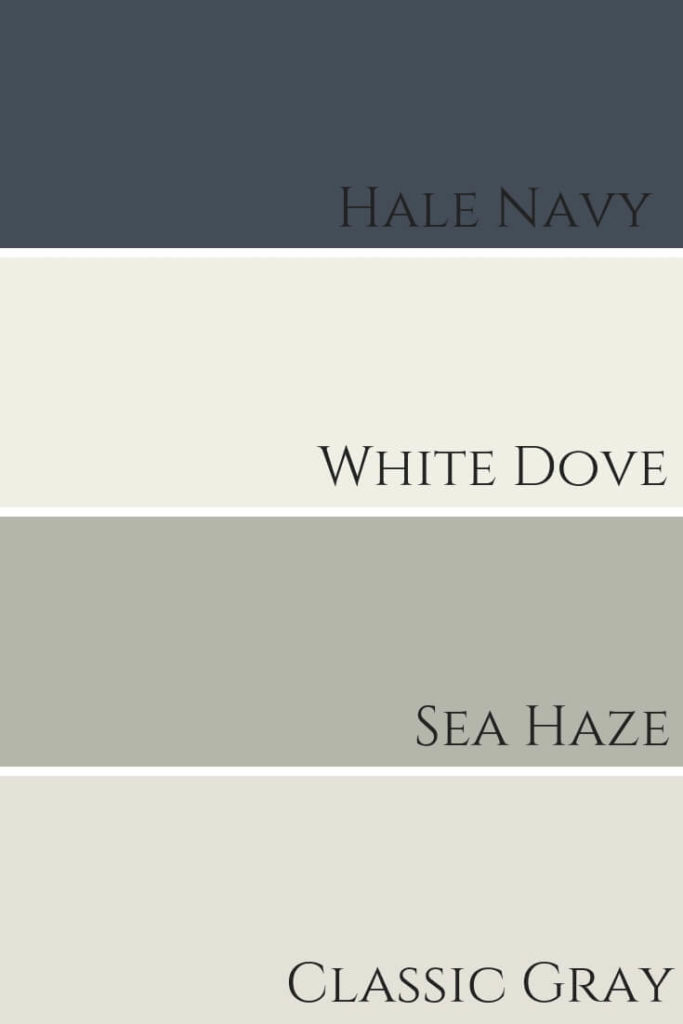 The walls in the image below are painted Sea Haze and this is the same client's living room, as the industrial-styled dining room shown earlier in this post.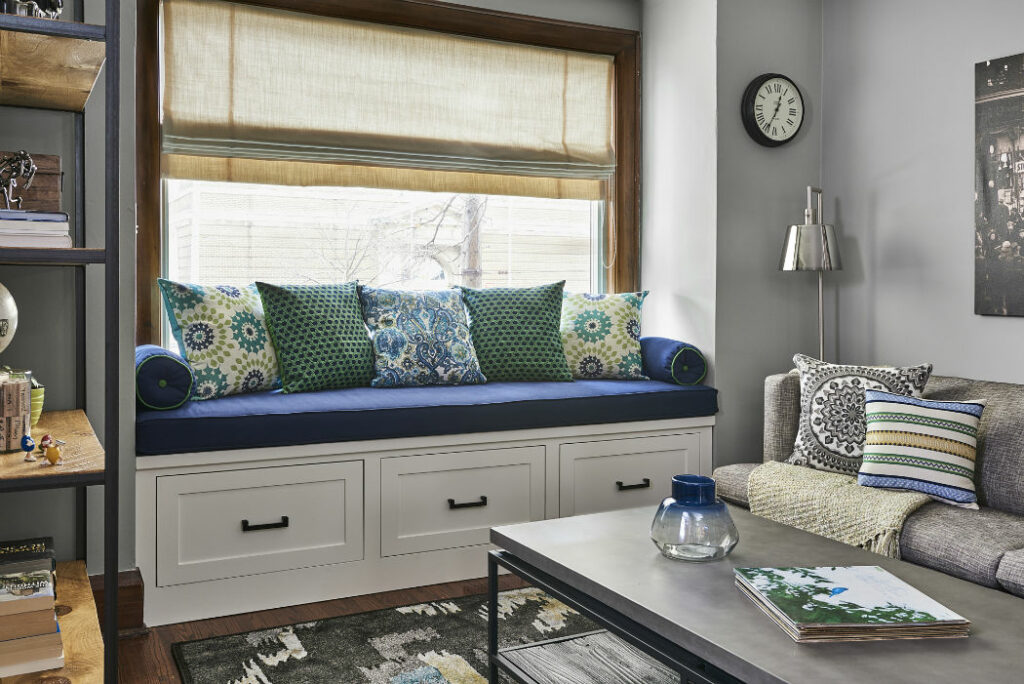 This fun fireplace floor tile that we used has warm tones that pair beautifully with White Dove.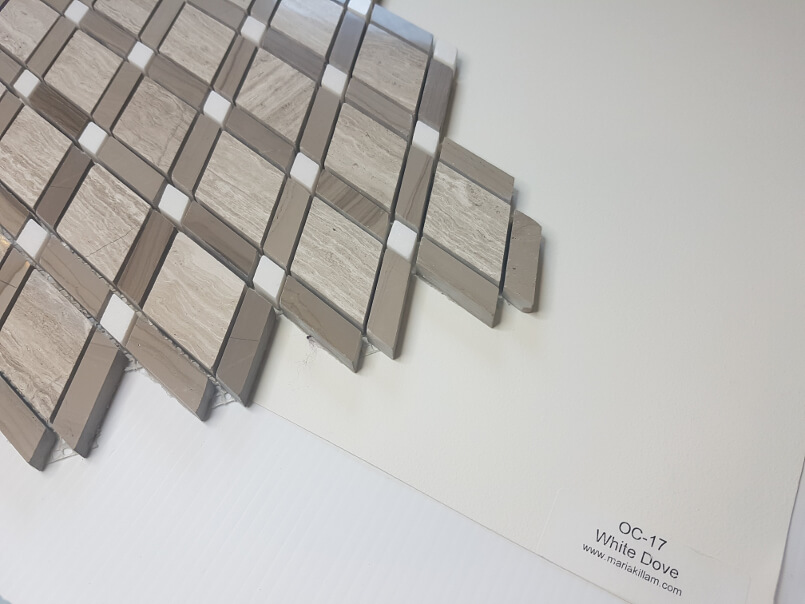 Fabulous Colour Palette
You can see in this colour palette just how flawlessly all of these hues look together.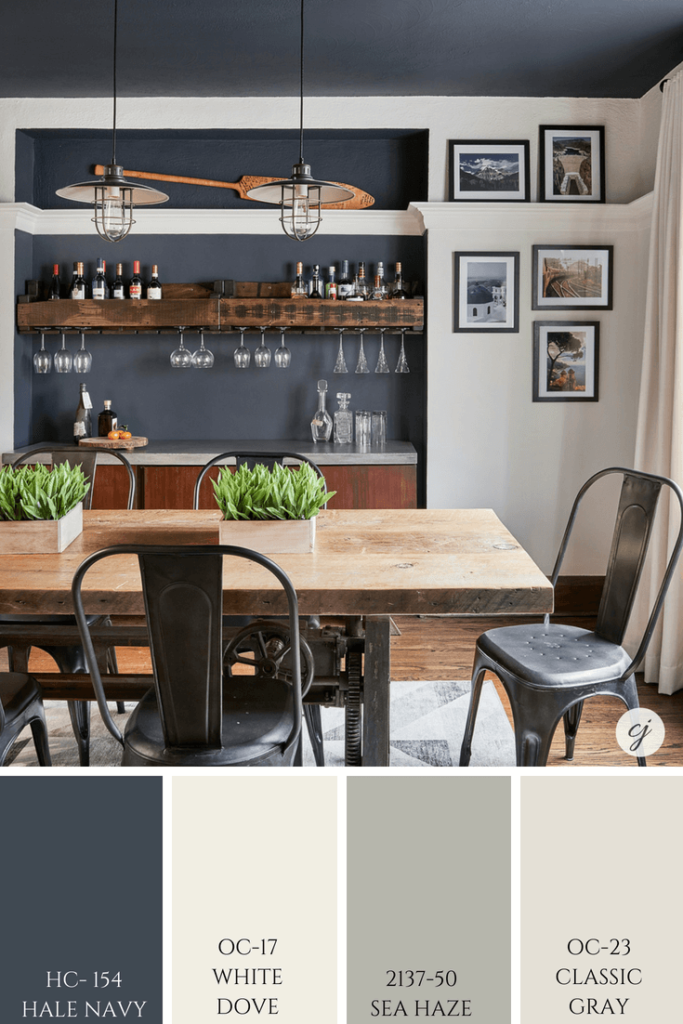 This pattern below shows a more masculine colour combination in various tones by Benjamin Moore.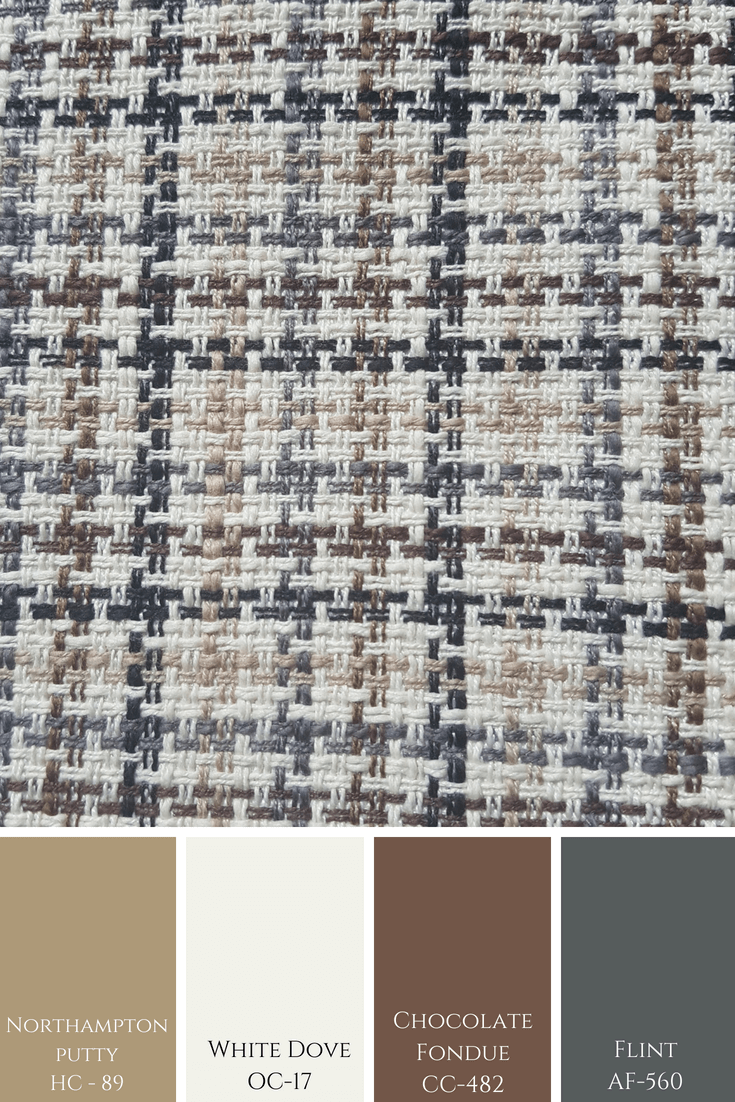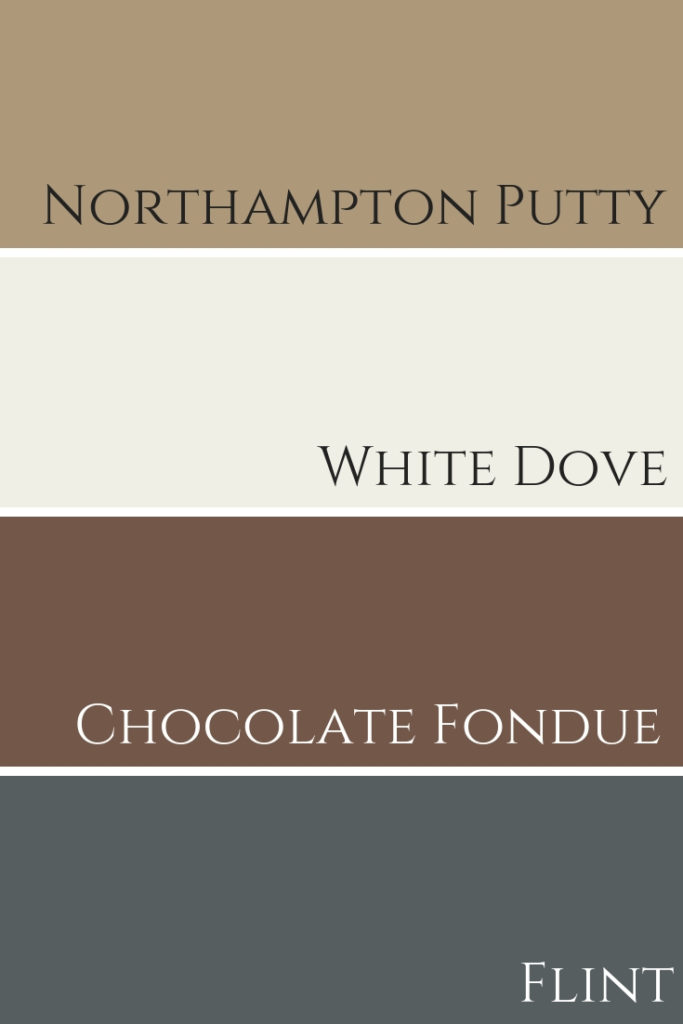 A QUICK STORY
For this particular interior decorating project, it was quite tricky to choose a colour for the walls in the living room. Normally, specifying colour comes very easy to me.
In this case, however, I was initially a little unsure about using Sea Haze. Mainly because the colours that we used for many of the accents in the room such as pillow fabrics and in the area rug are what I like to refer to as 'clean' colours.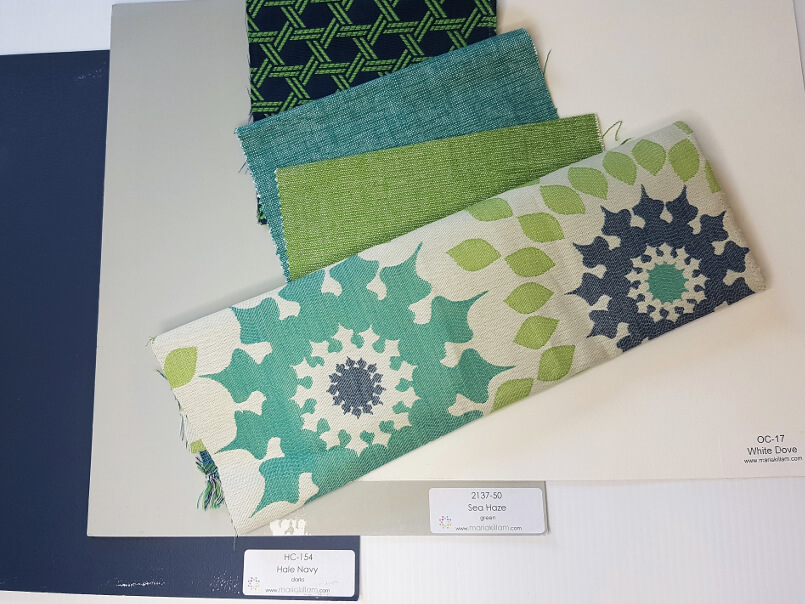 Sea Haze is a colour that I consider to be more 'muddy' or 'dirty'. I almost never mix 'clean and dirty', but here it worked.
To double-check though, I was able to see this paint colour in our 3D rendering software designs that we did for our clients.
It's not a perfect match because we are looking at it on a computer program, but it was enough to give me the confidence to give it the thumbs up and move forward with this colour.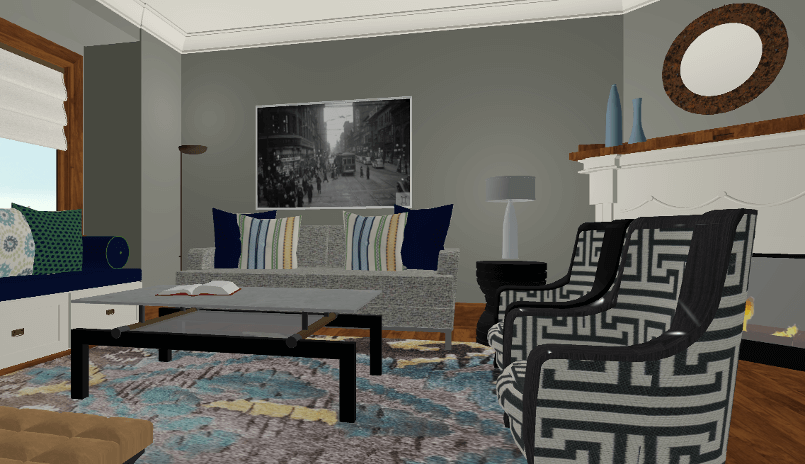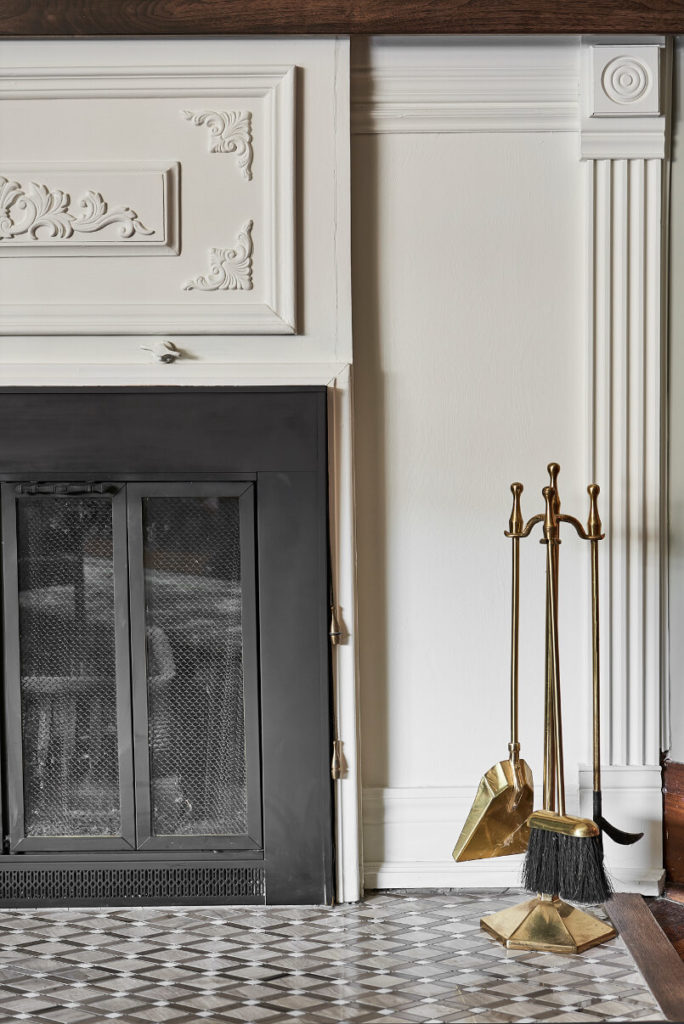 Favourite Places to Use White Dove
As shown above, I love White Dove in either an entire room or as trim colour and also for custom millwork.
Below are graphics I designed, I just love creating these! I think they are pretty, do you?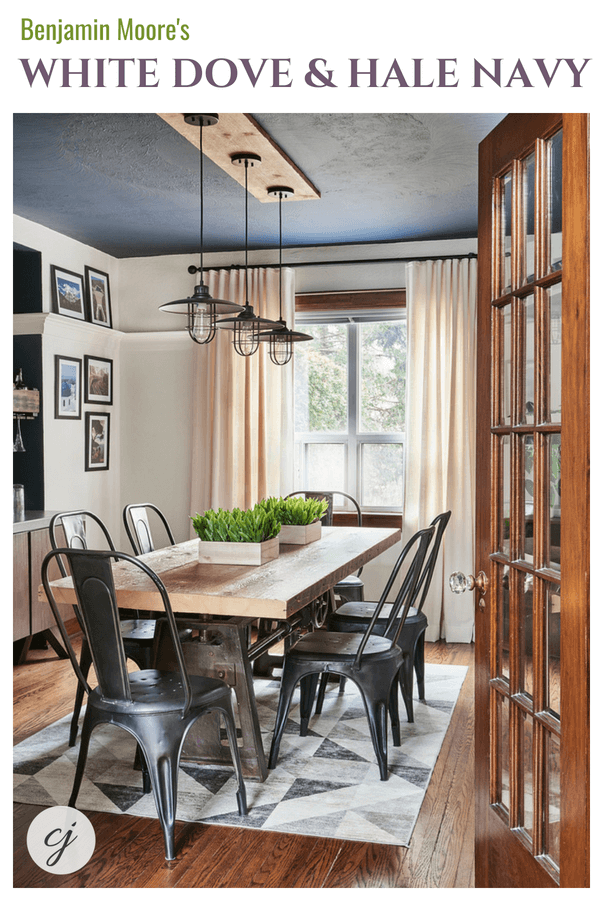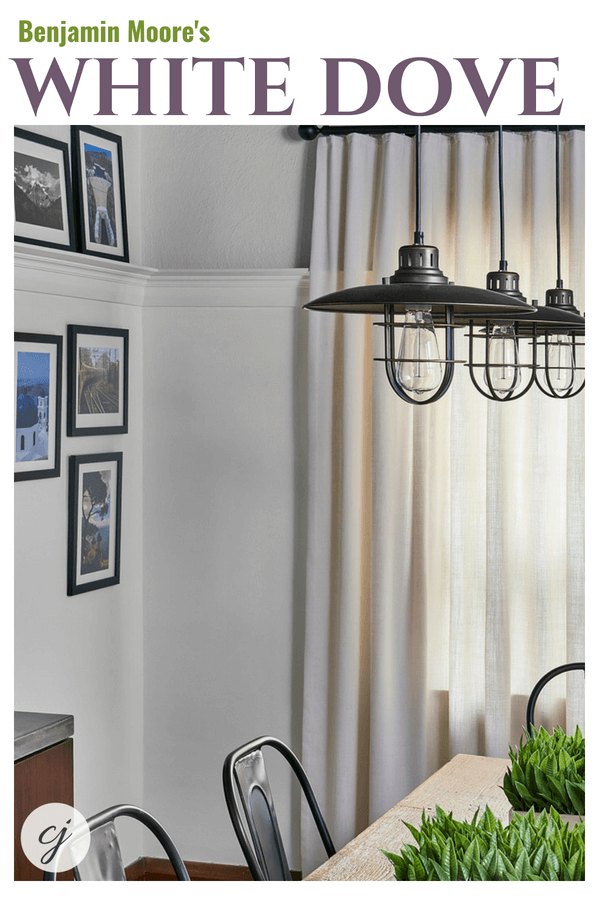 COLOUR CONVENIENCE
For more colour Claire-ity, I have created Perfect Colour Palettes to help you avoid making costly mistakes when it comes to choosing paint colours?
My White Dove Perfect Colour Palette is one of the colours available.
Don't miss out. See all of my Perfect Colour Palettes here .
These paint colour guides are a super helpful resource to have on hand when trying to find a perfect palette for your next design or decorating project.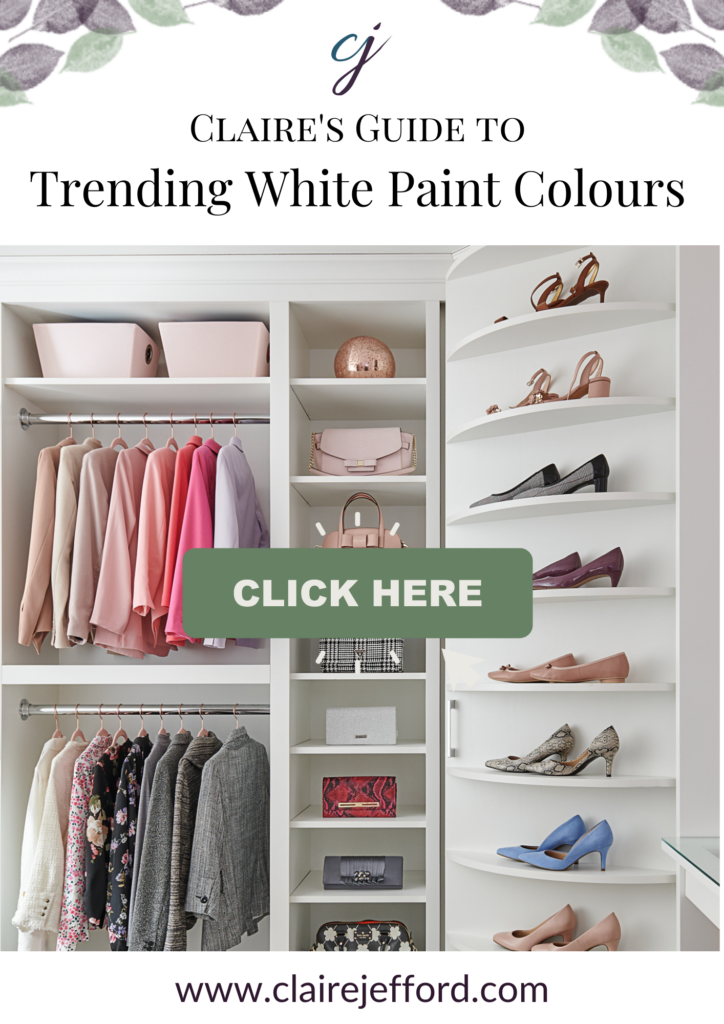 I LOVE HEARING FROM YOU!
If you've used a paint colour that I've reviewed or you want to ask a question, or even if you have a different point of view to mine, please do share!
Do you live locally in the Toronto or Burlington area? Contact me here to inquire about an in-person Colour Consultation.
For colour advice, please note that I can't always give advice based on simply reading about a scenario.
If it were that easy for me to recommend the perfect paint hue without knowing more about the specific space; the lighting situation; what other fixed elements to consider etc, then I really would be even more magical than I already am. HAHA!
Perfect Colour Palette Collections
You can now also find White Dove included in my Benjamin Moore Whites & Neutrals Collection.
This collection has all 10 of my Perfect Colour Palettes for whites & neutrals by Benjamin Moore.
Remember, it only takes one mistake to take your home decorating project from divine to disaster. Don't let the paint be what stresses you out!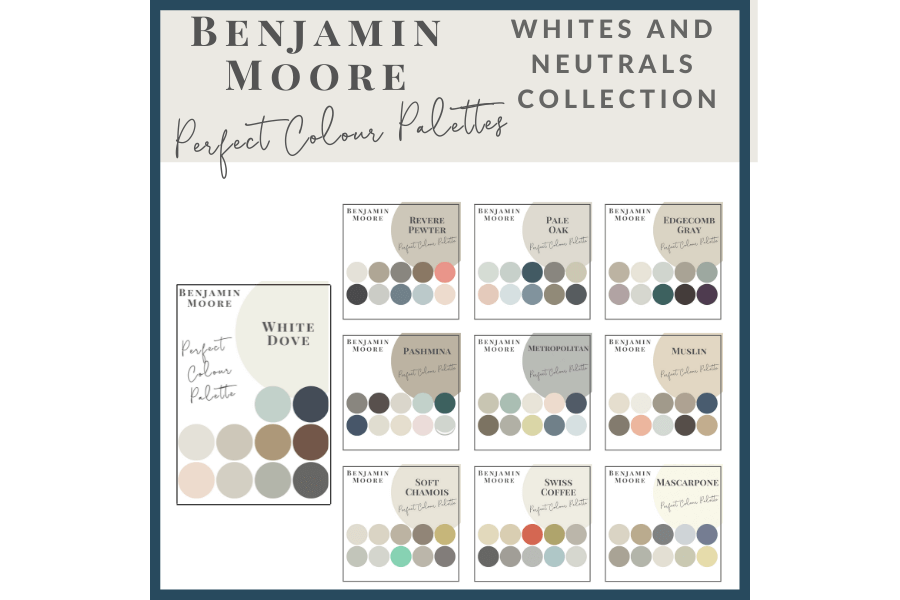 I went one step further and created a collection showcasing all 20 of my Perfect Colour Palettes for Benjamin Moore paint colours.
Check out my Benjamin Moore Ultimate Collection.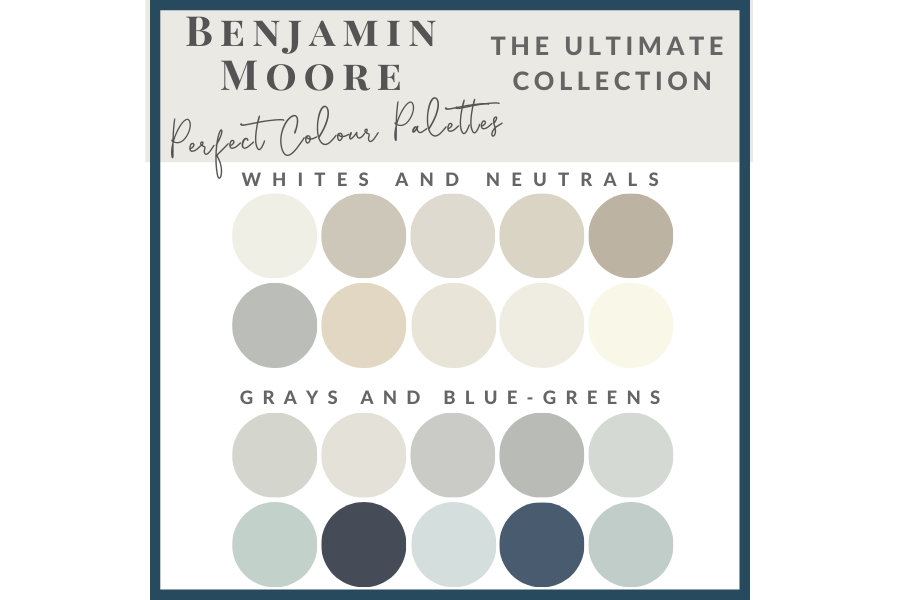 Take my Colour Quiz to see which Colour Palette best suits your style.