Painted Ceiling Ideas
Picking a Paint Colour?
Choose the right paint colour
the first time Let me show you how in just 5 easy steps!
BONUS: The Top 15 Shades of Gray by Benjamin Moore
We value your
privacy
. We will never share or sell your information.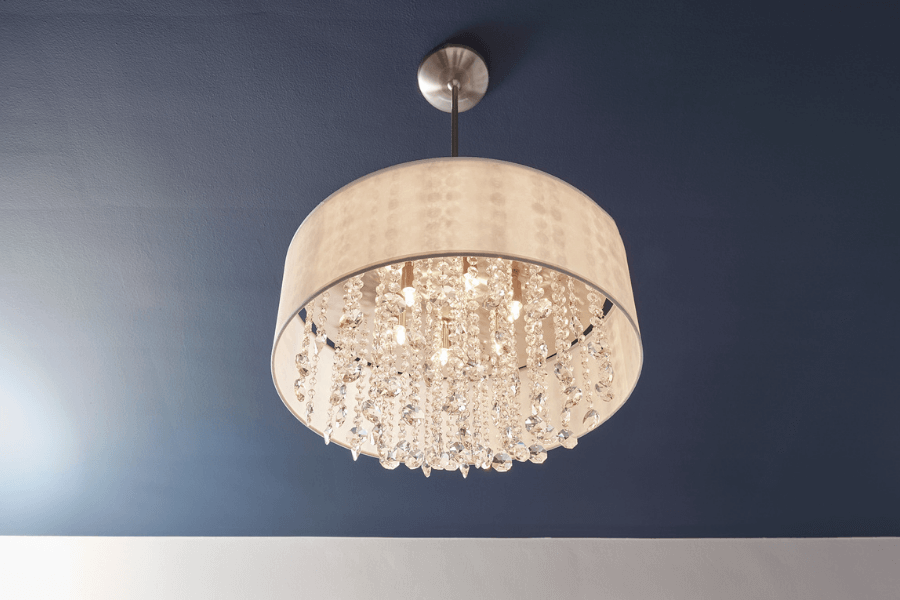 Have you heard the term, the 'Fifth Wall'? Yup, that's the ceiling. And guess what? It doesn't HAVE TO BE WHITE!
I have loads of painted ceiling ideas. How about a bold chartreuse or a moody black tone? Don't be scared. This is a stunning way to bring colour into a room.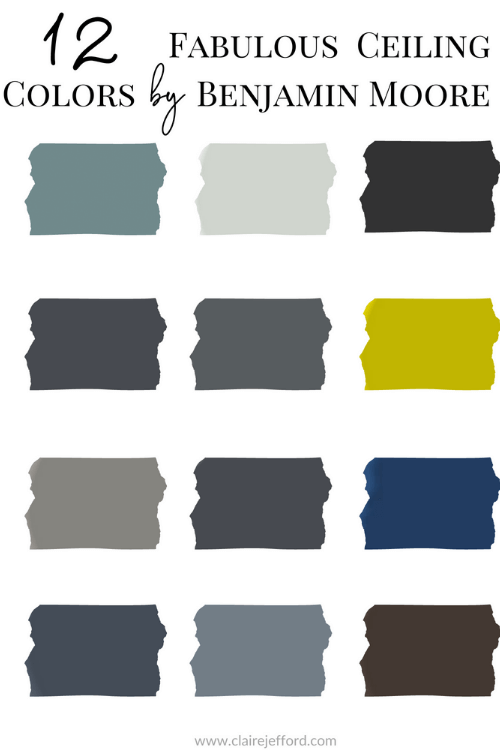 Painting ceilings a colour other than white is still hugely popular amongst interior design and decorating professionals.
Join me as I discuss painted ceiling ideas. As well as share my best advice as to why you might want to rethink white for your ceilings. Get inspired as we look at some exciting projects where we wanted the often forgotten 5th wall to stand out.
I'm going to show you 12 Benjamin Moore colours that I have used on various projects. From a bold basement gym to lovely powder rooms and many spaces in between.
Professional photography in this post is credited to Stephani Buchman Photography.
Why add colour to your ceiling?
So many reasons but I'll mention 4 that I believe to be very compelling.
1. Add Visual Interest to Your Space.
As a professional decorator, I love offering a client a choice besides the same old white.
Look at this home gym we designed. The chartreuse ceiling shouts WOW. Definitely interesting and energizing as you work out.
This is the first room you see as you make your way down the stairs into this massive basement of our client's home located in Milton, Ontario. It's always been one of my favourite photographs in my portfolio.
It's pretty darn impressive, eh? How could this not pique a guest's curiosity into wanting to see what's around each new corner in this bold custom basement design?
2. An Unexpected Suprise
An unexpected surprise with a major impact is a great reason to paint a ceiling a colour.
Smaller rooms, like powder rooms or a quaint guest bedroom, are the perfect areas of the home to have some fun. A bright or dark painted ceiling can be unexpected and makes a small room much more striking.
Leave your comfort zone and be a bit unpredictable.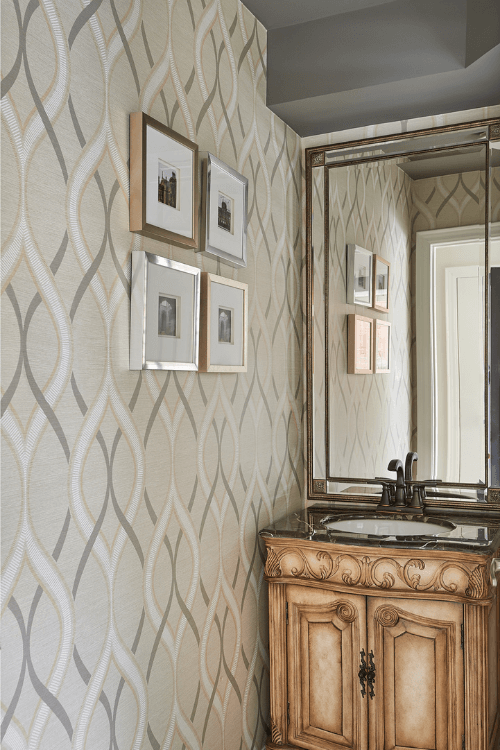 2. Tie in the Overall Colour Scheme.
A colourful painted ceiling is the perfect way to reinforce the colour theme of other decorative elements in a room.
In my office studio below, I painted the ceiling Benjamin Moore's 2021 Colour of the Year, Agean Teal. You can see how it coordinates beautifully with the wallpaper, area rug, and window treatment, therefore, tieing the whole look together.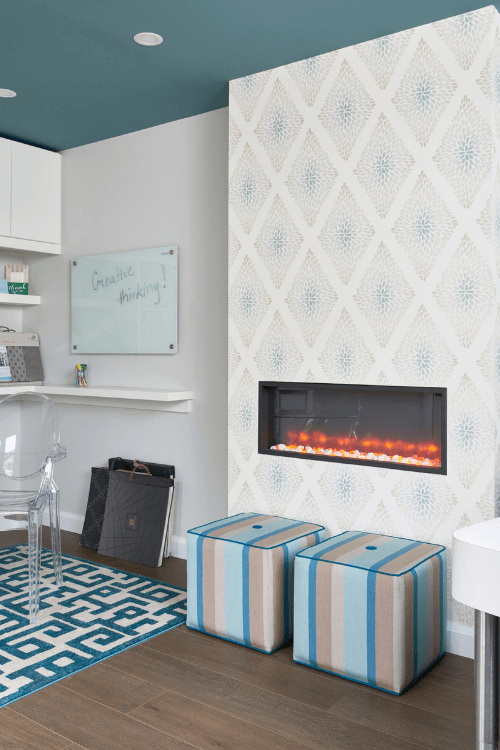 Go one step further and tie in the colour theme of an entire floor. We painted the ceiling in three adjoining basement spaces an eye-catching blue. This allowed the rooms to flow into each other seamlessly.
We continued the bold blue colour scheme by repeating this tone in the fun wallpaper of the poker room and on the tile in the backsplash of the bar area.
3. Highlight architectural or other outstanding features
You know what they say: "If you've got it, you might as well flaunt it!" Painting a ceiling a colour other than white is a great technique to highlight architectural features of a home that impact the ceiling.
In my own home, we used a dark colour on the ceiling to showcase a gorgeous chandelier in our teen daughter's room. There is no way this light fixture would have the same dramatic feel against a white ceiling.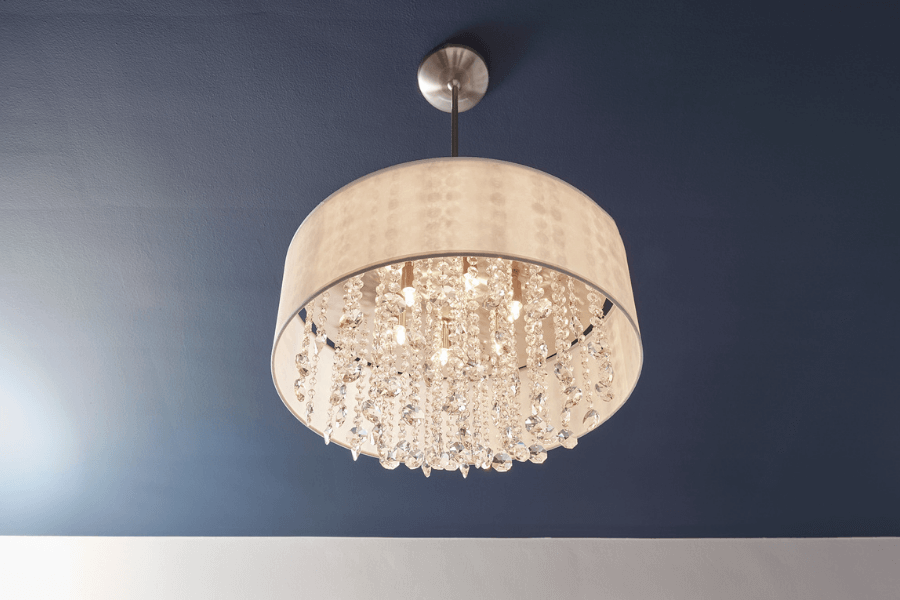 Ways to use colour in your ceiling
Following on from why you should consider using colour the next time you paint a ceiling let's look at ways in which to do this.
The first way to incorporate a painted ceiling is by using it to repeat the colour in a space.
In my client's dining room below you can clearly see how we did this. Both the niche and the ceiling are painted Hale Navy by Benjamin Moore.
And it didn't stop there. The painted dining room ceiling continued the colour scheme from the front living room. Your eye is naturally drawn to the flow of the deep blue throughout these rooms.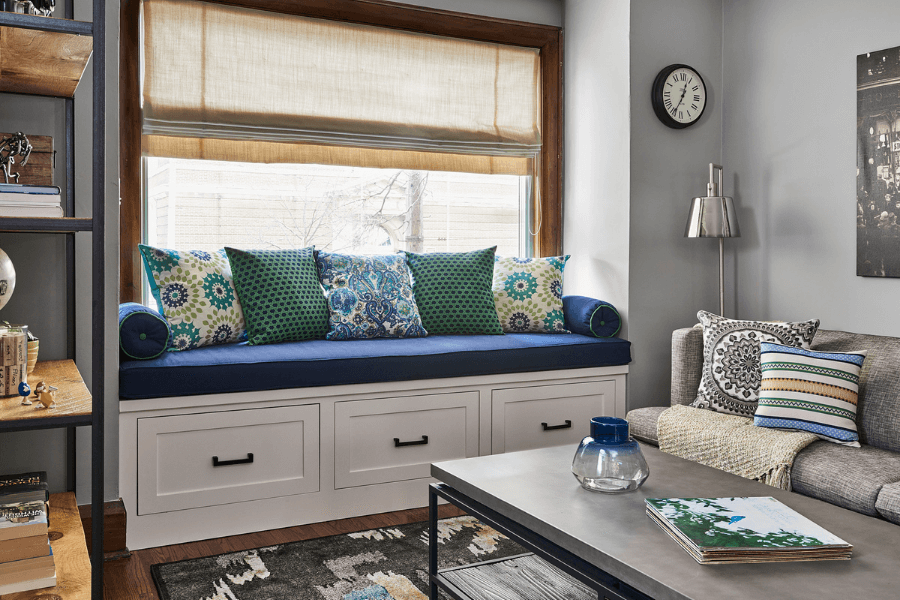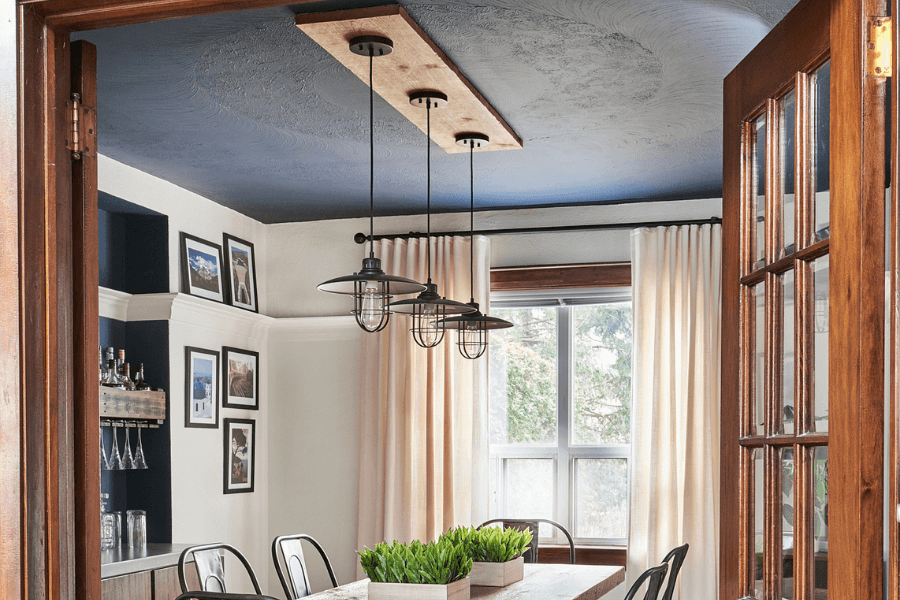 Hale Navy is a hugely popular colour and consequently one of my all time favourites! You can see from this project the lovely paint palette that goes so well with this classic shade of blue.
If you want more inspiration for colour combinations be sure to check out my Hale Navy Perfect Colour Palette.
A second way to use colour in a ceiling is a little design trick that I sometimes like to employ in my interior design projects. That is to paint the ceiling the same colour as the tone that you have on the floor.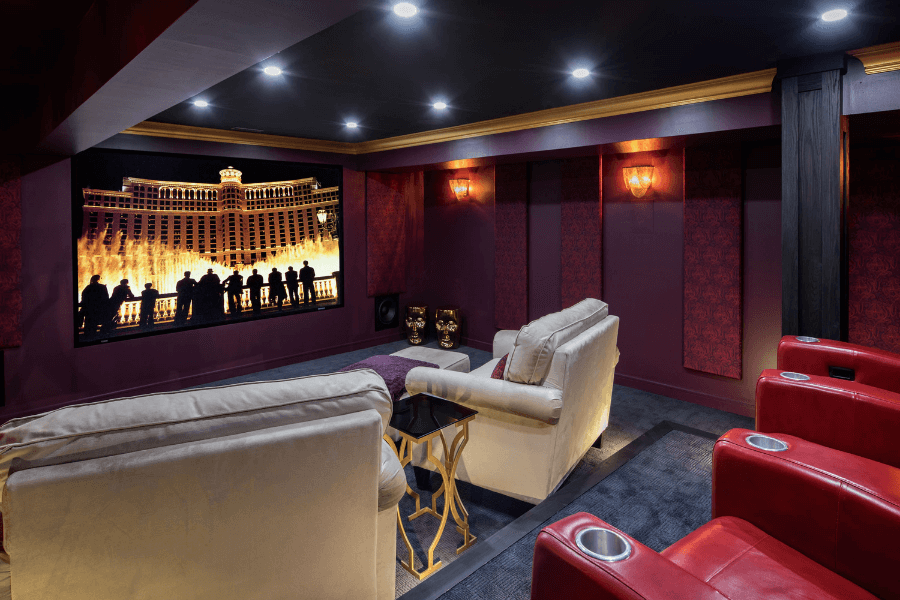 There's no better example of this than in this incredible home movie theatre in our client's basement. The carpeting throughout the room is a dark, dark blue. We matched it on the ceiling with Witching Hour by Benjamin Moore.
And then I suggested a metallic gold for the crown moulding which you can see repeated in the base of the side tables next to the large white chairs.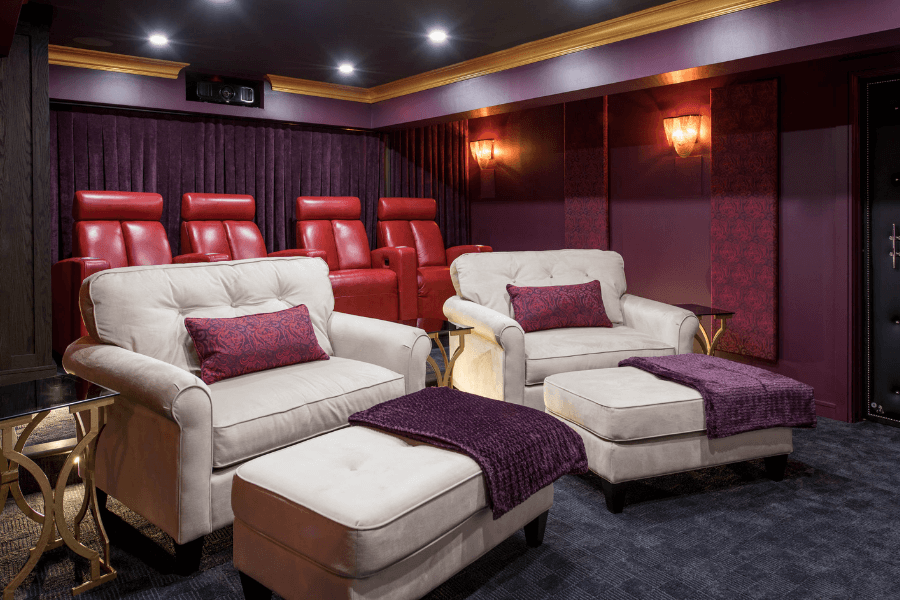 You can also see how this approach worked beautifully in the powder room below. We used Benjamin Moore's Bittersweet Chocolate to match the dark hardwood flooring.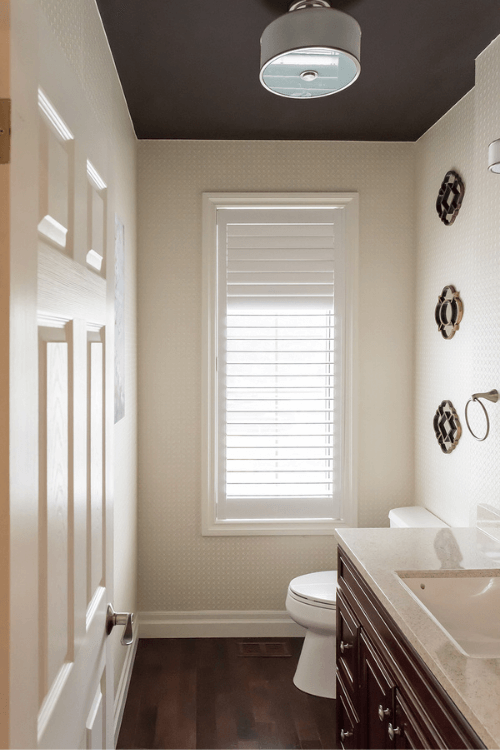 And lastly, a recent project shows a deep black ceiling that mimics the large black tiles on the floor. This Burlington client's basement has yet to be photographed, the photo shown is my own.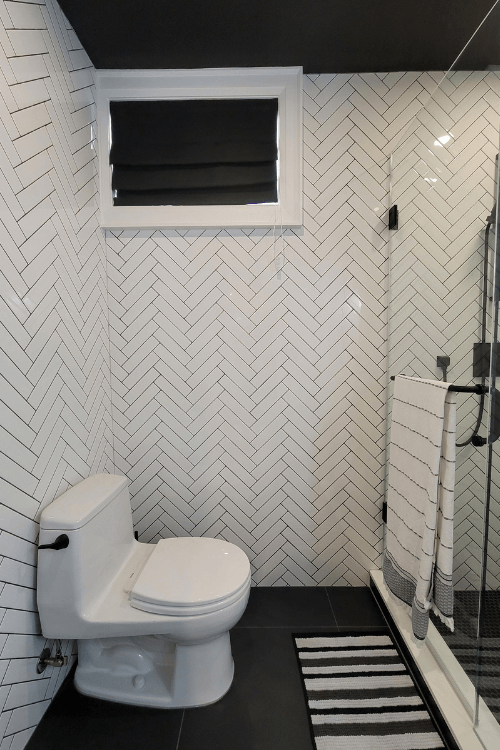 A third way to work colour into your ceiling is to use it in areas to accentuate the structure of the ceiling itself.
Earlier I showed a basement to demonstrate colour flow. It is also a great example where we used it to highlight the bulkhead.
Normally this is not a feature that you want to stand out. However, because there was no getting around having them there, we decided to embrace this 5-foot wide bulkhead instead of ignoring it.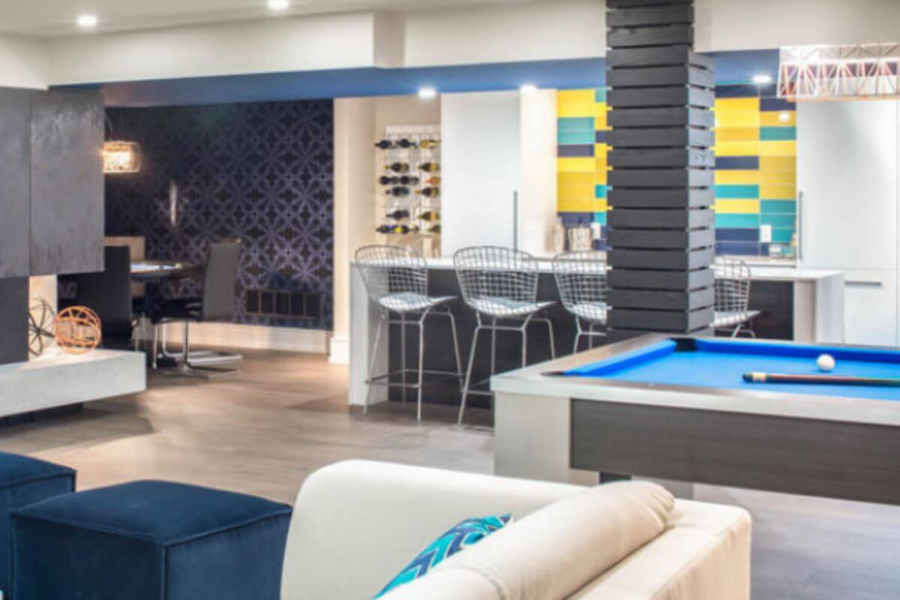 The contemporary design style also helped to pull this off successfully. As a result, painting it Symphony Blue worked to our advantage as we moved through the different spaces in this huge basement. And of course, it helped us to carry the colour scheme all the way through as well.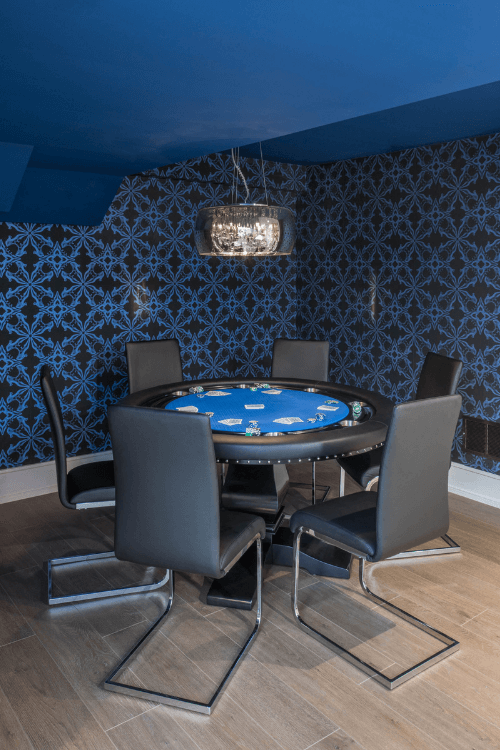 Going back to my daughter's room, not only does the Marine Blue painted ceiling make the chandelier pop, but it really does emphasize the angled ceiling in her room.
The contrast between the rich blue of the ceiling and the Lavender Ice colour of the walls, keeps your eyes moving upwards.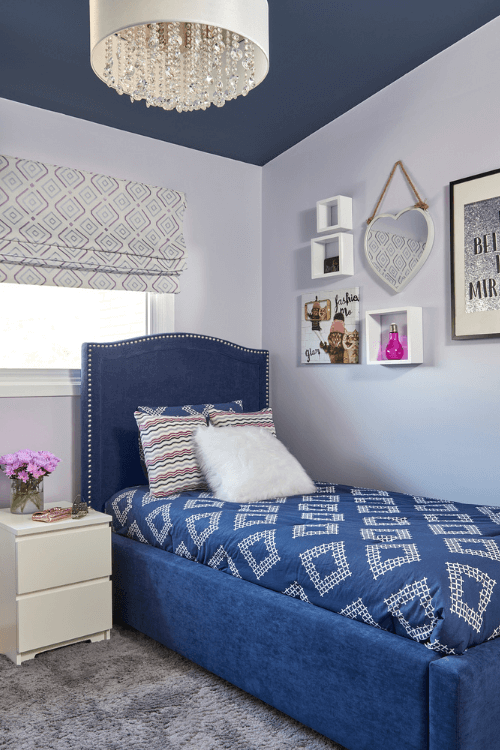 Similarly, in my son's room below, the ceiling is painted Flint to match the walls and to draw the eye upwards with the slanted ceiling.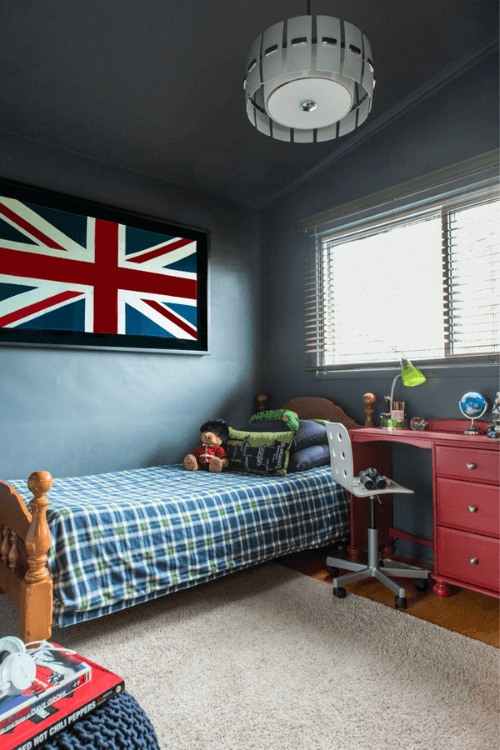 Part of the reason why all of these colours look so great is that we chose the right colour. It's absolutely crucial to pick the right paint colour for any wall, including the 5th.
Here are a couple more painted ceilings from my own portfolio to inspire you.
I can't emphasize enough how a painted ceiling can bring a whole room together. Below is a Secret Xbox game room with an amazing graffiti tile on the feature wall with Black Pepper by Benjamin Moore on the ceiling.
---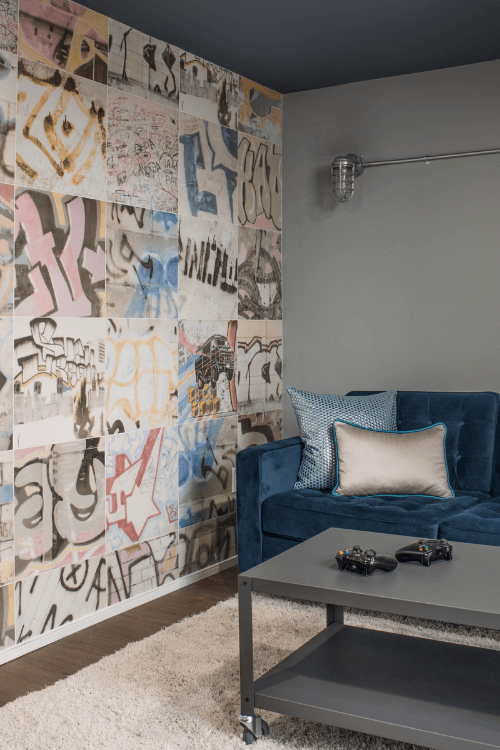 And, the ceiling picks up on similar tones in the funky wall tile as well as the velvet sofa – perfect!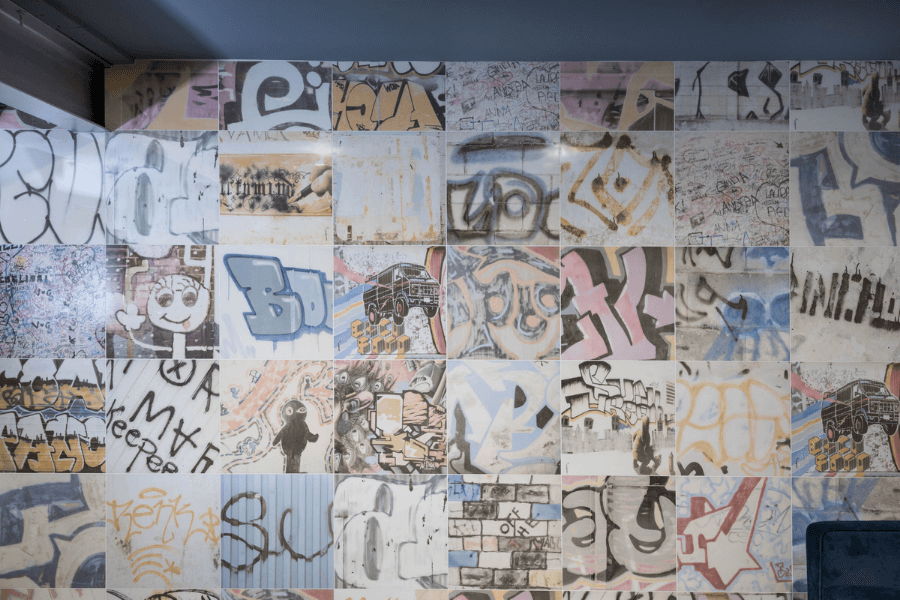 And lastly, I wanted to show you this sitting area in a Toronto client's home. We decided to continue the Gray Cashmere colour that you see on the walls, up onto the ceiling.
It's a beautiful backdrop for the chandelier. As well, it gives the room a wonderfully cohesive and elegant look. The sheen of the paint on the walls is eggshell while the ceiling paint was done in a matte finish.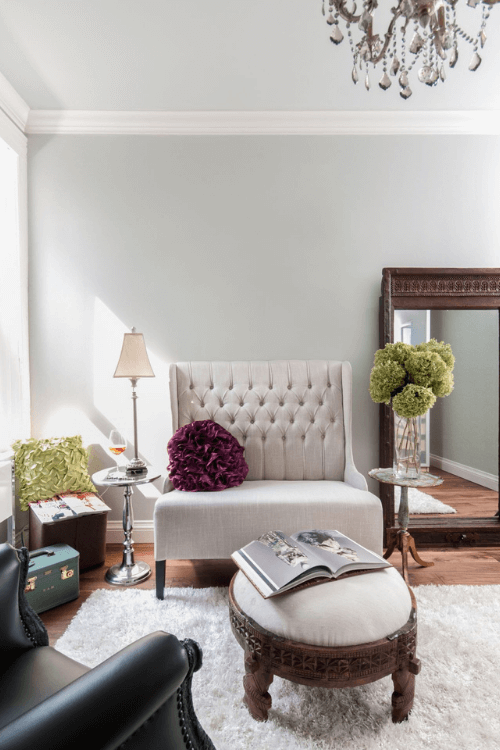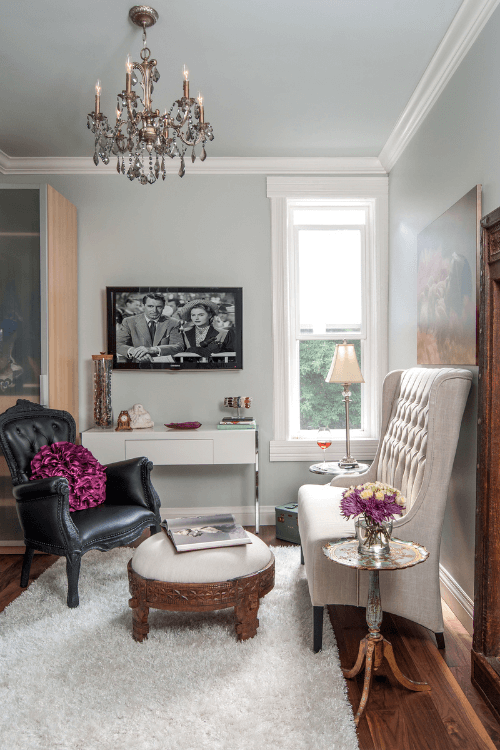 Which of these 12 projects showing painted ceilings was your favourite? Have you ever used colour on your ceilings? Let me know, comment below. I'm always curious to hear your thoughts!
Pin the graphic below to your Pinterest board for easy reference for when you want to come back to this post.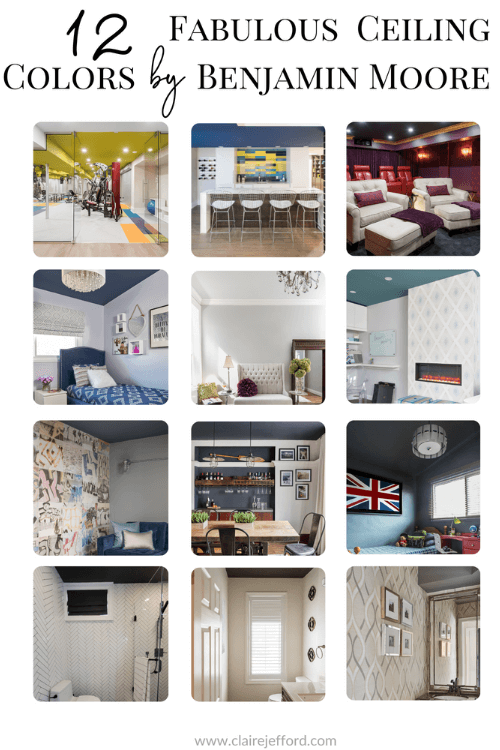 Painted Ceiling Ideas – Choose the Right Paint Colour
Painting your ceiling is a brilliant way to introduce colour into a room. But only if you use the right paint colour. Get my free resource that will help guide you in making the right paint selection for your future paint projects.
Ceiling or wall, you want to pick the perfect colour the first time.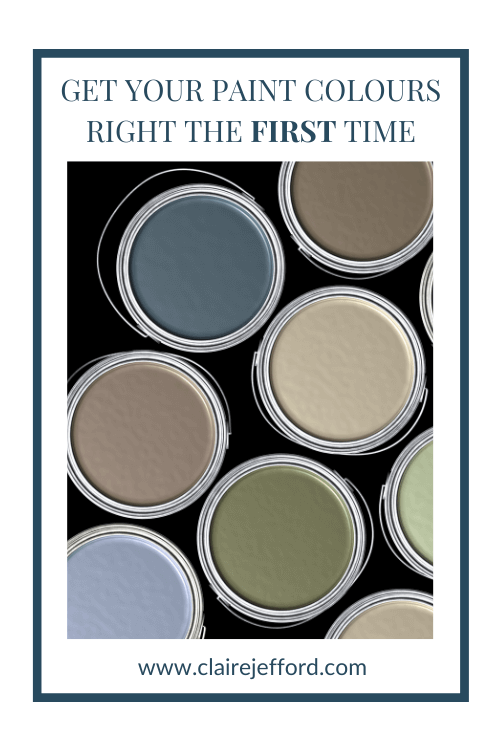 Perfect Colour Palettes
There's nothing like a perfectly curated colour palette to bring a home's décor together flawlessly. But knowing how to coordinate colours can be confusing and overwhelming.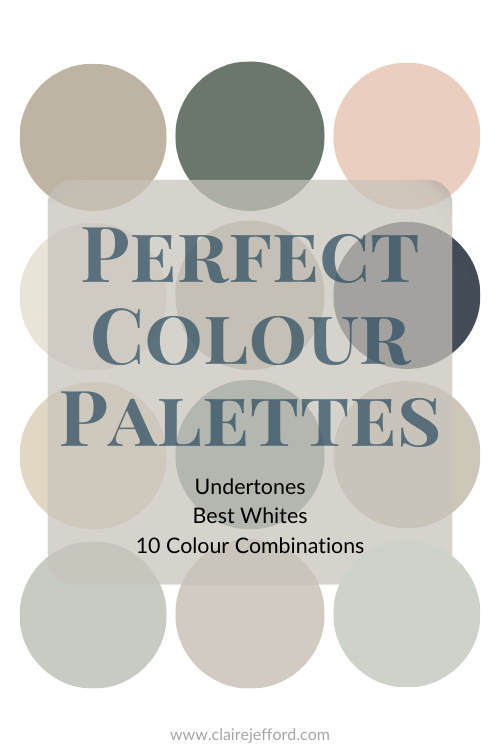 Our Perfect Colour Palette library now has 40 paint colours from 3 top paint companies; Benjamin Moore, Sherwin Williams and Farrow & Ball.
These colour palettes were created to help you confidently select the best colour for your home, and then see which trim, ceiling, and accent colours pair well with your selected colour.
An amazing resource for your next design or decorating project.
Perfect for Pinning