Why Pay an Interior Designer for a Kitchen Design?
For Designers!
Design Services and Rates Guide A FREE Resource for Your Interior Design Business
We value your
privacy
. We will never share or sell your information.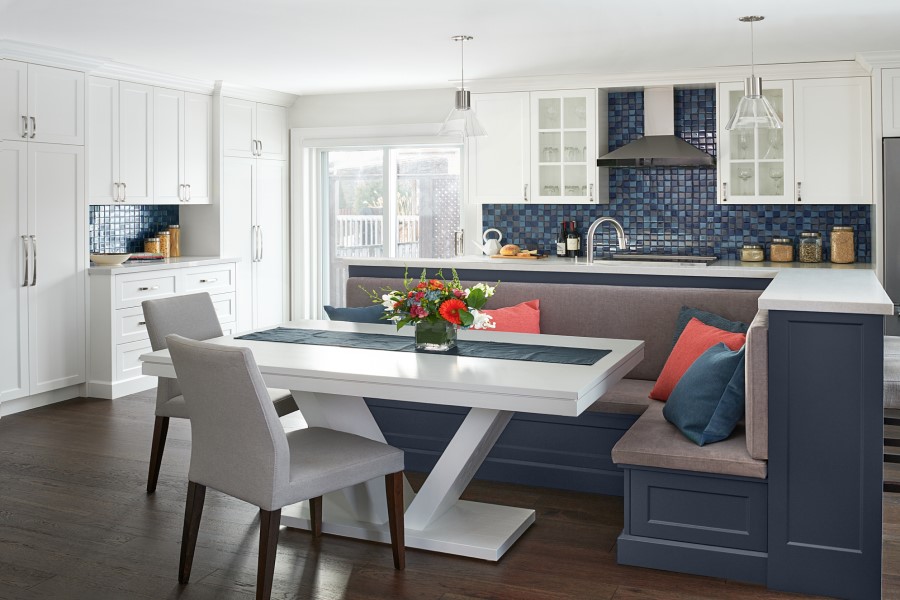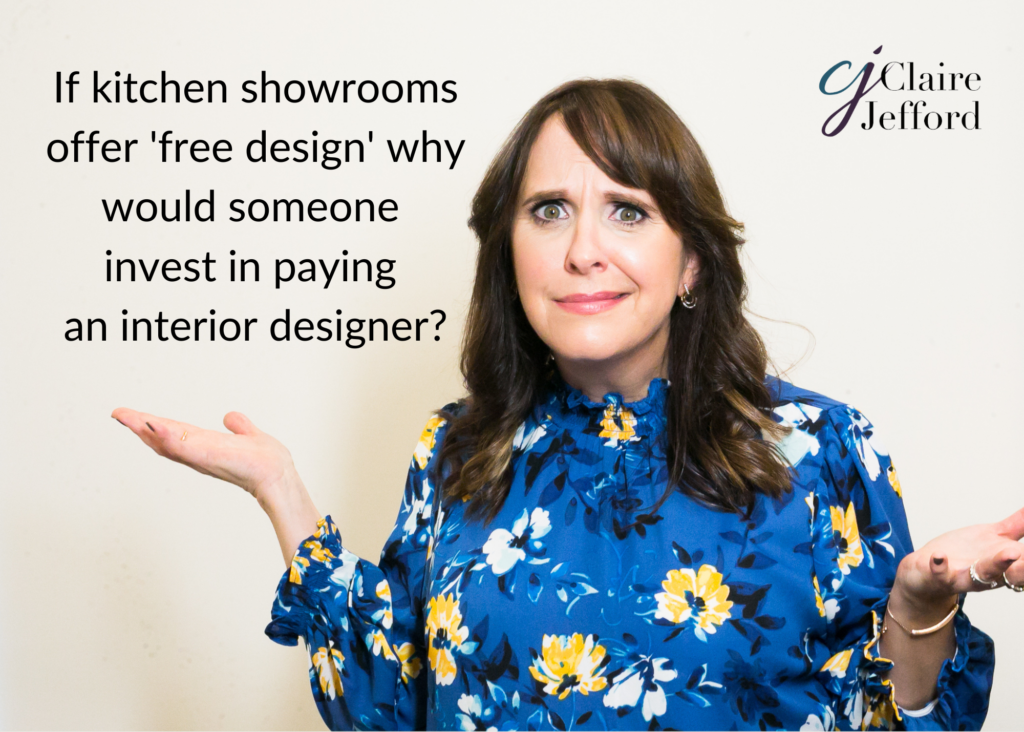 This question was asked in my private free Facebook group for interior designers, Interior Design Business Strategies.
If you've ever wondered what the best way to respond confidently to this type of question is, you'll want to read this post.
From what I understand and based on what I've been told by designers who work at Kitchen & Bath showrooms, they are hired to 'sell boxes'. Their goal is to sell as many boxes as they can, because that is where these showrooms make the most profit.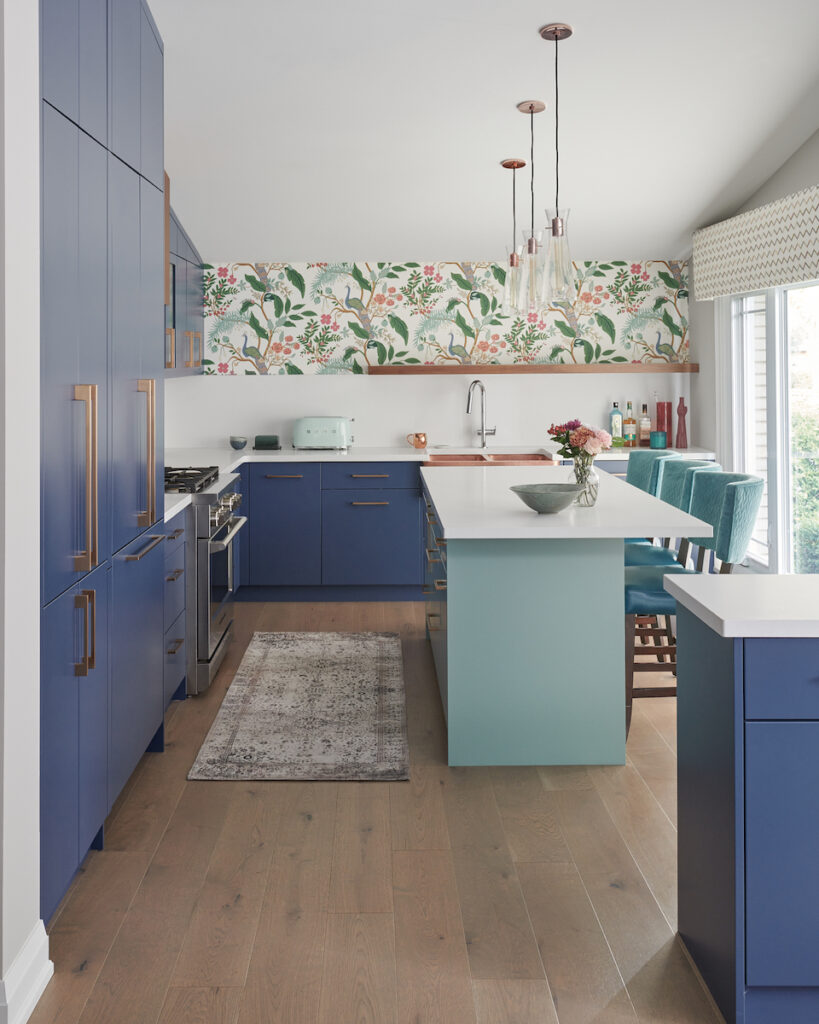 I always thought it was so bizarre when I would have clients hire me to help them select their kitchen finishes, even though they were working with a Kitchen company.
However, that's because many of those designers don't get paid for the designs, nor do they get paid to select finishes. They are paid based on cabinetry sales and only get their money after a kitchen has been installed.
So how can you confidently answer the question of 'Why hire an interior designer as opposed to a kitchen design company?' the next time a new lead or client asks this of you?

Read on, because in this post I'm sharing 4 ways that you can market this service and important details you should be discussing with potential clients to promote your kitchen design services.
1. The bigger picture
When we create main floor concept designs for clients, our professional advice is based on what we think would function best for the way they live.
We also take into consideration many other design elements when it comes to the overall aesthetic and character of the home to ensure there is not a disconnect and that there is a meaningful flow throughout.
Below is a kitchen rendering option that we designed for a client. And below that image is another 3D render of the great room that is open to the kitchen.
Not only does the blue and white colour scheme continue into the living space, but so do the soft wood tones we incorporated as well.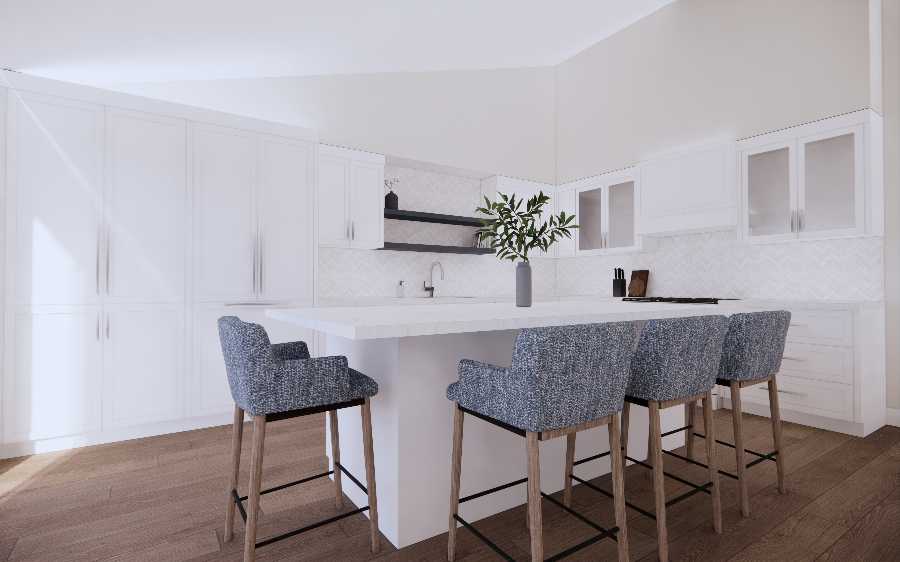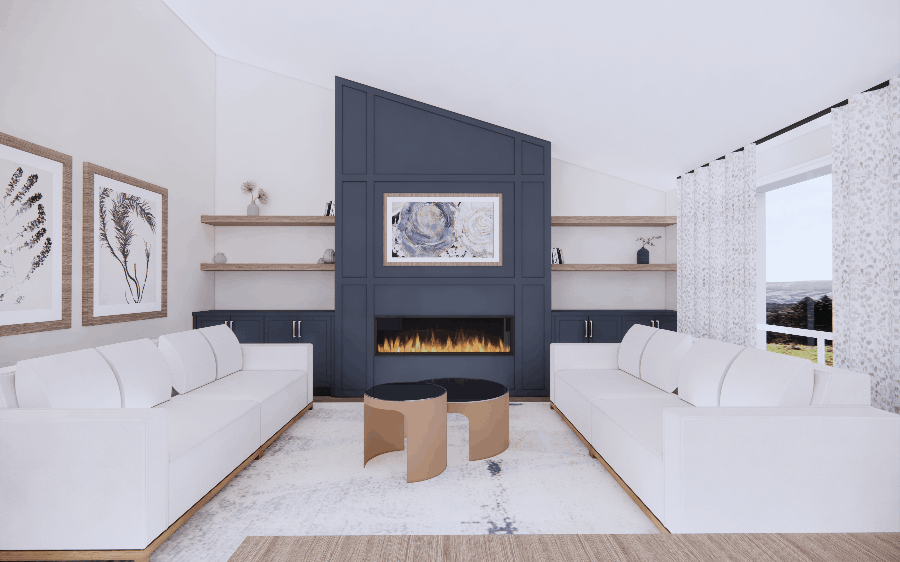 In my own home design, you'll see how I repeated the blue tone of the Benjamin Moore Kensington Blue kitchen cabinetry in the living room with the slightly textured blue wallpaper and custom swivel chairs.
You'll notice that the upholstered pink-coloured ottoman is also intentional, as this relates to the decorative details in the kitchen such as the wall plates, accent wallpaper by the floating shelf, and the window treatment. This repetition creates flow within the design.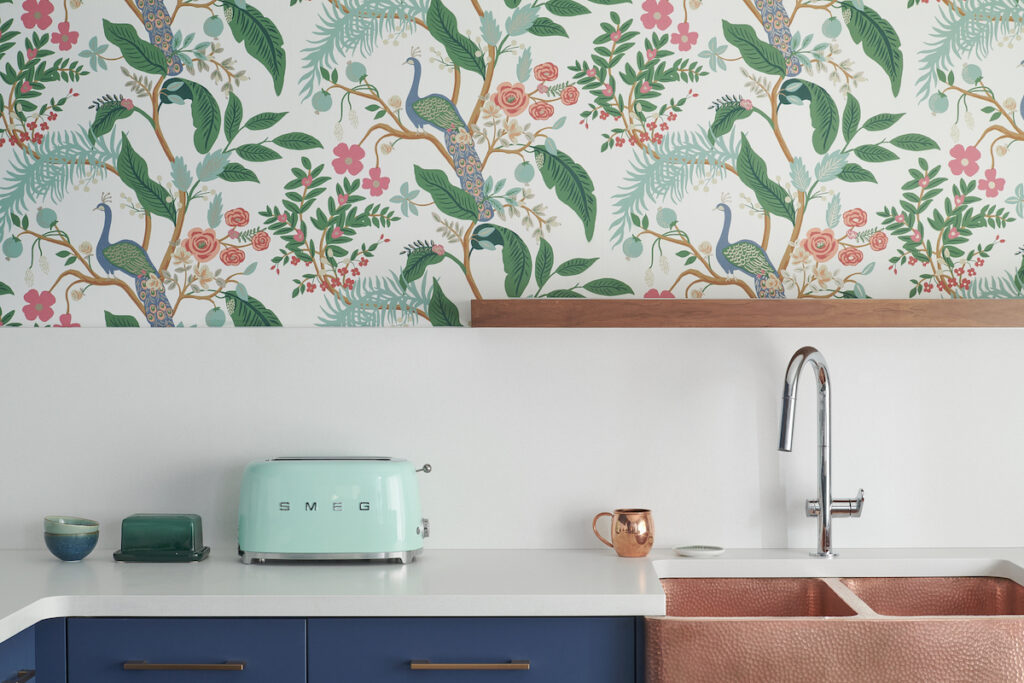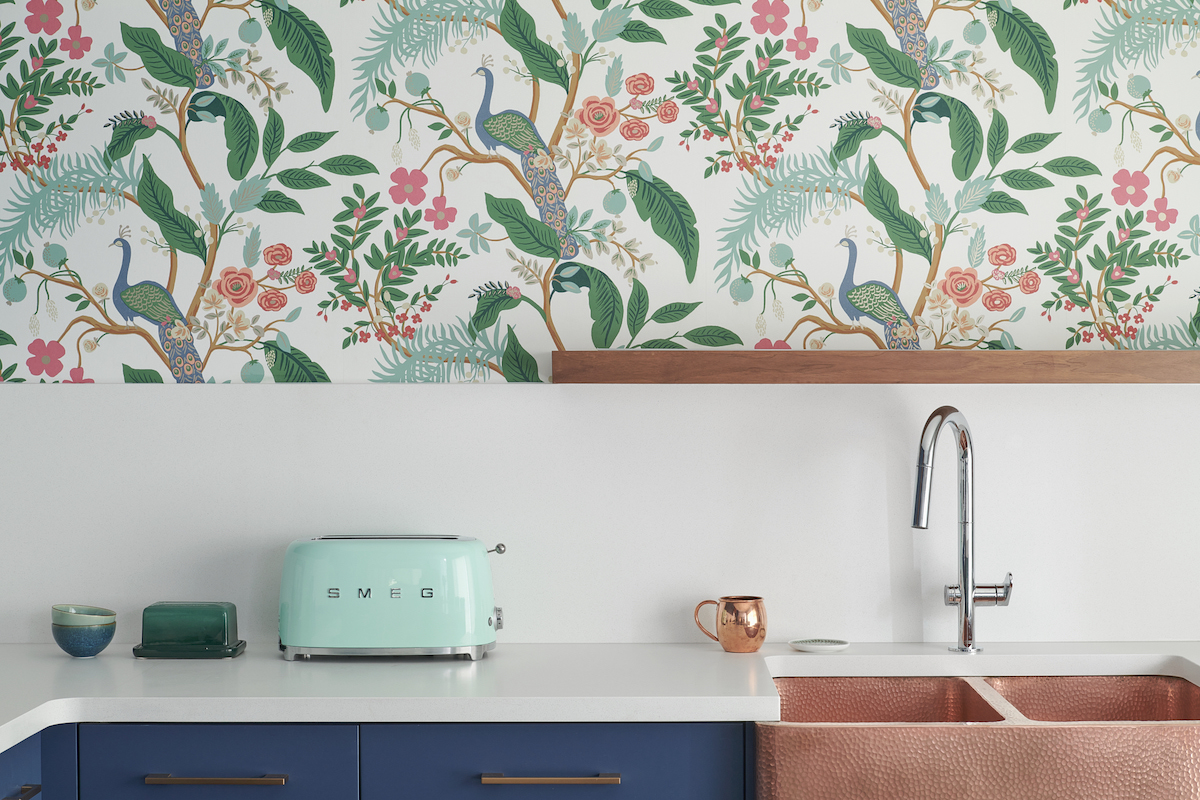 By the way, if you are still not feeling confident about how to market your design services to your clients and effectively communicate to them the value of your work, my comprehensive Rock the Initial Consultation process package will make you feel supported and in control of every step of the process.
2. Our cabinetry is custom
Although most of the general public thinks that they are, most cabinet lines sold by kitchen companies are typically standard sizes and often built off-site.
Our cabinets are 100% custom and my cabinet maker builds everything within his local shop just outside my hometown of Burlington, Ontario. We can easily integrate smart storage solutions and use every inch to maximize space as well as function.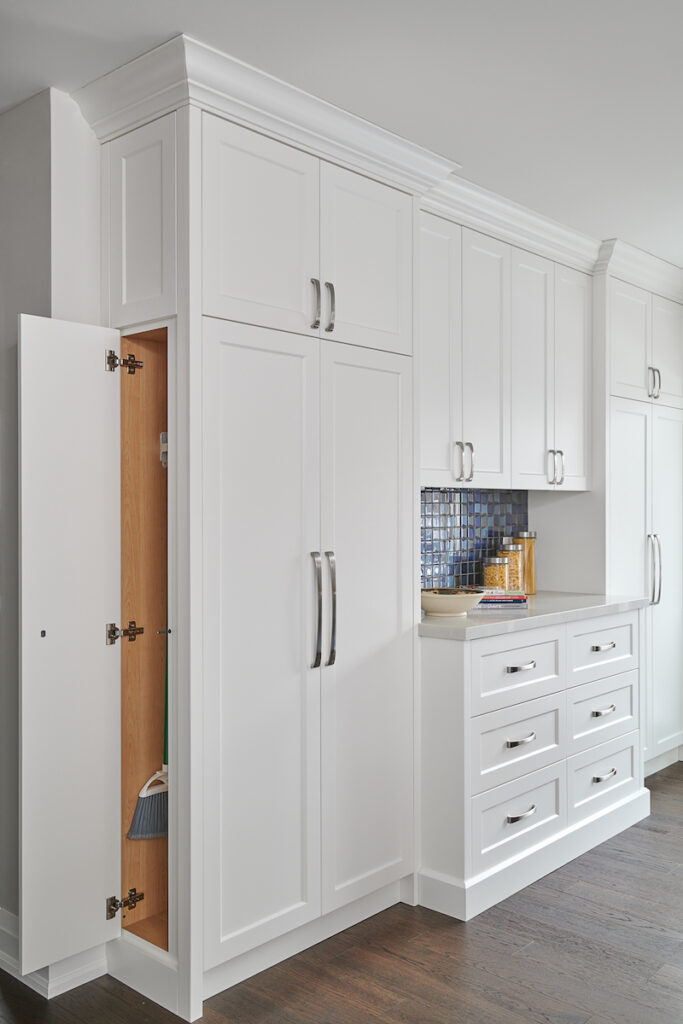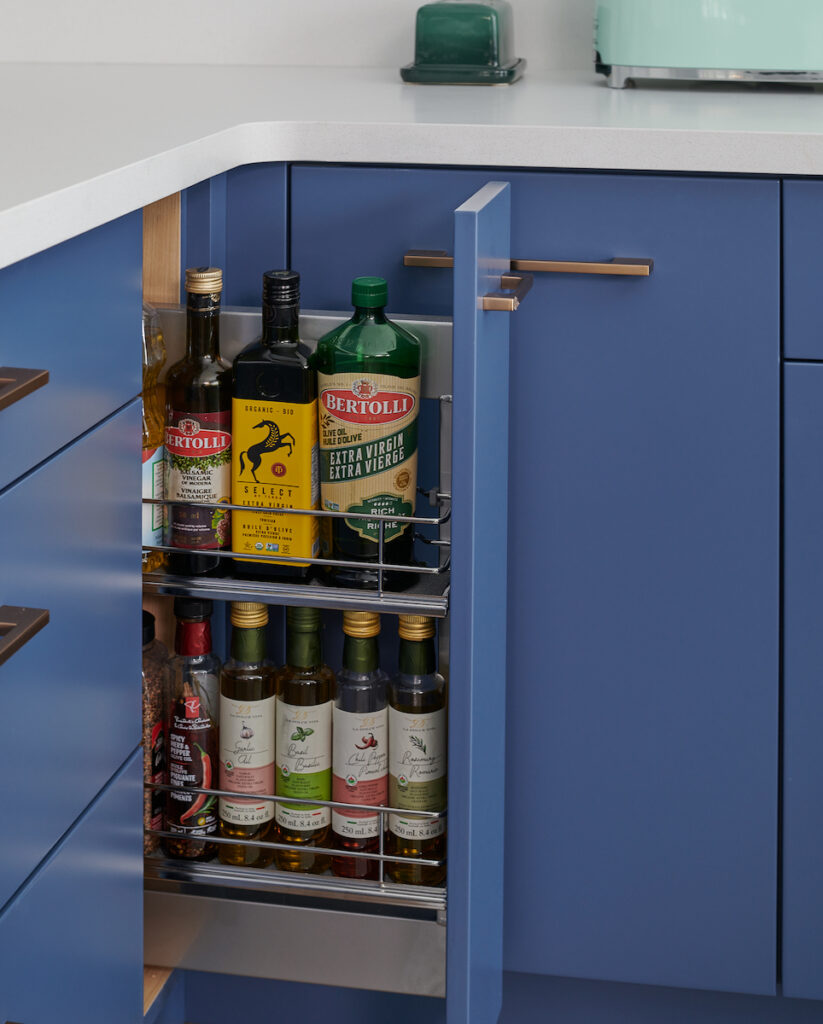 For smart kitchen storage solutions, take a look at my kitchen here.
3. I am not invested in 'selling boxes'
We create a vision with the best solutions for the client being top of mind.
We are not swayed by commissions on sales of cabinetry or countertops. Our GC manages the renovations and collects payment for everything except soft furnishings, while we bill for our professional interior design services.
So, the idea of 'a free' kitchen design from these showrooms, can come at a cost of compromising what is best for the client.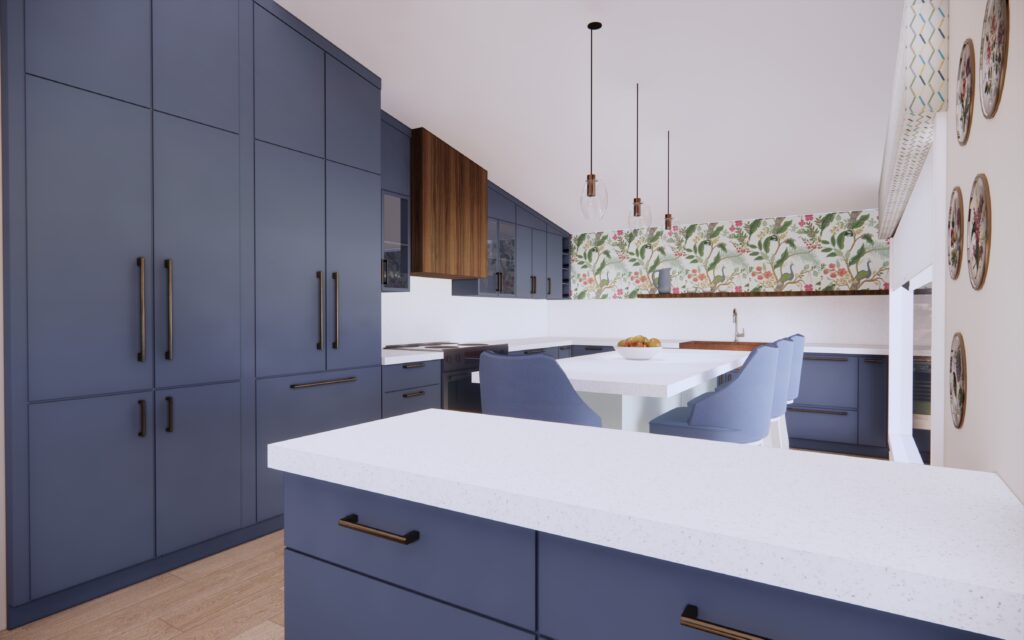 In addition, the drawings a homeowner receives from a Kitchen company will often only be basic and in black and white.
We, on the other hand, are selling a 'vision' and want to get our clients excited about their projects!
Often we will provide 2 options for layout where it makes sense to do so and can easily upload different finishes and cabinetry colours to convey the possibilities for their new space.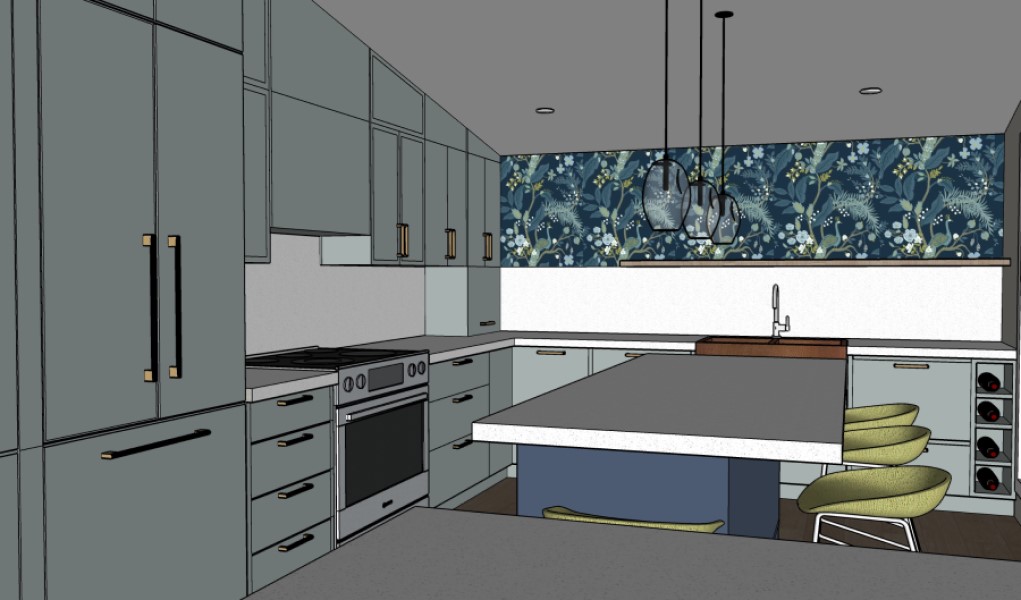 4. We can help select all the finishes
As an independent interior designer, you can get more involved in the project to ensure other finishes are specified for a cohesive design.
This means, we are a 'one-stop-shop' and can assist with other design elements such as counters, backsplash, cabinetry colours, and hardware, in addition to decorative elements like kitchen island stools, window treatments, lighting, and artwork.
We don't just create the layout design for the kitchen, we bring all of the design elements together beautifully.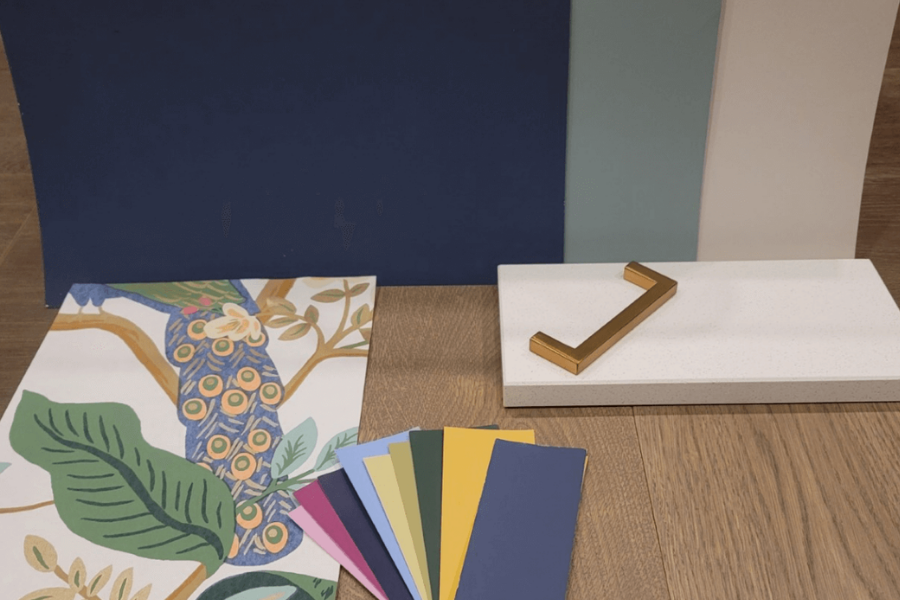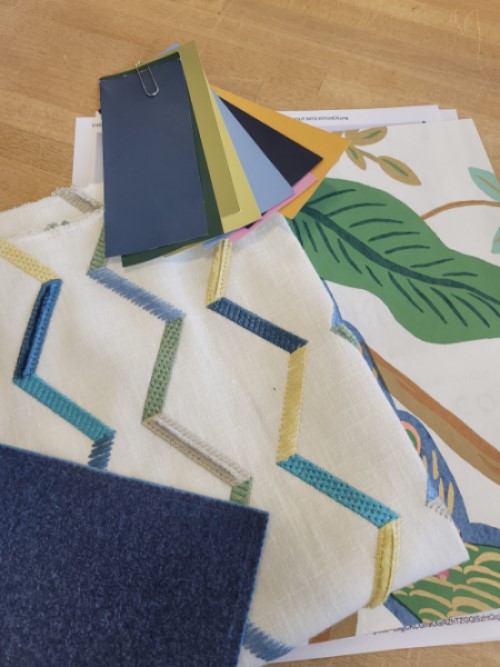 If you love hearing about the latest trends in kitchen and bath design, read this post from one of my trips to the Kitchen & Bath show in Las Vegas.
What about you? How do you sell clients on hiring your interior design firm over a showroom for kitchen design services?
For more helpful resources to push your business to the next level, see my shop page here.
My helpful resources will help you to get organized and gain more confidence in the way you run your interior design business!