Bungalow Home Renovation
Picking a Paint Colour?
Choose the right paint colour
the first time Let me show you how in just 5 easy steps!
BONUS: The Top 15 Shades of Gray by Benjamin Moore
We value your
privacy
. We will never share or sell your information.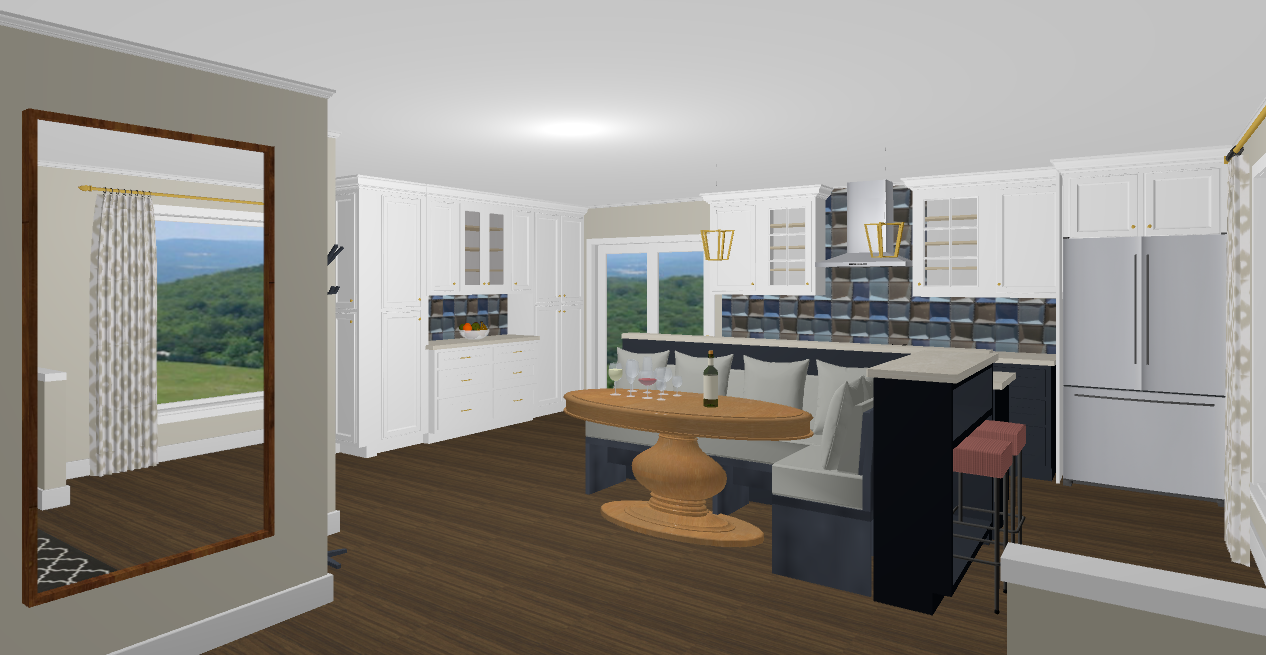 Love it or list it?
That is what my sister Karen and her husband Jason were contemplating a few years ago. They live in a sweet little bungalow in a mature neighbourhood in Burlington, Ontario and are just a 10-minute drive from my house.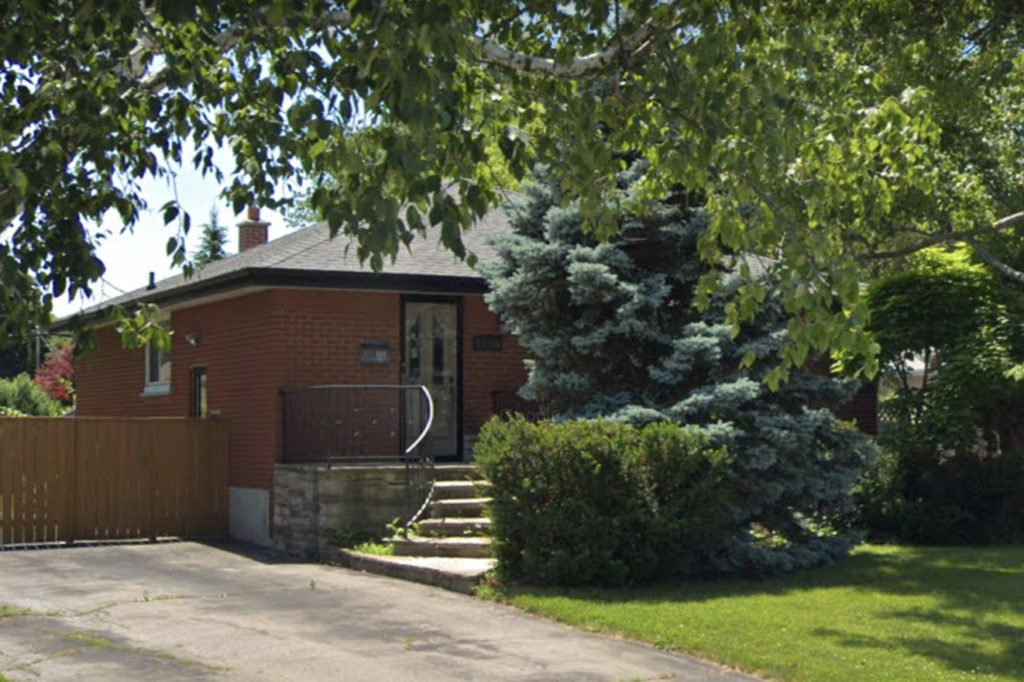 In nearly 10 years of living in their 3 bedroom bungalow, they had literally done no renovation work whatsoever. I mean, other than the roof being redone, everything else was pretty much untouched.
Now that may not seem so bad if the house had been renovated and updated at any point before they moved in, but it hadn't. So major work was needed if they chose to stay in this home.
Being in Interior Design, I advised my sister to renovate as opposed to move. The 3 main reasons that I knew this would be the best decision for them were:
1. Location. Location. Location.
Karen and Jason live in a nice neighbourhood in the town where we grew up. They have a large yard with plenty of privacy and distance between neighbours. That is hard to come by these days!
2. It's not cheap to move!
The commission for a realtor, moving costs and re-connection fees alone would have been somewhere between $20 – $30k. This is money that can be invested in their dream home.
3. Nothing was 'Move in Ready'
Every house they looked at on the market within their price range needed a lot of work. They were not interested in buying a brand new property, as that would have meant them having very little in terms of a backyard, plus new homes tend to be very close to each other which they also did not fancy.
(Maybe there is a 4th reason…because by staying where they are now, they would still be close to me!)
So, big sister listened to little sister and it was then my job to turn their current bungalow into their new dream home.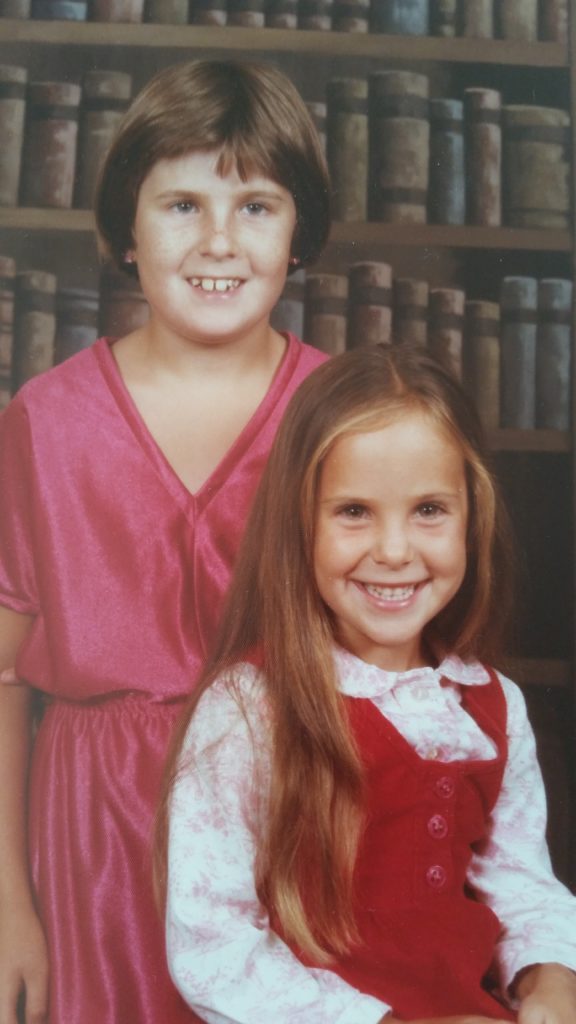 This video was filmed just before renovations started and 1.5 years after I created new interior design plans for them. The new plans involve a complete demo of the main floor, relocating every room with the exception of their bedroom and the front entry.
Take a look at 'Behind the Design' with me as I take you through my thought process and a tour of their Burlington bungalow, just before the demo.
The Bungalow Before
My sister and her husband do not have kids, nor do they want kids. The size of their 3 bedroom home was not the issue, the problem was that it did not function for their lifestyle.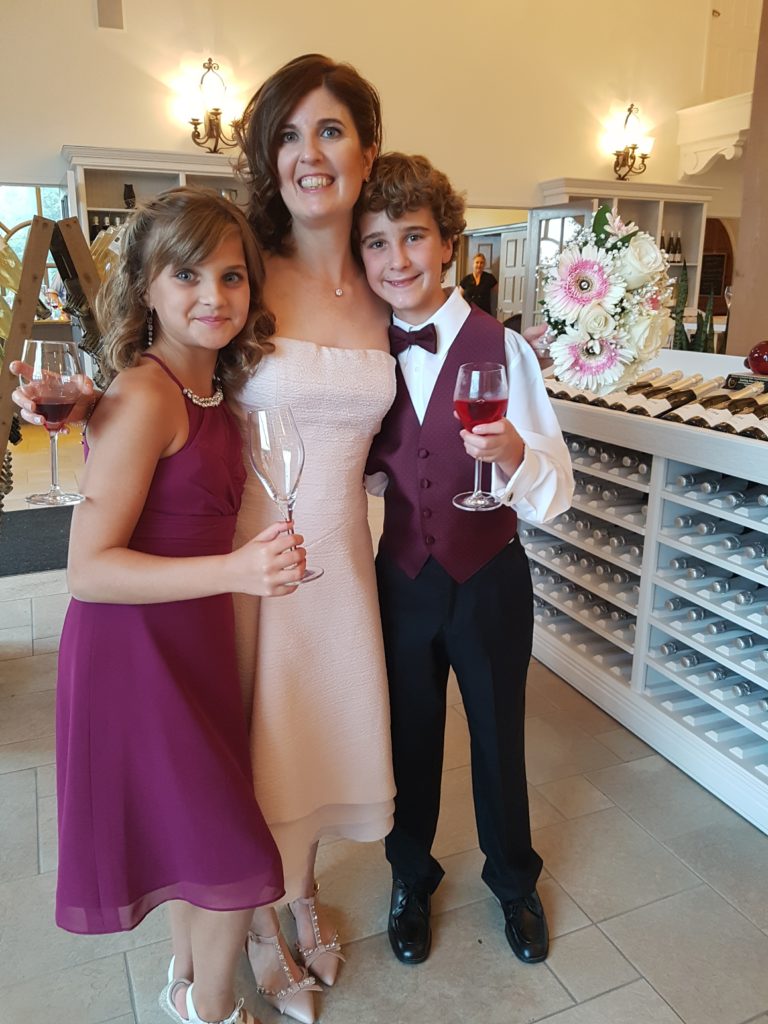 In the past few years, Karen and her husband Jason have become culinary enthusiasts. They enjoy trying new recipes as well as batching meals, both for work lunches and dinners. Their small kitchen was not designed for more than one person to be working in that area at the same time.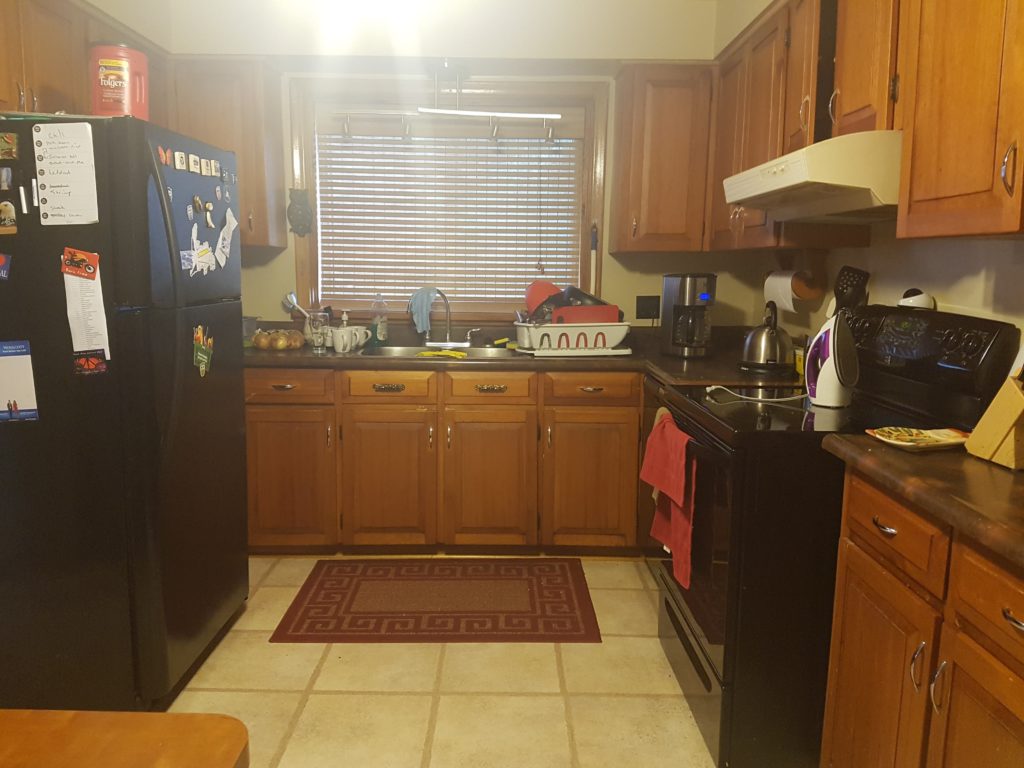 Below is a rendering of the new design that I did for them to make it a much more open and better functioning layout.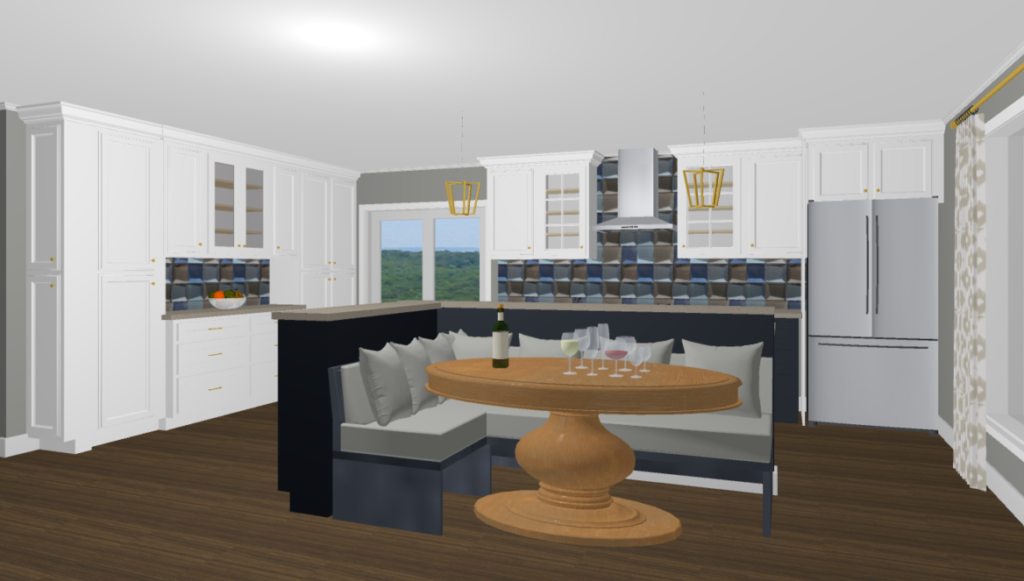 To say that my sister is super organized is an understatement. She is a bookkeeper who likes to schedule everything and fills out budgeting spreadsheets regularly.
Karen is also a shopaholic. Where I would much rather spend money on buying items for my house, Karen is obsessed with fashion.
Enter – the 'Girly Room'. As you can see from the before images below, my sister has A LOT of clothes, jewellery and fashion accessories.
Below is where you can see the patio doors that will be in a much more convenient place off of the kitchen. There is an old deck just outside which Karen and Jason will eventually update.
In the meantime, they will be able to use it for their barbecue which will make it way more functional than their current set-up of going through the other side door and around the back.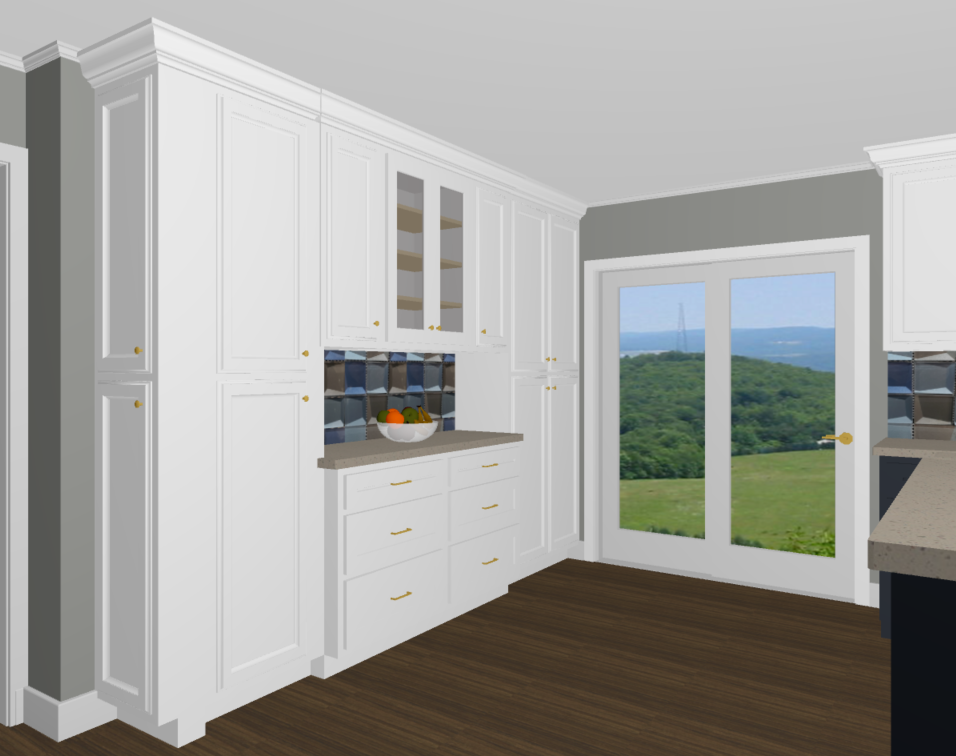 In the new design, this room below will no longer exist. I turned their 3 bedroom bungalow into a 2 bedroom home.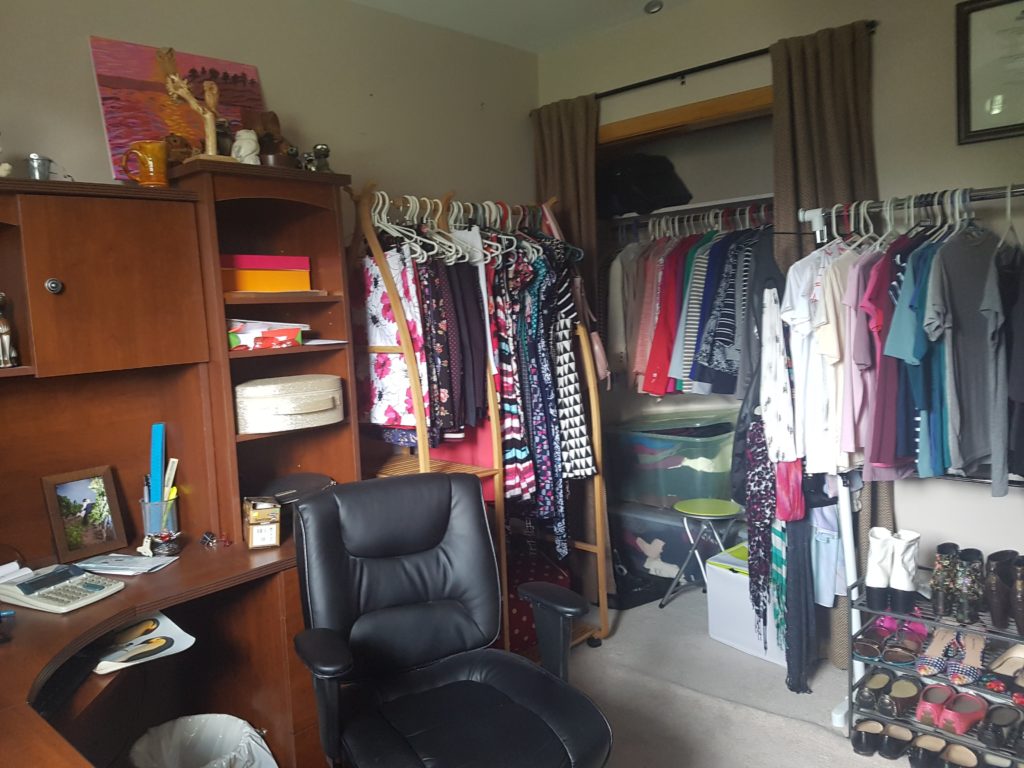 The 'Girly Room' is not going to be inexpensive. With all-new custom cabinetry, we will maximize the space and ensure it can function for my sisters' ever-growing wardrobe.
The corner cabinet that you see on the right is going to house a spinning shoe rack that will hold 50 pairs of shoes. Fifty pairs!! I am lucky if I have 10! LOL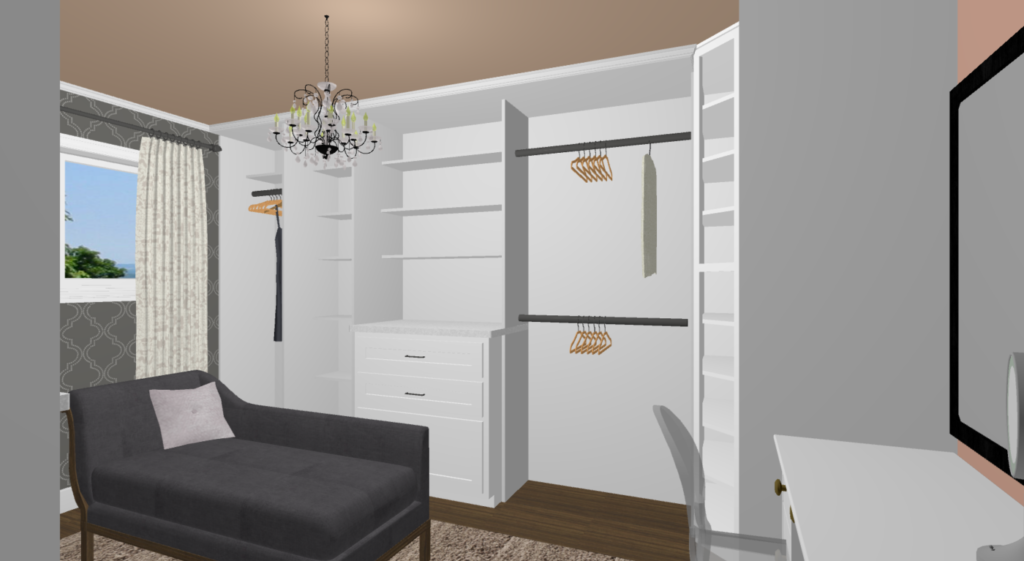 Here you can see the overall layout of their new bungalow design.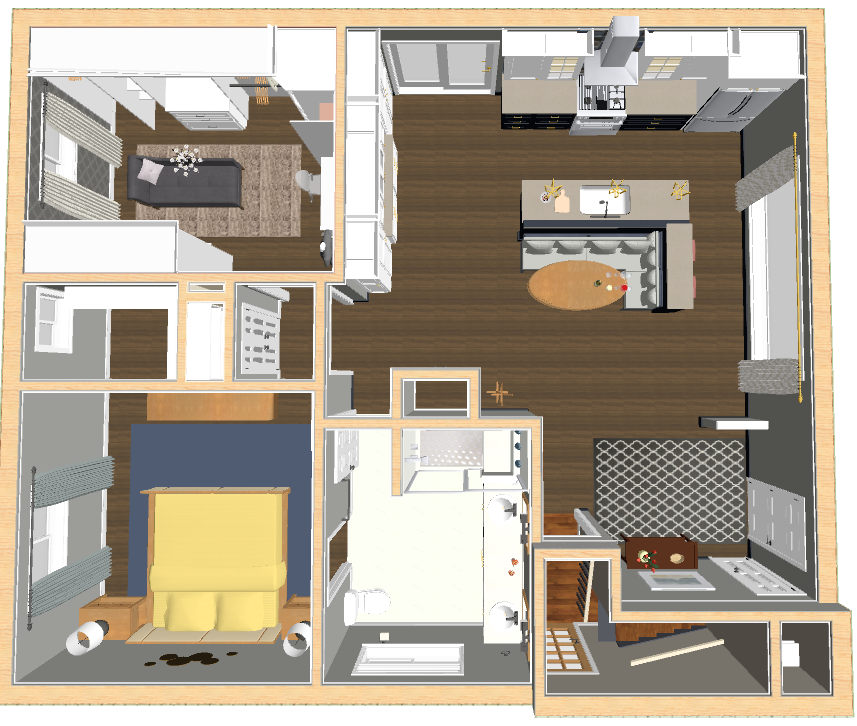 We have made some tweaks along the way which is not unusual when designing a space.
One of the changes included an addition to the banquette. We redesigned it to be an 'L' shape because it looked more finished and provided extra seating at the table, as well as a couple of stools by the window.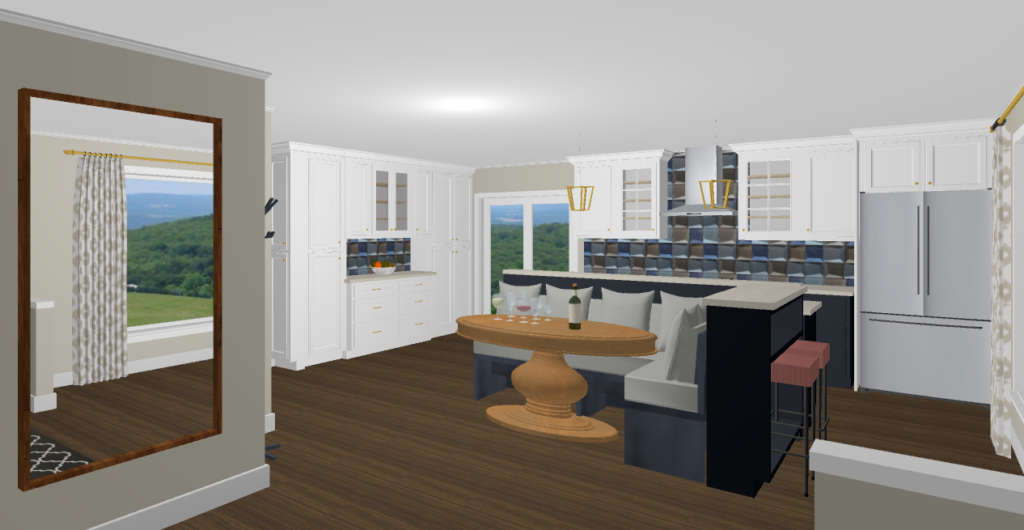 Here is their banquette before. Ugh, I've always hated it. If you think it looks uncomfortable, I can tell you that it absolutely was not a pleasure to sit here for long periods of time.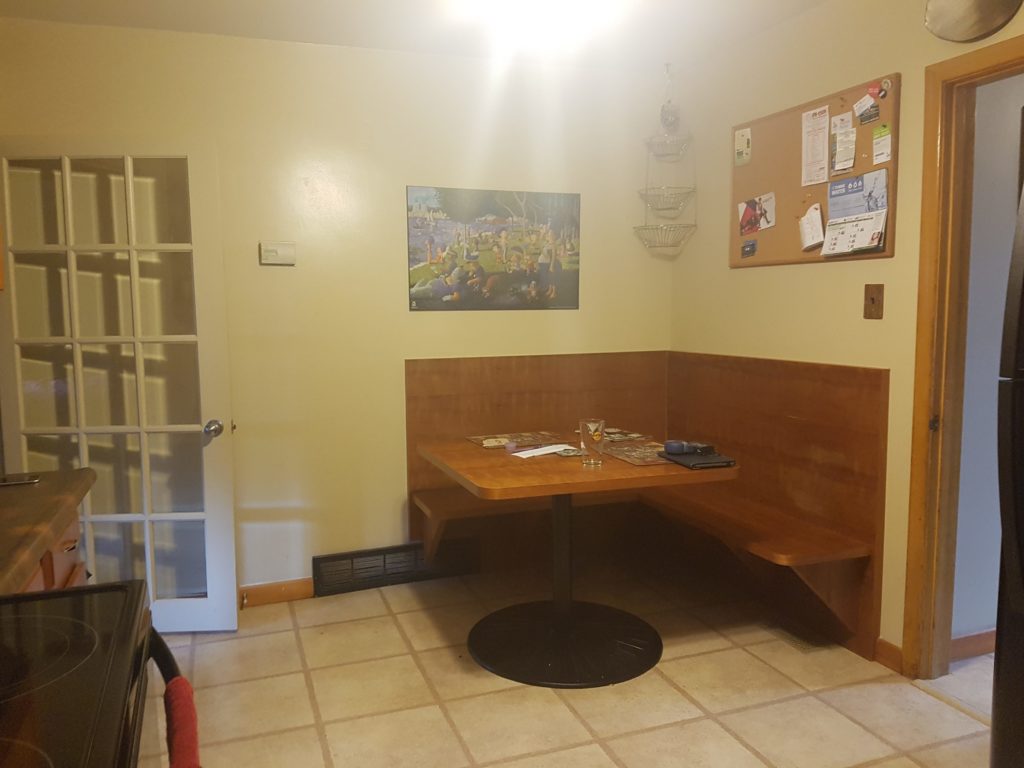 When you have a cosy seating area that brings in soft furnishings and colour, it makes all the difference.
Here's an example of a clients banquette that I brought to life with a faux leather custom bench seat, lots of accent pillows and pleated window treatment for their Hamilton home. See more of this client project in my Interior Design Portfolio.
I hope you will follow along with my sister and her husband's Bungalow renovation series, there is more to come as we progress with the renovations.
Psst! Love Colour? Take my new colour quiz to determine which colour palette suits you best!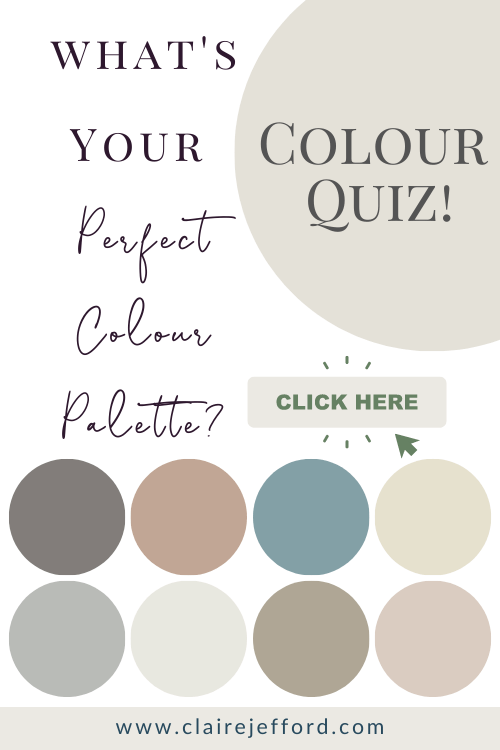 Remember, it only takes one mistake to take your home decorating project from divine to disaster. Don't let the paint be what stresses you out!
Convenience at your fingertips
Choosing Paint Colours
If you struggle with choosing paint colours, be sure to check out my Perfect Colour Palettes.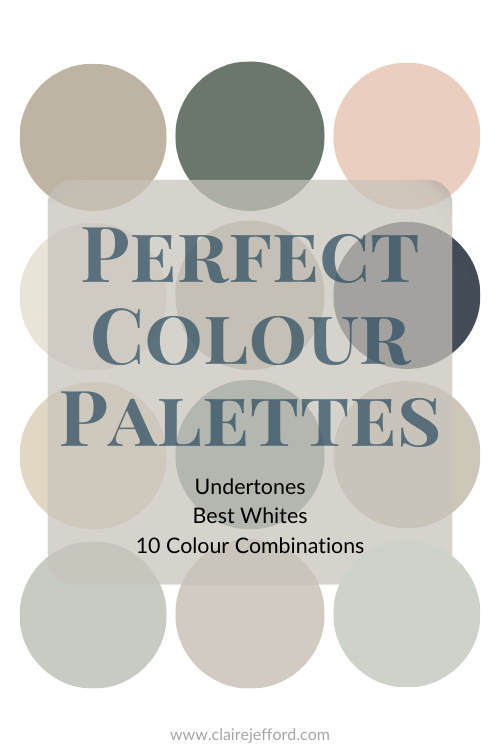 I now have 40 individual guides to help inspire you.
Collections
I also offer collections that showcase a group of 10 similar colours from Benjamin Moore,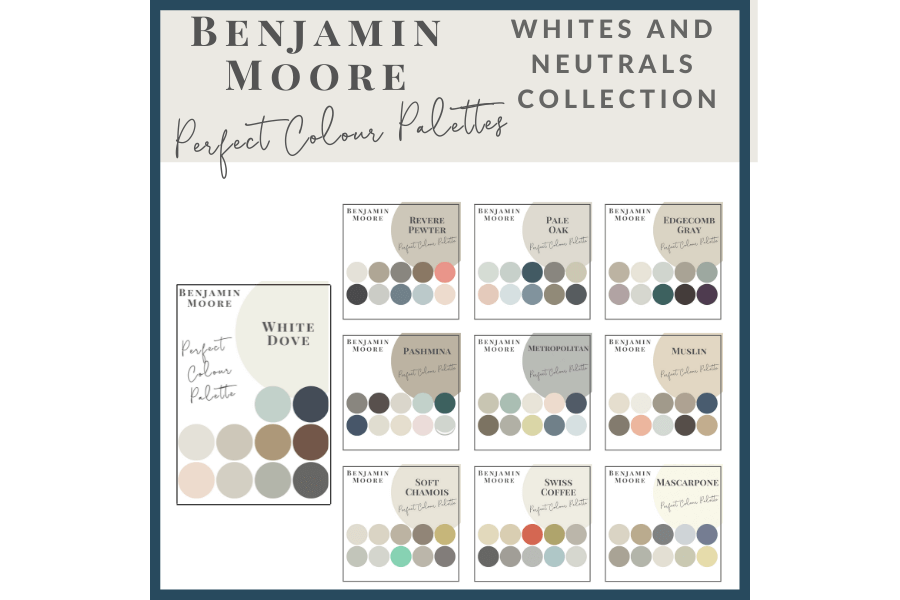 Farrow & Ball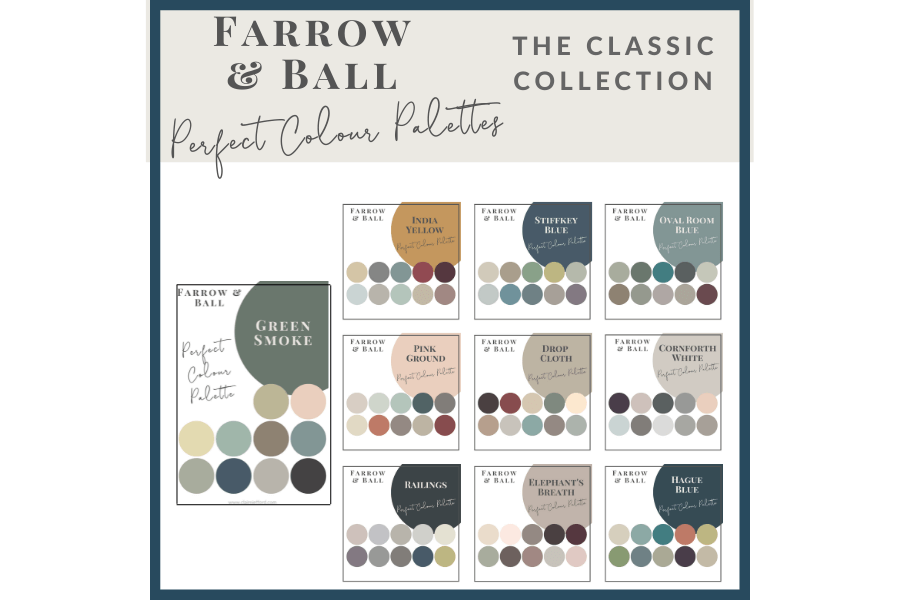 and my newest addition, Sherwin Williams.