6 Reasons You Need a Contract
For Designers!
Design Services and Rates Guide A FREE Resource for Your Interior Design Business
We value your
privacy
. We will never share or sell your information.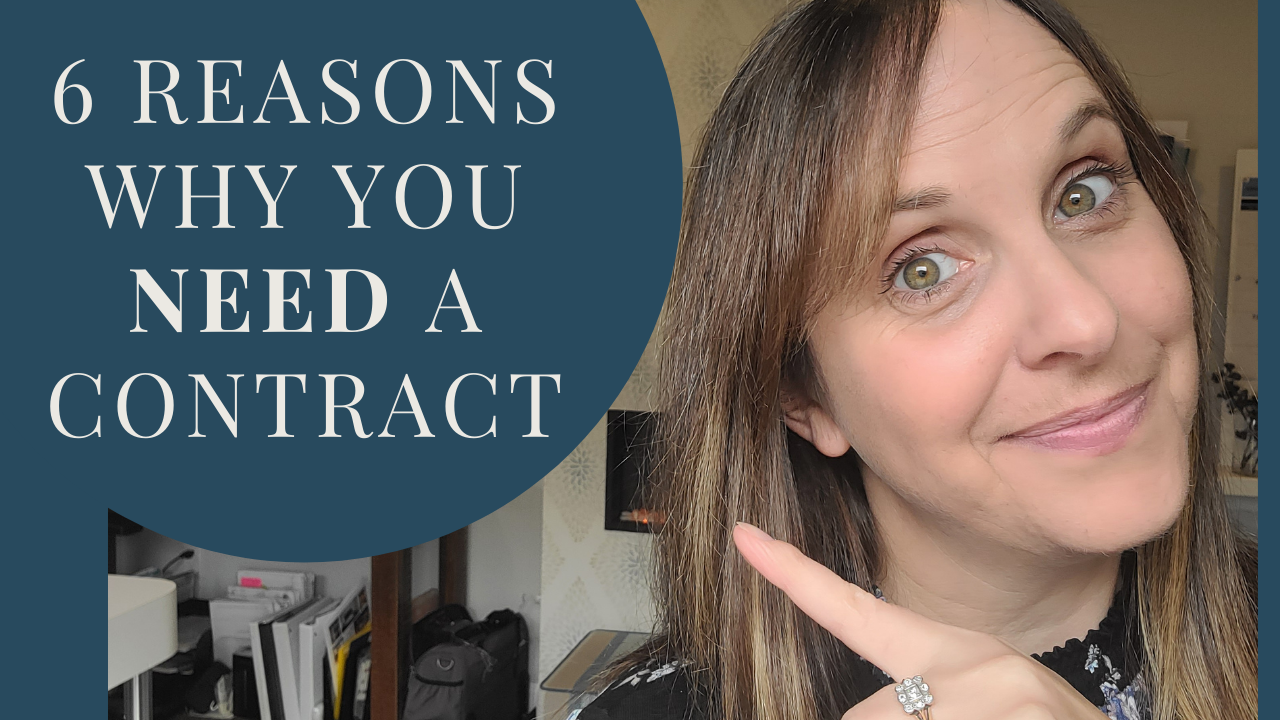 Interior design contracts are essential for your business. Before you start any interior design or decorating project with a client, you must have a signed contract in place.
During my 10 years as a professional, award-winning interior decorator, I have learned the importance of having a signed contract and reviewing it with the client before embarking on any type of new project.
Today, I am sharing with you my top 6 Reasons Why You Need a Contract. Check out the video below for all the details.
6 Reasons Why You Need a Contract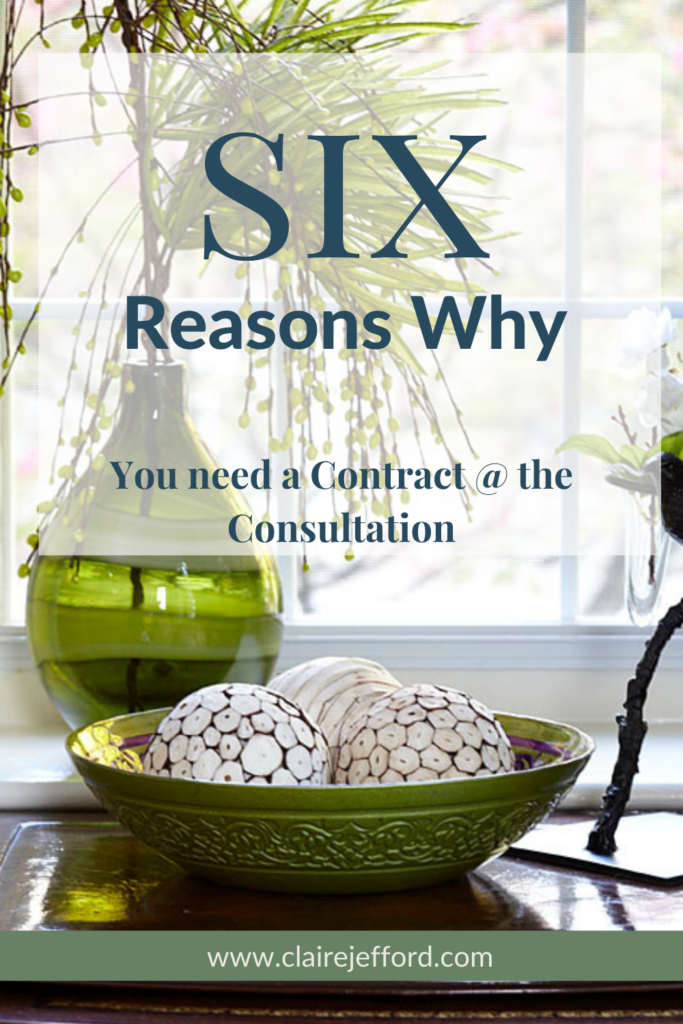 1. Shifts the mindset of the client
You want your client to be able to clearly distinguish that there is a difference between the initial consultation and the next level of interior design services, where they are entering a more formal working relationship with you.
We hear a lot about mindset these days and that's because it is so important for everyone to be fully on board and in the right frame of mind before moving forward with any type of interior design project.
From flat fee services such as Custom Design and Project Management projects to services billed by the hour in blocks of time like Designer for a Day or Designer by Your Side services, you must have a signed contract in hand and retainer payment before you begin working with clients.
They will respect you more for having a process for every step of the project.
Learn more about these different types of services listed above that we provide in our business and guidelines on what to charge.
2. Protects you & your client
An interior design contract outlines the way in which you work and helps to protect both you and your client. Yes, a contract and/or letter of agreement is also there to protect your client! Its purpose is such that you both fully understand the terms of your working agreement.
This is super important because although we understand how invaluable our interior design services are because we work on client projects every single day but we can't expect a client to know all of what we do and how our processes work.
There are many moving parts to each project, from the ordering and tracking of items to resolving various types of issues and overseeing the trades, various elements can arise that are out of our control.
That is why it's your responsibility to make sure your client fully understands how you work.
3. Sets the tone
Having a legally binding contract lets the clients know that you are a true professional when it comes to running an organized business with streamlined processes.
This comes back to adjusting the mindset of your client and setting up the proper framework for working together. When your client understands that you follow specific steps in your process, they will be more confident in the working relationship you are building with them and in your abilities to manage their project.
4. Open communication
Isn't it nice when you hire someone to do a service for you and the way that they communicate with you is clear and open right from the the start?
Reviewing your contract in person with your client shows that you are a believer in communicating your processes effectively and that you don't avoid difficult conversations.
It demonstrates that communication is important to you and that they can speak openly to you if they have an issue moving forward, knowing that you will confidently handle whatever comes your way during the course of the project.
Claire-ity Tip: Get a signed contract, even when working with friends and family!

If your friends and family respect what you do, this will not be an issue. Don't stray because you know someone well. Stick to your processes.
5. Helps manage client expectations
If you know me, you know that I'm huge on managing client's expectations!
When I coach designers one on one and we dive deep into a challenging situation that they are dealing with on a client project, we can almost always trace it back to something that was skipped over or a mistake that was made at the beginning of the working relationship.
We know that not everything goes as planned during a design project and that there will be hiccups, but your client likely does not.
Having a comprehensive contract as your interior design partner helps you to explain the entire process, including some of the problems that may arise and MOST IMPORTANTLY – how you will manage and resolve any issue so that you minimize shock or disappointment down the road.
6. Allows for open discussions
I encourage you to see reviewing your contract with the client at the consultation as an opportunity. It's not meant to scare, intimidate or pressure anybody. It's YOUR chance to have an open discussion so that they know what it looks like to work with your interior design firm.
I don't say to the clients: "We have a contract that must be signed before we start."
Instead, I let them know that I have an Agreement to go over with them and this will allow them the opportunity to ask me any questions about the service and how we work.
The way in which we approach this puts the client at ease and they respect that we are open with them and that we have nothing to hide.
I am more than happy to go into detail in each section so that they can make well-informed decisions and have complete confidence in the way we work.
We always bring our Contract Templates with detailed Service Outlines for each of our services with us to every initial consultation meeting. It is not uncommon for us to leave that first meeting with a signed contract and retainer in hand. It is possible!
If you are still looking at me with a side-eye, take a look at what one of my coaching clients had to say in a testimonial after investing and implementing strategies from my ROCK the Consultation Processes package and utilizing my Contract Bundle.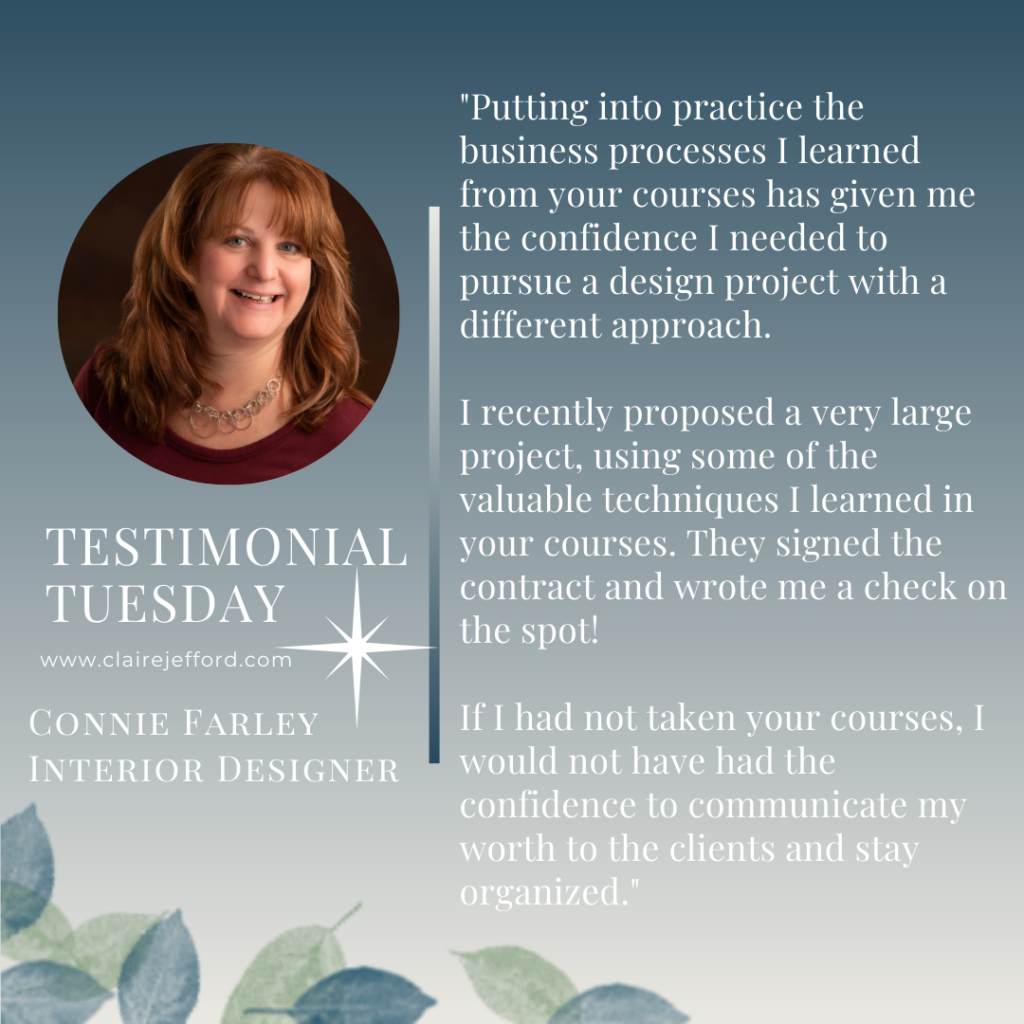 Even if you don't end up converting a client to further services past the initial consultation meeting, coming fully prepared to this first appointment is something I highly recommend.
Need Contracts?
CONTRACT TEMPLATES WITH SERVICE OUTLINE POWERPOINTS
Don't need the bundle? Pick one:
Custom Design and Project Management Contract Template
Designer by Your Side Contract Template
Designer For a Day Contract Template
Pin for Easy Reference!