How to Prepare for the Initial Design Consultation
For Designers!
Design Services and Rates Guide A FREE Resource for Your Interior Design Business
We value your
privacy
. We will never share or sell your information.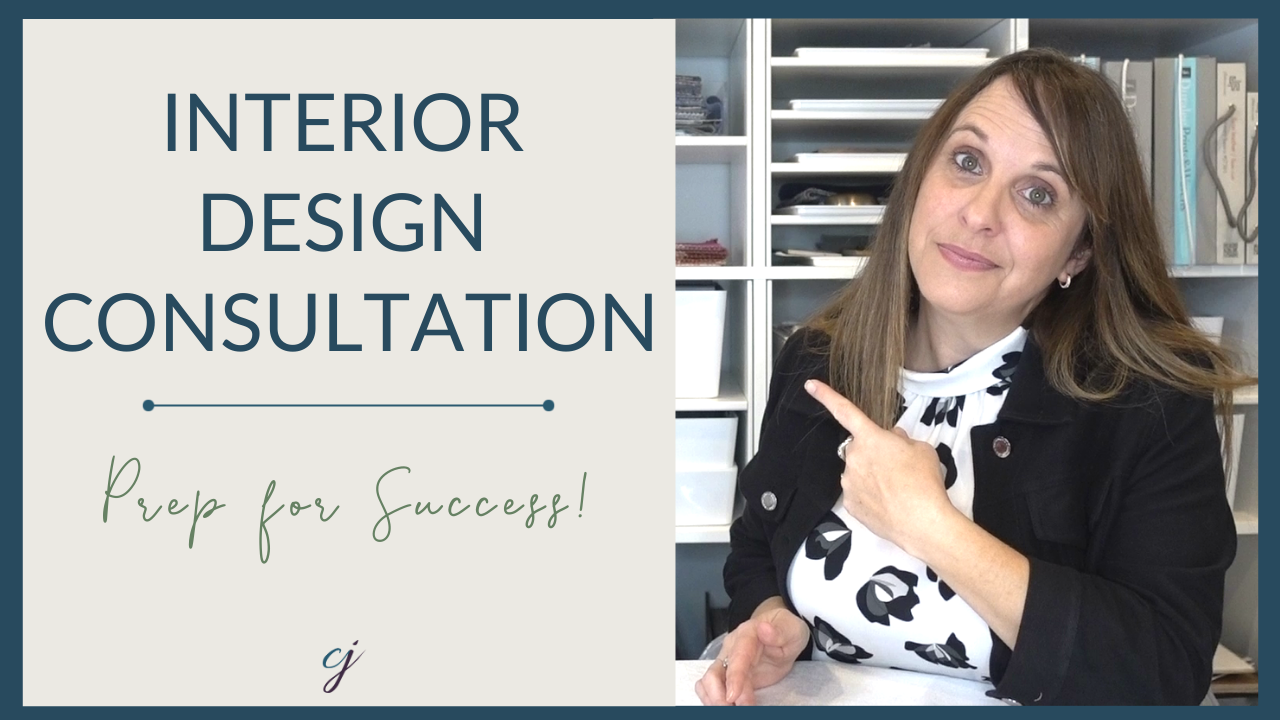 Do you feel 100% prepared when you show up at a prospective client's door for that all important initial design consultation?
If you are not organized or exactly sure how to prepare then keep reading and watch my video because today I'm sharing proven strategies on 'How to Prepare for the Initial Design Consultation'
I have over 100 reviews from happy clients, and now charge $800 for my initial two-hour consultation meeting. I have learned so much over the years that now I am fully prepared every time to ROCK The Consultation.
How to Prepare for the Initial Design Consultation
1. Bring a client folder
I bring a client folder with me to every consultation meeting. These folders are customized with my fonts, logo, brand colours, and professional images of my interior design projects from my extensive portfolio.
The folders are printed at a local print shop and in each folder I include:
Business Card
It may seem old-fashioned but I still use a business card and think it's a nice professional touch to leave one with every client I meet.
Welcome Letter
I've created a one-page welcome letter that describes how my services work and the value I will bring to their project. This is called a 'Benefits of Services' document and is included as just one of the more than 15 downloads in my ROCK the consultation processes package.
I also have a Welcome Packet template I created in Canva that you can use and download for free here.
Completed Questionnaire
When a consultation is confirmed in our calendar, we have them complete our questionnaire so that we can find out more about their upcoming interior decorating project or renovation. This helps us get to know our new clients and understand what type of interior design help they are looking for from us.
I read through the clients' responses, highlighting specific areas that stand out as most important, and may also take a few notes so that I have a good working knowledge of who the client is and what their design goals are.
New Client Checklist
We create this checklist as soon as we have booked a client in for an interior design initial consultation meeting. It helps us keep track of where we are in our onboarding process with each client. I add it in my client folder for my own use, to make sure I cover everything leading up to and after the consultation.
This is another one of my many checklists that you will find in my ROCK THE CONSULTATION processes package.
The branded folder with my business card and Benefit of Services welcome letter is left with the client, except for my client checklist which I place in my own client folder.
2. Be Professional & Punctual
It seems a no-brainer, but these are key components to building a successful working relationship with clients.
In regards to your appearance, dress comfortably and smart. That's going to look a bit different to everyone, depending on your personal style and brand.
I don't show up in stilettos and a sophisticated dress, as that is not reflective of me and who I am. I prefer more of a smart casual look. Be YOU and continue with your usual style of how you present yourself on your website and on social media.
ALWAYS be on time, even 5 minutes early is recommended. Some of my clients have said that they can set their watch by me and I like that! If you do find yourself running late to any scheduled client meeting, it's imperative to let the client know as soon as you can, with a quick call or text.
3. Bring your Services & Contracts binder
For every consultation meeting I go to, my hope is to be walking out with a signed contract and retainer payment unless I know beforehand that the meeting is just a one-off working consultation (which I actually love!).
I bring a binder with my Service Outlines in a PowerPoint format that includes further information, including the benefits, of each service that we provide. These documents include answers to FAQ's so we can easily manage client's expectations of timelines and estimated fees.
As the consultation moves along, I determine exactly what type of design service would best suit the client. With these helpful resources, I can confidently and easily explain how a particular service works. I flip open my binder and review it with them right then and there!
4. Bring examples of your work
How better to land a client then by showing them some of your previous work. Show it off, don't be shy! Being able to show a prospective client your portfolio goes a long way, as well as examples of previous presentations you've done.
You may find yourself mentioning mood boards during your consultation, but what if the client doesn't know what those are? Bring some with you or have a file saved on your tablet to show them some visuals and let them see how you can help them. Remember, we do this every day and understand the terminology and everything that is involved, but our new clients do not!
5. Bring your Contract Template
As a result of being super organized with all of our processes from the start, we're able to determine which of our services will be the best fit for the client based on the responses in our questionnaire and our discussions during the consult.
We bring our contract templates to the consultation, and it is not uncommon for a client to sign our contract and pay us a retainer in order to get their design project into our calendar. They have witnessed our professionalism, our organized and structured process, and as a result, they are ready to sign up with us. Yay!
Being prepared and organized for your initial consultation sets you up for great success and less pushback from clients.
In addition to these great tips for getting yourself prepared, take a look at my 5 Mistakes to Avoid at the initial consultation.
ROCK THE INITIAL CONSULTATION PROCESSES PACKAGE
CONTRACT TEMPLATES WITH SERVICE OUTLINES
Pin for Easy Reference!