Terms to Include in Your Contract
For Designers!
Design Services and Rates Guide A FREE Resource for Your Interior Design Business
We value your
privacy
. We will never share or sell your information.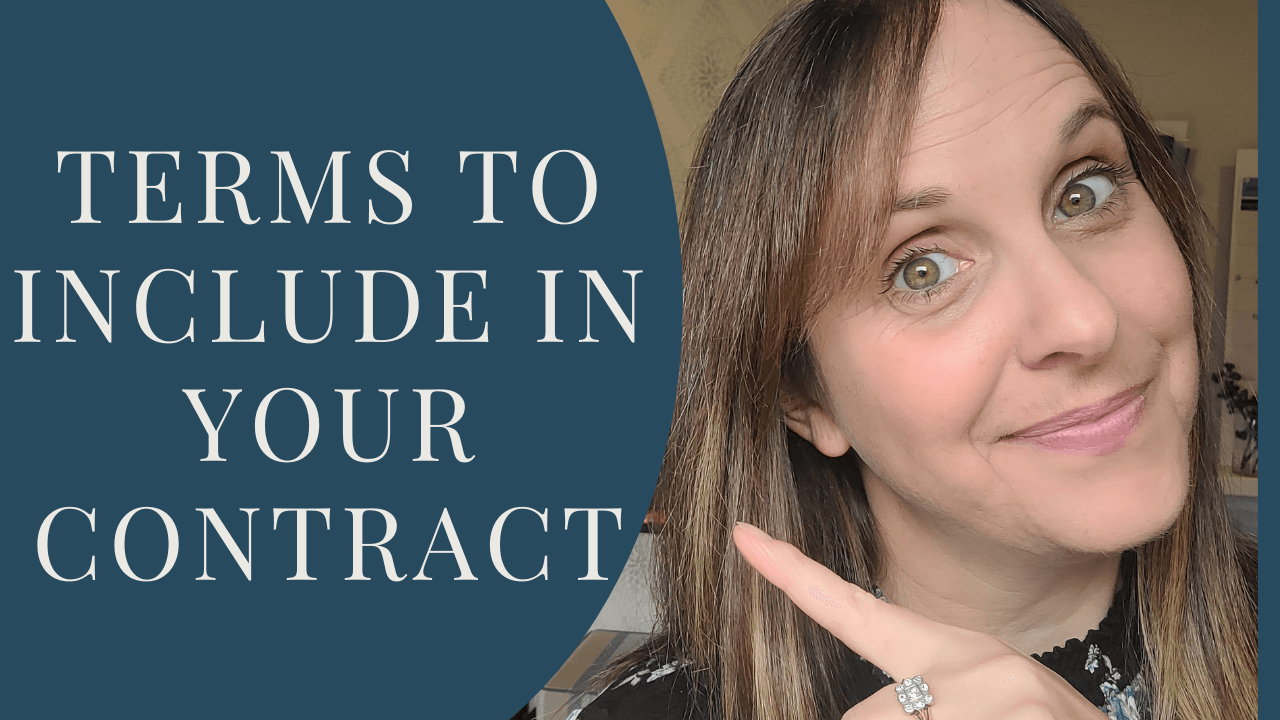 I've discussed the importance of having a signed contract before you start a new design or decorating project but you might be unsure of what that contract should contain in it. Today I outline key terms to include in your contract.
During my 10 years as a professional, award-winning interior decorator, I have created and changed the services I offer and the contracts that go along with those services.
Instead of starting from scratch as I did, I have created contract templates so you can hit the ground running in your Interior Design Business. You can edit these interior design contracts and use them when signing up new clients.
Each template comes with a service outline to assist you in explaining the specific service that the contract relates to. There is also a walk-through video showing you how to use the template.
A contract is a must to have at the consultation. It gives you an opportunity to review it with the client and get it signed before embarking on any type of new project.
So, it's imperative to have a contract with you at the consultation but what's in it? Watch the video to learn about the must-have elements to include in your contract.
This is an overview of just some of the terms you need in a contract for your interior design business. A contract is often quite a lengthy and detailed legal document. Some of my contracts are 4-5 pages long depending on which service they are referring to.
Whether you create your interior design contracts on your own or invest in my templates that are already done for you, you must consult with a lawyer in your local area and get them to review them very carefully. Also, make sure you go into greater detail for each of the terms that you include so that you properly cover yourself. I'm sharing an overview only in this post.
Terms to Include in Your Contract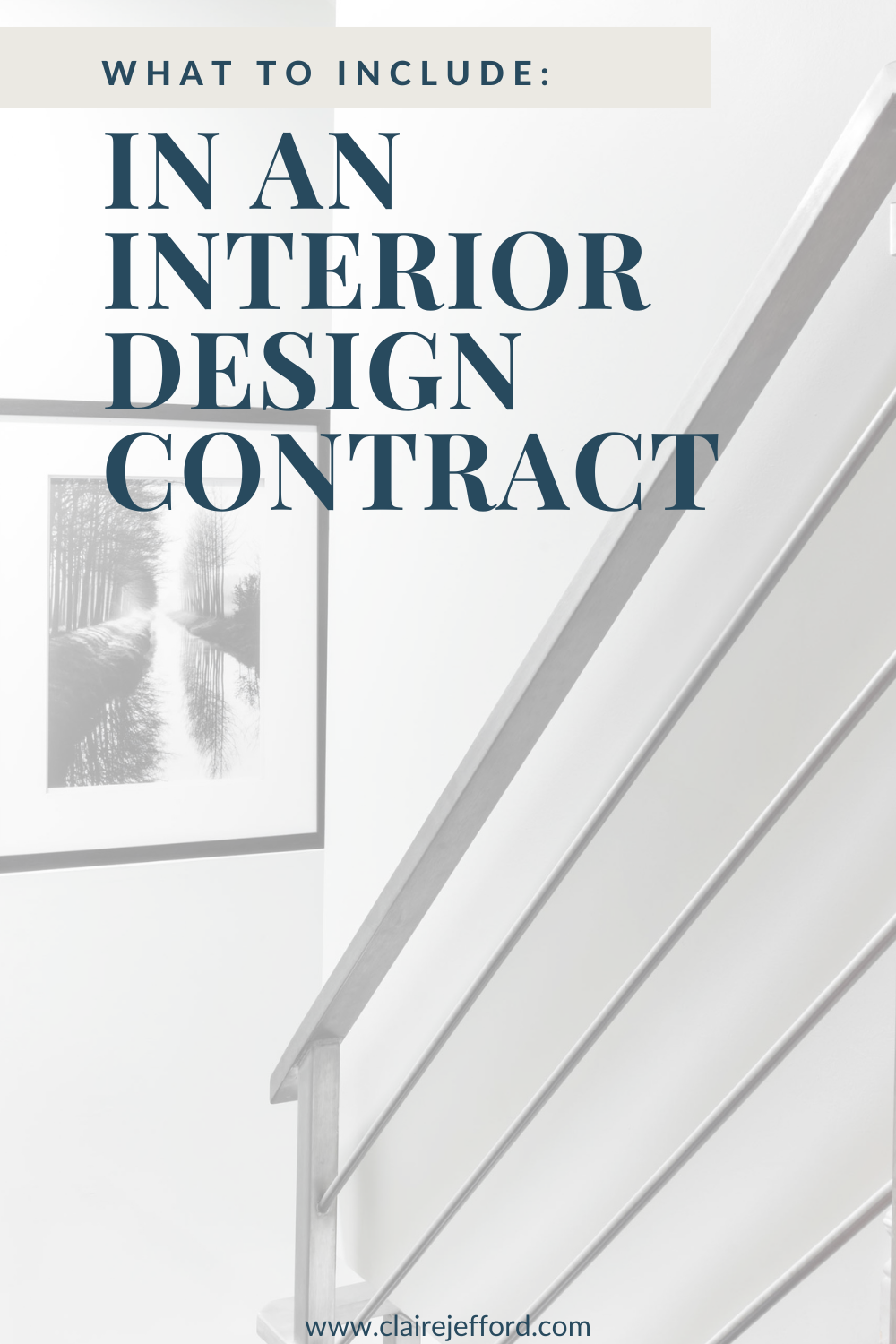 1. Deliverables
What exactly can a client expect from you? Deliverables are what you are providing the client with in terms of tangible services. This means floor plans, a list of product selections, mood boards, etc.
Let them know exactly what you're going to be including in your presentation and in the service that they are hiring you for. The more detailed you are here, the less possibility of issues arising as the project progresses.
2. Scope of project
It is critical that the areas of the house or if it's a commercial project, the spaces that you are responsible for, are very clearly defined. If you're hired solely for a kitchen renovation, all things pertaining to that room should be outlined in the contract.
You're familiar with the term 'scope creep', right? This is when additional requests are added by the client that were not listed in the initial scope of work. Before you know it, you could be designing and sourcing for areas of the home that were not identified at the start of the project.
Any space that you are working on needs to be covered in the contract.
3. Timelines
A third crucial element to include in your contract is timelines. Are you taking the project to the finish line? To that big exciting reveal? Or, are you working with a client for a limited number of specified hours?
Our Custom Design and Project Management service would have a much different timeline compared to our Designer by Your Side or Designer For a Day services.
The Custom Management service is a full service where we will do the design, order all products, oversee the trades, and arrange installations. For the other services, we work in specified blocks of time. These differing timelines must be clearly defined in your contract.
4. Fees & Fee Schedule
If you know me, you know that I never shy away from talking about the money. So, of course, your fees and your fee schedule need to be clearly laid out in the contract.
What are the fees for your services? What is the frequency of your billing? When are payments due?
We never chase our clients for outstanding invoices, we always take payment before any interior design or decorating work begins.
Unfortunately, so often in my private Facebook group for interior design professionals, we hear stories about designers who are chasing clients for money. It's a terrible feeling and is unnecessary when you have set your business up with organized processes.
This is NEVER AN ISSUE when you get paid upfront before you start working on a new project. More advice on this all-important topic can be found in a recent blog I posted about 5 Mistakes to Avoid at the Consultation.
Claire-ity Tip: Get a signed contract, even when working with friends and family!

If your friends and family respect what you do, this will not be an issue. Don't stray because you know someone well. Stick to your processes.
5. Terms for Non-Payment
Continuing on from #4 you need to make sure your contract stipulates terms for non-payment. These terms should also include what happens if payments are late.
We don't move forward with purchases of any products unless we have been paid 100%. This is clearly stated in our contracts so our clients are completely aware of the consequences of late or non-payments.
Ideally, you avoid this unpleasantness by being completely transparent with your payment terms at the consultation and reviewing details of how you work up front with your clients. We bring our contracts and more to our initial consultations so that we can have these open dialogues at the very beginning of the process.
6. Intellectual Property
In your design business if you state that your designs are your intellectual property and that your designs cannot be implemented without you, then you need to ensure this is outlined clearly in your contract. You also need to consider what legal action you will take and if you will actually enforce it, should you find out a client has taken your plans and implemented them on their own.
7. Backorders and Discontinued Products
As professionals interior designers and decorators who work in this industry daily, we are well aware of back orders or items being discontinued.
This can be a real issue! You need to have a clause in your legal agreement pertaining to how you handle this, should it arise during the design process. We let clients know that the swifter they are at making decisions and giving us approvals for product purchases, the more chance we have at minimizing delays.
If products become backordered or discontinued, will you re-source products at no charge? If you charge, what are your rates for doing so?
It is crucial that these scenarios are communicated with your client in the contract ahead of time.
8. Damaged Products
If a product that you have specified arrives and is damaged or is the wrong item altogether, who is responsible for rectifying this? This is not uncommon and happens way more often than it should as far as I'm concerned.
This is why you need your contract to cover details on how this situation will be handled and by whom.
It's possible that your terms for damaged products will differ depending on the type of service the client hired you for. For example, with our Designer For Day service, we are not responsible for products and we clearly state this in the contract.
However, for Custom Design projects, we typically oversee all deliveries and our role is detailed in this type of contract should problems occur with any item that we have ordered and received.
9. Managing the Trades
It is fairly likely when providing any type of interior design or decorating service that a tradesperson will be required to be on-site at some point during the project. Therefore, how you work with the trades, whether they are hired by you or by your client, needs to be one of the key elements that you include in your contract.
The way in which you establish the relationship with contractors and trades is key to how you include this clause in your interior design contract.
---
I have only touched on some of the key clauses that you need to include in your legal agreements. My contract templates are much more comprehensive and each one includes a walk-through video and editable PowerPoint to help you confidently market and sell your valuable interior design services.
Don't underestimate the importance of having solid contracts to protect both you and your clients. I highly recommend you review any agreement with your clients in person and collect a deposit for services at the same time. Good clients really appreciate when you present yourself as a business owner as confident and organized.
Need Contracts?
CONTRACT TEMPLATES WITH SERVICE OUTLINE POWERPOINTS
Don't need the bundle? Pick one:
Custom Design and Project Management Contract Template
Designer by Your Side Contract Template
Designer For a Day Contract Template
Pin for Easy Reference!