Kitchen Trends 2022
Picking a Paint Colour?
Choose the right paint colour
the first time Let me show you how in just 5 easy steps!
BONUS: The Top 15 Shades of Gray by Benjamin Moore
We value your
privacy
. We will never share or sell your information.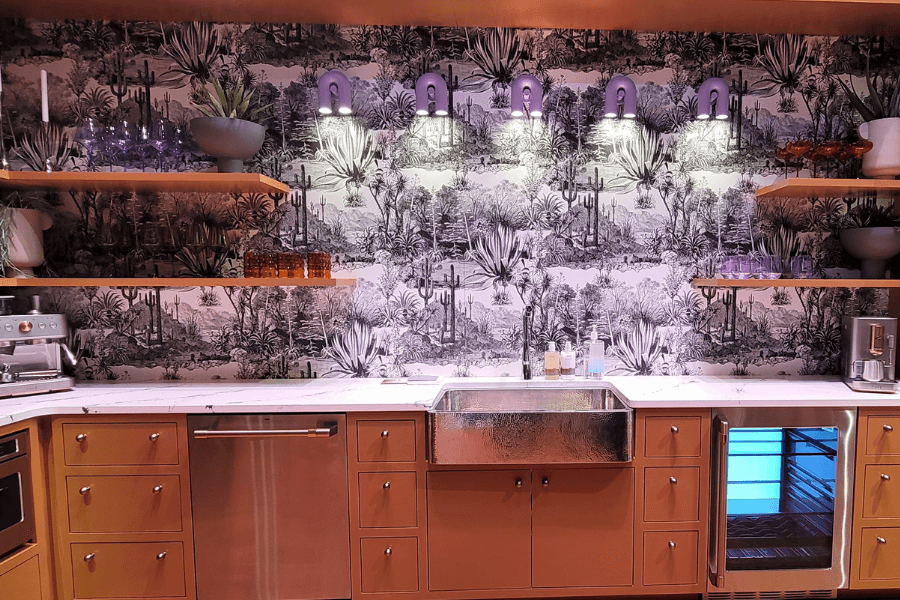 What a few days it was at the Kitchen and Bath Industry Show!
It's been nearly 2 years since I last travelled for work and KBIS 2022 did not disappoint.
Seeing the exquisite displays on the showroom floor and also getting an invitation to the New American Home, was just what I needed to refuel my inspiration for upcoming interior design projects.
In this post, I share some of the best new products and displays from the show, plus, stick around to the end of the post where I show you THE MOST RIDICULOUS DESIGN DETAIL that I saw.
What was popular at KBIS 2022
Black and White
Black cabinetry, black toilets, black and white wallpaper, as well as bold contrasting patterns in tiles and fabrics were all on show at both KBIS and in the New American Home.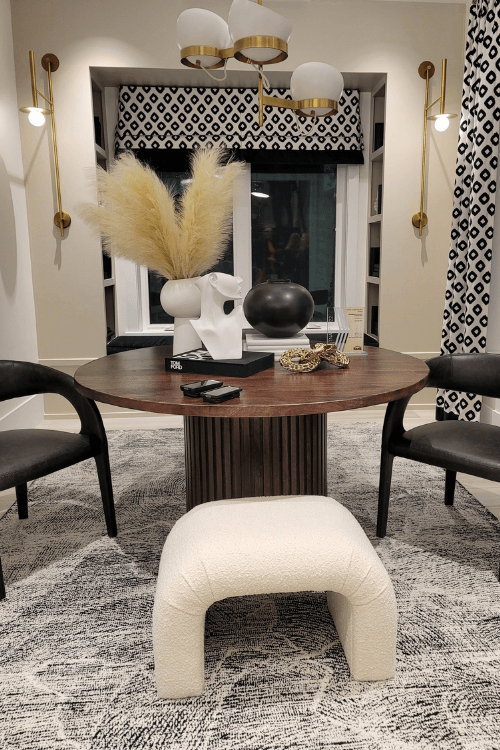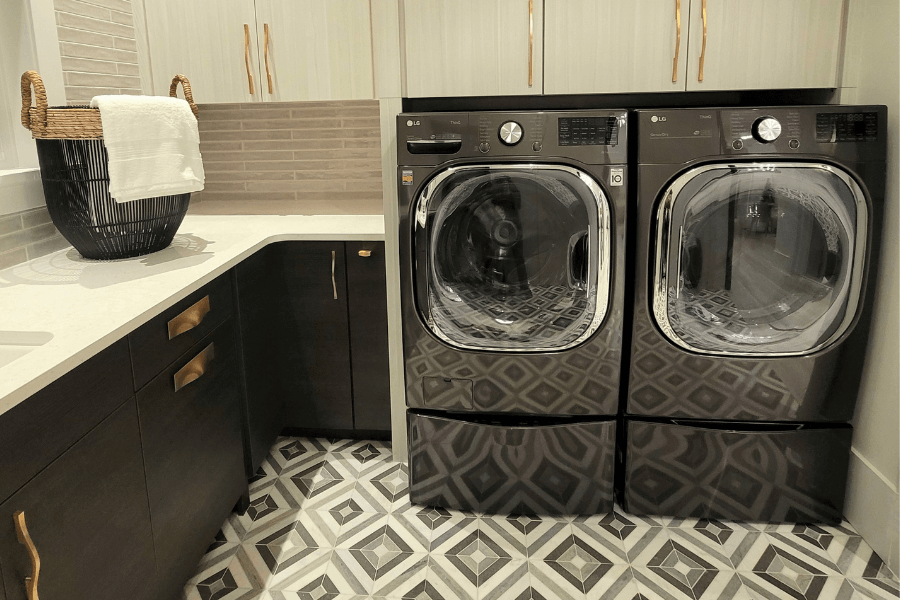 If you love black and white wallpaper, and lots of pattern, don't miss the living room we designed for our clients in this exciting interior design project we had photographed last year.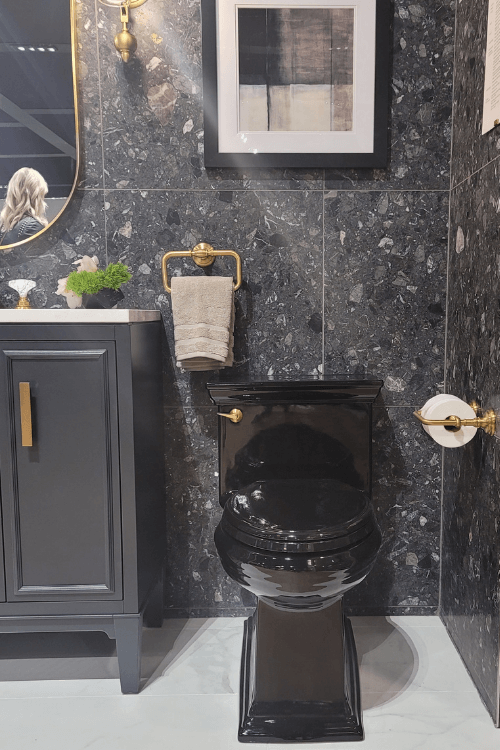 Could you do a black toilet? This was just one of the many Kohler displays.
We have a black sink in our main floor bathroom, but I don't think that I could do a black toilet!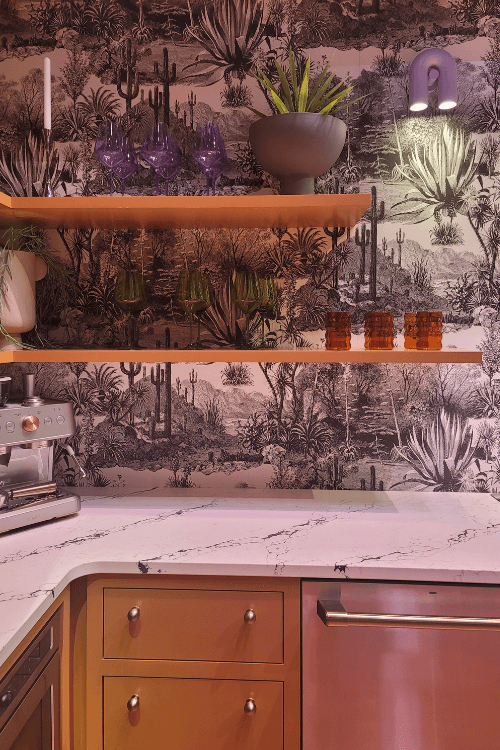 This black and white wallpaper adds a ton of interest to this kitchen. But for this to function properly, you need to have a solid piece of stone or glass on part of the back wall to avoid spilling water down the back of the cabinetry.
Warm Terracottas
You know that warm tones are back right? Well, here in one of the Kohler bathroom vignettes is a backdrop of the popular shiplap in a terracotta tone.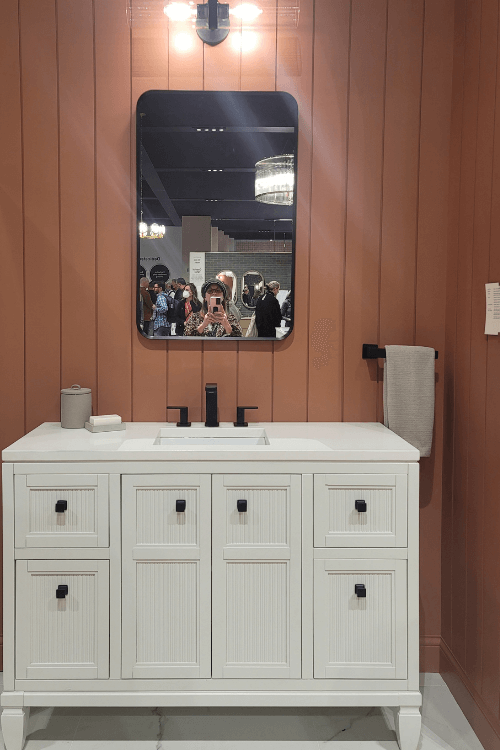 If you remember in my Colour Trends 2022 post published at the end of last year, my good friend Maria Killam predicted Foxy Brown by Benjamin Moore to be a trending colour in 2022.
Although Foxy Brown is more pink than a terracotta or Cavern Clay by Sherwin Williams, these warmer colours are indeed back!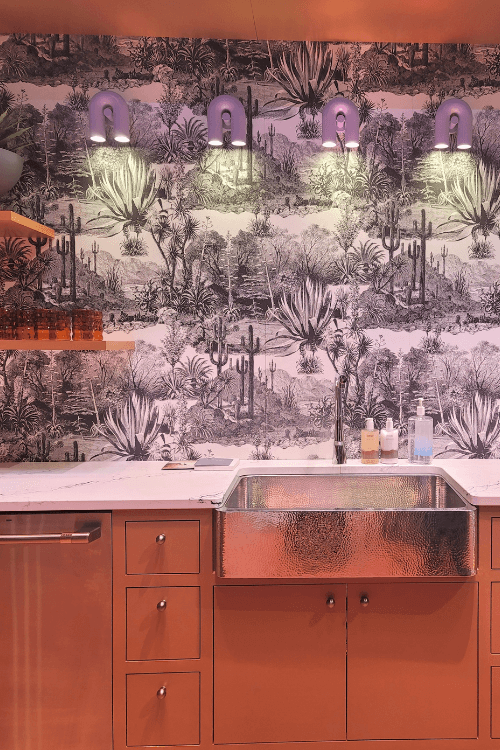 Notice the gorgeous hammered sink in the kitchen display above?
This is an beautiful sink designed by the fabulous Thompson Traders.
You can catch a glimpse of my Thompson Traders copper sink in the 3D drawing of my new kitchen design shown in this post about my new dishwasher.
And, a quick detour here while I'm mentioning Thompson Traders. I wanted to include a photo of their show-stopping, larger than life, tortoise inspired hood and sink in a brass finish.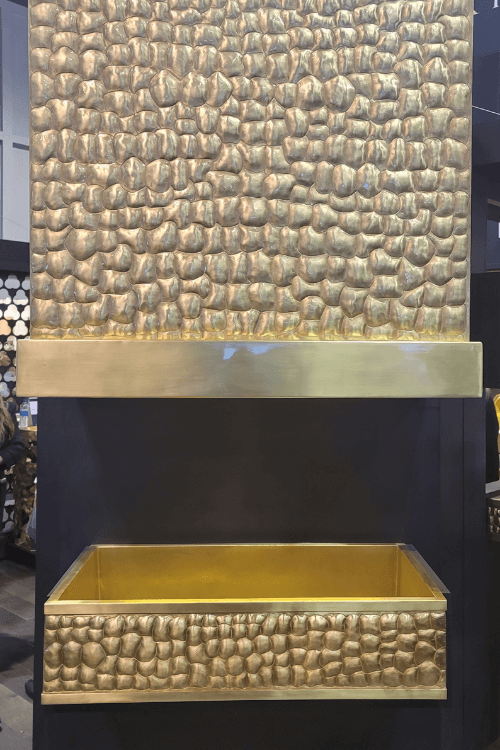 Forgive me, my photo does not do this justice!
Green With Envy
The colour of the year for Benjamin Moore and Sherwin Williams was green.
Perhaps the most breathtaking display at the entire show was this monochromatic green kitchen design in the Monogram booth.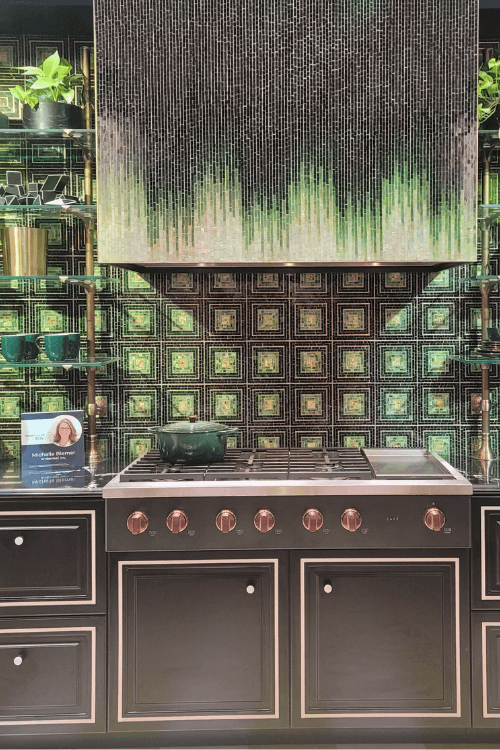 Dark green cabinets, green and black backsplash, ombre stone hood in shades of greens and the addition of green plants to add even more life to this display.
Is it too much for you or could you be this bold?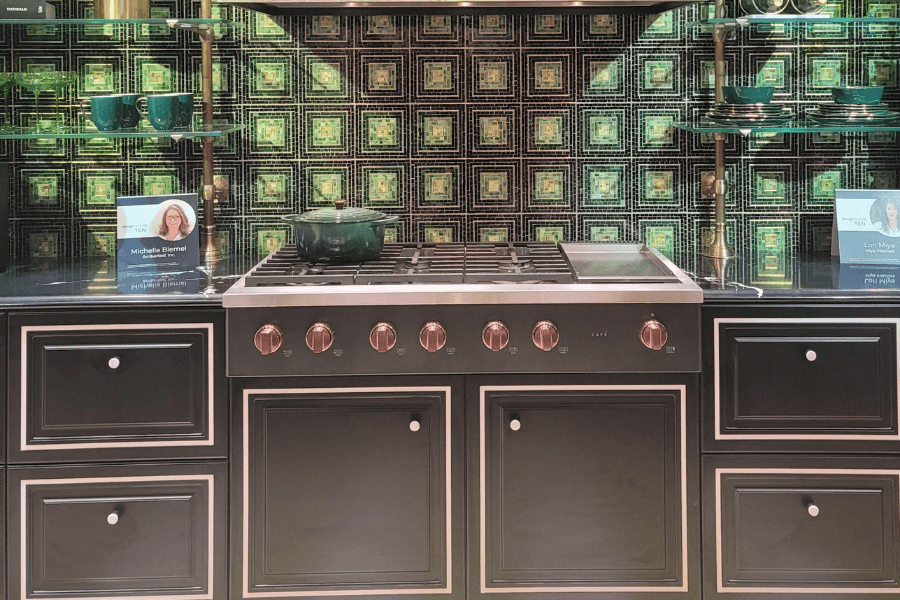 I adore green which is why I painted my basement walls and laundry room cabinets Green Smoke by Farrow & Ball but I think even for me, this kitchen is a bit too much.
Love the drama though and it definitely got people talking!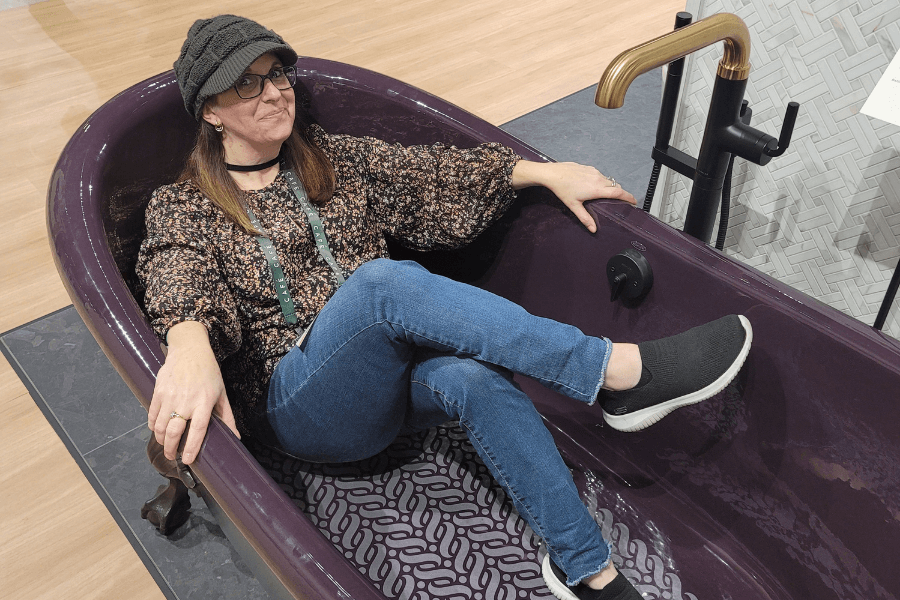 Me in the purple clawfoot tub! It's my favourite colour, how could I not hop in?!
More inspiration from KBIS 2022
Fluted Millwork
This is a nice design detail that we've been seeing a lot over the last few years, but a bugger to dust and keep clean. We saw lots of this type of millwork in the 2020 Princess Margaret Lottery Home.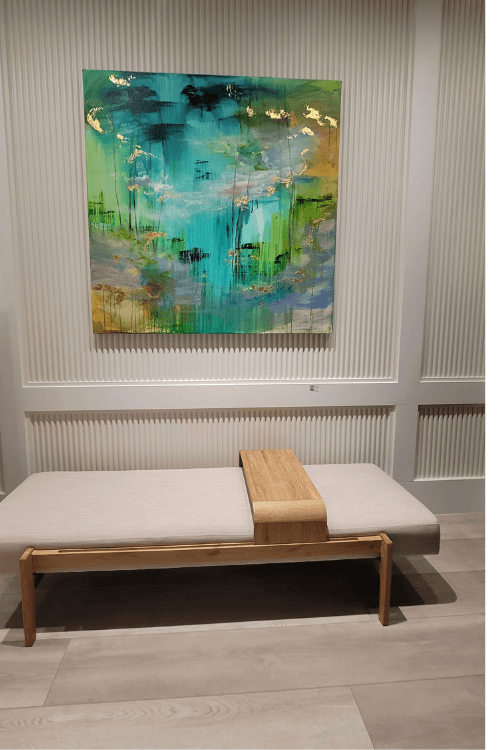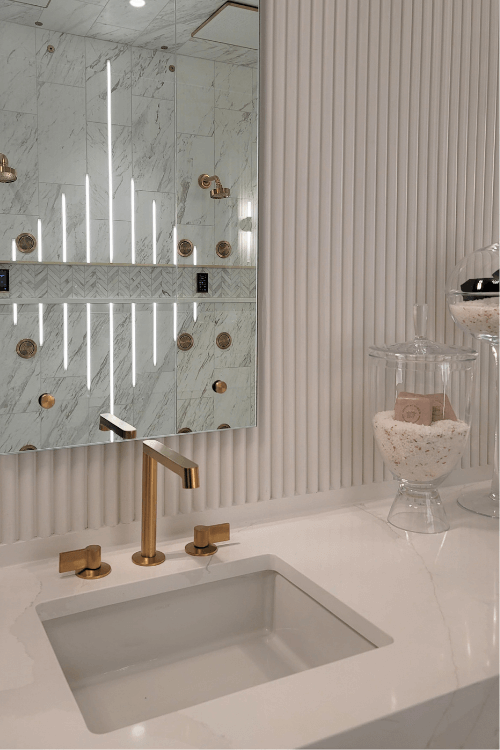 Archways
Archways are super popular at the moment, we see Studio McGee using these often in doorways for their Modern Farmhouse designs.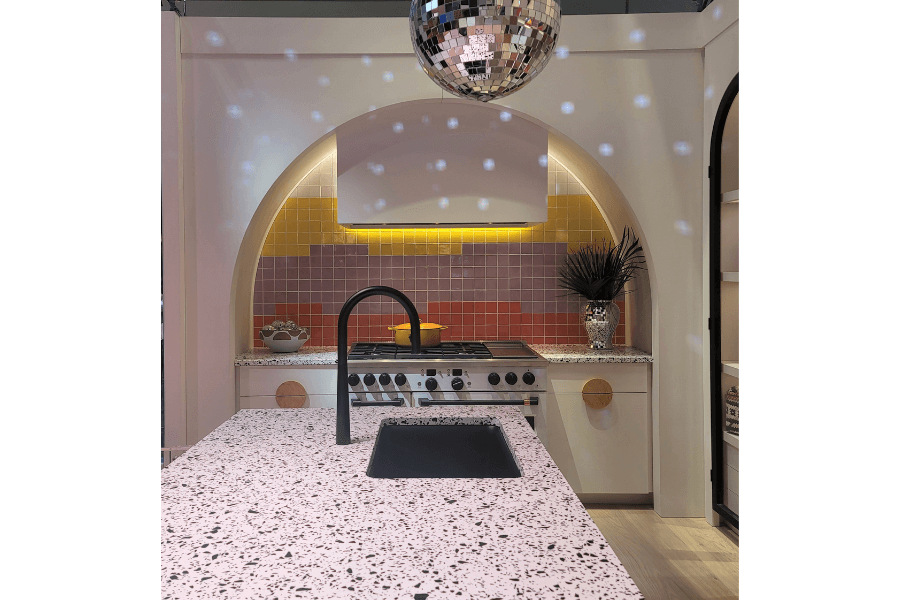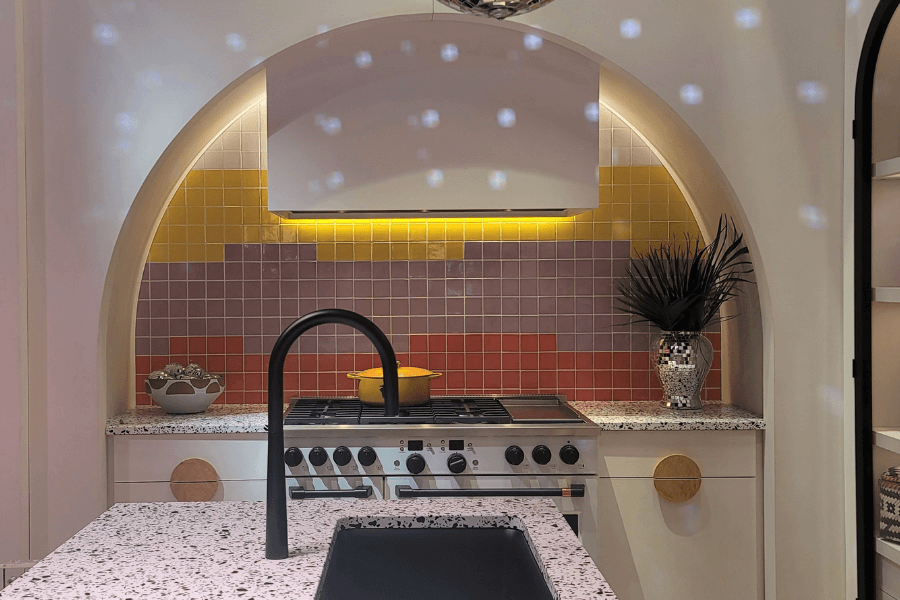 Statement Lighting
The lighting fixtures and details in the New American Home were indeed out of this world. Here are just a couple of examples that I especially loved.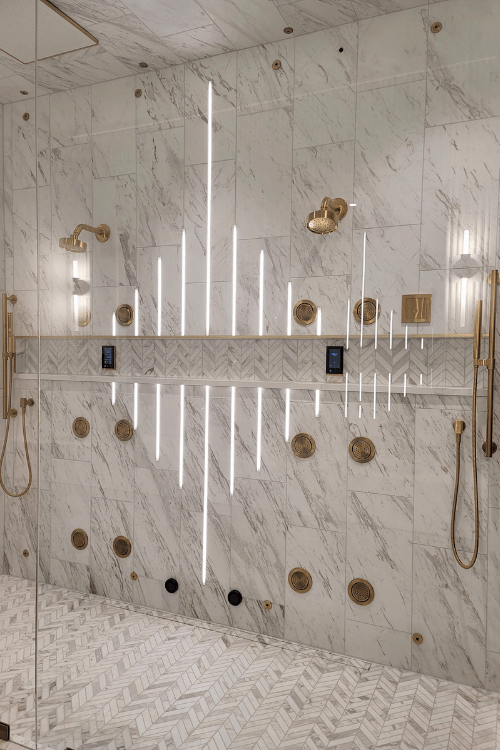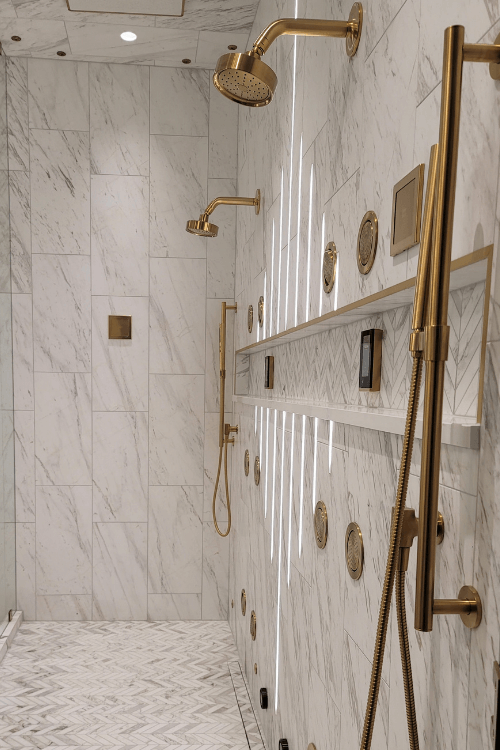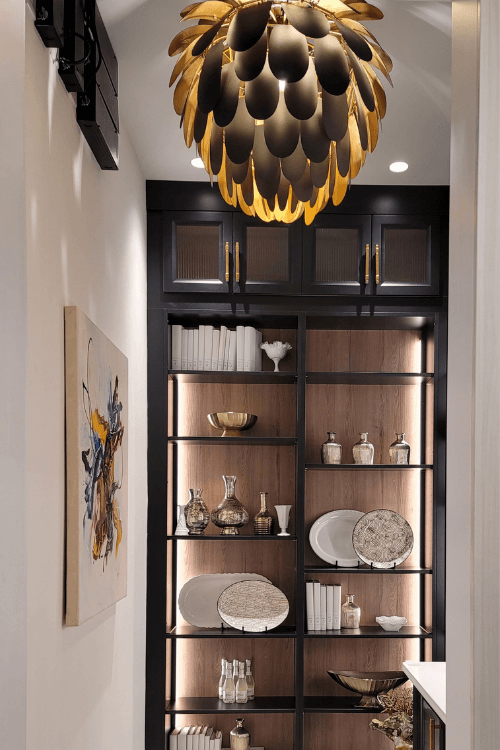 The Most Ridiculous Design Detail
Lastly, I wanted to share this dishwasher design detail shown in the Monogram booth.
While this type of natural-toned caning is definitely trending, as it is shown here, it is completely impractical.
Could you imagine the drips down the front and trying to get out any bits of food that will inevitably get stuck in there?
Sorry, but at some point, you really have to think about what looks good and what is good design.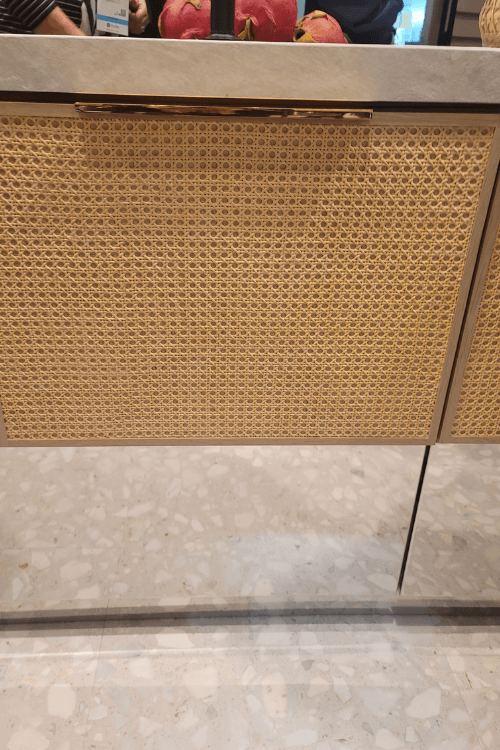 Anything surprise you from what I shared here today?
Share your thoughts below, kitchens and baths are always a hot topic.
Speaking of hot topics…have you taken my colour quiz yet?
Take my Quiz and find your perfect colour palette with décor inspiration for your next interior design or decorating project.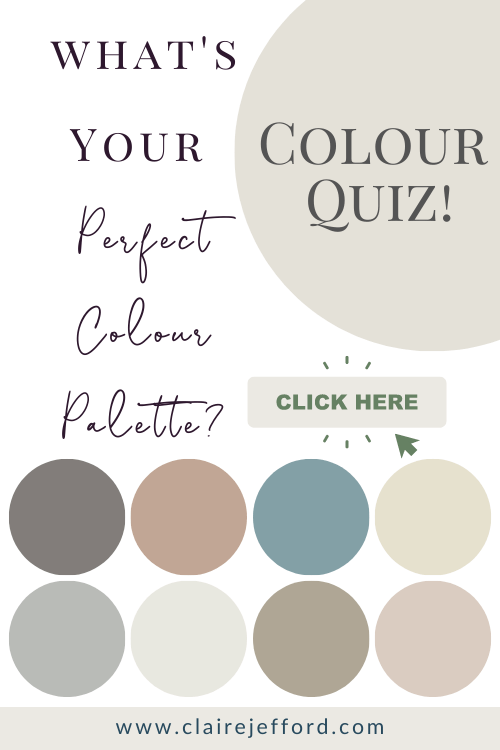 Perfect Colour Palettes
Remember, it only takes one mistake to take your home decorating project from divine to disaster. Don't let the paint be what stresses you out!
Convenience at your fingertips
I have created Paint Colour Palettes for some of the most popular colours from three of the leading paint companies, Benjamin Moore, Sherwin Williams and Farrow & Ball.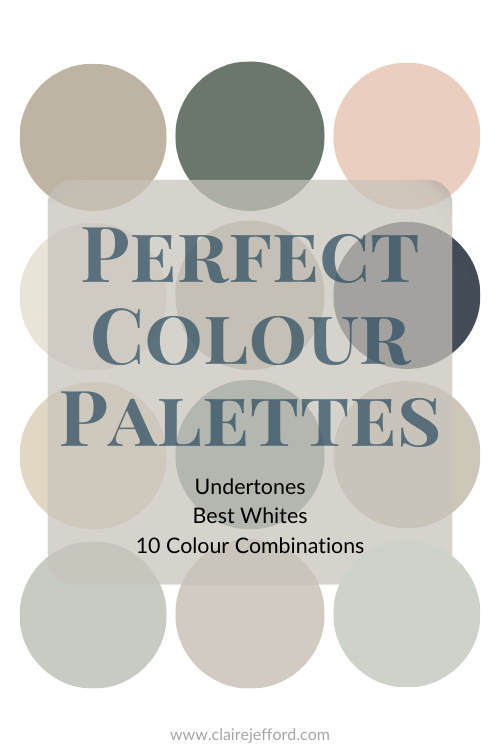 Our Perfect Colour Palettes help you confidently select the best colour for your home, and see which trim, ceiling, and accent colours pair well with your selected colour.
Perfect for Pinning!