Colour Trends 2022
Picking a Paint Colour?
Choose the right paint colour
the first time Let me show you how in just 5 easy steps!
BONUS: The Top 15 Shades of Gray by Benjamin Moore
We value your
privacy
. We will never share or sell your information.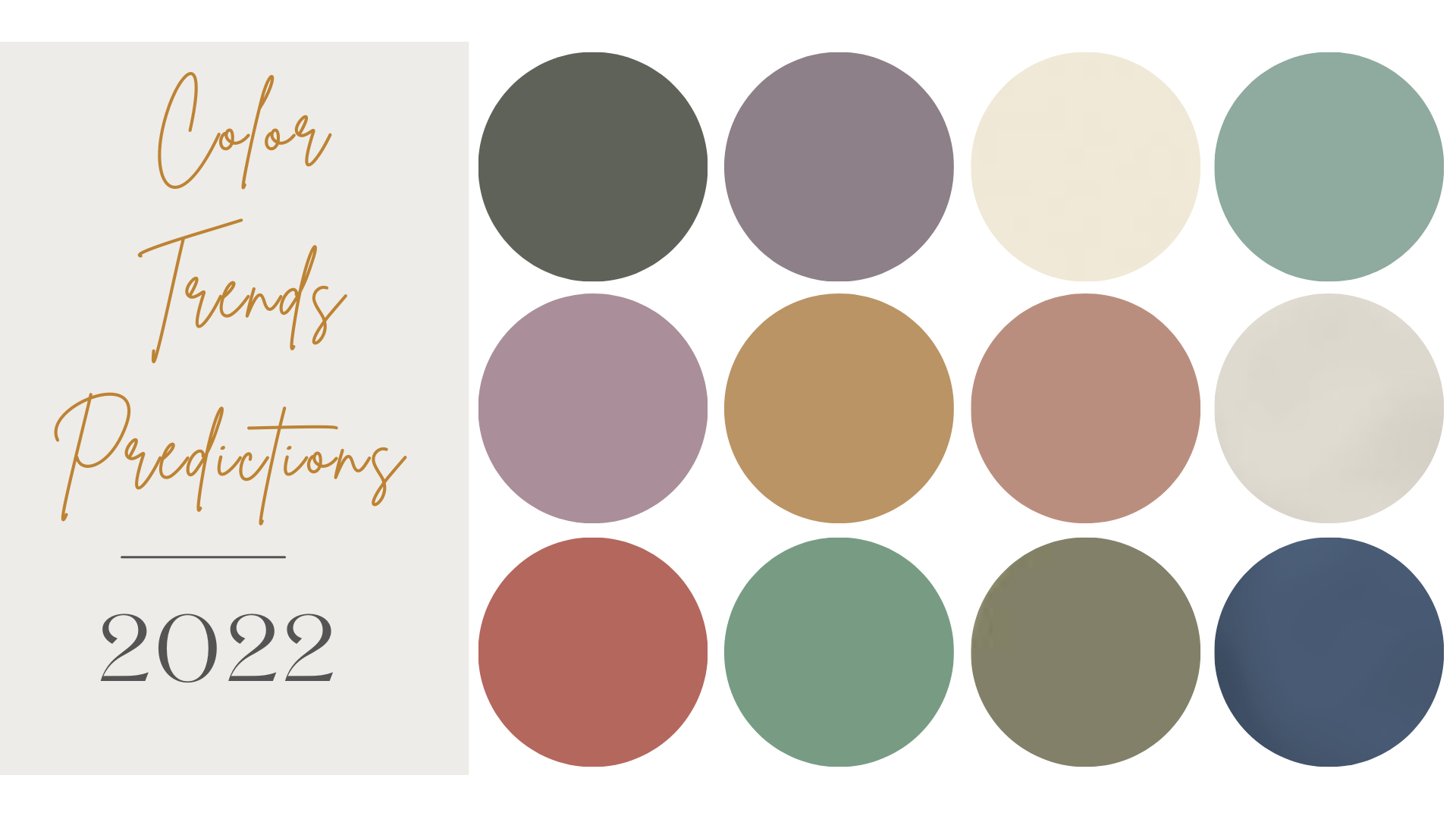 Prior to the holidays, I held an online event with some of THE BEST KNOWN colour experts in the interior design industry. Did you miss it?
Don't worry, I've got the recording ready for you.
WELCOME!
But first, if you are new here allow me a moment to say "WELCOME!"

I'm Claire Jefford, Certified Interior Decorator and True Colour Expert. We don't shy away from colour here.
From paint colour reviews to pulling back the curtain to reveal behind the scenes details of our interior decorating projects and sharing countless colour palettes to inspire your home décor, that is what you can expect from our Colour & Design Claire-ity blog. 🙂

I hope to see more of you in the year ahead!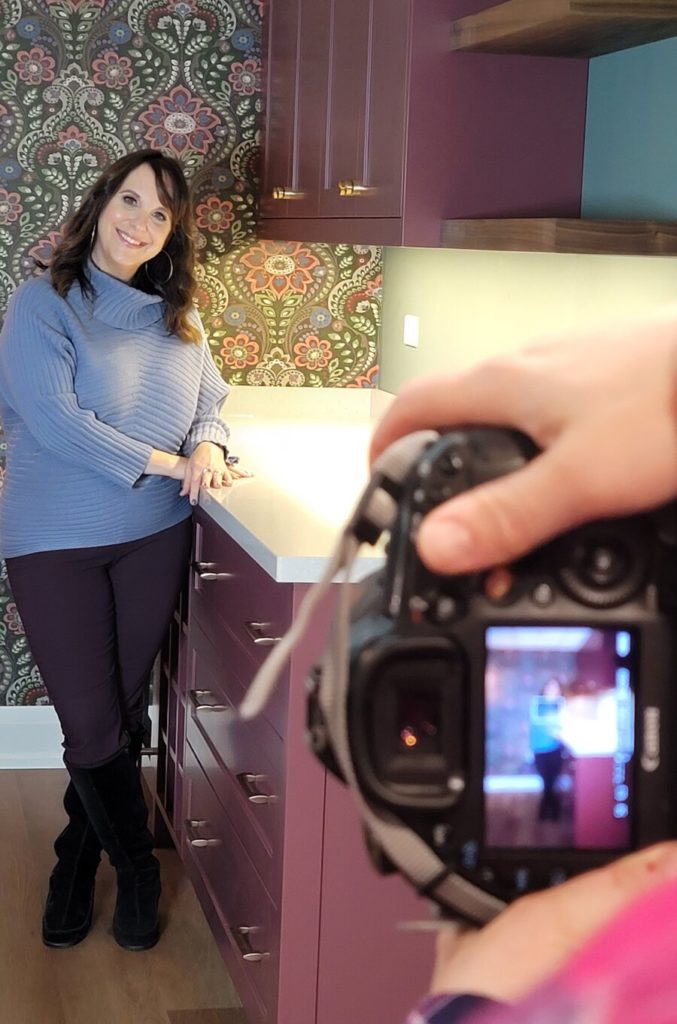 Colour Trends & 2022 Predictions
Join THE True Colour Expert Maria Killam, the Queen of Colour Rachel Moriarty and the brilliant photographer and influencer Susan Brinson and me as we share colour inspiration and details of our 2021 interior design projects.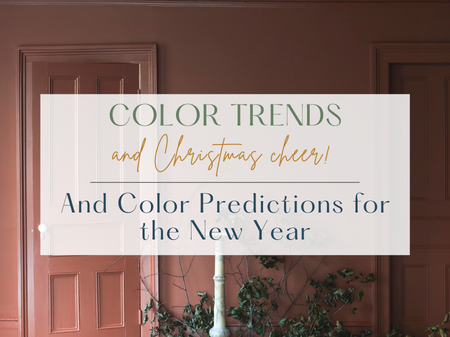 Also, we reveal our predictions for the Top Colour Trends to come in 2022. The palette we created between us with our selections is absolutely gorgeous!
The video is just below and I've also included some time stamps in the blog post with images from the presentation of our live event.
Comment on this post to tell me at least one colour you will be using in your home this coming year.
Meet Your Colour Experts
Video Timestamp [0:00] – [2:30]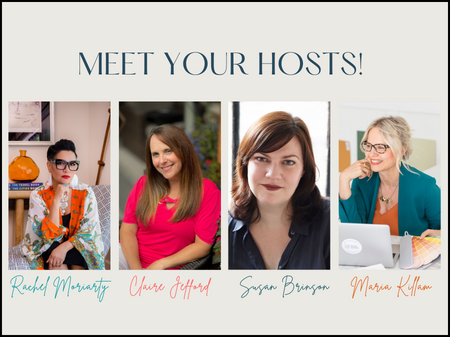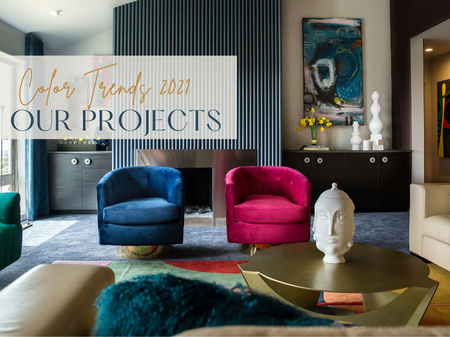 Rachel Moriarty Interiors
Video Timestamp [4:00] – [11:18]
You will be hard-pressed to find another designer who injects as much vibrancy and colour into their projects as Rachel Moriarty does.
This first image is a client project of a Vintage Airstream Argosy (a trailer in case you are not familiar with the term) that now lives permanently in her client's backyard.
The look they were going for was a 'Genie out of the bottle', Moroccan style and I'm pretty sure Rachel NAILED IT!
See more of Rachel's incredible interior designs here on her website.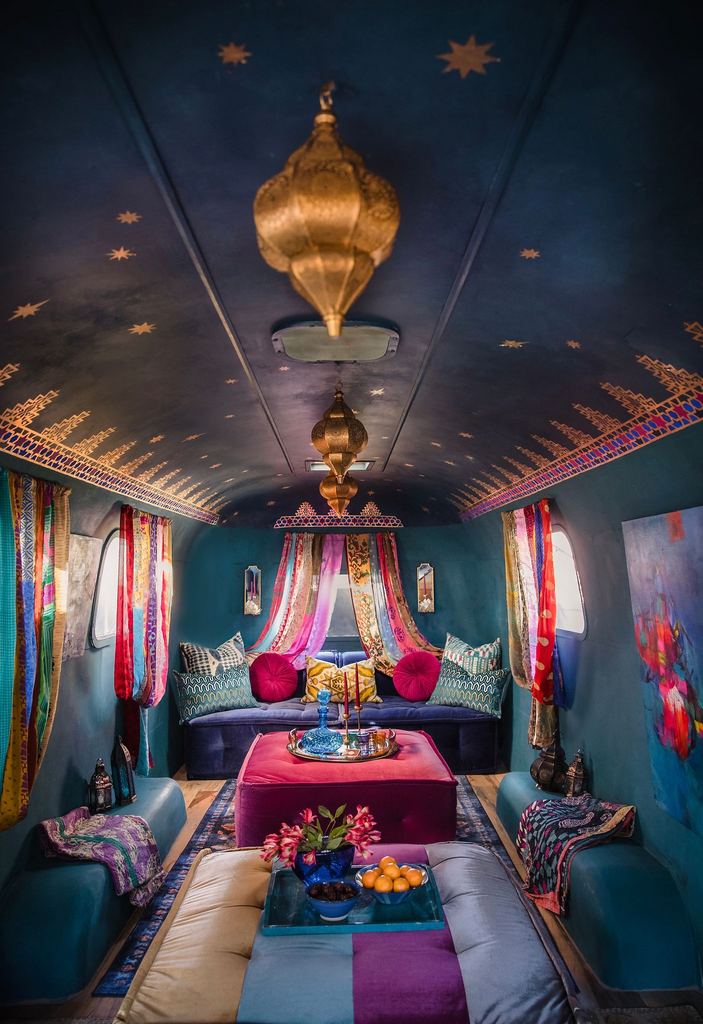 Rachel swears by a dark blue being a great neutral and I loved hearing this. It's like black right? And black is a neutral.
Two of my favourite dark blue colours are Hale Navy and Van Deusen Blue by Benjamin Moore.
Learn more about these 2 colourful projects below in the video replay above.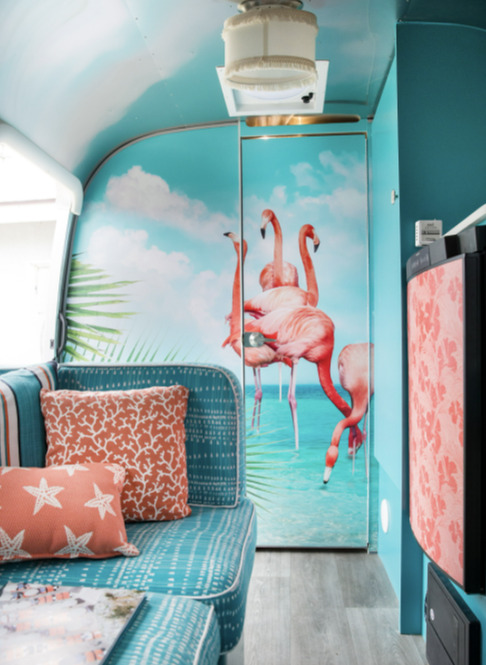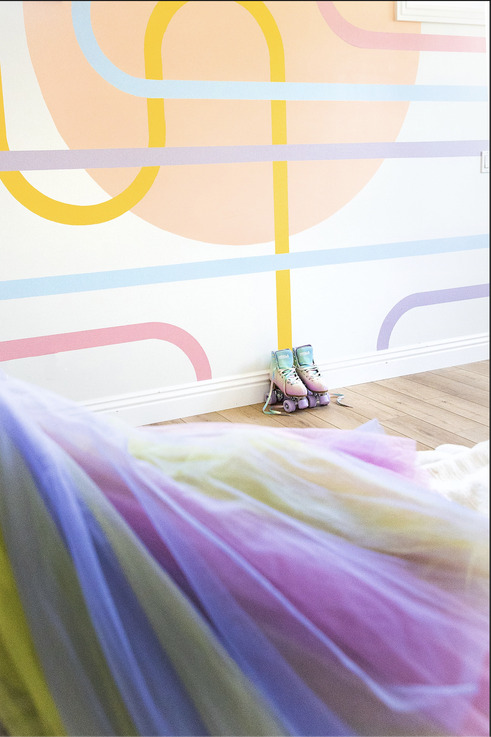 And this project is one that you won't see in the video, but I felt it was soooo worthy of being shared here on the blog. This is another one of Rachel's one of a kind projects that is absolutely out of this world!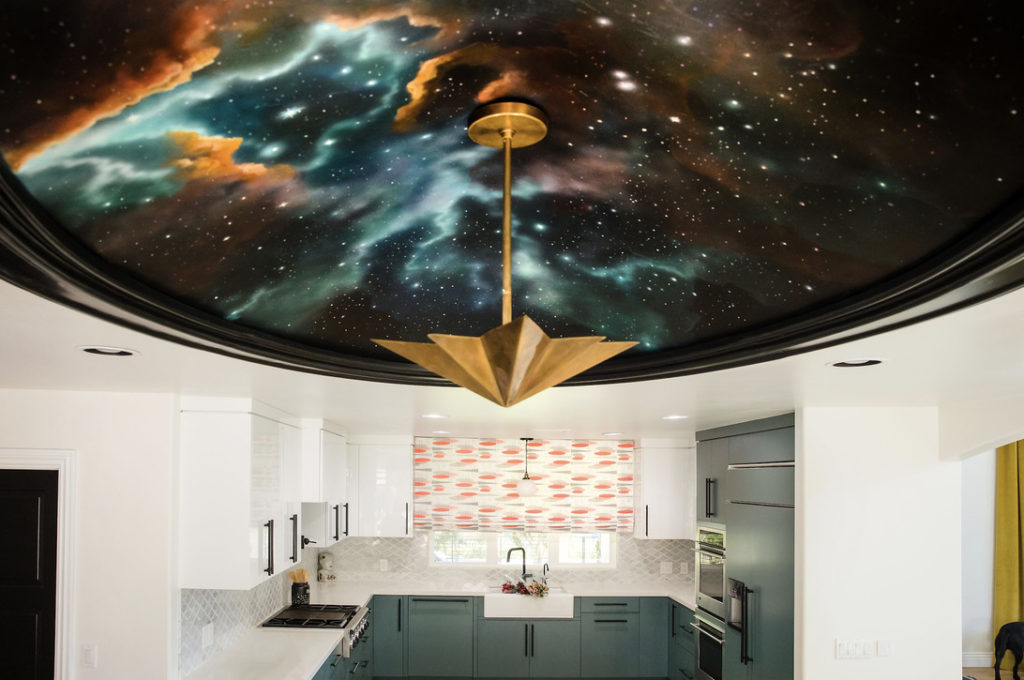 Susan Brinson – House of Brinson
Video Timestamp [11:18] – [22:32]
I had the pleasure of meeting Susan on a Designhounds trip in LA about 4 years ago. Shortly after I was planning a trip to attend Maria Killam's colour course in Long Island, New York.
When she heard the news that I would be coming to her neck of the woods, Susan and Will invited Chris and me to stay for a night on our way home. Their hospitality was second to none!

It was wonderful to see in person their old Stony Ford Mansion that they have been thoughtfully renovating in remarkable detail.
You can follow along and see more of the incredible transformation on their House of Brinson website. I absolutely love Susan's passion for design and her ability to not only capture the beauty of her work through her photography but also the considerable thought process that she puts into every element of a room's design.
Below are two rooms that they have renovated and decorated in deep, moody colour tones, including a first-floor washroom painted head to toe in Anchor Grey by Benjamin Moore.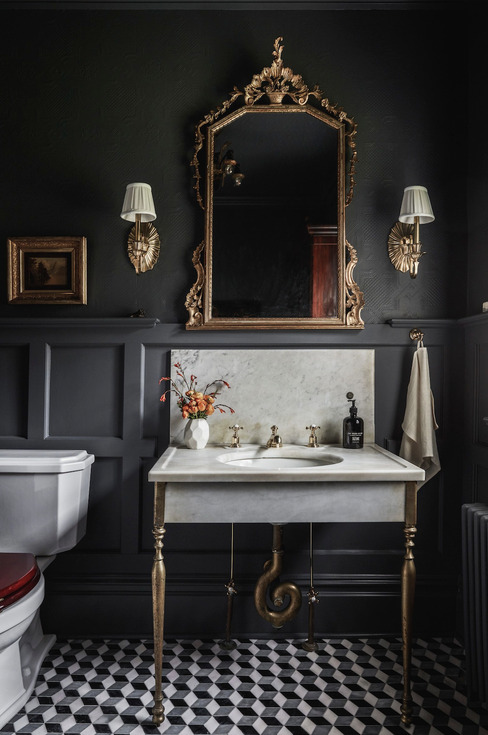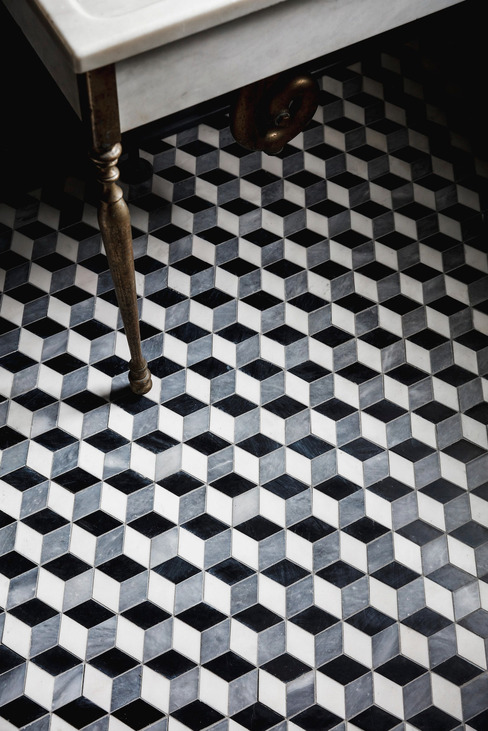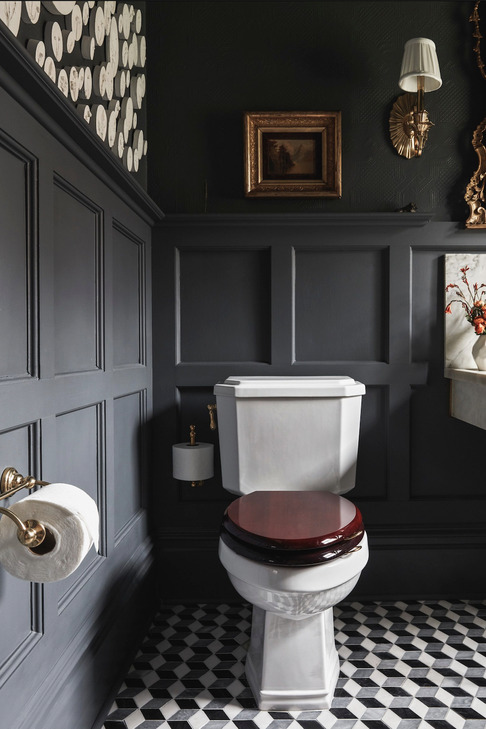 The Queen of May guest bedroom shown below is painted Inchyra Blue by Farrow & Ball. Gorgeous, right?! The walls, the ceiling, the medallion, the trim – all of it. LOVE.
I used Inchyra Blue as a comparison colour in my colour review of Hague Blue by Farrow & Ball.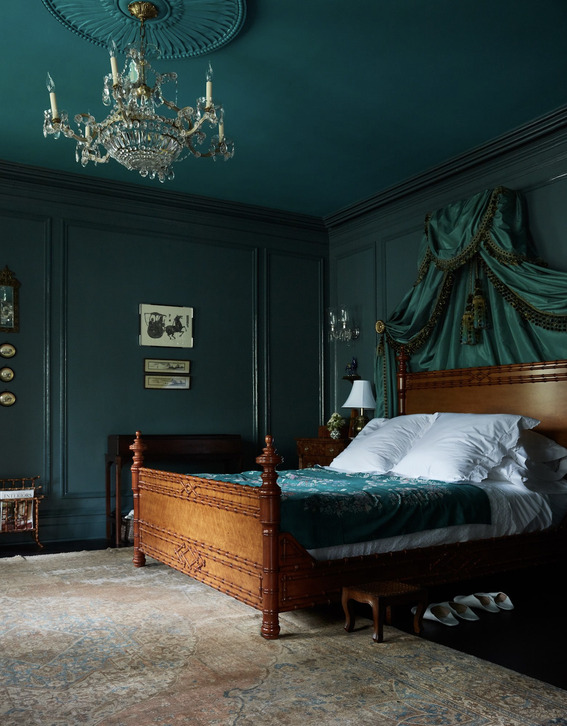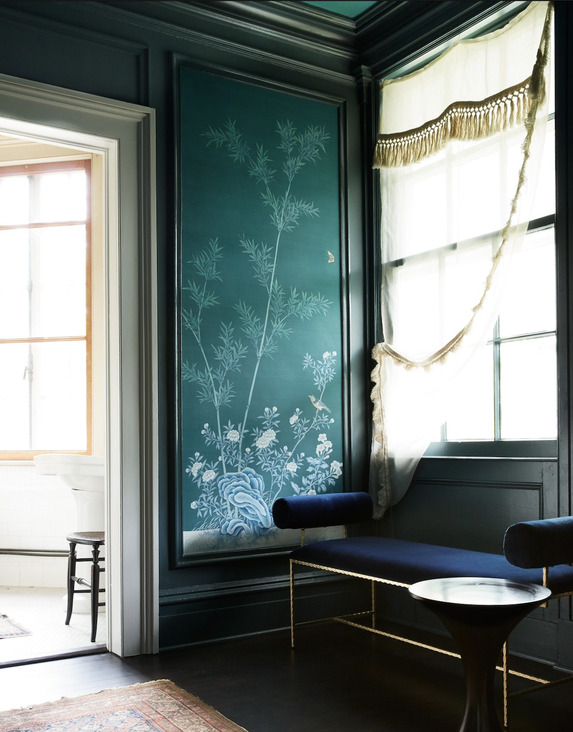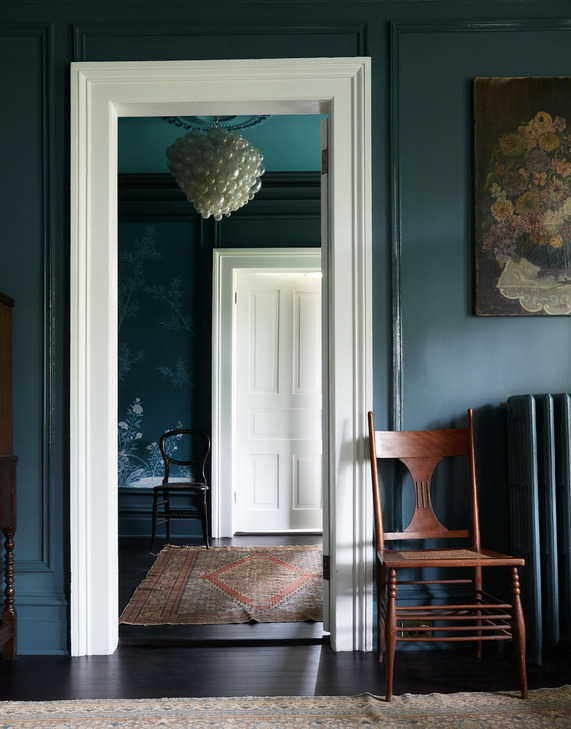 Susan often paints with Farrow & Ball Colours. I too have found their paints to be beautifully saturated tones.
We used F&B Pitch Black on my custom vanity in my bathroom makeover project.
Claire Jefford -The Tale of 2 Projects
Video Timestamp [22:32] – [29:40]
I chose to share two very different interior decorating projects that we very recently photographed.
We had the pleasure of working with some wonderful clients in 2021 for our Custom Design & Project Management Services.
Those who trust our interior design process and hand over the reins to us to lead and oversee their project, tend to be the clients who benefit the most from our services.
The result is turnkey with very little effort or time required by the client, other than our initial discovery and research to best identify their design/colour preferences and lifestyle.
See the entire project, including a stunning home office here in our portfolio.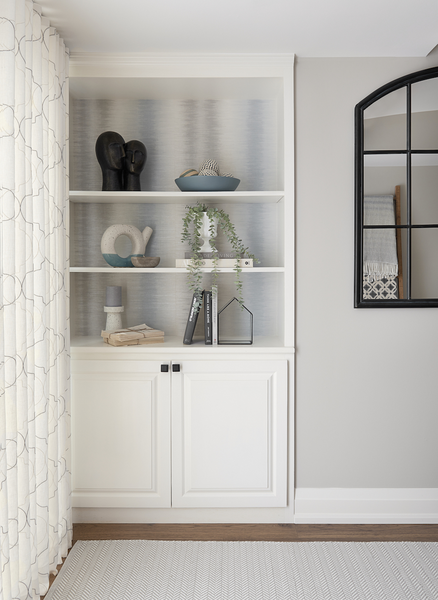 And for a burst of colour, these lovely Burlington client's also hired us for our elite Custom Design Service for their main floor project.
We started with artwork that had personal meaning to our client and pulled together our entire colour palette and design from that one 'jumping off point'.
From there, we selected these fun fabrics, repeating the tones in the chairs, area rugs and other accessories throughout the home. The full project can be seen here.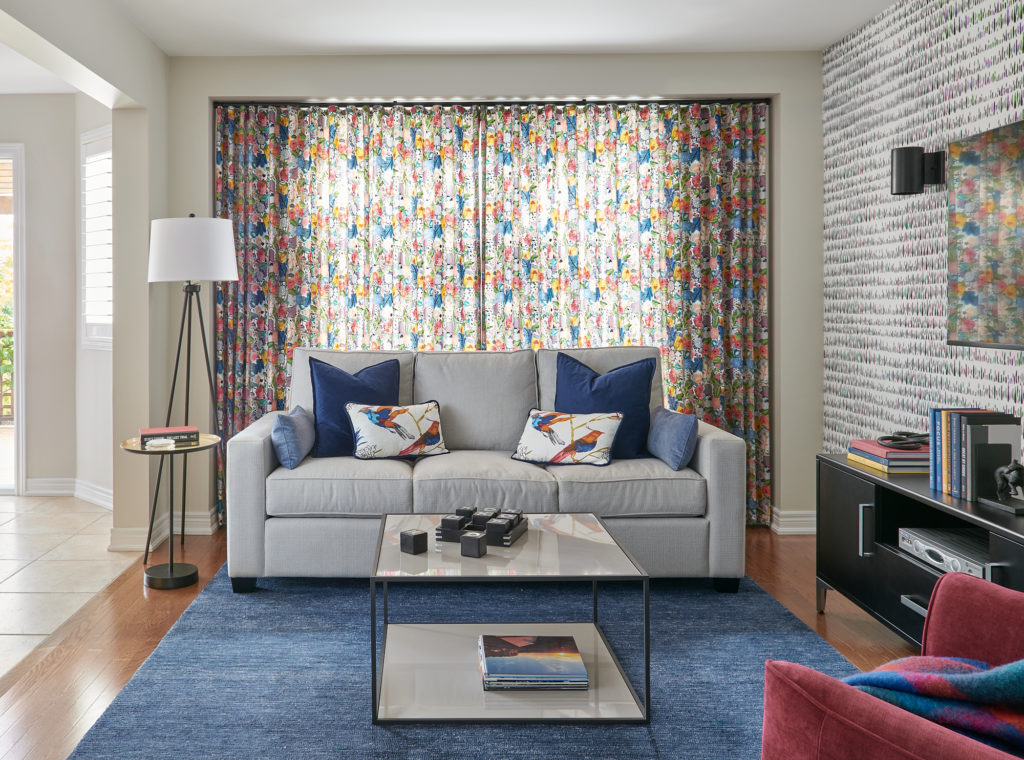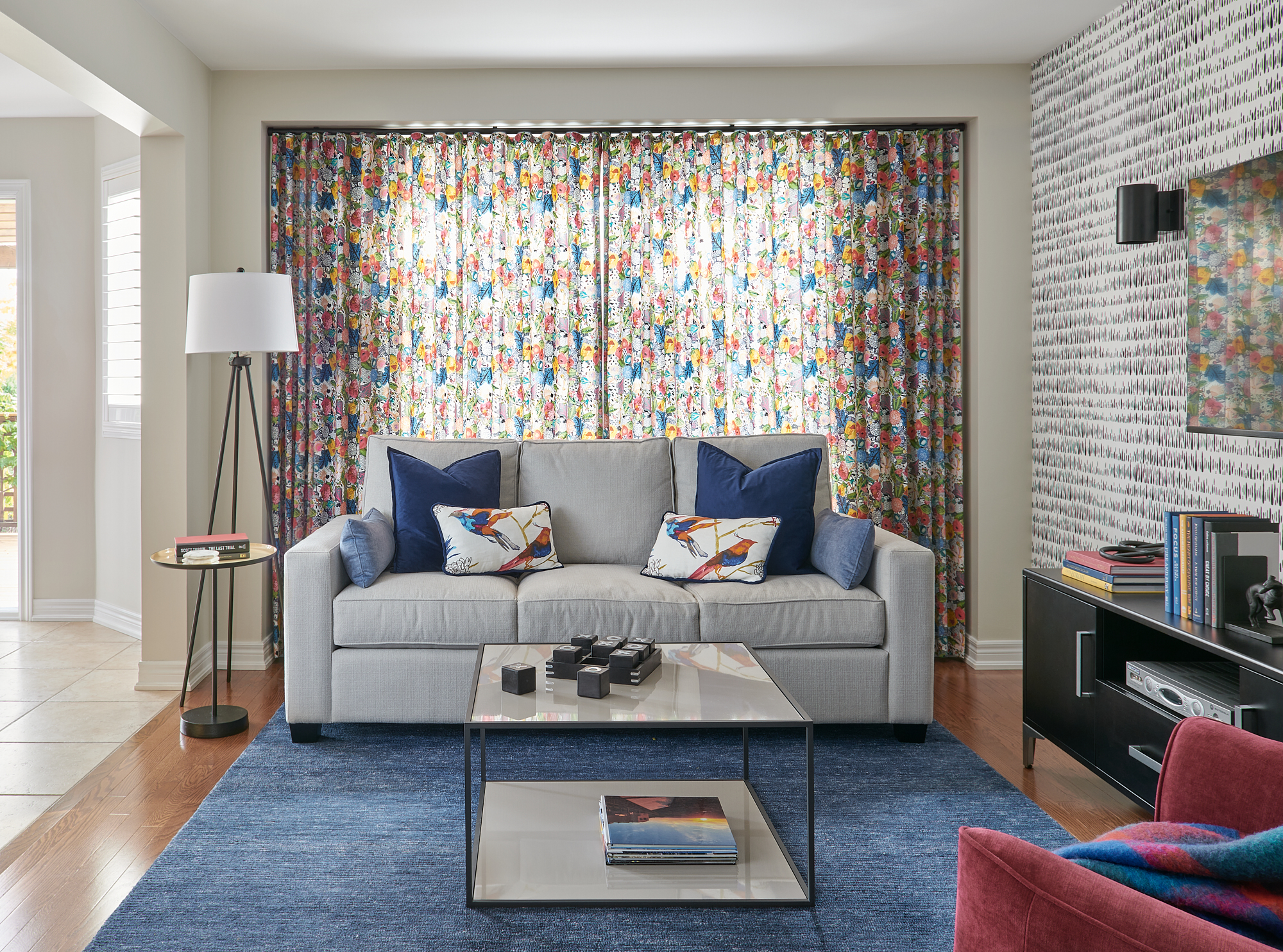 Maria Killam -THE True Colour Expert
Video Timestamp [29:40]- [38:44]
If you know me, (and if you are familiar in any way with Maria) it's no surprise that I asked her to be a part of this event.
Not only have I learned everything I know about colour and undertones from this amazing woman through her workshops, ebooks and popular blog, we've also become very good friends over the years and I adore our friendship.
If you aren't already familiar with THE True Colour Expert, you can find out more by visiting Maria's website.
During our live Colour Trends presentation, Maria shared behind the design details of her own living room redecorating project with an interior design mood board, shown below.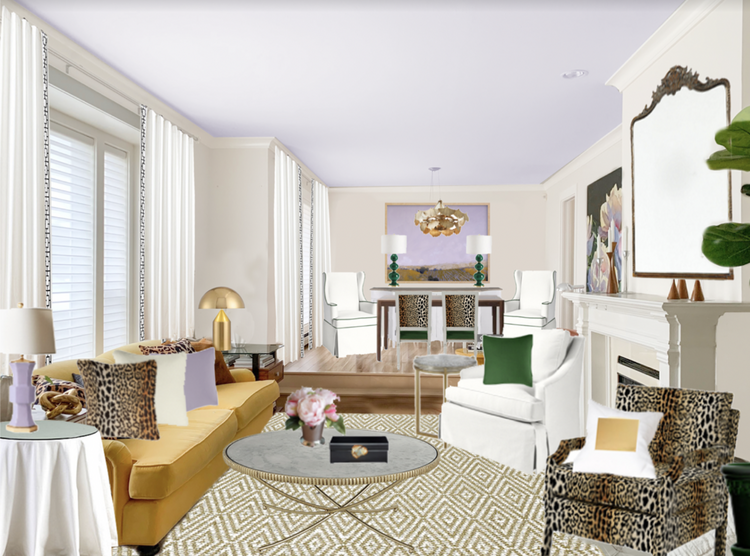 You'll also see a peek of the back wall as she waits patiently for the final furnishings to arrive (like many of us have had to do this past year!) before having the space professionally photographed.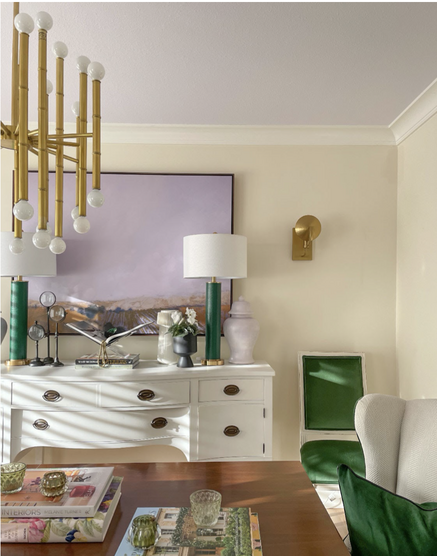 Notice the painted ceiling that is the similar mauve tone that you can see in the artwork? So subtle and so pretty!
Did you ever see my exclusive interview with Maria Killam in New York a few years back? If you have ever thought about taking her colour course, you really ought to watch it.
Below is Maria's fabulous updated outdoor studio space. The custom millwork is perfect for propping up her large colour boards, with Chantilly Lace by Benjamin Moore as the backdrop.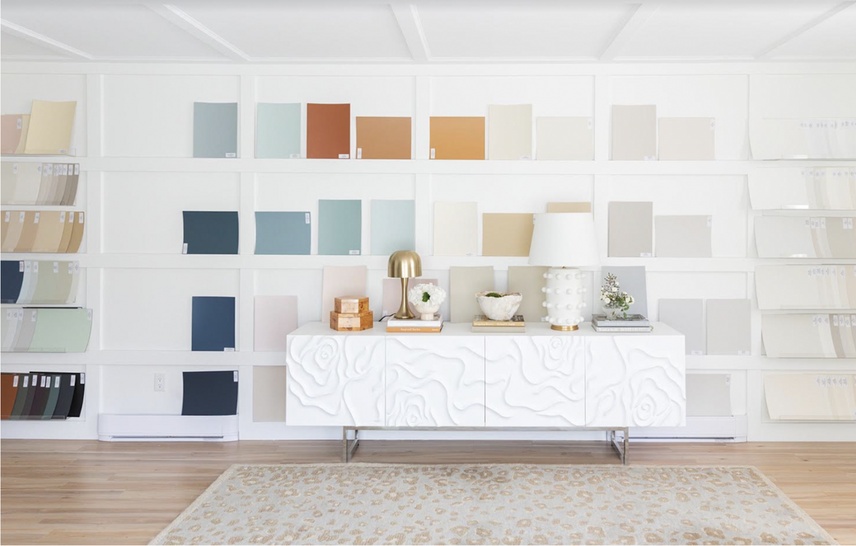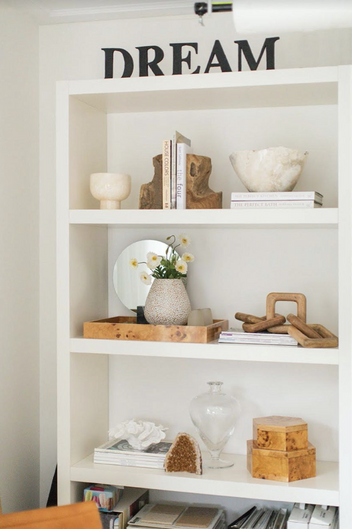 Colour Predictions 2022
Now the big moment that you've been waiting for in terms of colour trend predictions for 2022.
Let's do this. (Oh and if you like the rendering below, THAT is going to be my new kitchen. Eeek!)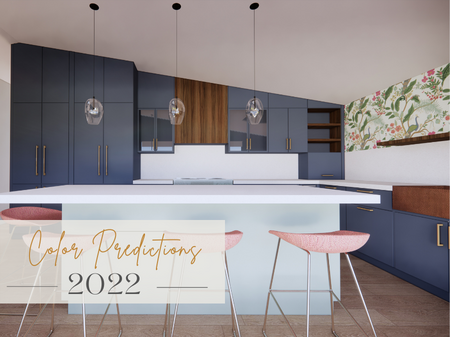 Video Timestamp [38:48] – [56:15]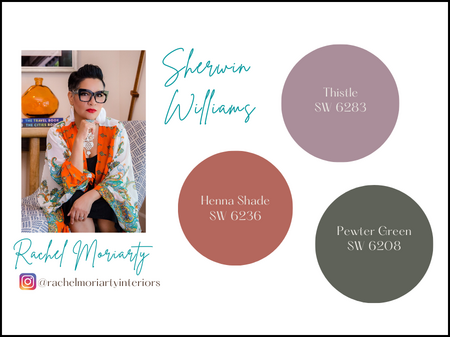 From Sherwin Williams, Rachel's colour choices are Henna Shade, Thistle and Pewter Green.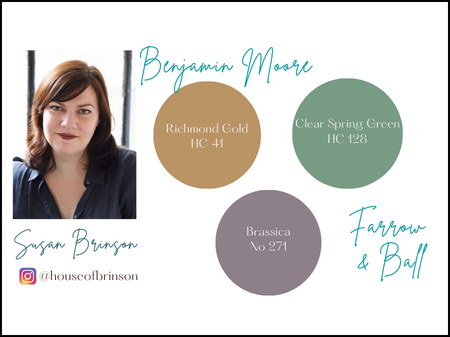 Susan likes Benjamin Moore's Richmond Gold and Clear Spring Green. And from Farrow & Ball, the beautiful Brassica.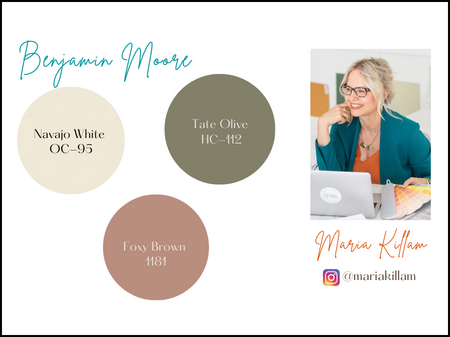 Maria Killam predicts Navajo White, Tate Olive and Foxy Brown from Benjamin Moore.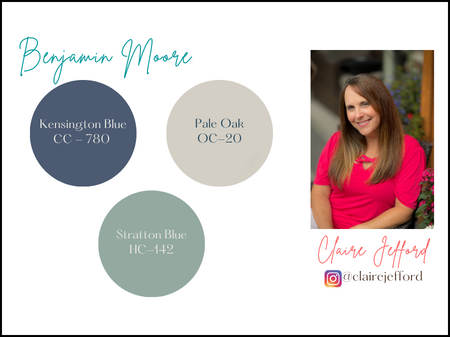 My selections are all from Benjamin Moore and include Kensington Blue, Stratton Blue and Pale Oak.
Colour Trends 2022 Palette
How sweet is this colour palette when we put them all together? I'm in love!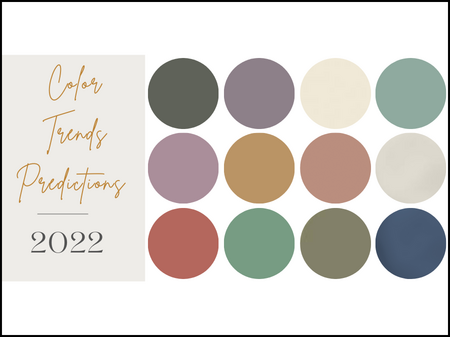 Which colour is your favourite from all of our predictions for 2022 colour trends, or do you have another you wish to add?
Comment below and share your top paint colour choice.
Don't miss my Colour Trends blog post from Highpoint market with many inspirational room paint palettes derived from the spectacular vignettes.
Looking for your Perfect Colour Palette?
Take my Quiz and find just that plus décor inspiration for your next interior design or decorating project.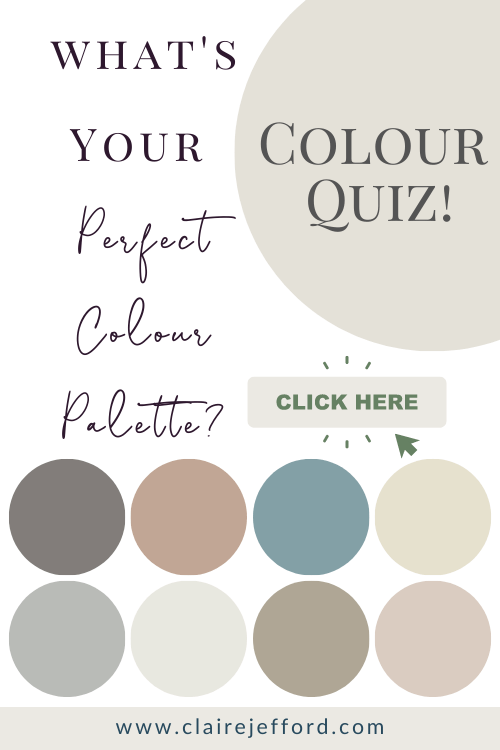 Perfect for Pinning!