Family Room: Shiplap Fireplace
Picking a Paint Colour?
Choose the right paint colour
the first time Let me show you how in just 5 easy steps!
BONUS: The Top 15 Shades of Gray by Benjamin Moore
We value your
privacy
. We will never share or sell your information.
WWWOW!
What We're Working on Wednesday
I'm so excited to share with you a new series of videos I'll be bringing to you periodically on Wednesdays!
On my blogs you see a lot of colour reviews, which I love doing.
But we do so much more here at Claire Jefford Inc. and I want to share with you insider secrets of our exciting interior design and decorating projects – both behind the scenes, fun after reveals and much more!
What We're Working on Wednesday will allow me to do this in a way that I hope you will find helpful and entertaining.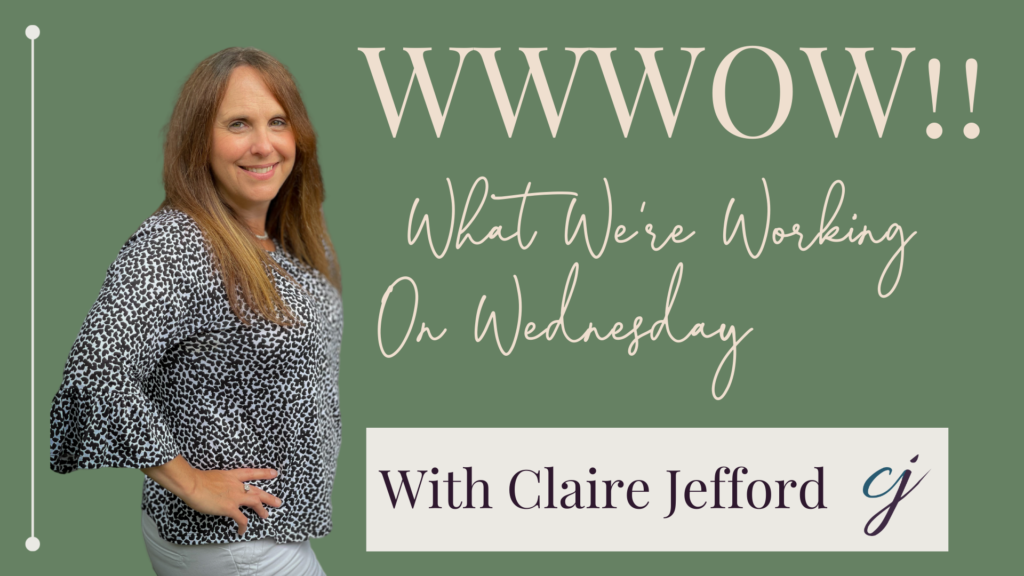 Today I'm taking you behind the scenes of a recent install of a Burlington clients family room.
We still have some work to do to finalize this space, but it's nearly done and I couldn't be more excited to share this 'behind the scenes' with you.
Video Transcript & Photos
We're here at my clients house for our first ever episode of WWWOW! What We're Working on Wednesday!
We just revealed to my clients as much as we could of their new family room. I'm so excited about this space because if you saw it before (below) you'll appreciate this incredible transformation.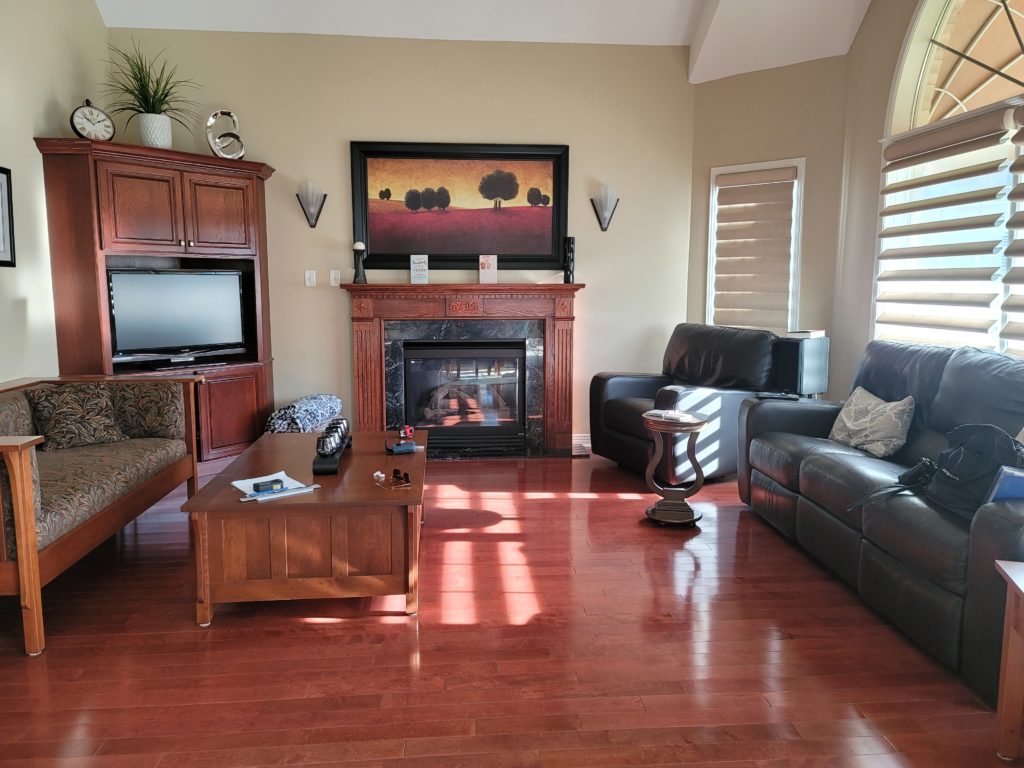 We've totally updated the family room and brightened it up with the new fireplace and because you see less of the dark cherry hardwood and more of the new beautiful area rug.
Let's start off with this amazing focal point that is the fireplace. Check out the rendering shown below.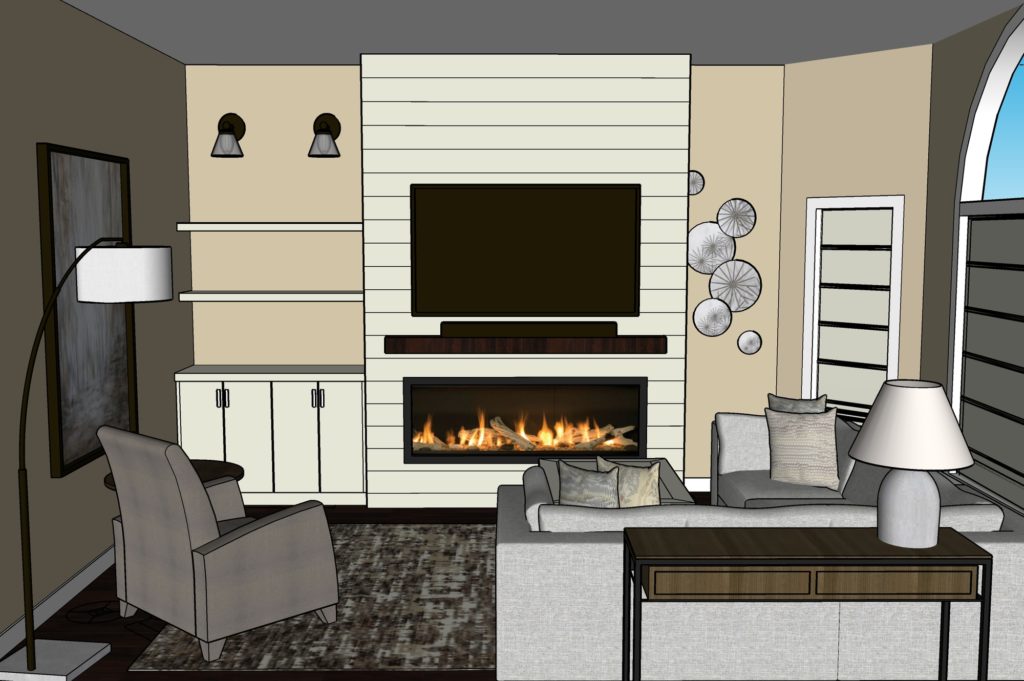 We decided to go with a shiplap versus any sort of tile.
My clients actually couldn't agree on a tile that they both loved, despite me showing them some different options.
While Coastal is usually the design style where you would find a fireplace like this, we went for it here in this client's family room and it looks amazing! At least we think so. 🙂
It's the same color as the coffee table that we're getting soon, White Down by Benjamin Moore.
That's a warm white paint colour, so it really warmed up the room and works beautifully with the other decorative elements we selected for the design of this family room.
They've got their AV, we've got this mantle and it just looks fabulous.
I have to tell you about the sofa because this sofa, we found this at my Design Center. One day when I was there, I saw it was like, oh my gosh!
They were selling the floor model and I was so excited because I looked at it and I thought, this looks like the perfect size and with the beautiful tones we were looking for to use in this design.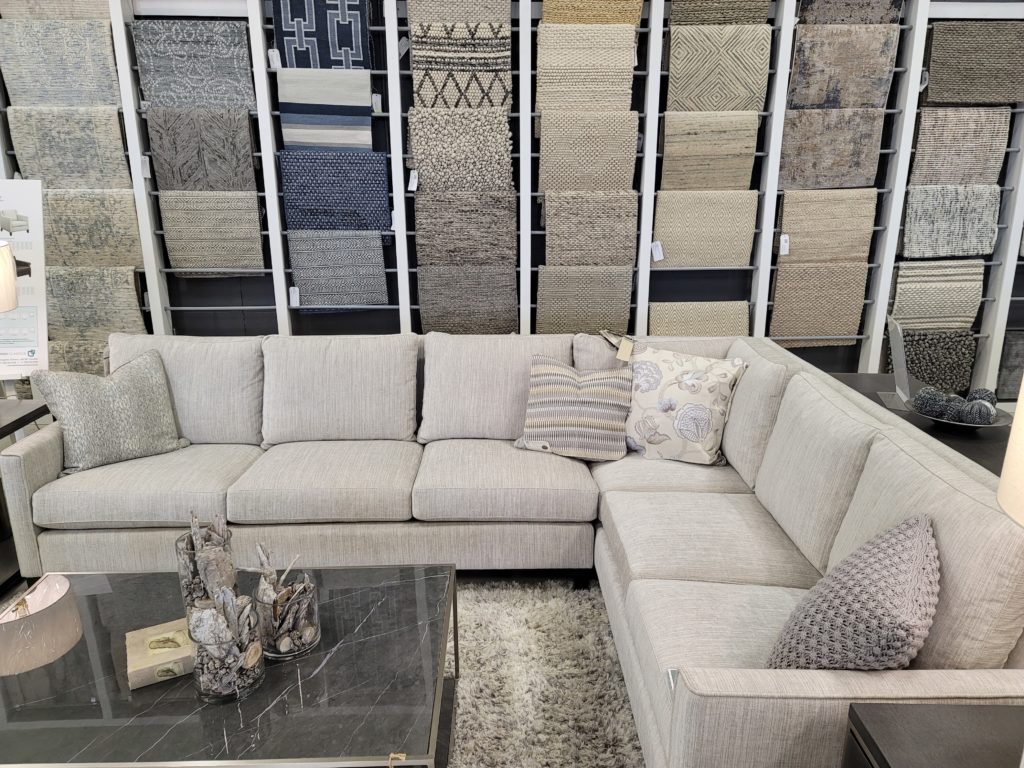 I just knew that we were meant to have this. My client came in straight away, she sat in it, bought it, done! So that was a really good find.
We reused our client's coffee table as it was the perfect size for the new design and we painted it the same color as the shiplap on the fireplace, which is White Down by Benjamin Moore. That is coming soon.
We've also got some custom pillows that are on there way! See the fabrics here below.
If you know me, the pillows are the one thing that I really call my jumping off point
and they're just really beautiful.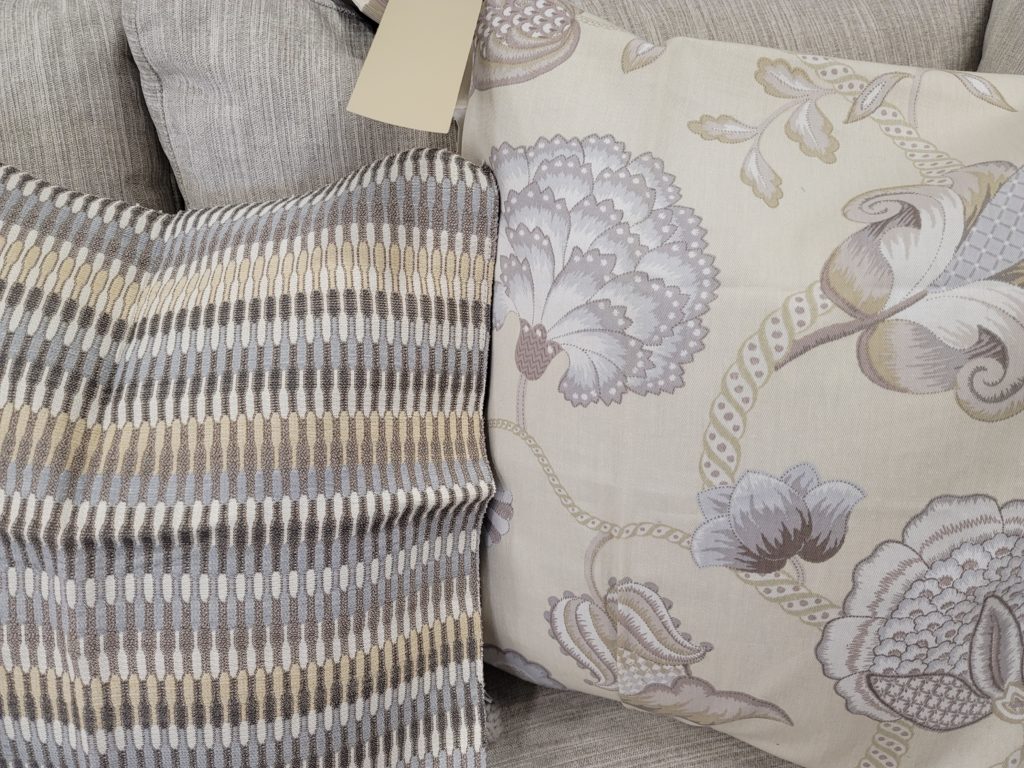 My client really wanted a recliner so we got this customer recliner, we got to choose the fabric so it ties in beautifully with our other finishes in this family room.
Now the hubby is very excited that he can watch the baseball and the hockey games sitting here…this is his chair! It even goes back even further and what's great is that we've got this curved lamp.

We've got to hang up this artwork, this oversized piece of artwork. This room can totally handle it as they've got really high ceilings.
Soon we will have the custom cabinetry installed, some lower cabinetry as well as a couple of shelves to display accessories.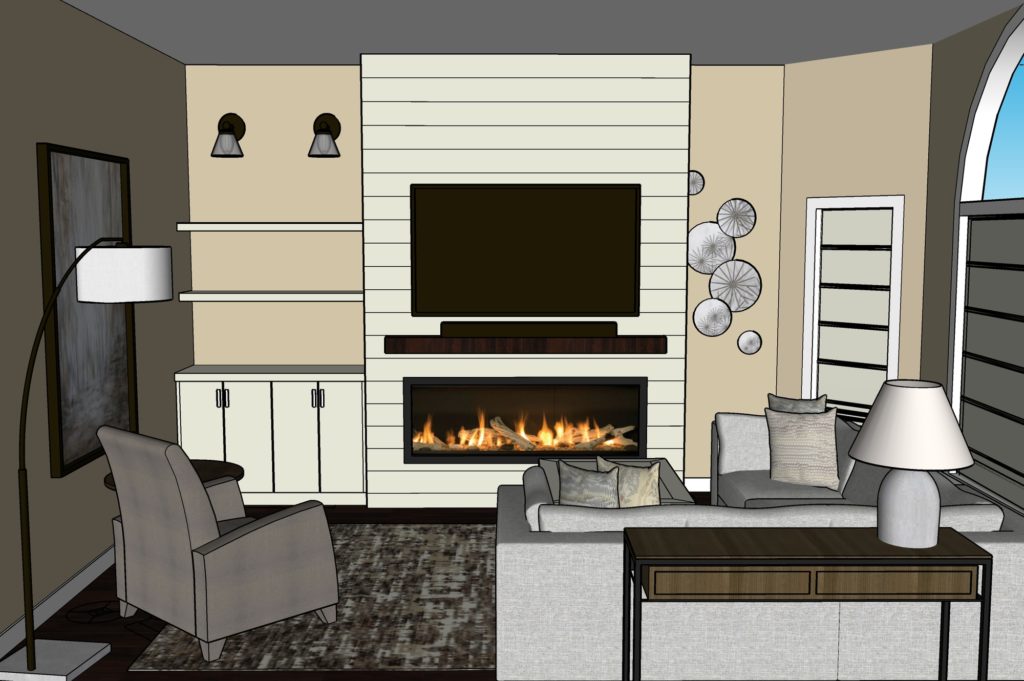 For the lighting, we are going to swap out the bulbs in the sconces. These are cooler bulbs when you compare it to the lamp light which is a warmer bulb.
We want to make sure that we are using the same sort of lighting color.
My client also has some speakers that they want to put on the wall. We've got wire hiders so you don't see that and our painter is going to paint it the same color as the wall which is Shaker Beige by Benjamin Moore.

Thank you for this first episode ever of of What We're Working on Wednesday.
WWWOW! It is seriously wow, right?
Comment to let me know your feedback and I'll see you next time. Cheers!
Find Colour Claire-ity Here
Do you know my 5 Steps on how to choose the right paint colour the first time?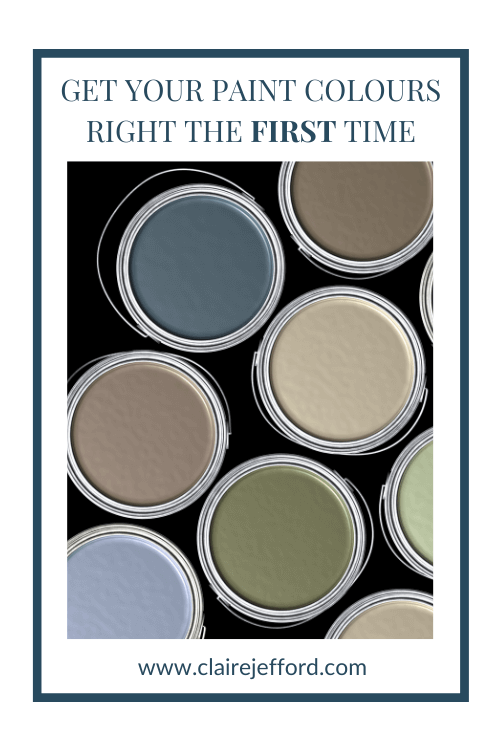 Convenience At Your Finger tips
To help you find the right colour the first time, we've created Perfect Colour Palettes.
Our Perfect Colour Palettes help you confidently select the best colour for your home, and then see which trim, ceiling, and accent colours pair well with your selected colour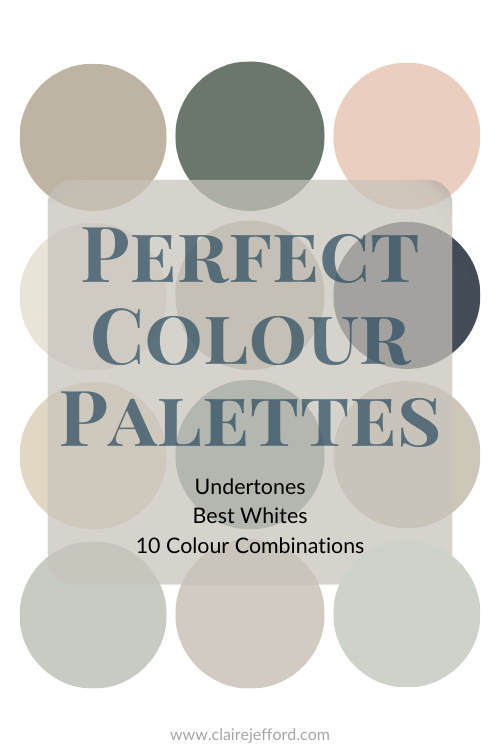 There are now 40 colours to choose from in our Perfect Colour Palette Library, 20 popular colours from Benjamin Moore, 10 of Sherwin Williams' most popular neutrals and 10 classic colours from Farrow & Ball.
Remember, it only takes one mistake to take your home decorating project from divine to disaster. Don't let the paint be what stresses you out!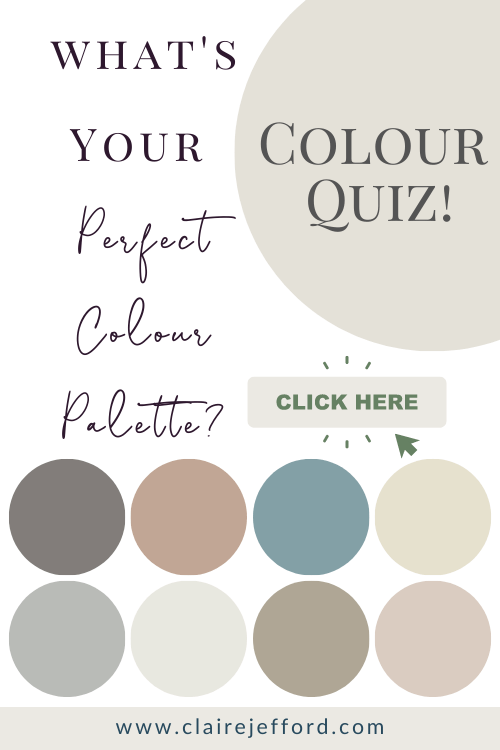 Perfect For Pinning