Benjamin Moore – Muslin
Picking a Paint Colour?
Choose the right paint colour
the first time Let me show you how in just 5 easy steps!
BONUS: The Top 15 Shades of Gray by Benjamin Moore
We value your
privacy
. We will never share or sell your information.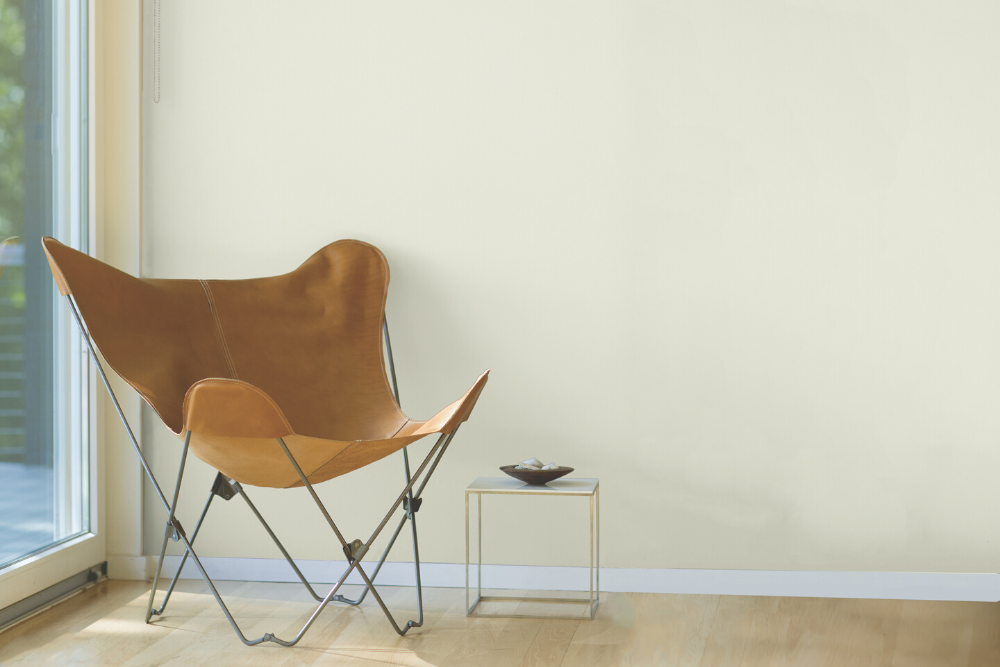 Muslin CC-110 by Benjamin Moore
A calming light beige, Benjamin Moore's Muslin is not quite off-white.
It's a lovely soft neutral and will look amazing in a huge variety of spaces.
In this colour review video of Muslin by Benjamin Moore, I share:
The undertone of my featured colour
Colour comparisons in order to easily see the different colour tones
Best white paint colours for the trim and ceilings
Beautiful colour combinations to inspire you for your decorating project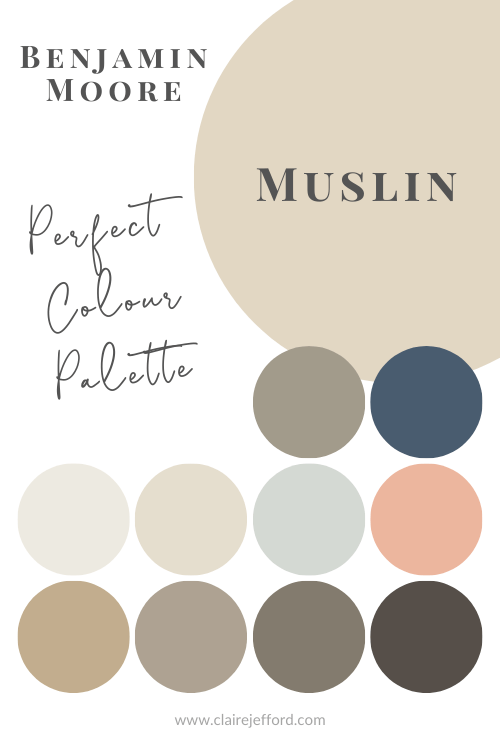 When you're finished watching the video and you'd like all of this information at your fingertips look no further than my Muslin Perfect Colour Palette.
In this digital download, you'll find even more paint colour combinations to use with Muslin.
Great inspiration for putting together a gorgeous colour scheme for a decorating or design project.
Benjamin Moore – Muslin Colour Review
As a Certified True Colour Expert and an award-winning interior design professional, I've worked with many homeowners on various residential design projects.
I want to give you the confidence to make educated decisions about your own paint choices. Let's do this!
Undertone: pink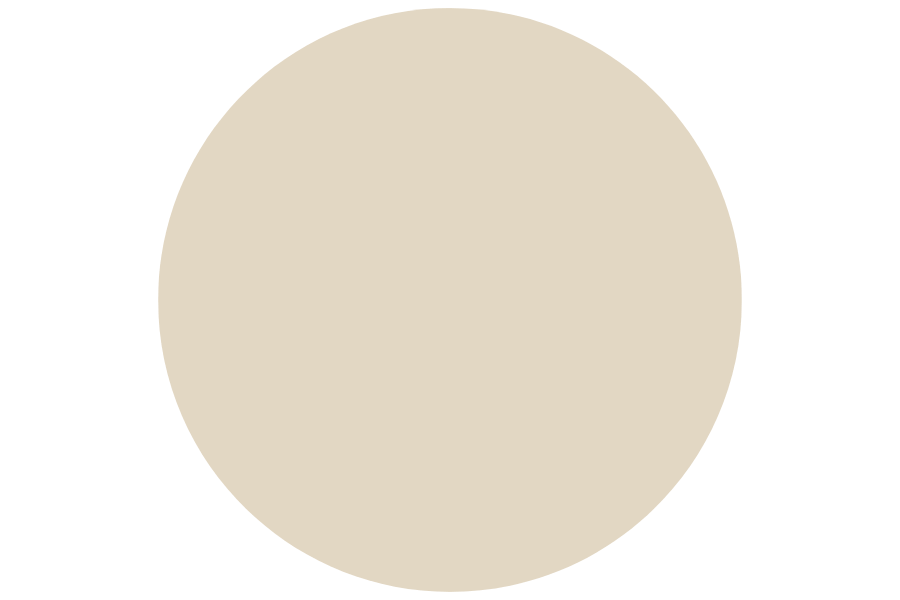 Beiges may come and go but they never seem to go far.
Muslin is a classic neutral and the slight pink undertone gives it a little more depth than a true off-white.
Muslin may look different in your space depending on the lighting and what other decorative elements you pair with it in your interior decorating project.
To see the undertone more clearly let's see the comparisons.
Colour Comparisons
Natual Linen CC-90 & Brandy Cream CC-60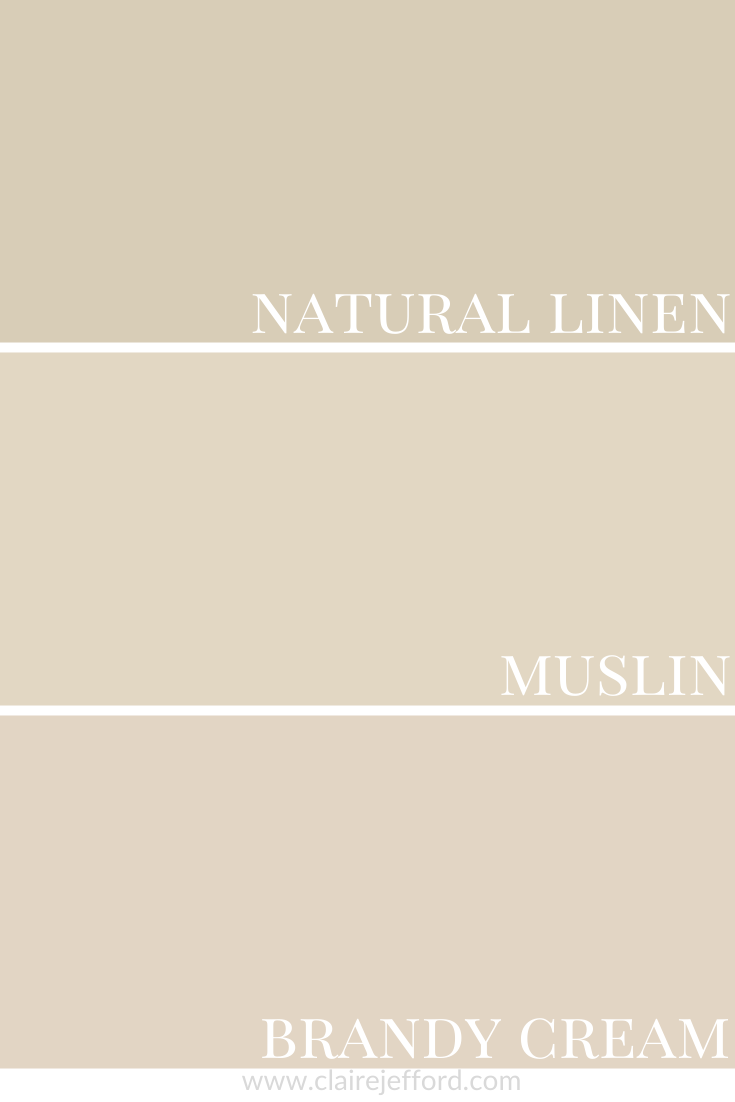 Muslin's pink undertone is more evident when you compare it with similar shades.
Natural linen leans slightly more green and Brandy Cream pink when you see all three of these colours together.
Best Whites To Pair With Muslin
Cloud White CC-40 By Benjamin Moore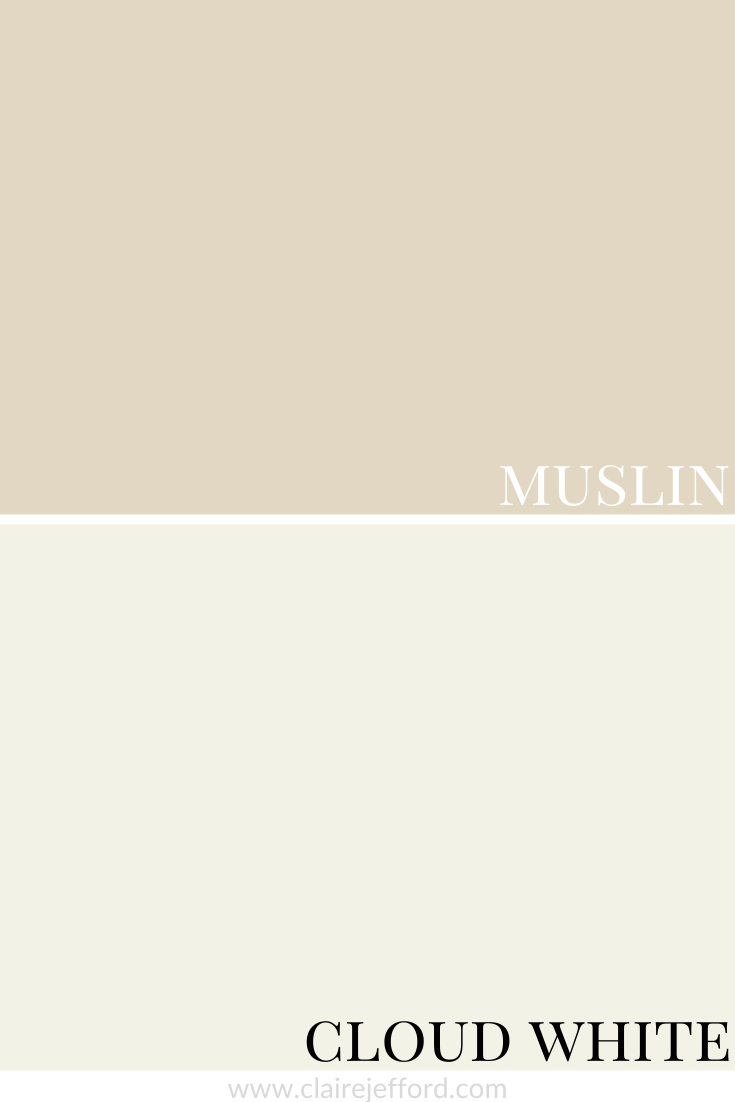 Cloud White is a nice creamy white to use on trim and ceilings.
White Dove OC-17 By Benjamin Moore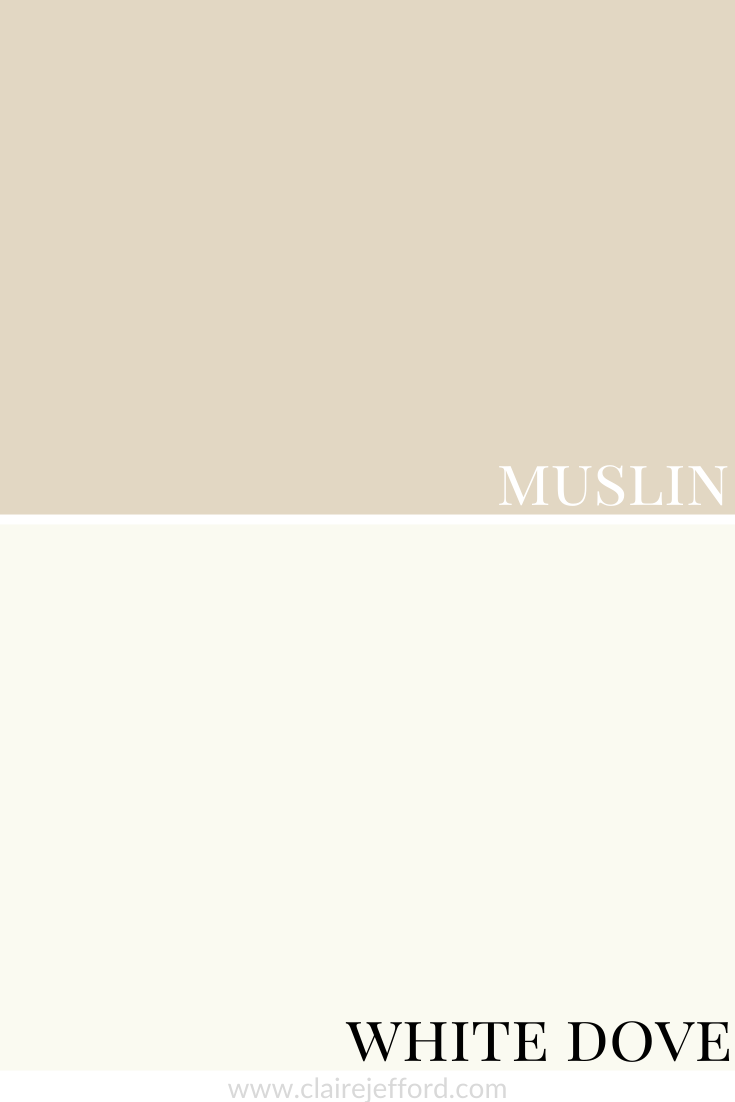 I love White Dove and definitely would recommend it as one of the top whites to pair with Muslin.
It's slightly softer than Cloud White but still not overly bright.
White Dove is hugely popular and was one of my first colour reviews.
You can see the undertone, comparisons and 10 complementary colours in my White Dove Perfect Colour Palette.
Simply White OC-117 By Benjamin Moore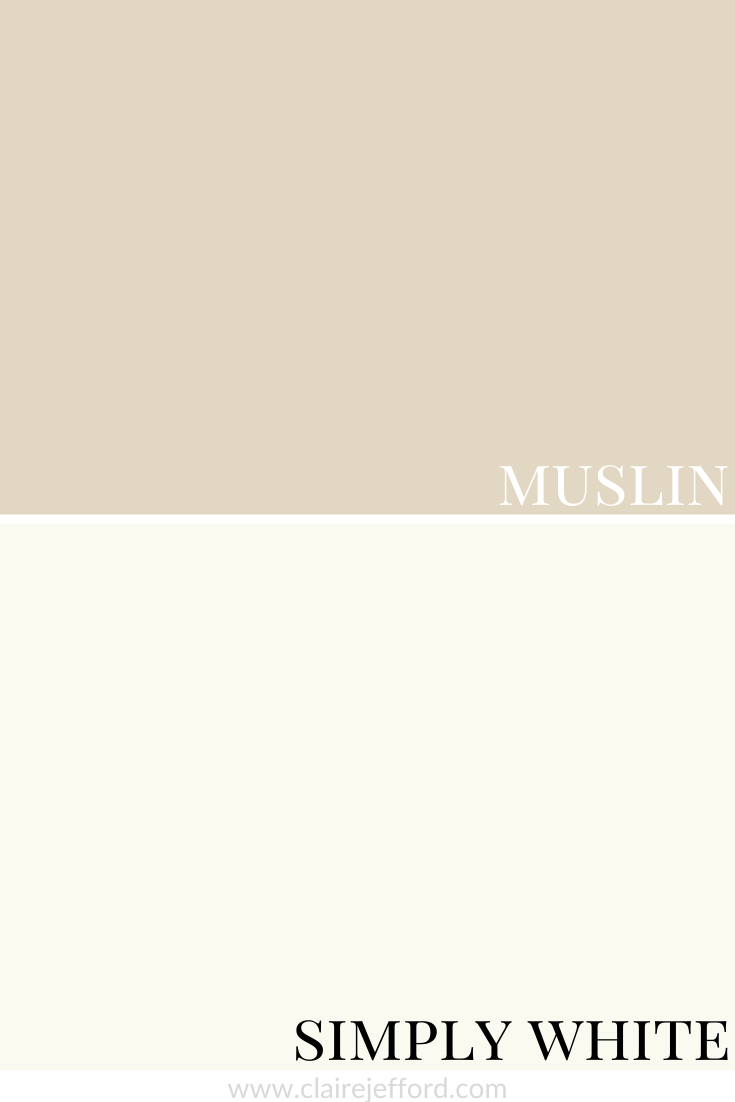 This one is the brightest of the three whites here. It would look fantastic if you have decor elements that are crisper in colour as opposed to creamy or muted.
The differences in the three whites are made more clear from the comparison below.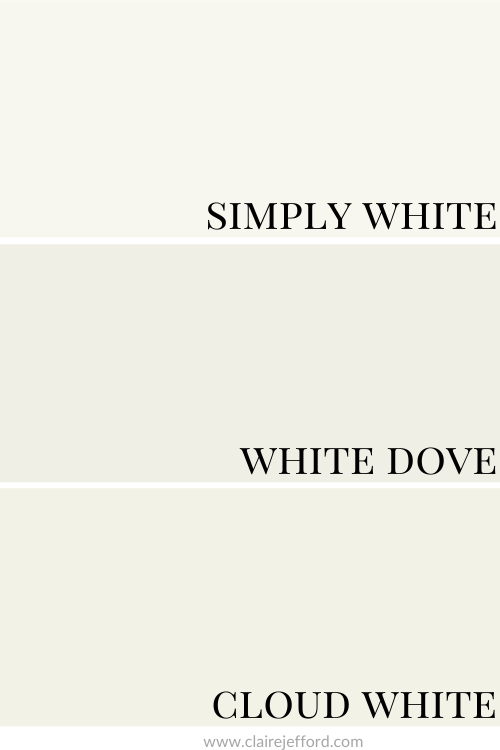 If you are a regular to my colour reviews you will know I tend to recommend from a group of about 10 white paint colours.
These are my best whites for trim and ceilings.
There's no need to sift through 1000 different shades of white to find the best one!
I can assure you that the best colour for your project already exists, you just need to know 5 Steps on how to choose the right paint colour the first time.
Fabulous Colour Combinations
Muslin with Wickham Gray, Van Deusen Blue & Ranchwood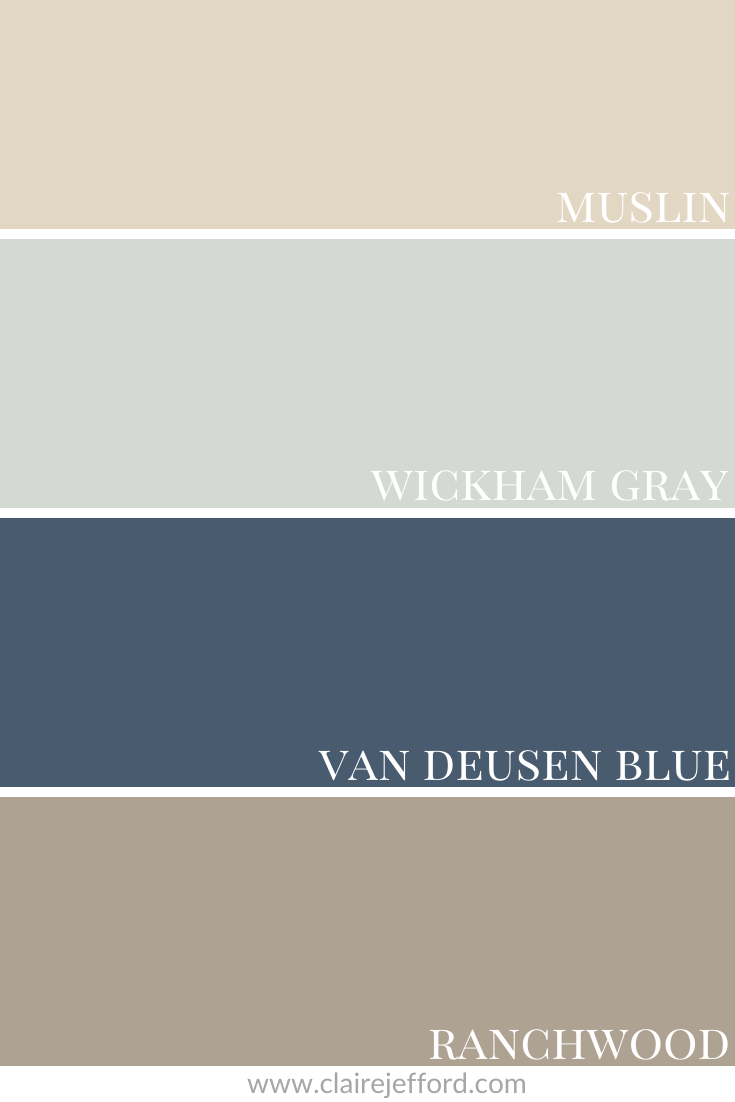 Wickham Gray HC-171 By Benjamin Moore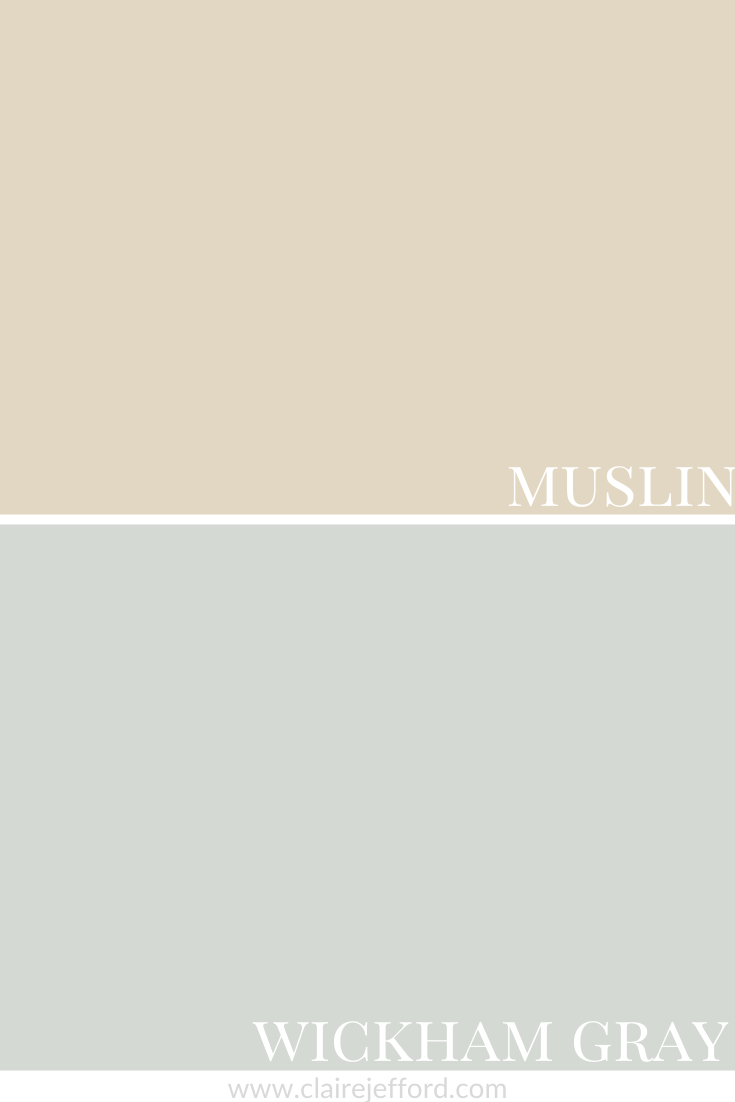 Wickham Gray is a lovely muted blue-green gray that works wonderfully with Muslin.
See it here in a local project I worked on.
You can also check out my Wickham Gray Perfect Colour Palette to see 10 more beautiful colours from Benjamin Moore that pair wonderfully with this gentle gray.
Van Deusen Blue HC-156 By Benjamin Moore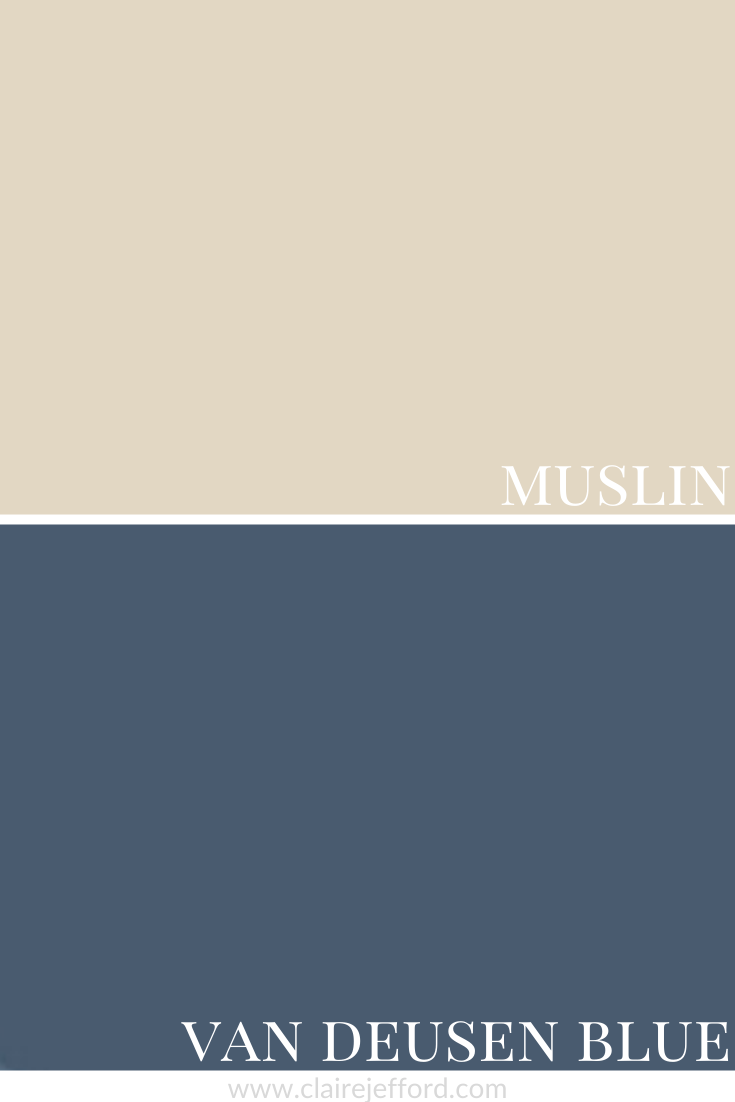 Van Deusen Blue is one of my favourites from Benjamin Moore. That and Hale Navy are standouts for sure.
Hale Navy has been a popular blue for some time and one I have used with great results.
See how beautiful looks in this clients' home, paired with White Dove on the ceiling and trim.
Ranchwood CC-500 By Benjamin Moore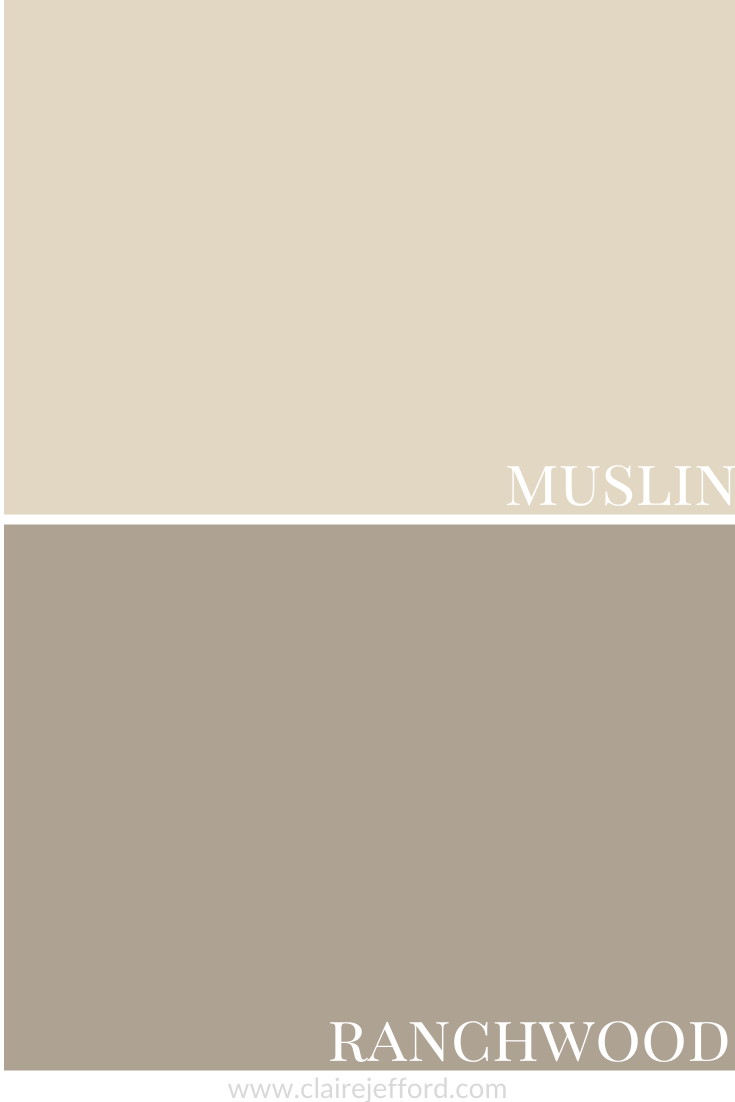 And finally, we finish with Ranchwood. A rich taupe colour that brings the right amount of contrast with Muslin.
Benjamin Moore – Muslin: Colour Palette Inspiration
Often I find my inspiration for a decorating project from fabrics, area rugs or even pieces of art sometimes.
Look how great this palette looks with the fabric below.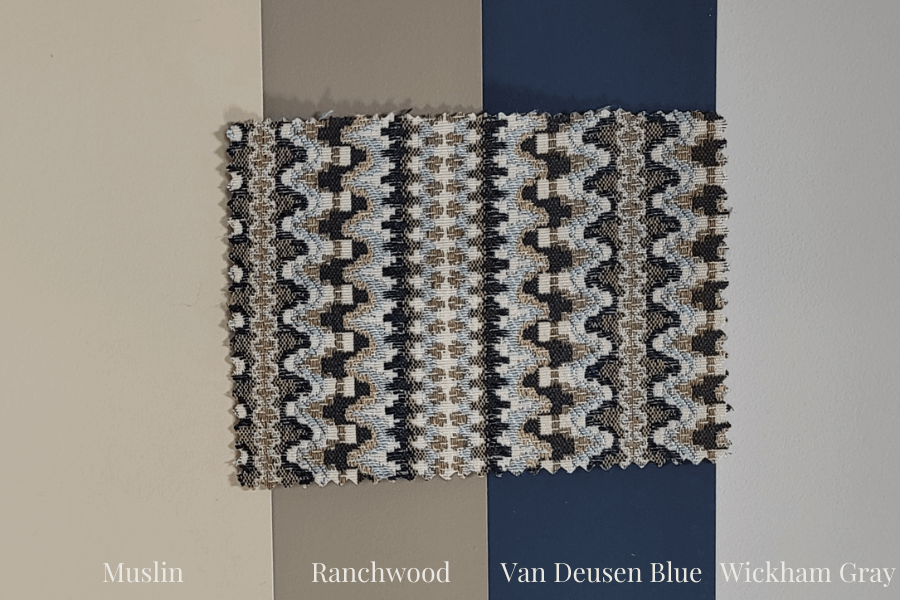 The idea here is to build your decor, furnishing and paint around this complete look.
It does not mean you need to use all four of these paint colours throughout your room.
Imagine a beautiful deep blue sofa paired with some gorgeous pillows in the fabric shown!
Walls painted Muslin, ceilings and trim White Dove and some accents in Wickham Gray and Ranchwood.
How stunning would that room look?!!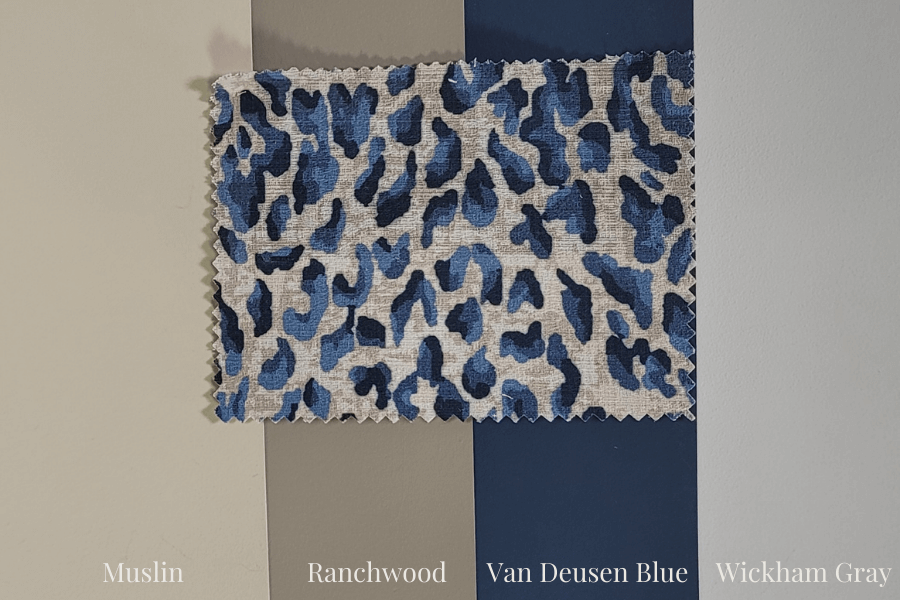 Here's another look that's a little more playful and fun.
The deep blues in the leopard-style fabric offers another incredible look with these four colours.
And remember in my Perfect Colour Palette for Muslin there are 10 more colours to mix and match with for your home décor.
Just think of the many gorgeous colour combinations and palettes you could create!
Have these palettes inspired you? Comment below and share your thoughts.
Convenience At Your Fingertips
All of the colour combinations shown above are included in my Perfect Colour Palette of Muslin.
Muslin is also now part of my Benjamin Moore Whites & Neutrals Collection showcasing all 10 of my Benjamin Moore white and neutral Perfect Colour Palettes.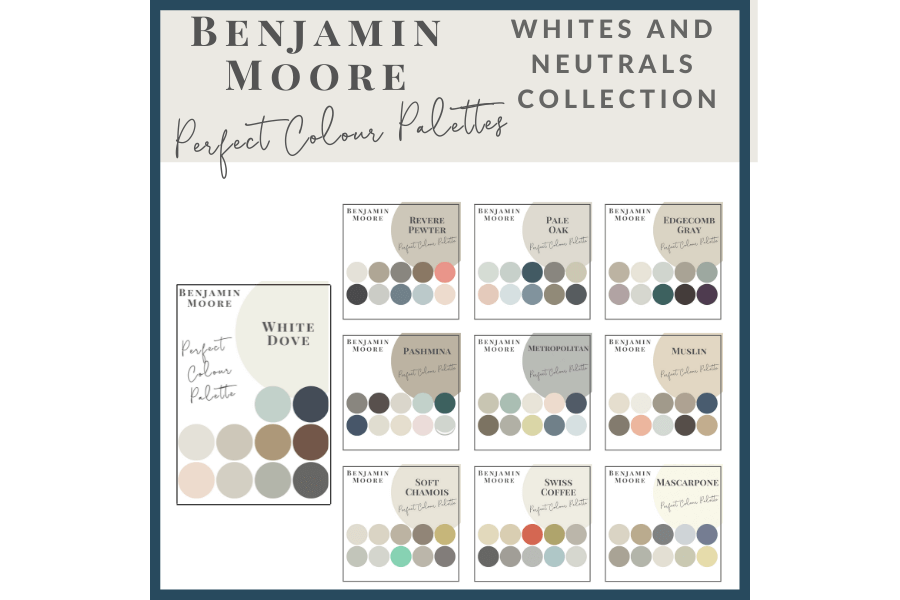 If you want to get all my Benjamin Moore colour guides in one place, look no further than my Benjamin Moore Ultimate Collection. All 20 of my guides in one handy collection.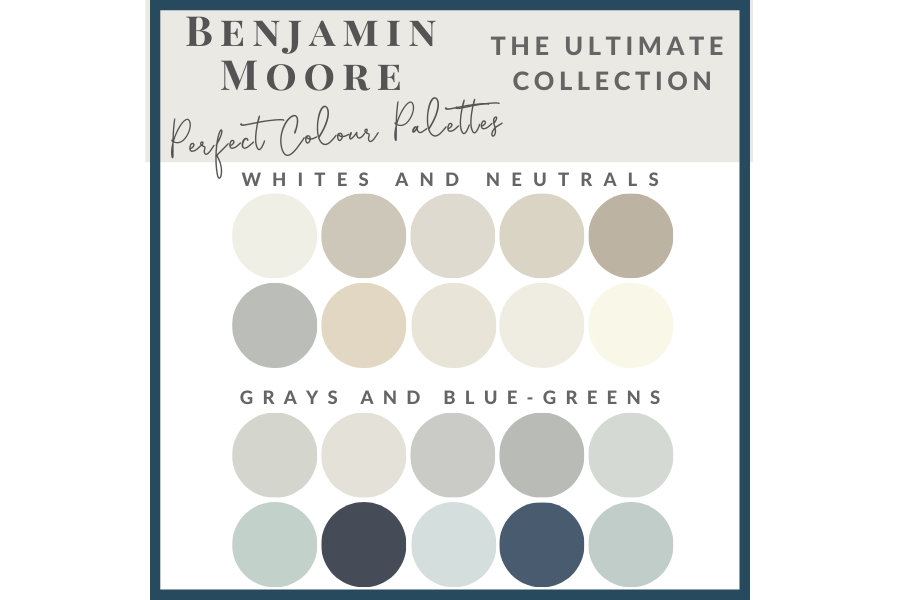 My Perfect Colour Palette library is expanding and I now have over 50 paint palettes to select from. Click here to see all of them.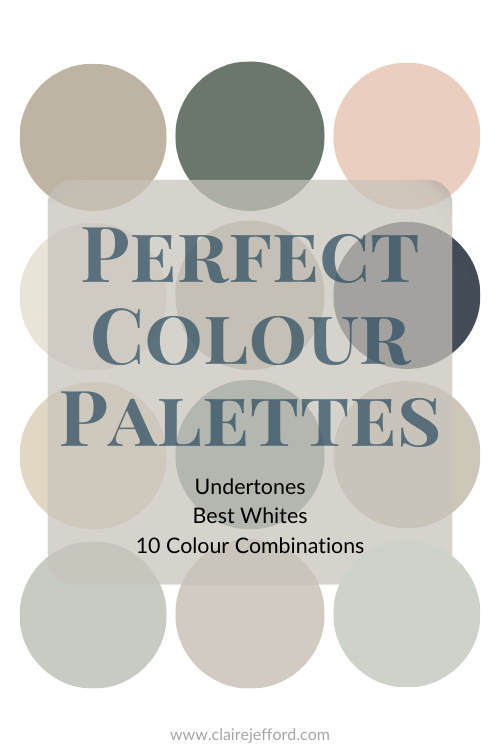 Remember, it only takes one mistake to take your home decorating project from divine to disaster. Don't let the paint be what stresses you out!
Take my Colour Quiz to see which Colour Palette best suits your style.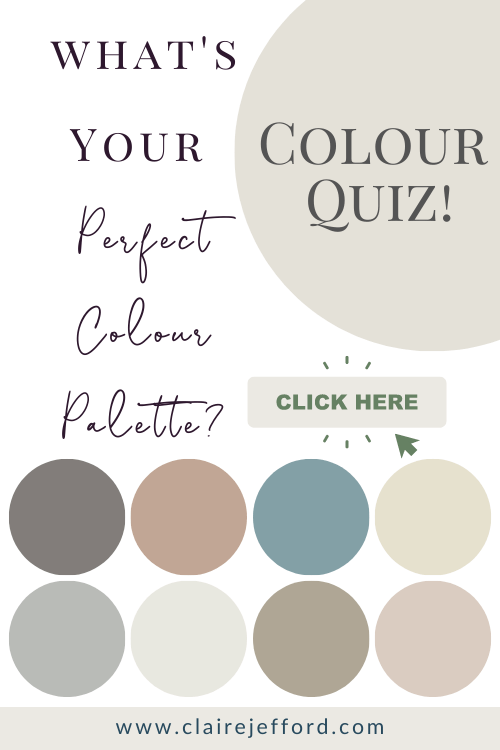 Perfect for Pinning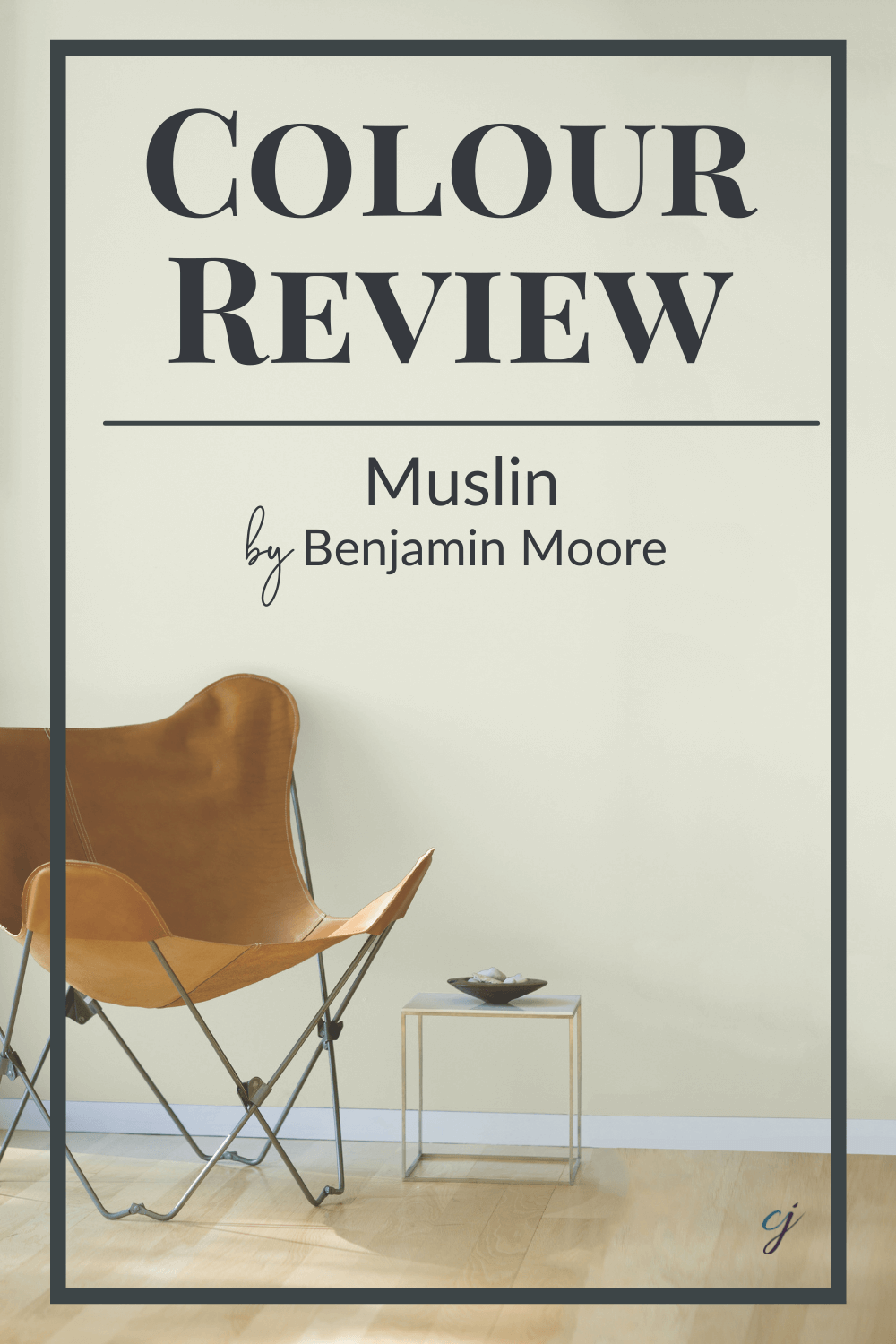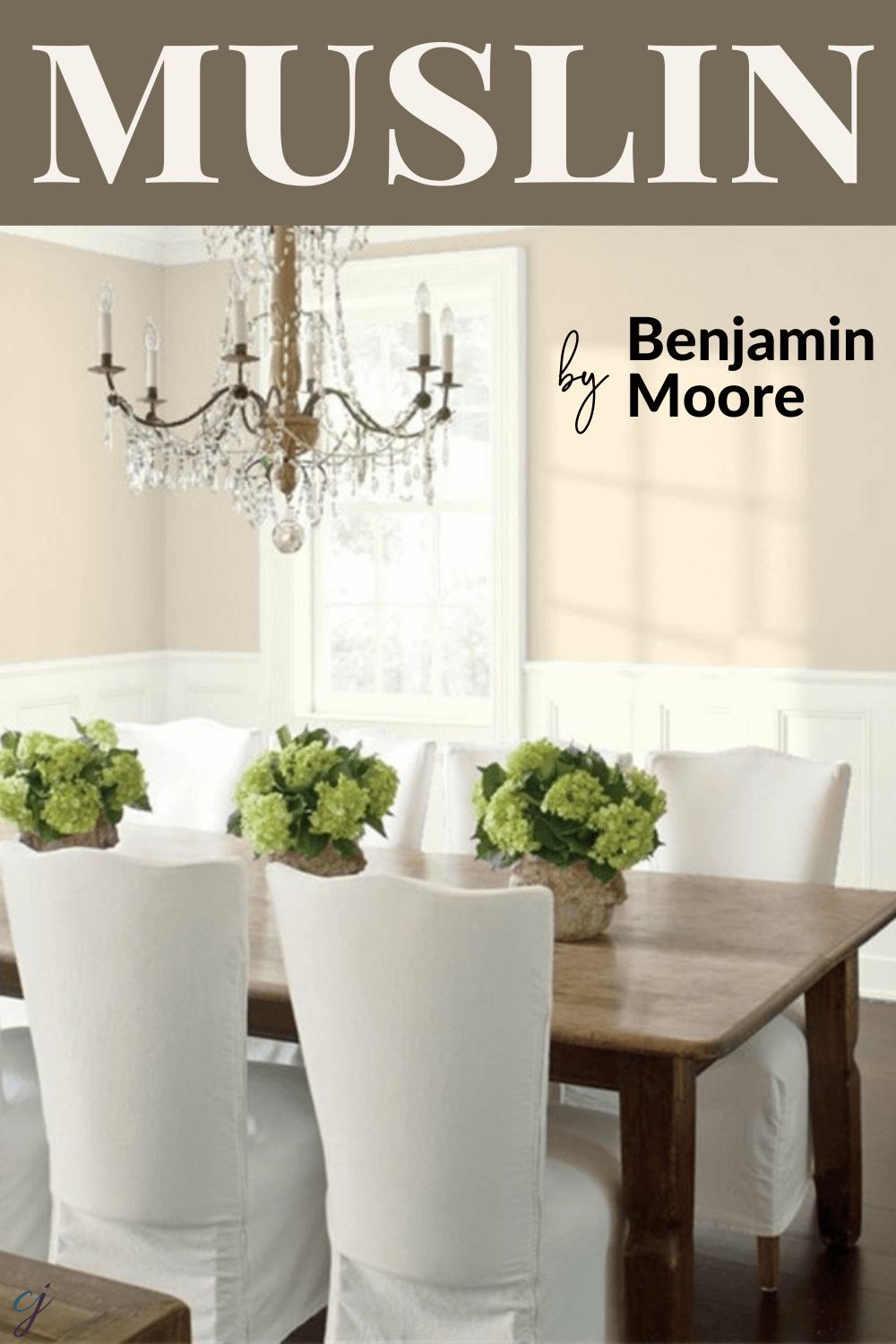 Room images by Benjamin Moore Colour Viewer