The BIG reveal for this Coastal Living Room
Picking a Paint Colour?
Choose the right paint colour
the first time Let me show you how in just 5 easy steps!
BONUS: The Top 15 Shades of Gray by Benjamin Moore
We value your
privacy
. We will never share or sell your information.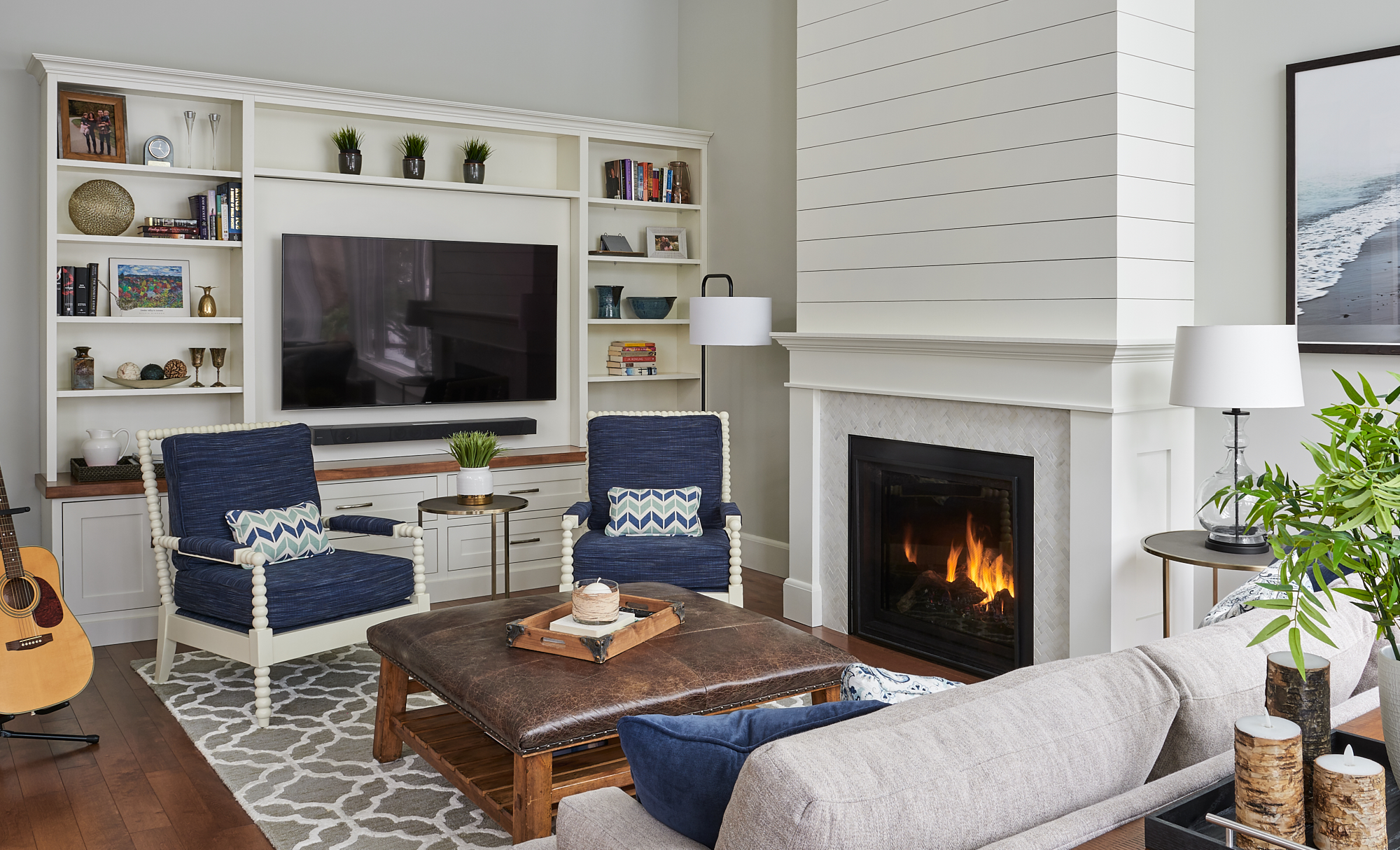 Who doesn't love a fresh white and blue colour palette for a living space?
This popular colour combination never goes out of style.
Check out the BIG reveal for this Coastal Living Room!
If you want to better understand the process of interior design and how we overcome various challenges when working on client projects, that's exactly what I'm sharing with you today.
Let's look at the details of this beautiful Great Room transformation, including before images, 3D drawings and our professional 'after' photos.
Project Location:
This was an older home in a beautiful mature neighbourhood known as Aldershot in my home town of Burlington, Ontario.
Client Wishlist
While they had an idea of what they desired to update and drastically improve this previously unused space, my clients sought professional guidance from us to make their dreams a reality.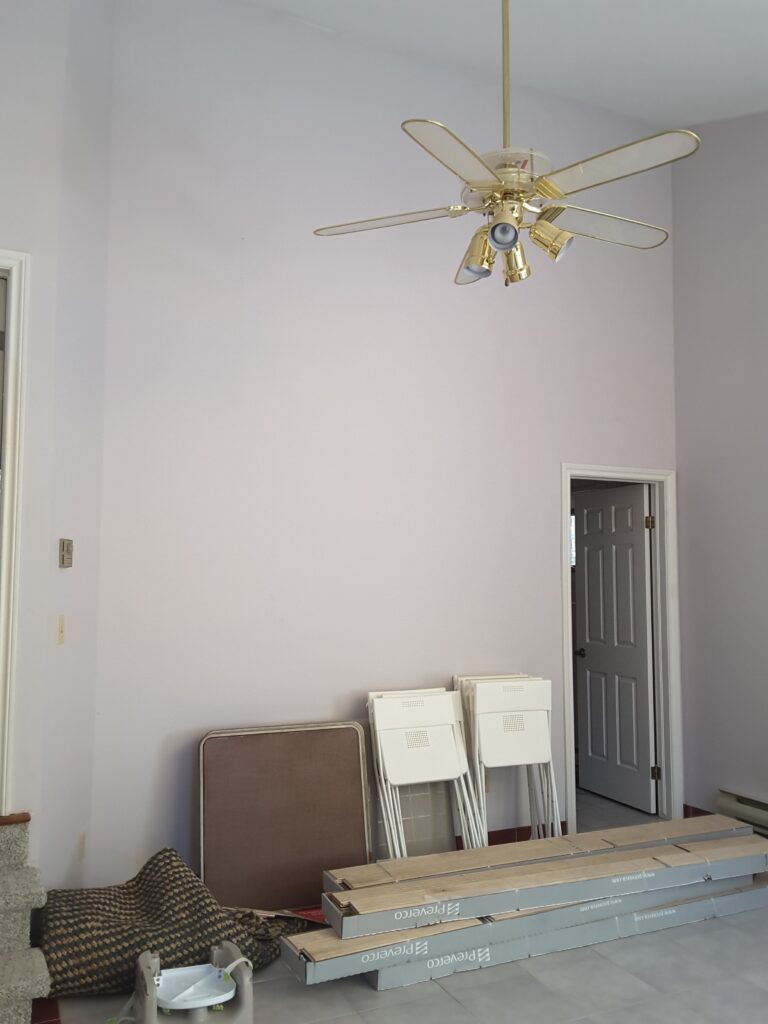 To do this successfully, it was necessary to tear down a wall and remove an unused bathroom that would then allow enough room for everything on my client's wish list, including an open floor plan between the kitchen and the new Great Room.
In discussing the needs (and wants!) of our clients, we thoughtfully designed an entertaining area that the entire family could enjoy, a beautiful, coastal living room.
It was important for us to accentuate the great architectural features in this room, such as the tall slanted ceilings and abundant windows that provided a glorious view to the lush gardens in their backyard.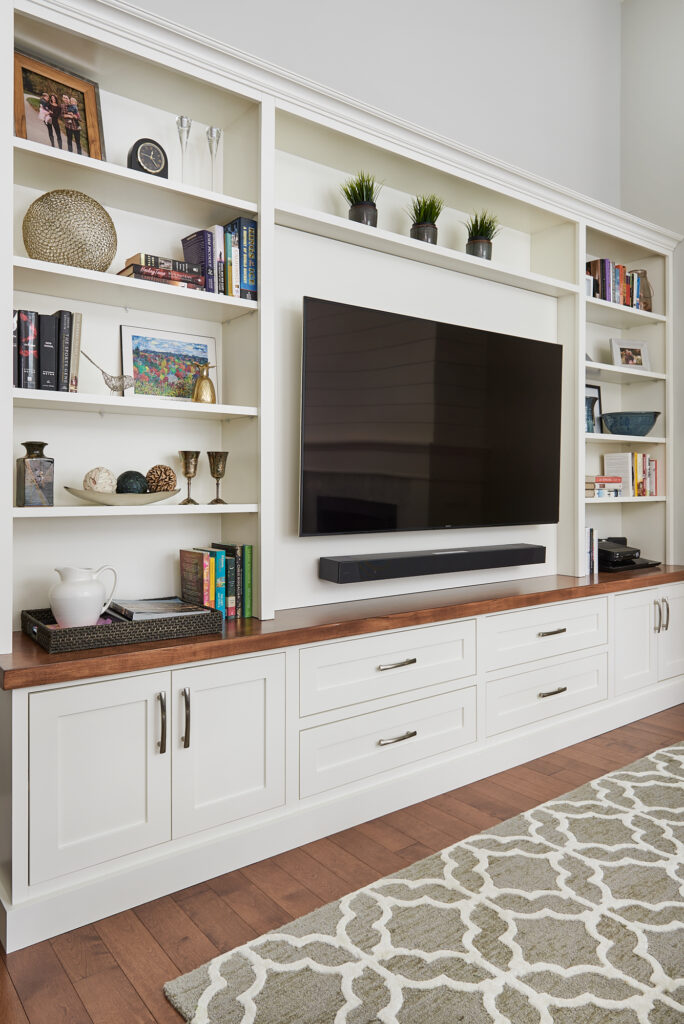 Key Focal Points-Coastal Living Room
The main focus was the addition of a custom media wall unit and new fireplace that we designed using soft white shiplap and a small marble herringbone tile.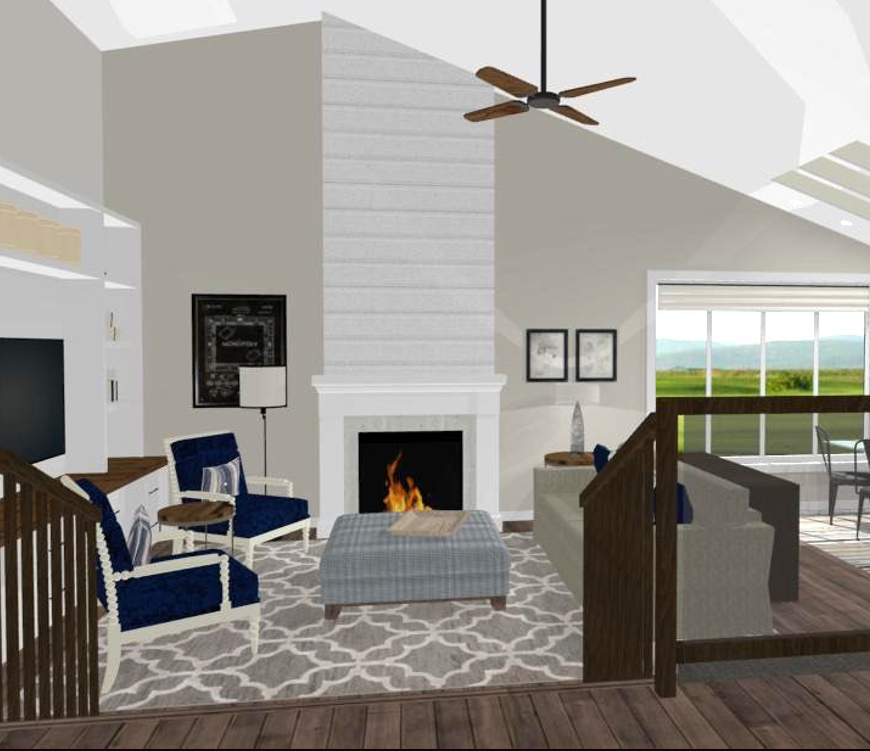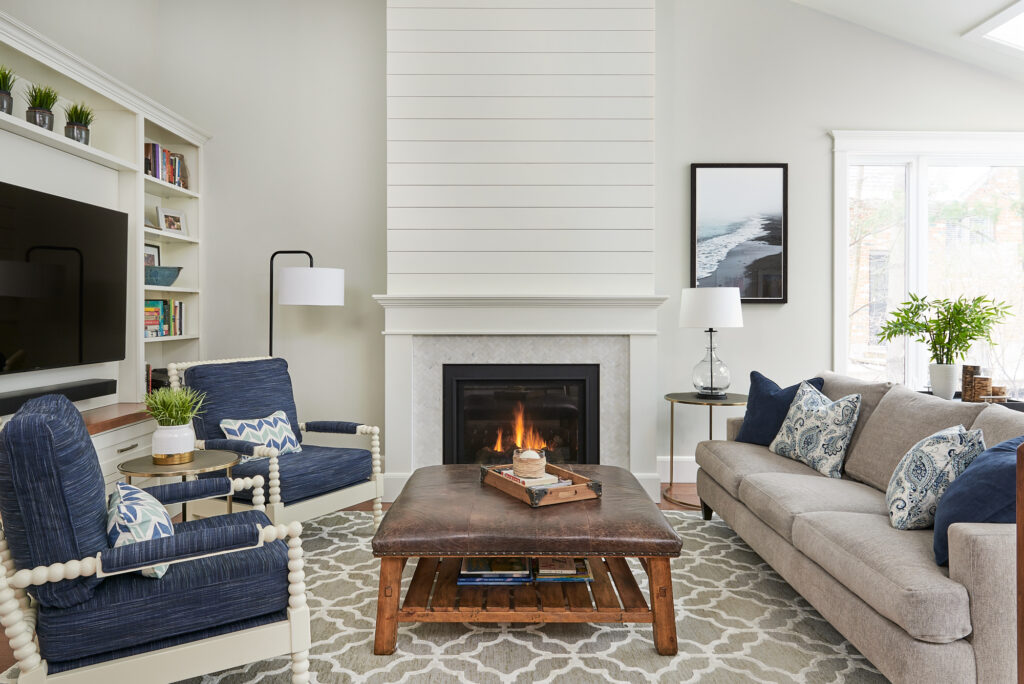 We were also really excited about the addition of a crafting area for the kids in the back corner by the windows!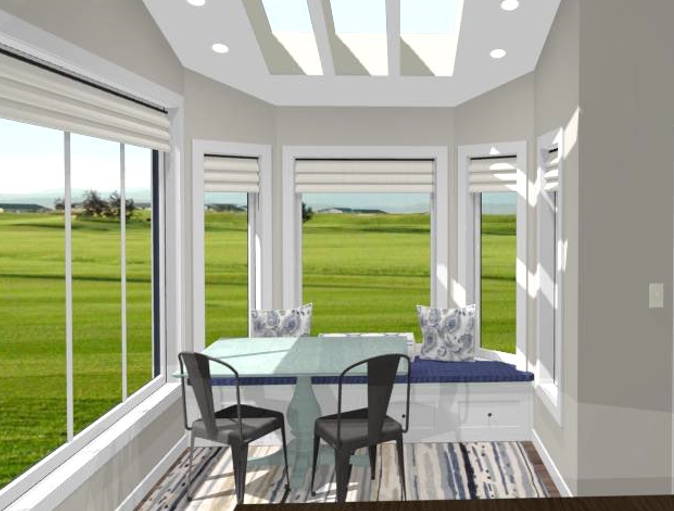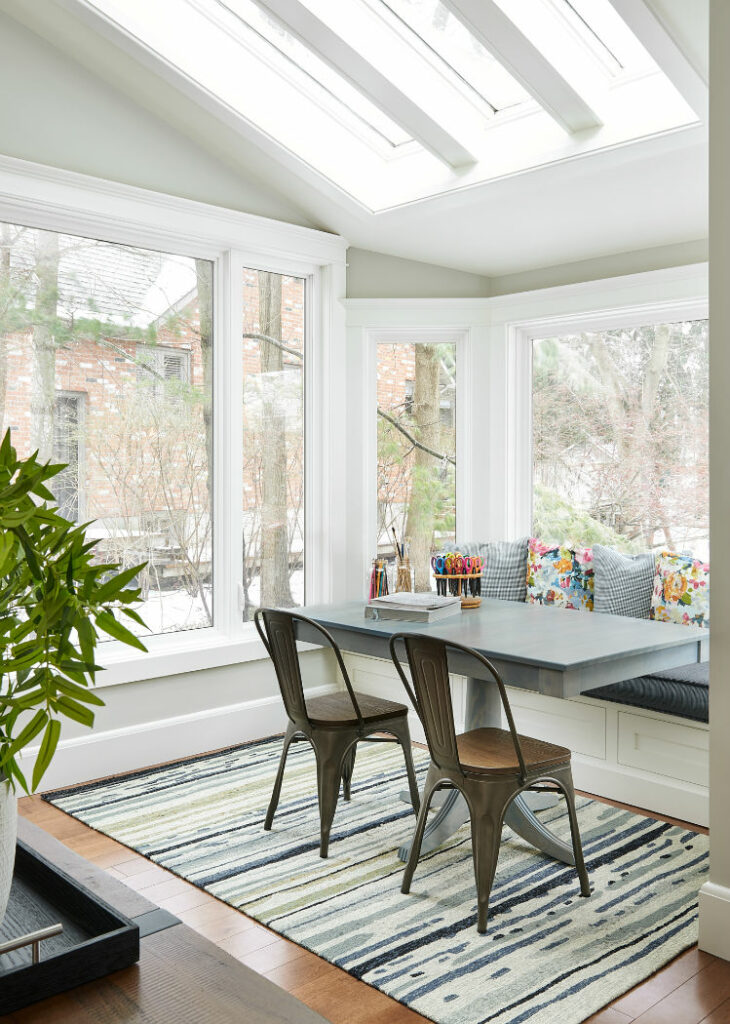 This space used to house an old hot tub that the clients never used.
Check out the before image below.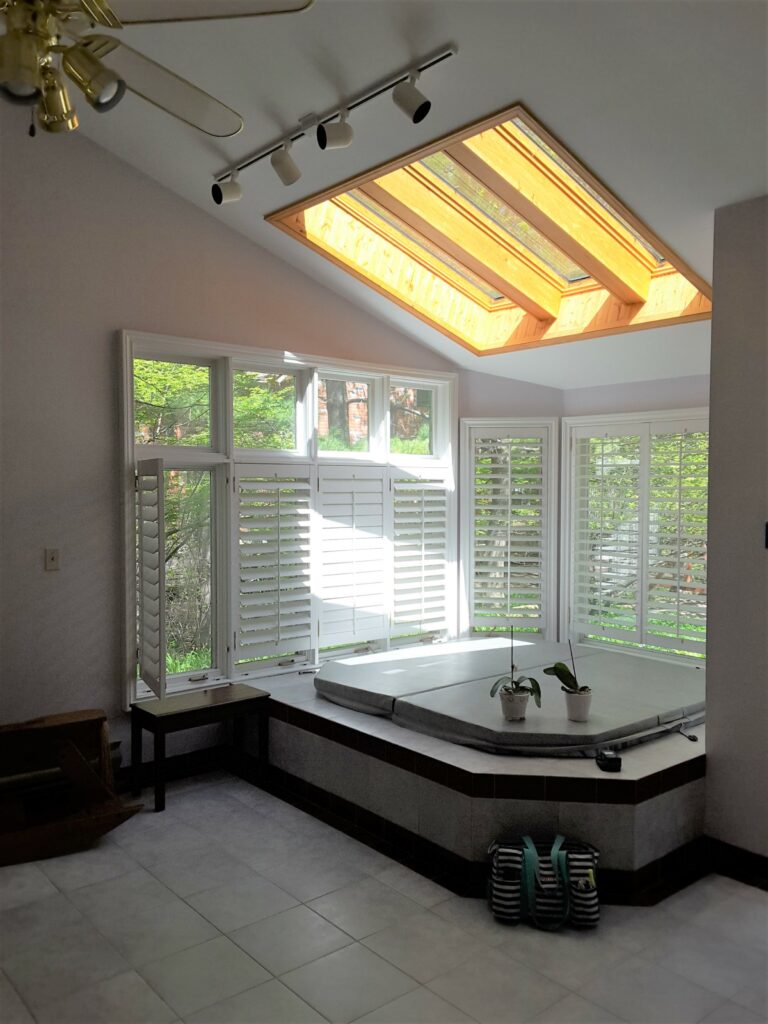 Wowzas! It's incredible when you consider the possibilities of what you can do.
In my opinion, that's one of the best parts of being an interior design professional. And making dreams come true too, of course. 🙂
With the additional sunlight that pours into this room from the skylights above, it was the perfect spot to create a cosy little nook.
The custom bench seat that sits perfectly within this bay window area not only looks great, but the drawers underneath for storage of colouring books, pencils, games and puzzles means that it's super functional as well.
Colour Inspiration-Coastal Living Room
For the colour palette I am often inspired by fabrics first.
Typically we use one or two swatches that become the 'jumping-off point' for the entire design.
From there we look at other decorative elements to support the design palette, mixing in some warm tones as well. You can see that reflected in the coffee table, walnut shelf on the media unit and console behind the sofa.
Then we add in more layers such as the area rugs and accent cushions.
The wall colour is Gray Owl by Benjamin Moore.
There was an emphasis on creating a Coastal colour palette with nautical hints to complement the new shiplap fireplace.
You can see how we did that by using beautiful dark blue fabrics in the conversational seating area, as well as in the other blue tones incorporated into the children's new crafting area by the windows.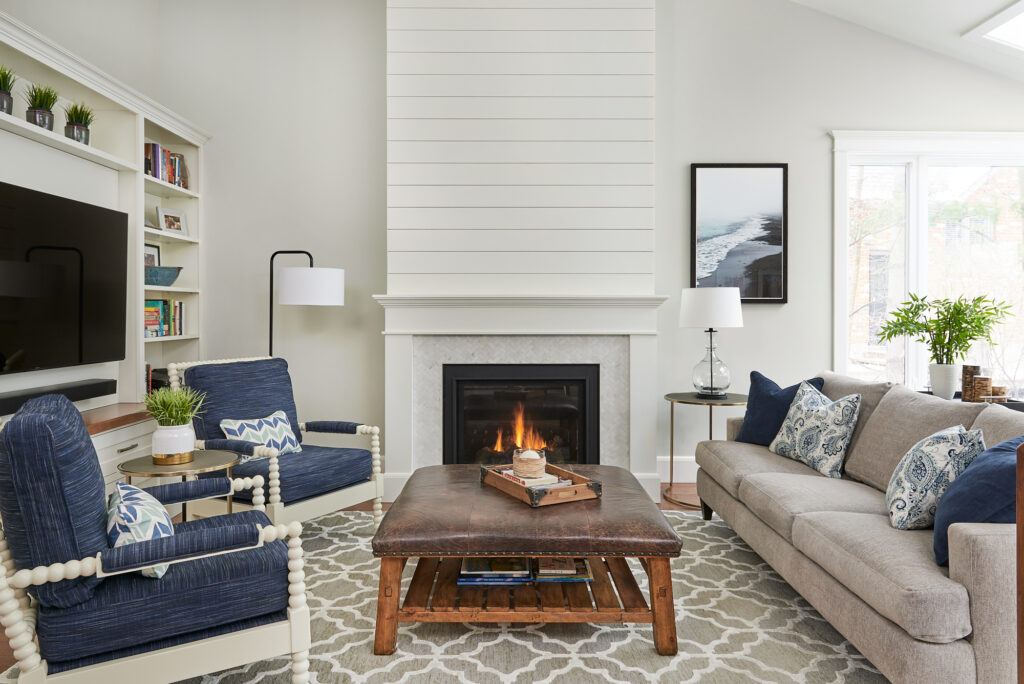 More beautiful blue colour combinations can be found here.
You can also check out our coastal colour palettes by Benjamin Moore, Sherwin Williams and Farrow & Ball.
You may also like our blog all about Coastal Designs here.
Designer Secret…Sshhhh
Since it was important for the clients to open up this new space from the kitchen, in order to keep the eye moving you'll see we used see-through acrylic panels by the stairs. Traditional railings can often distract the eye and look busy.
This is a clever design tip that makes for a seamless design that the client's especially loved.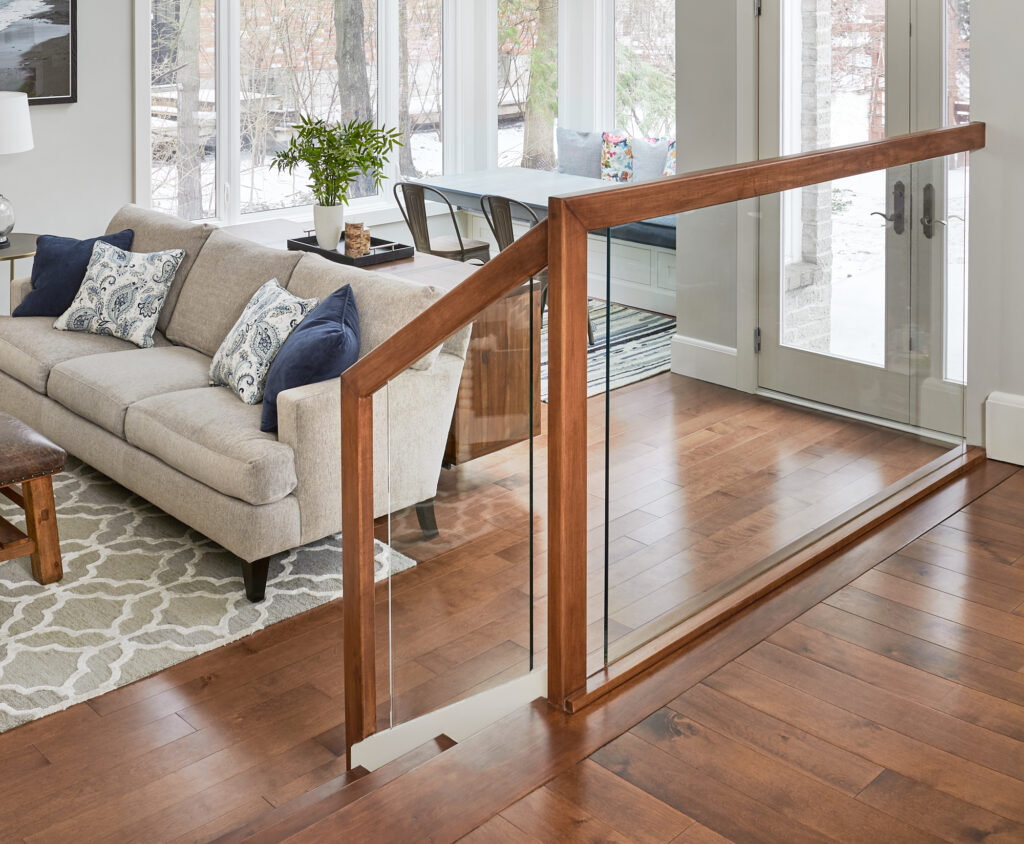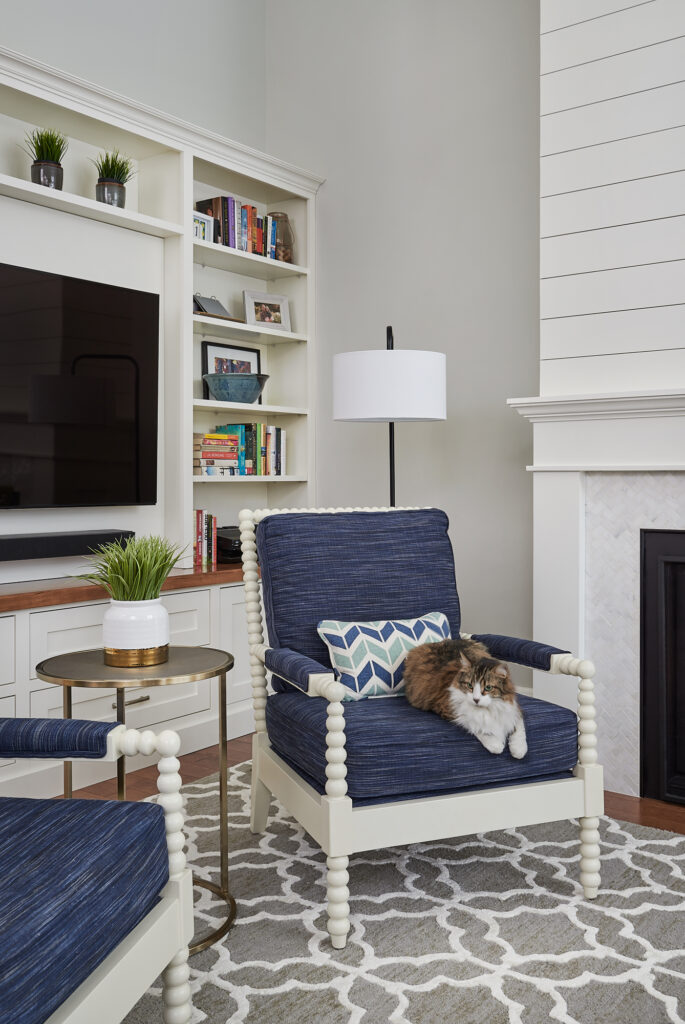 We enjoyed working with these Burlington clients to redesign an area of their home that had previously not been used since they moved in.
Our job is most meaningful when clients trust us to create stunning and functioning spaces for gathering and making memories.
Plus, the return on investment for selling a property that has been thoughtfully designed and beautifully decorated is huge!
See their full project in our professional portfolio here.
Our clients reaction to the big reveal of their coastal living room:
From the colours to the fabrics, everything is perfect. We have had many compliments on our new space. Thank you for our beautiful room!
What design element did you like best?
Have a favourite part of this Great Room Makeover? Comment below to tell it was it was!
Colour Claire-ity
Do you know my 5 Steps on how to choose the right paint colour the first time?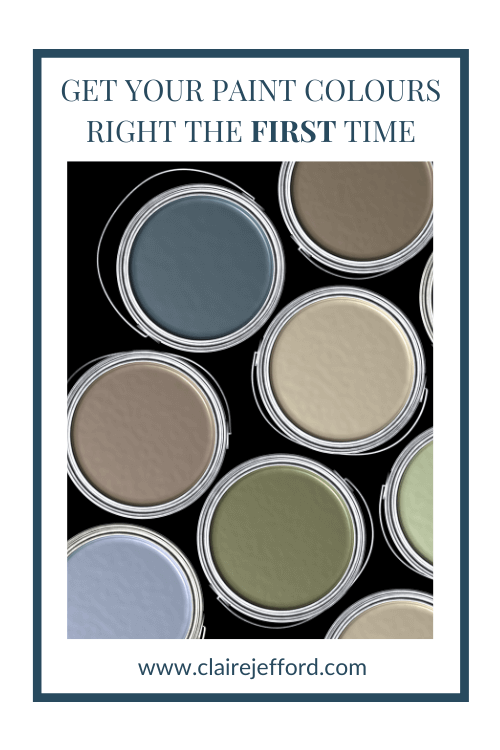 Convenience At Your Finger tips
Check out my super helpful Perfect Colour Palettes. Find great colour combinations to inspire you for your next room design palette.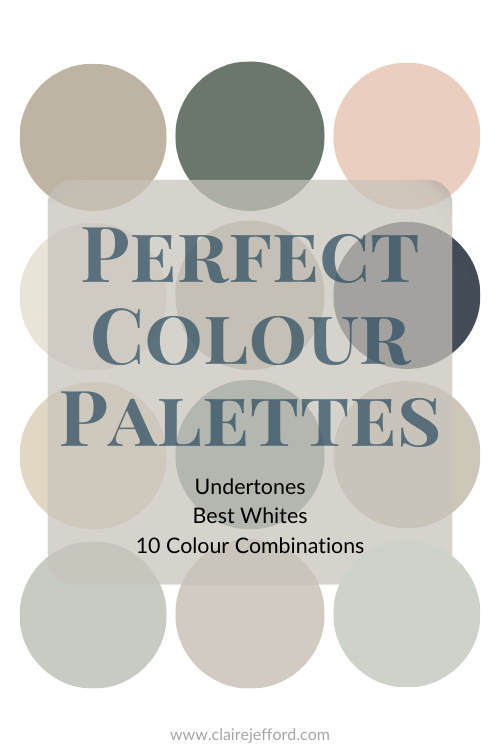 Remember, it only takes one mistake to take your home decorating project from divine to disaster. Don't let the paint be what stresses you out!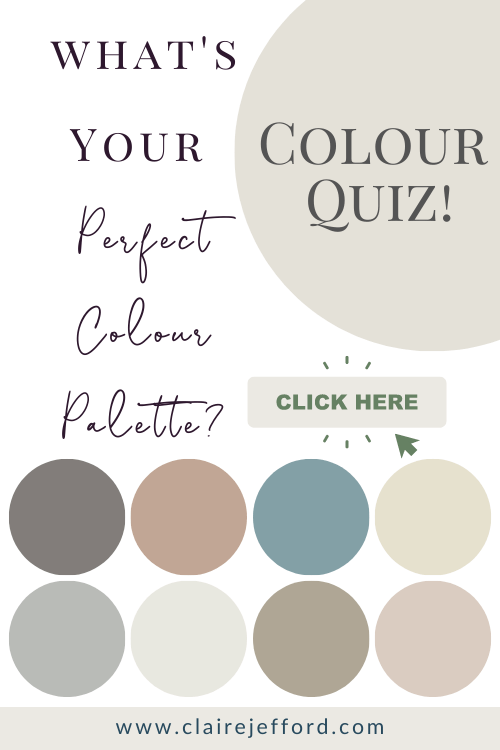 Perfect for Pinning