Don't Hire a Designer that Doesn't Have This….
Picking a Paint Colour?
Choose the right paint colour
the first time Let me show you how in just 5 easy steps!
BONUS: The Top 15 Shades of Gray by Benjamin Moore
We value your
privacy
. We will never share or sell your information.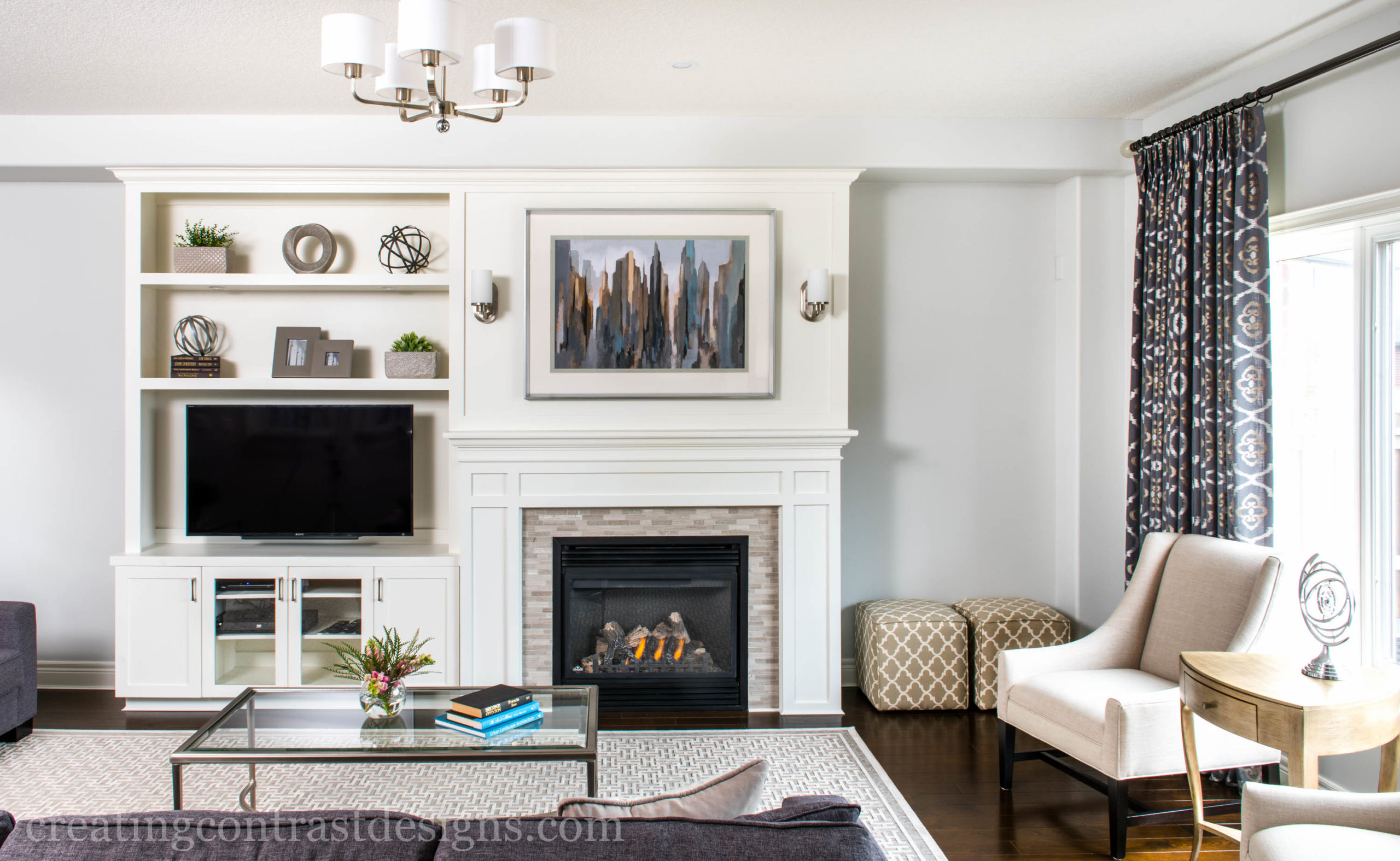 When someone is looking to hire an Interior Design Professional to help them with a renovation or decorating project, it is likely because:
1. They do not have the time to do it themselves
2. They do not know how to pull all the elements of the design together for a cohesive look
3. They cannot visualise the layout or the end result to understand how fabulous their space can be
By hiring a decorator or designer, you free up your own time and leave it to the experienced professional to ensure all of the undertones in your finishes and furnishings will work flawlessly in your home.  So, the first two of the three points listed above are covered, but what about the visulaization aspect?
Meatloaf once sang "Two out of three ain't bad", but I say "Why settle for just two when you could have all three?"  Kinda like, I want my cake and should be able to eat it too, right?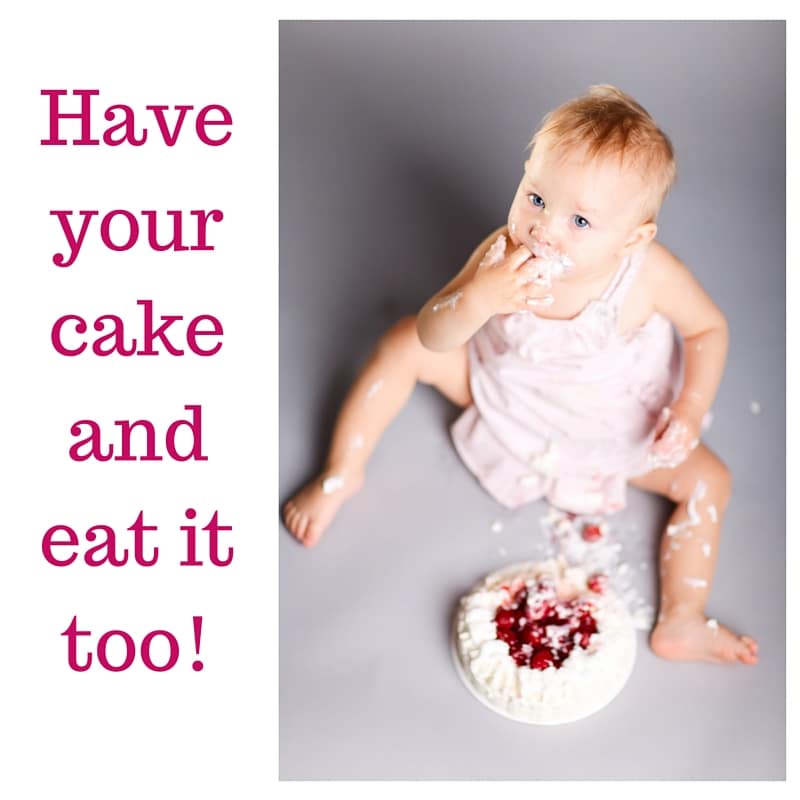 If you can't visualise the ideas that your designer is proposing, you are not alone!  But there is a way to see the end result before having to commit to the end result.
When I first met with clients Jennifer and Darryl, they were struggling with how to layout the space in their family room. The only items remaining in the room were their love seat and sofa. The reason it was so awkward to place furniture in this large space was because the fireplace was centered with the adjoining kitchen and not on the actual wall in the room.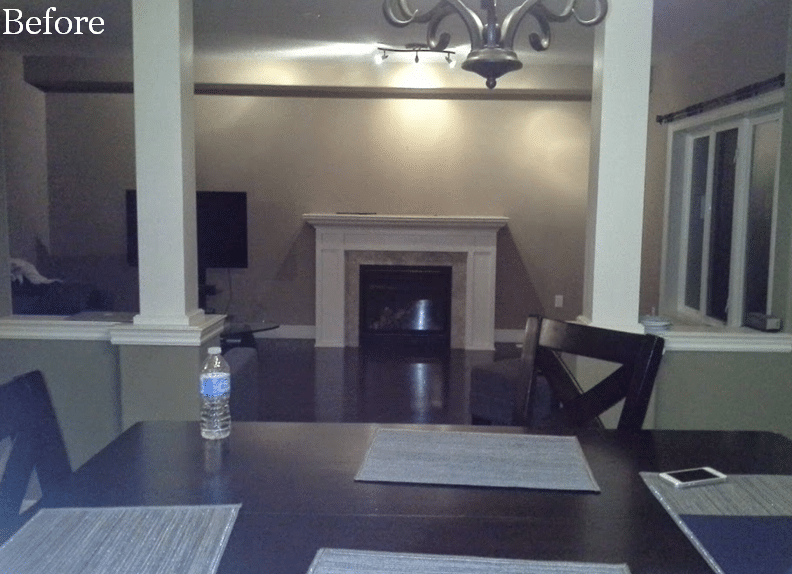 The furniture was pushed up against the wall, which is not uncommon for many homeowners to do.
This window looks out to their spacious backyard and although they have relatively good privacy, these windows were desperate to be dressed with pretty fabric and new hardware.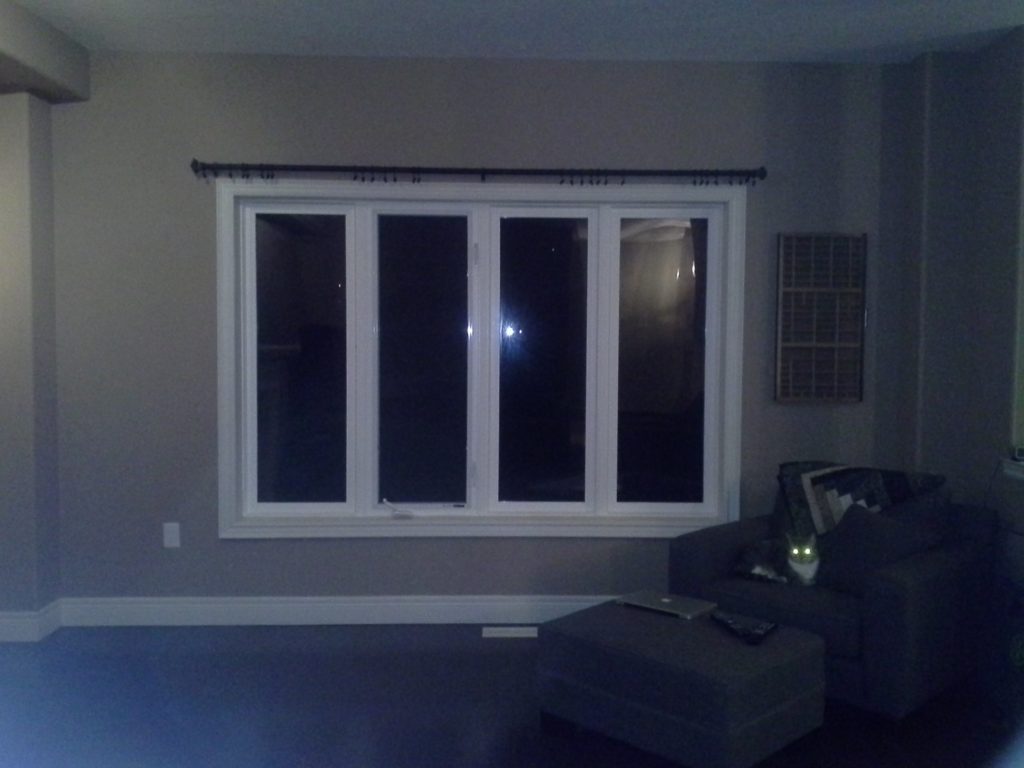 The home had some traditional elements that my clients liked such as pillars and fluted detailing on the fireplace, but they wanted to update the living room for a look that was upscale yet still cosy.
And this is where the magic happens!
My interior design software, Chief Architect, gives me the ability to show with clients the fabulous designs that I create for their space. When I am designing a space I typically give two options for layout. And bear in mind that this is mainly for layout purposes only at this point, not necessarily recommended finishes…we will get to those details in this post too though, so stay tuned!
In the first design I kept the existing fireplace as is and pulled the furniture in from off of the walls and defined the seating area with an area rug. Behind the loveseat I put some cabinetry and floating shelves.  See below for option #1.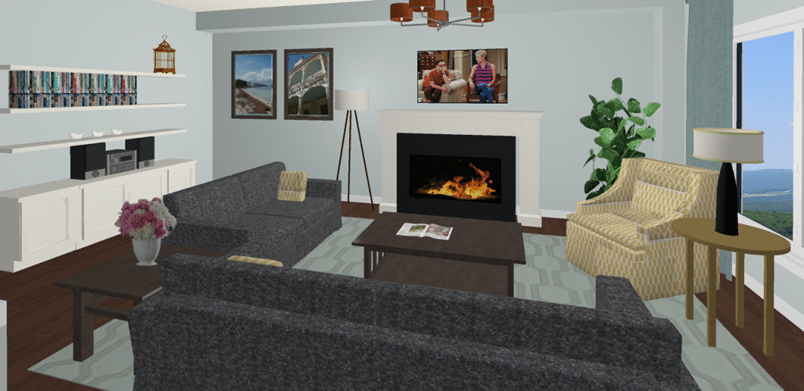 For the second option, I added on to the existing fireplace with a custom built in design that extended the focal point to almost centre the entire unit on the wall. I placed a mirror behind the loveseat to reflect the light and added two matching occasional chairs by the window. See below for option #2.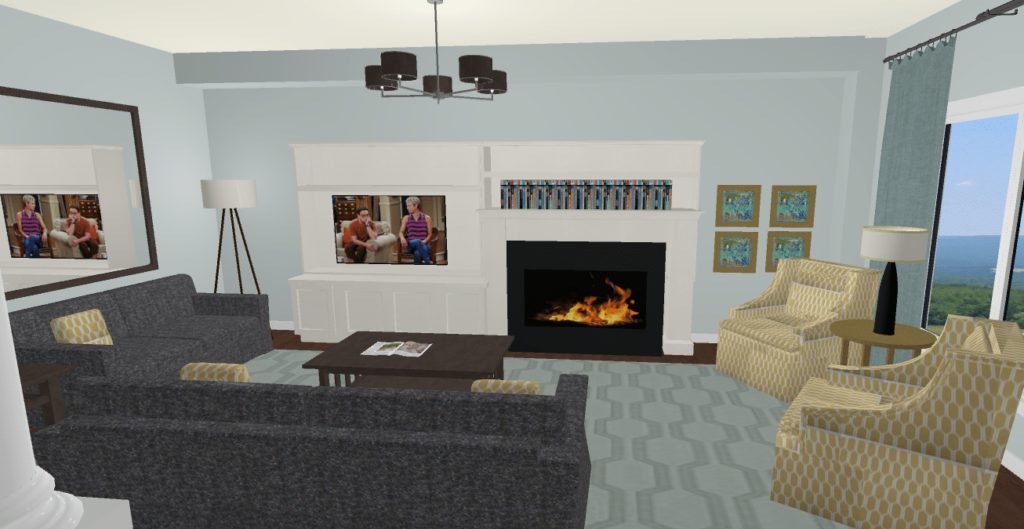 Before you guess which one they chose, there are some things to consider for each layout.  In option#1, the TV remains above the fireplace mantle which at this particular height can be uncomfortable for viewing.  Option #2 resolves that problem with the location of the TV next to the fireplace and involves custom cabinetry, so the investment cost is going to be substantially more.
So which design layout do you prefer and why? Comment below to share your favourite.
My clients went with what was behind door number….. two!  They liked the idea of adding onto the fireplace as this solved their problem of its awkward off centered placement in the room.  They preferred the TV to be at a lower level for ease of viewing.  It also provided them ample storage space and open shelving to display accessories.  Here's a bird's eye view of the space (another very handy tool to be able to show clients).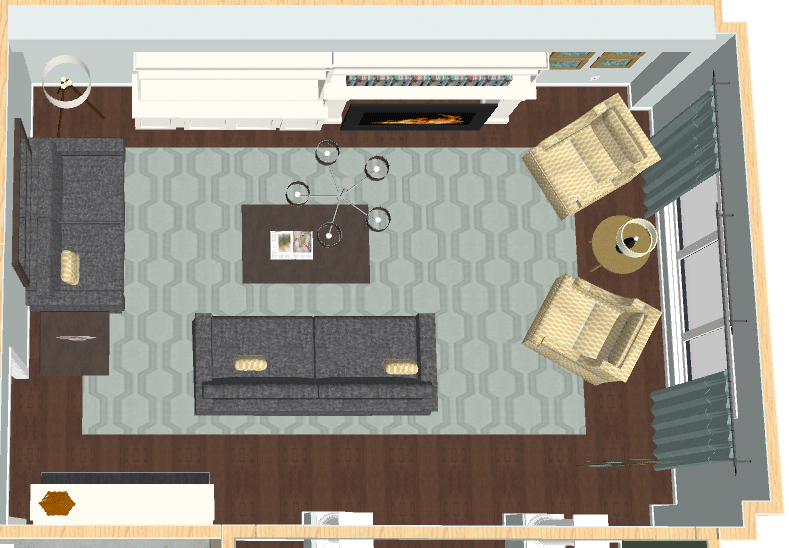 But we are not done yet!
As I previously mentioned, initially these drawings are primarily for space planning purposes, although I do try to use colours and styles that I know clients are drawn to in order for them to be able to relate to the space.
However, if clients want me to work with them to implement my design plans, then my designer software program and I are totally up for the task!  I continued to work with my clients for the custom woodwork, fabric  & colour selections, custom drapery and well, for basically everything.  YAY!
First, we met with my cabinet maker and made some slight revisions to the drawings for the built in unit that included taking it right up to the bulkhead for a more substantial and grand look.  I was actually doing the changes at the meeting so my clients understood exactly what we were both suggesting. Here is the wall elevation view of the custom built ins. (you see the hanging light fixture from the ceiling in this view as well)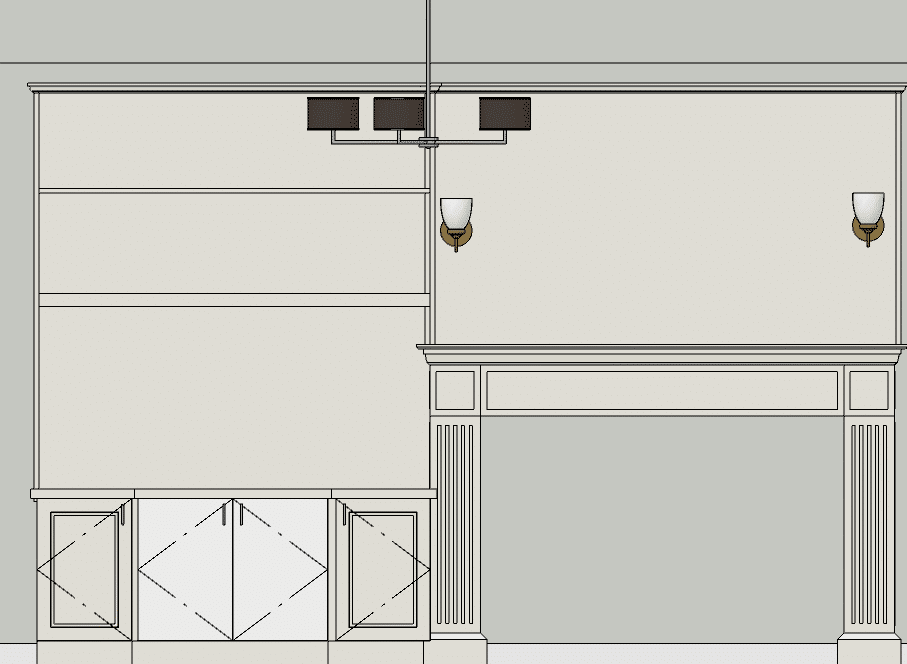 While we were discussing options, I suggested adding sconces above the fireplace to flank a piece of artwork. Darryl said to Jennifer "I don't think I want sconces". It only takes a minute for me to put them in the plan, so I quickly added the sconces and showed them how they looked. Darryl turned to Jennifer and said "I think I want sconces". It was priceless!  So the revisions were finalised and the custom unit went into production.
Here is the facebook post I shared a few months ago as I like to offer great design advice and decorating tips there too. Have you liked me on facebook yet?

Another amazing feature about my software is that not only can it show you the layout of a space and make alterations easily on the fly, it also allows you to upload specific fabrics, furnishings and images directly into the plan.  This is super effective when explaining to clients how great the draperies will look in a certain pattern, when paired with a rug that has similar tones, which all tie in with the custom accent cushion fabric that they love, etc etc. Below are the fabrics and area rug I sourced to decorate their living room.
With all of these items uploaded, the final look starts to become very clear.  This means no guesswork or worrying about whether products will actually work in the space. How great is that?!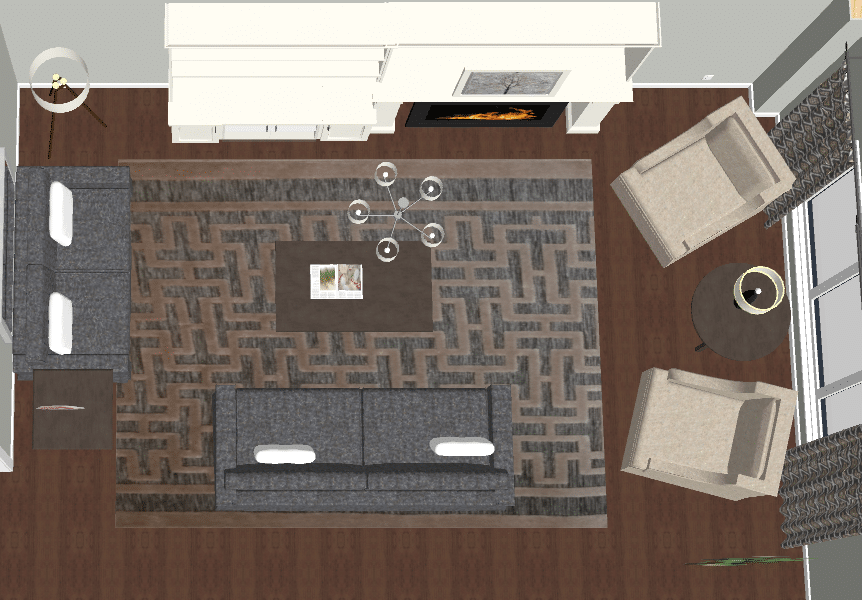 So let's take another look at the before photo…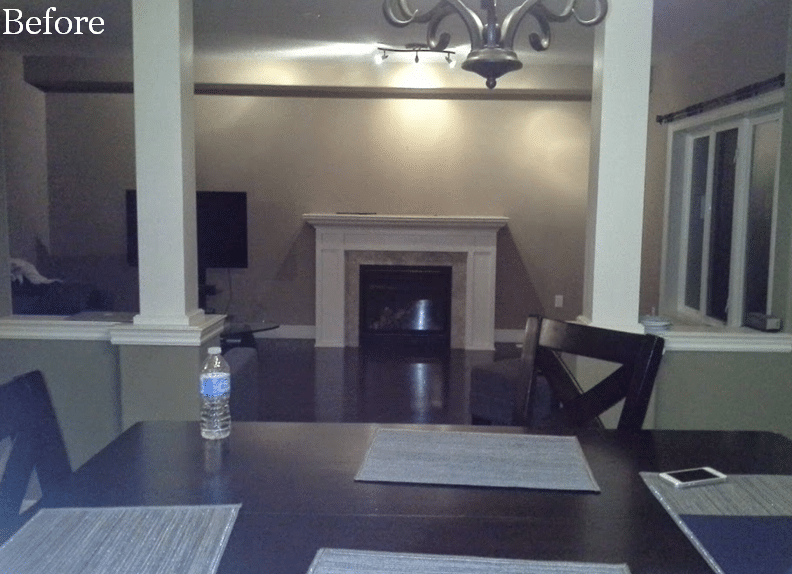 And here is the reveal!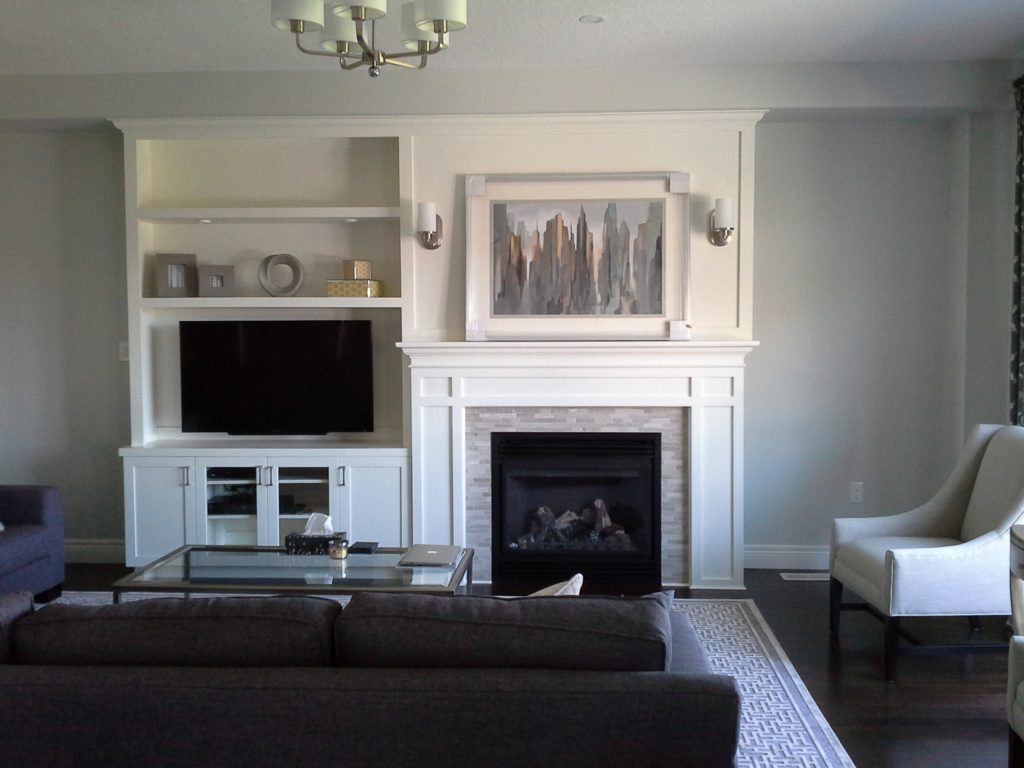 Before…
And after…
Before of the naked windows…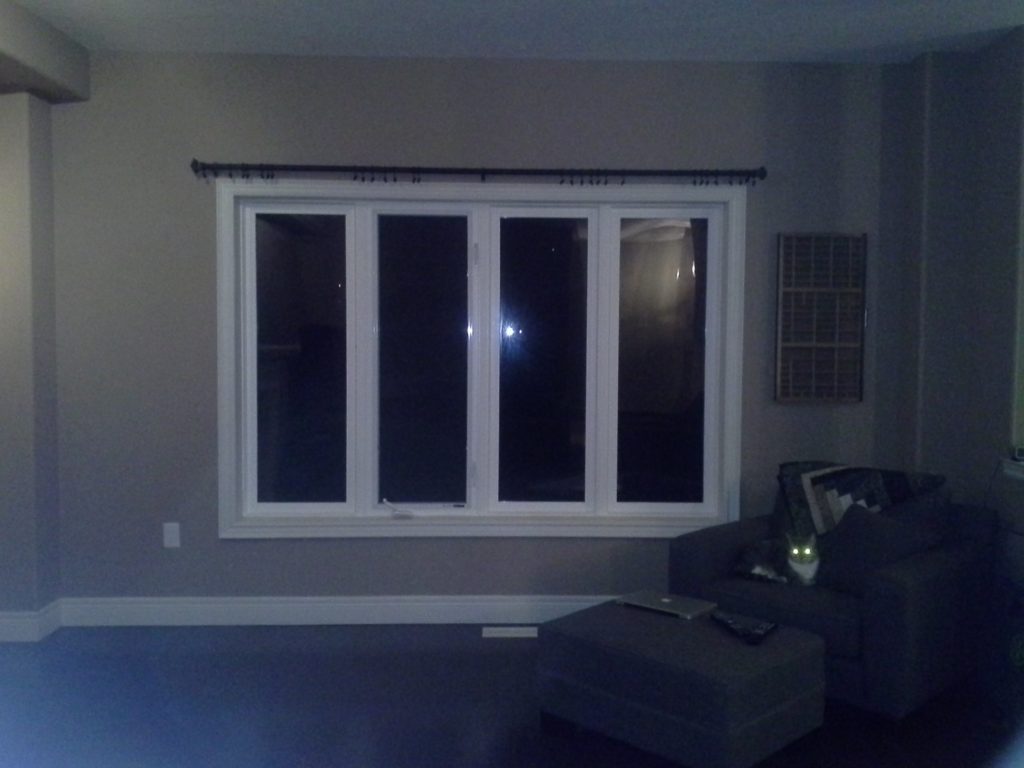 And afterwards, happy windows that are dressed to the nines!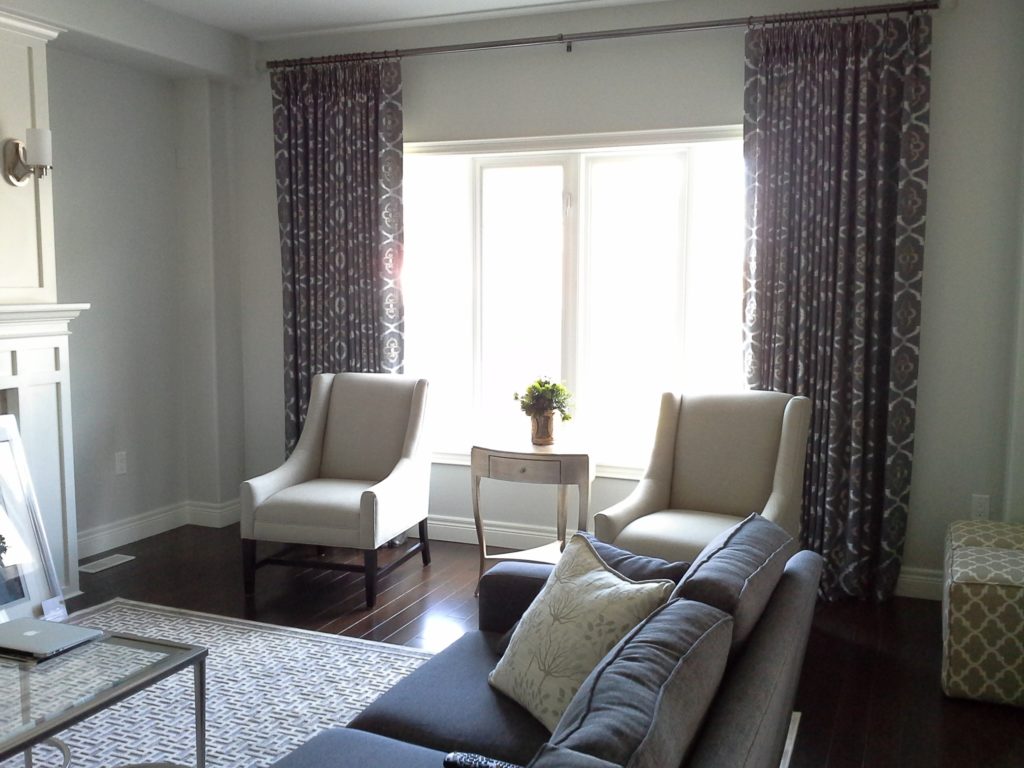 My clients are thrilled with how it's all come together and so am I!  All that is left to do now is accessorise with soft coloured accents, add a couple of lamps and then photograph this room as well as their dining room (we are currently redecorating that space too!).  Become a subscriber here and I'll share the pictures later this fall.
Don't forget to comment below and tell me which room design layout you preferred. I'd also love to hear your experience if you've worked with a designer who has a similar program, or if you are a design professional that uses this type of software, how has it helped your business?
Here is the testimonial my client Jennifer wrote about my services: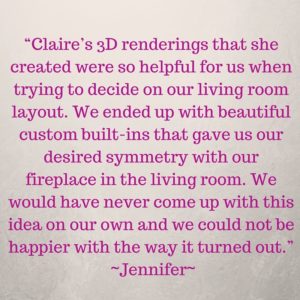 Hey, guess what?! Today, I have been featured once again on Vancouver Colour Guru Maria Killam's blog Colour Me Happy!  Check it out here. I talk about my prediction on colour trends, past mistakes I've made when choosing colour and I share another useful tip on how to design around awkward structural elements.
For Colour Me Happy Followers, thanks again for clicking over! Don't forget to sign up at the top right of this page to learn my secrets that other designers don't want you to know!
Related Posts
See Your Room Design Before You Renovate
Three Steps to Simplifying Your Next Renovation Project
Hiring A Decorator VS Working with An In-Store Designer
If you are interested in hiring my services and you live local to the Burlington, Oakville and surrounding areas, contact me via email here or call me on 905-581-0776.  I'd love to hear about your upcoming project!