Bathroom renovation, finally, it's my turn!!
Picking a Paint Colour?
Choose the right paint colour
the first time Let me show you how in just 5 easy steps!
BONUS: The Top 15 Shades of Gray by Benjamin Moore
We value your
privacy
. We will never share or sell your information.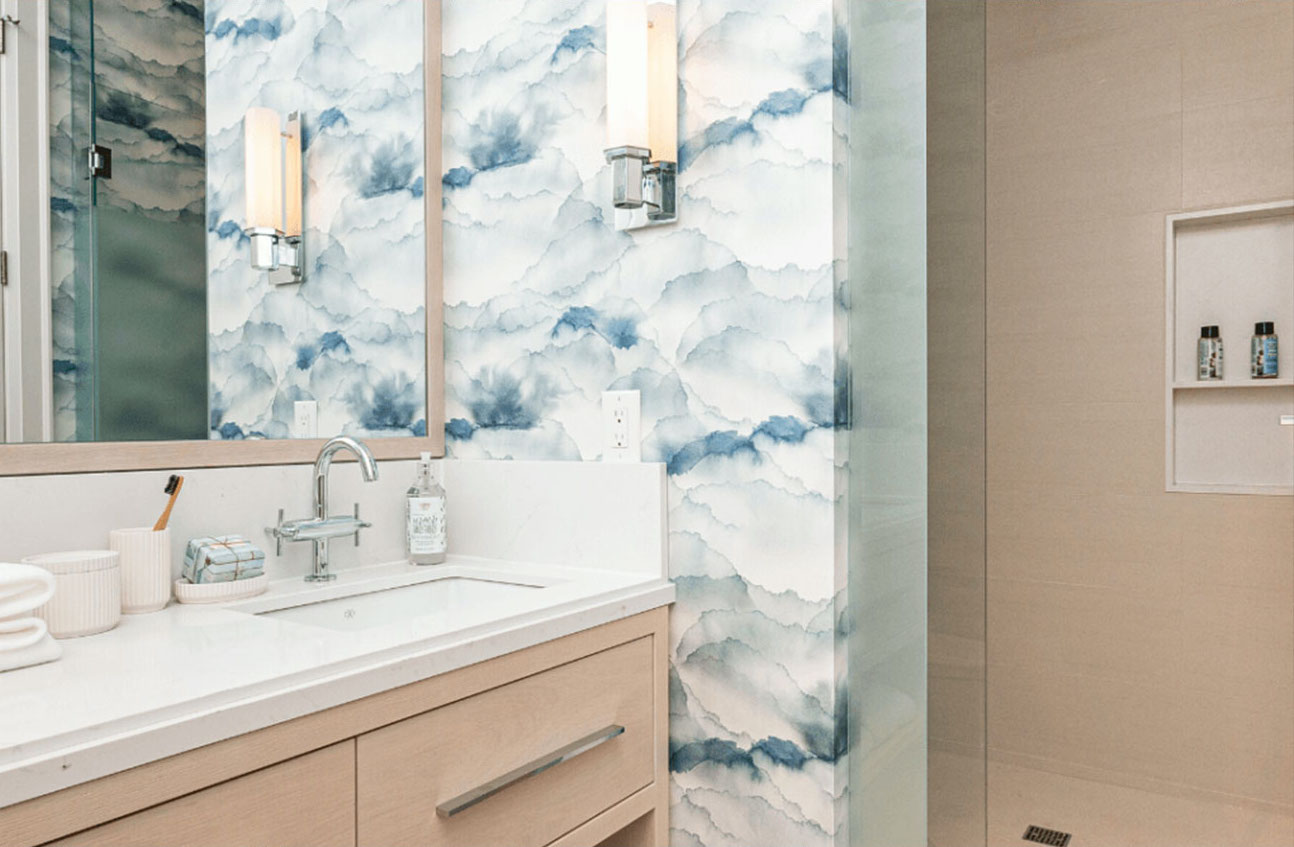 Do you know how long I've been dreaming of a sanctuary to call my own when it comes to a nice bathroom?
No, this is not my bathroom shown below. Because mine is still under construction, but at least it's underway!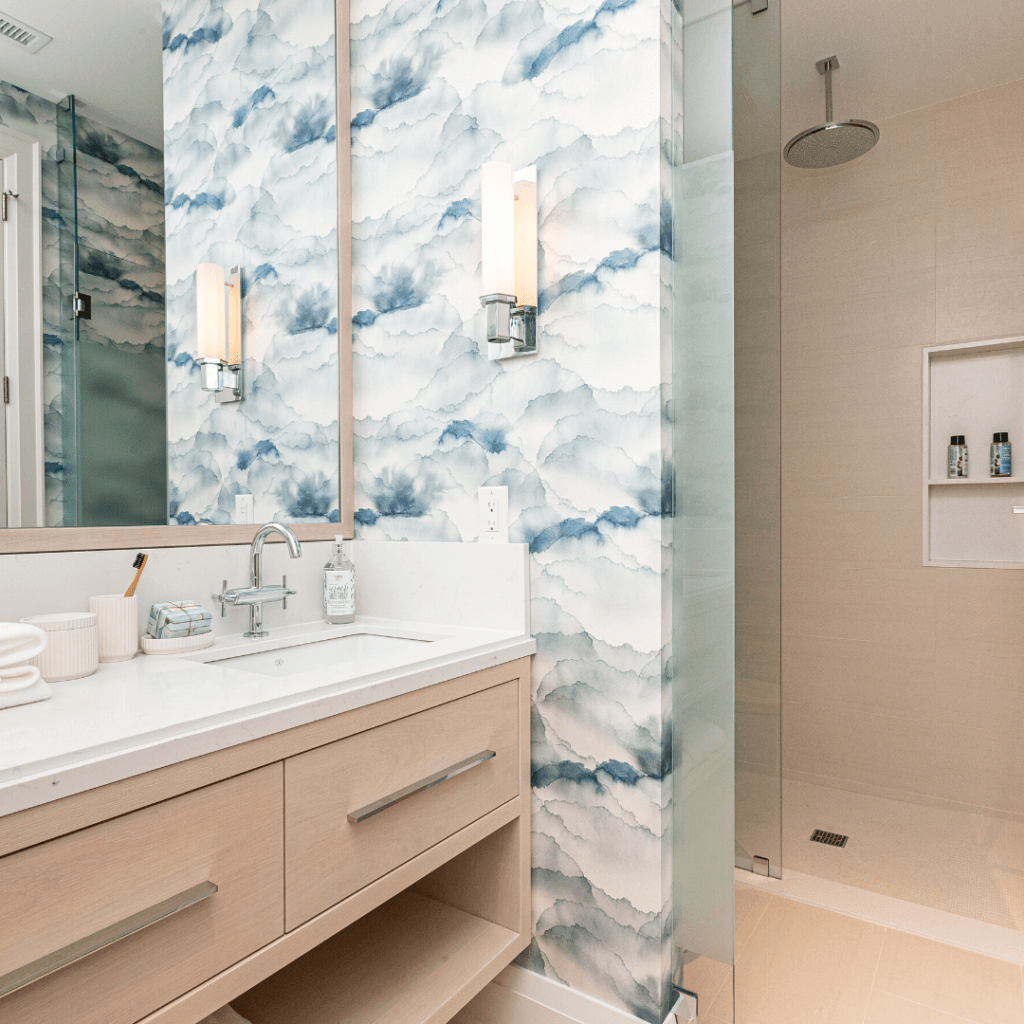 My bathroom is mostly all original to our home, which is a small 3 bedroom bungalow built in 1967.
We moved into our Burlington home (pictured below) in 2004 after having lived in England for 6 years. (Well, I had been living in London for 6 years, my husband Chris is actually from the UK.)
We had our first child there, our handsome son Adley, just before moving back to Canada in the spring of 2004. 
In 2006, we had our beautiful daughter Elise.  I was thrilled to be a stay at home mom, but it meant that we did not have much money for renovations.
Bathroom Before
Our bathroom redesign has been a long time coming!
Below is what our small, main bathroom looked like for the last 14 years.  We did make some minor updates shortly after we moved in, such as replacing the lilac toilet and sink, along with the old faucet. We also updated the countertop, flooring, mirror, lighting and medicine cabinet.
For the updated wall colour I chose Wenge by Benjamin Moore, as it has a purple undertone so it seemed to work with the 1960's lilac wall tile.  That was the extent of the updates that we could afford at the time.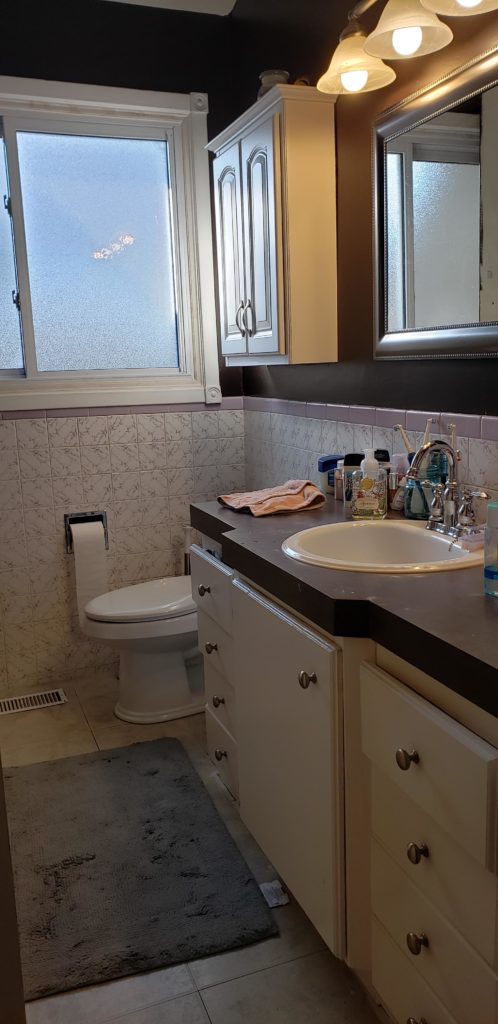 Flashback to the '70s with that lavender tub!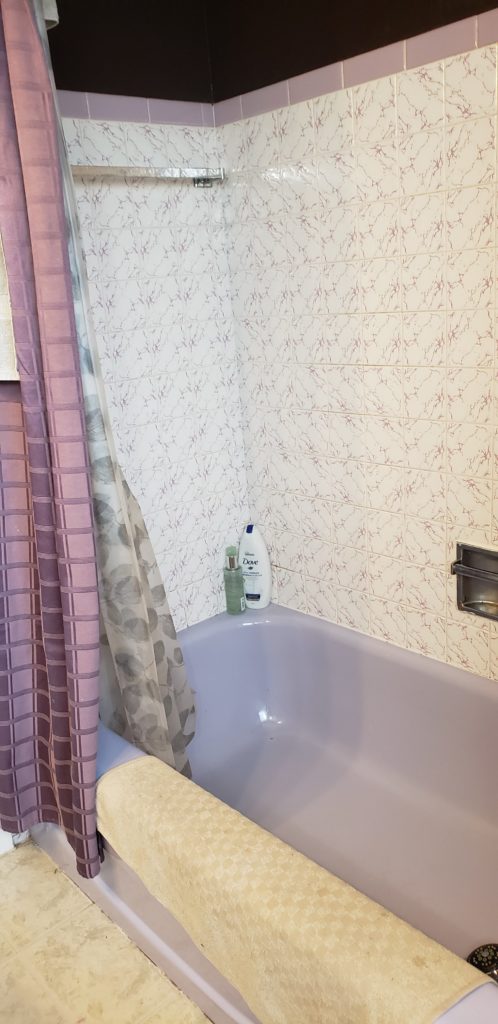 The footprint of the bathroom is small, which is why the vanity is more narrow in depth at either end.  With the previous vanity, you can see how it protruded out to allow enough space for the sink.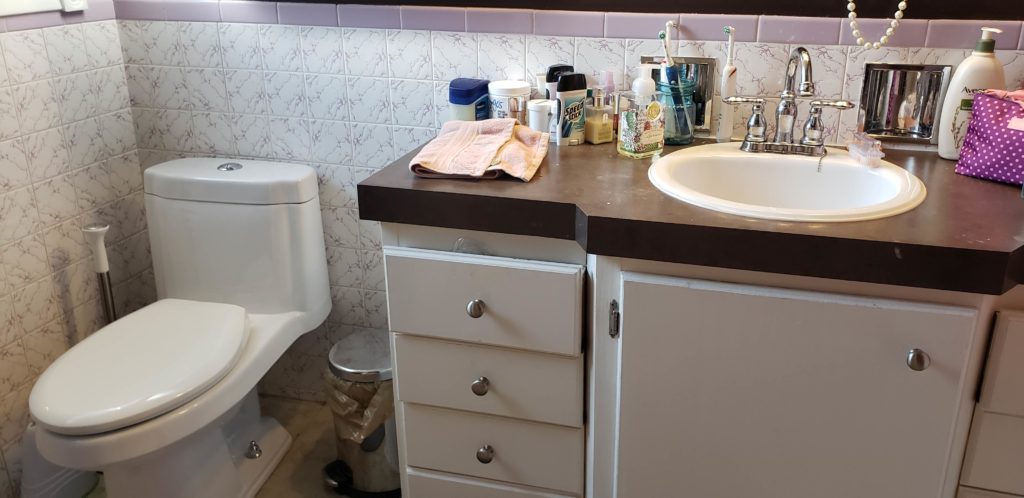 Despite looking at options of redesigning the layout, the space was so tight and very limiting that we stuck with the original floor plan. Hey, it's worked fairly well for us all these years that at least we were familiar with what we had.
Below is my CAD drawing. The only difference that you would notice from this drawing is that the sink faucet is now wall-mounted, which will give us a more updated look because now the vanity will be more streamlined as it will be the same depth from end to end.
CAD Drawings
We offer 3D Interior Design rendering services which clients love and this time it's my turn!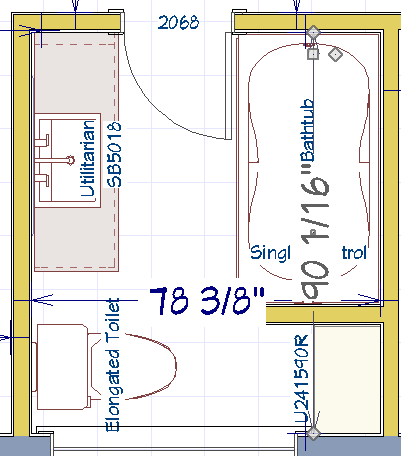 The 3D rendering below shows you one of my first drafts of the updated design. Since this drawing, there have been some changes made to the plans, like the floor and mirror. And of course, there is a glass shower door and more plumbing fixtures, but this was to initially give my contractor an idea of the direction in which I was going with the look and feel.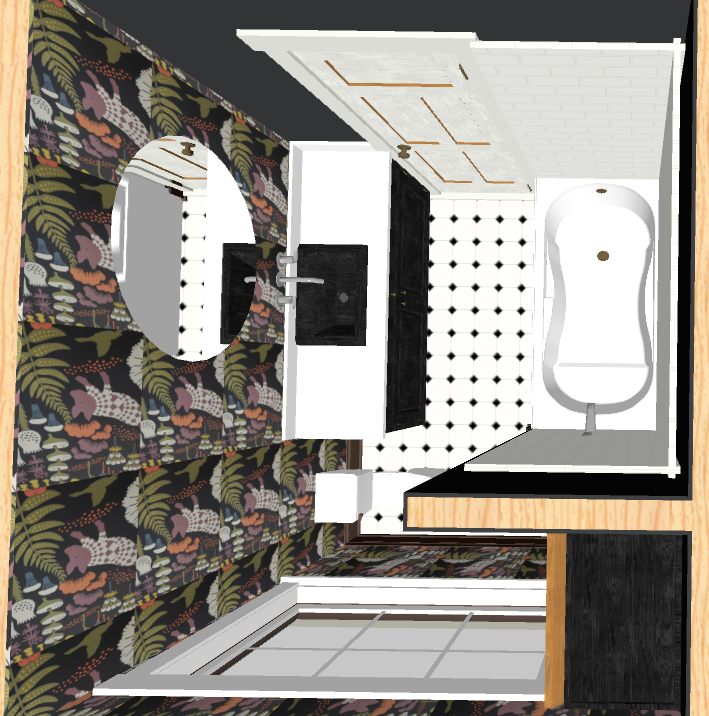 The Inspiration
I was dying for wallpaper.  I mean I was seriously yearning for it. There was no fighting my urge to have some fun with colours and patterns in my own bathroom design. This is the wallpaper I landed on.
I love the colours, the black backdrop, the organic feel that it has and my favourite element is the jumping purple pig!  I appreciate this is not everyone's cup of tea, but what about you? Do you like it?  Comment below to give me your feedback.
I colour matched all the colours in the wallpaper to Benjamin Moore paint samples. This way I know exactly which accent colours I can use for accessories such as bath mats, towels, candles, soap, etc.
This is one of my top decorating tips and you can learn more about how to do that yourself in this video here.
Collaborating with Brands
I'm pleased to have formed such a wonderful working relationship with Jamie Martin, the National Sales Manager for Farrow and Ball. When I asked Jamie if they would be willing to provide me with a gallon of paint for my bathroom ceiling, he delivered immediately. I appreciate Farrow and Ball's willingness to team up with me and can't wait to use more of their paint colours for upcoming projects!
My paint colour selection for our ceiling is Farrow and Ball's All White No. 2005 Modern Emulsion.
For the custom vanity and linen closet, I am colour matching to Farrow and Ball's Pitch Black No. 256. I am soooo excited for these custom pieces to have a rich, black finish!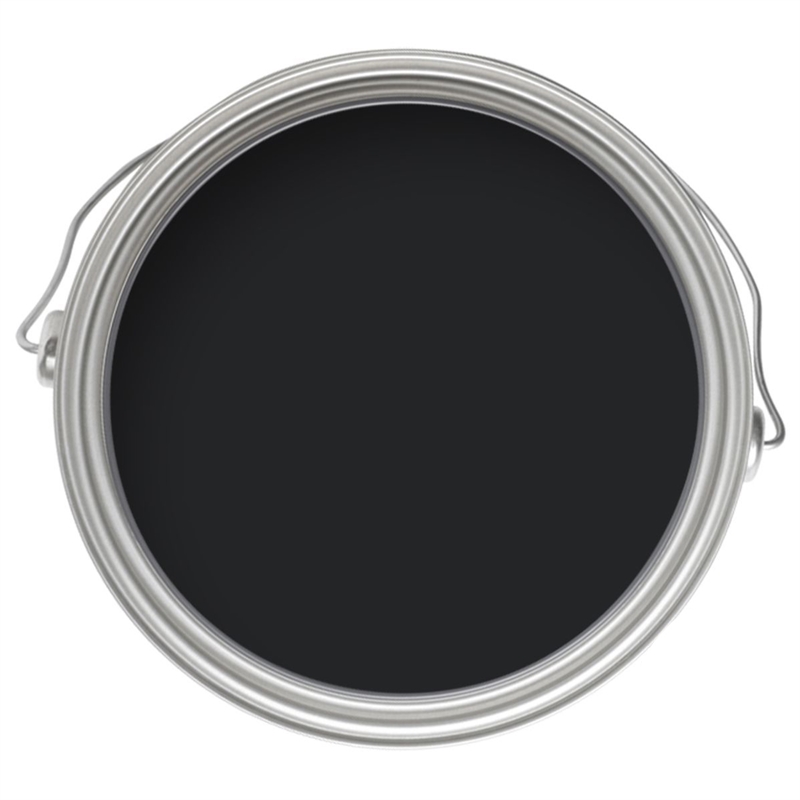 If you love Farrow and Ball, be sure to read my blog post here where I did a colour review of Elephant's Breath and also check out this post where I reviewed the exquisite Hague Blue.
I've also teamed up with Grohe Canada for most of my plumbing fixtures and went with a classic chrome finish. Here are just some of the beauties that I selected for my new bathroom design.
This wall-mounted faucet is not only sleek in style, but it was also an integral part of the function for this design.  As you saw in some of the before photos, we are really tight for space in my bathroom. The vanity depth is just 18″ and having this Grohe wall-mounted faucet will help to save on some much-needed counter space.
This beauty above will pour into my new black undermount DXV sink. Pretty sexy, eh?!
We had a towel ring in the old bathroom and it did come in handy with it located to the right of the sink for a hand towel. Sticking with what you know already works is a smart move!
When I polled my Facebook followers to ask which they preferred, a hook vs a towel rod, the response was amazing.
Although, there were strong opinions for both, in the end, I kind of cheated and opted for both. I ordered 2 of these stunning Grohe chrome towel hooks for the back of the door and another towel holder for above the toilet.
Below is the Essentials Multi bath towel rack that I snagged as well.
Unboxing Video Live on Facebook
If you follow me here on Facebook, you may have seen me unbox many of these Grohe fixtures live. It was very exciting, just like Christmas really! You can watch the replay below.
More bathroom loves coming soon. Tiling starts next week and you'll have to wait to see what I chose for the shower walls!  If you follow me on Instagram here, you will see daily updates in my Stories.
Thank you to all my sponsors, I truly appreciate you!
Psst! Love Colour? Take my new colour quiz to determine which colour palette suits you best!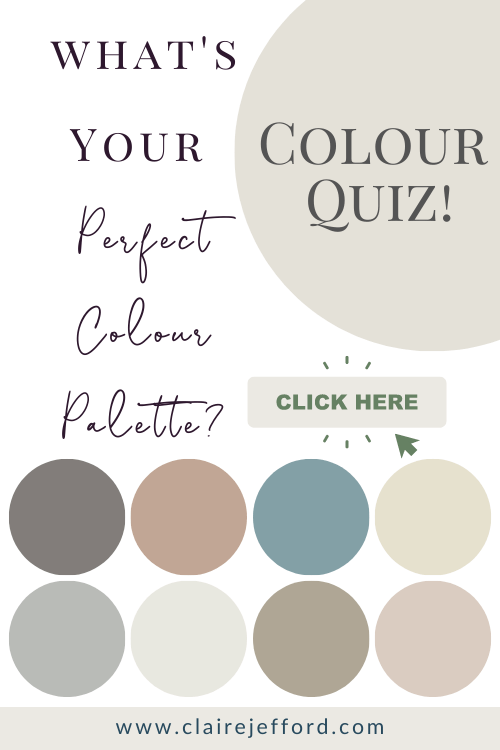 Convenience at your fingertips
Remember, it only takes one mistake to take your home decorating project from divine to disaster. Don't let the paint be what stresses you out!
Choosing Paint Colours
If you struggle with choosing paint colours, be sure to check out my Perfect Colour Palettes.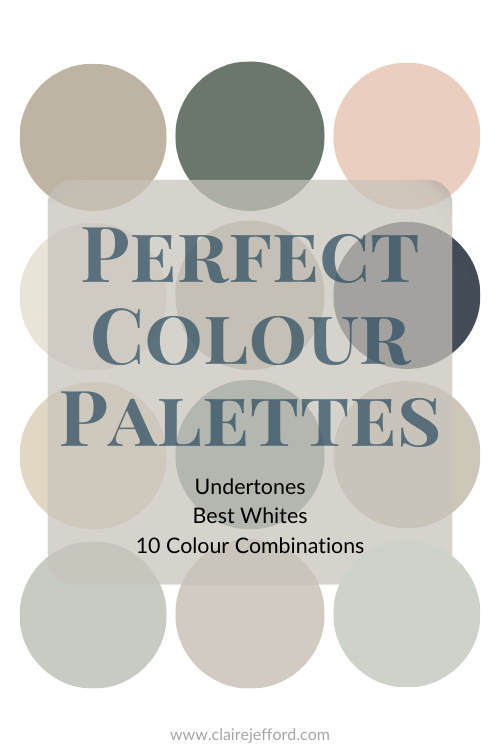 I now have 40 individual guides to help inspire you.
Collections
I also offer collections that showcase a group of 10 similar colours from Benjamin Moore,
Farrow & Ball
and my newest addition, Sherwin Williams.