Retainer Fee
For Designers!
Design Services and Rates Guide A FREE Resource for Your Interior Design Business
We value your
privacy
. We will never share or sell your information.
Retainer Fee – Interior Design
You should never be chasing money.
Don't start any interior design work without a signed contract and retainer payment.
It's your business:
You make the rules
You set the boundaries
You are in control
And guess what? The good clients love that you run an organized business with streamlined processes!
If you missed my previous video, 'What is a Retainer Agreement', please watch that first. You can find it here. In that post, I go into more detail about the purpose of the Letter of Agreement itself.
In today's video, I focus on the retainer fee amount and how to work the retainer with your clients.
If you have ever chased clients for outstanding payments or had to reissue invoices & reminders time and again, then you know what a lousy feeling that is. It's a terrible place to be.
Since the beginning of my career, I have been successfully reviewing my contracts and collecting retainer payments from clients at the end of the initial consultation meeting, before moving ahead with design services. 
You can too!
Need A Contract? Get mine!
Exude the confidence to take control & manage clients' expectations on your various processes with my Letter of Agreement.
But my most popular offering for designers when it comes to these all important interior design documents is my Contract Bundle.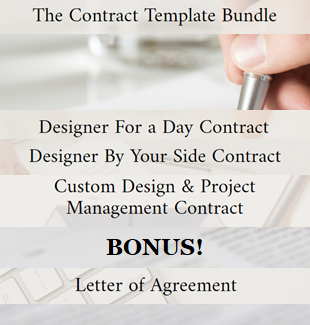 If your business has evolved over the years you may find yourself needing more than an LOA.
Having these contracts – each of which includes an easily editable Services Outline to use for your marketing – are powerful tools that shows clients you are organized and on top of your game.
I have created 3 detailed contracts that cover the three services I now offer in my own business: Custom Design and Project Management, Designer by Your Side, and Designer for a Day.
When you invest in any of my contracts you'll also receive a link to a walk through video where I explain in more detail why you need a contract; when to use it & how to walk your client effortlessly through it.
Let me help make your life easier and give you Claire-ity in your business processes.
Want Total Confidence in Your Consultation Process? Let's ROCK this!
An unbeatable value for 3 incredibly helpful resources for your interior design business, bundle and save! Link here to purchase.
Whether you are just starting out in the business or are a well seasoned interior design professional, don't waste any more of your precious time trying to refine your initial consultation process, because I've already done it all here for you.
Gain the confidence to charge your worth and impress your clients from the very first phone call. My simplified, yet super effective 3-in-1 bundle package includes:
More than 20 templates
Over 7 drafted emails
An easy to follow process flow chart – all from the discovery call to the end of the initial consultation meeting
My one-page Letter of Agreement (LOA) template with a walk-through video with details of how to present your LOA and how to communicate the terms confidently to your clients.
PLUS – NEVER DONE BEFORE!
I include videos showing you how I speak to a potential client on an initial phone call and another video on how to conduct an initial consultation. Be a fly on the wall and learn how to avoid the BIGGEST MISTAKE designers are making in this first meeting!
There are also 4 scenarios where I show you how to deal with awkward client situations such as:
Asking about your discount
Having friends & other family members give decorating advice
How to handle if a client who challenges your process
How to deal with the 'other half' who may not be fully on board with hiring your extremely helpful services
Why re-invent the wheel with every new client or fly by the seat of your pants creating new templates and forms with each consultation meeting? Gain more confidence & get organized NOW.
AND – you'll also get my Interior Design Starter Pack that addresses branding your business; establishing relationships with trades and suppliers; must-have tools for your business and more.
The time and stress you will save yourself by getting super organized, super-fast, is invaluable.