Benjamin Moore – Glass Slipper
Picking a Paint Colour?
Choose the right paint colour
the first time Let me show you how in just 5 easy steps!
BONUS: The Top 15 Shades of Gray by Benjamin Moore
We value your
privacy
. We will never share or sell your information.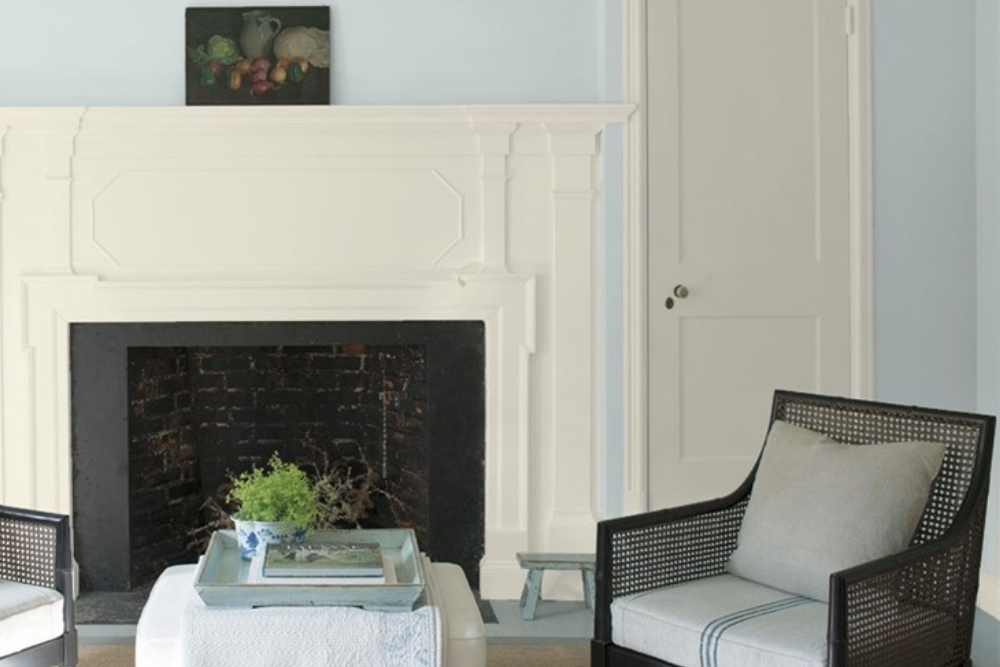 Glass Slipper 1632 by Benjamin Moore
Blue, still on-trend and when paired with white, is as popular a design style as ever. This combo is hot and I really think sticking around for a long while yet.
Glass Slipper is a soft pale blue that can be used in so many areas of your home.
If you are familiar with my blog and have seen my other colour reviews, you'll know that in the colour review video of Glass Slipper by Benjamin Moore, I share:
The undertone
Colour comparisons in order to easily see the different colour tone(s)
Best white paint colours for the trim and ceilings
Beautiful colour combinations to inspire you for your next decorating project
If you would like all this information conveniently laid out for you in one place and have even more paint colour combinations to use with Glass Slipper by Benjamin Moore, take a look at my new Perfect Colour Palette.
A must-have for any colour enthusiast or interior designer!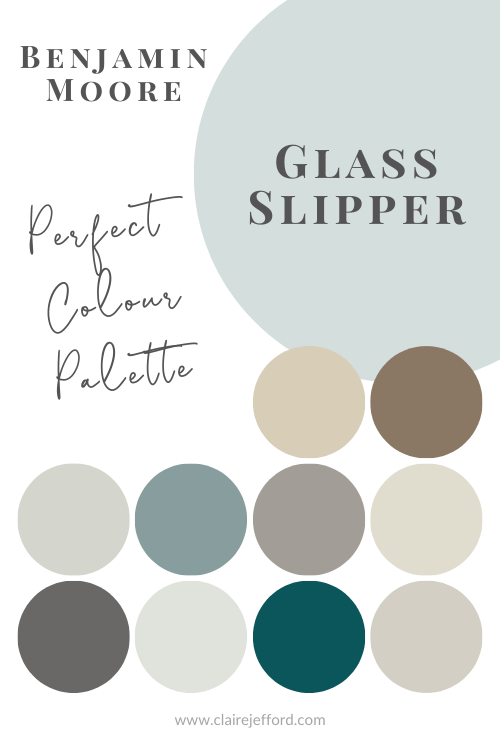 As a Certified True Colour Expert and an award-winning interior design professional, I've worked with many homeowners on various residential design projects.

I want to give you the confidence to make educated decisions about your own paint choices. Let's do this!
Glass Slipper Colour Review Video
Undertone: soft blue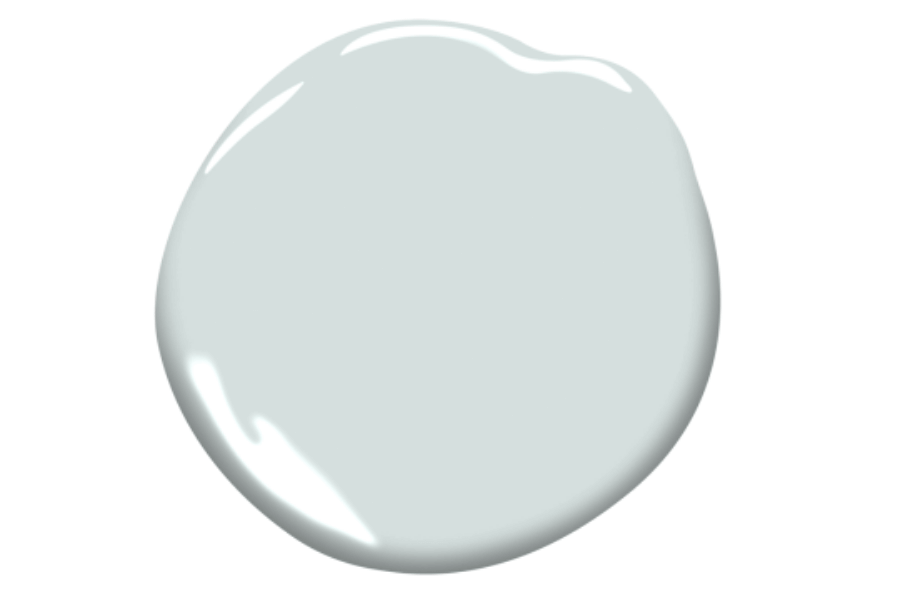 A gorgeous soft blue, Glass Slipper may look different in your space depending on the lighting and what other decorative elements you pair with it in your interior decorating project.
Colour Comparisons
By comparing Glass Slipper to other similar colours, we can more clearly see the true tone.
Gray Sky 2131-70 & Smoky Green CC-700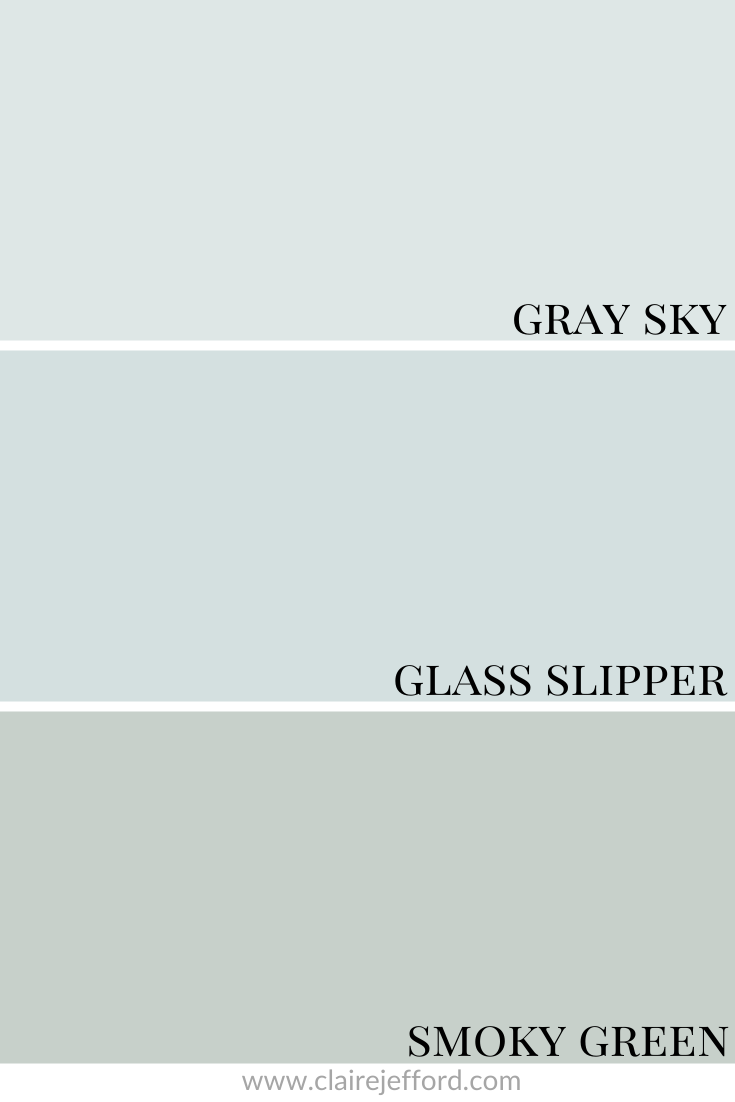 Definitely not as green as Smoky Green, but I would actually say Gray Sky is more of a baby blue than Glass Slipper when you put them side by side.
Best Whites To Pair With Glass Slipper
Cloud White CC-40 By Benjamin Moore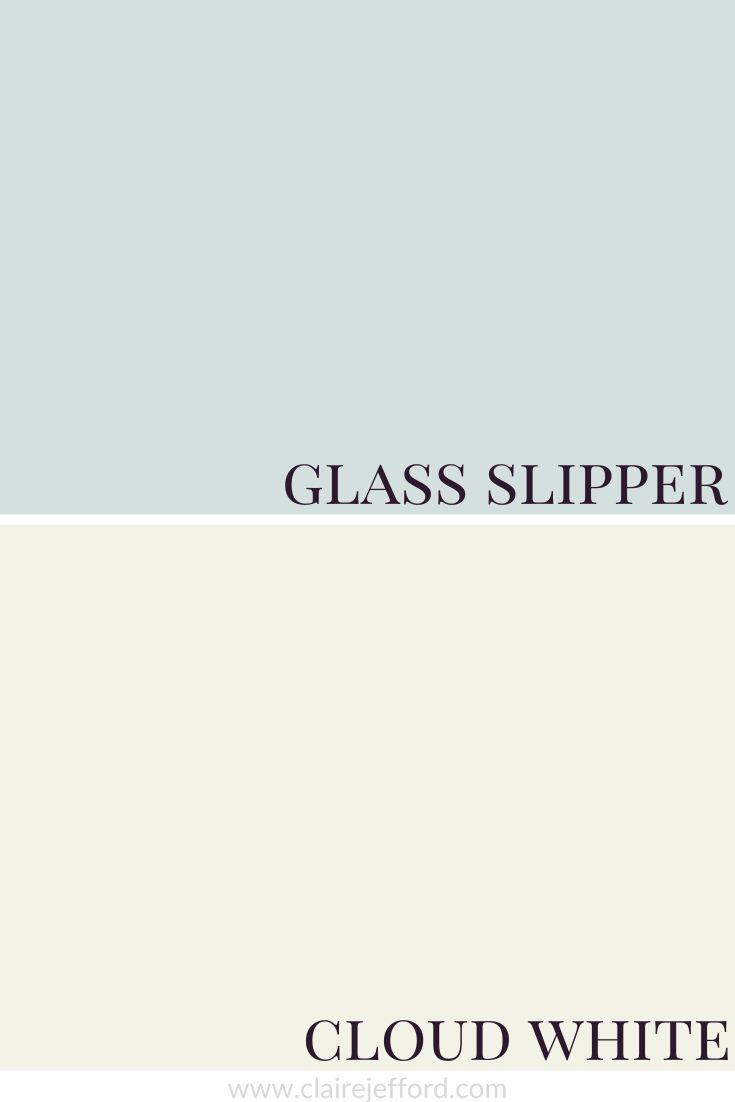 White Dove OC-17 By Benjamin Moore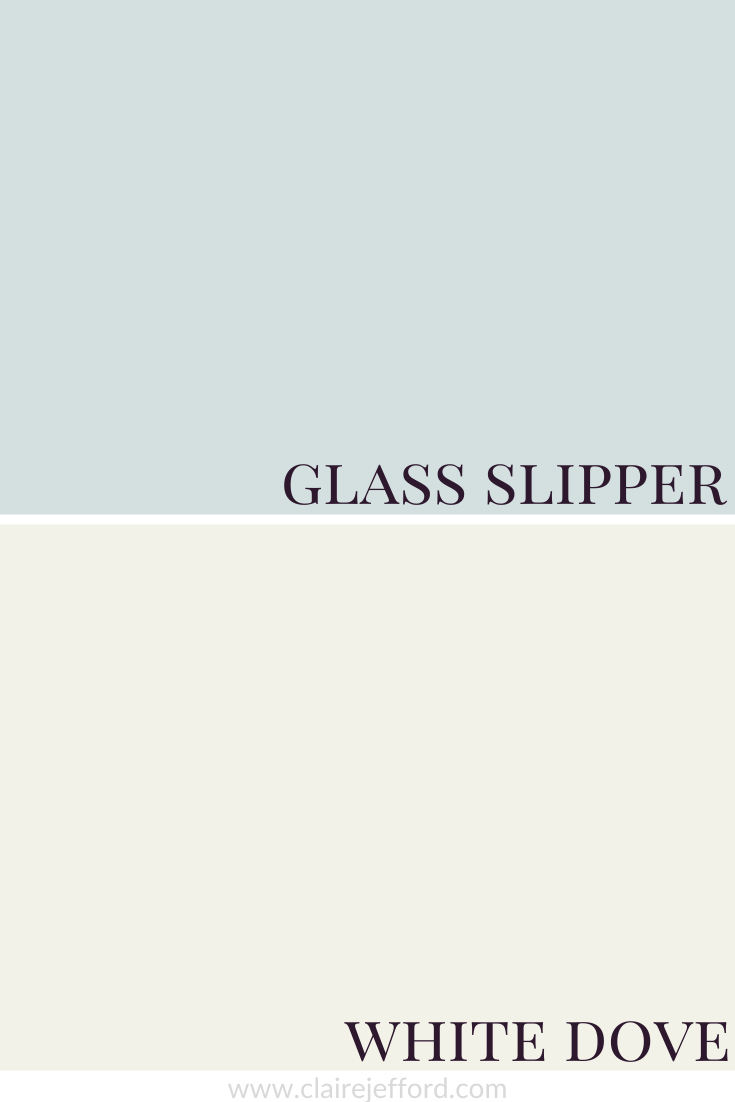 White Dove is undoubtedly one of the most popular white paints from Benjamin Moore. You can see my colour review of this gorgeous off-white here.
Decorator's White CC-20 By Benjamin Moore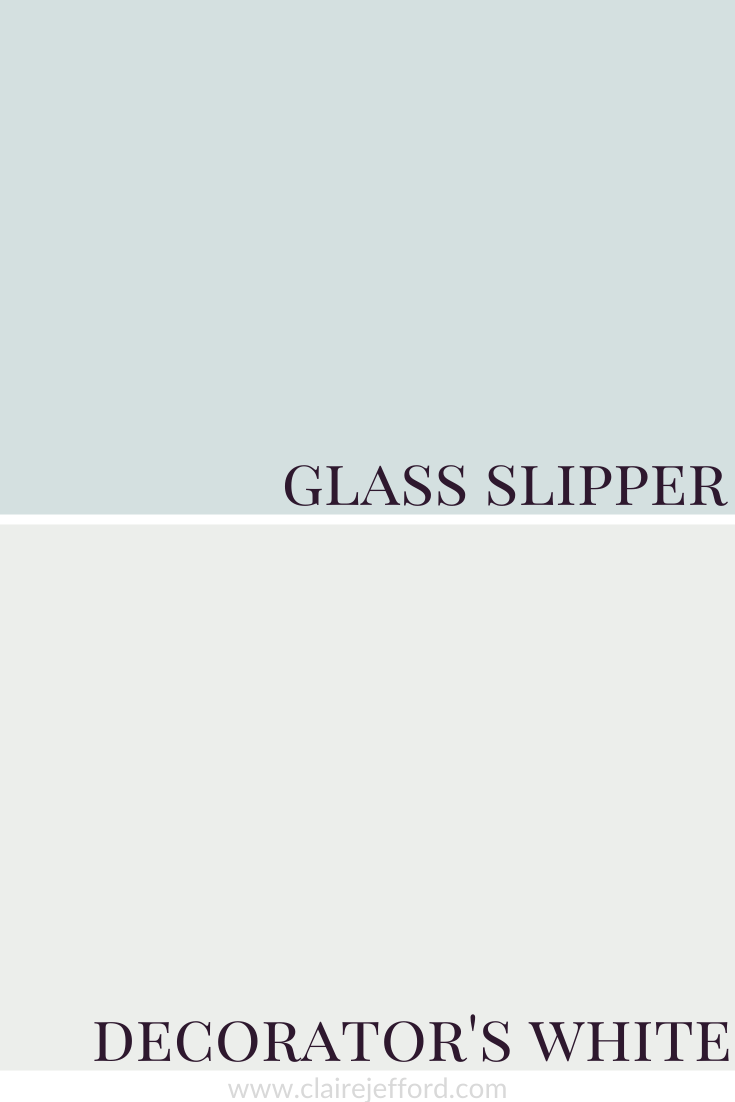 I have around 10 white paint colours that are my best whites for trim and ceilings.
You don't need all of the thousands of whites available to you to get the right one and you definitely don't need to mix two different whites or use only a certain percentage of paint colour to get the right one for you.
I can assure you that the best colour for your project already exists! If you need some guidance, grab my 5 Steps on how to choose the right paint colour the first time.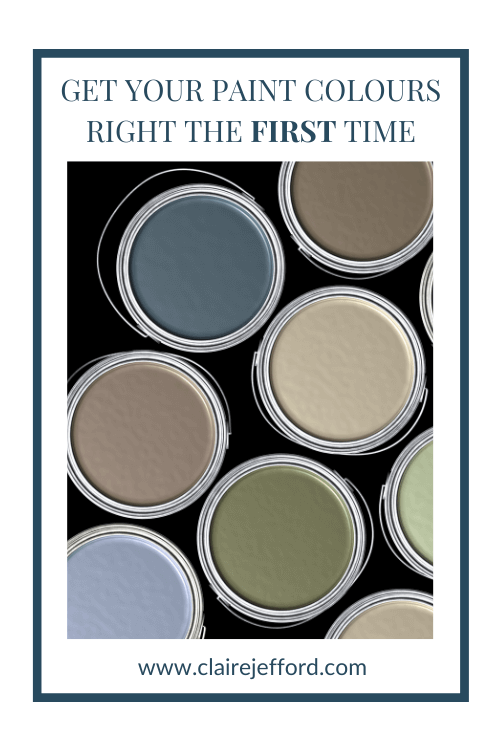 Fabulous Colour Combinations
Glass Slipper with Collingwood, Gray Owl & Wind's Breath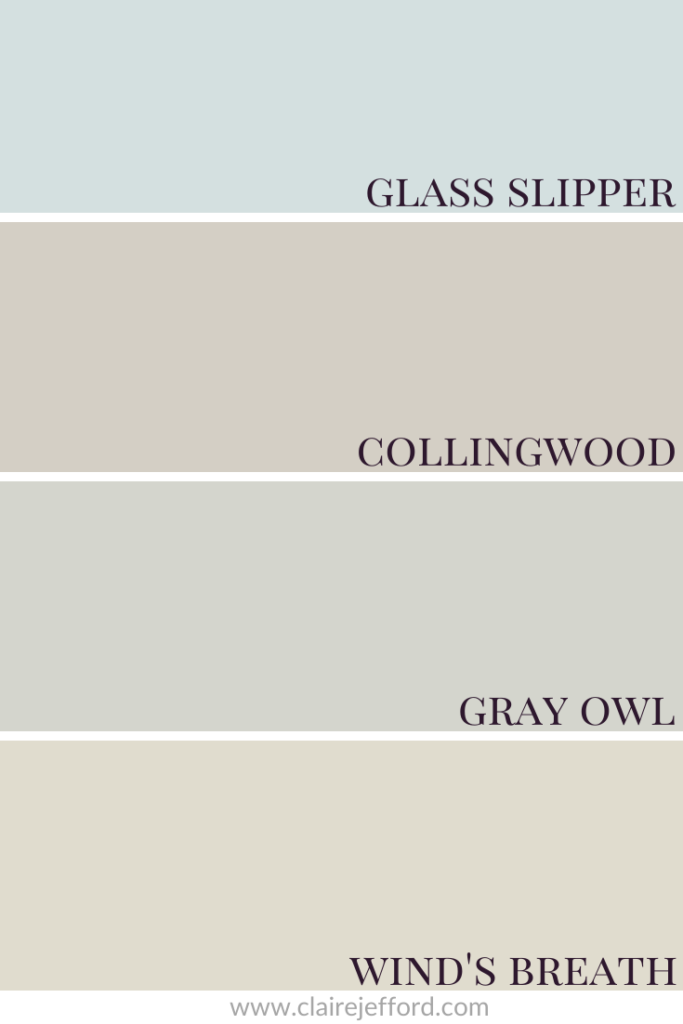 Collingwood OC-28 By Benjamin Moore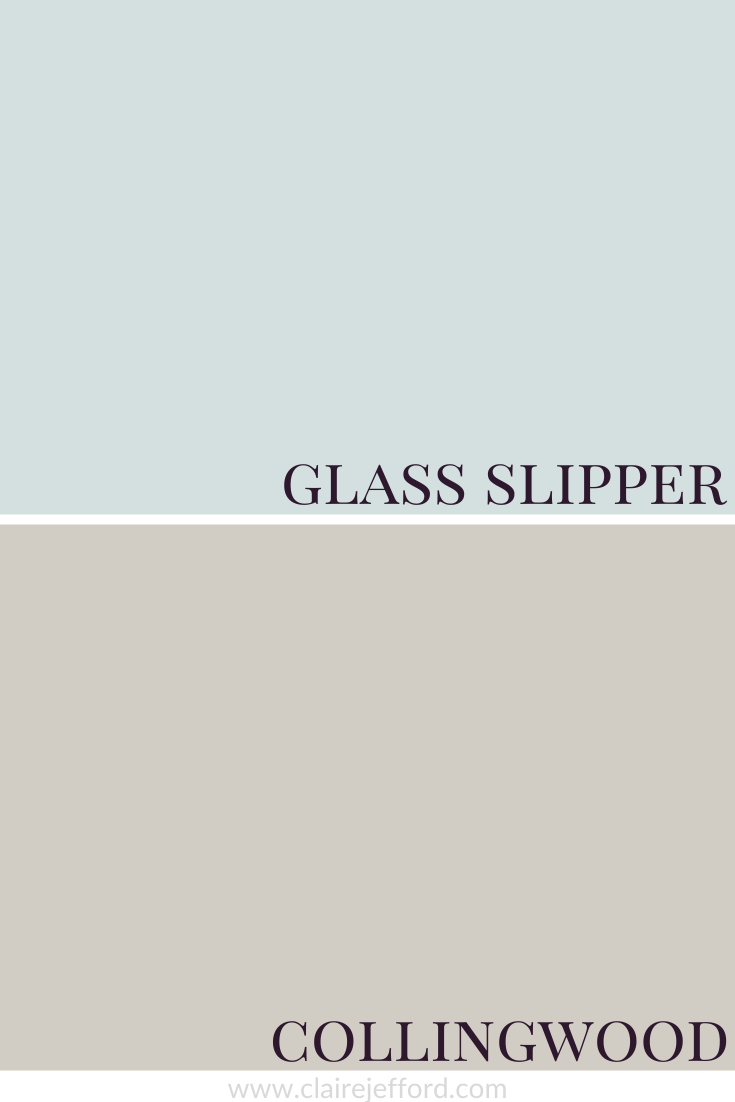 Below is an image of one of our latest projects where we used Collingwood on the walls with blue and gray accents. Isn't this a lovely colour?! So pretty.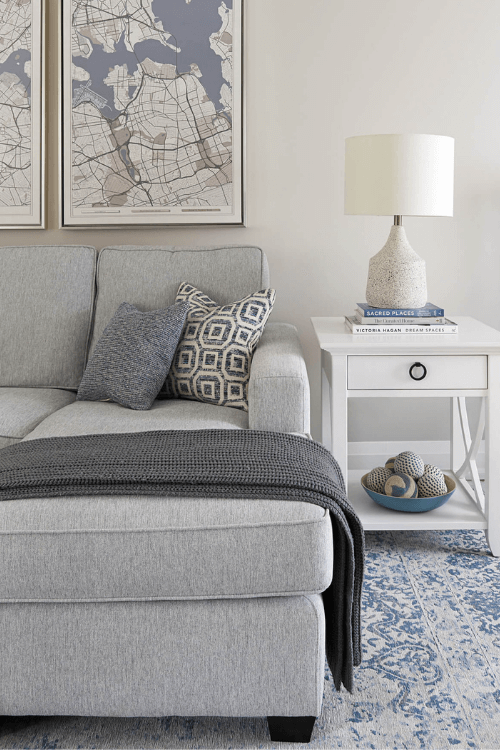 See the full project here including a stunning home office design.
Gray Owl OC-52 By Benjamin Moore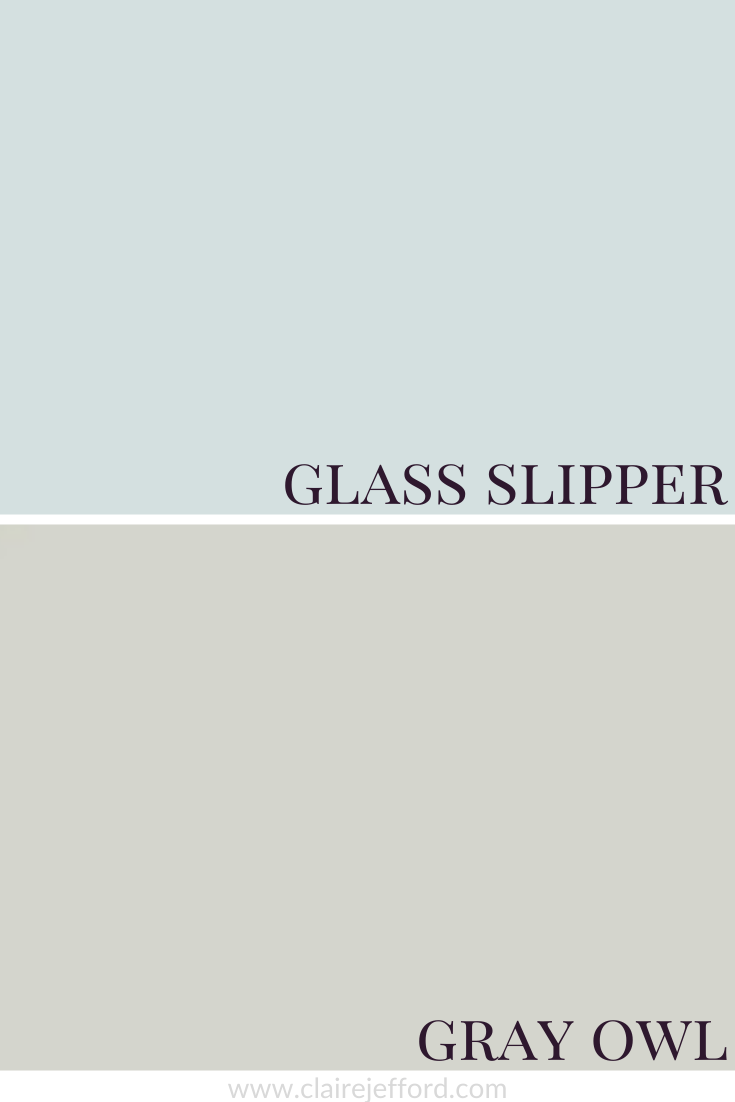 Below is a project where we used Gray Owl on the walls in a coastal-inspired project. See the entire room here in our portfolio.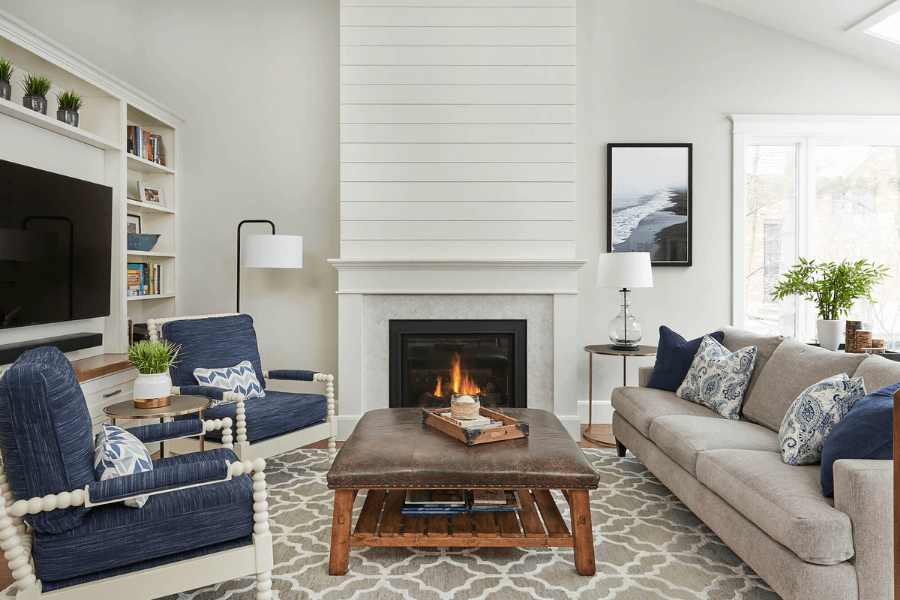 Wind's Breath OC-24 By Benjamin Moore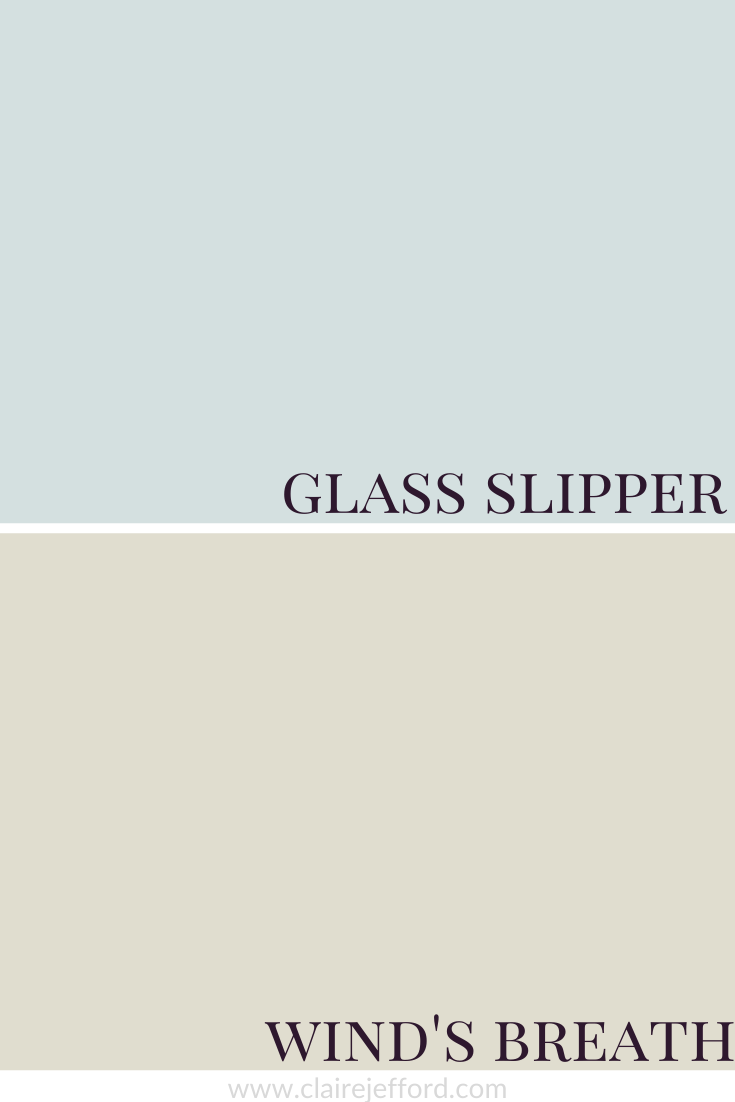 I used my Perfect Colour Palette for Glass Slipper to put together this lovely, calm palette you see below. Then I paired it with a couple of fabrics and a gorgeous flooring sample I had.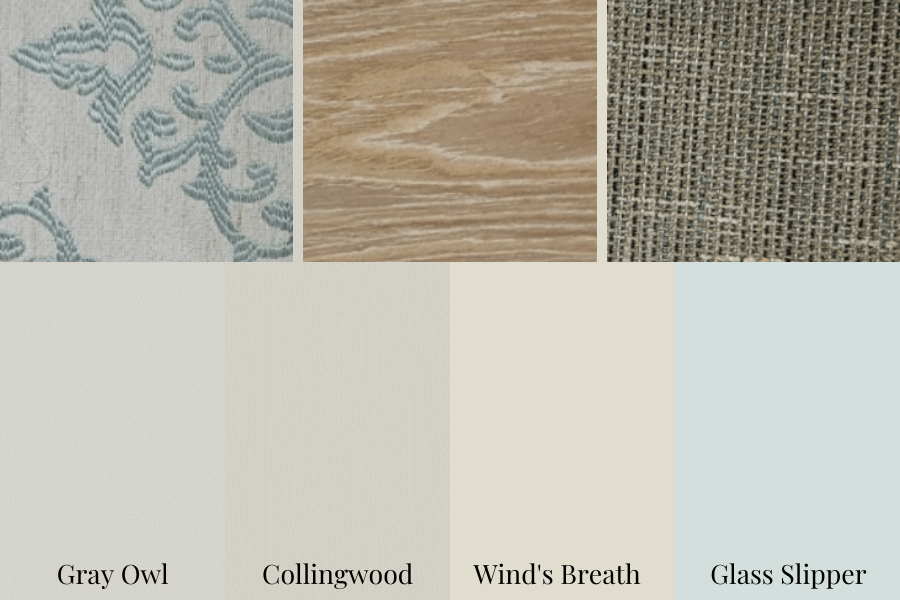 The idea here is to use the palette to put together a beautiful aesthetic for an entire room or floor of a house.
It's not to say all colours need to be used in paint form but can be incorporated into tile, flooring, fabric and other hard furnishings and accents. My goal is to inspire you for your next interior decorating project!
Convenience At Your Fingertips
All of the colour combinations shown above (and more!) are included in my Perfect Colour Palette for Glass Slipper.
My Perfect Colour Palette library is expanding and I now have 40 paint colours to select from. Click here to see all of my newly released Perfect Colour Palettes.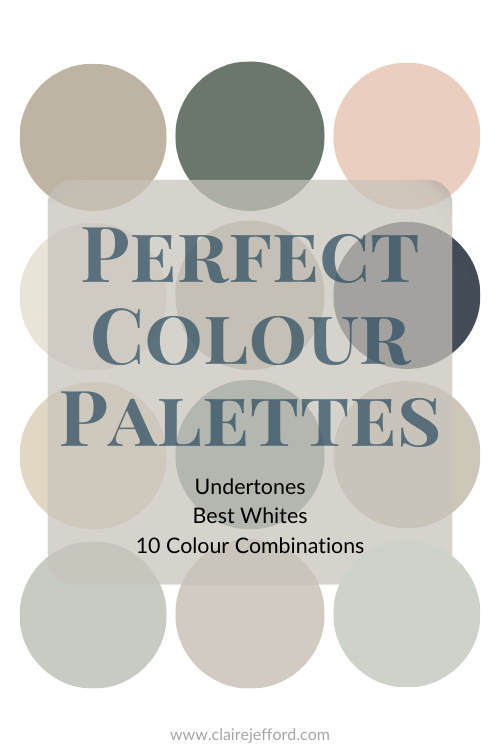 Glass Slipper is also included in my Benjamin Moore Grays & Blue-Greens Collection. A collection of 10 of Benjamin Moore's most popular Grays and Blue-Greens!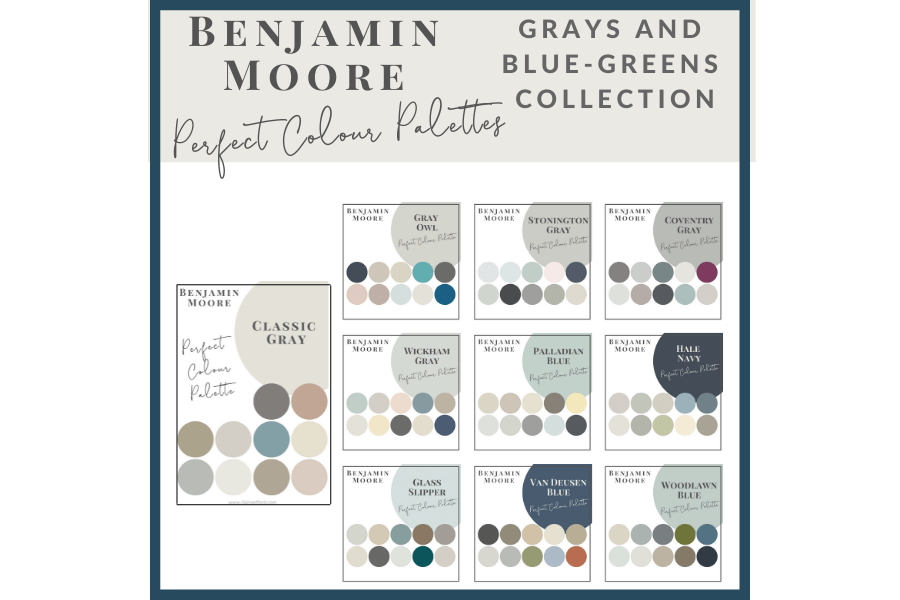 I've also created a Benjamin Moore collection showcasing Whites & Neutrals.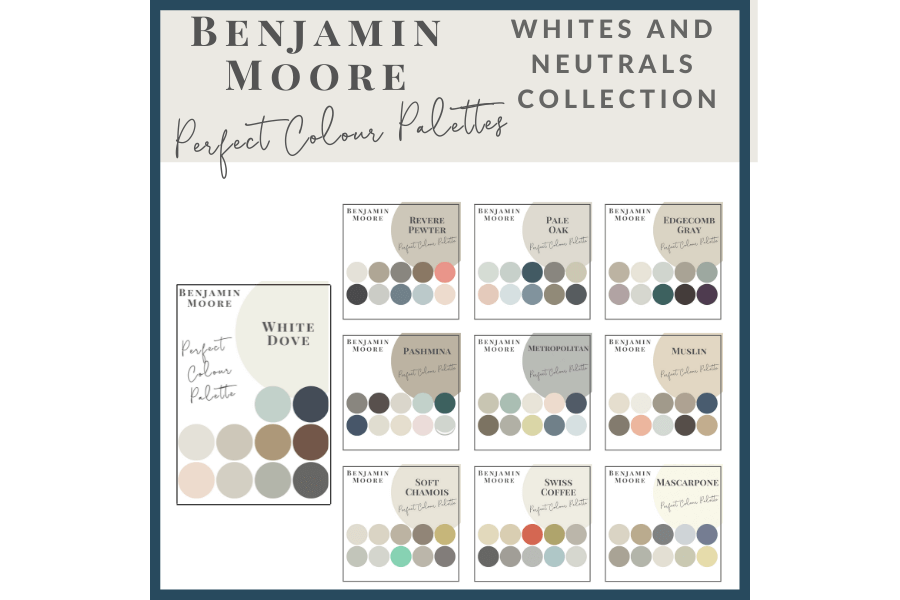 And for those who love to have everything all in one place, there's the Benjamin Moore Ultimate Collection. That is where you will find all 20 of my Benjamin Moore Perfect Colour Palettes in one convenient place.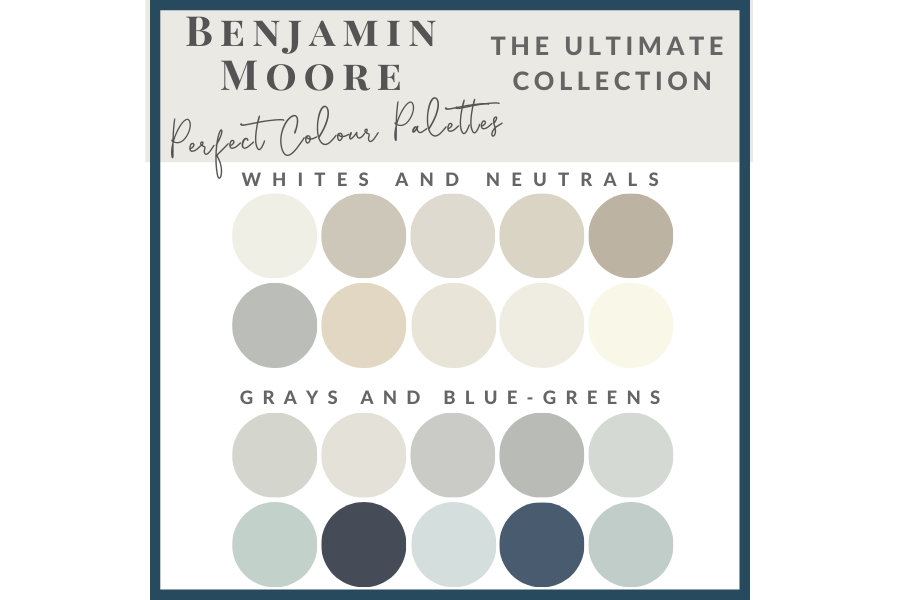 Remember, it only takes one mistake to take your home decorating project from divine to disaster. Don't let the paint be what stresses you out!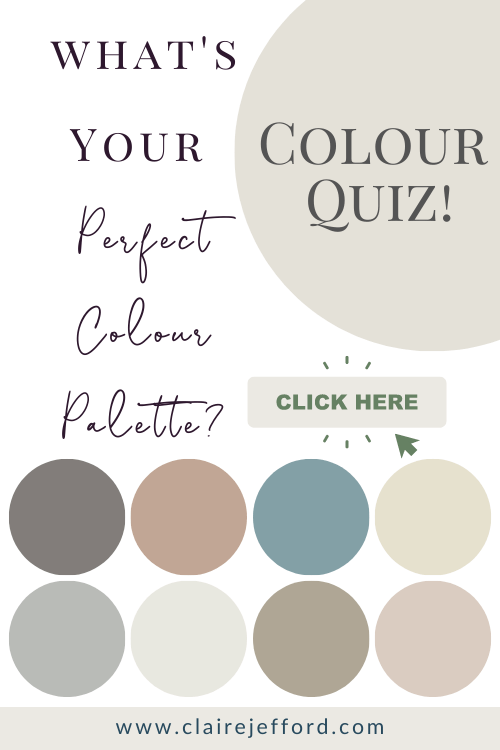 Perfect For Pinning