Leveraging Video in your Interior Design Business
For Designers!
Design Services and Rates Guide A FREE Resource for Your Interior Design Business
We value your
privacy
. We will never share or sell your information.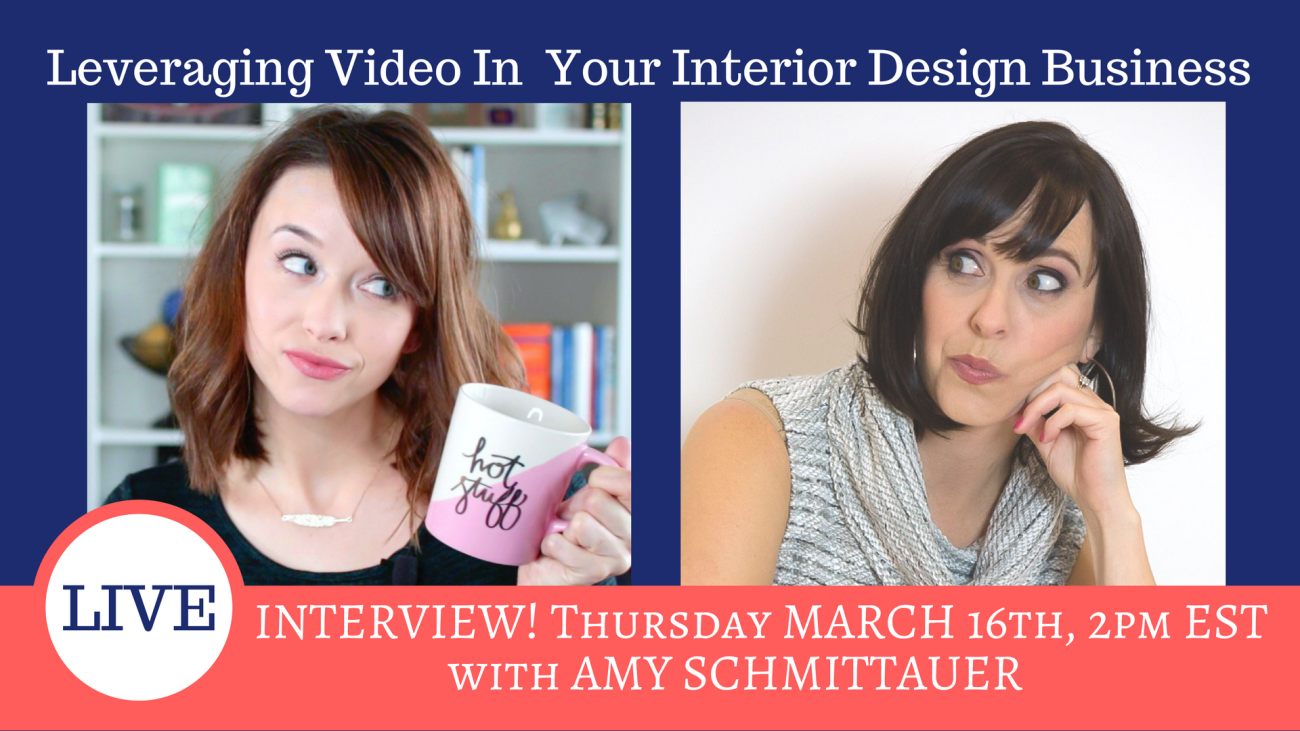 Are you using video in your business?
If your answer is no, then you need to be.
Amy Schmittauer Live Video Interview
Are you using video in your business?
If your answer is no, then you need to be.
If your answer is yes, then I'd like to know if you are leveraging it in the best way to reach your target audience and convert them into paying clients?
That's the real key. Otherwise, let's face it, you may be wasting a lot of time and energy with little ROI. (return on investment)
Welcome to Episode One of Six in my 'Social by Design' live interview series! I'm super glad you are here.
My goal is to always bring you a no-nonsense approach to building a successful interior design business.  I'm so excited to kick this off by interviewing my very own business coach, Amy Schmittauer.
I will have a FREE tip sheet for you to download with the Top Tips that I learn from each of my guests.  Click here to get your Top Tips for leveraging video in your design business now, when you sign up for my emails.
Let's do this!
Amy Schmittauer is the Boss at Vlog Boss Studios. As a new media triple threat —YouTuber, keynote speaker and best selling author— she coaches people to go after what they want in life and leverage online video to make it happen.
Creator of the popular YouTube series Savvy Sexy Social, her channel boasts a global community and millions of views. Now, in her first best selling book Vlog Like a Boss: How to Kill It Online with Video Blogging, she shares her collection of strategies and tactics to help you create video that gets the attention you deserve.
Watch the live video interview replay and get a pen & paper…you're gonna want to take notes.
Comment below to share your biggest takeaway from Amy – I dare you to be able to choose just one!
Get the FREE Download!
To follow Amy on her Youtube channel, click here.
I've got a stellar line up of guests in my Social by Design series. Next up is Laurel Bern…yes, the Laurel Bern.  And to see my other fantastic guests that you won't want to miss, click here.
Are you in my fabulous facebook group Interior Design Business Strategies (IDBS)?
Nicknamed 'Claire's Army', IDBS is a brilliant community of creative, supportive and helpful design professionals.
Click here and request to join IDBS… where there is NO BS.