Interior Design Quiz: Photoshoot Secrets
Picking a Paint Colour?
Choose the right paint colour
the first time Let me show you how in just 5 easy steps!
BONUS: The Top 15 Shades of Gray by Benjamin Moore
We value your
privacy
. We will never share or sell your information.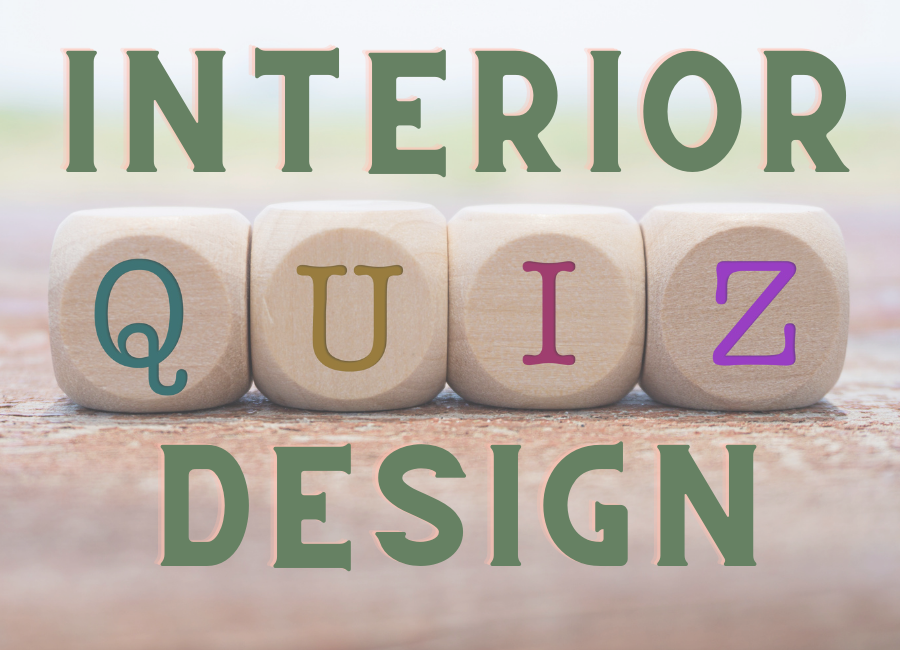 Who doesn't love a quiz?! See if you can guess the answers to these interior design questions about our professional photoshoots and learn some trade secrets 'Behind the Design' about each project.
Believe me, when I say, photoshoots are way more work than you might expect. It can take up to 30 minutes and sometimes even an hour to get just one shot perfectly right.
Watch the quiz video below and TEST YOUR ID IQ!
HOW THE QUIZ WORKS:
You will see an image with a question above as its title. Below the image, there will be options for you to choose from. Some will be multiple choice and others may be True or False.
DON'T SCROLL DOWN TOO FAR BEFORE DECIDING ON YOUR ANSWER!
Once you think you know the answer, continue to scroll until all is revealed. Comment at the end to let us know how you did and what surprised you the most.
ARE YOU READY? LET'S DO THIS!
All photos by Stephani Buchman Photography.
1. We broke a leg on this coffee table during the photoshoot – True or False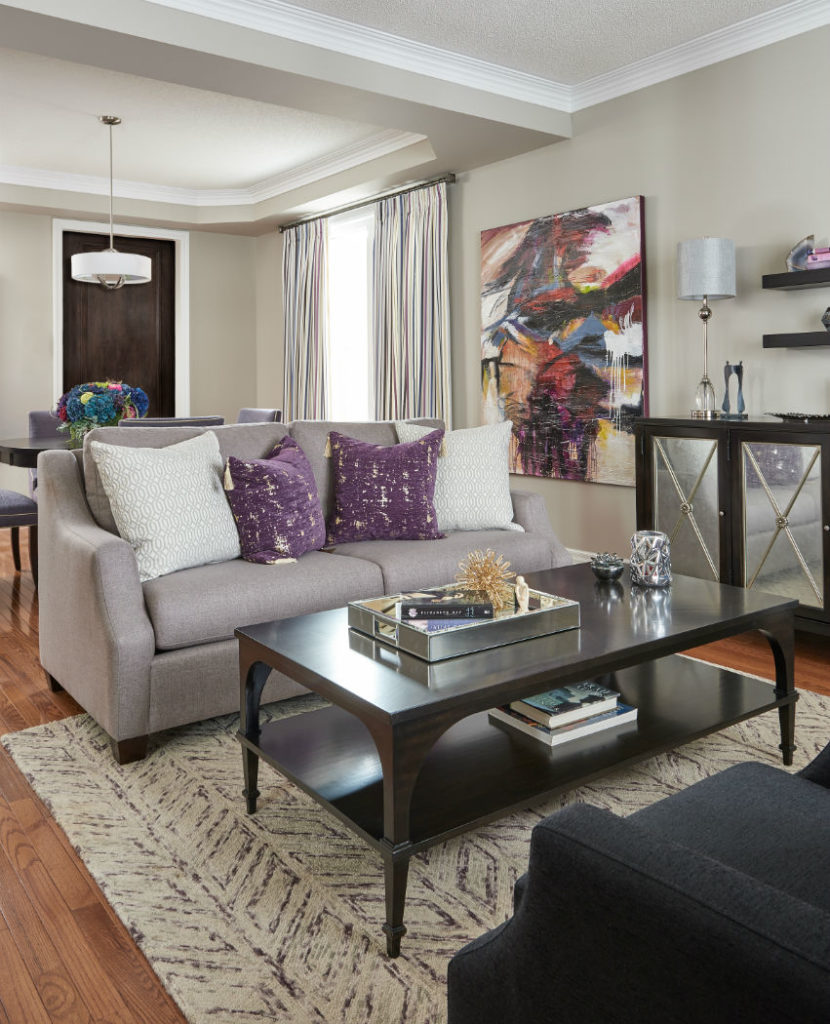 TRUE.
We constantly move furniture and accessories during a photoshoot – a smidge here, a hair there, we need to find the perfect placement to get the right shot.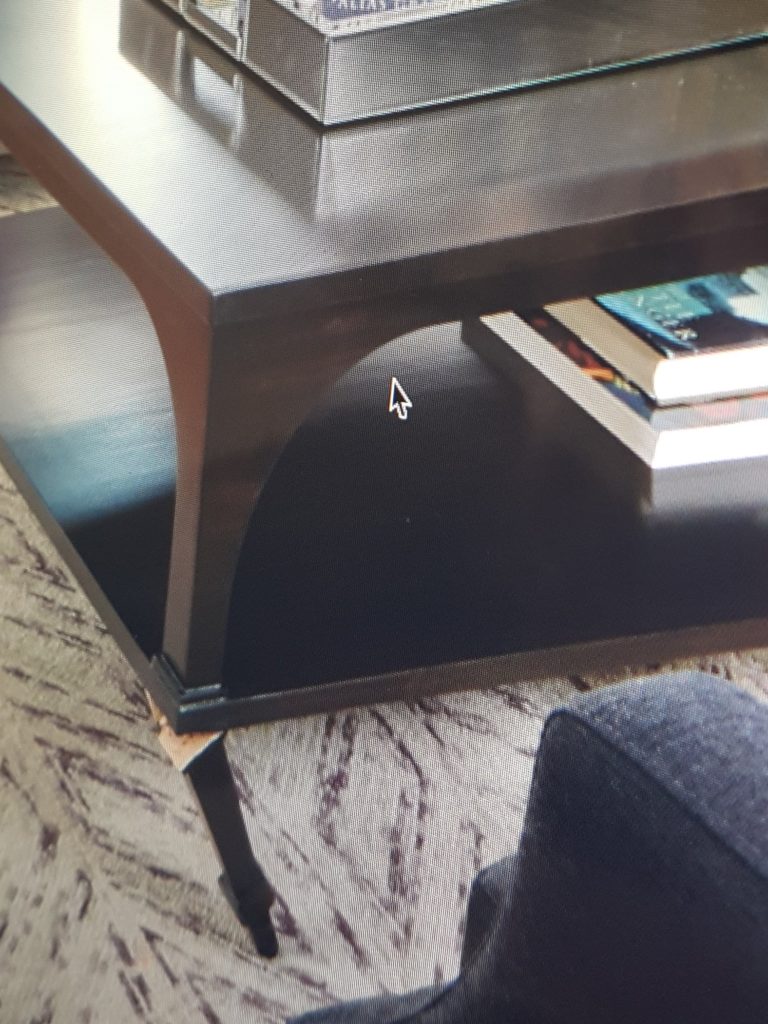 When my photographer pulled this table with one hand, dragging it along the rug just a few inches, the leg snapped. She got to keep the table and had to pay to replace it for our client.
She now has an assistant to help with photoshoots. It takes a village and we must be careful!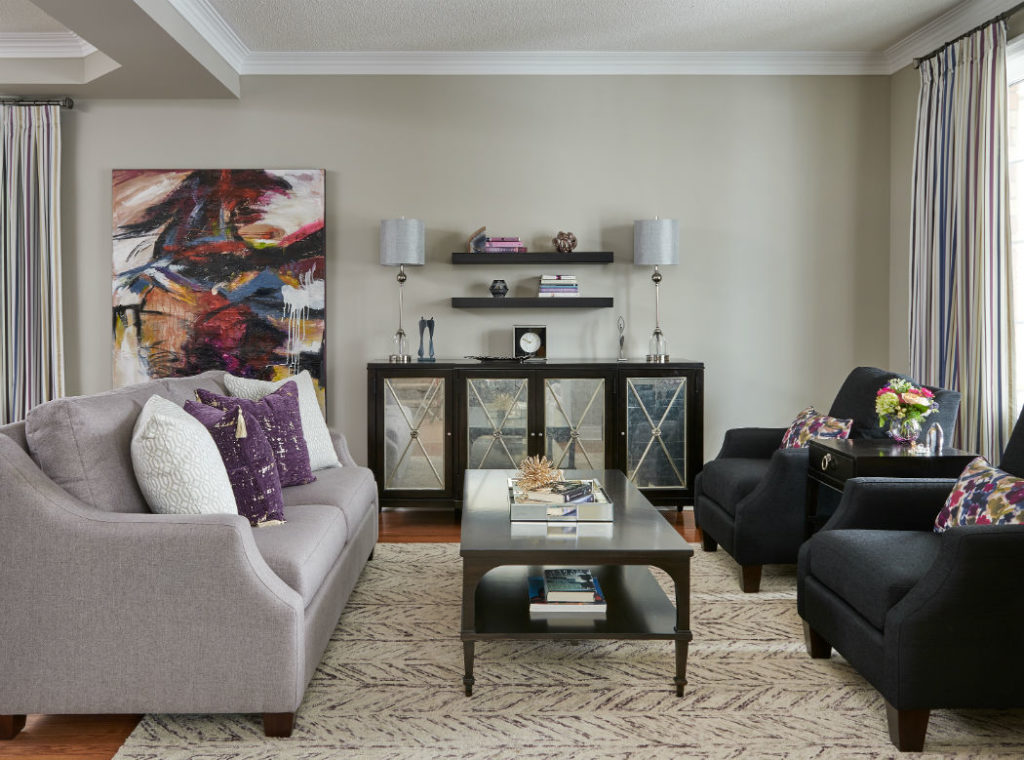 2. What furnishings did we manipulate in this Toronto client's walk in closet / lounge area for the shoot? 

A. The settee against the wall

B. The black chair in front of the closet door

C. The artwork above the settee

D. All of the above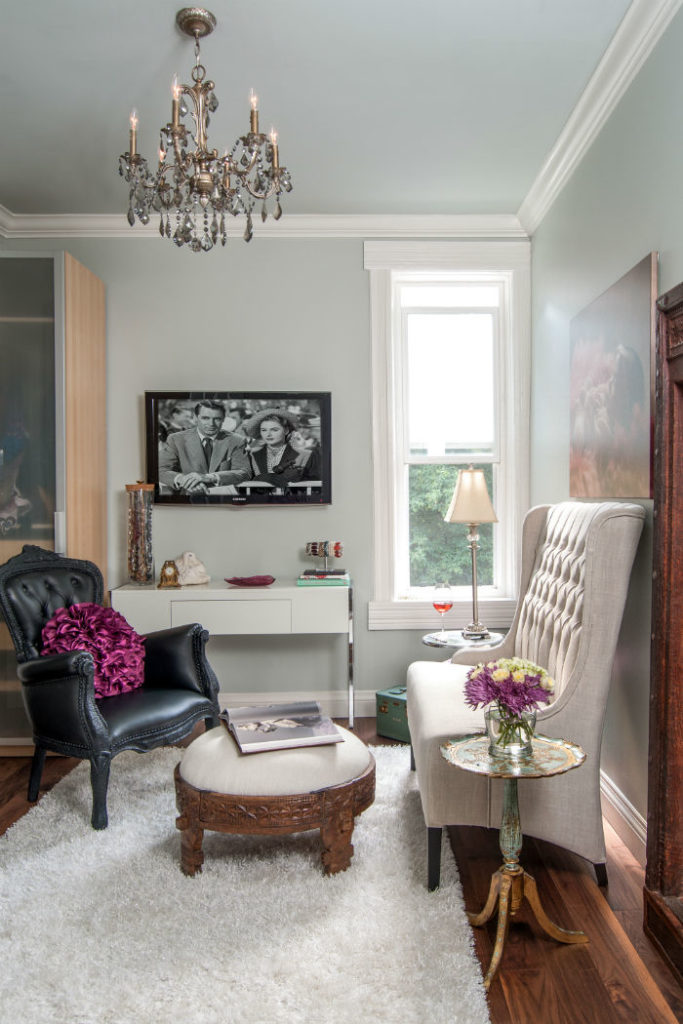 D. ALL OF THE ABOVE.
The settee was actually purchased from Homesense and was only used for the day of the shoot. We returned it immediately afterwards as the clients were not keen on keeping it in this space, even though we thought it worked really well!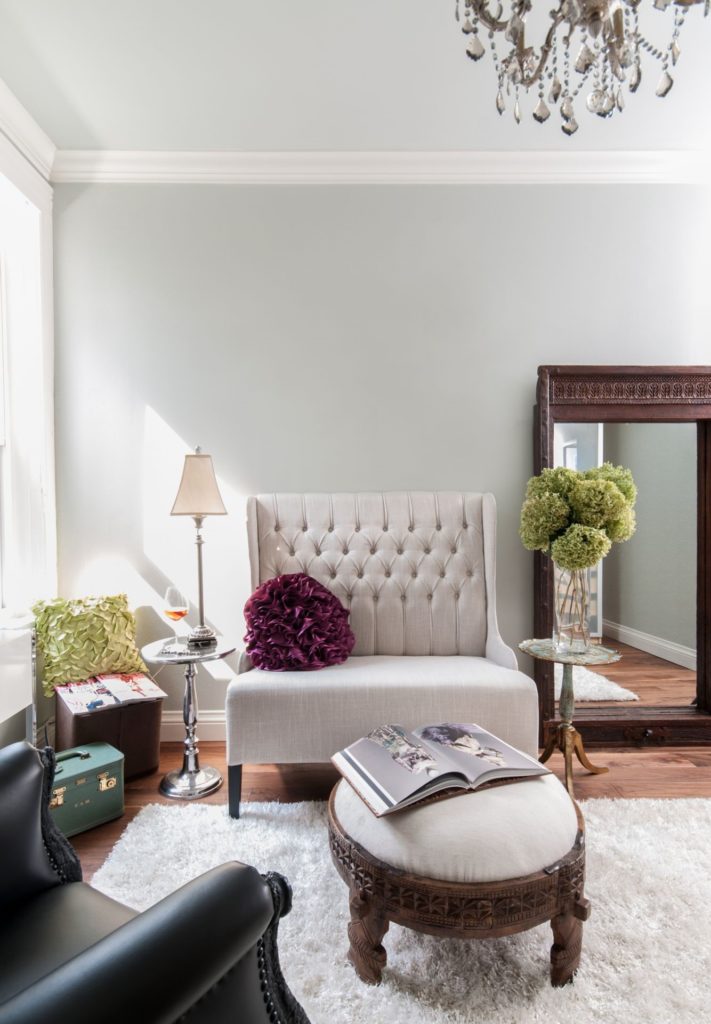 We placed the black 'Smoke' chair opposite to face the settee which created a 'conversational feel'.
However, in real life, the chair doesn't make sense to be in front of the closet door – unless you absolutely hate all the clothes in your closet! Haha! But for the shoot, it was placed in the perfect spot.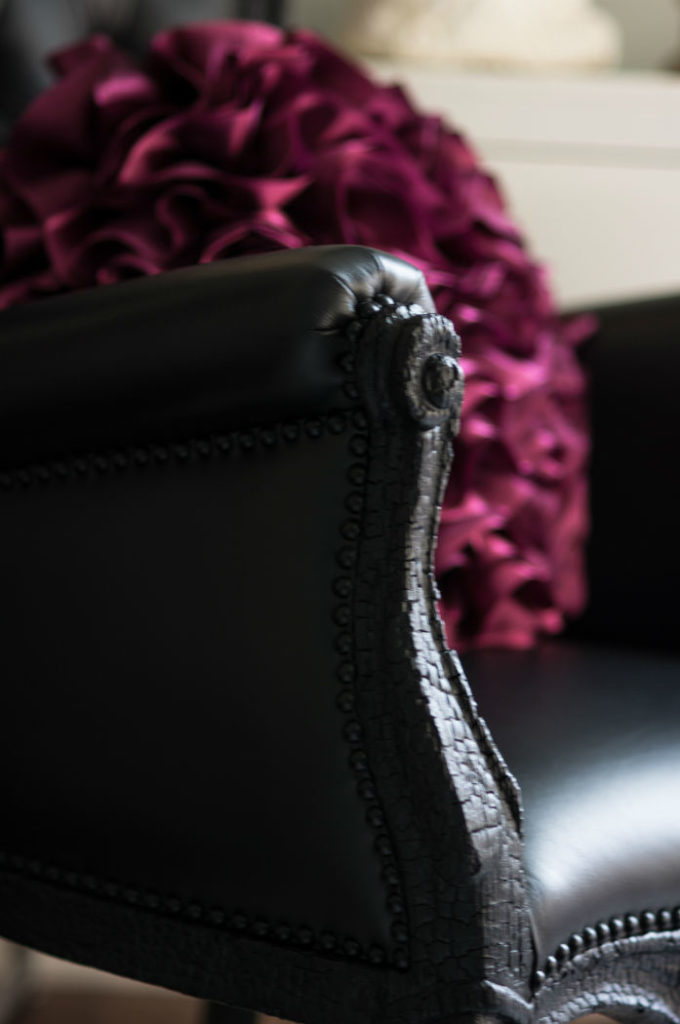 The canvas above the settee was photoshopped in later to give us the option as to whether or not we wanted to use it when sharing photos. The canvas art is a photo of our client's baby girl.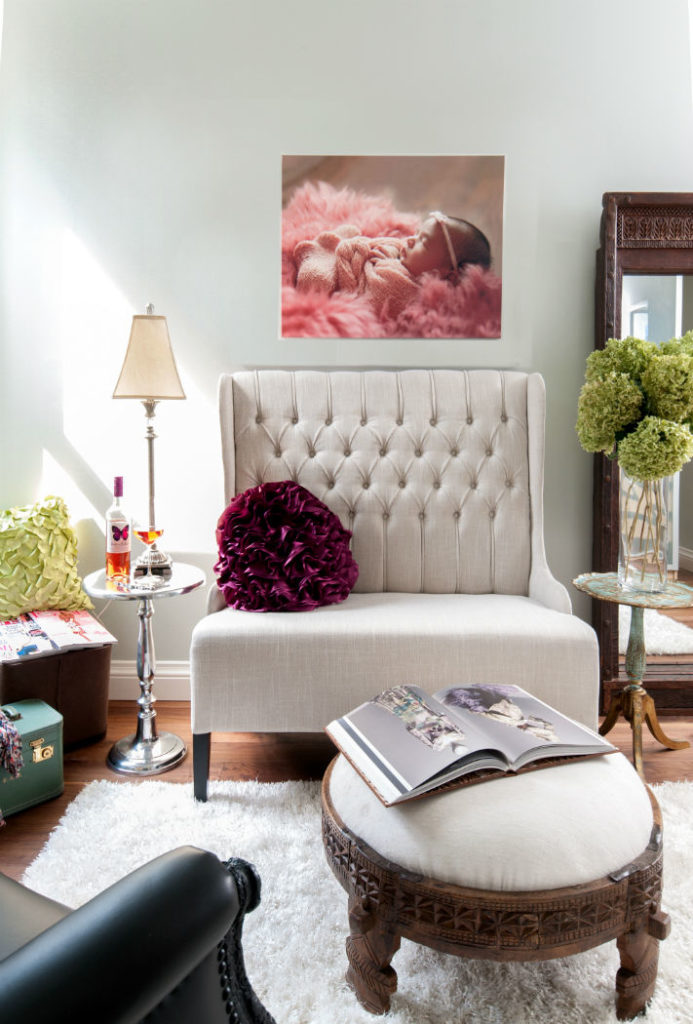 On a side note, the wall and ceiling paint colour is a blue-green by Benjamin Moore called Gray Cashmere.
See the full project including a gorgeous all-white custom bathroom we designed here.
3. What's wrong with this picture?
A. The artwork should be sitting directly on the fireplace mantle

B. The table is too close to the chair

C. The fireplace should not be on in professional photos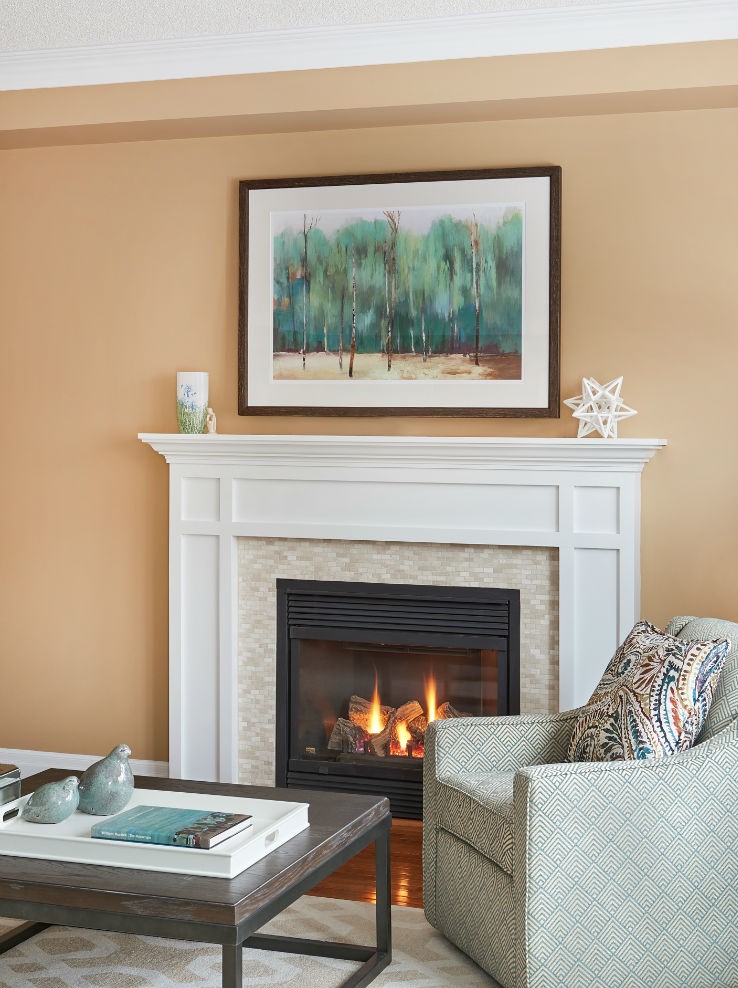 B. THE TABLE IS TOO CLOSE TO THE CHAIR.
In real life, the table would not be placed this close to the swivel chair. You would have no room for your legs if it was set up like this!

This custom accent swivel chair does not actually reside by the fireplace at all. However, it made for a lovely and cozy looking vignette with the fireplace in the background.
Below is another angle of this family room from the eat-in kitchen area where you can see how the chairs are actually positioned.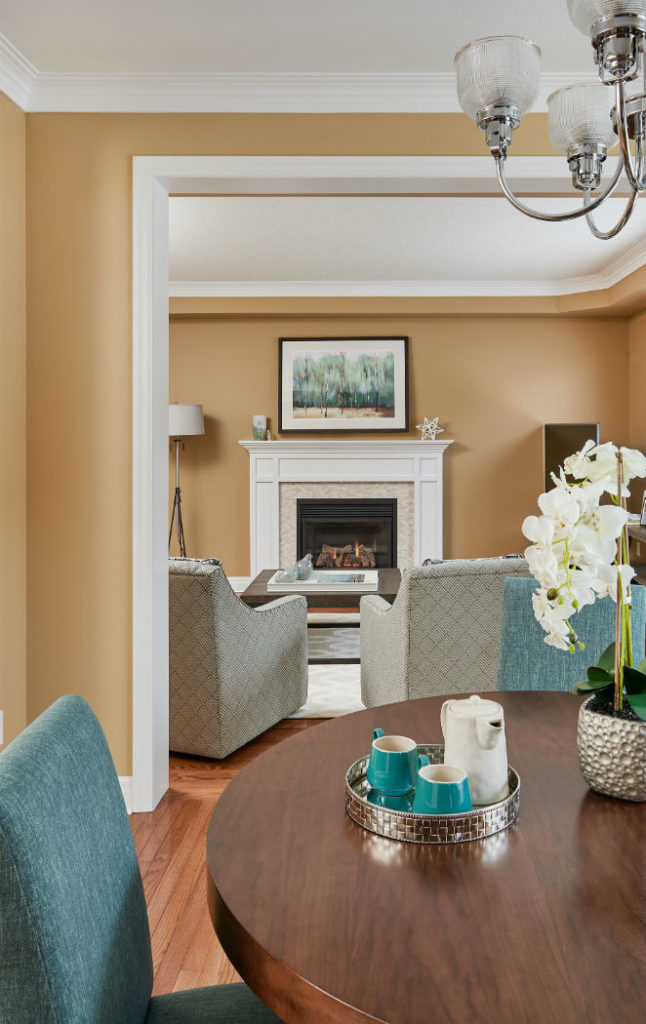 In addition, the artwork had not actually been hung before the shoot. My photographer added it in afterwards during the post-production phase.
The key is to ideally minimize post-production work like this where you can though, as this increases the price for the photography when more edits are required.
On a side note regarding the photographing of fireplaces, you should always have them on because they provide a relaxing ambience that people like.

4. What did my photographer have to add to this built in unit in my clients' custom master bedroom during the post production process?
A. The TV, it hadn't been installed prior to the shoot

B. The shelf below the TV

C. The hardware because it was on back order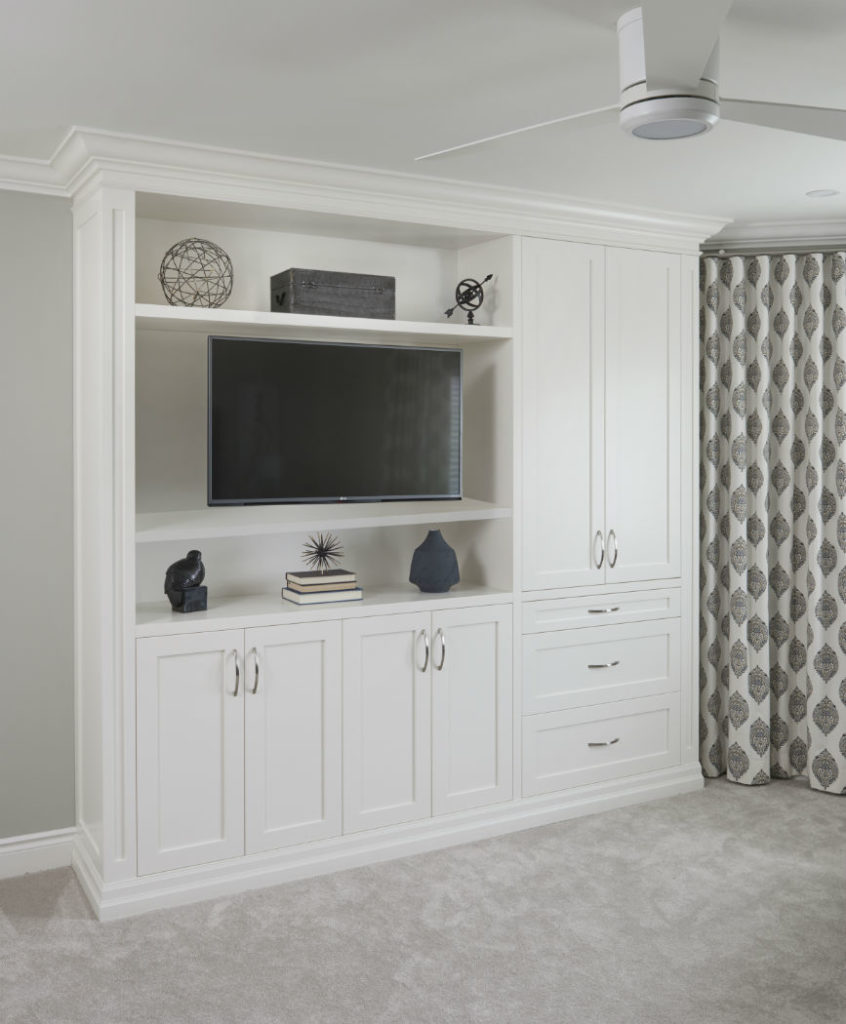 B. THE SHELF BELOW THE TV.
Despite having this in my rendering and in my original design, when I arrived on site after the installation, I noticed the shelf was not there.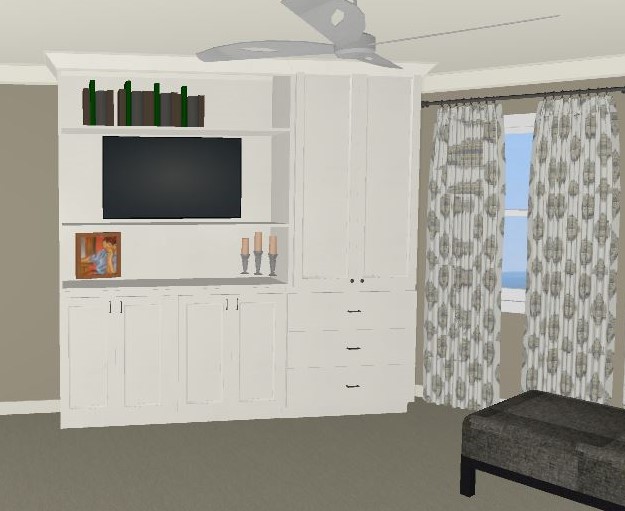 My contractor said he didn't think it was necessary and omitted it from the design. I was not overly happy and I explained that it was there to anchor the TV.
Here is the photo of what it looked like before we staged it and without the additional shelf.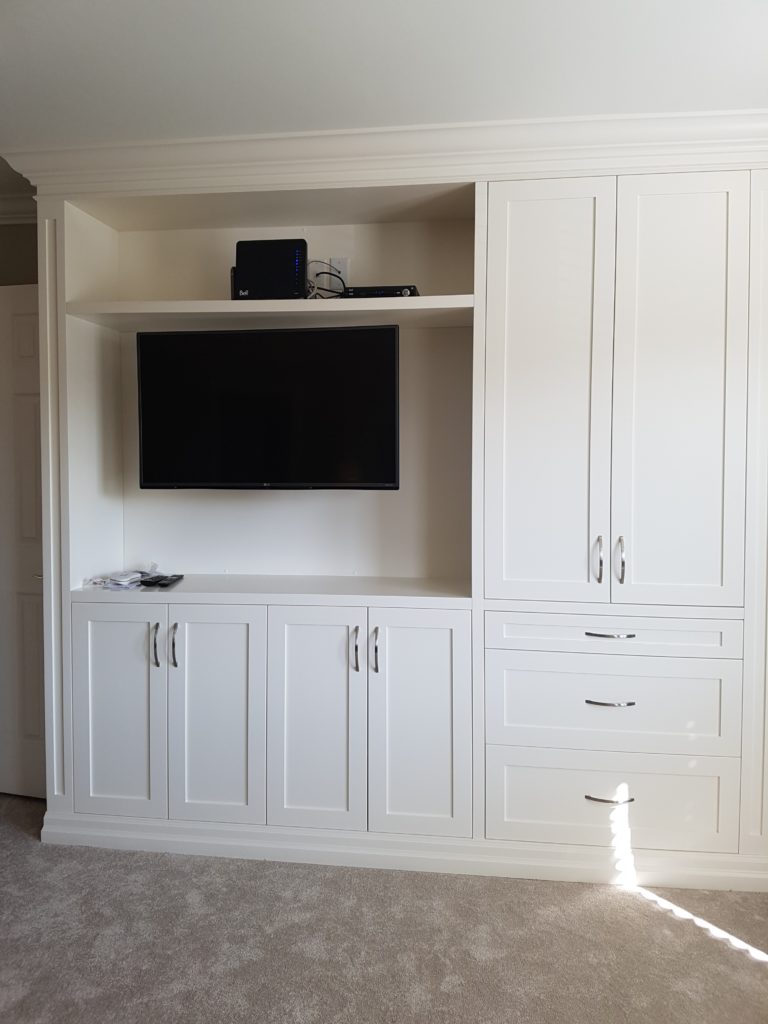 Needless to say, after this incident, I kindly asked my contractor to always speak with me first if there is ever something design-related that he feels is not required for whatever reason.
We are good friends again, so all is good. 🙂
See more of this custom principal bedroom project in my portfolio and learn details 'behind the design' here.
As an FYI, the wall colour is the always popular Revere Pewter by Benjamin Moore.

5. Sometimes we reuse accessories for different photoshoots –
True or False?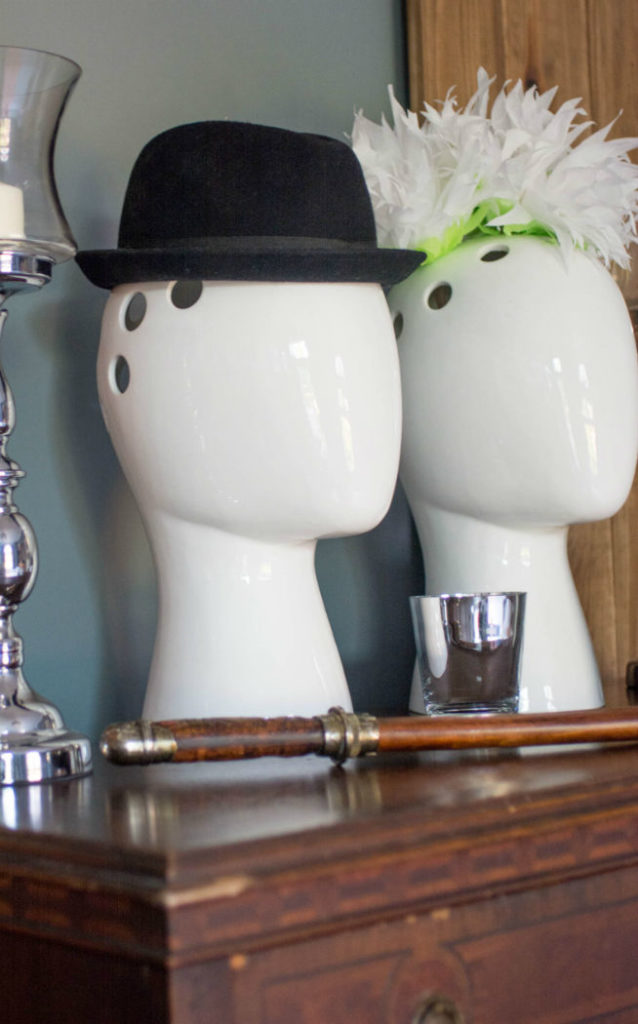 TRUE.
In the image below you can see the mannequin heads in my Toronto client's bedroom on their dresser.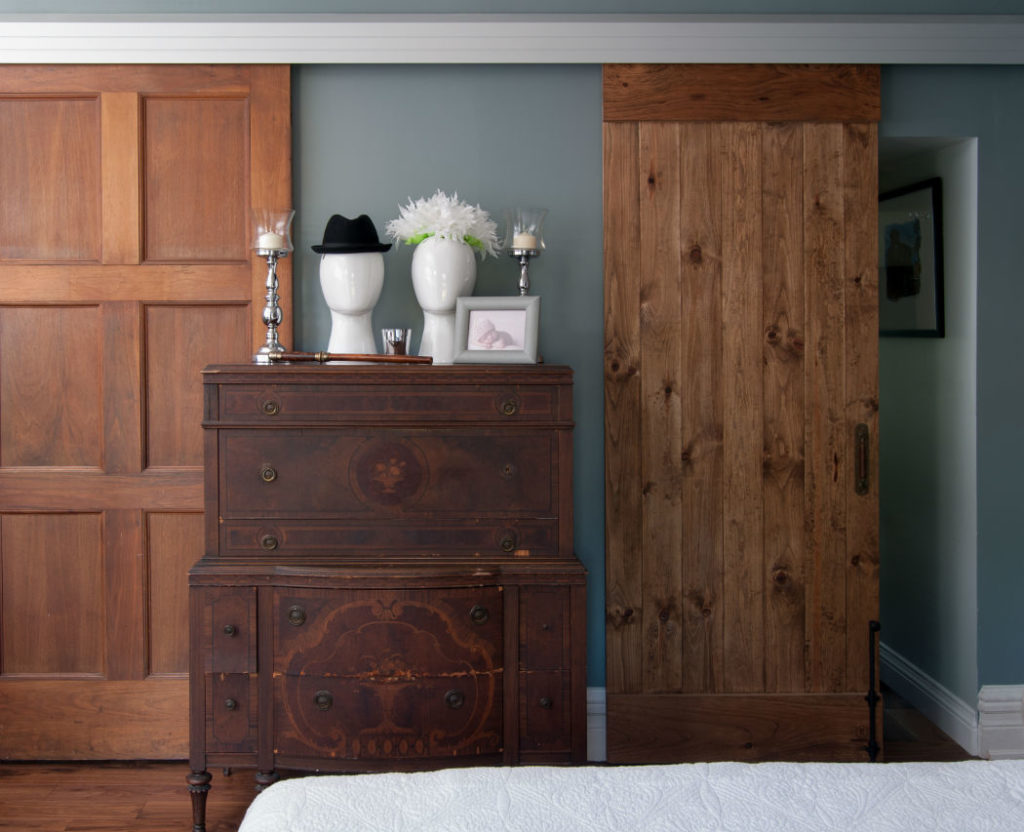 They actually bought me one of these heads after we worked together because I told her that I really like them. I then used this same accessory in my daughter's bedroom for another photoshoot.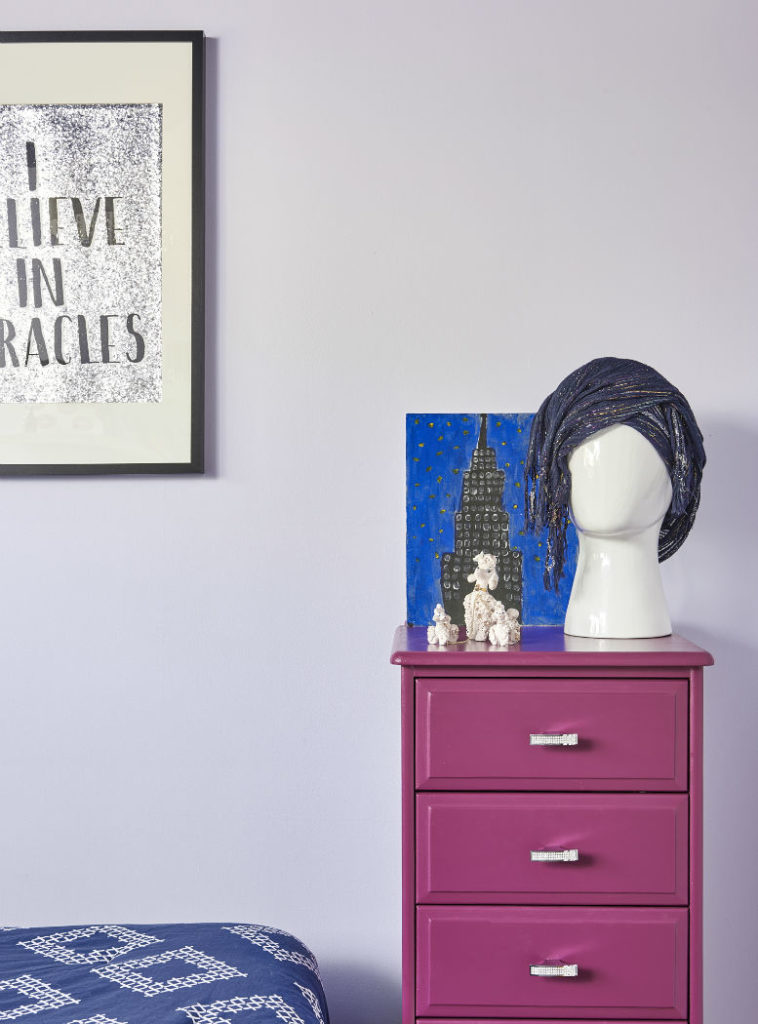 So, how did you do? Comment below to share your results and tell me if you want more quiz blogs!
Did you realize how much goes into a photoshoot? Did any answers surprise you?
Perfect Colour Palettes
There's nothing like a perfectly curated colour palette to bring a home's décor together flawlessly. But knowing how to coordinate colours can be confusing and overwhelming.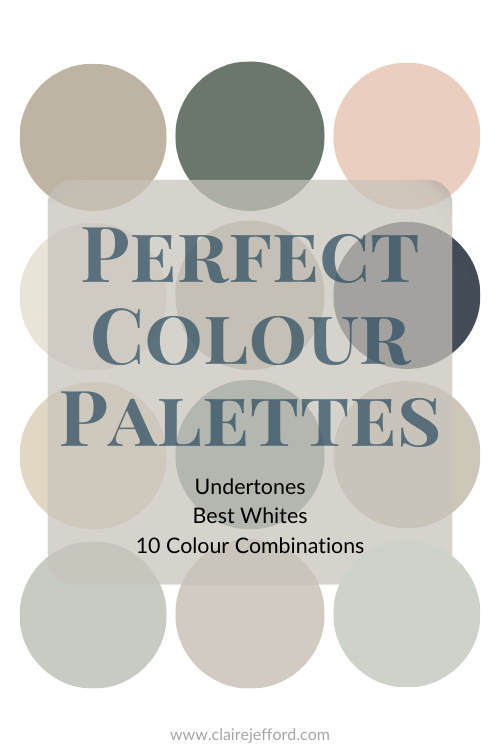 We've created Perfect Colour Palettes to help you confidently select the best colour for your home, and then see which trim, ceiling, and accent colours pair well with your selected colour.
Our Perfect Colour Palette library now has 40 paint colours from 3 top paint companies; Benjamin Moore, Sherwin Williams and Farrow & Ball.
An amazing resource for your next design or decorating project.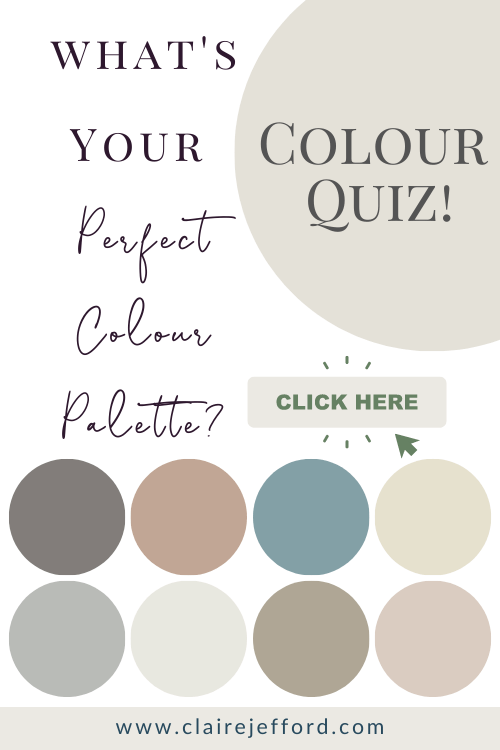 If you love quizzes, be sure to take my colour quiz to find your PERFECT PAINT PALETTE AND MATCHING ACCESSORY IDEAS!
Perfect for Pinning