Will Your Closet Ever Look THIS Good?
For Designers!
Design Services and Rates Guide A FREE Resource for Your Interior Design Business
We value your
privacy
. We will never share or sell your information.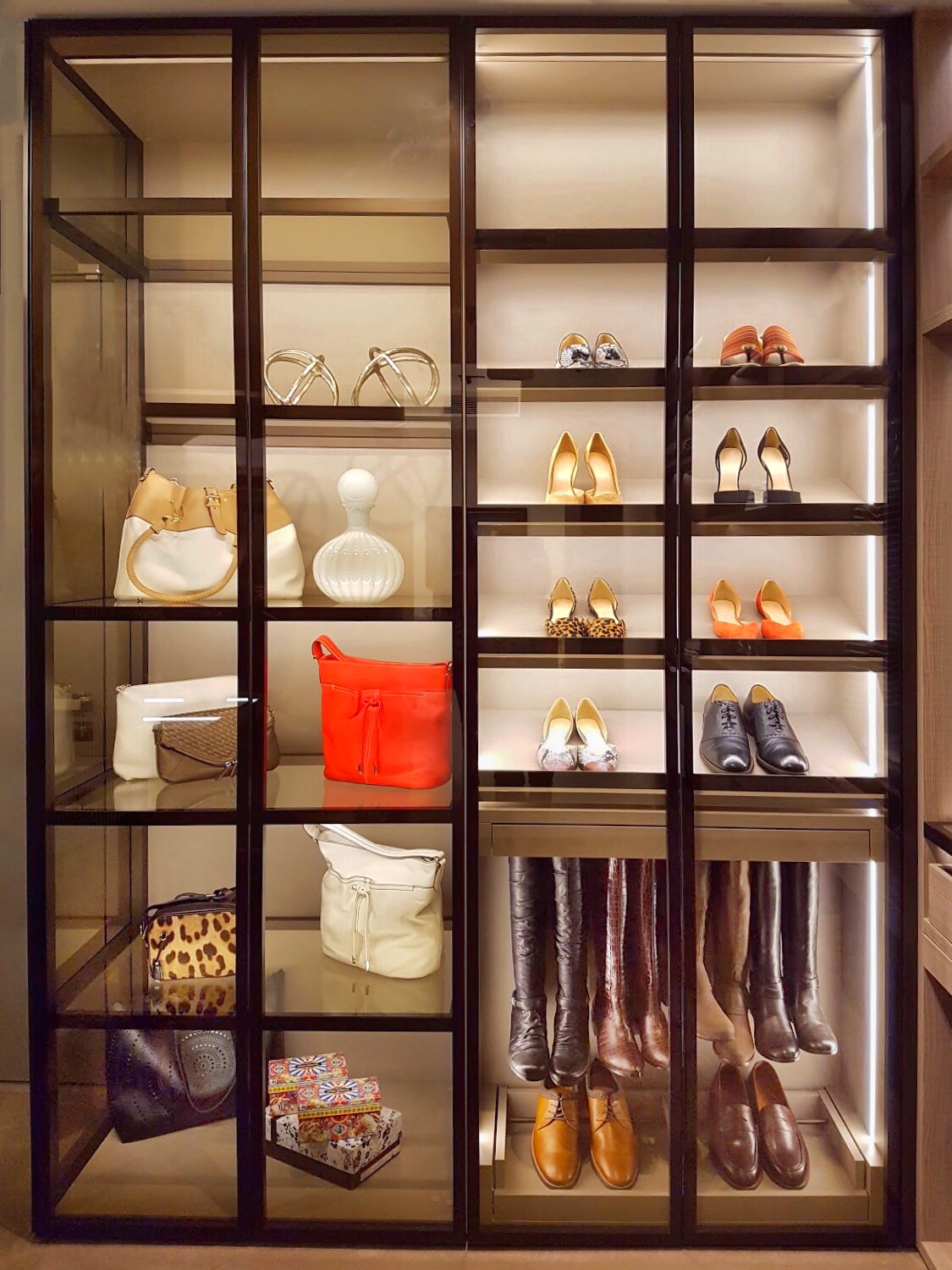 What does every Shopaholic have at the top of their wish list for their home? A dream closet, of course!
I found the perfect one at
What does every Shopaholic have at the top of their wish list for their home? A dream closet, of course!
I found the perfect one at the Eggersmann Showroom on Day 2 of my trip to Los Angeles when we hit the L.A. Design Trail, sponsored by Design Milk and Modenus.
You can see what an important role lighting plays in a space like this.  Not only does it add drama and elegance, but it's also very practical for lighting up the inside of drawers and glass displays in order to see what treasures lie within.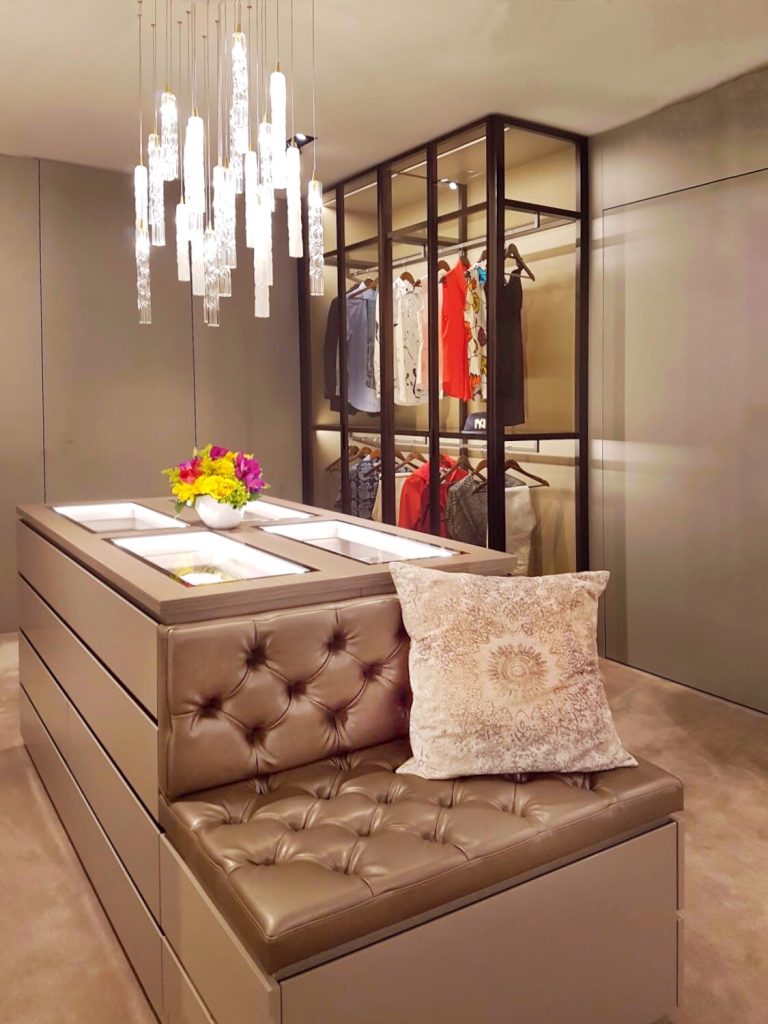 The dark frames create a nice contrast with the warm wood tones in this monochromatic colour scheme of neutral beige's and browns.
The tufted leather bench seat is perfect for when you need to try on all of your 54 pairs of shoes in order to determine which will look best with your outfit. 🙂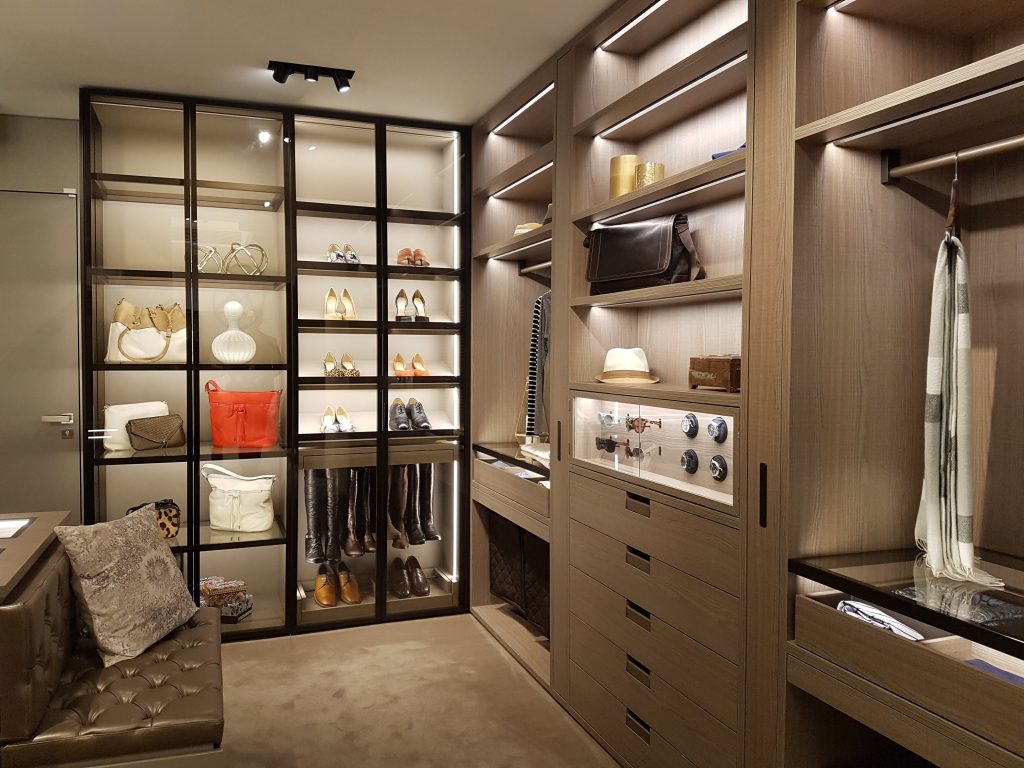 Notice the watches next to the sunglasses in the custom unit above on the right side? These actually spin every now and again because they are on what are called, 'watch winders'.
A watch winder is a device used to keep automatic (also known as self winding) watches running when not worn. Who knew?!
Sleek Feature Wall
Below is the statement feature wall you see as you enter the showroom. It's a mix of taupe coloured leather panels and beautiful wood cubbies.
See the TV in the middle? With a push of a button, it actually turns into a piece of artwork! The entire panel drops down to reveal a piece of art where the TV once was.  Perfect if you do not want the television to be a distraction when entertaining in your home.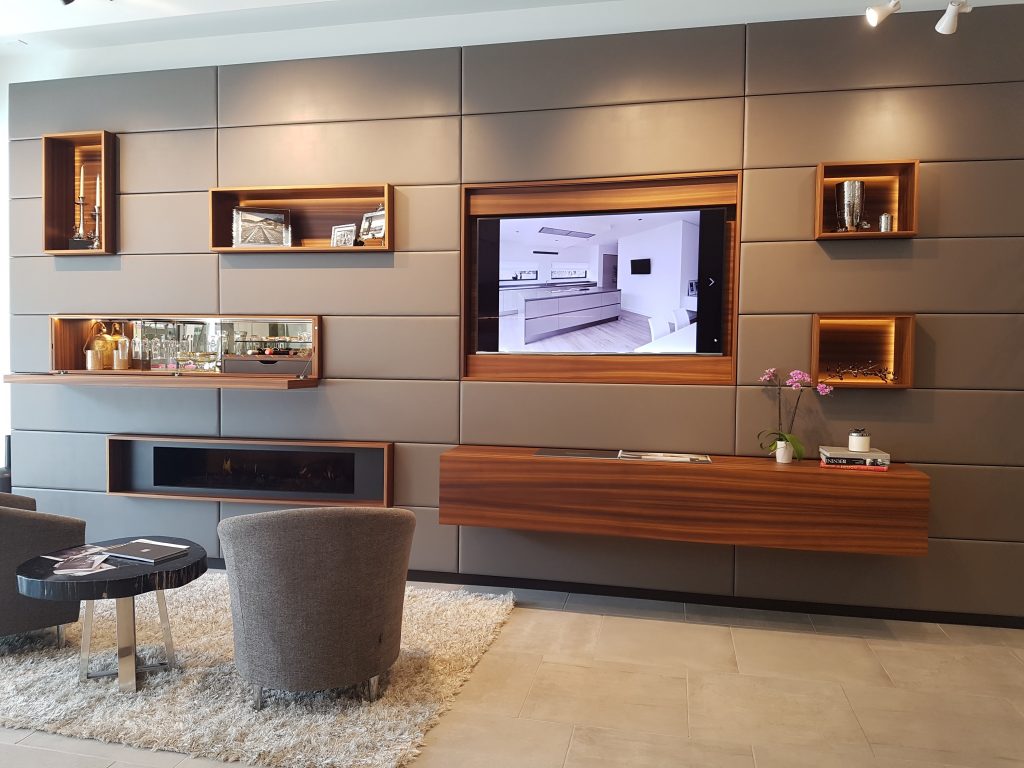 Another cool feature is that many of these leather panels open up with a simple, soft push to either the top or bottom. This offers fantastic functionality for useful storage, similarly to the open wood shelving of which some can also be shown either open or closed.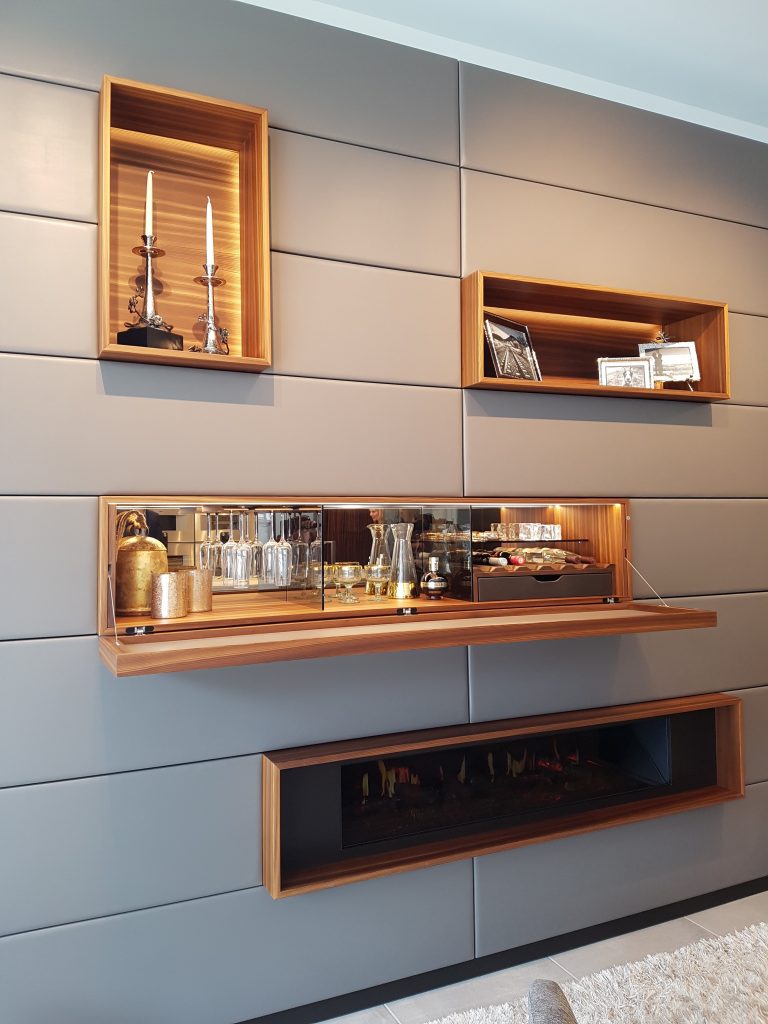 There are plenty of fabulous finishes to choose from as well, so you can customise these statement walls not only by the functional part of the design, but also based on the look and style you desire as well.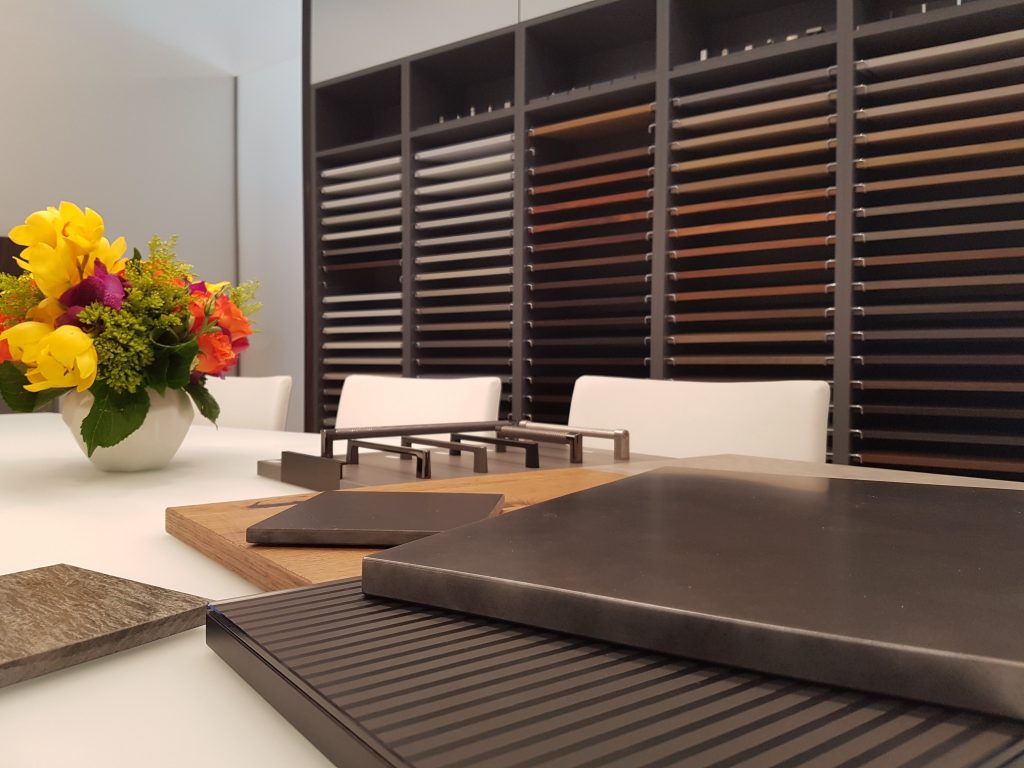 Mirror Mirror on the Wall
Many of the big cities around the world have steadily increasing populations and are very limited on space when building new developments. This is why it's super important to be able to identify the need for smart storage solutions that take up minimal space.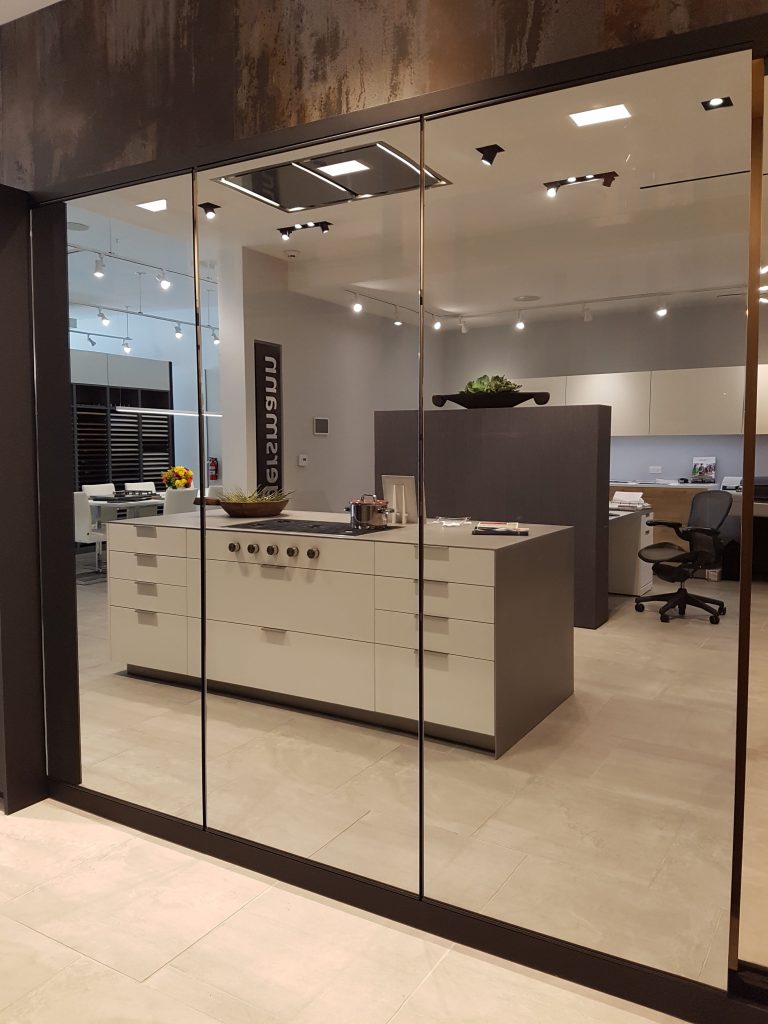 Above you can see what looks like a wall of mirrors, but it's actually very clever compact storage.
Mirrors are also great for making a space appear larger and brighter. There is one concern that I have however, and that is the maintenance in which this would require to keep clean, both on the outside and on the inside.  If you are OCD when it comes to finger prints on mirrors, that finish may not be right for you.
On the other hand, if you are vain; addicted to organisation and need to maximise function in your home, this solution from Eggersmann may just be the answer to your prayers.
Hey, I recognise that stylish tile surround on top of the mirrors! We used a similar one in the living area of the 3000 square foot basement I designed a few years ago.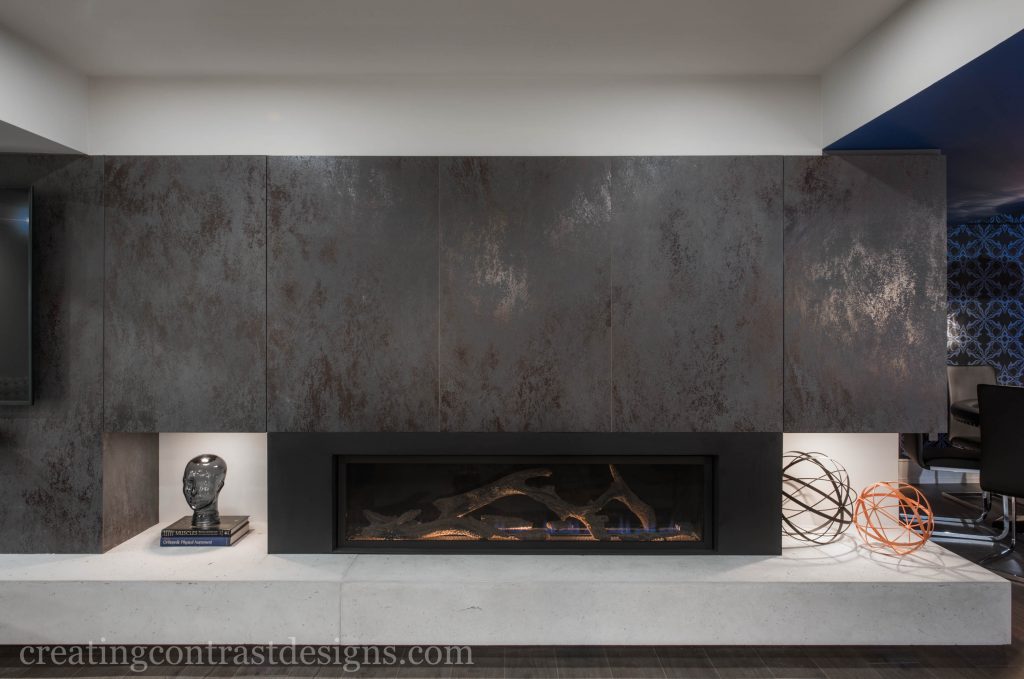 See more from my trip to L.A. in this post where I got to drive a sexy electric sports car…that I nearly crashed.