Farrow & Ball India Yellow
Picking a Paint Colour?
Choose the right paint colour
the first time Let me show you how in just 5 easy steps!
BONUS: The Top 15 Shades of Gray by Benjamin Moore
We value your
privacy
. We will never share or sell your information.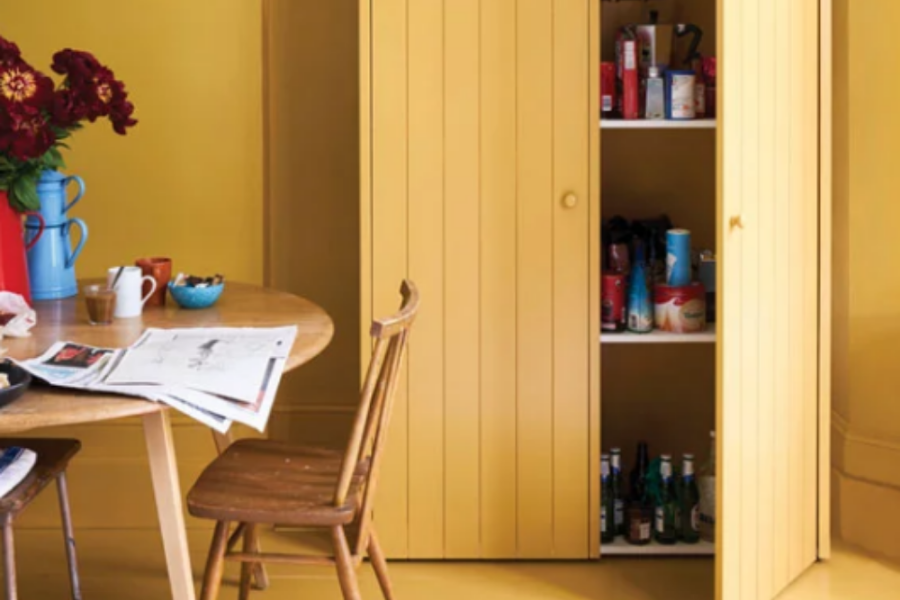 India Yellow No.66 by Farrow & Ball
Well good morning to you too! India Yellow will definitely greet you each morning with a bright hello.
AND, it's a lovely colour for Fall Decorating!
A moody yellow from Farrow & Ball, India Yellow is a strong mustard colour that can still be used to create coziness in a space, especially when paired with a dark tone.
If you're new here, welcome! Below you will see what I cover in every colour review post:
The undertone of my featured colour (if applicable)
Colour comparisons in order to easily see the different colour tones
Best white paint colours for the trim and ceilings
Beautiful colour combinations to inspire you
After watching the video, if you'd like all of the information I cover in one convenient place look no further than my Perfect Colour Palette for India Yellow.
This is a downloadable file that includes everything I talk about plus a total of 10 paint colours that combine beautifully with this colour.
A must-have for any colour enthusiast or design professional.
India Yellow Colour Review Video
Undertone: intense mustard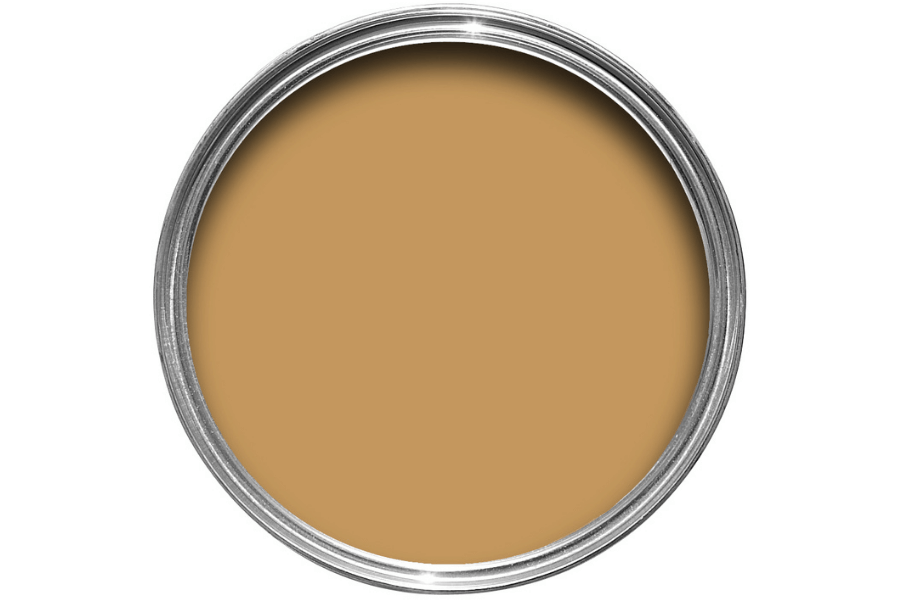 This rich yellow can add real depth of character to your space, depending on the lighting and what other decorative elements you pair with it in your interior decorating project.
The colour of your trim and ceilings will also affect how India Yellow appears in your space.
Is it as yellow as you first thought? The best way to find out is to compare colours.
You can see in the comparison below it's much darker compared to Babouche, which is a much brighter shade of yellow.
I cannot stress enough how important it is to compare colours. You will get a much better sense of undertones and the true colour of paint.
Colour Comparisons
Babouche No.223 & Cord No.16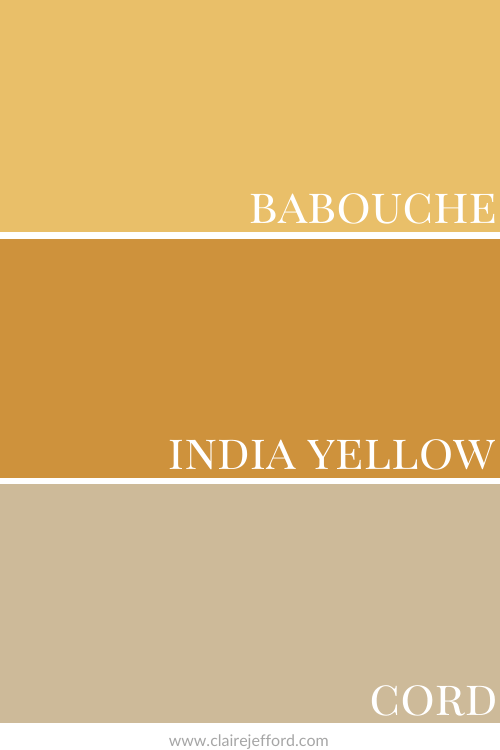 When I do Colour Consultations in a client's home, I will always compare colours so they too can easily see the differences.
When I hold my large paint boards up to a decorative element such as fabric, wallpaper or subway tile and then swap out one board with another board, it becomes much more clear as to which colour will work best.
Best Whites To Pair With India Yellow
Slipper Satin No.2004 By Farrow & Ball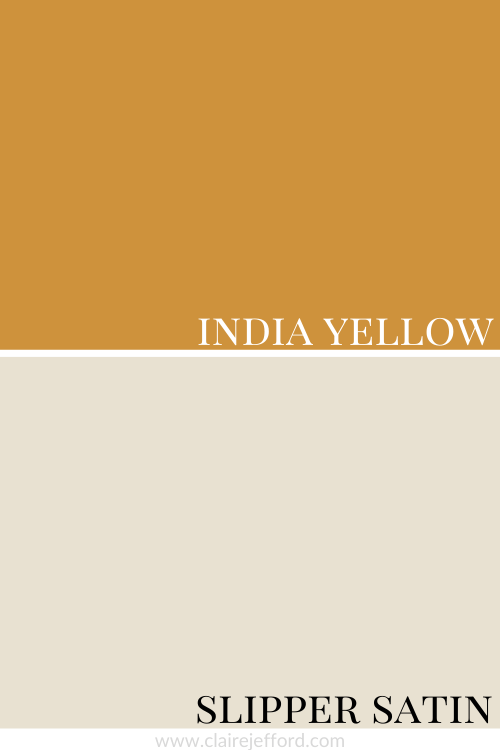 All White No.2005 By Farrow & Ball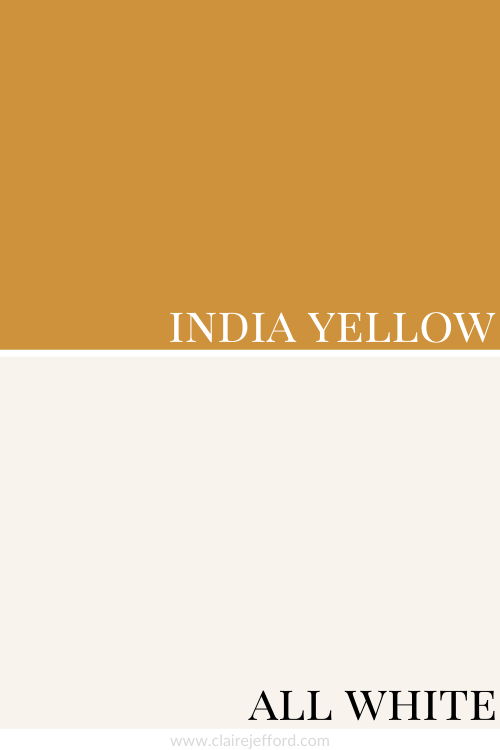 Wimborne White No.239 By Farrow & Ball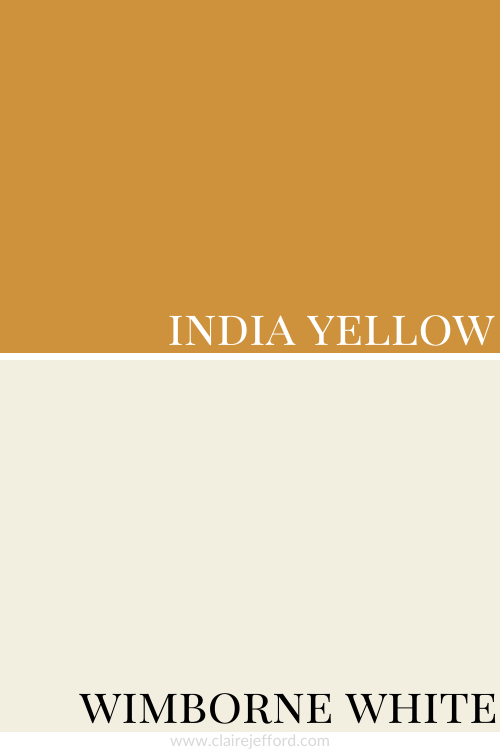 Looking at all three options the differences become quite evident.
Starting with Slipper Satin you get almost a light greige. All White is the most white and Wimborne is a creamier off-white.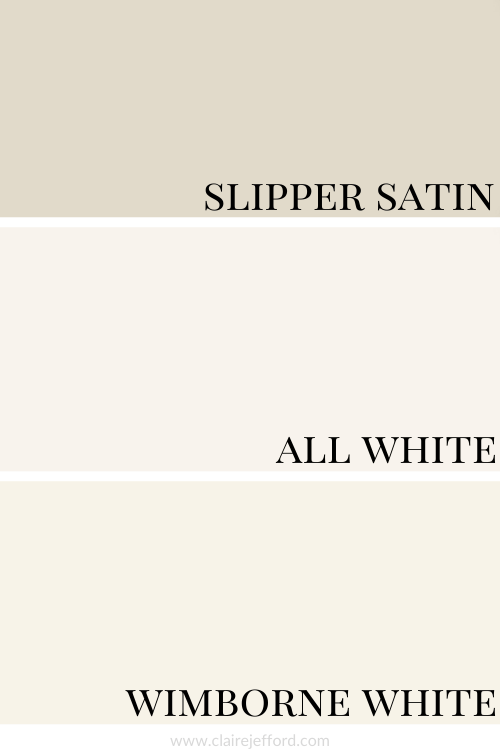 Which one you use will depend on how you want to pair your colours and other finishes in your home. And don't forget to take into consideration your fixed elements like countertops, flooring, any tile and backsplash.
I can assure you that the best colour for your project already exists, you just need to know the 5 Steps on how to choose the right paint colour the first time.
Fabulous Colour Combinations
India Yellow with Oval Room Blue, Purbeck Stone & Plummett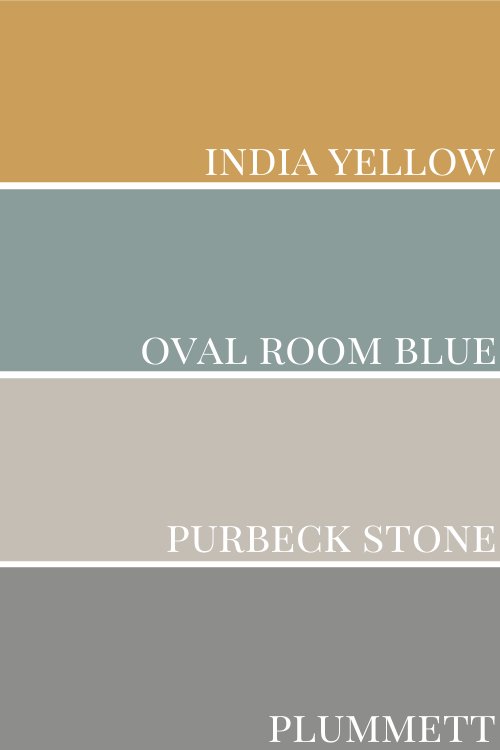 I will say that yellow is not a colour I would normally use in a project. At least not for a wall. I'm not actually a big fan of yellow in general.
I would, however, incorporate a colour like India Yellow into accents throughout a room.
Think throw blankets or pillows, window treatments or even vases and candles.
Oval Room Blue No.85 By Farrow & Ball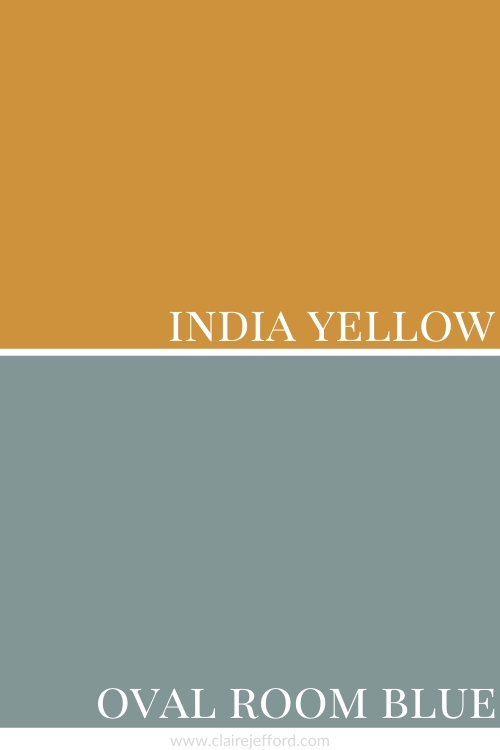 Purbeck Stone No.275 By Farrow & Ball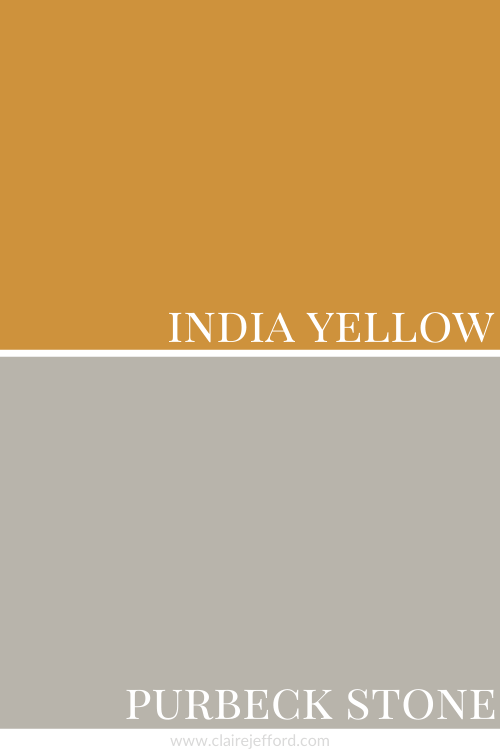 Plummett No.272 By Farrow & Ball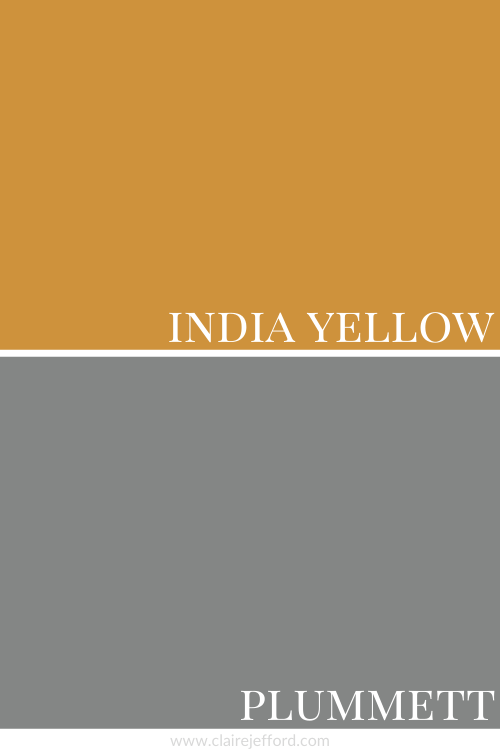 This is a gorgeous palette I created and the fabric ties it all together so beautifully.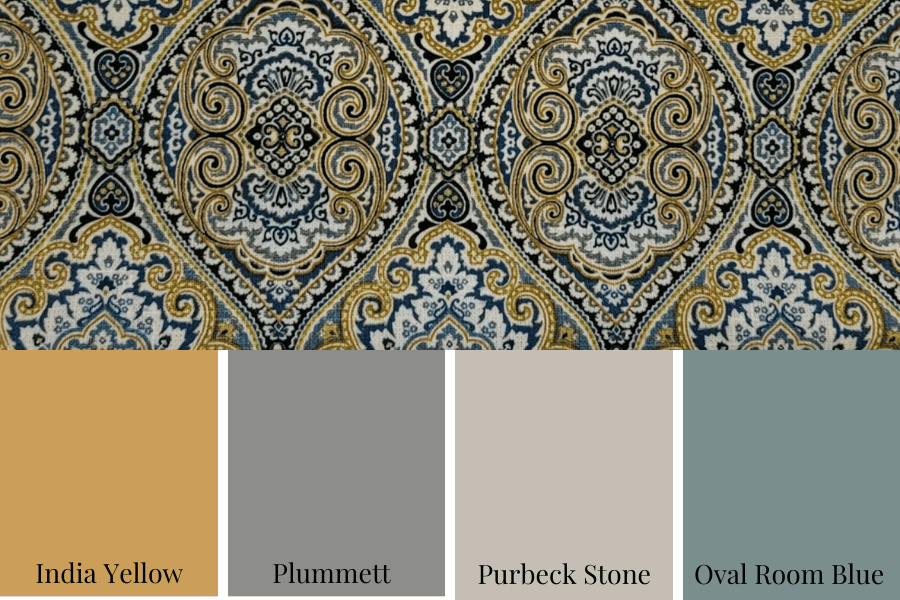 Likewise, this leaf fabric works really well with this palette. It also brings in more of the India Yellow colour to the overall look.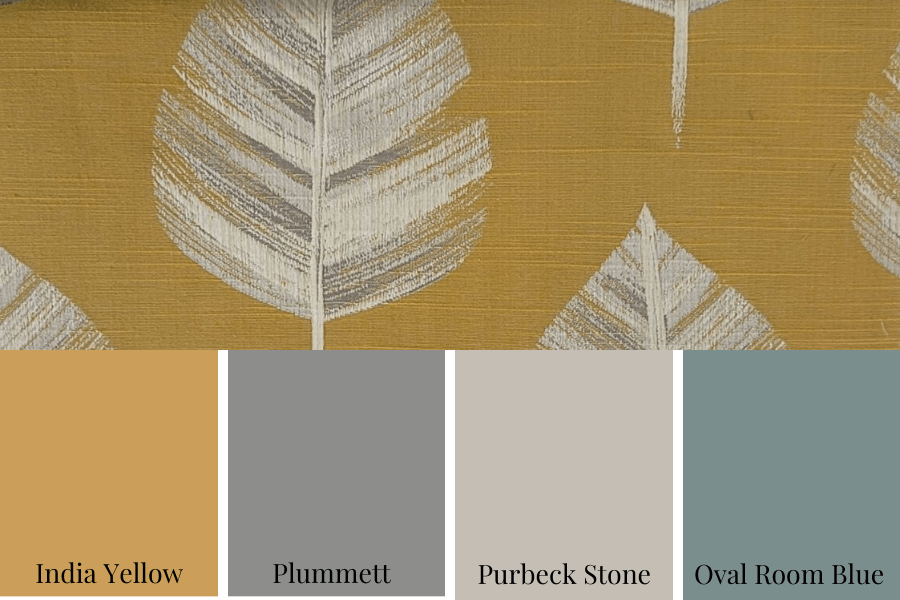 Hopefully, these palettes give you inspiration for how you could incorporate a colour like India Yellow into your home.
Although it's not a colour I would typically recommend for paint I am curious if you are or have been brave enough to use such a bright and bold colour in a decorating project?
Comment below to let me know.
Convenience At Your Fingertips
My Perfect Colour Palette for India Yellow is here to inspire you.
You can also find it in my Farrow & Ball Classic Collection showcasing 10 of Farrow & Ball's gorgeous paints colours.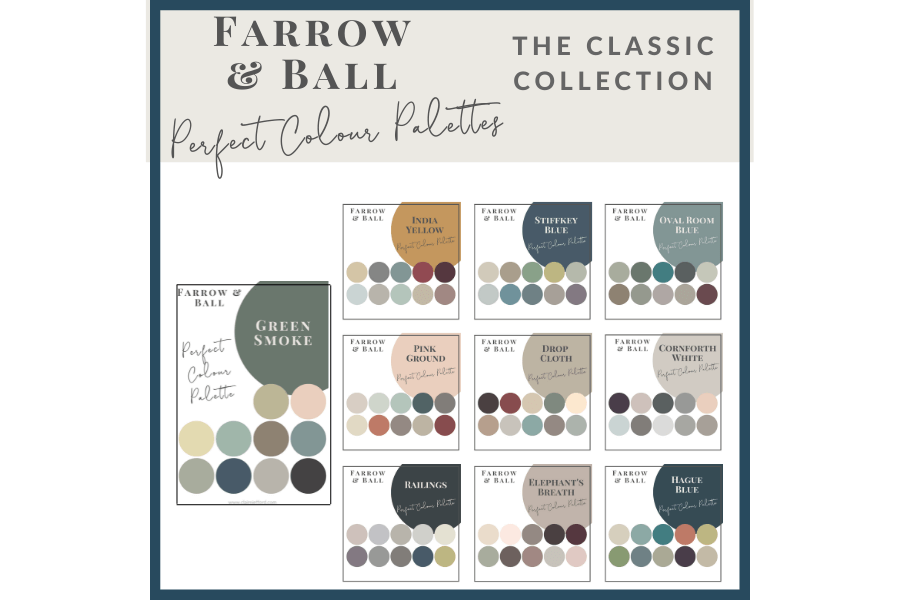 I now have over 50 palettes in my Perfect Colour Palette library Click here to see all of them.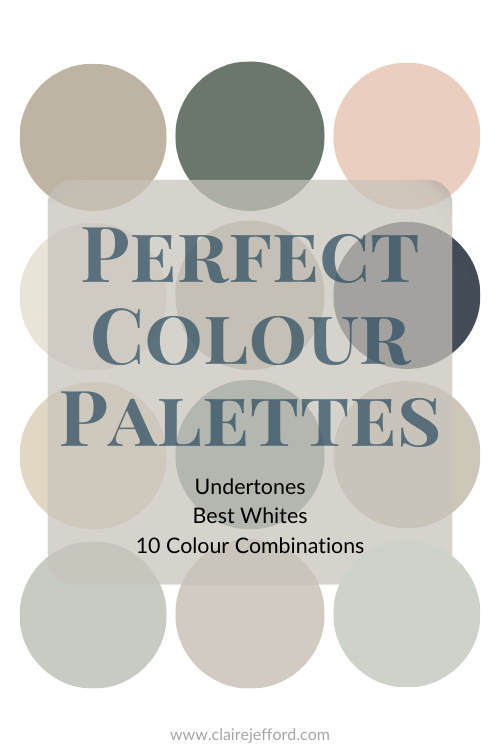 Remember, it only takes one mistake to take your home decorating project from divine to disaster. Don't let the paint be what stresses you out!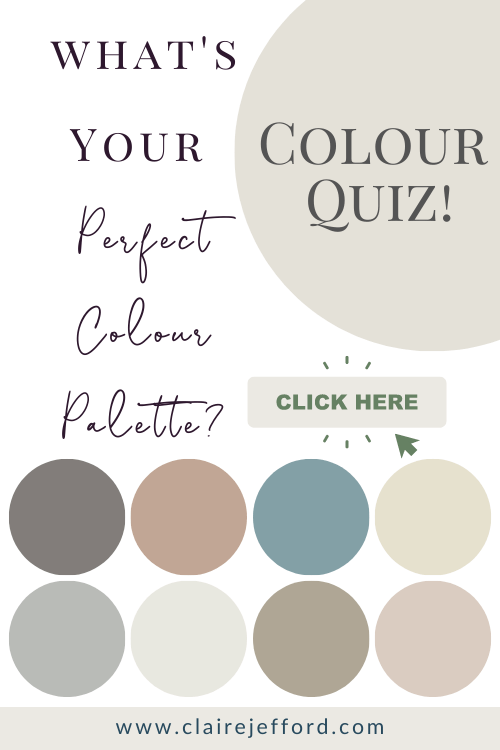 Perfect for Pinning