Benjamin Moore – Edgecomb Gray
Picking a Paint Colour?
Choose the right paint colour
the first time Let me show you how in just 5 easy steps!
BONUS: The Top 15 Shades of Gray by Benjamin Moore
We value your
privacy
. We will never share or sell your information.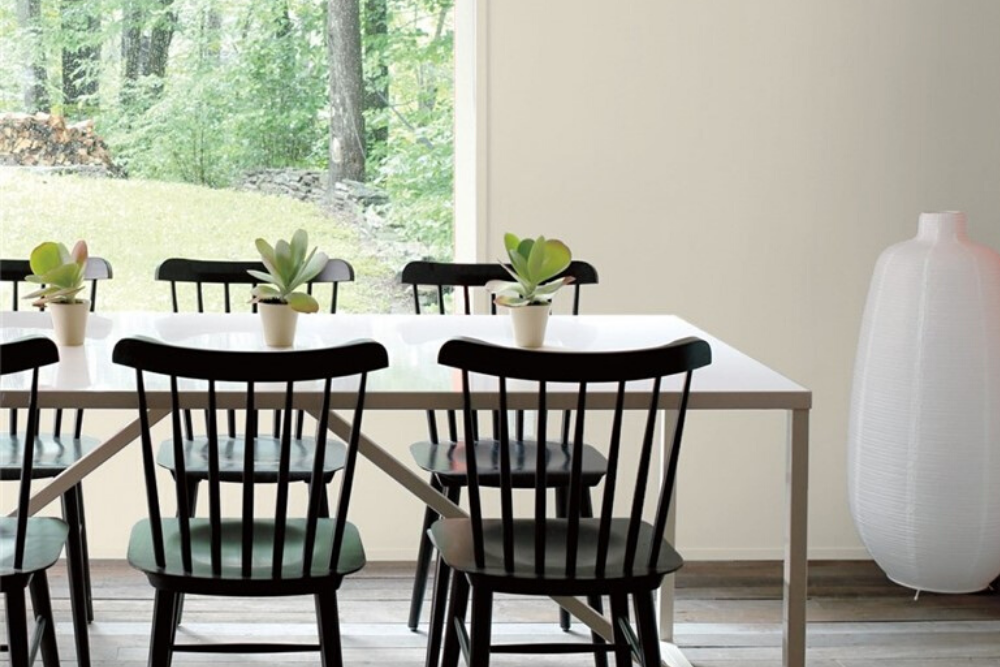 Edgecomb Gray HC-173 by Benjamin Moore
A timeless and popular neutral, this go-to greige can be used in both modern and classic room designs.
In this colour review video of Edgecomb Gray by Benjamin Moore, I share:
The undertone of my featured colour
Colour comparisons in order to easily see the different colour tones
Best white paint colours for the trim and ceilings
Beautiful colour combinations to inspire you for your decorating project
After you watch the video, if you would like all this information conveniently laid out for you in one place and have even more paint colour combinations to use with Edgecomb Gray, take a look at my new Perfect Colour Palette. A must-have for any colour enthusiast or design professional.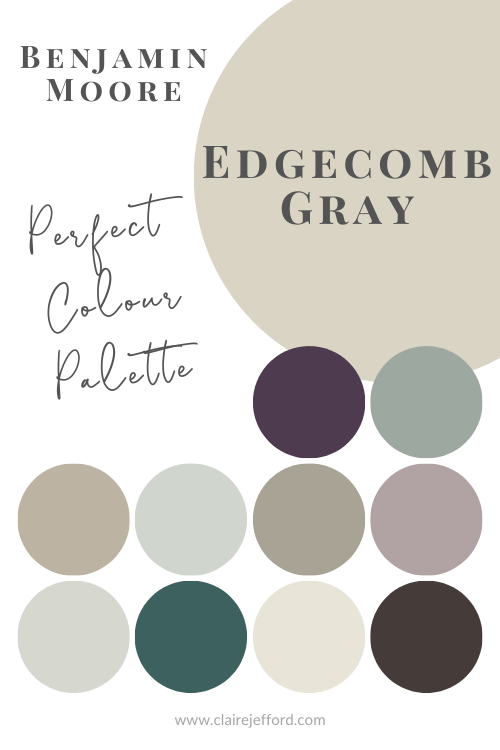 As a Certified True Colour Expert and an award-winning interior design professional, I've worked with many homeowners on various residential design projects.
Before we take a close look at Edgecomb Gray, check out the mood boards below that we created for a client condo project.
Our design concepts included this popular Benjamin Moore colour for the walls in the main living space and Pashmina for the bedroom.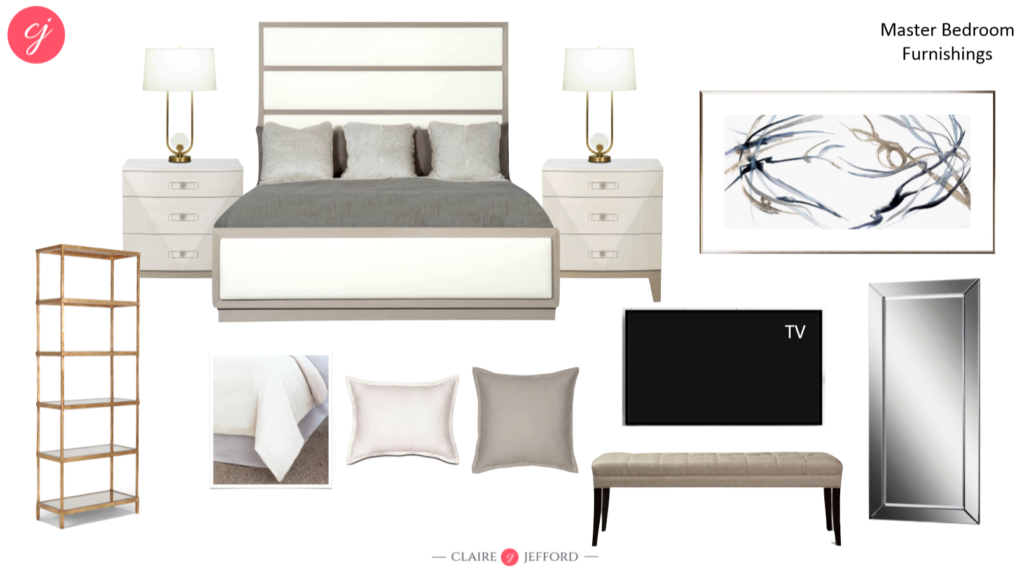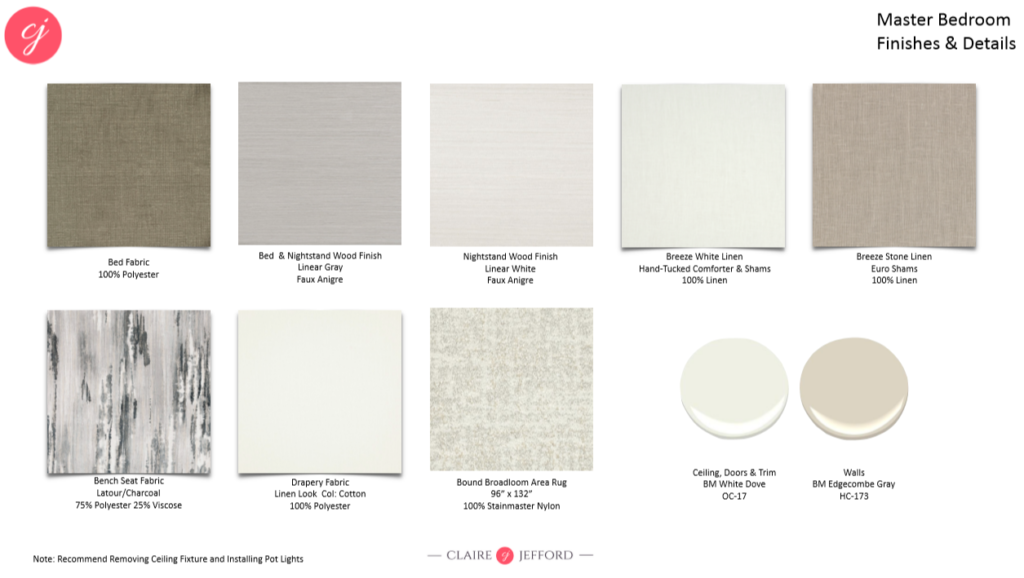 Below is the complete colour palette we created for this space.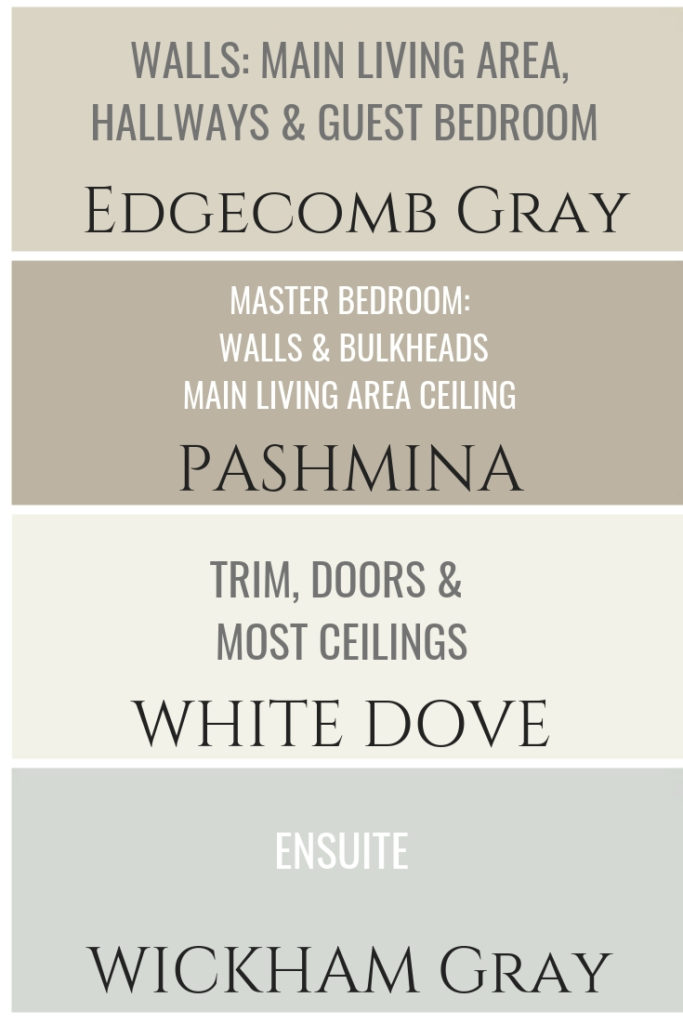 Isn't it a gorgeous colour combination?!
Alright, now I want to give you the confidence to make educated decisions about your own home decorating projects and paint choices. Let's do this!
Watch the video below of my Colour Review
Undertones: Green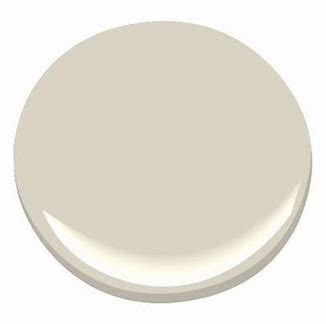 This greige paint colour may appear more gray or beige in colour depending on the lighting and what other decorative elements you pair with it in your interior decorating project.
Looking at the colour comparisons below will help give you a better idea of where Edgecomb Gray fits.
Colour Comparisons
Gray Owl OC-52 & Revere Pewter HC-172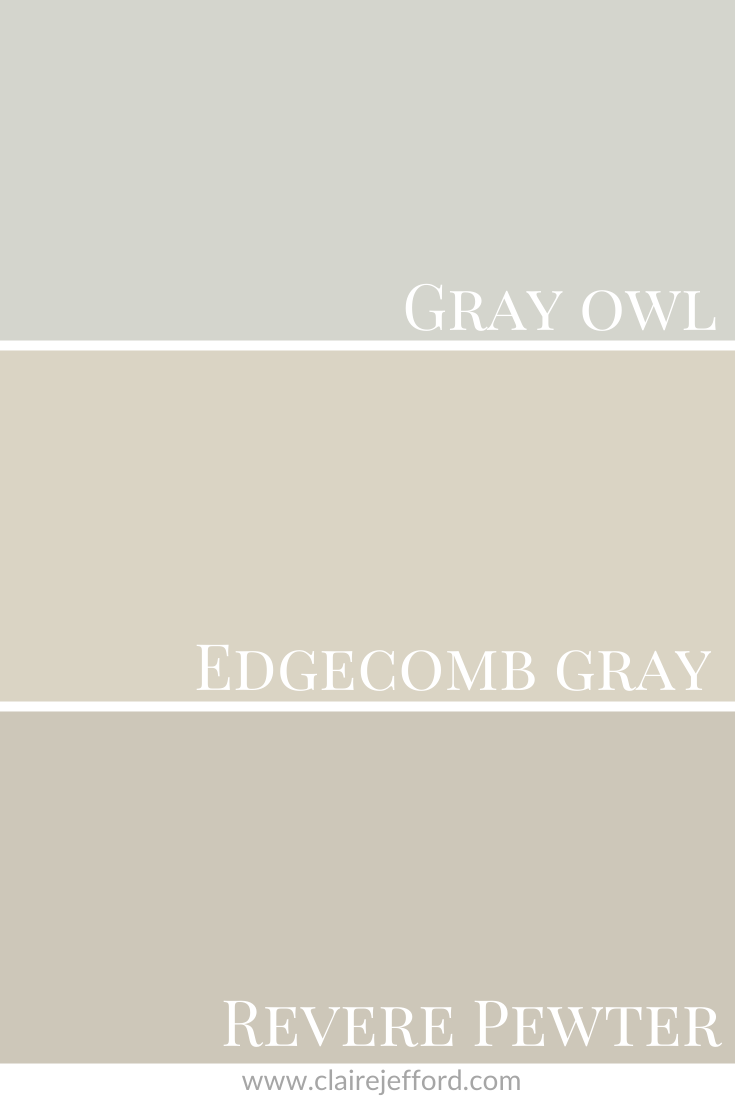 Best Whites To Pair With Edgecomb Gray
Cloud White CC-40 by Benjamin Moore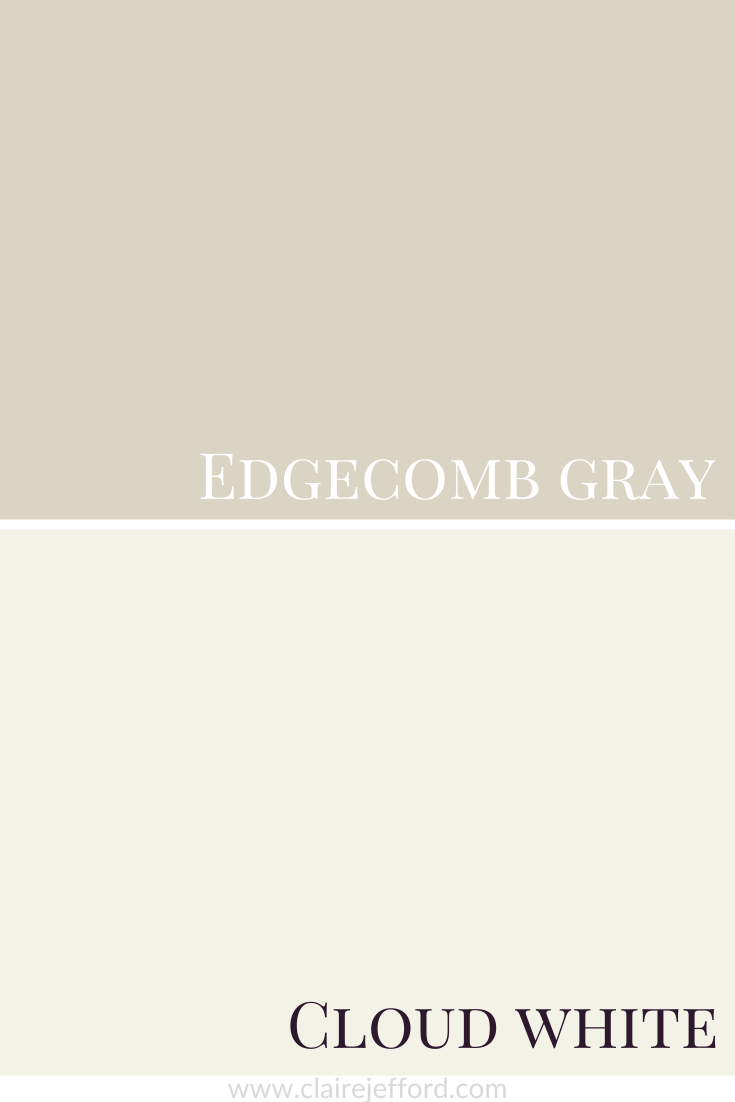 Simply White OC-117 by Benjamin Moore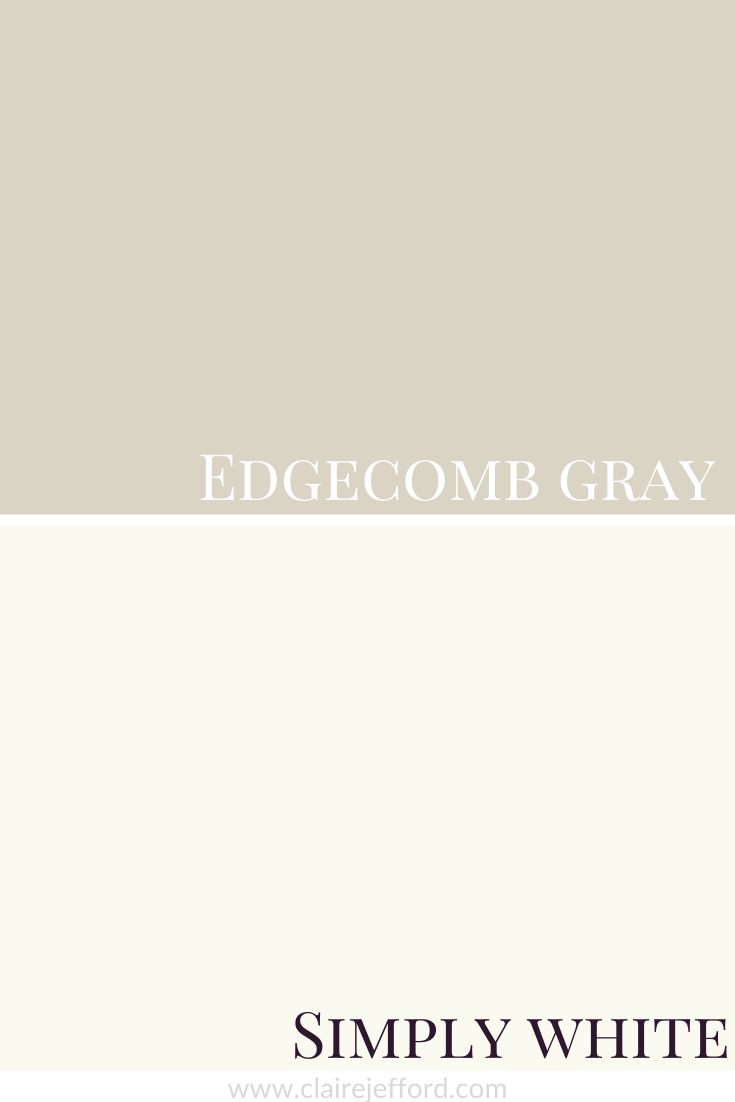 Oxford White CC-30 by Benjamin Moore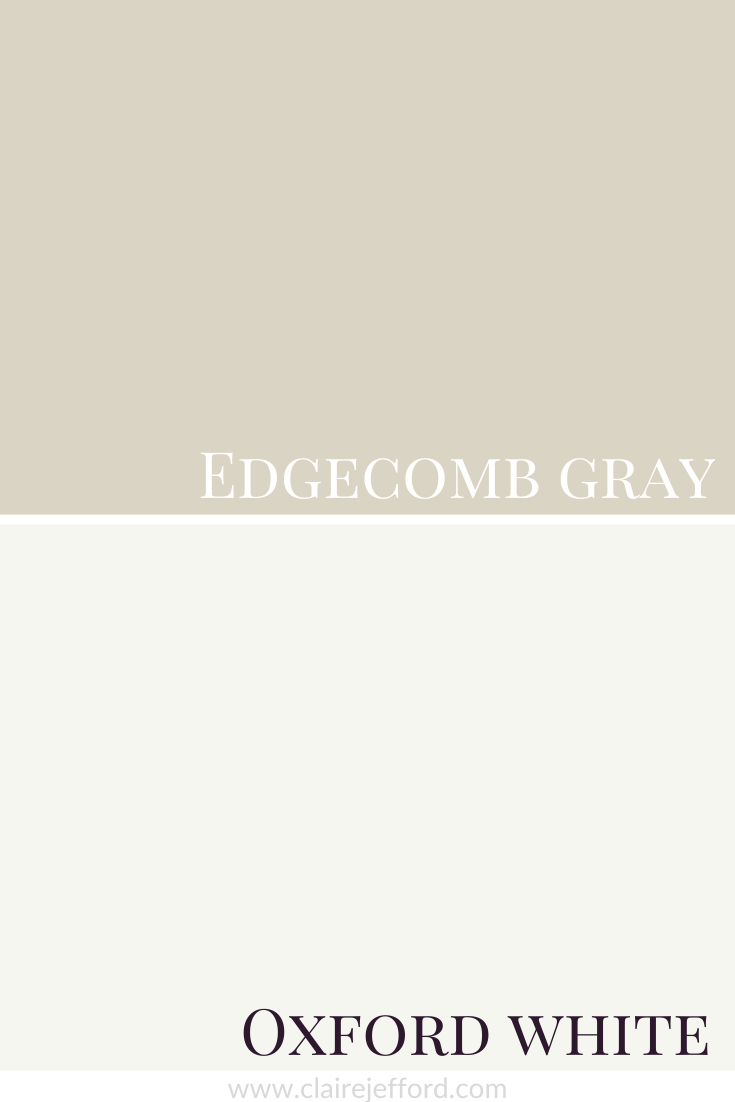 I tend to have around 10 white paint colours that are my best whites for trim and ceilings. You don't need all of the thousands of whites available to you to get the right one and you definitely don't need to mix two different whites or use only a certain percentage of paint colour to get the right one for you.
I can assure you that the best colour for your project already exists, you just need to know the 5 Steps on how to choose the right paint colour the first time.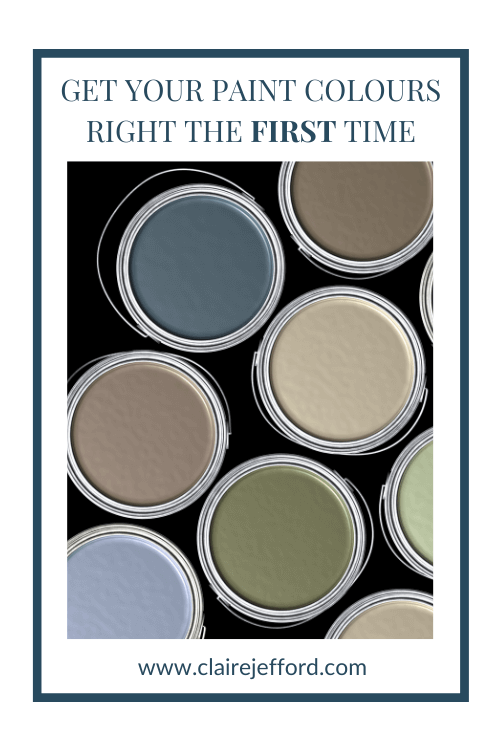 Fabulous Colour Combinations
Edgecomb Gray with Gray Cashmere, Pashmina & Rockport Gray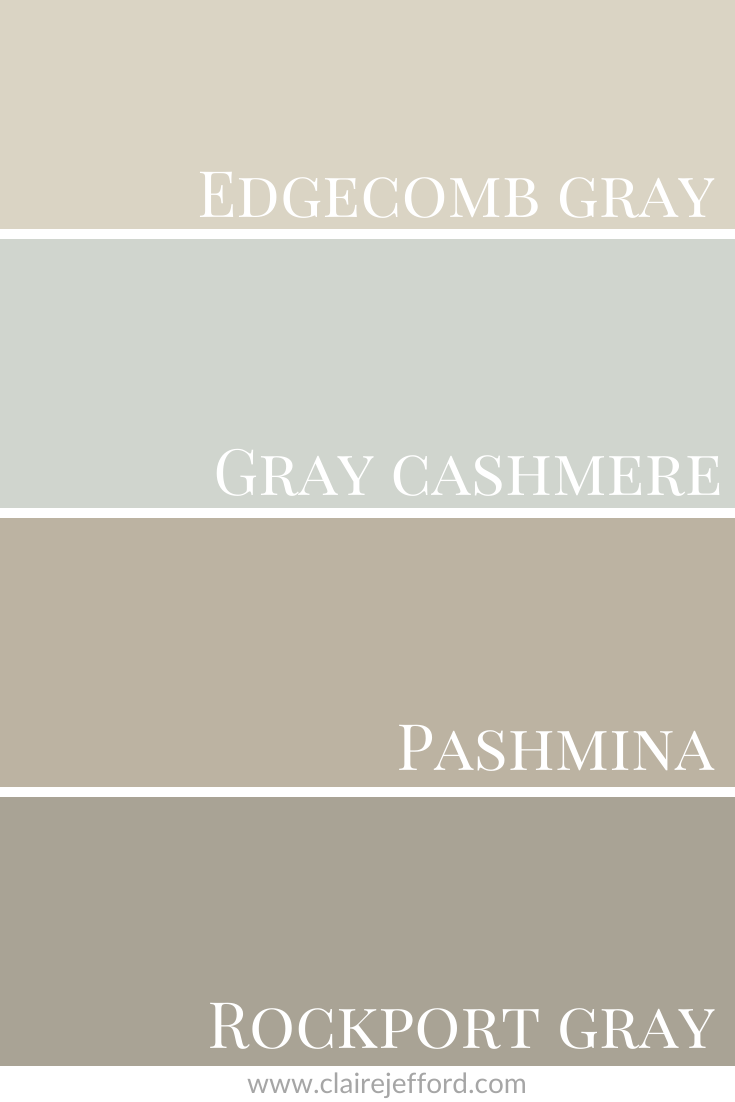 Gray Cashmere 2138-60 by Benjamin Moore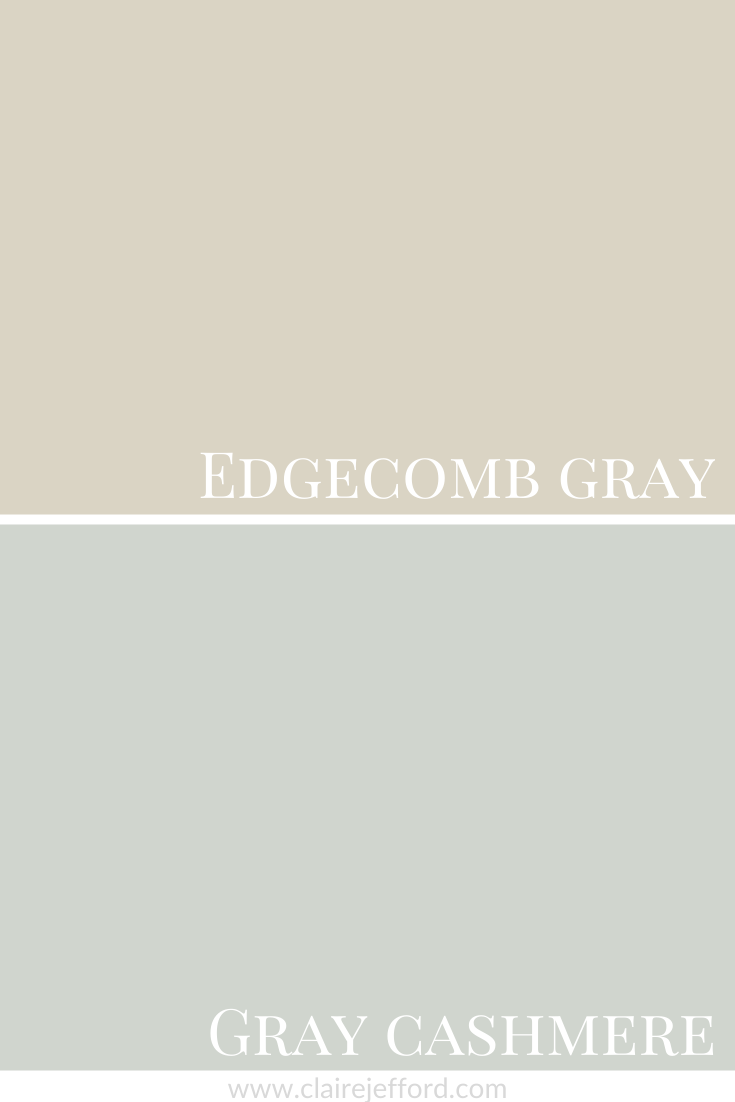 Pashmina AF-100 by Benjamin Moore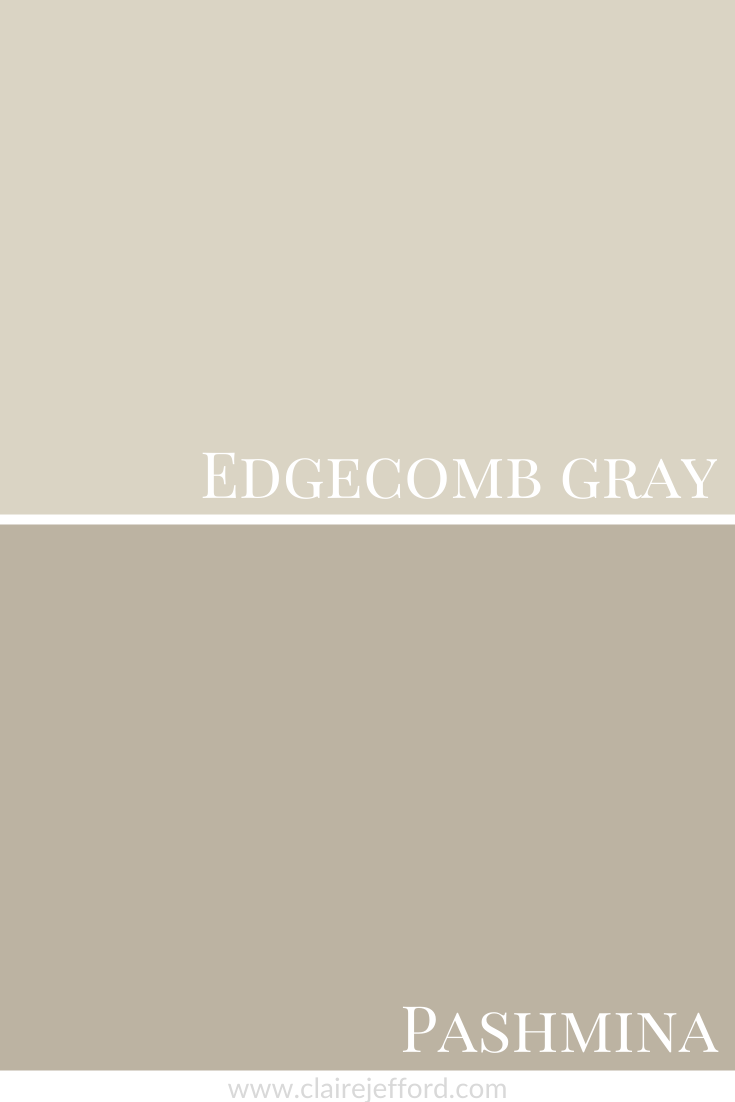 Pashmina is another gorgeous neutral that I have used on several design projects. Pashmina works wonderfully well in a monochromatic colour palette as demonstrated in this elegant dining room. You can read more about this project and see a colour review video on one of my all-time favourites here.
Rockport Gray HC-105 by Benjamin Moore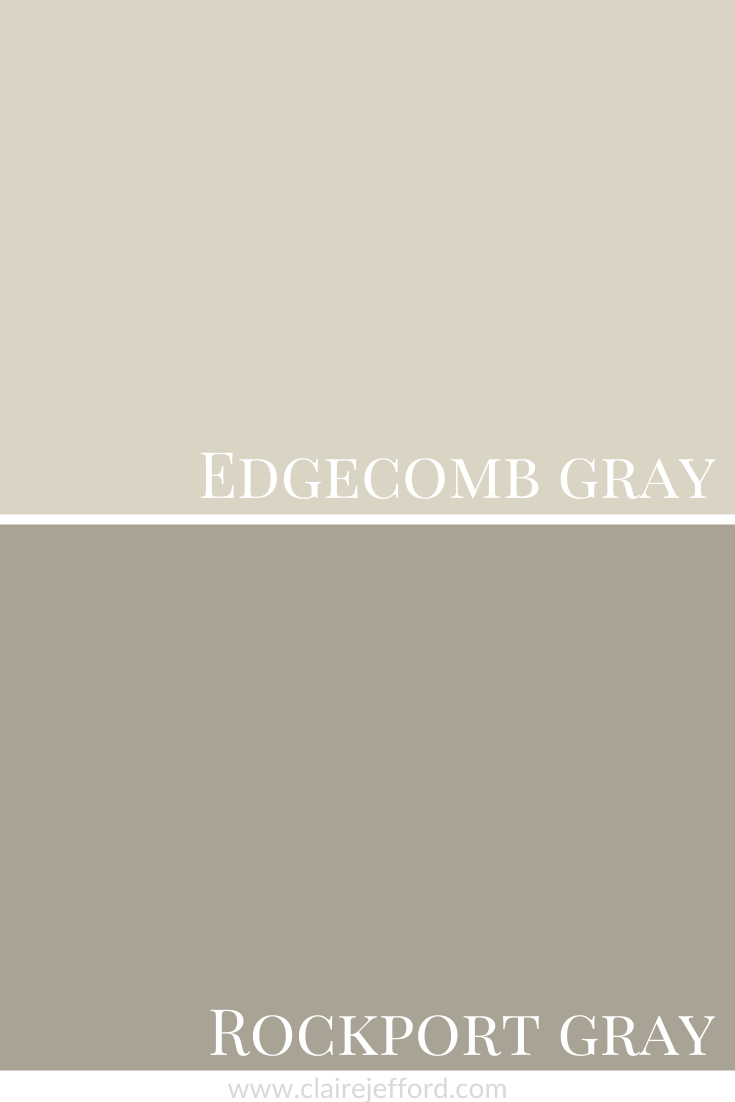 Convenience At Your Fingertips
All of the colour combinations shown above are included in my Perfect Colour Palette for Edgecomb Gray
Edgecomb Gray is also part of my Benjamin Moore Whites & Neutrals Collection showcasing all 10 of my Benjamin Moore white and neutral Perfect Colour Palettes.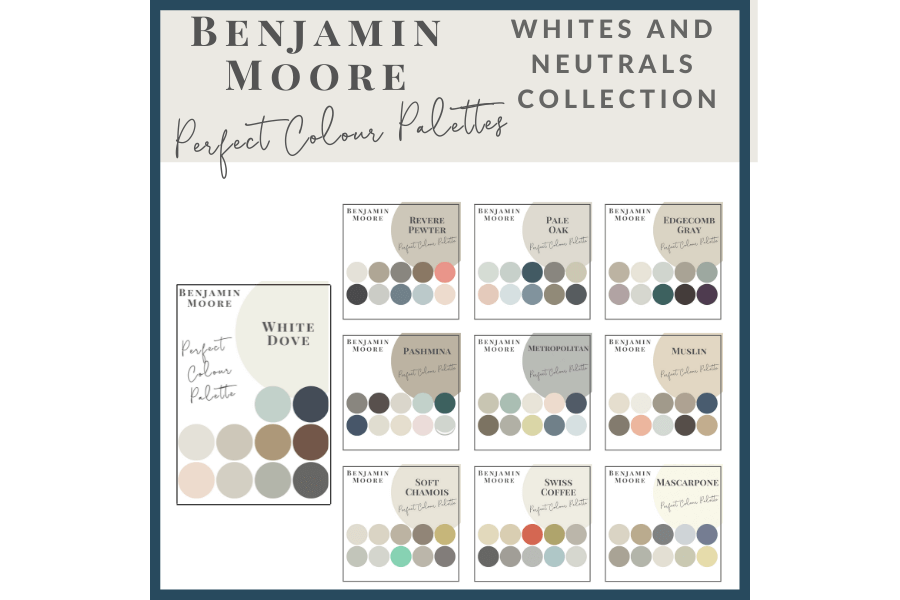 My Perfect Colour Palette library has expanded and now includes more colours from three of the top paint companies. Click here to see all of my newly released Perfect Colour Palettes.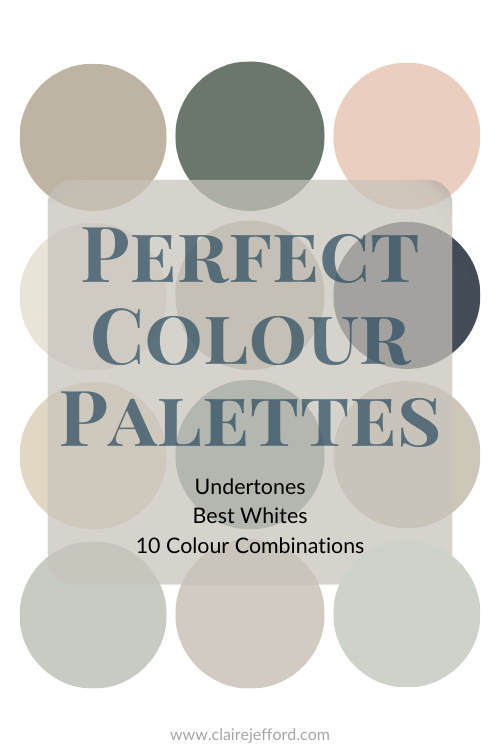 If you want to get all my Benjamin Moore colour guides in one place, look no further than my Benjamin Moore Ultimate Collection.  All 20 of my Benjamin Moore guides are in one handy collection.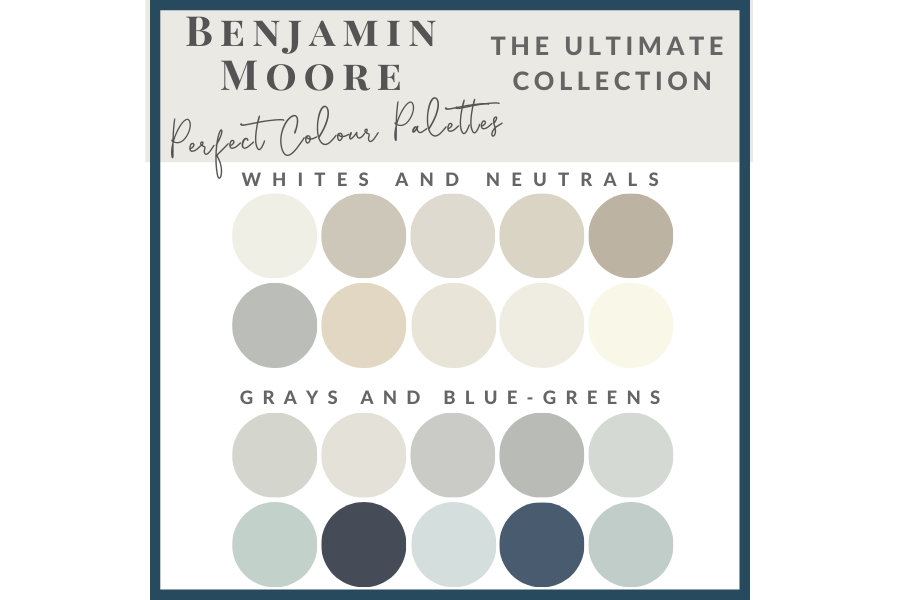 Remember, it only takes one mistake to take your home decorating project from divine to disaster. Don't let the paint be what stresses you out!
Take my Colour Quiz to see which Perfect Colour Palette best suits your style.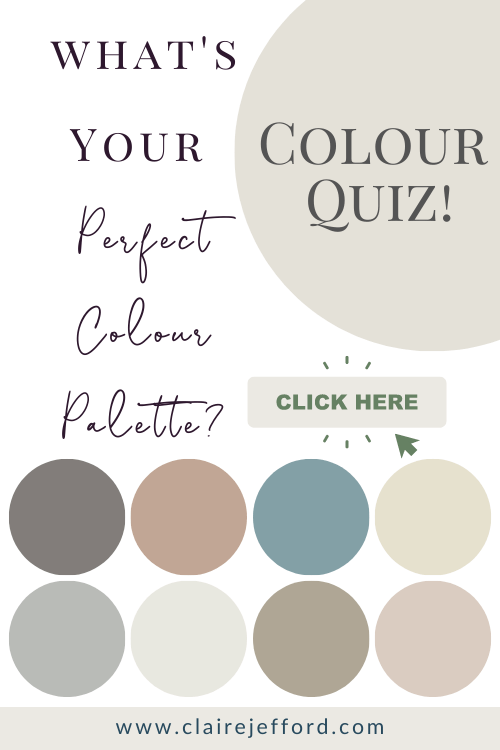 Feature room image by Benjamin Moore colour viewer.