To Design a Smart & Sexy Kitchen, You Need This
Picking a Paint Colour?
Choose the right paint colour
the first time Let me show you how in just 5 easy steps!
BONUS: The Top 15 Shades of Gray by Benjamin Moore
We value your
privacy
. We will never share or sell your information.
We want our kitchens to look sleek, sexy and classic right?  Of course! But it's also imperative that they do what we need them to do in terms of functionality. It's like when we meet someone who we are attracted to. Initially it may be their looks that entice us, but if there's nothing between the ears and the personality is flat, then what's the point?
Fortunately, when it comes to appliances, Thermador has very thoughtfully considered both.  A fridge/freezer with smart technology including a 'touch to open' feature, their latest Liberty Induction that boasts 'No Looking Cooking' & a dishwasher that cycles in just 20 minutes!  No, that's not a typo!
Click on the video below and see it all with your own eyes in my latest video from KBIS Blog Tour in Orlando. Be inspired to do more in your kitchen.
You may know that I don't like to cook. I even burnt soft boiled eggs last year…no I'm not kidding. However, these innovative appliances make me reconsider wearing the apron strings more frequently in the kitchen& there aren't many things that I could say that about!
Below: Fridge/Freezer combination that you wouldn't even know was there! You'll won't believe what can reside permanently on the inside of the refrigerator door…watch the video to find out and to see the spacious interior of this beauty!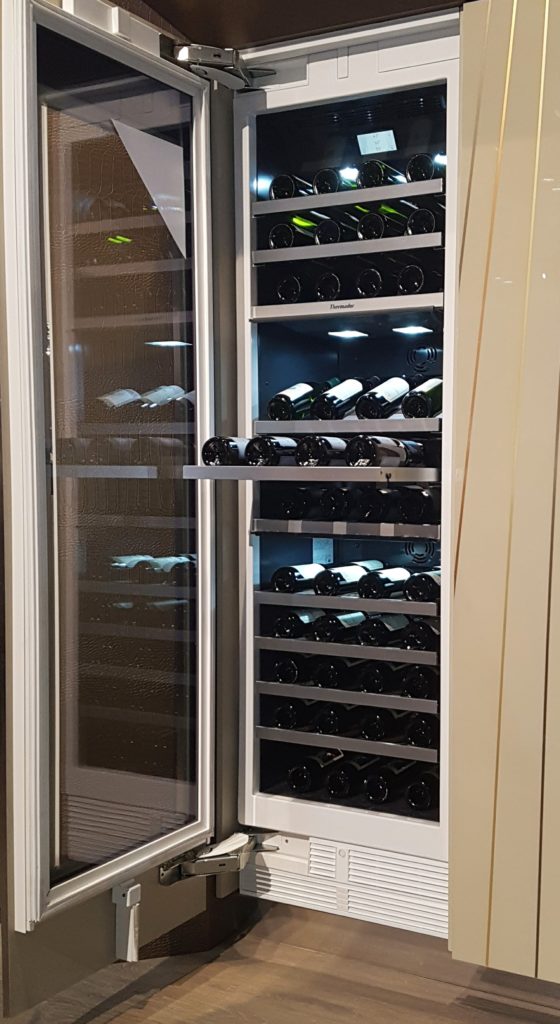 Thanks A-Latte…
As a gracious sponsor of the KBIS Blog Tour in Orlando, Thermador pulled out all the stops for us. Not only did we get front row viewing of many of their new product lines, we also got treated to a lovely lunch out.  Thank you Thermador!
Are you planning to renovate your kitchen this year?  Contact me here and I can help you with the design or in pulling it all together with finishes and thermador appliances! that weIf you are considering a kitchen renovation this year, check out more products from Thermador here on their website.
To get more inspiration for your kitchen design, see all my videos from the 2017 Orlando Kitchen and Bath show here.