Convertible Fridge Drawers & More!
Picking a Paint Colour?
Choose the right paint colour
the first time Let me show you how in just 5 easy steps!
BONUS: The Top 15 Shades of Gray by Benjamin Moore
We value your
privacy
. We will never share or sell your information.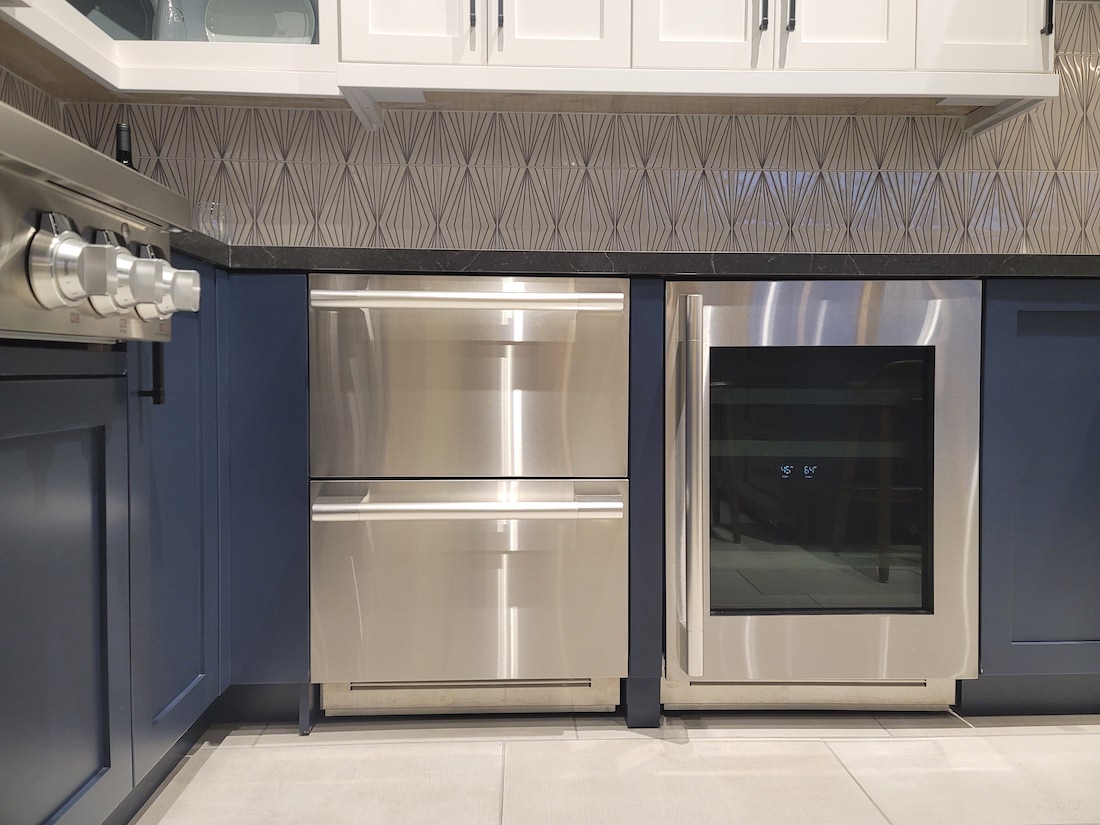 Have you ever been to Napa in California? It truly is one of the most beautiful places on earth with continuous rolling hills, endless exquisite vineyards and greenery as far as the eye can see.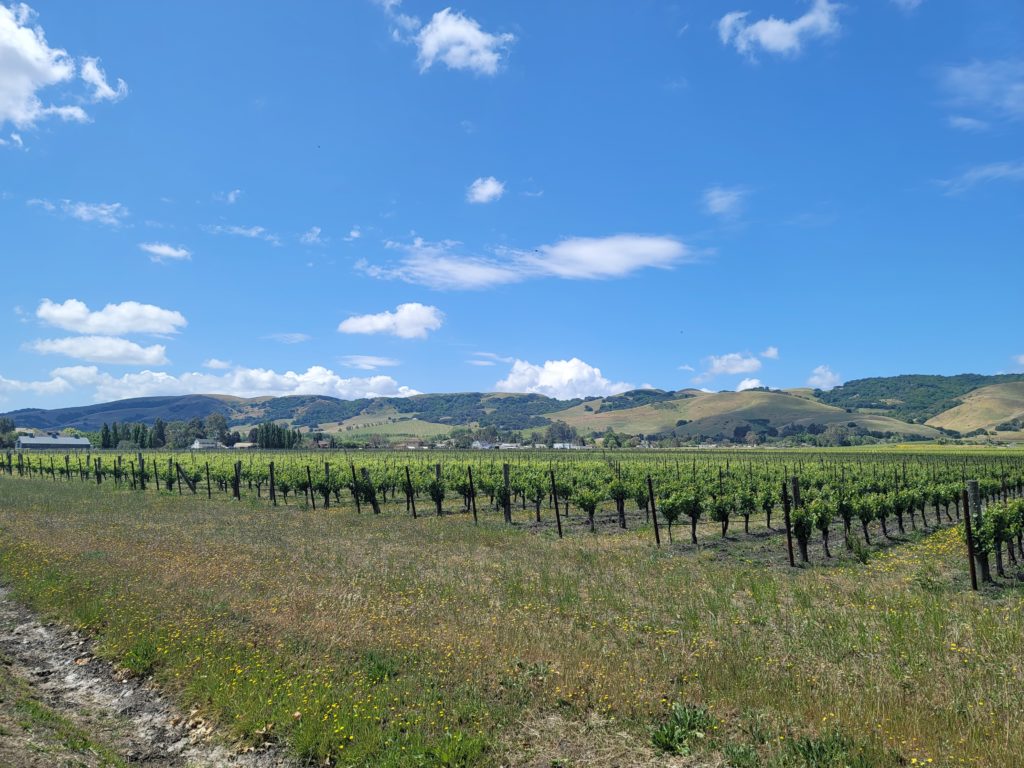 This was my second trip to Napa with the SKS – Signature Kitchen Suite Designhounds Tour by Modenus and I was thrilled to be invited back!
I arrived a couple of days early to meet some of my closest design friends. We decided to treat ourselves and booked a trip on the Napa Valley Wine Train for Mother's Day.
If you ever find yourself in Napa, I highly recommend you sign up for this one of a kind experience. It was fun, relaxing, and a magical memory I will never forget.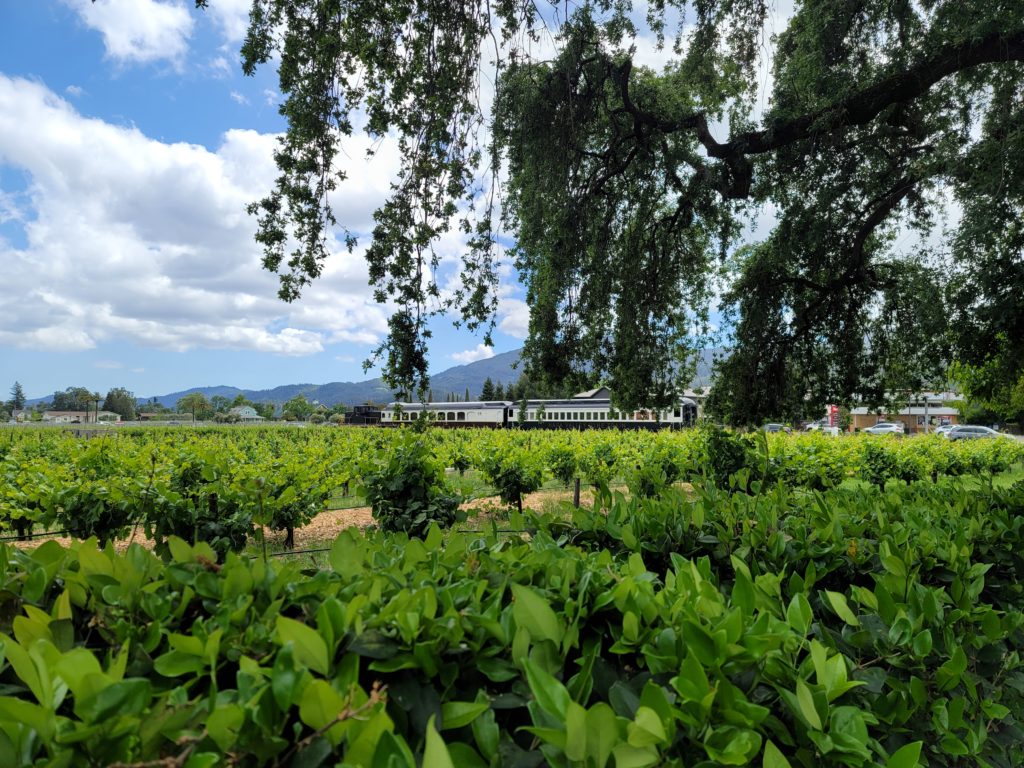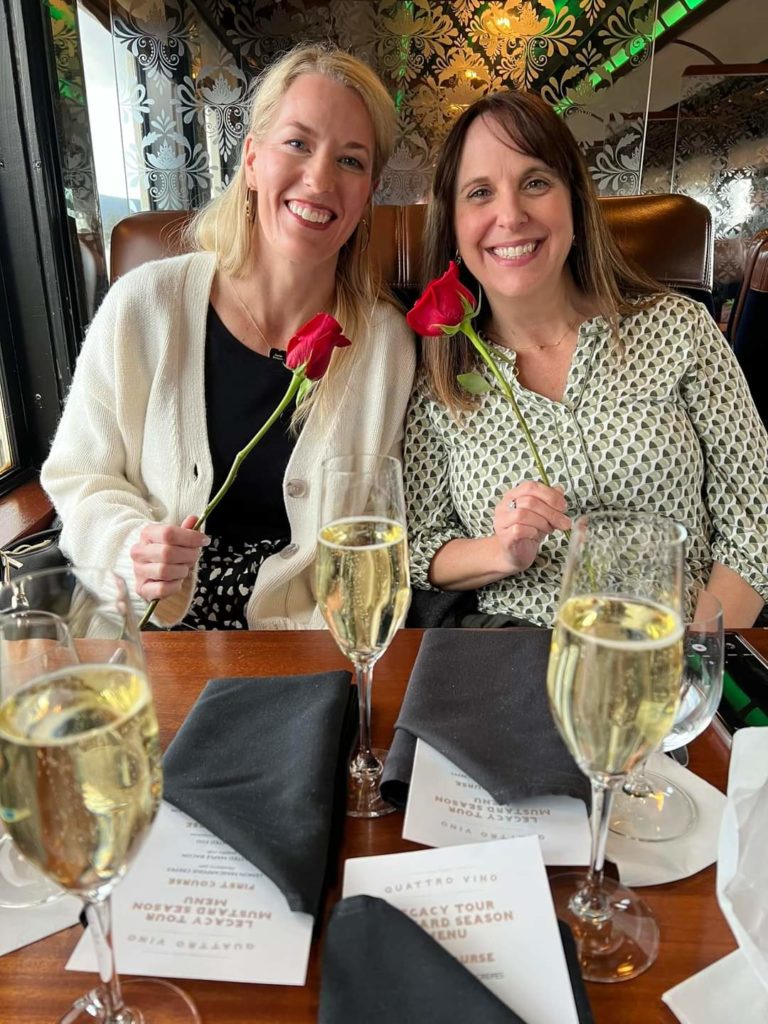 SKS Kitchen Appliances
Fun train trips and beautiful landscapes aside, the actual purpose of my business trip was to learn more about Signature Kitchen Suite appliances and take part in their one of a kind 'True to Food' experience.
The kitchen is referred to as the 'Heart of the Home' for a reason.
It's where you spend the most time, preparing food, gathering with family and friends and making memories along the way.
Deciding on selections for your kitchen appliances is a major decision and one not to be taken lightly.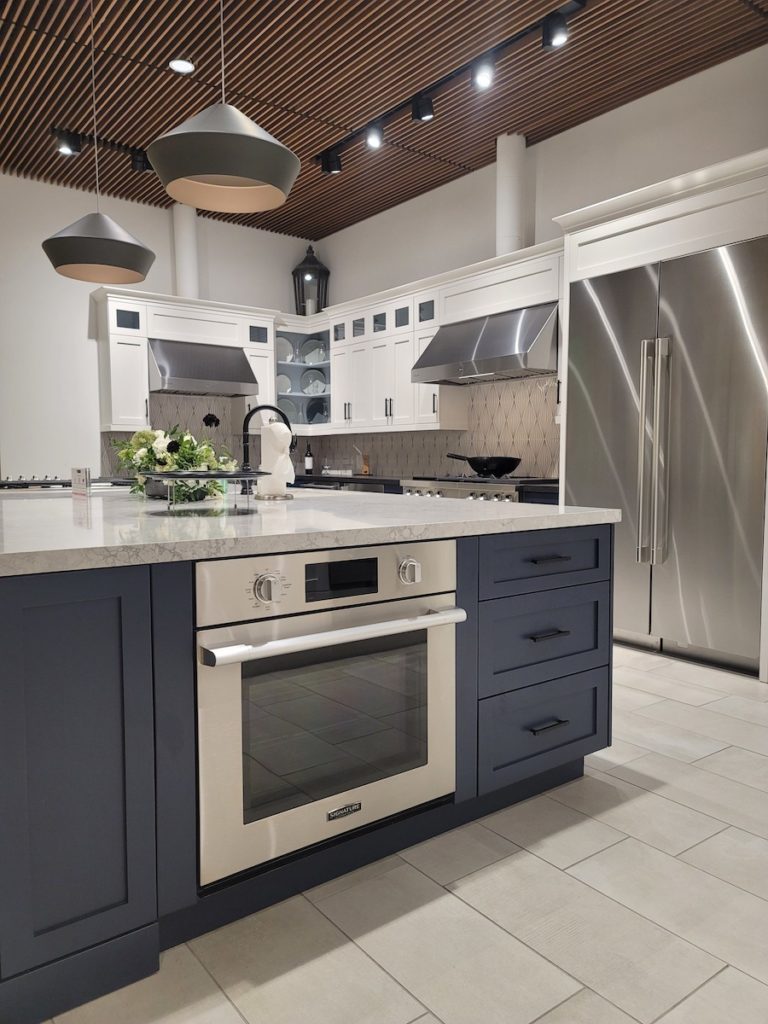 If making the most of your kitchen is important to you, (which it absolutely should be!) then how the appliances you choose will look and function is a major consideration.
Your kitchen appliances are also a big investment, so you want to be sure to choose wisely.
Extra Large Capacity Columns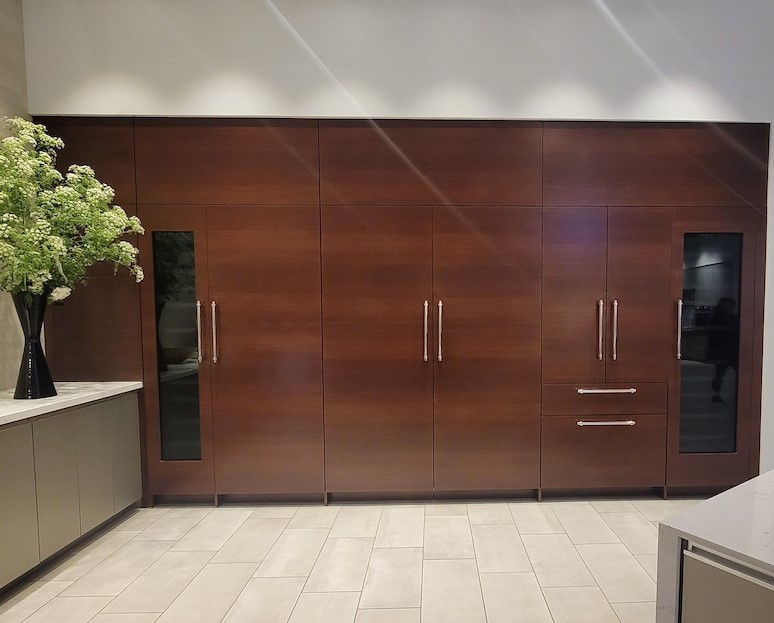 Let's start with refrigeration. In this image above, taken at the SKS 24,000 square foot Experience Design Centre, you can see a full wall of panelled wall fridges/ freezers with glass wine columns on each end.
The extra-large capacity fridge columns preserve the integrity of your fresh food. There has been so much innovation and engineering put into the integrated 30-inch refrigerator and 18-inch freezer columns-both with one of the largest capacities in their class.
While it's imperative to have ample storage, just as important is the ability to ensure the freshness of the food you purchase – especially with the increased prices for produce and all of our groceries these days.
Wine Cave Technology
It's hard to imagine a more perfect partner for good food than wine. Am I right?! 🙂
That's why the wine column refrigerators – shown on each end of the panelled fridge wall below – were developed with exclusive Wine Cave Technology. It actually mimics the ideal environment of historic Old World wine caves.
This protects wine against its four biggest enemies: vibration, light, and variations in temperature and humidity. And when you open the glass door, the light inside automatically comes on so you can easily select the best pairing of wine to go with your meal.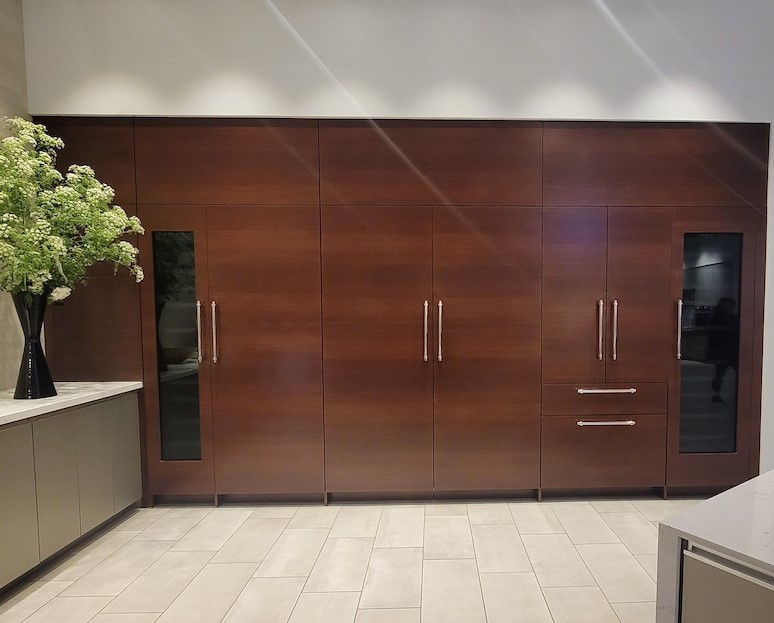 Undercounter Convertible Fridge/Freezer Drawers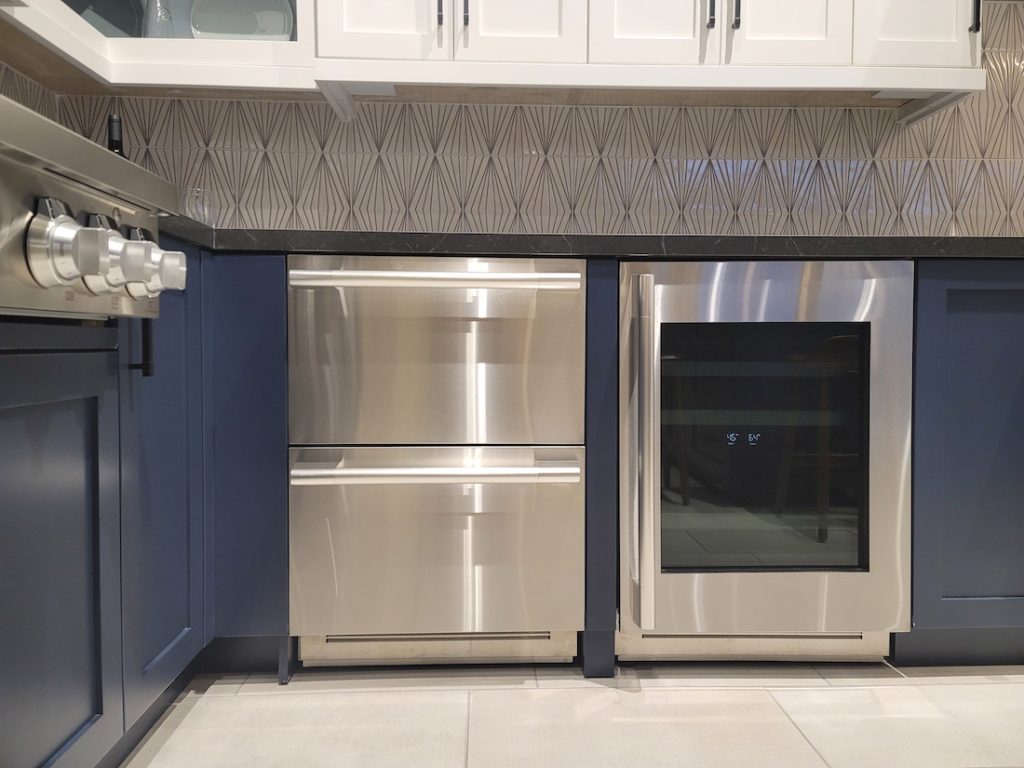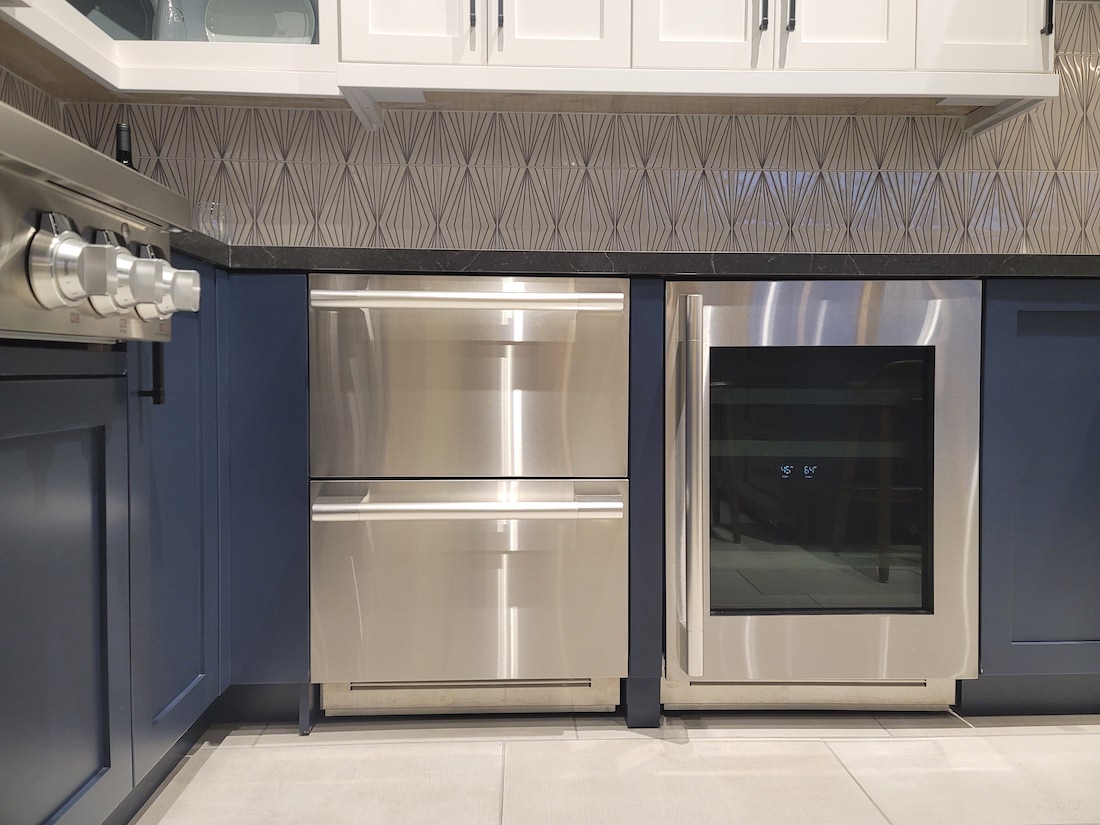 This is the only built-in under-counter refrigeration unit in its class with dual drawers and Multi-Temp Settings.
Both kitchen drawers offer a selection of six temperature zones:
Pantry
Fridge
Bar
Seafood
Meat
Freezer
Yes, you read that right! If you require extra freezer space, you can drop the temperature all the way down to make either (or both drawers) a freezer.
How cool is that? And yes, that pun was intended.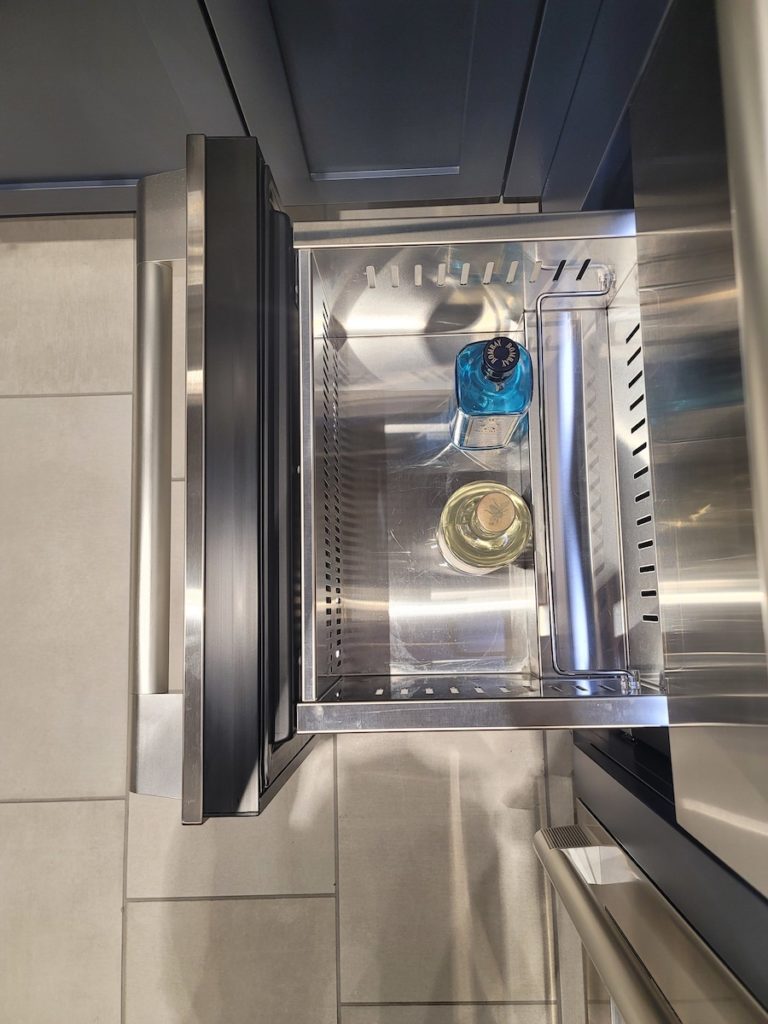 On a side note, the base shaker cabinets in this kitchen look like the colour Van Deusen Blue by Benjamin Moore. Blue is always in style in interior design.
Craft Ice Balls
Am I the only person who has never heard of these before?
Apparently, they are super sophisticated, maybe that's why I never knew about them before…HAHA!
LG is connected to Signature Kitchen Suite and they have 'Craft Ice' refrigerators. These refrigerators deliver slow-melting ice for the best-tasting beverages.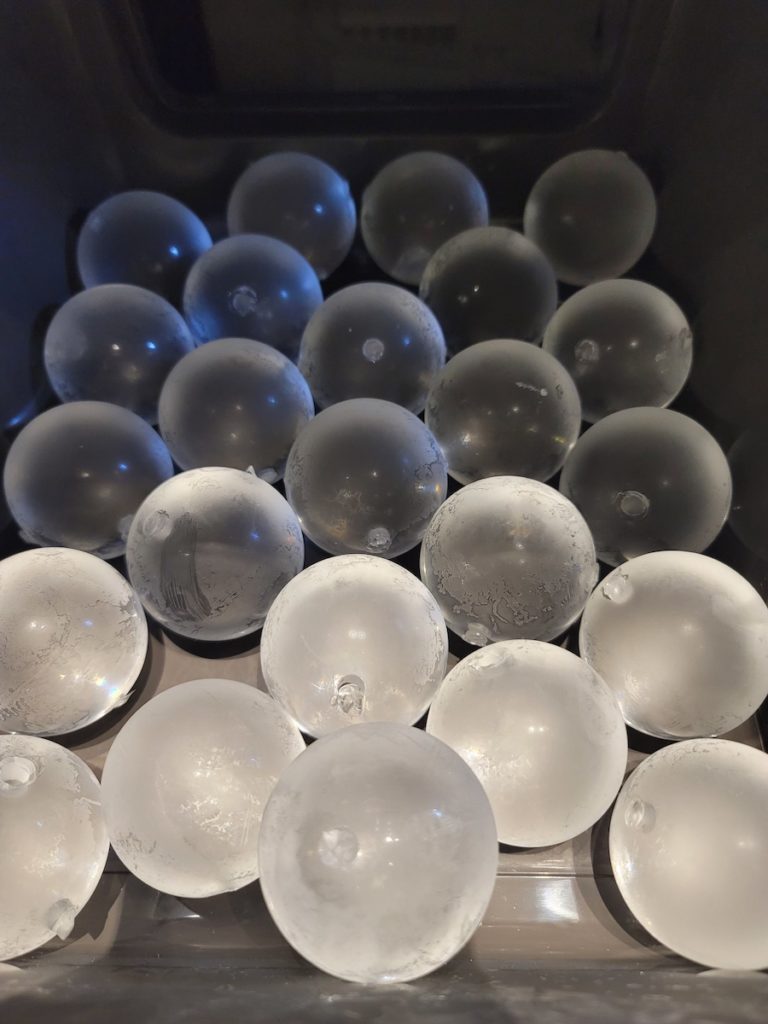 Steam-Combi Convection Oven
While I'm not an avid cook, I can still appreciate the need for speed when preparing meals.
My interior design friend Jana and I had the opportunity to try out the Signature Kitchen Suite Steam-Combi convection oven.
This combines steam and convection cooking for gourmet results. The convection system cooks food quickly and evenly while steam helps to preserve texture, appearance and taste.
We made the cute mini 'jacket potatoes' that you see below on the plate of deliciousness.
You can see more of that fun cooking experience here in one of my first Instagram Reels published from this event.
As well, I created a highlight here on my Instagram profile that captures all of the beautiful views, hands-on learning experiences and shenanigans that I got up to with my fellow Designhounds on this unforgettable adventure.
Which appliance from SKS excites you the most?
Comment below to share.
I am definitely partial to the convertible drawer fridge/freezer combination!
Find your perfect colour palette!
Have you done my colour quiz yet? You can take it here to find your perfect colour palette with décor inspiration for your next kitchen design, interior design or decorating project.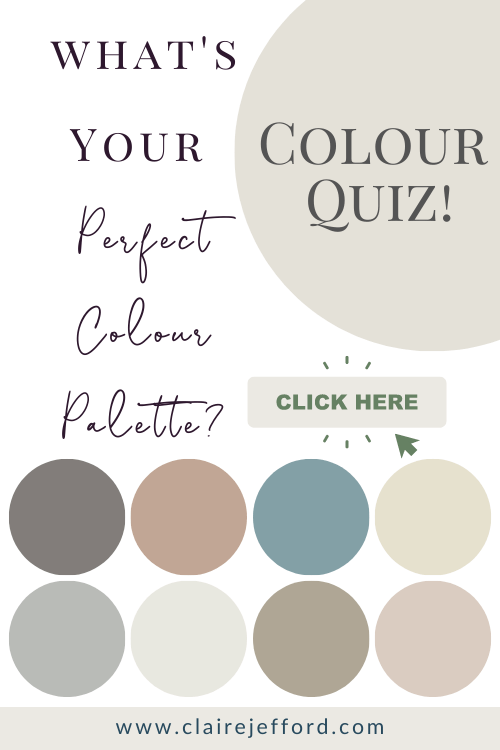 Perfect Colour Palettes
Remember, it only takes one mistake to take your home decorating project from divine to disaster. Don't let the paint be what stresses you out!
Convenience at your fingertips
I have created Paint Colour Palettes for some of the most popular colours from three of the leading paint companies, Benjamin Moore, Sherwin Williams and Farrow & Ball.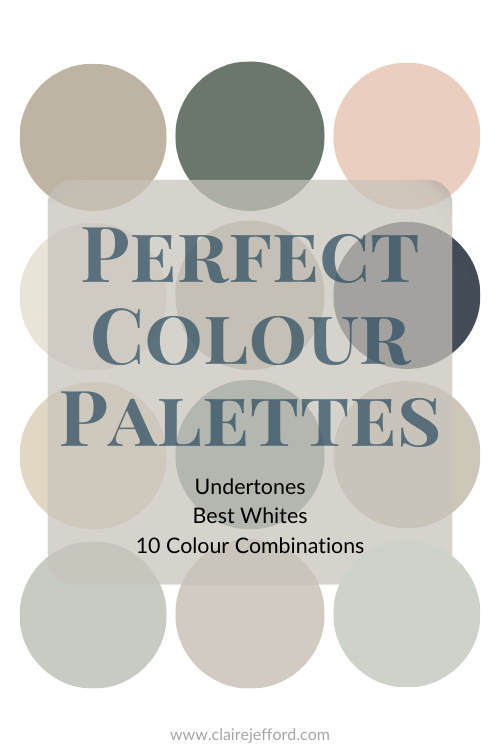 Our Perfect Colour Palettes help you confidently select the best colour for your home, and see which trim, ceiling, and accent colours pair well with your selected colour.
Until next time, cheers!