Client Main Floor Redesign – Virtual Tour
Picking a Paint Colour?
Choose the right paint colour
the first time Let me show you how in just 5 easy steps!
BONUS: The Top 15 Shades of Gray by Benjamin Moore
We value your
privacy
. We will never share or sell your information.
There are so many things that I love about what I do, which is why I followed my dream & started up my business of Interior Design just 5 short years ago. But this post is not about me, it's about my clients.  Everything I do in my business is with the focus of helping others see the potential of their home; educating them on what it means to live in a well designed space & showing them the possibilities of how fabulous their home can be.
Today I take you on a tour – no, not the Beatles 'Magical Mystery Tour' – but for my clients, this type of tour is magical indeed!  Seeing clients reactions, giddiness and anticipation when presenting redesign plans of their home, is one of my favourite things.
Virtual Tour – Let's Do This!
Click here to watch the video of a clients Main Floor Re-Design.
For this particular renovation, we are adding 10 feet to the back of the home.  My clients requested an open floor plan with a large kitchen, walk out to the backyard and plenty of natural light.  I always provide two options for layout, a scope of work with considerations for the design, renderings at various view points and inspirational photos to help them even better understand my suggested ideas for their space.
See photos of the designs I created below & watch the video.  Comment to let me know which Option you would choose and why.
Option#1: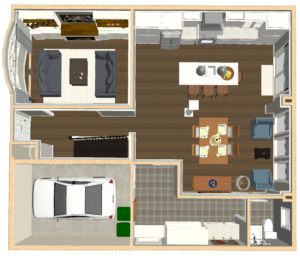 Option #2: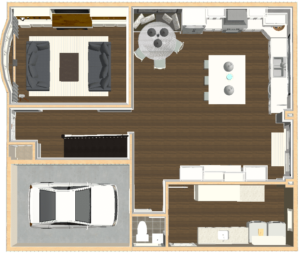 The program I use is Chief Architect, Design Pro version. I just love it!  I also upload a virtual tour to an unlisted Youtube link which I send to clients so they can view options for their new space on their own and as they wish. It's such a handy tool for home owners to have at their finger tips.
My clients wrote the following testimonial after working with me to the point of presentation, makes me feel warm and fuzzy!
Are you looking to redesign an area in your home?  Whether you live in the Burlington, Oakville, Ancaster or Toronto area – or even if you would like E-design services – contact me here and let's do this!
Not signed up to my Youtube Channel yet? Whatcha waiting for?  Subscribe here for weekly Wednesday videos.
For Interior Design Advice direct to your inbox, sign up to my blog. Just for joining you'll instantly receive  'How To Choose Paint Colours', my professional advice to help you get the right colour the FIRST time.  Click here and get your free tip sheet now!