Laminates are back and 'Steam' is hot!
For Designers!
Design Services and Rates Guide A FREE Resource for Your Interior Design Business
We value your
privacy
. We will never share or sell your information.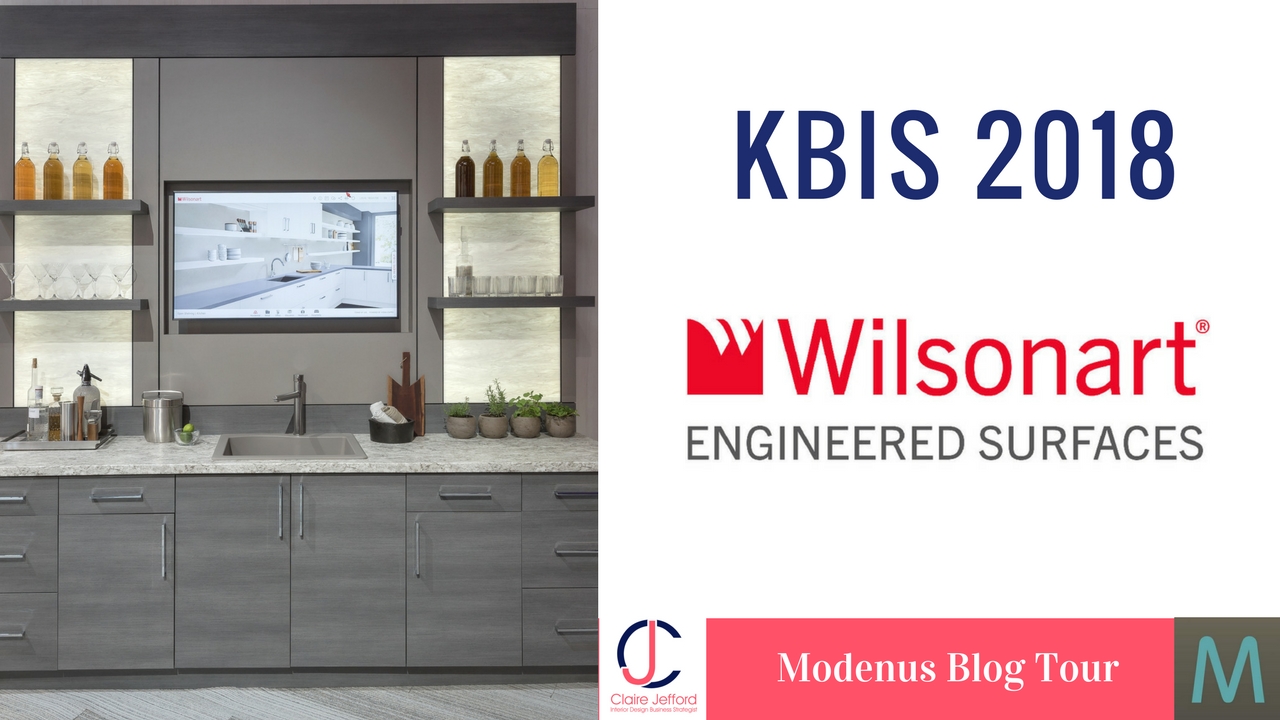 Laminates are back. Yes, you read that correctly.
Quartz may be the preferred choice at the moment for counter tops (at least they are here in Canada) but in Europe,
Laminates are back. Yes, you read that correctly.
Quartz may be the preferred choice at the moment for counter tops (at least they are here in Canada) but in Europe, laminates have been slowly creeping back into the spot light in the interior design industry.
More on that a little later in the post. But first, things are about to get steamy…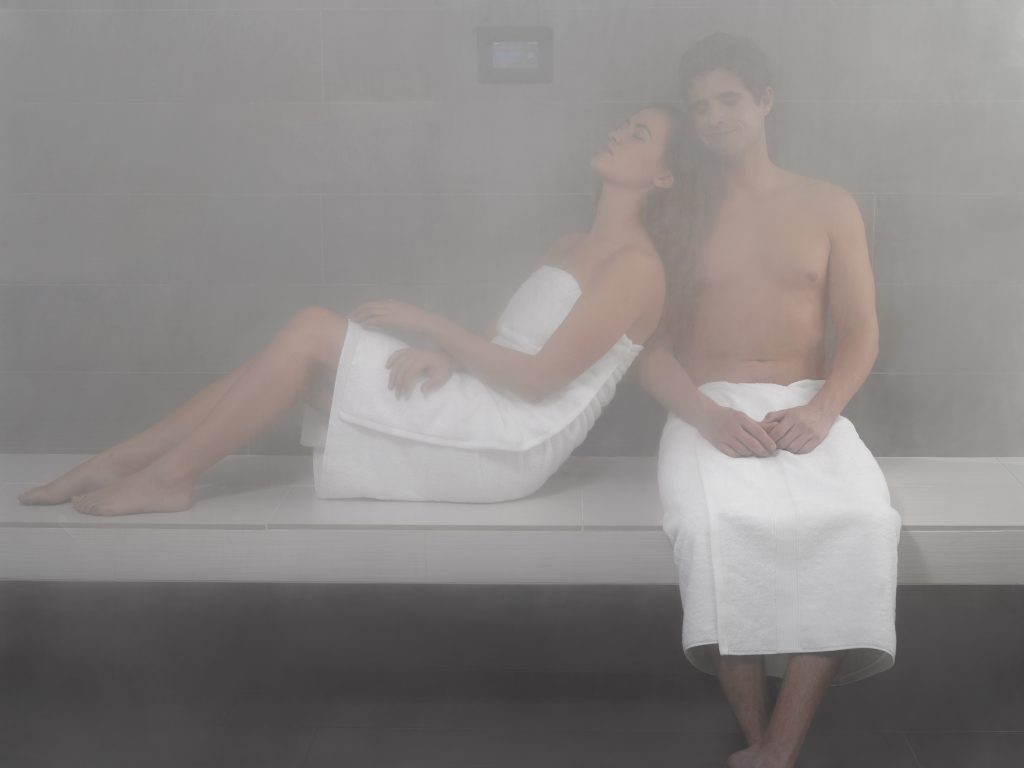 You may have noticed that I'm sticking with the theme of kitchen and bath design as I wrap up my final post from the sponsors of the fabulous Modenus KBIS Blog tour last month.
There are so many different aspects of interior design, it's actually one of the things that I love most about this business. I am always learning something new.
Take 'steam' for instance. While I figured that it had positives effects for those who use it and that it's certainly known as a wonderful way to relax, I had no idea how many other benefits there were to using steam!
My husband has eczema; my daughter has asthma; and both my son & daughter have different types of allergies. Using steam can help with all of these issues! We learned so much about this & much more at the fabulous luncheon that 'mr.steam' hosted on the last day of our tour.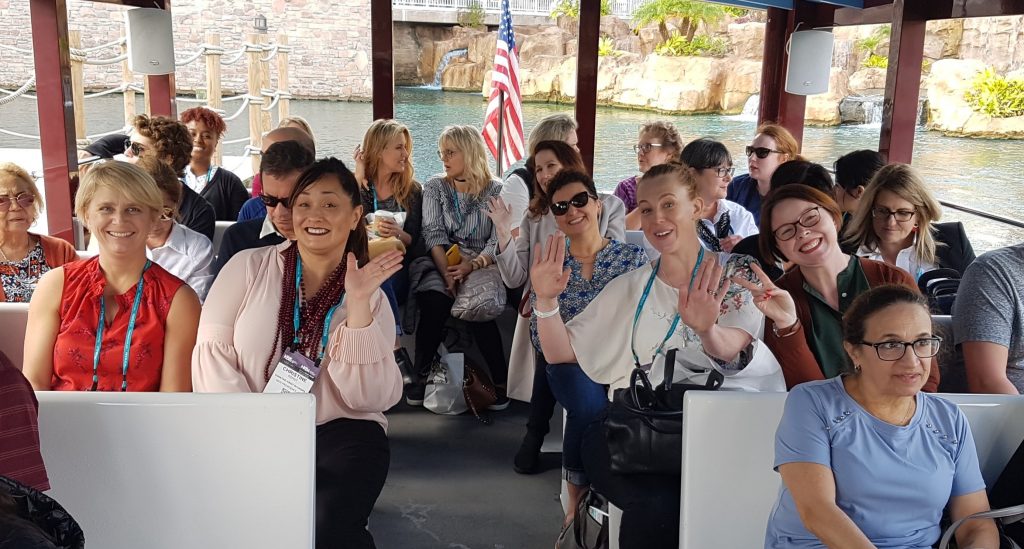 Using steam also has benefits for holistic heath, like removing toxins from the body -ah em, like alcohol. 😉  Steam relieves stress & promotes deep, restful sleep as well as increasing blood circulation and muscular flexibility.
With all of these positive effects, it's definitely something to consider suggesting to clients for your next bathroom renovation project.  To learn more and to see the new Lexington Collection of Towel warmers from mr.steam, click here or on the video below.
I simply must share with you whose gorgeous bathroom design that is in my thumbnail above and in the image below. Designer extraordinaire, Erica Islas was also on the KBIS Blog Tour and it was so nice to meet her.  She used mr.steam in this clients' bathroom design.
Erica told us at the luncheon that she explained to her client the benefits that steam would have for the entire family, especially her children…and that sealed the deal!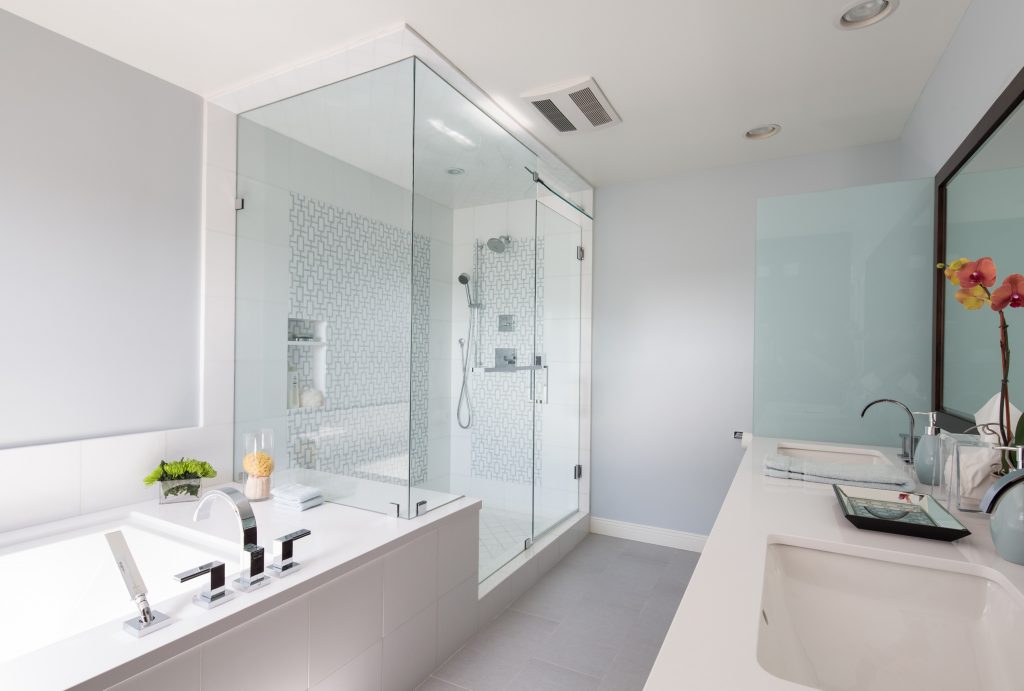 Next up…
This next topic is just as 'hot' as steam, but it hasn't always been this way.
When you are working with your clients, would you say that the majority ask for natural stone or a quartz when sharing their wish list for their counter-tops in either the kitchen, bathroom or laundry room?  I know quartz has long been the most popular go-to for me when specifying counter-top materials for clients over the last 5 years.
However, that could be changing soon.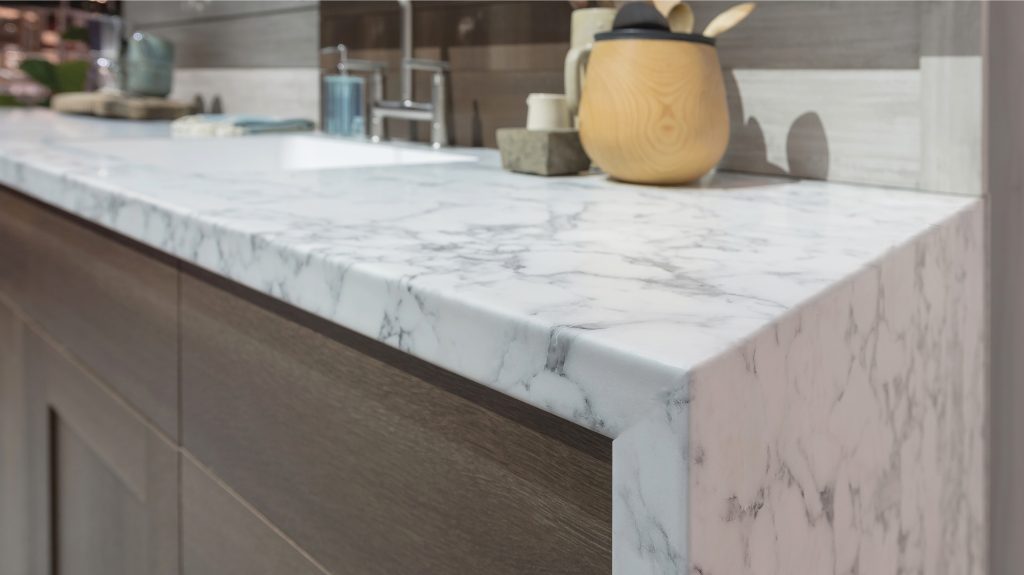 Wilsonart has coined the term 'Material Mixology' and as in many areas of design and decor, we are encouraging home owners to mix metals, textures and other finishes.  Gone are the days when everything was 'matchy matchy'. There are more great examples in my final video from KBIS which you can see here or click on the image below.
You can even test what their products will look like in various rooms of the house by using their new on line visualising tool!  Below is just one 'material mixology' combination that I came up with while playing around with this highly effective (and addictive) program.
Show your clients the possibilities of what their space will look like, before committing to the space! Very similar to 3D design, which I strongly believe in and has been invaluable for my business.

If you are still not convinced about laminates, Wilsonart also have stunning quartz that you can choose from, like these latest ones shown below.
So that's a wrap from this years' KBIS!  I'd love to hear from you to know if laminates are warming their way back into your designs?  Are you convinced?
Or leave a comment to let me know if you've used steam for a clients' bathroom design. Our bathroom renovation is WAY overdue, so I will definitely be looking into using this product. Plus, the people behind all of the brands sponsoring the Blog Tour were so great and that makes all the difference when choosing who to partner with for any design project.
Please note that according to FTC rules, I need to disclose that my trip to KBIS was a free trip. My hotel, airfare & some meals were covered. It was fabulous, I won't lie. Plus, I got to escape the -40 degree temperatures here in Toronto, so I was thrilled about that.  However, all views expressed in this post are my own, no body tells me what to do…nobody puts baby in the corner!