A Client's Perspective: My client's experience working with me.
For Designers!
Design Services and Rates Guide A FREE Resource for Your Interior Design Business
We value your
privacy
. We will never share or sell your information.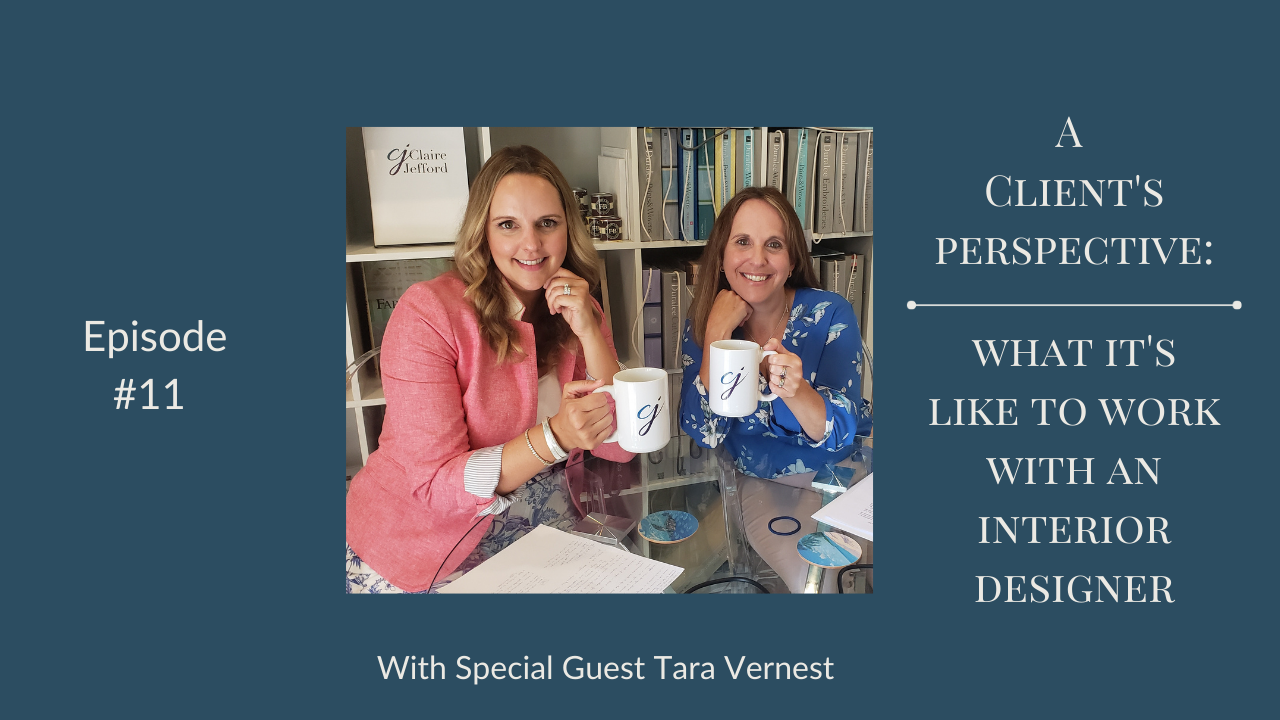 TNT PODCAST: Episode #11
I am continuing my Client's Perspective series today with the 2nd part of my conversation with my former client Tara Vernest.
Click on the video below to watch the podcast where Tara and I resume our discussion on what it's like to work with an interior design professional.
Prefer to listen on the go? Click here to download this episode.



Tara and I carry on from where we left off last the last time we sat down to chat.
If you recall from our initial conversation, Tara did not hire me at the very beginning of her reno project. As things became more complicated she realized 'I need a bit of help here'. So now fast forward a bit, she's hired me and in this episode, we discuss how she found working with me. Were her expectations met?
We also talk about having contractors and designers on-site together and who a homeowner should turn to when looking at different aspects of a project and making specific design decisions.
Tara talks about the worth of a professional's experience and lessons learned. She details how designers should use this knowledge to demonstrate to clients the incredible value they will bring to the project so that the homeowner is asking themselves 'How Can I Live Without A Designer?" And really, isn't that what we as designers all want to hear? And of course, there is mention of what she would have done differently – ahhh, that good old thing we call hindsight!
It's so refreshing to hear the client's side of a renovation so please sit back and enjoy listening to another candid and informative conversation with my client Tara.
Guest Bio
Tara Vernest
Tara grew up in Kitchener-Waterloo. She attended the University of Guelph where she fell in love with the city and her future husband, Cameron. She's the mother of two beautiful children, Avery, her 6-year-old sporty daughter and her gorgeous son Noah who is just about to turn 1!
She trained as a Brand Marketer, but her eye can't help being drawn to home and design—a passion that she attributes to her late mom's keen eye.
Tara and her husband lived in Singapore for five years. After welcoming Avery, they relocated back to Canada, where they faced a new set of desires for their home that they had been renting out while overseas. This is where our working relationship began.
Tara is joining the Insta – world in a big way. You can find her @whitelinenlifestyle sharing what she loves, favourite designs and advice.
We started off with many laughs and I'm so pleased that we've stayed close through social media. I am thrilled that Tara has agreed to be on my podcast. She is the first client to be on my show and I couldn't be more pleased!
See all my podcast episodes here. New episodes are published every other Friday!

Free Resources
A fabulous FREE resource to help excel your interior design business.